We've been through a lot of airports with Sawyer. At that point, he's a pretty well traveled baby (if you count going back and forth to the west coast 3 times a year well traveled). We've been through Denver, Phoenix, Las Vegas, San Deigo, Orange County, and Sacramento. That's a lot of airports! And a lot of hours spent in airports.
But navigating the airport with your little one doesn't have to be a horrible experience. In fact, it can be kind of enjoyable (just don't attempt to sprint to catch a flight while pushing a stroller, it ain't gonna happen). I love everything about traveling. I love packing, I love carry-on bags, I love passports, I love printing boarding passes, I love airports, I love airport coffee, I love plane snacks, I love hotels, I love it all!
But I hate stress. And sometimes, I just flat out refuse to have it. Traveling is such a happy thing! Hopefully you're going somewhere fun and get a few days off from work and real life. Getting there shouldn't be a drag. Here are my tips for making your trek through the airport with your little one a breeze.
1. Have and easy-to-use stroller
Making sure your stroller is not complicated. Make sure you can fold it up easily and in less than 10 seconds. Preferably with 1 hand, and without the help of your partner. Seriously. Your strolled has to go through the machine at security so make sure it can fold up easily, isn't too heavy, or too wide, or it won't fit. And if you're traveling with your little one solo, you don't want this to be a huge hassle.
Pro Tip: You don't need to check your stroller with your baggage. You are allowed to check it at the gate for free. So even if you don't need it throughout the airport, don't check it! Bring it with you anyways and check it at the gate, it will save you money!
2. Print our your boarding passes at home
This will allow you to skip the lines at check in and go straight to checking your bags and getting through security. And will save you time! Be sure to study your boarding passes so you know exactly which gate you are at and what time you board, so you're not scrambling!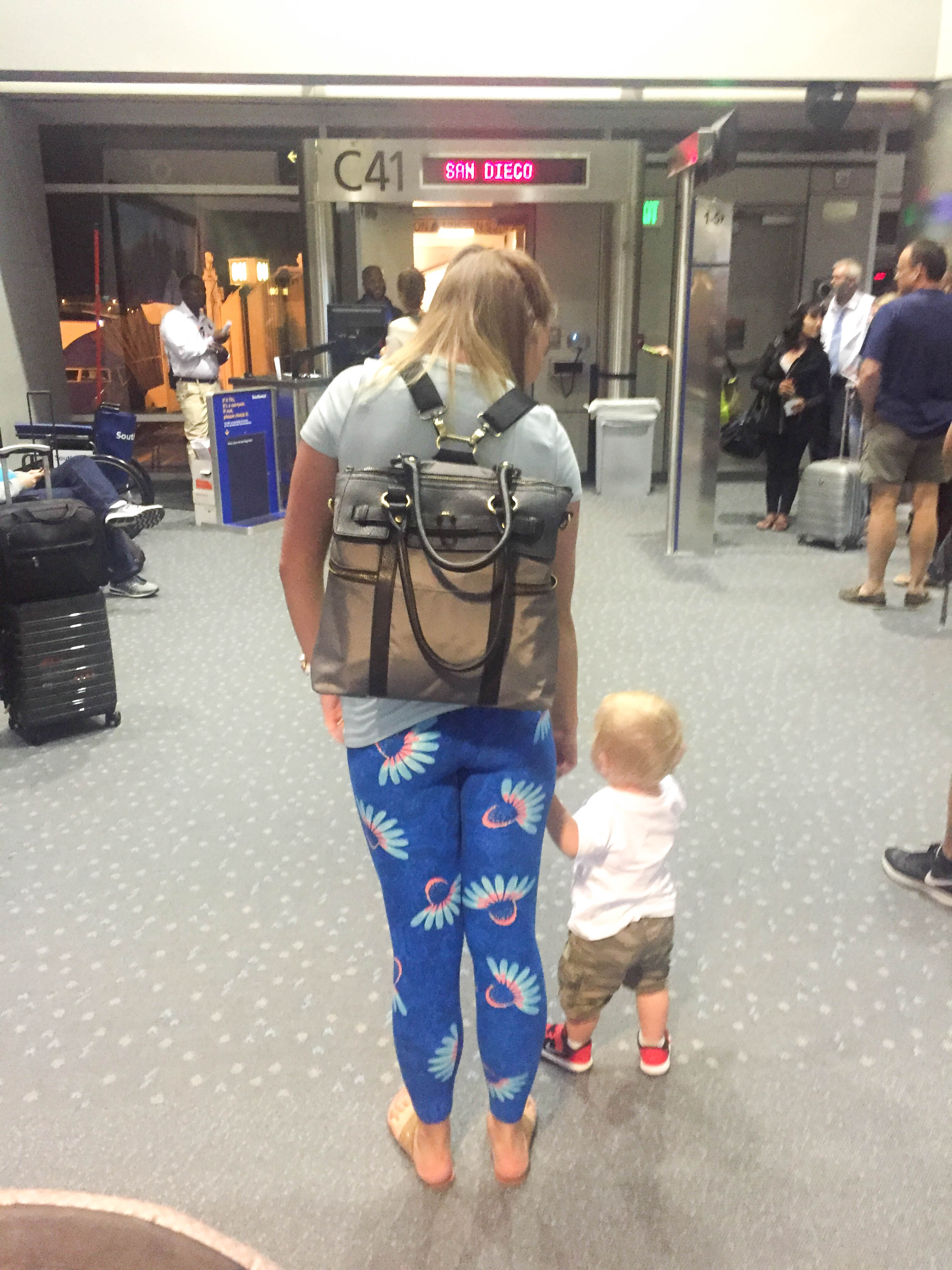 3. Pick a practical carry on
When traveling with a baby, you'll need the perfect bag for your carry-on. You can read all about exactly how to pack your carry-on when traveling with your little one here, but you also want to make sure you have the perfect bag to fit all that stuff and keep it organized!
We recently got a Louise Backpack Diaper bag from Newlie and it was absolutely perfect for traveling! The Louise can be worn as a backpack or a shoulder bag. The backpack aspect was perfect for airport navigation. It means I could be hands-free to push the stroller or chase after Sawyer. It was great to have it out of the way and not taking up room in the basket of the stroller or constantly sliding down my arm. I highly suggest having a diaper bag that converts to a backpack for all situations- not just traveling. It will make your life so much easier!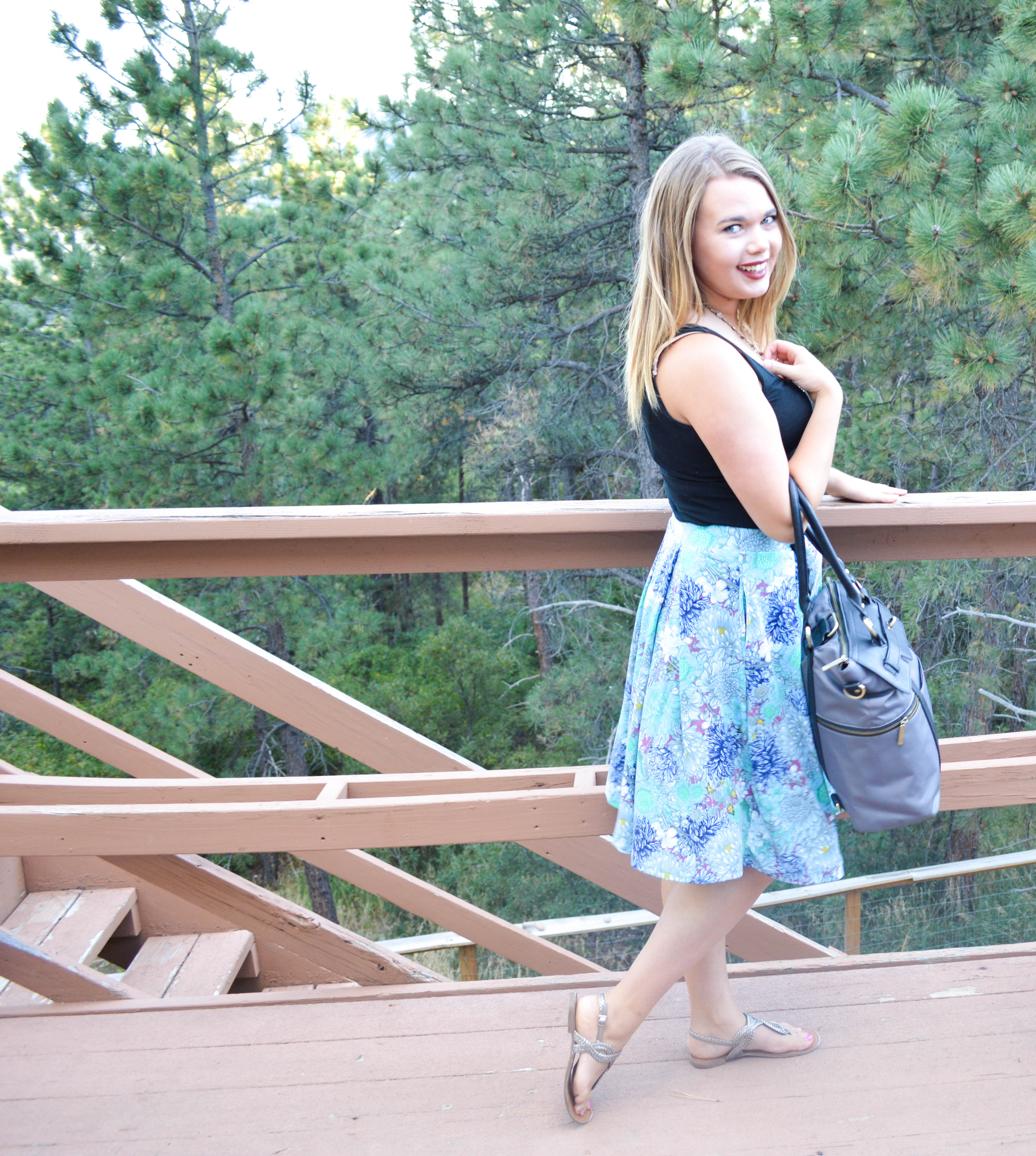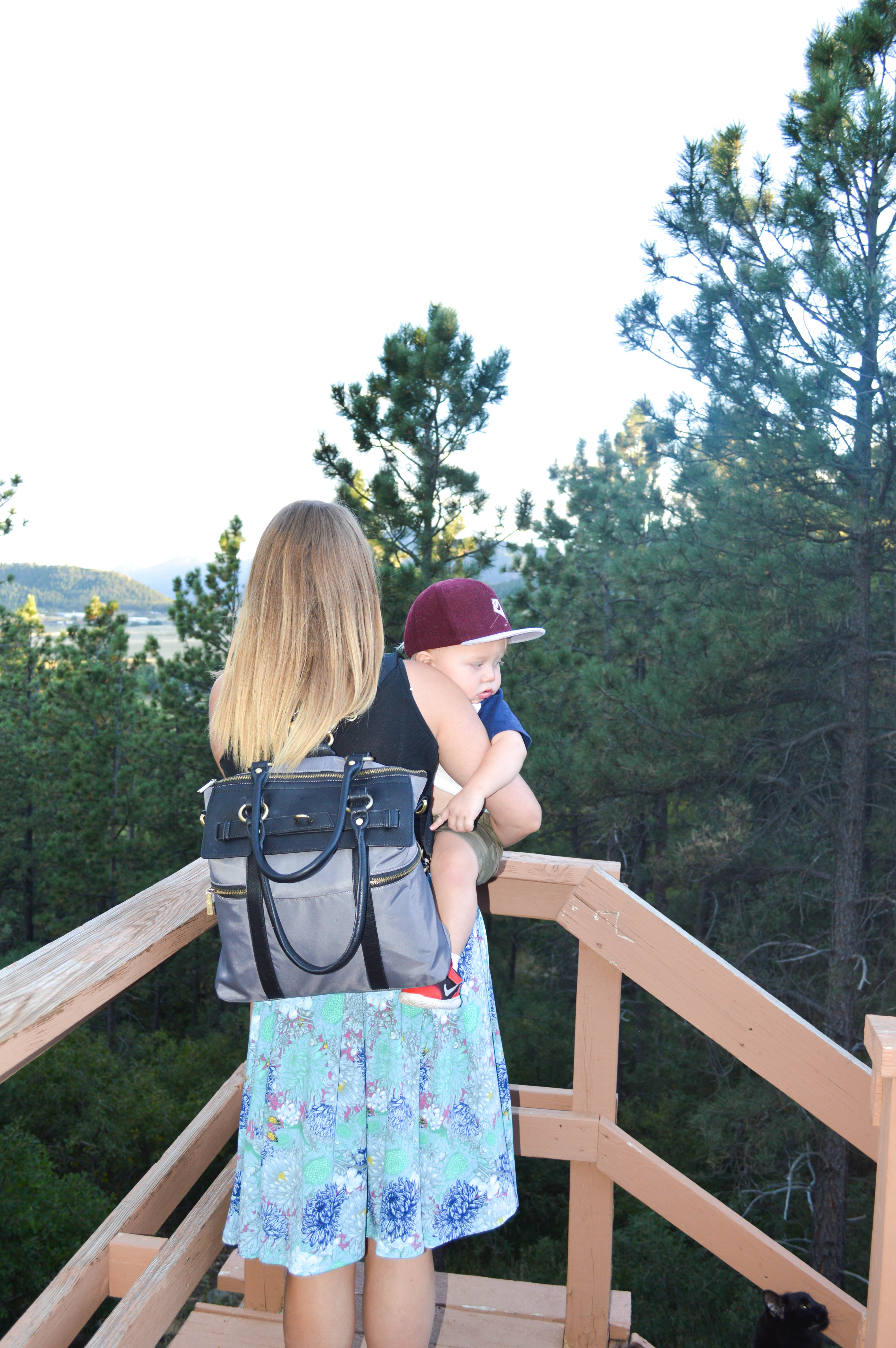 The Louise has 3 outside pockets and 6 inside pockets making for 9 pockets total! It was absolutely perfect for keeping me organized while traveling. Whenever I needed to locate something, I could do it within seconds, without having to dump everything out of my bag. There was a place for everything and everything in it's place. There's also a key FOB to easily locate your keys which is amazing for me (the constant key loser). 2 of the pockets are even insulated to keep bottles warm, and it comes with a water resistant changing pad with foam cushioning. Have you ever tried to change a diaper in an airplane bathroom? A poopy diaper? It's the absolute worst. I've managed to avoid it on every flight but one and I wouldn't wish it on my worst enemy. There's no changing table in there so I had to try and do it on top of the toilet lid and it was hard. What I would've given for a foam changing pad then!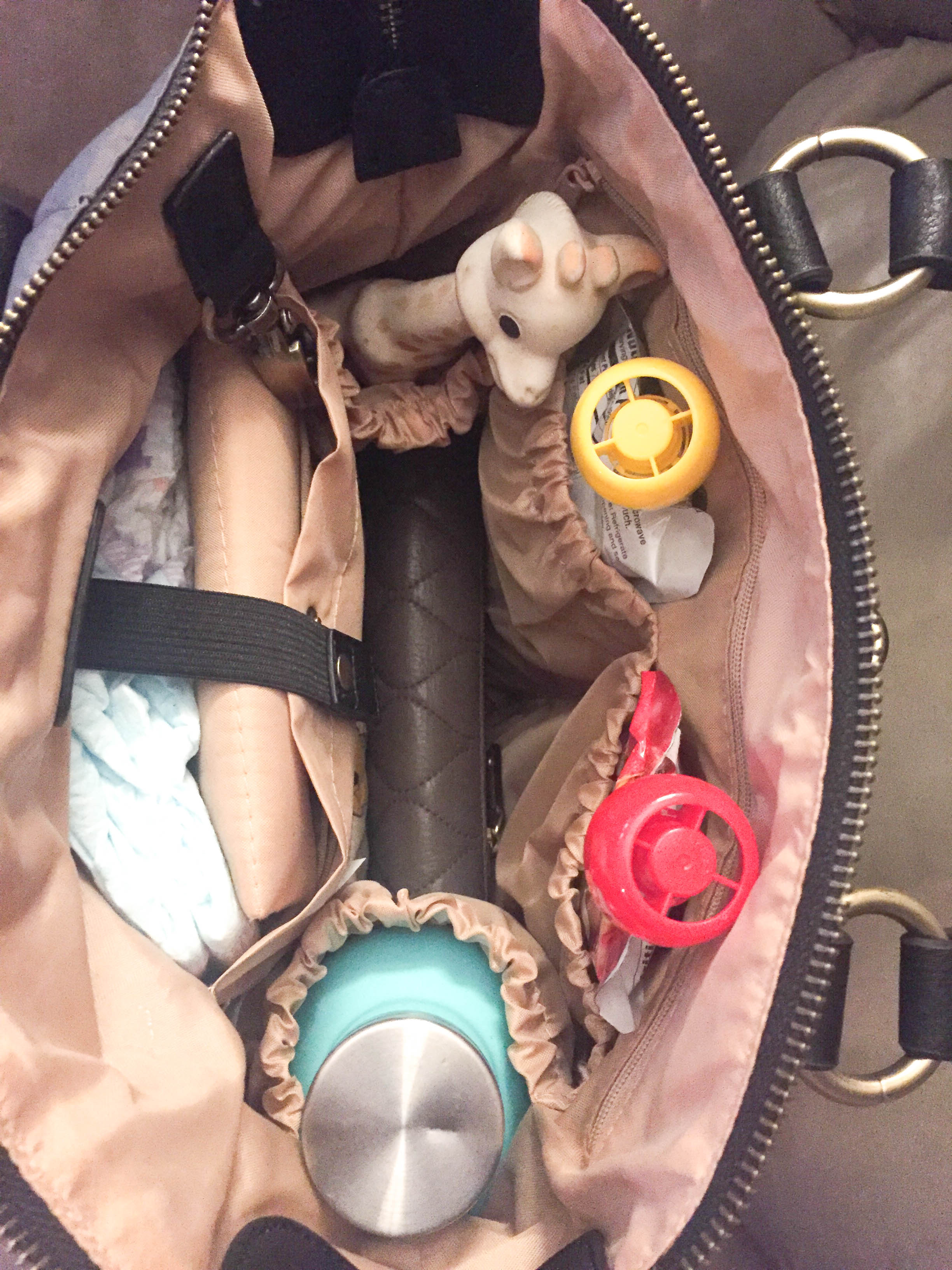 Newlie has 3 different bags to offer in lots of different colors. They're different from your traditional diaper bag because they are unique and stylish. You could easily use one as a handbag even if you don't have kids- they're that cute!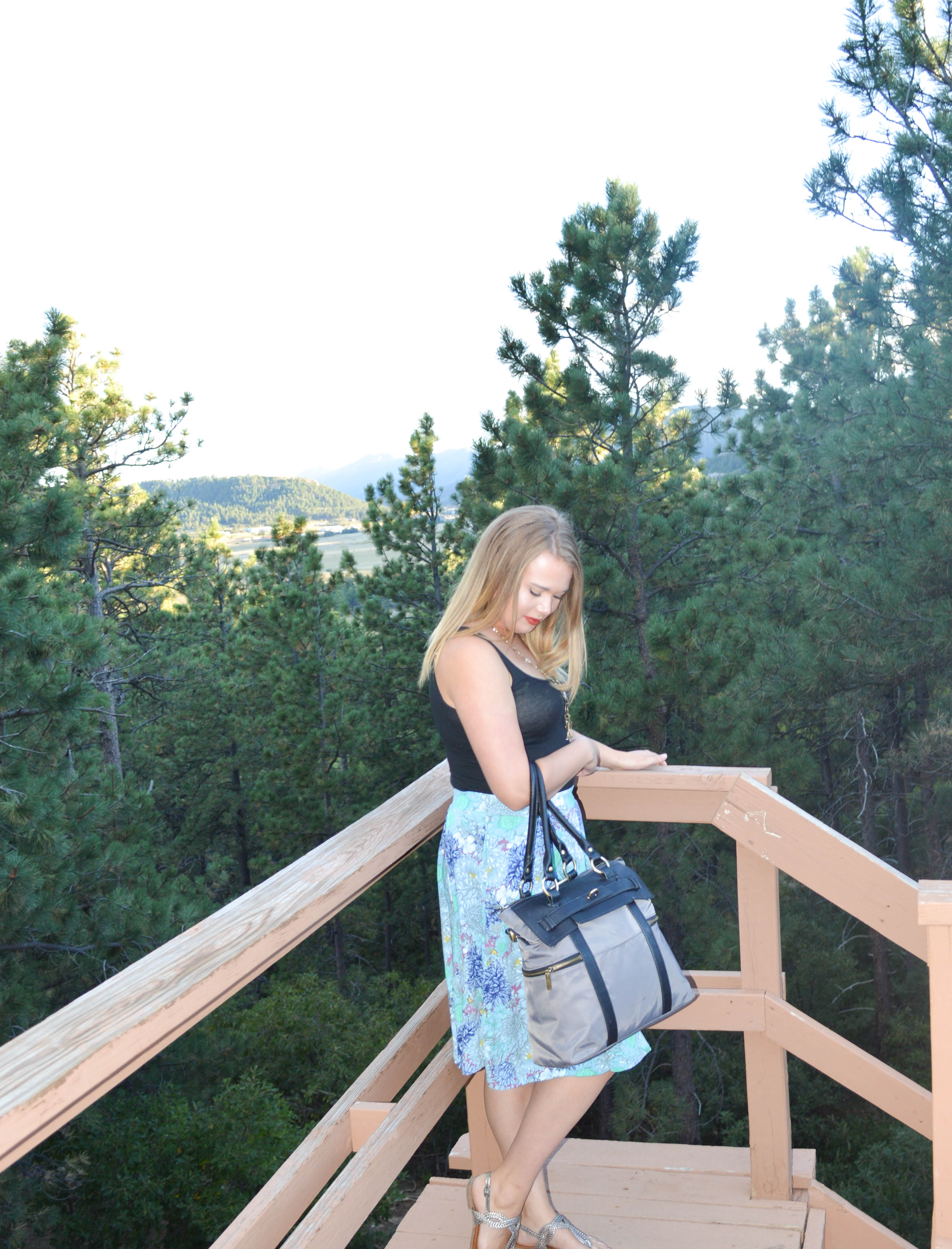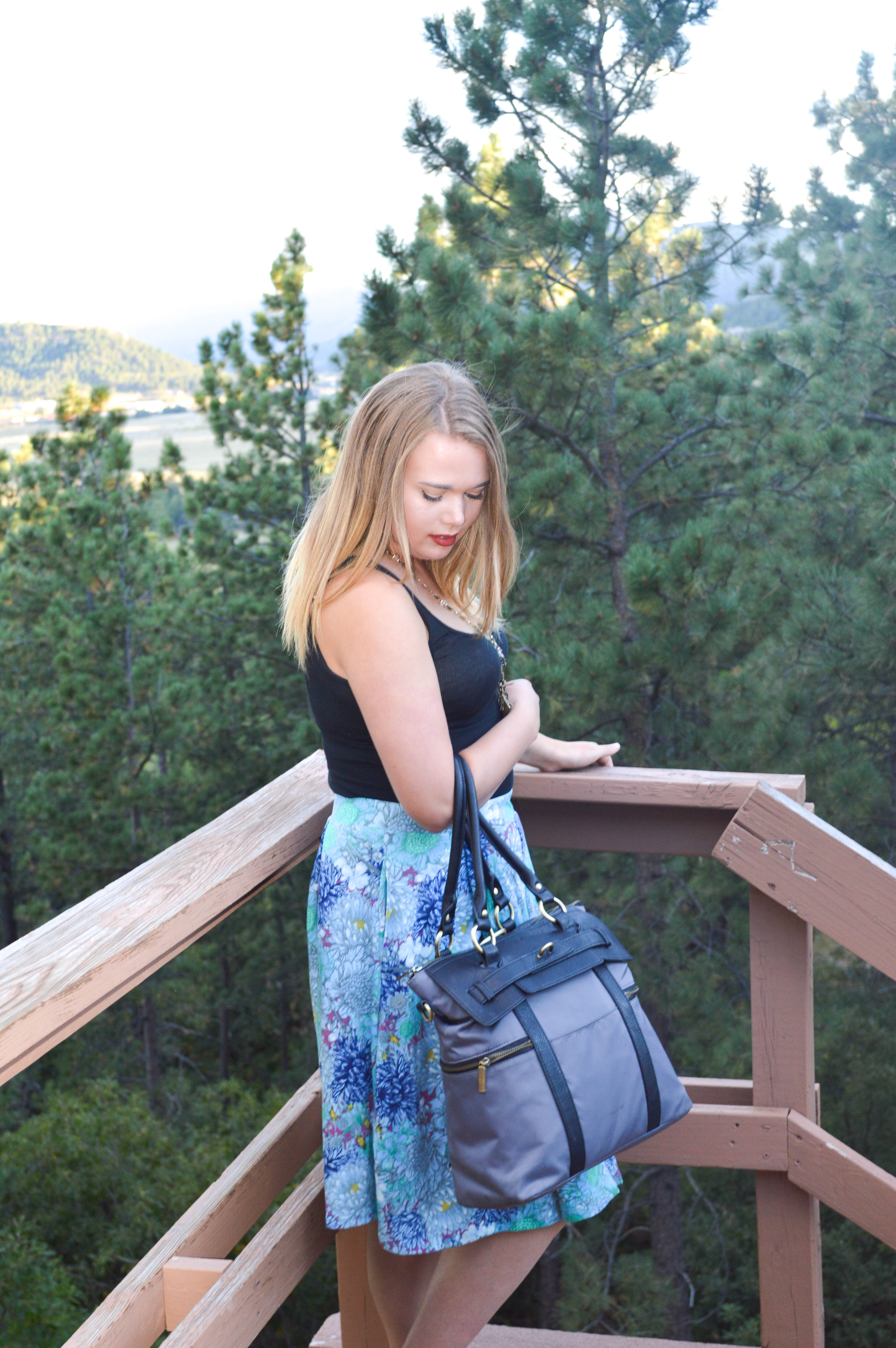 Be sure to check out Newlie Co:
| Shop | Facebook | Instagram | Twitter |
4. Have your child carry their own bag!
If your kiddo is big enough, have them carry a small backpack of their own with some diapers, snacks, and 1 toy. We let Sawyer (15 months) bring his own little backpack with just those 3 things in it. It saved room in my diaper bag so I could have some snacks and a magazine for me. Lightening my load, even just by those 3 things, helped a lot, and he looked so cute in his little backpack! He even knew to go in there to get himself his toy if he wanted it.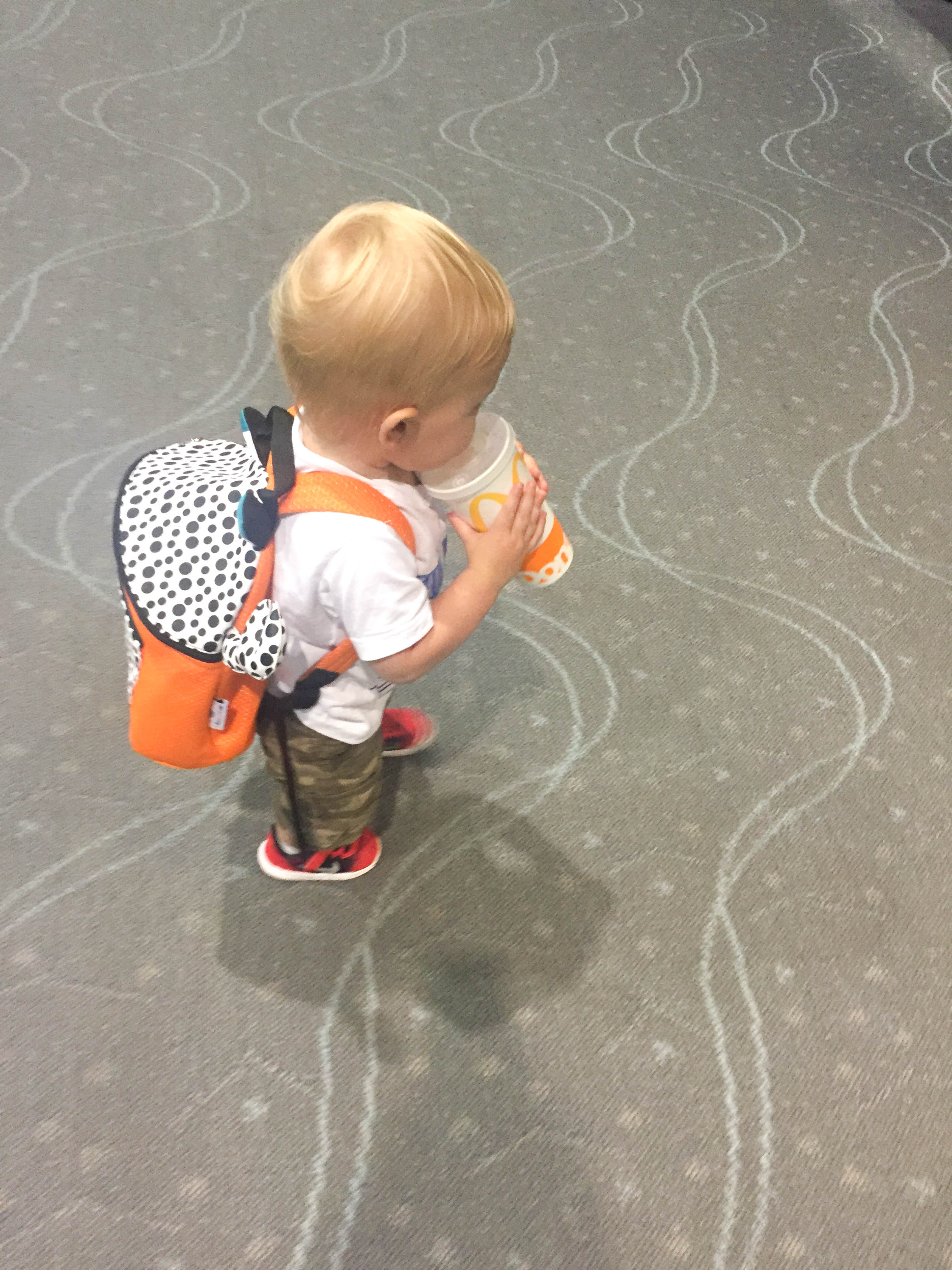 5. Get there 1-2 hours early!
Depending on the type of airport you're navigating, you'll need to be a few hours early if you want to make your flight. We live in Colorado and the Denver International Airport is HUGE. The line at security takes at least 30 minutes, if not an hour, and after that you need to take a train to get to your gate. We like to get there 2 hours prior to takeoff to ensure that we won't miss our flight. For smaller airports – like the San Diego airport we usually fly to – we usually only need an hour since the security line is much shorter and the gates are only a few steps away. The worst case scenario when traveling with a little one would be being late to your flight and having to run. Get there early!
What are your tips for making travel/airport navigation smoother? Comment below!
xoxo.
Disclaimer: I received items from Newlie Co in exchange for review. All opinions expressed are my own.
Save