Disclaimer: We were hosted by the Hyatt Regency Resort and Spa. All opinions are my own.
During our recent trip to Phoenix, we had the amazing opportunity to stay at the Hyatt Regency Resort and Spa in Scottsdale. It was incredible. We have never stayed anywhere so darn near perfect! They Hyatt Regency Scottsdale is perfect for everyone! Family vacations, girls trips, couples weekends, or even a honeymoon. It's romantic, relaxing, and family friendly all in one. We can't wait to go back!
The Hyatt Regency Scottsdale Resort and Spa: a Complete Guide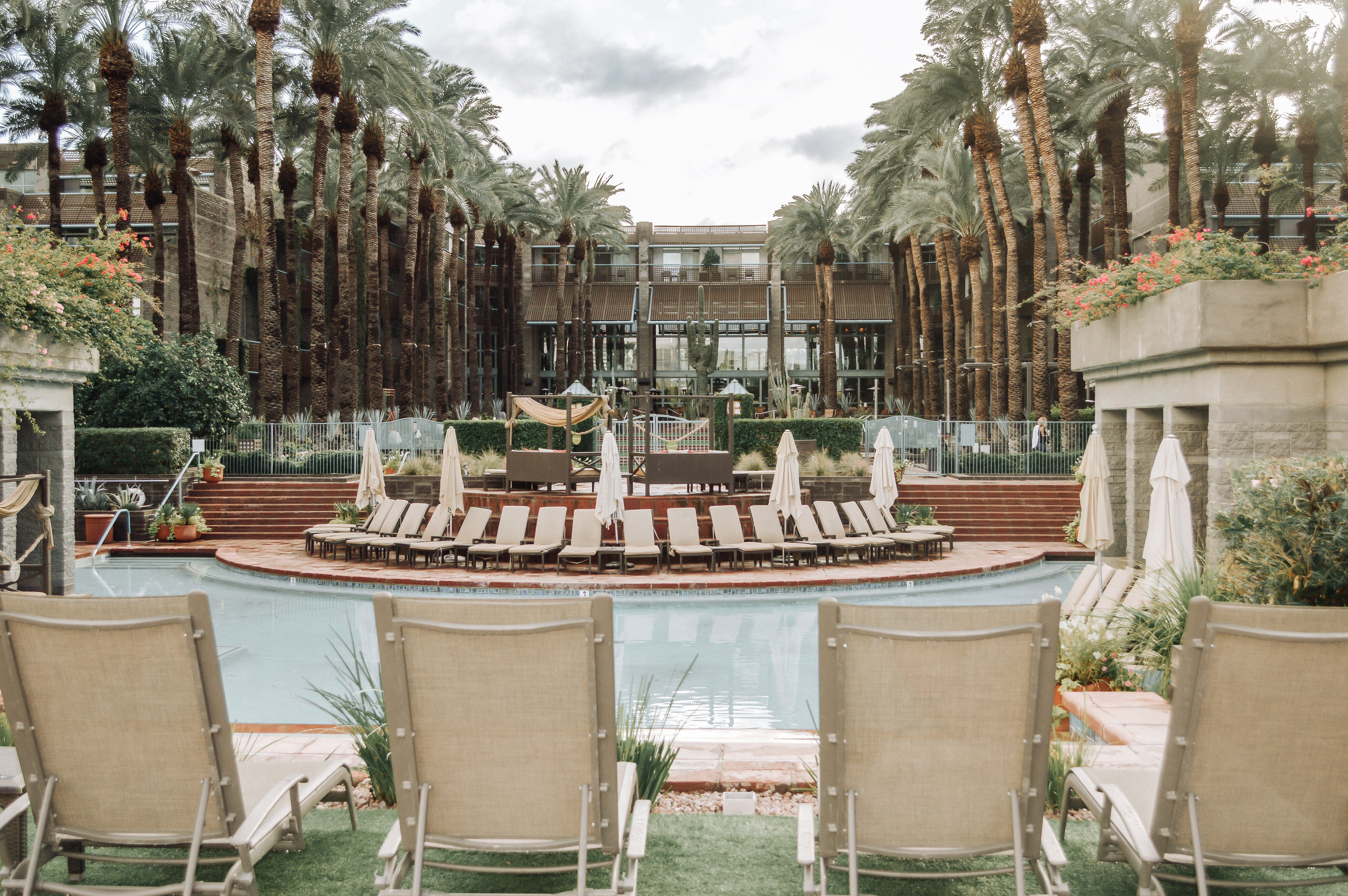 The Hyatt Regency Scottsdale Resort and Spa is located at Gainey Ranch in the heart of Scottsdale, Arizona. It's perfectly secluded while still being nearby plenty of shopping and restaurants a few miles away. Even though it's close enough for food and shopping, the Hyatt Regency is a resort and you would technically never have to leave, they have absolutely everything you could possibly need on site!
The Hyatt Regency Scottsdale Resort and Spa: Check-In and Rooms
Upon check-in, we had been driving for a while and both the kids were crying and tired, so they brought out cute little stuffed dogs for them! The kids perked right up and were so excited for their little presents- they both still have them! They also brought out some floaties for them to use at the pool which they instantly fell in love with. We went upstairs to our room and were immediately impressed. We had a 2 queen room with a poolside view. Our room had a very large porch-style balcony which was so nice! Sharing a hotel room with kids often means that you have to go to sleep at the same time they do (or at least be incredibly quiet for a few hours), but with the porch, we were able to put the kids to sleep, then go outside with a glass of wine and chat or play games, or watch a movie on the laptop. Since it's so warm in Arizona, the porch was a really nice touch.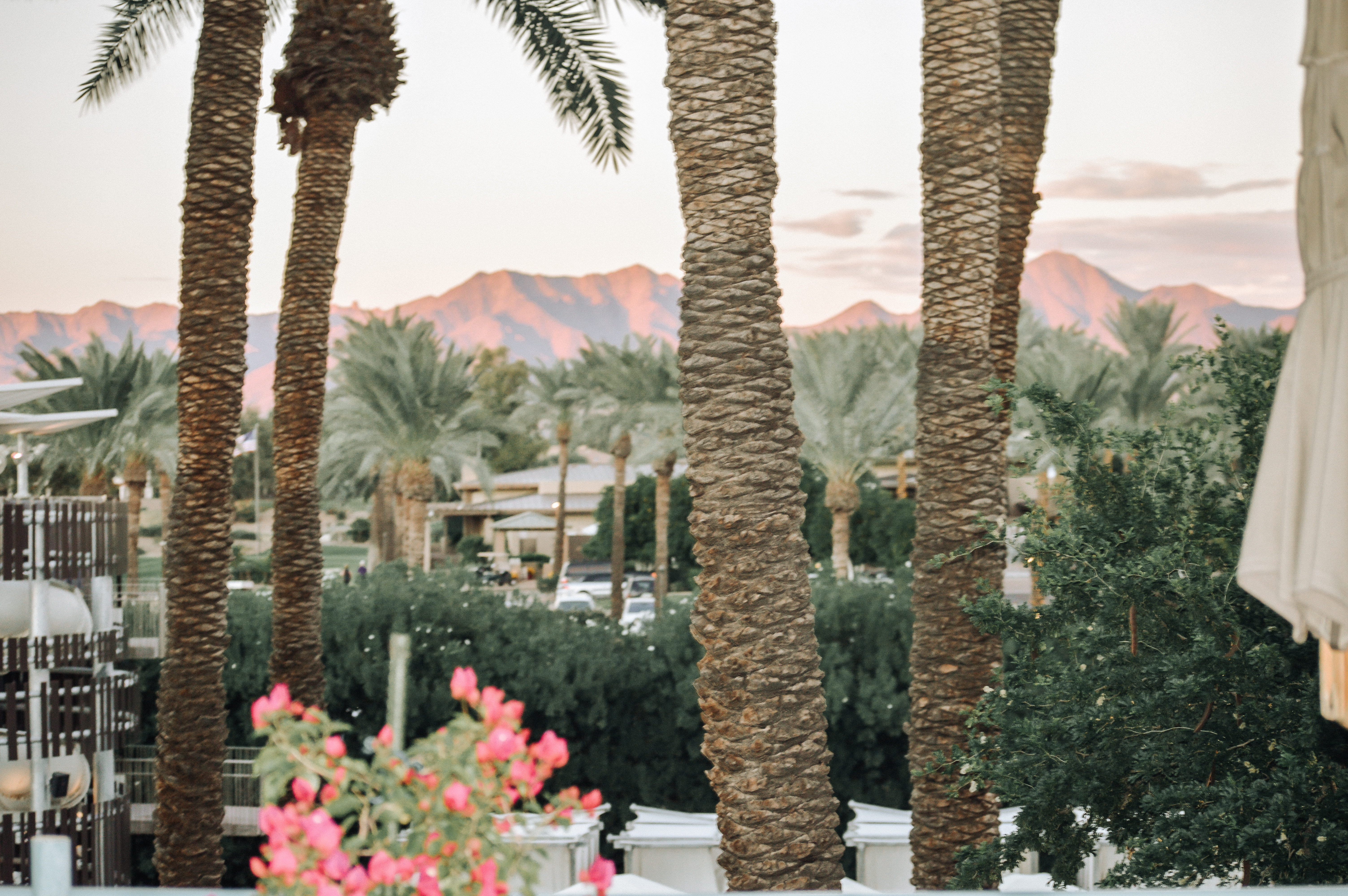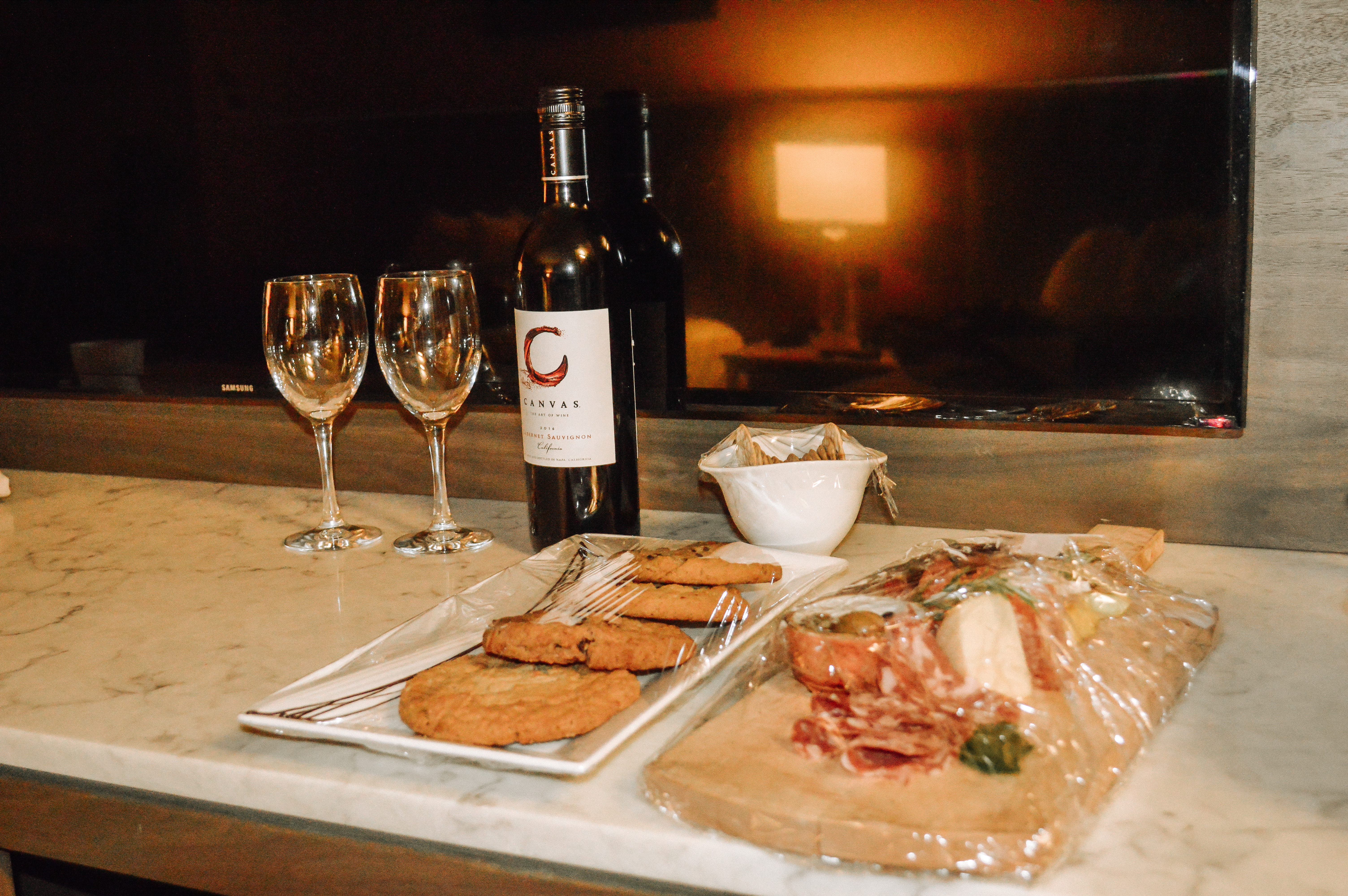 The Hyatt Regency Scottsdale Resort and Spa: Dining
They Hyatt Regency Scottsdale Resort and Spa features plenty restaurants on site. Wine Me, Dine Me, SWB a Southwest Bistro, Cantina Due, Alto Risorante E Bar, and Noh. There's also 2 pool bars, H2Oasis for everyone and The Grotto which is adults only. Then there's The Center Stage Bar, with plenty of indoor and outdoor seating, and live music at night! And there's always room service too!
We were fortunate enough to try out the Hyatt's Regency Club and loved it! For an extra fee per room, per day, the Hyatt Regency Club gets you access to an exclusive club space with indoor and outdoor seating. They serve drinks, coffee, and snacks all day long as well as breakfast in the morning and light dishes and appetizers in the evening. It was so great to be able to stop by during the day and pick up some drinks and snacks or just sit and hang out. The breakfast spread was amazing and do were the appetizers in the evening. We ate a lot of yummy hyatt cookies!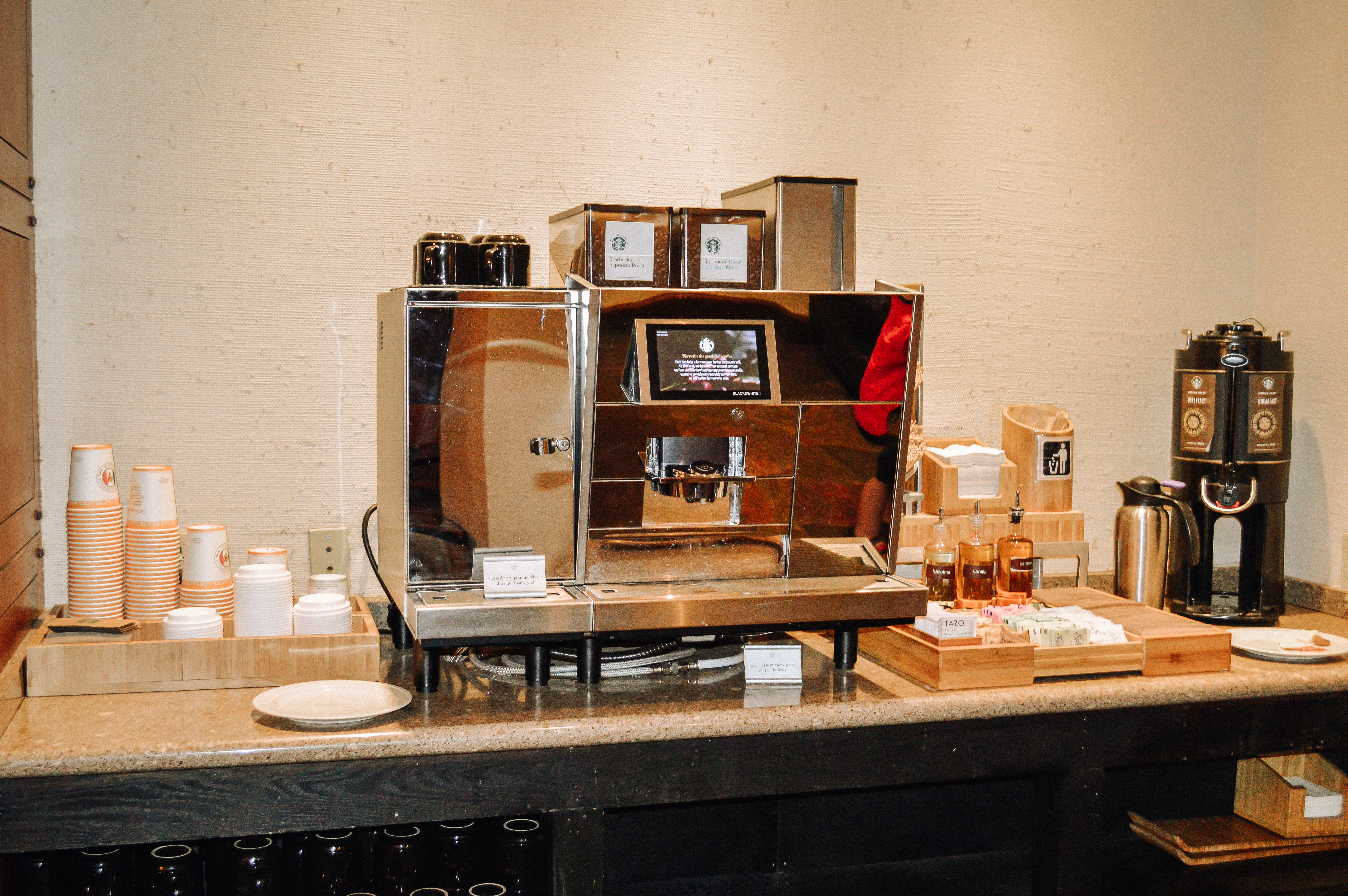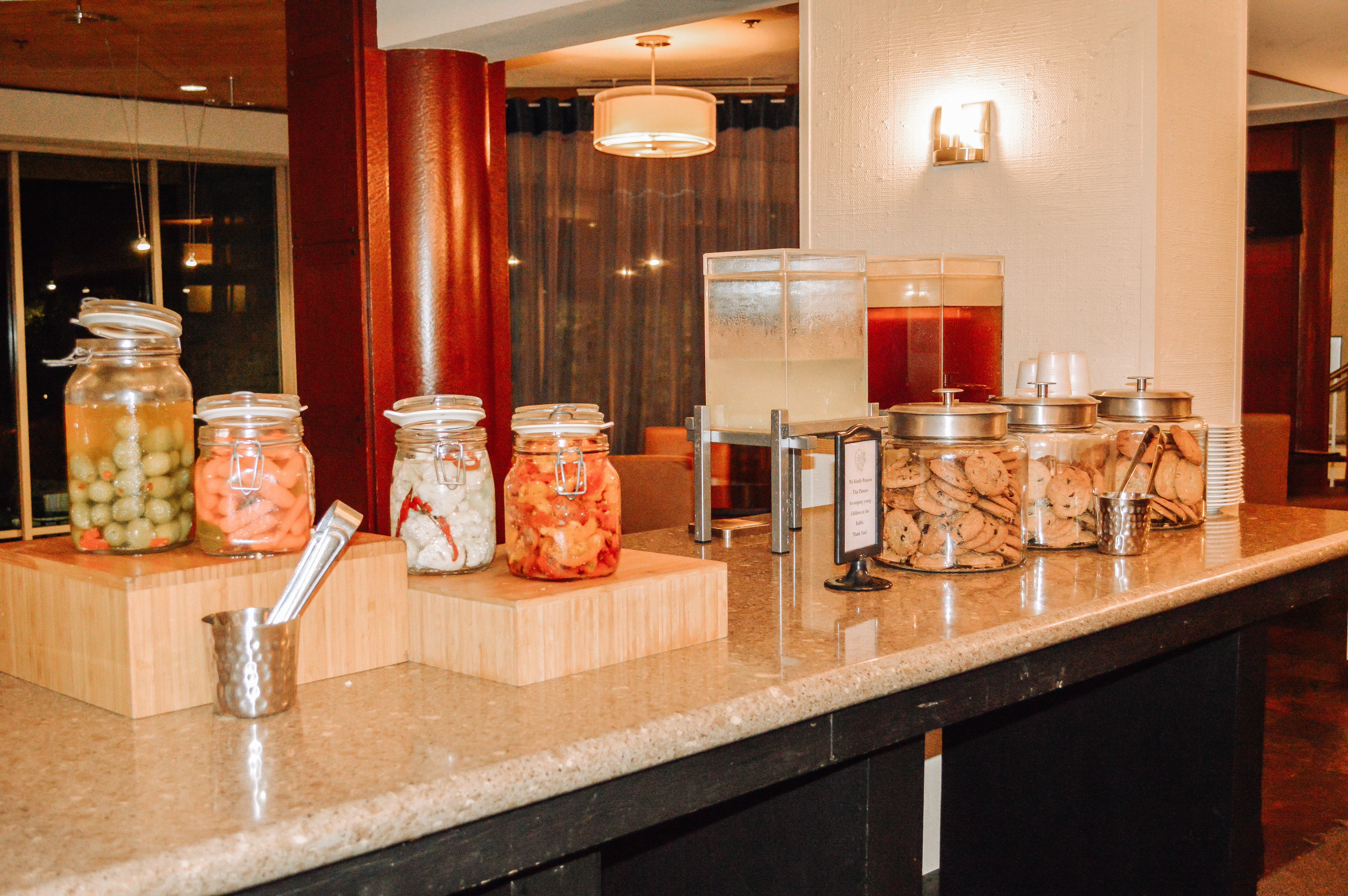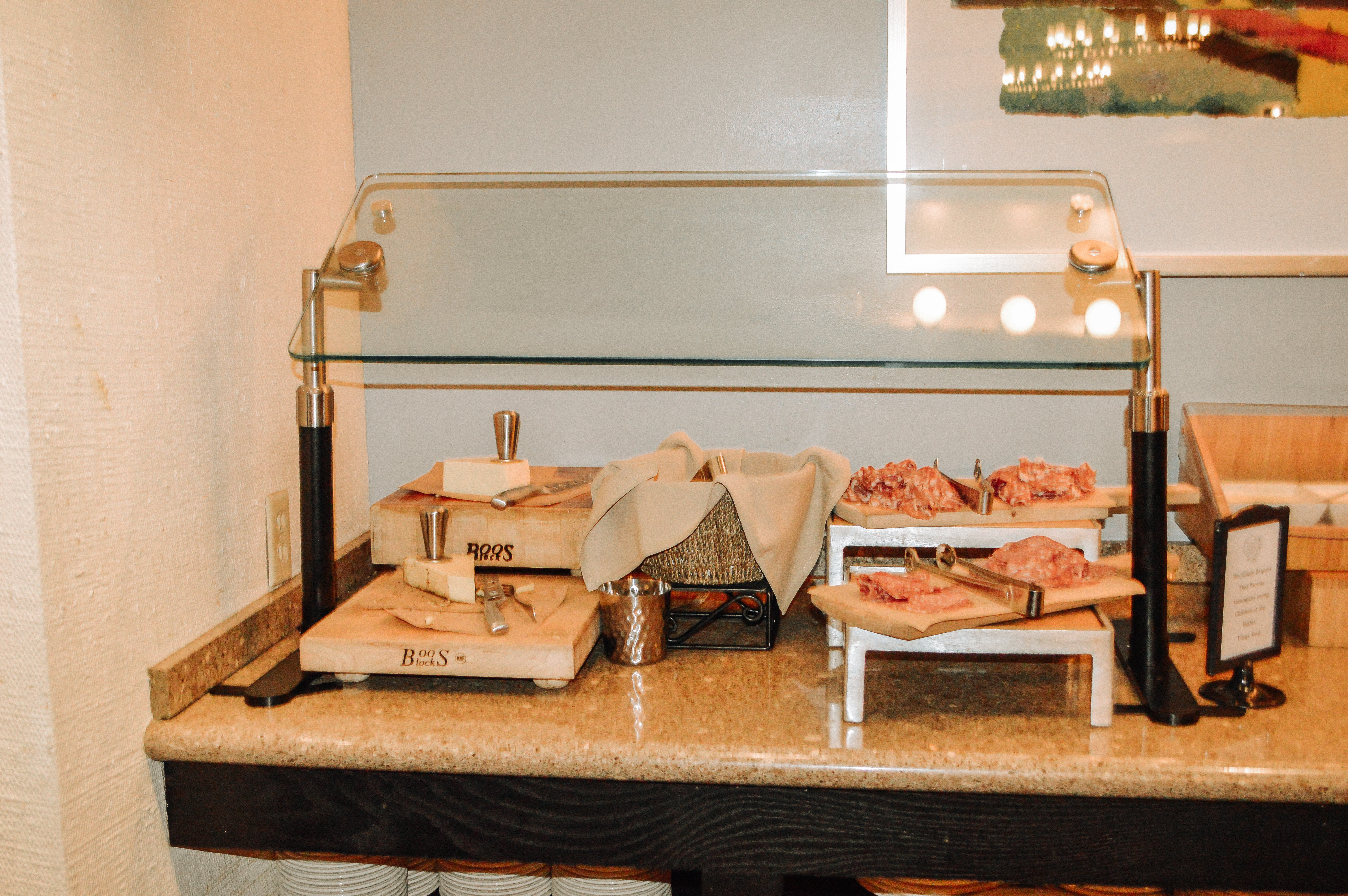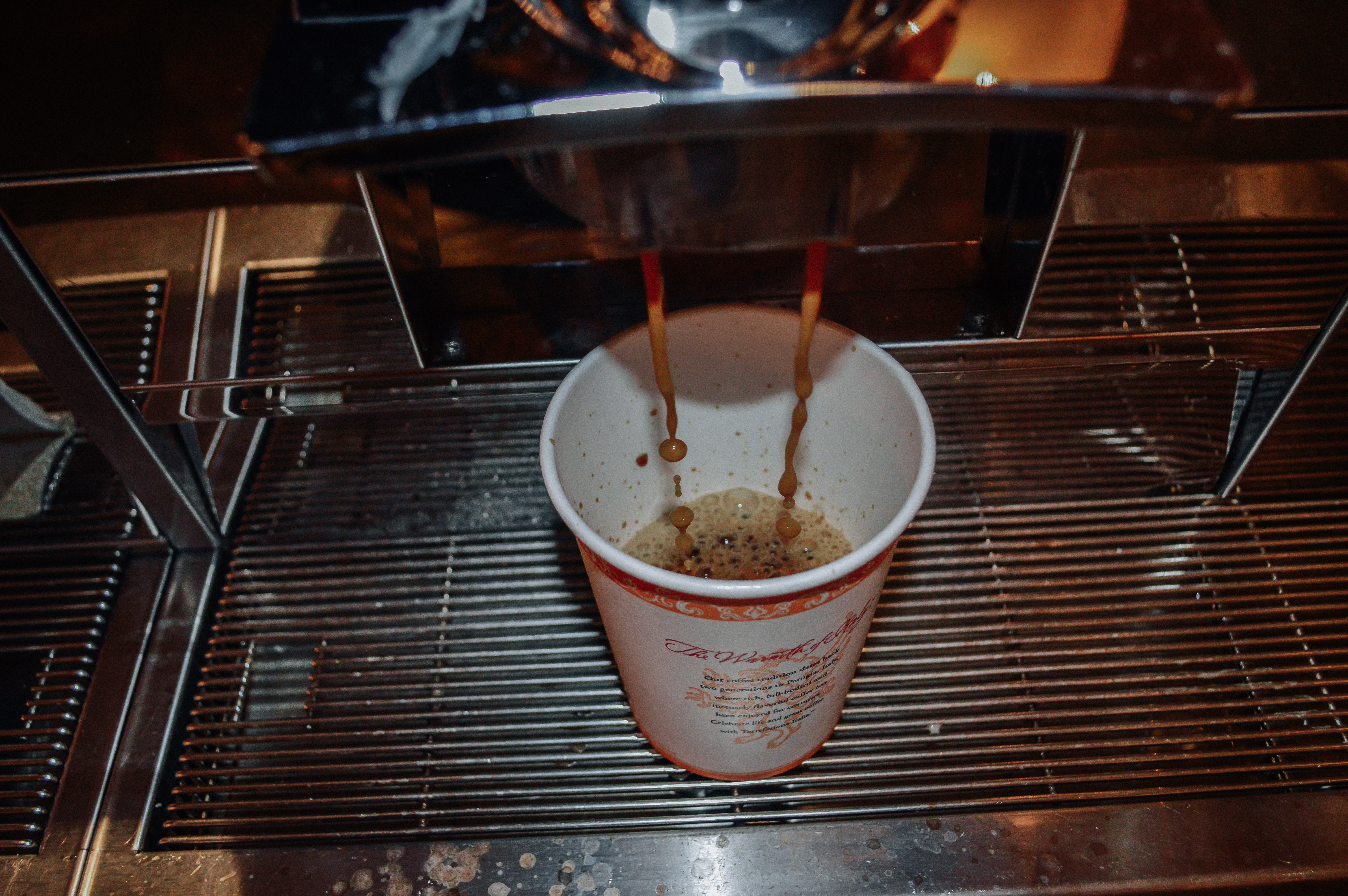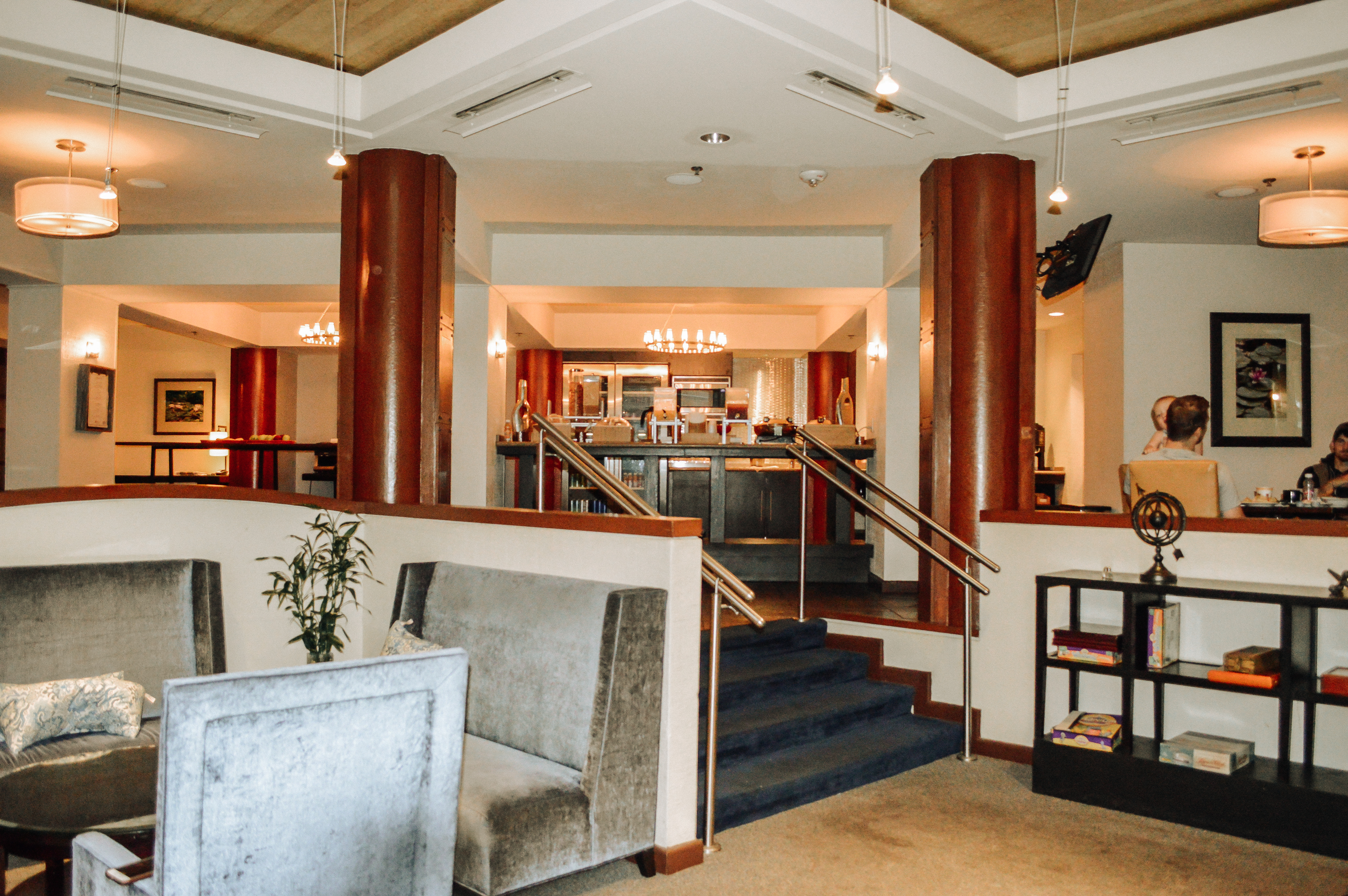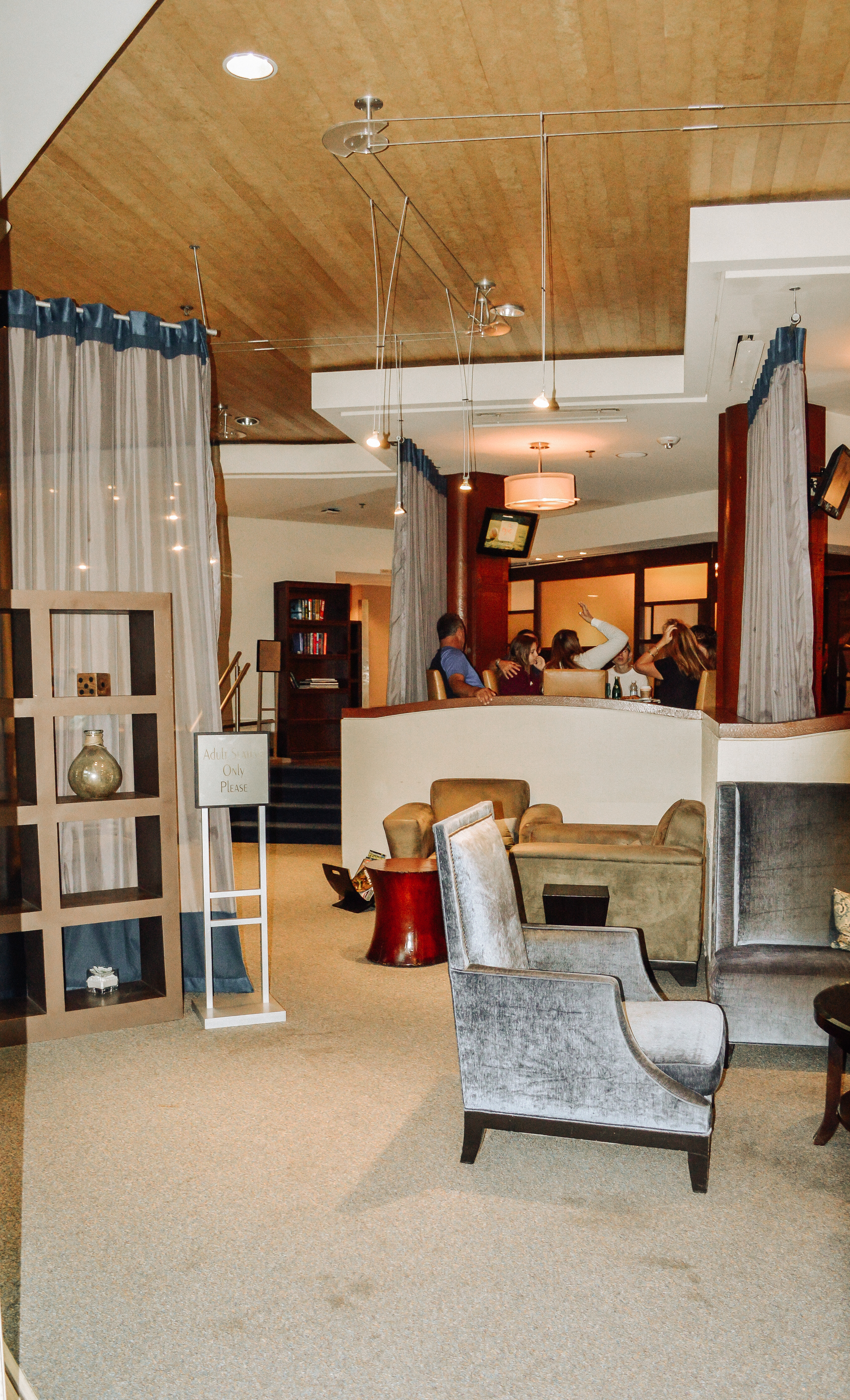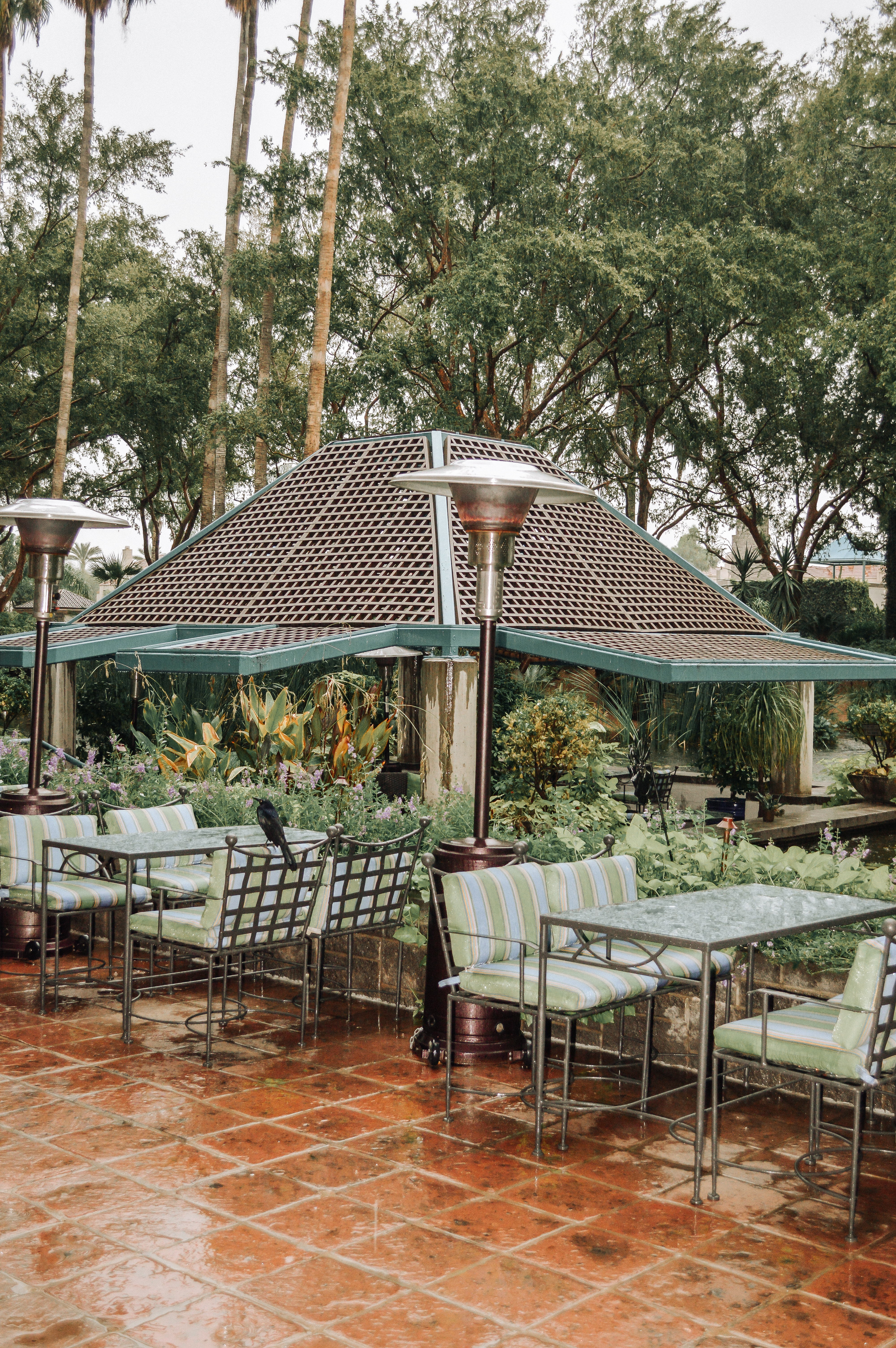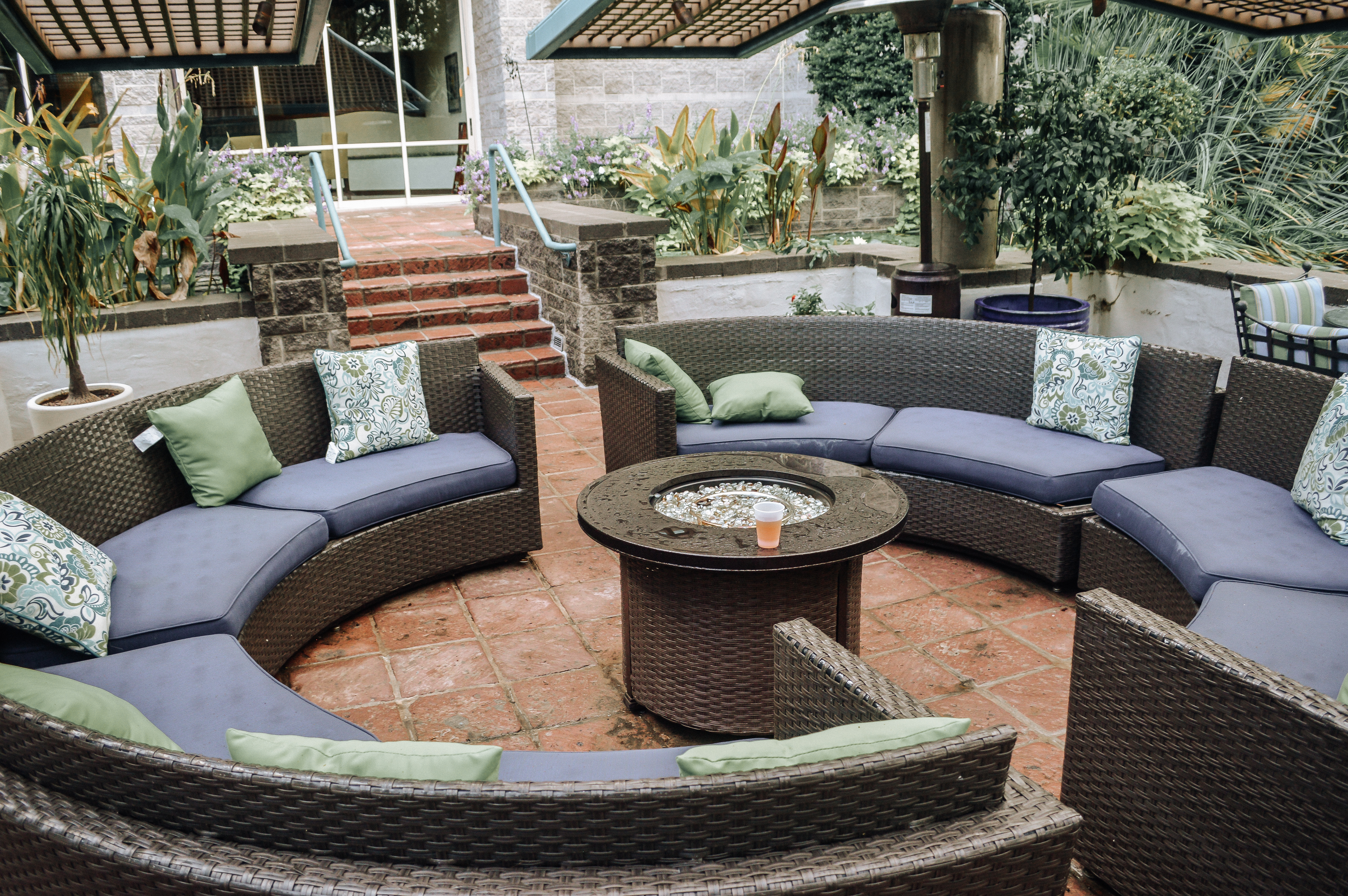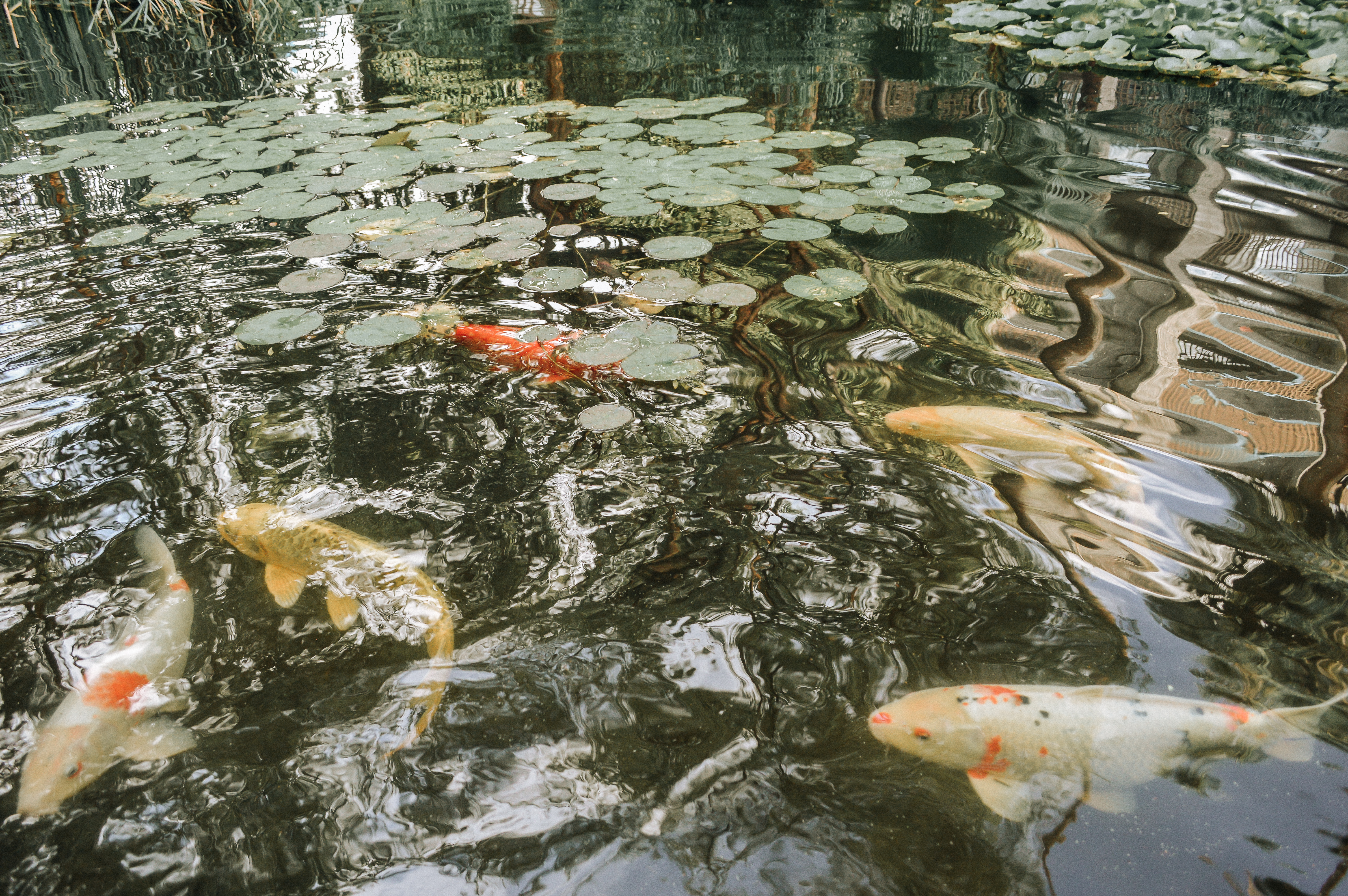 The Hyatt Regency Scottsdale Resort and Spa: Spa Avania
The Regency Club also gives you limited access to the on-site spa, Spa Avania. You Regency Club access will allow you to use the sauna, eucalyptus steam room, the hot and cold pools, the relaxation rooms, the mineral pool, and the showers. Kurtis and I spent an afternoon in the spa while my sister watched Oliver for us and it was incredible. We'd never been to a spa together before and after a few days of traveling with kids- it was definitely needed! Most of the spa keeps men and women separate but the mineral pool is co-ed so we each spent some time on our respective sides and then met up in the mineral pool. It was amazing!
Spa Avania also offers a ton of other services for an additional fee. They have tons of wraps, facials, massages, and even a salt room!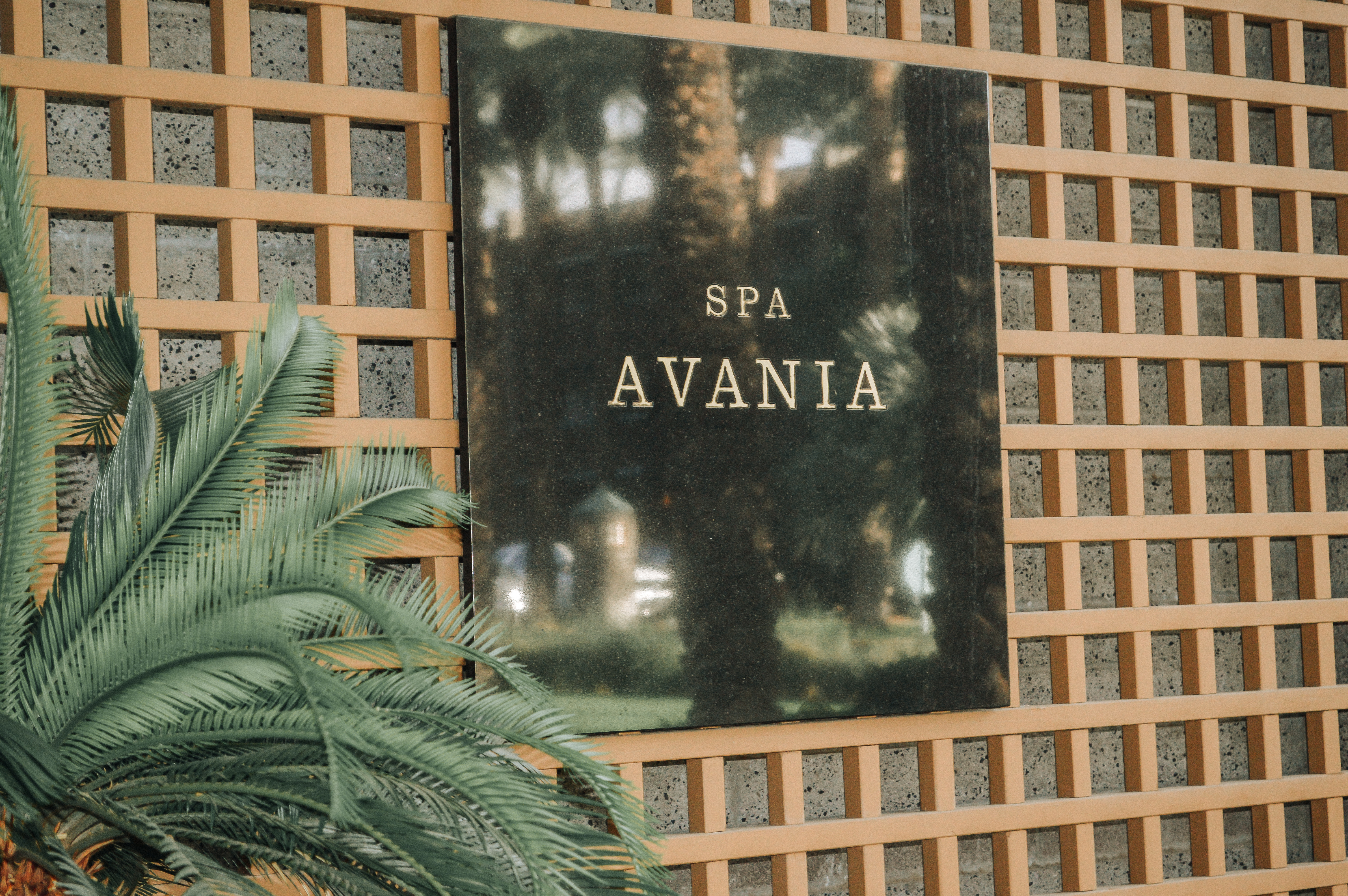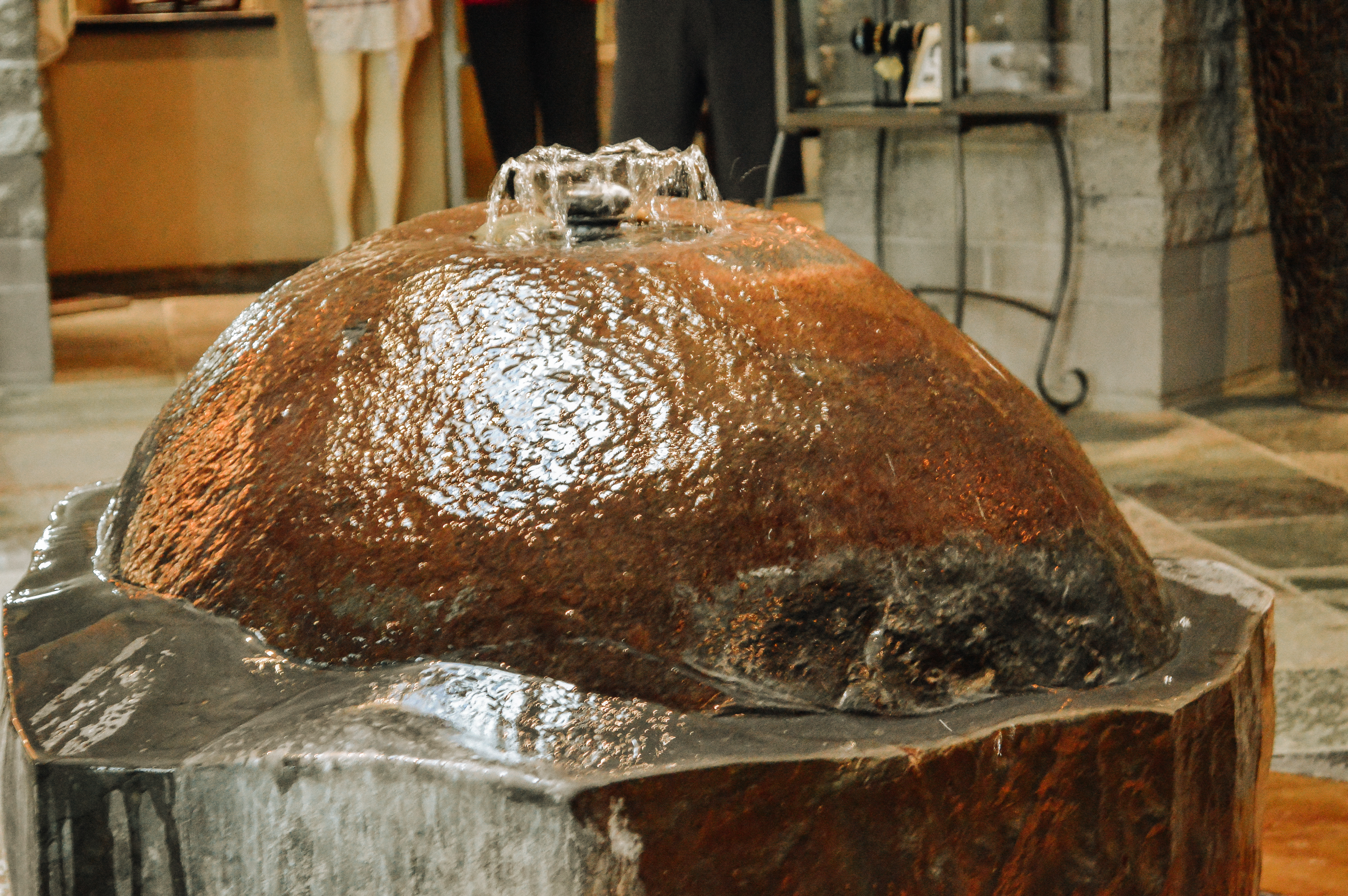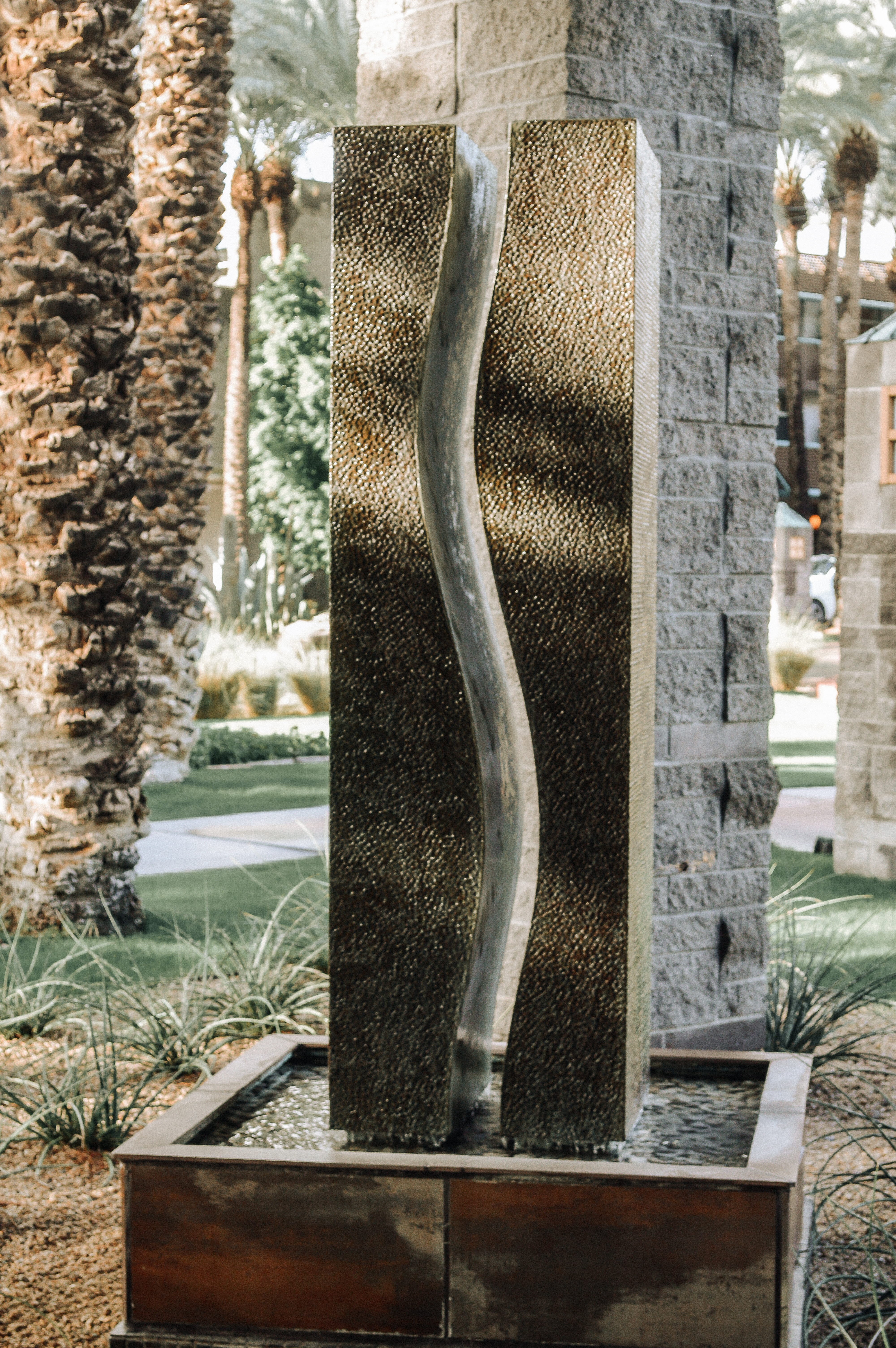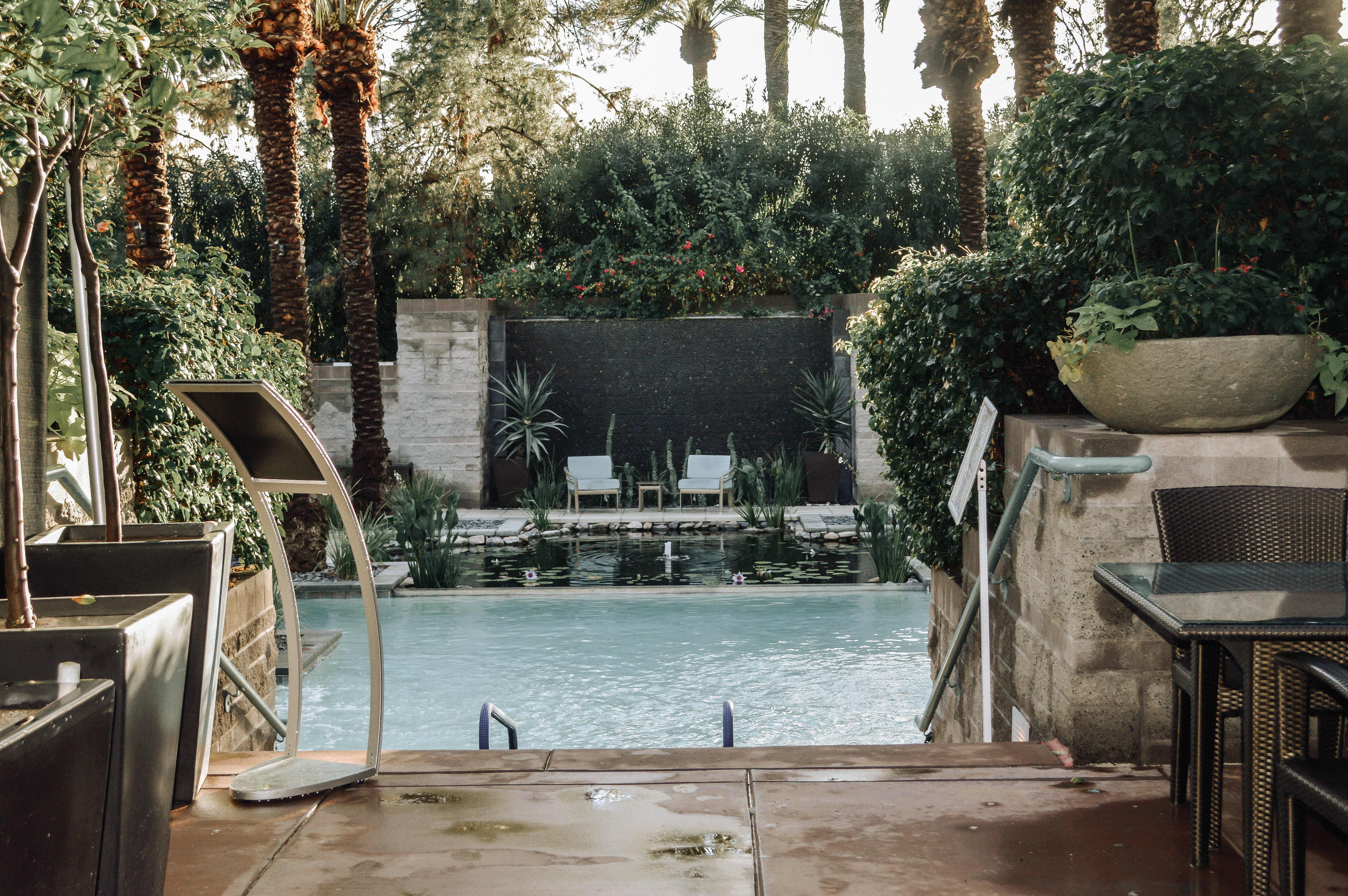 The Hyatt Regency Scottsdale Resort and Spa: Pools and Activities
In our opinion, the pools were probably the best part. The scenery and landscaping surrounding the pools is just gorgeous. You step out of the hotel and it feels like you might as well be in Hawaii. There are 10+ pools, 20 fountains, and 45 waterfalls. One of the pools has a real sand beach  that my kids just went nuts for. The spent hours splashing in the water and playing in the sand. There's even a chest full of sand toys free for the kids to use. There's also a huge water slide, hot tubs, and adult only pools.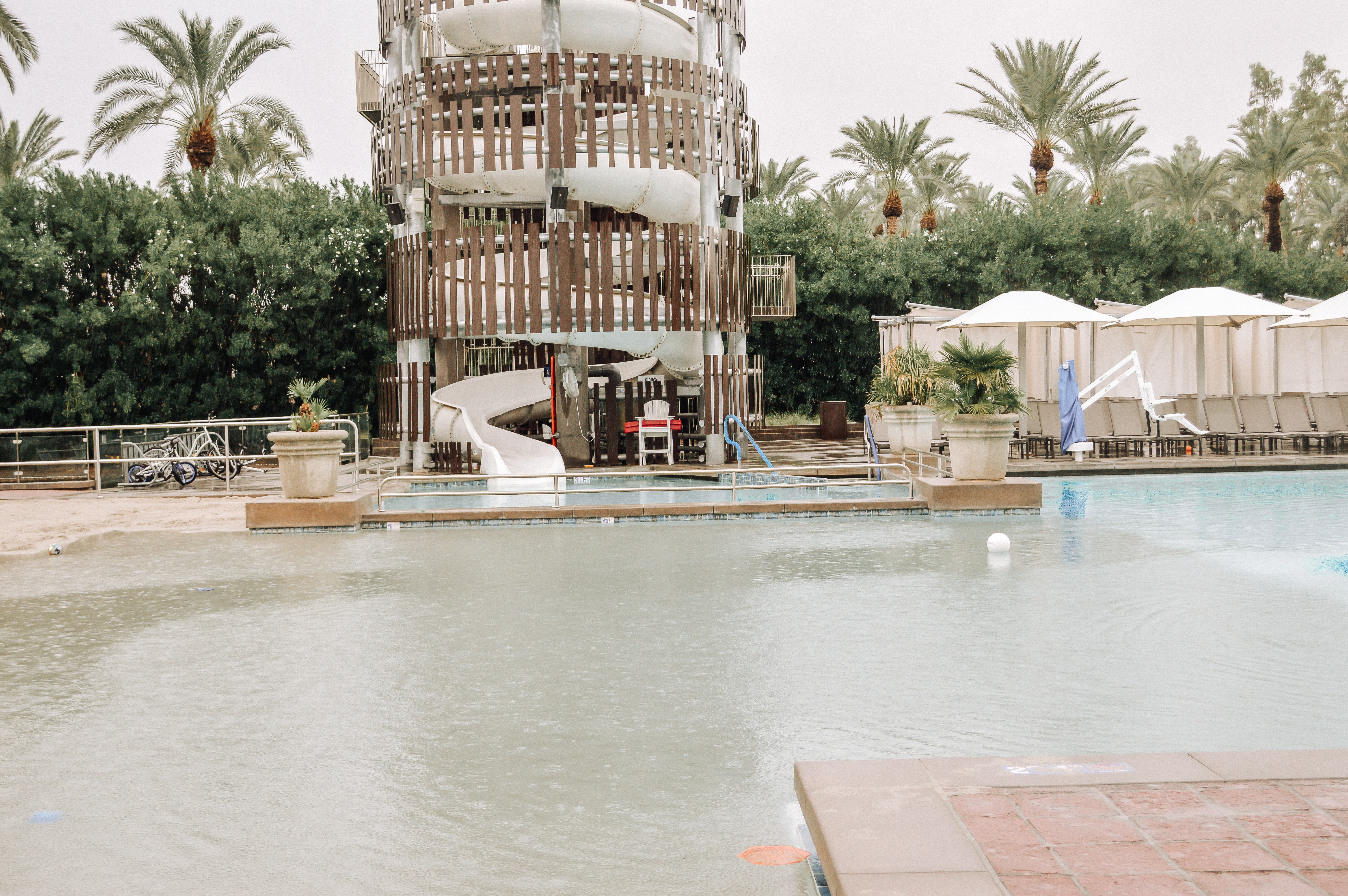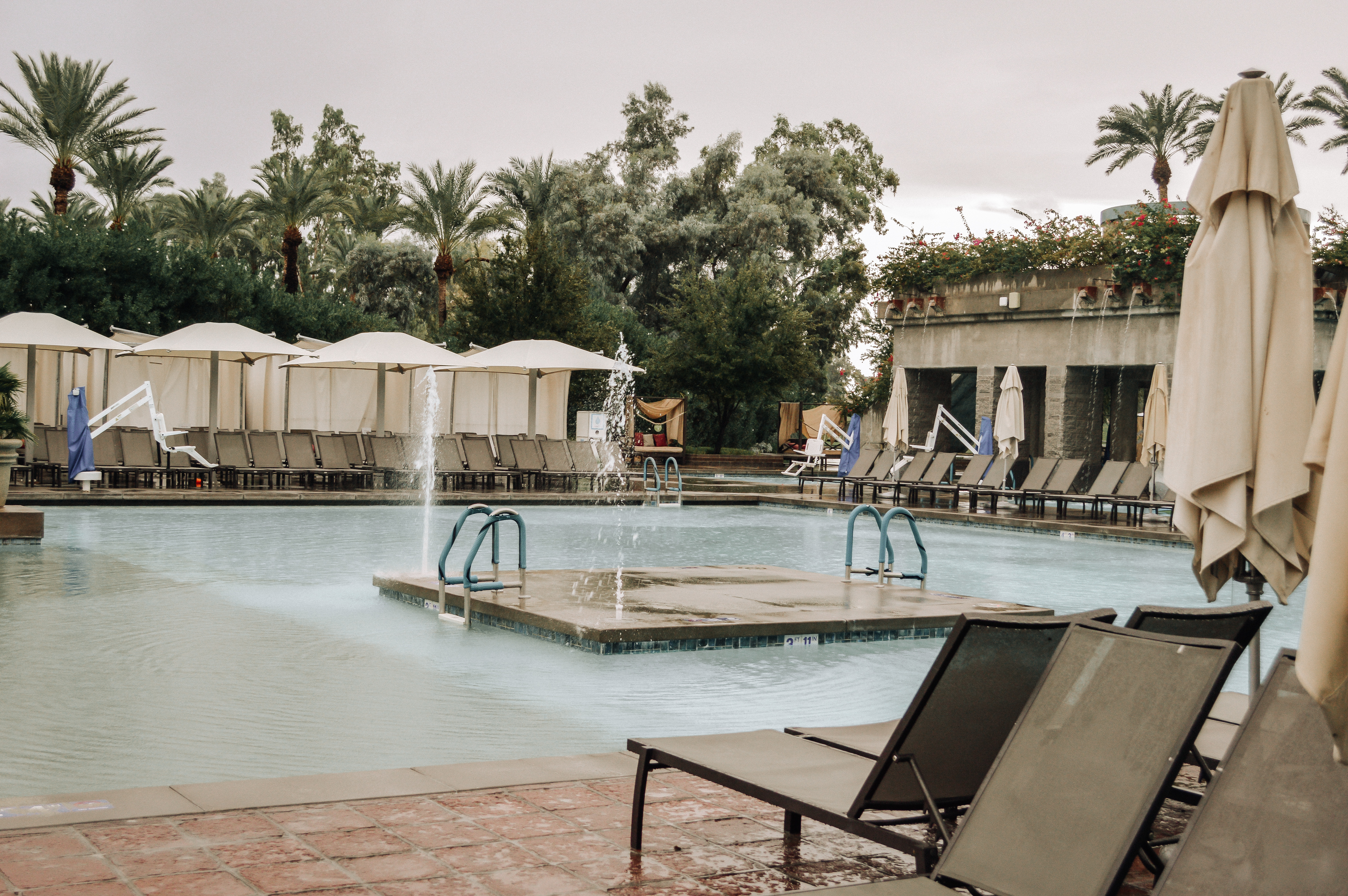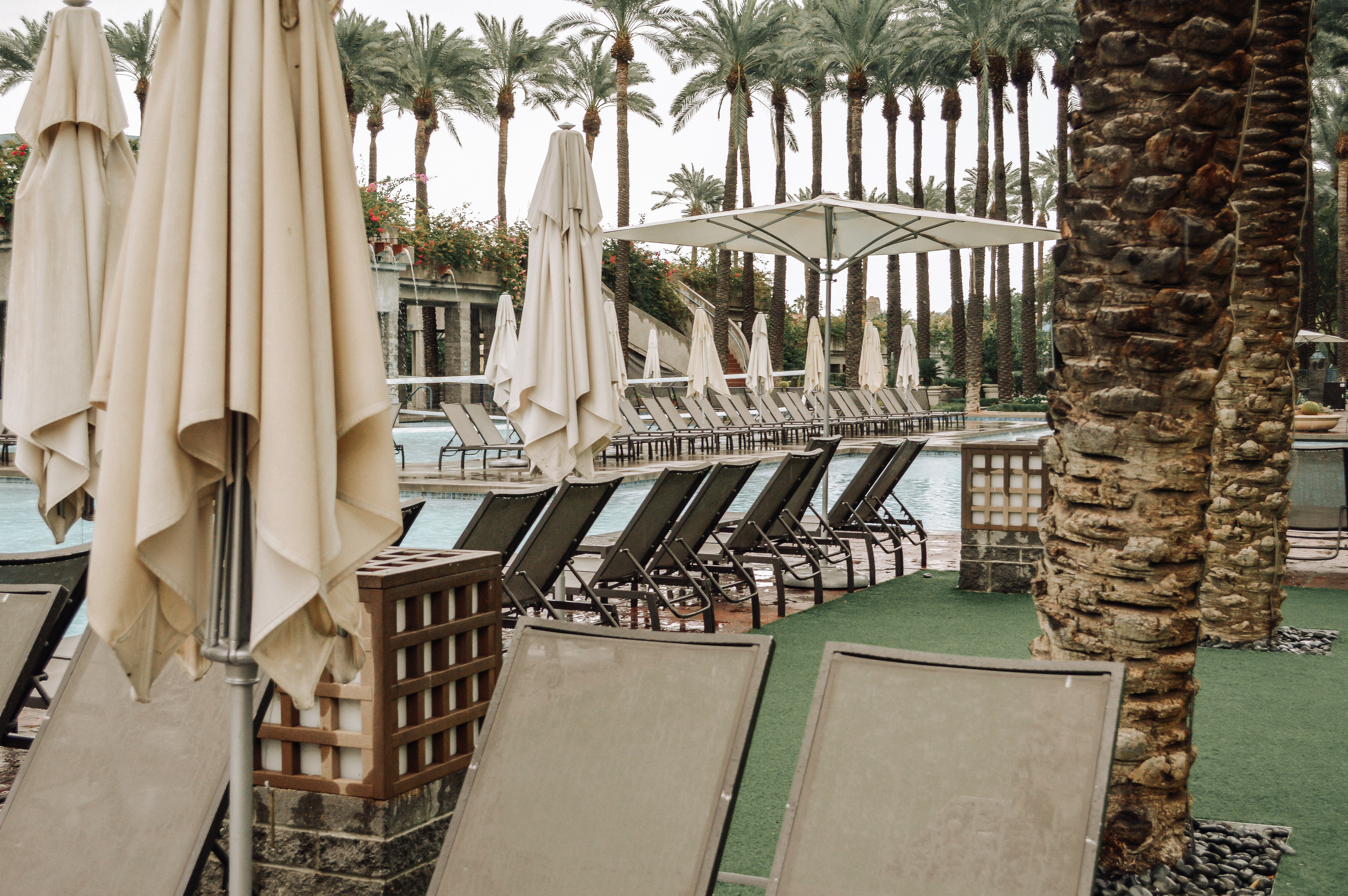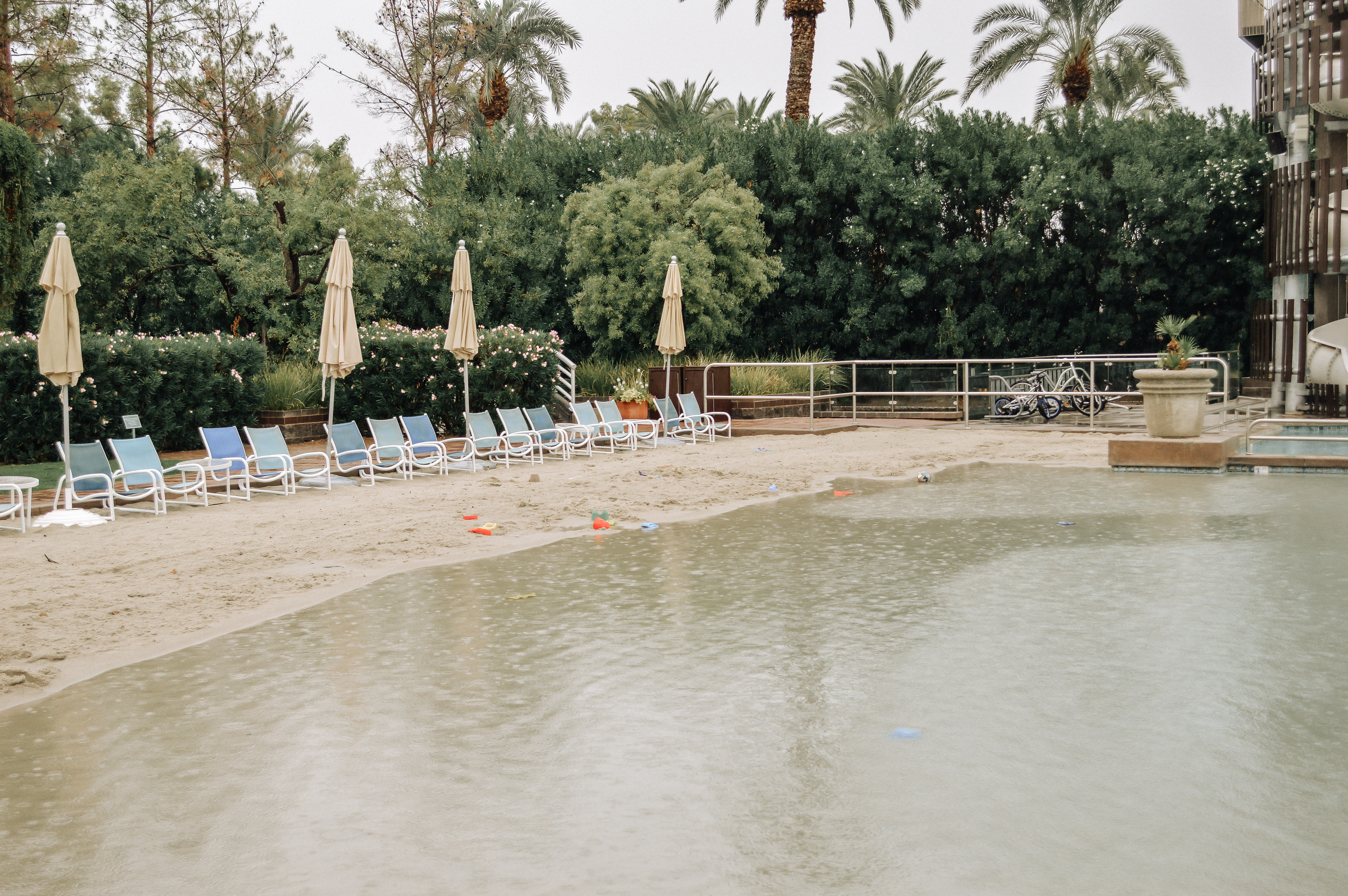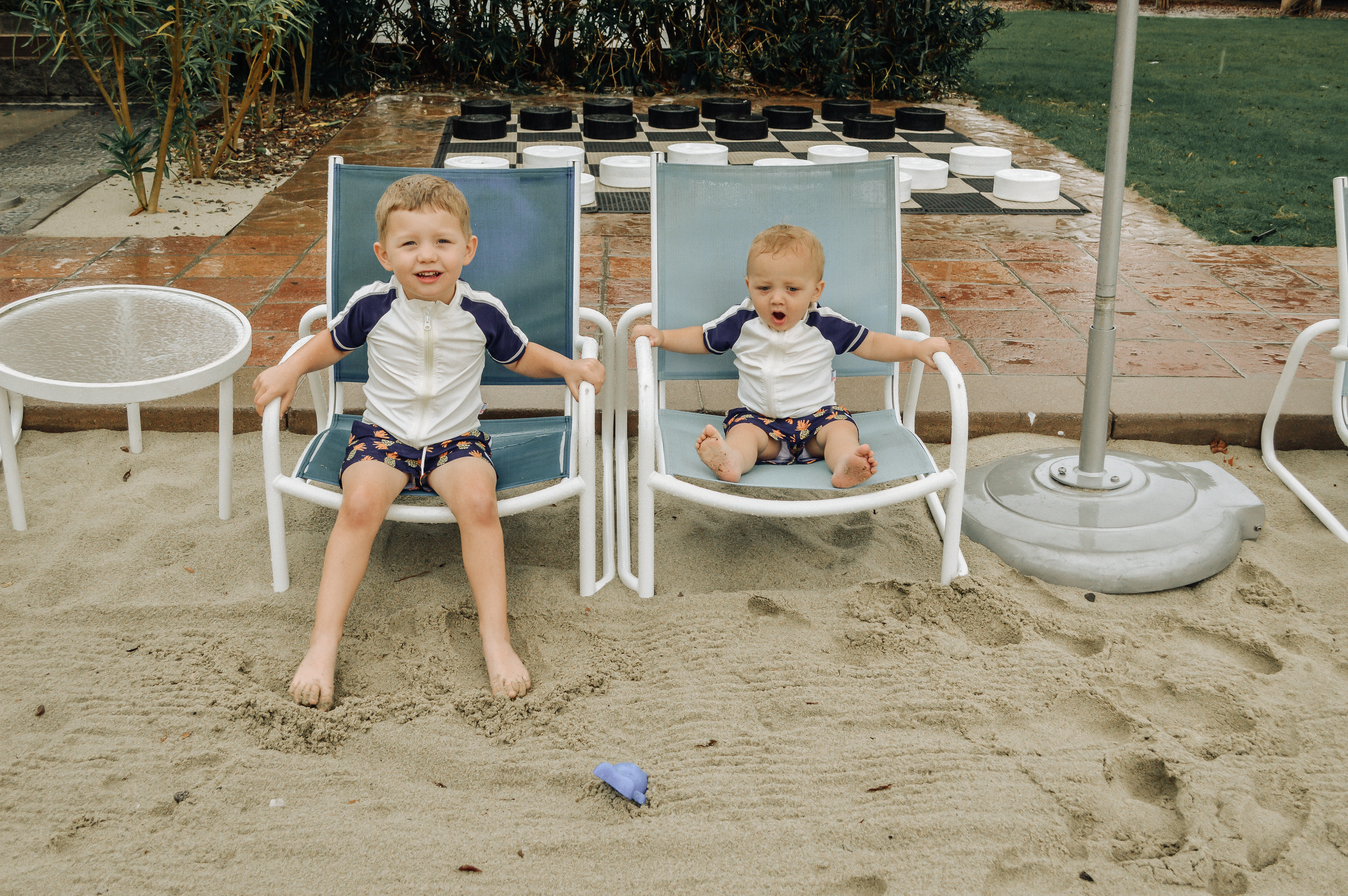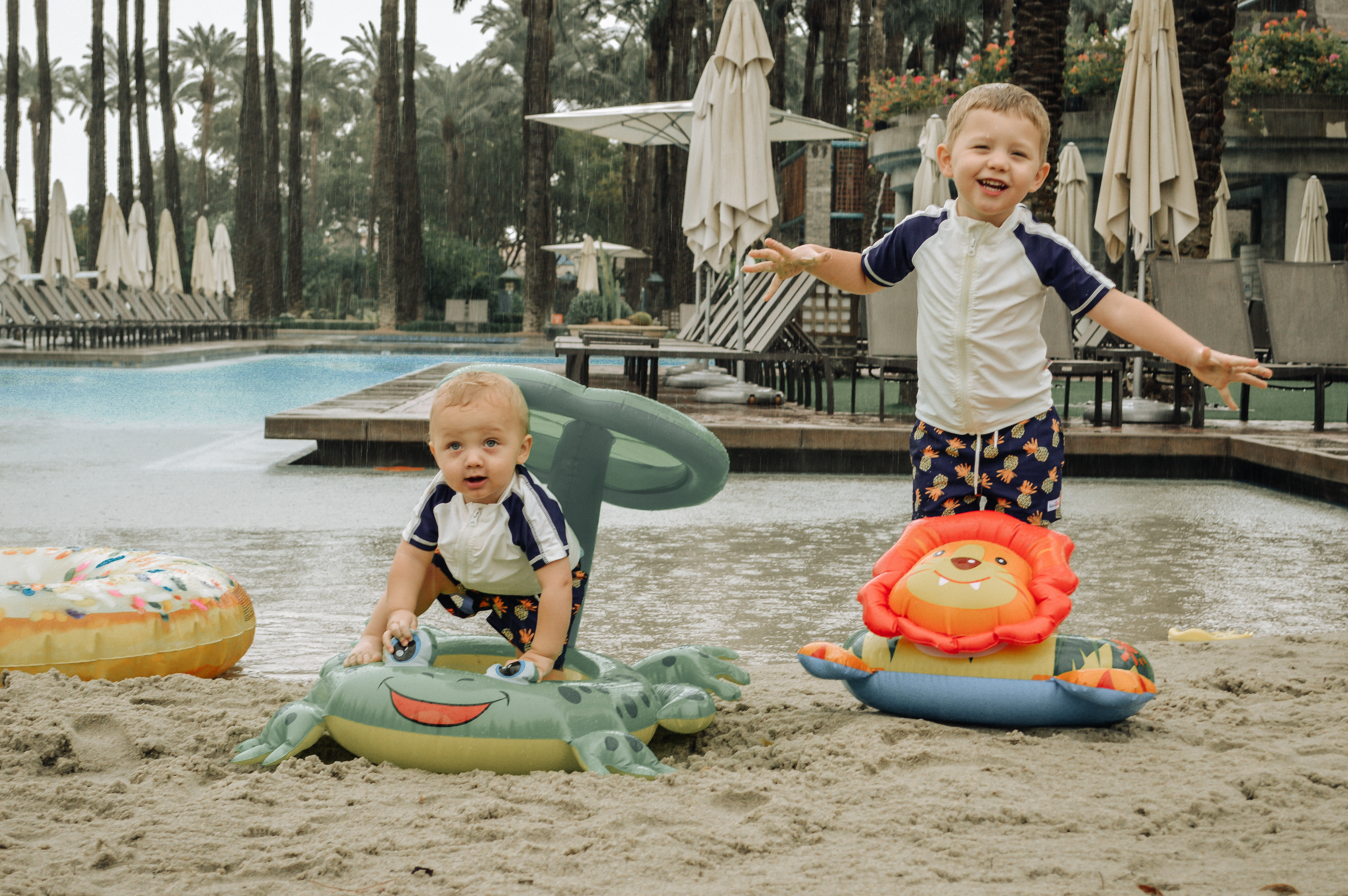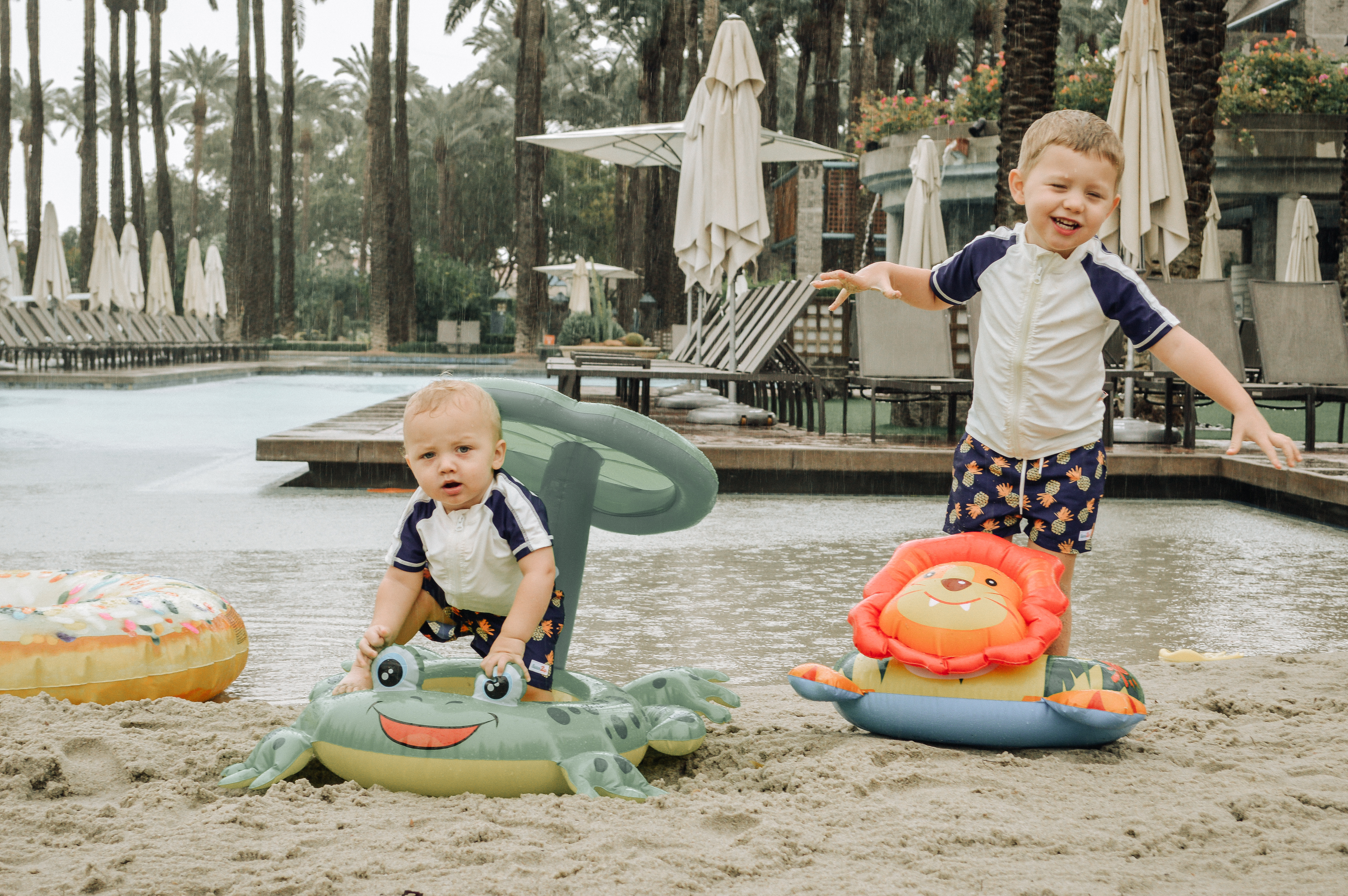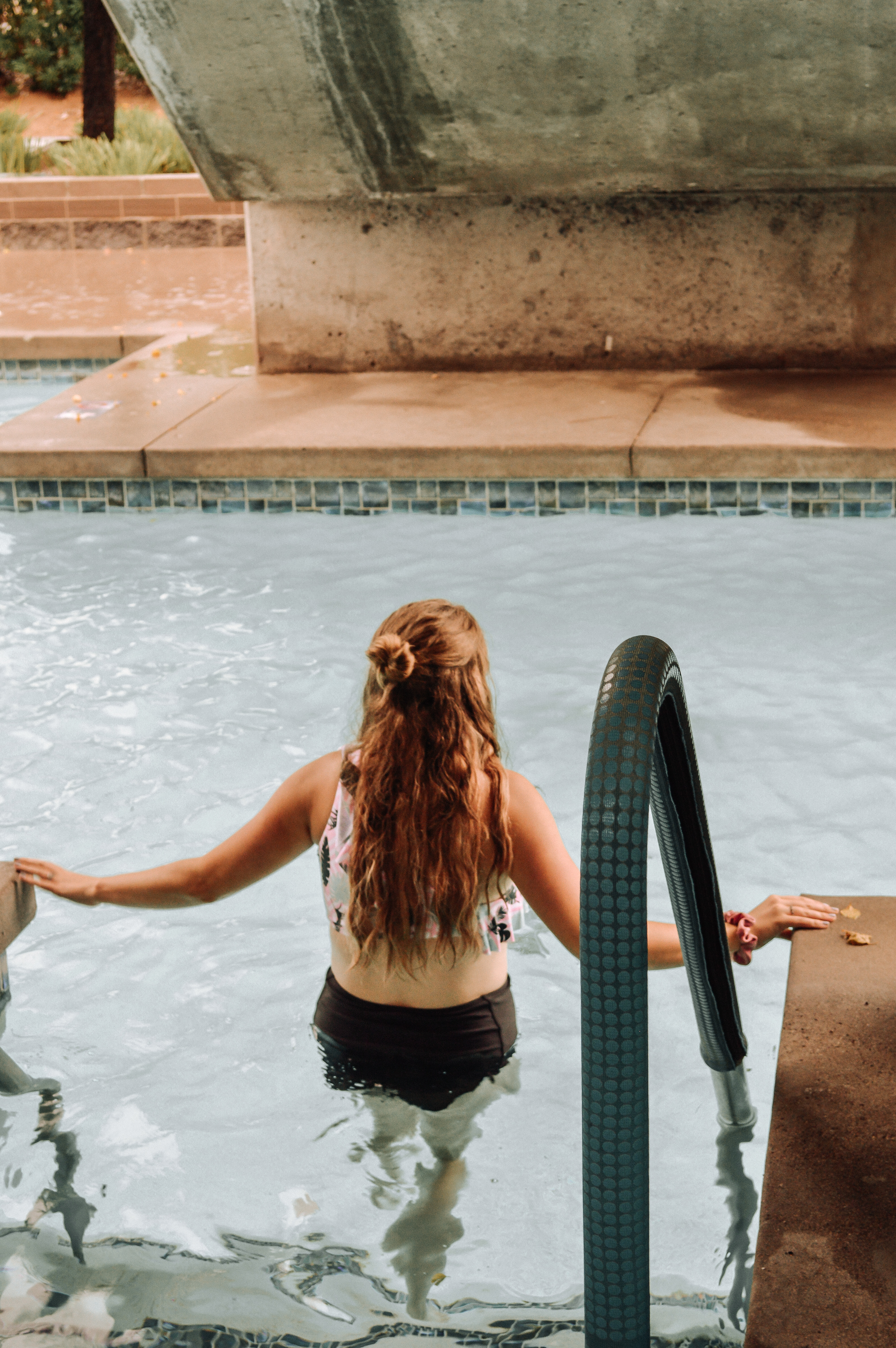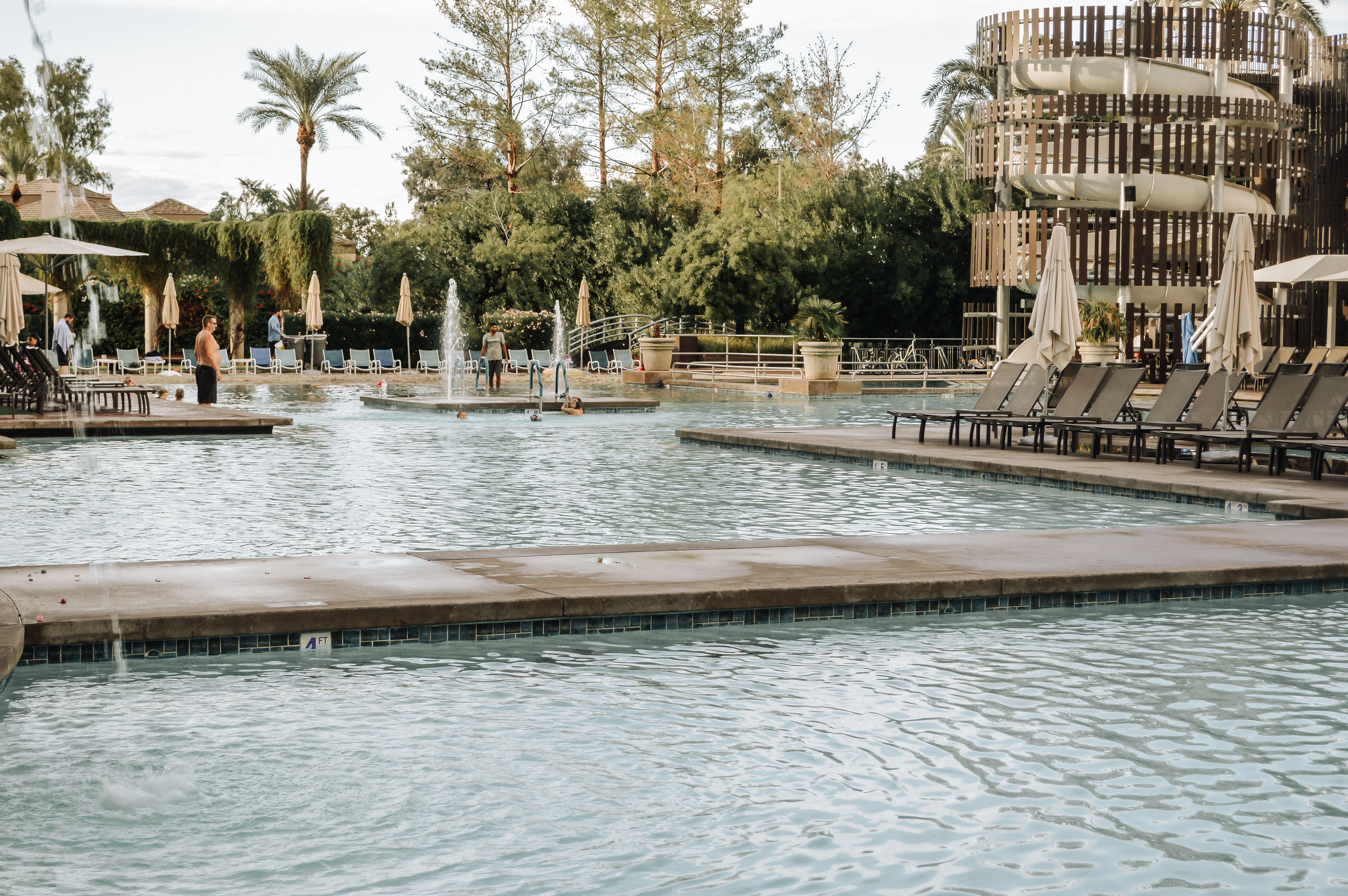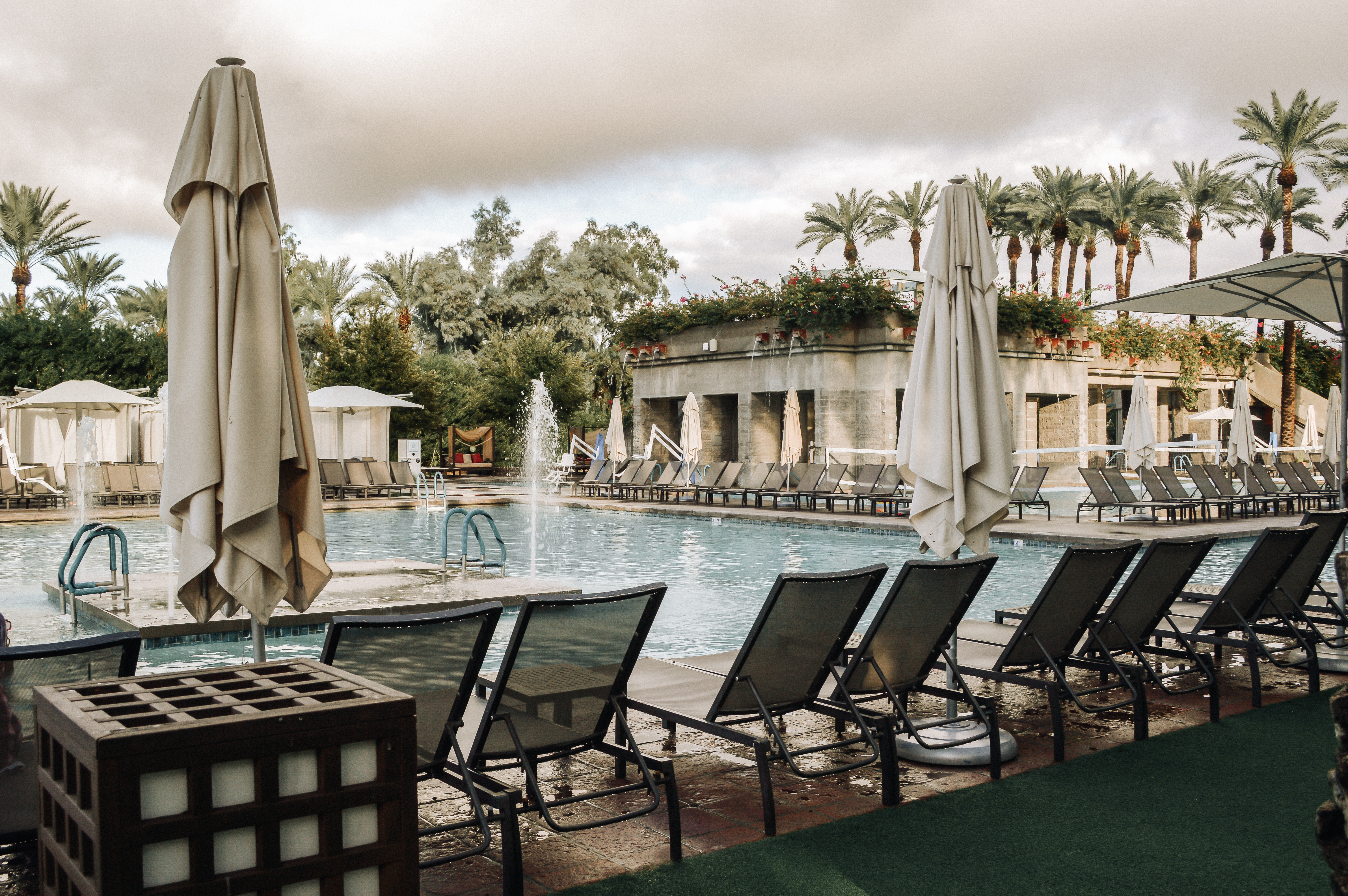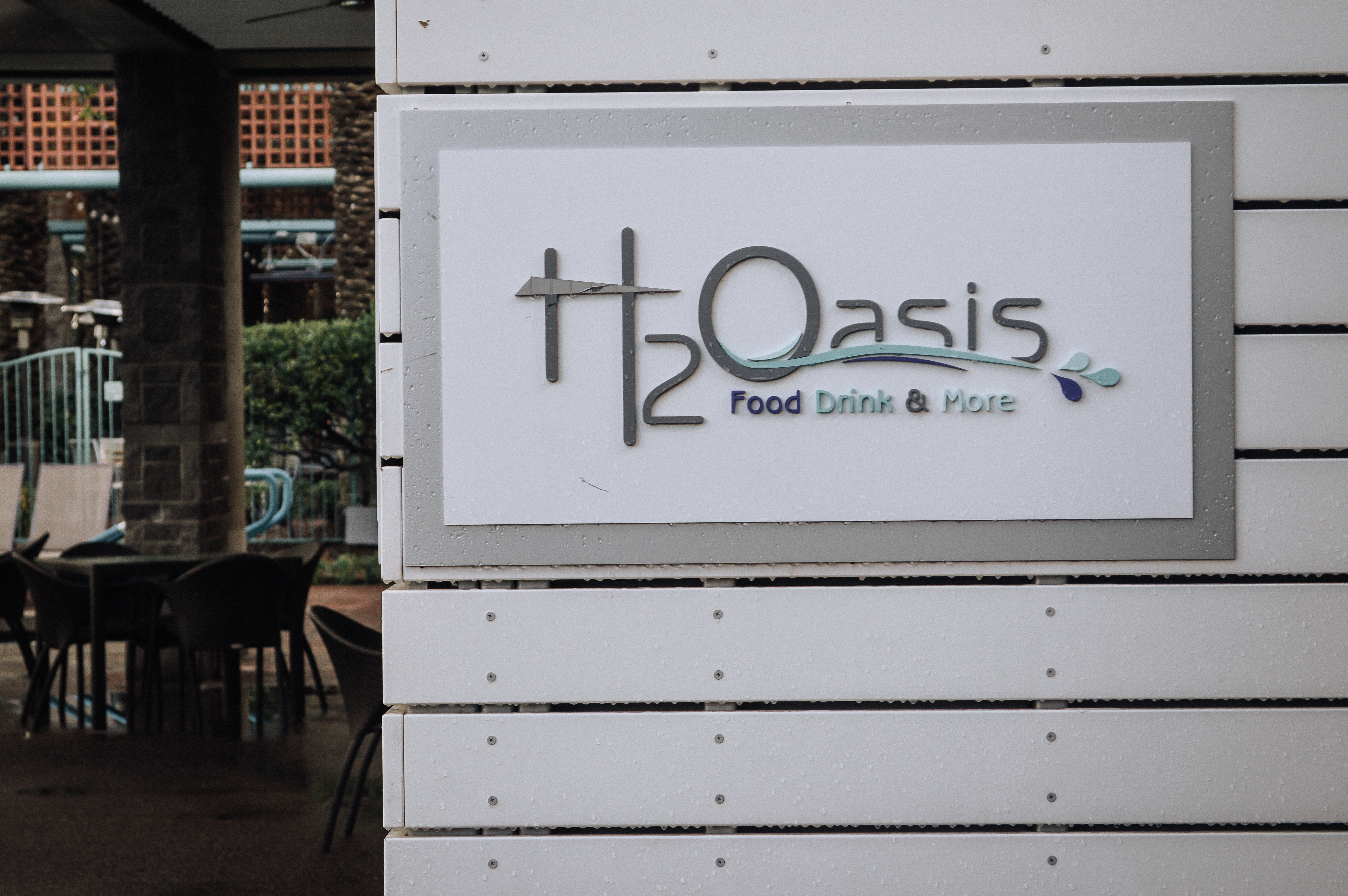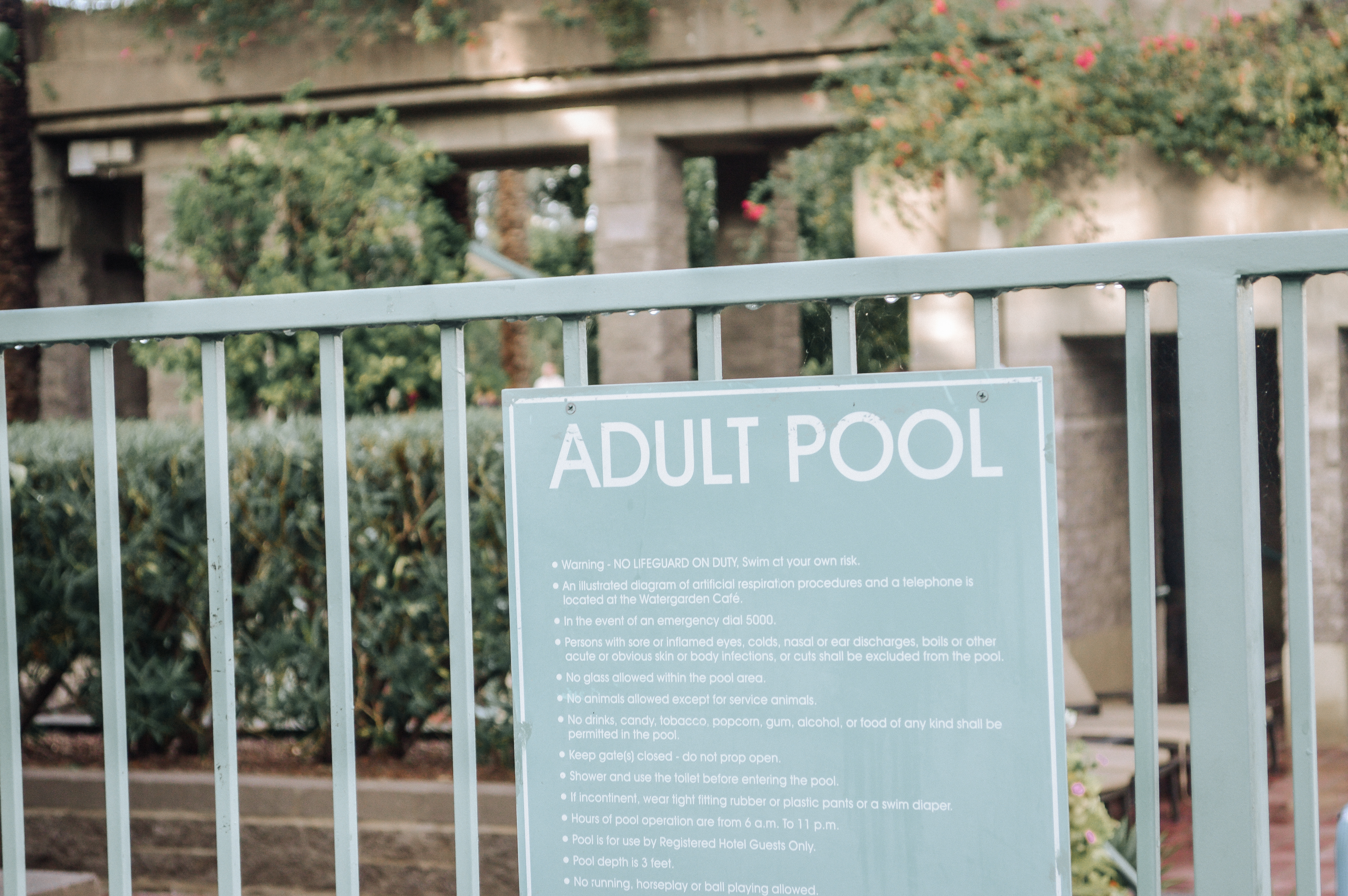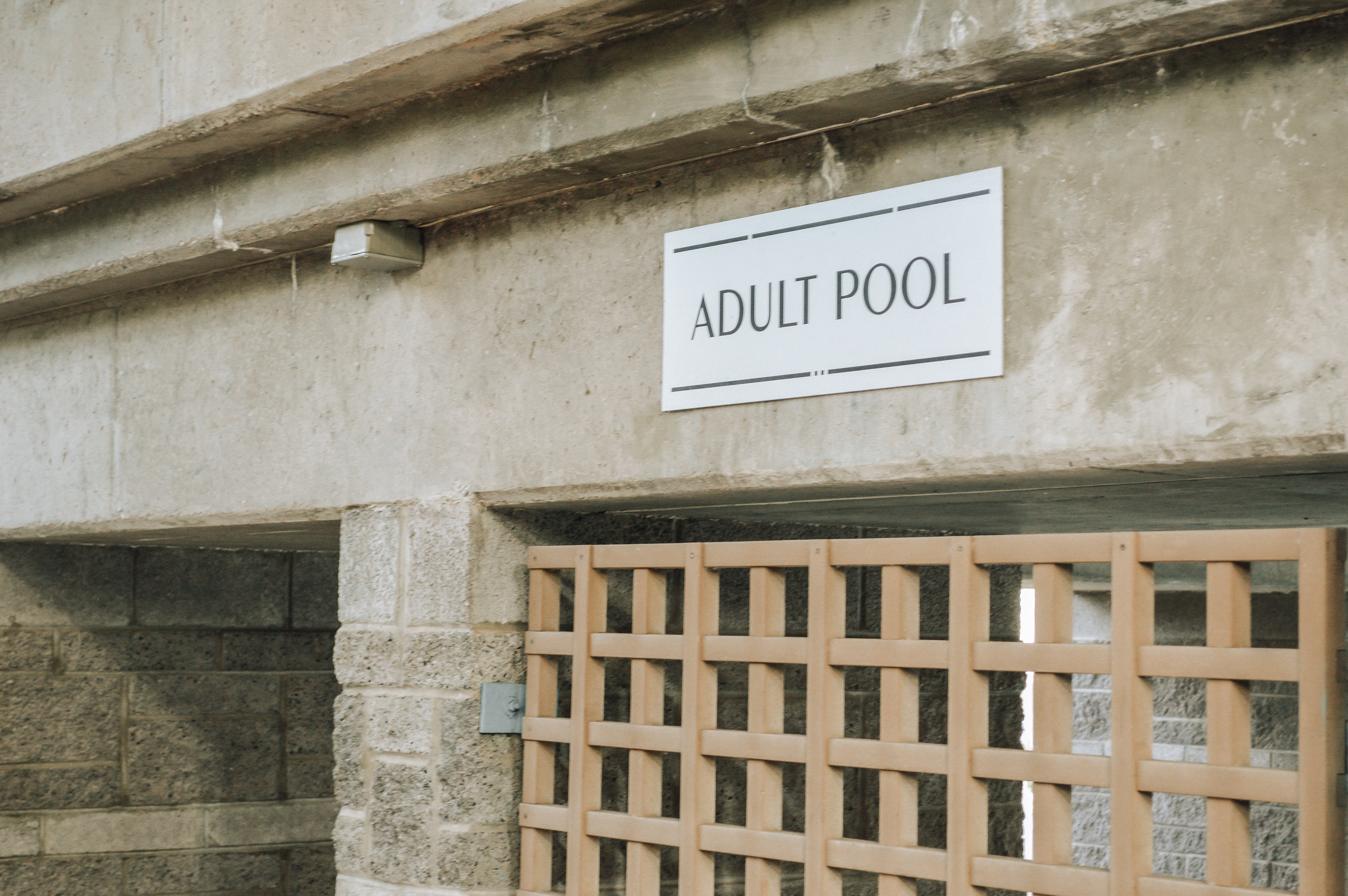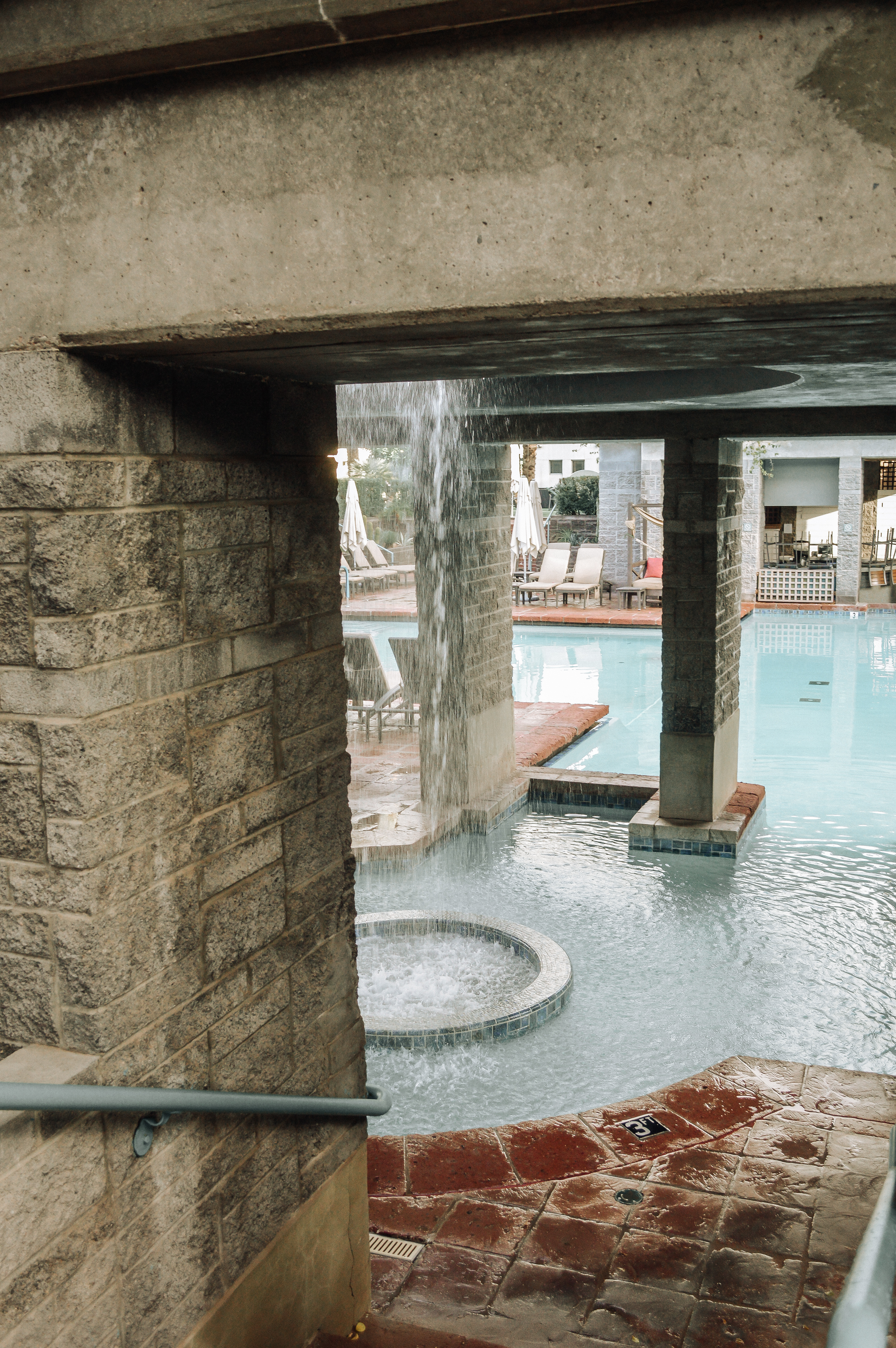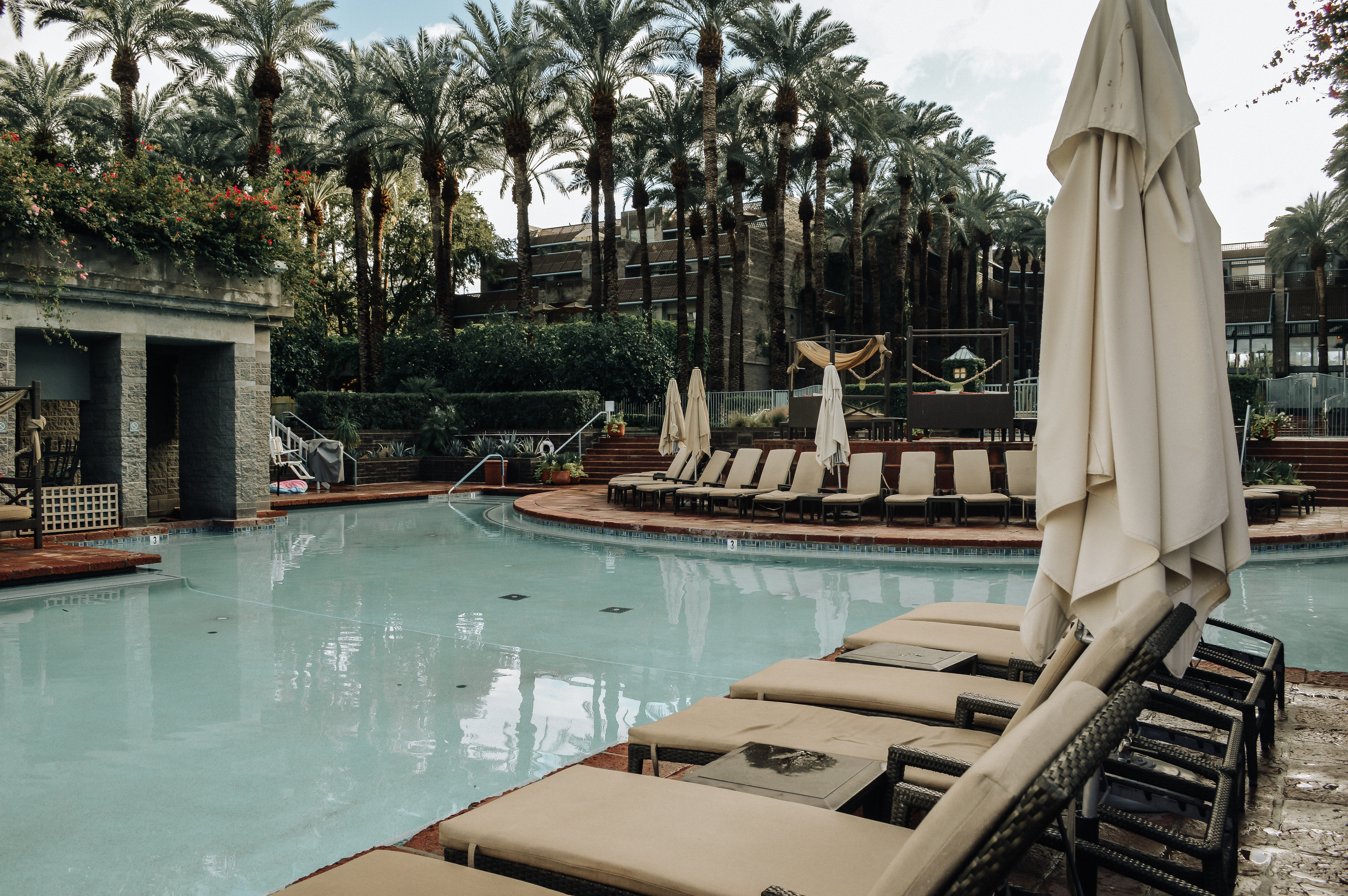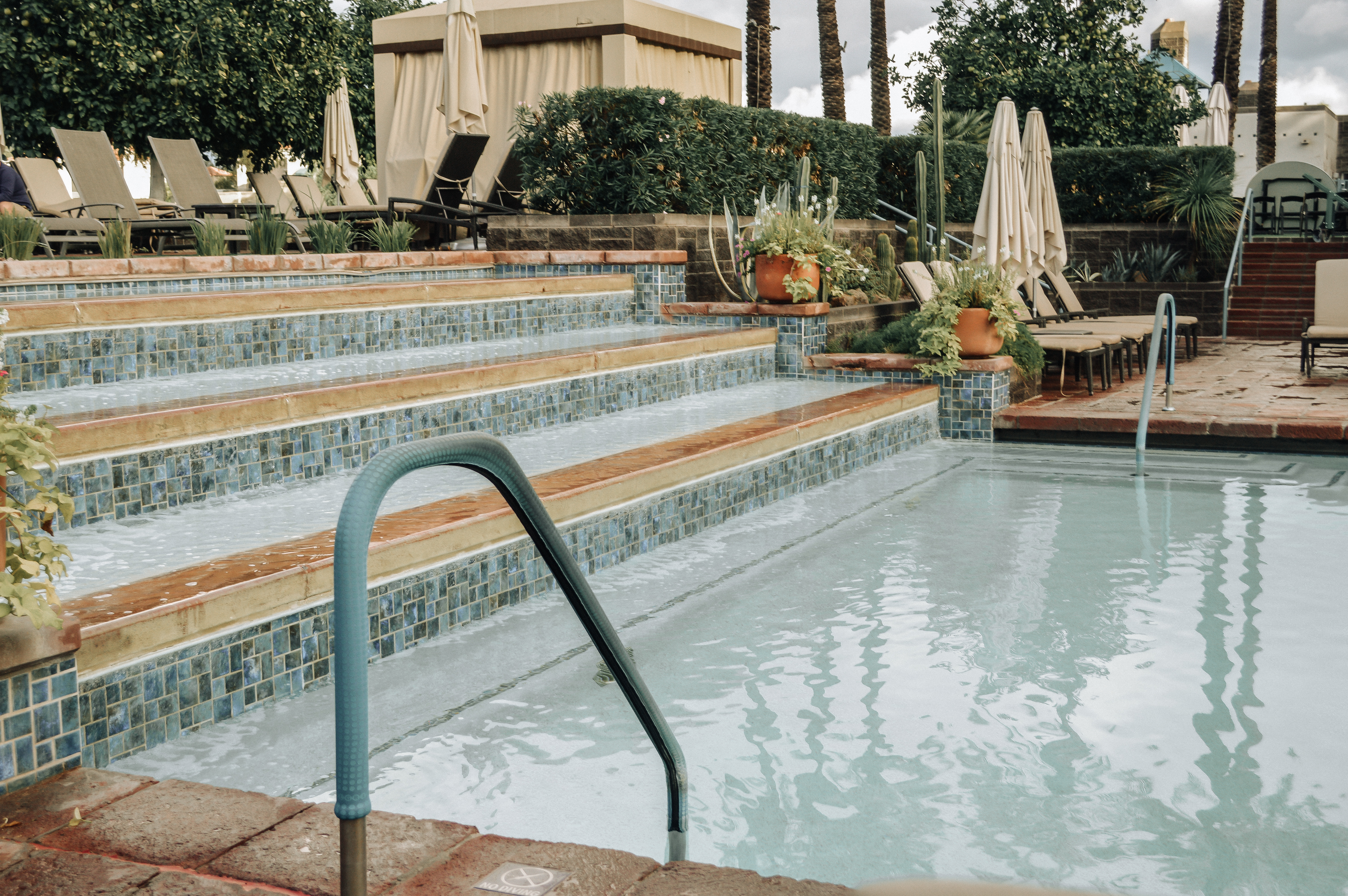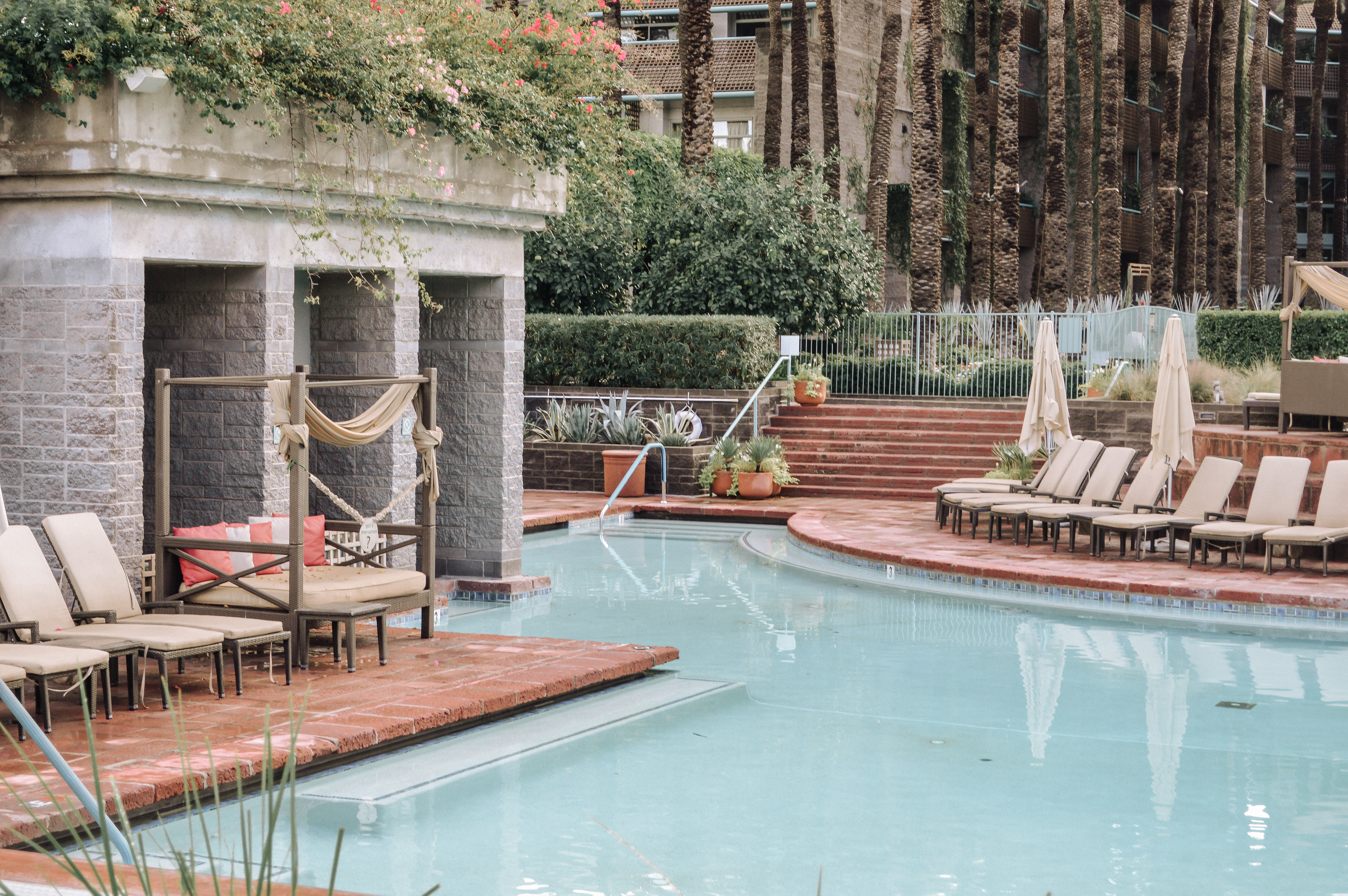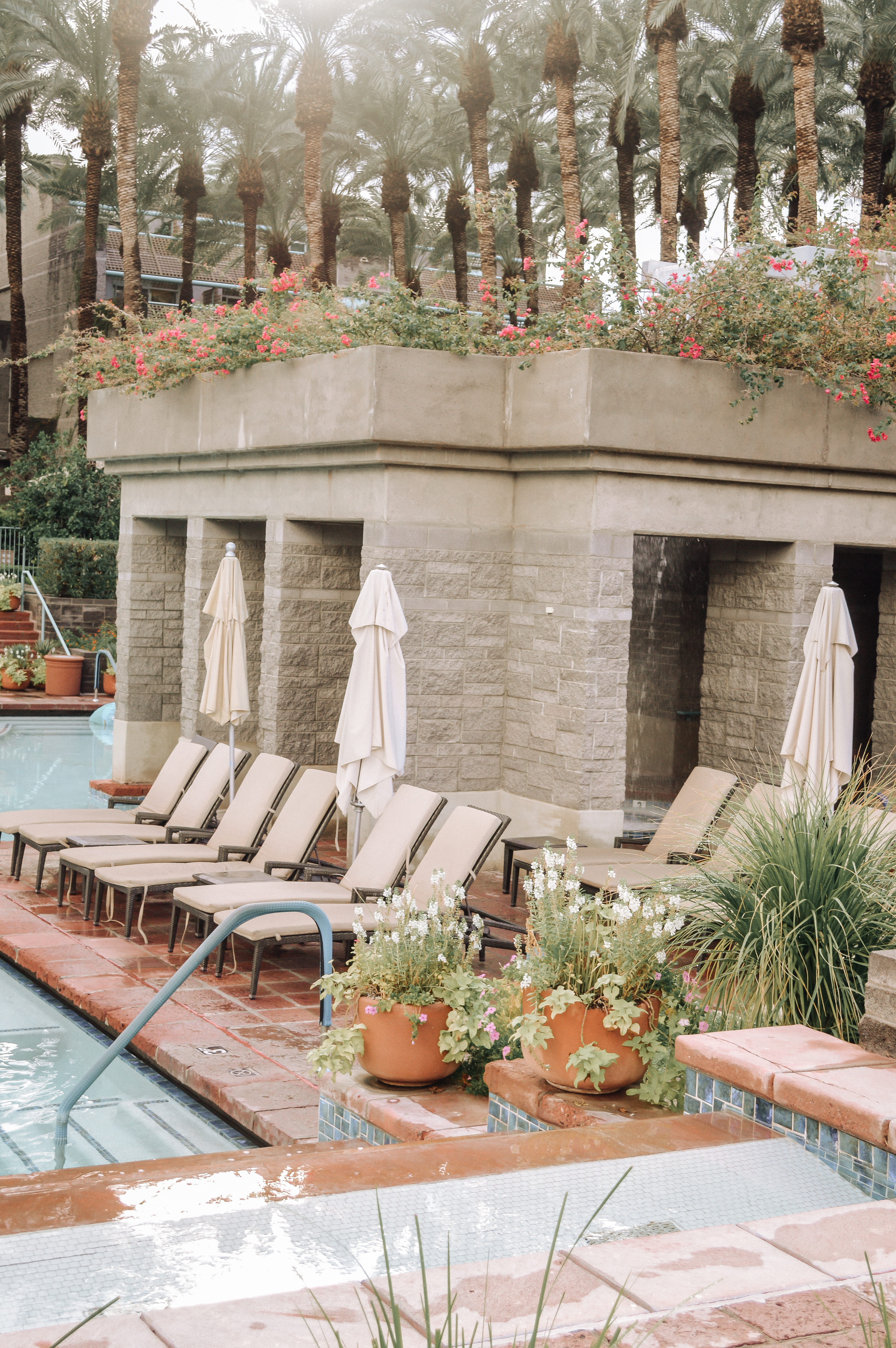 Next to the sand beach is a playground, rock climbing wall, ping pong table, mini golf, and corn hole. We had a great time the first night playing corn hole, eating dinner, and night swimming.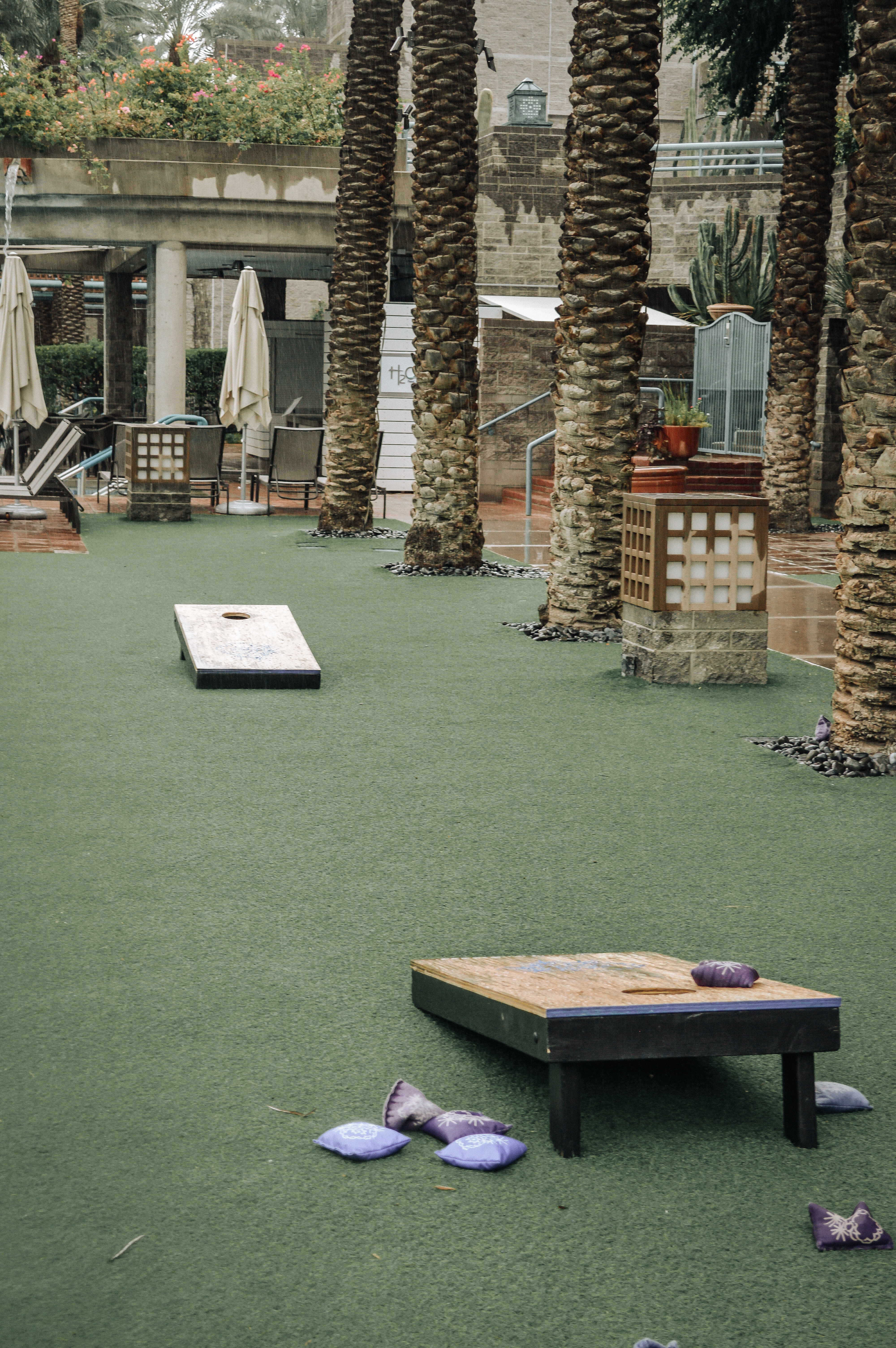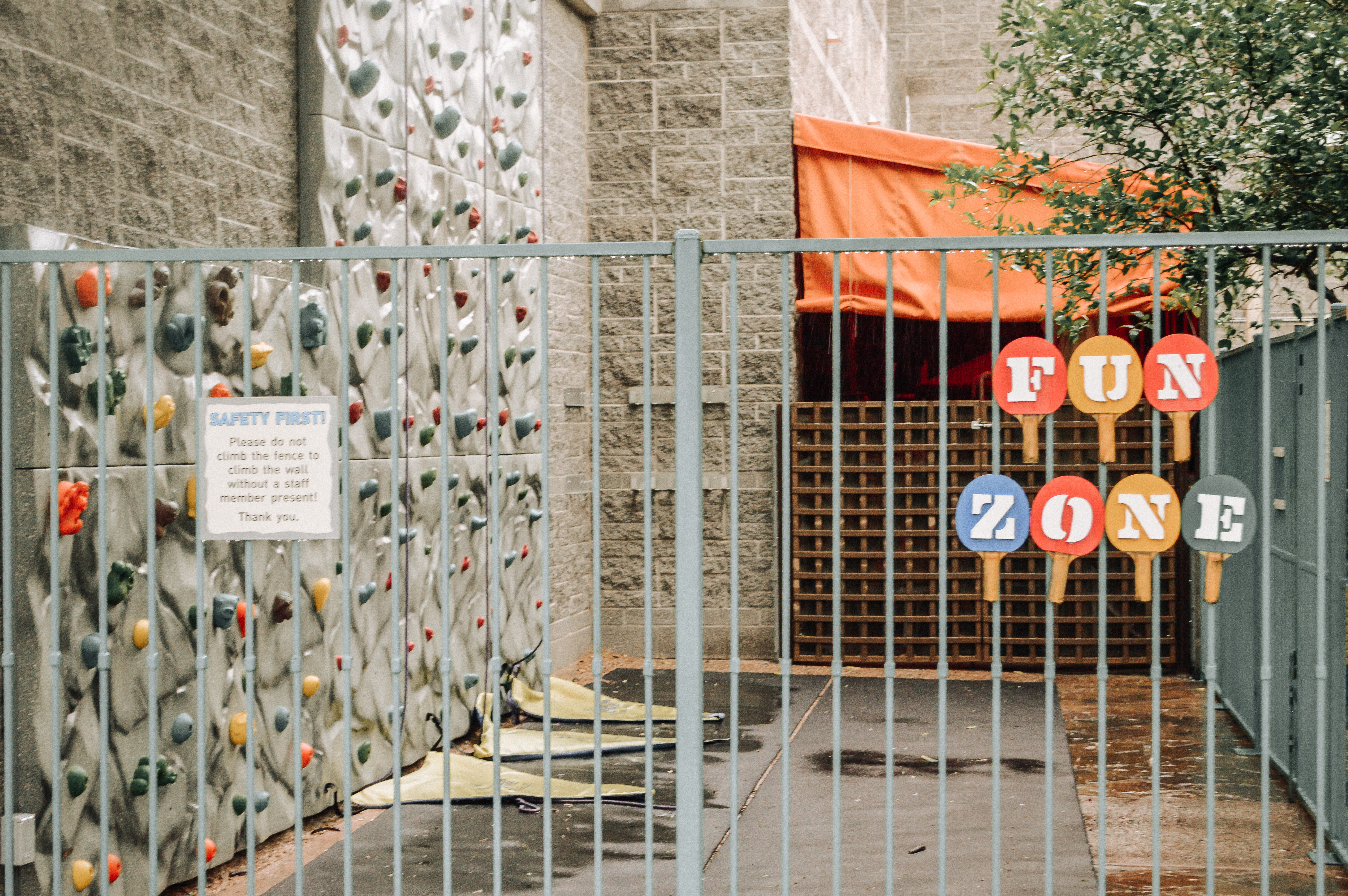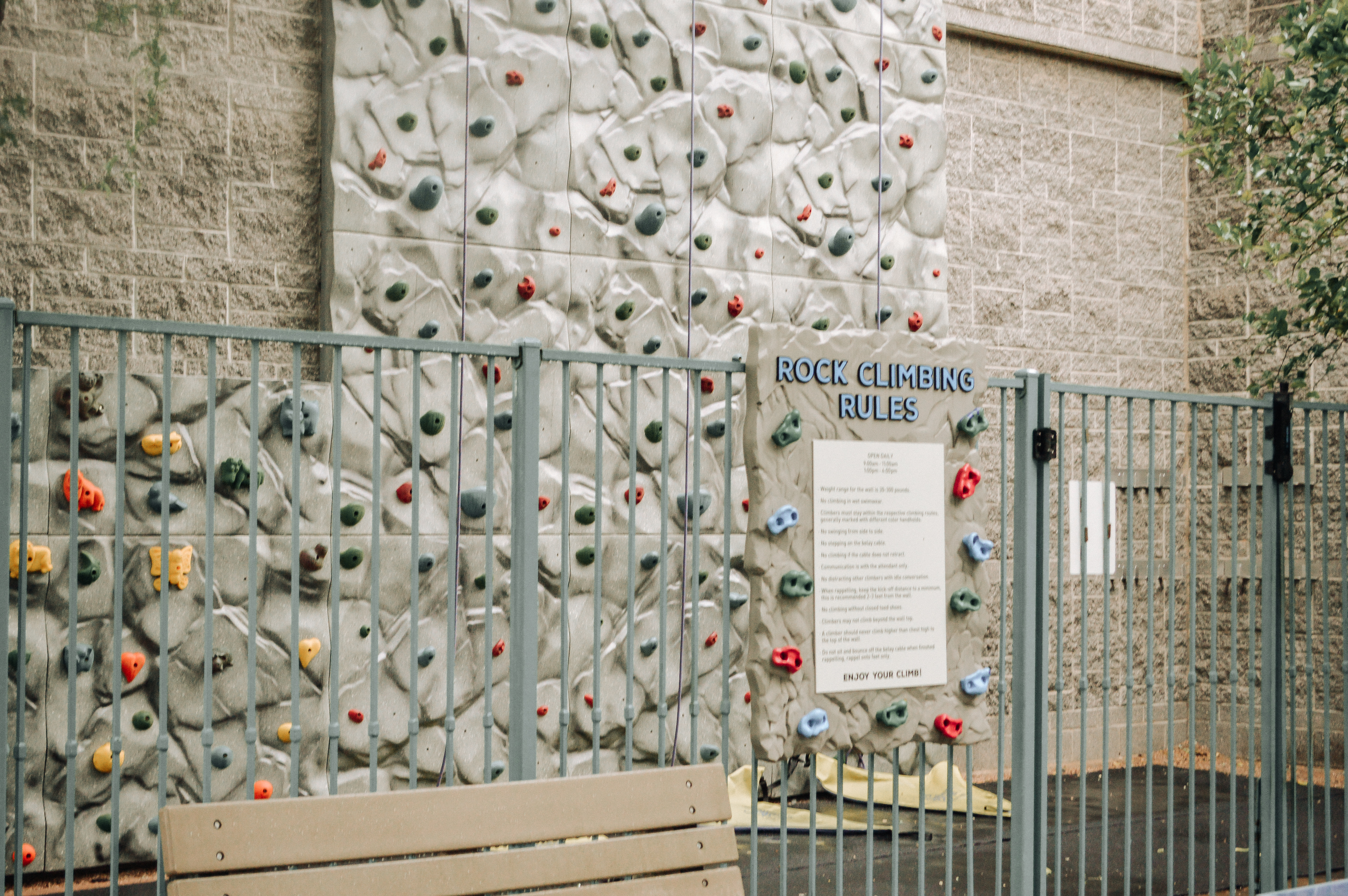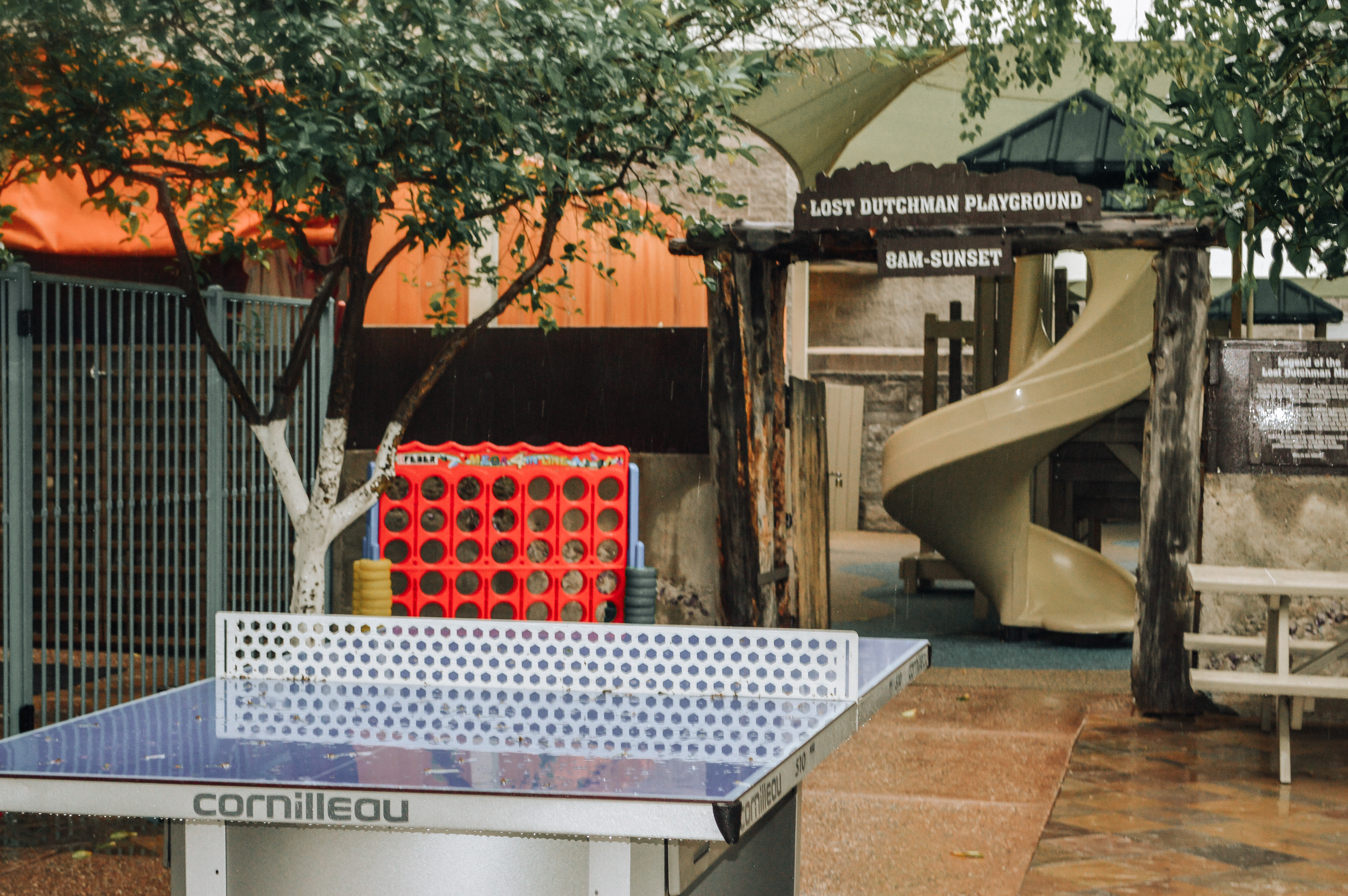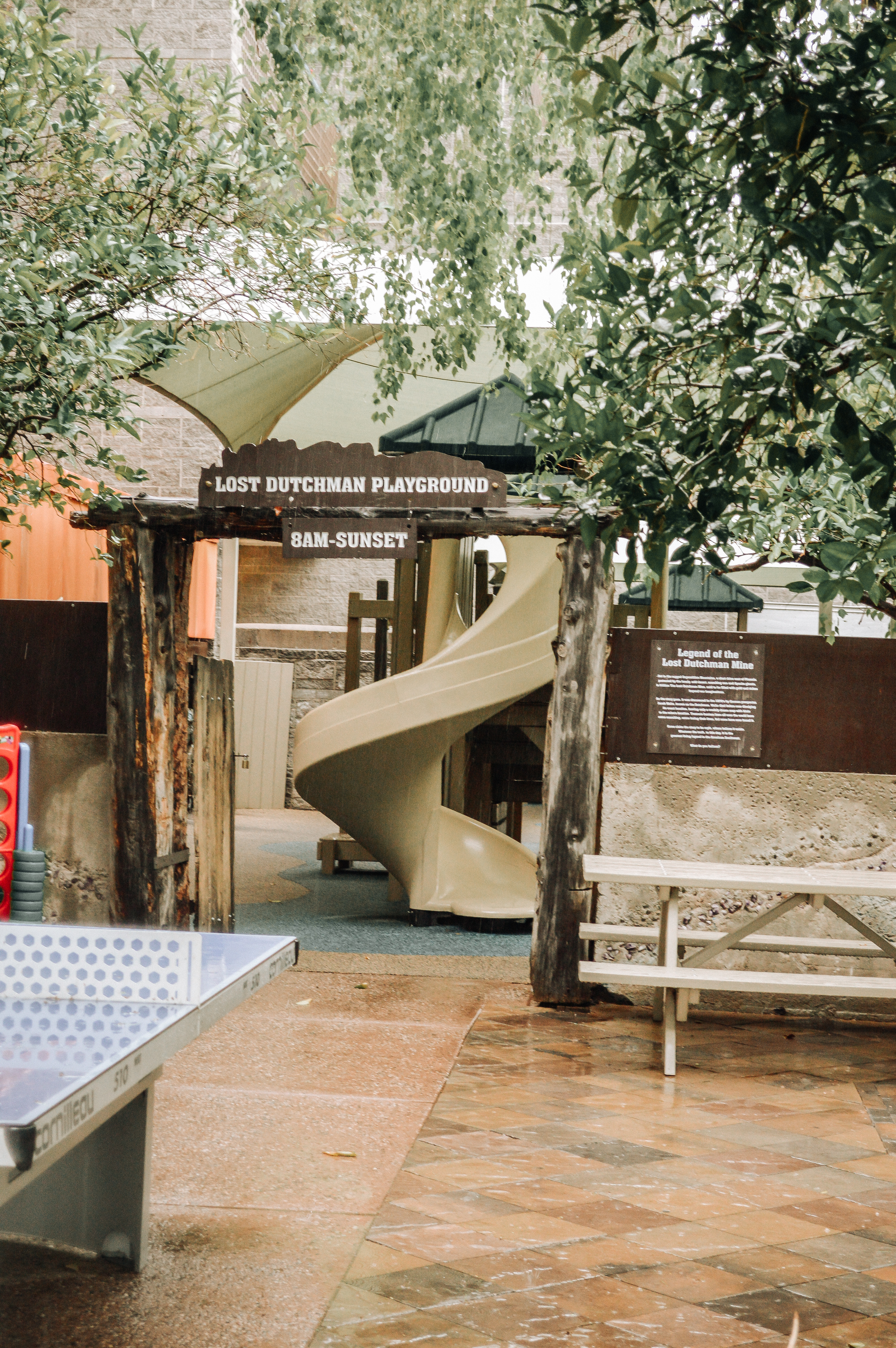 Golf is also offered to guests at the Gainey Ranch Golf Club. There's also Camp Hyatt a children's program to keep your kiddos safe and occupied while you enjoy some alone time!
The Hyatt Regency Scottsdale Resort and Spa: Entertainment
The Hyatt Regency Scottsdale Resort and Spa also offers family friendly entertainment. In the evening both nights we were there, there was live music at The Center Stage Bar. We let the kids stay up a little late to come down and they loved dancing to the music! Shortly after we arrived there was also a Native American Demonstration on Friday night where a native tribe performed and it was so fun to watch! Sawyer loved their dancing.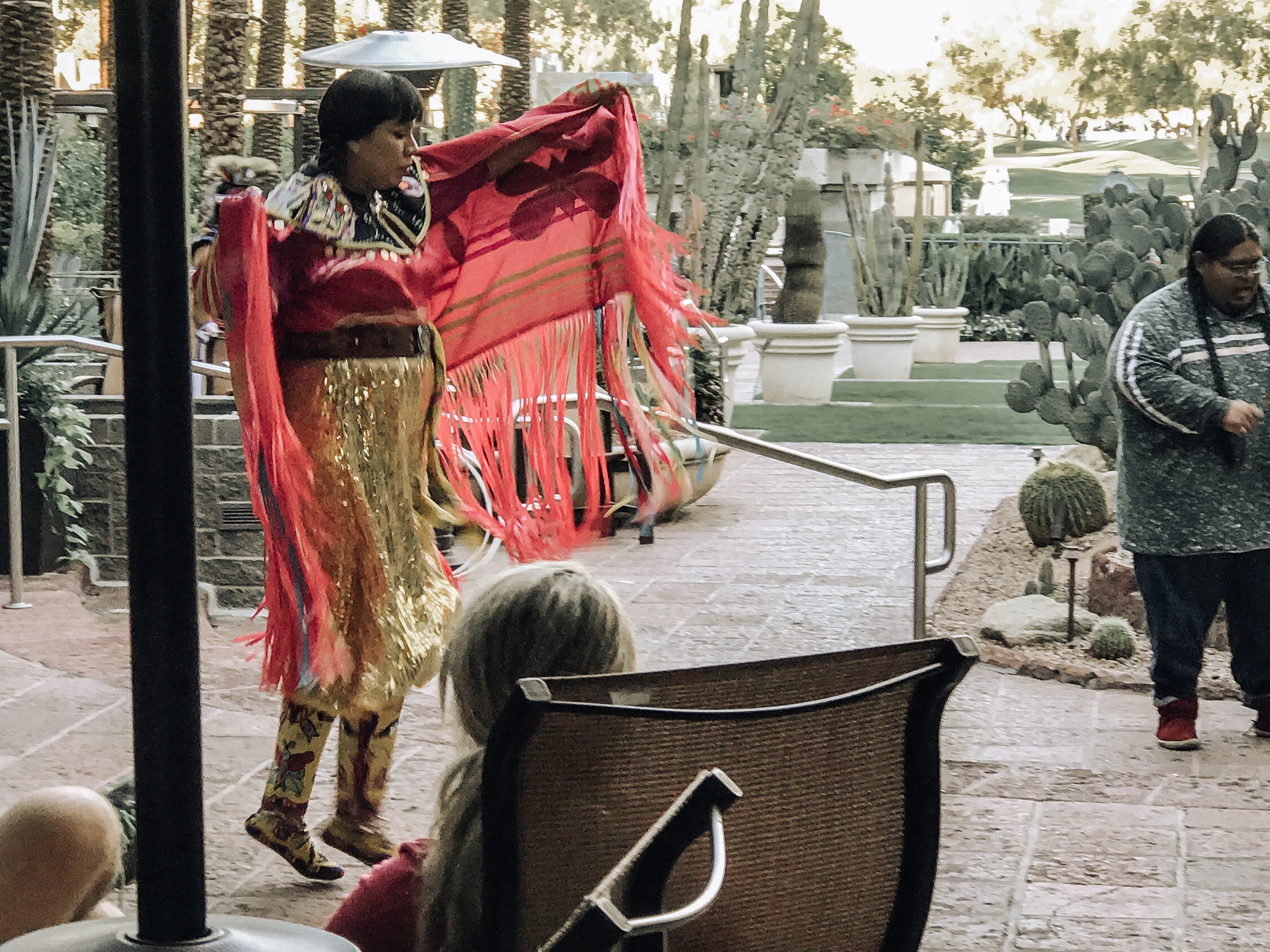 The Hyatt was an incredible. Like I said above it's the perfect location for anyone! Couples could have an amazing romantic getaway, friends could have a fun and relaxing girls weekend, or families could have an amazing vacation. My kids loved it and so did we! The food was great, the rooms were large and accommodating, the pools, activities, and amenities made our stay so much fun. I highly recommend staying at the Hyatt Regency Scottsdale the next time you visit Arizona. I know you'll love it as much as we did!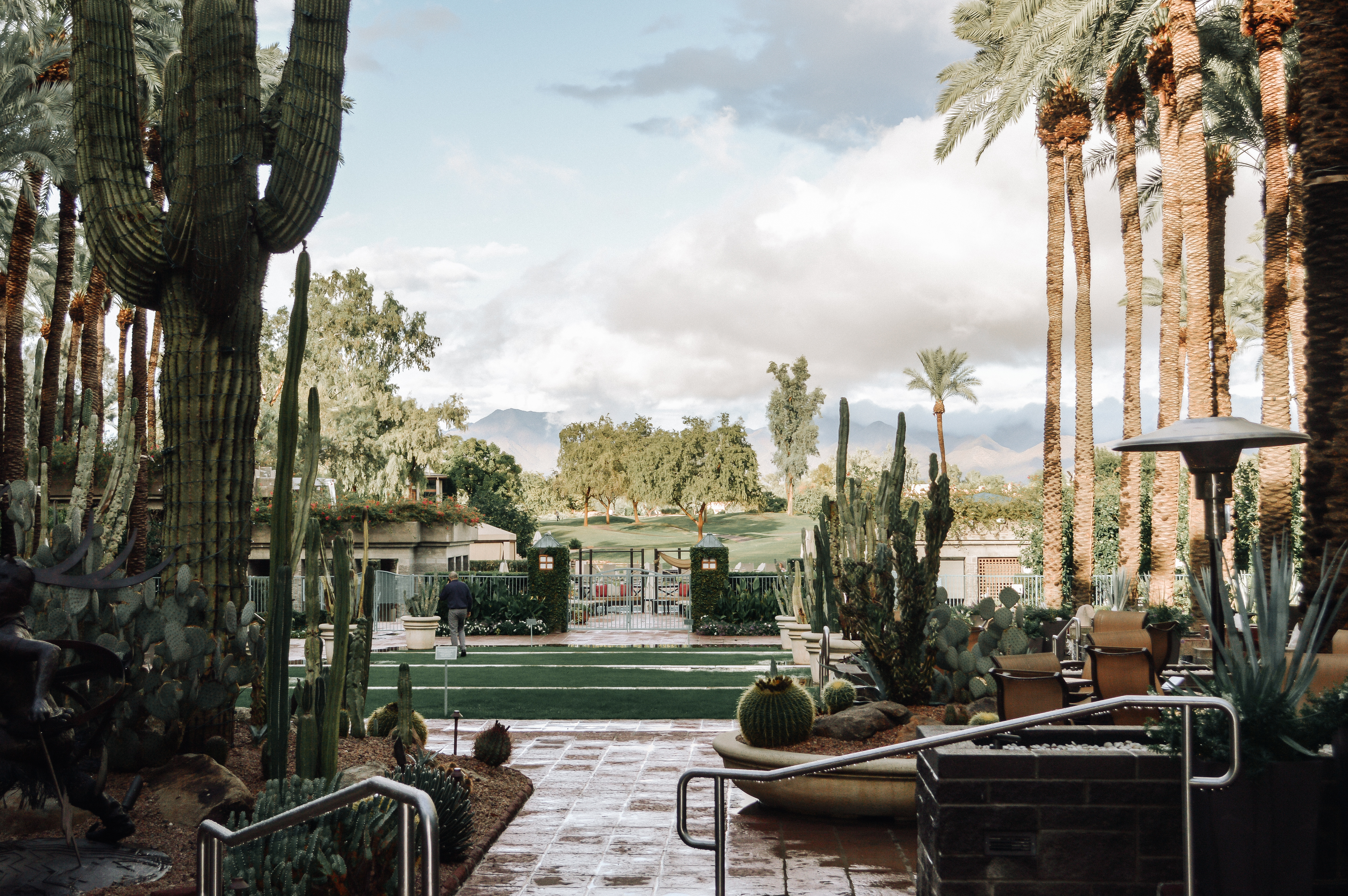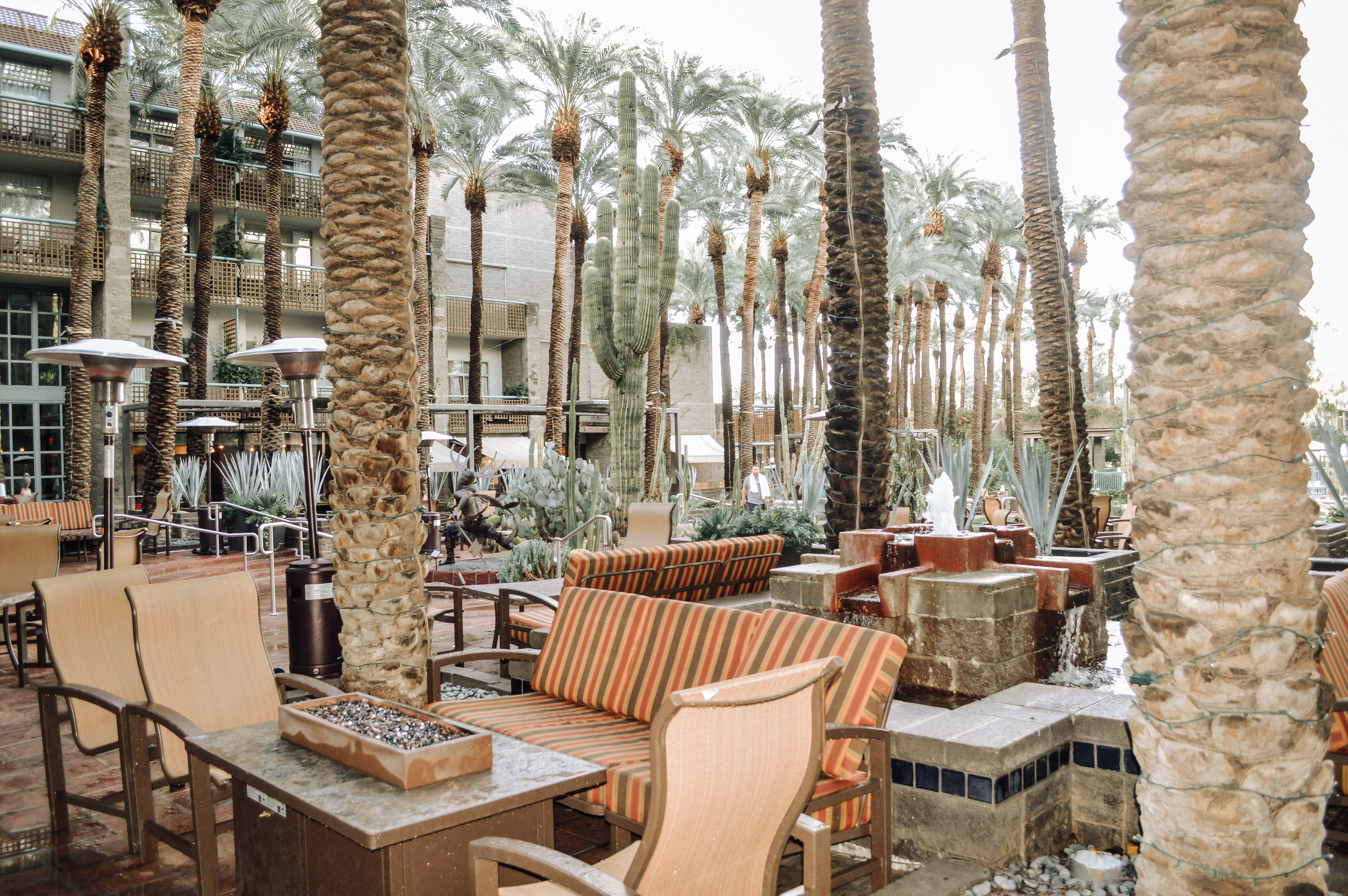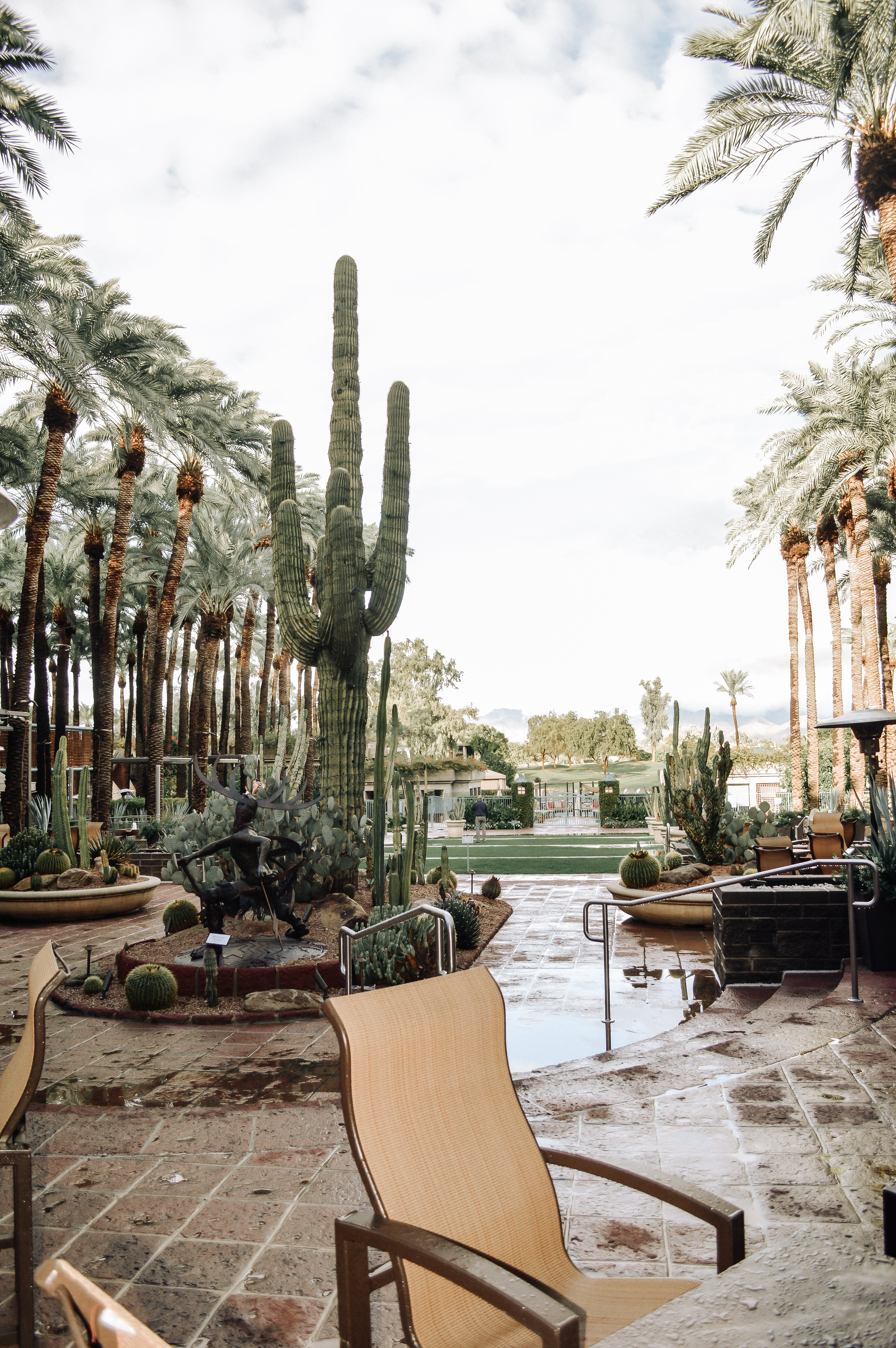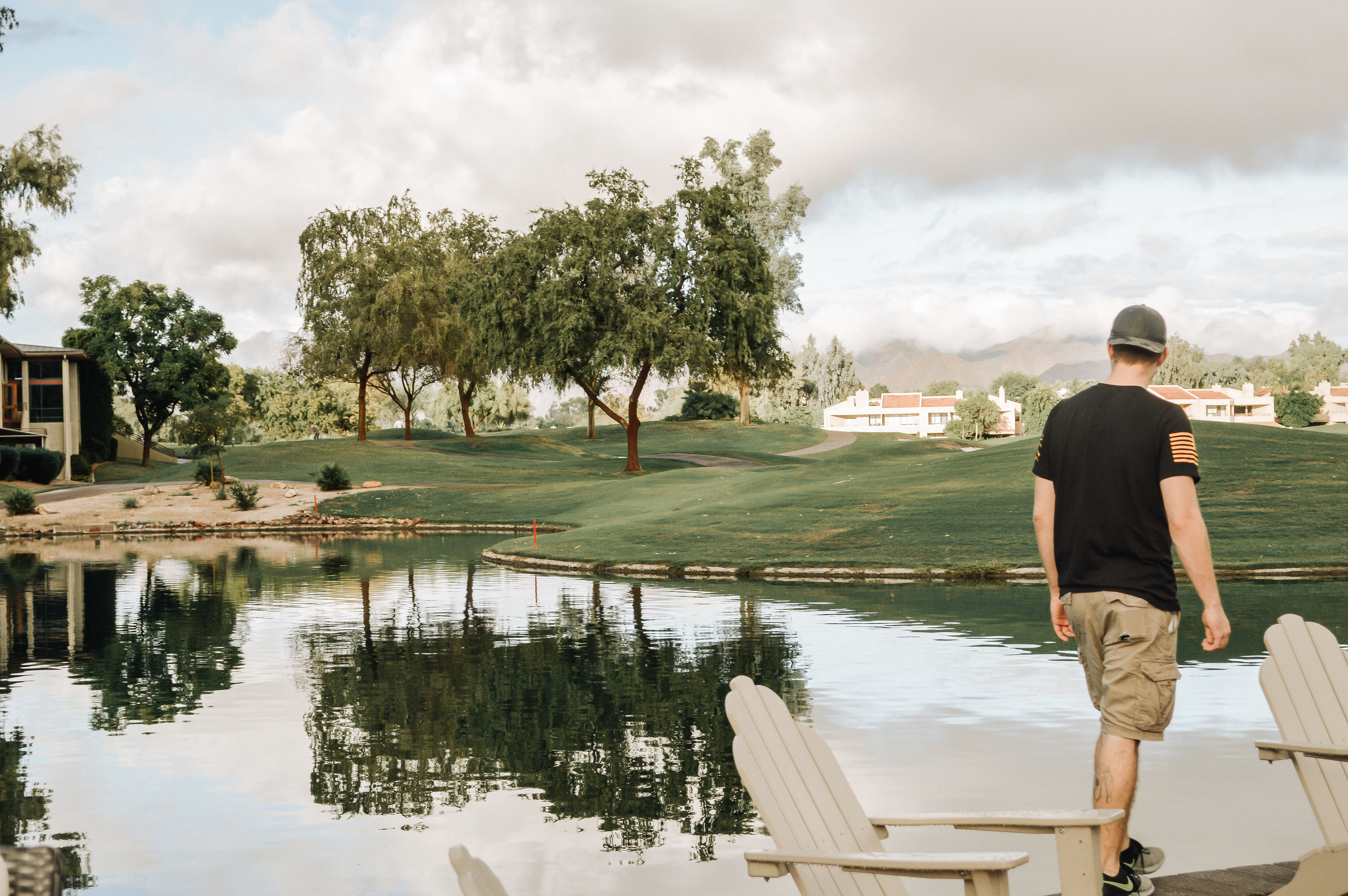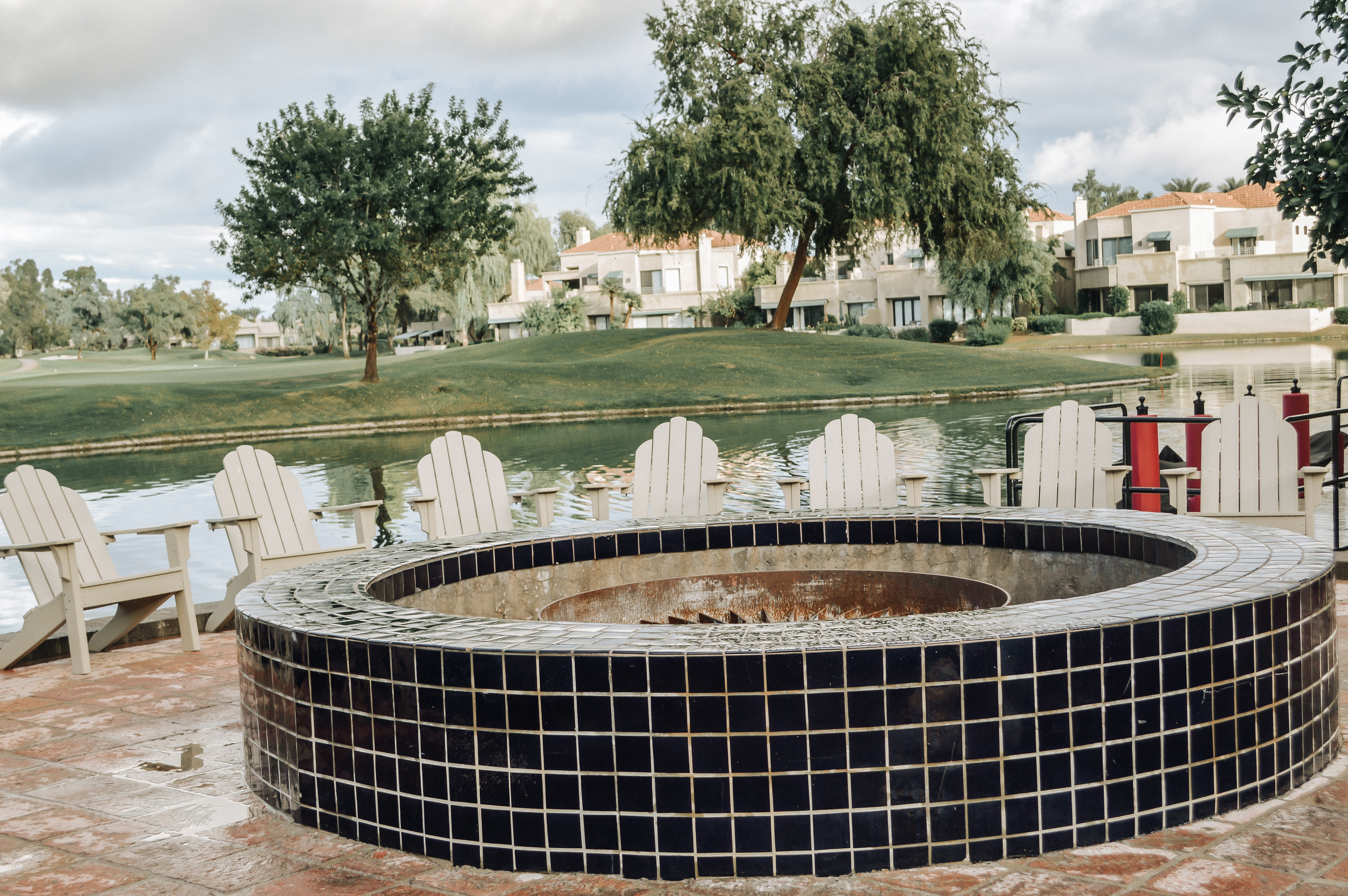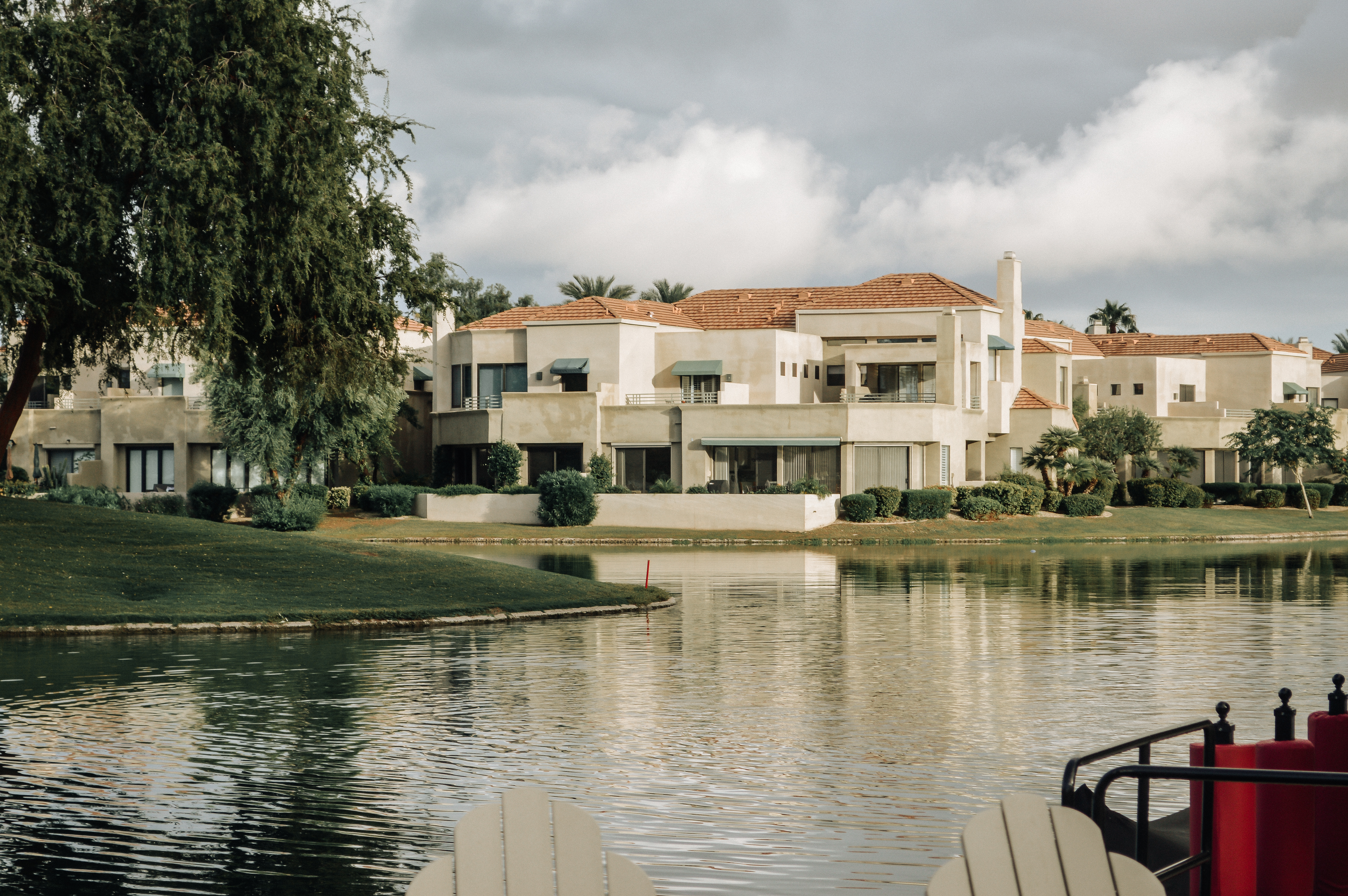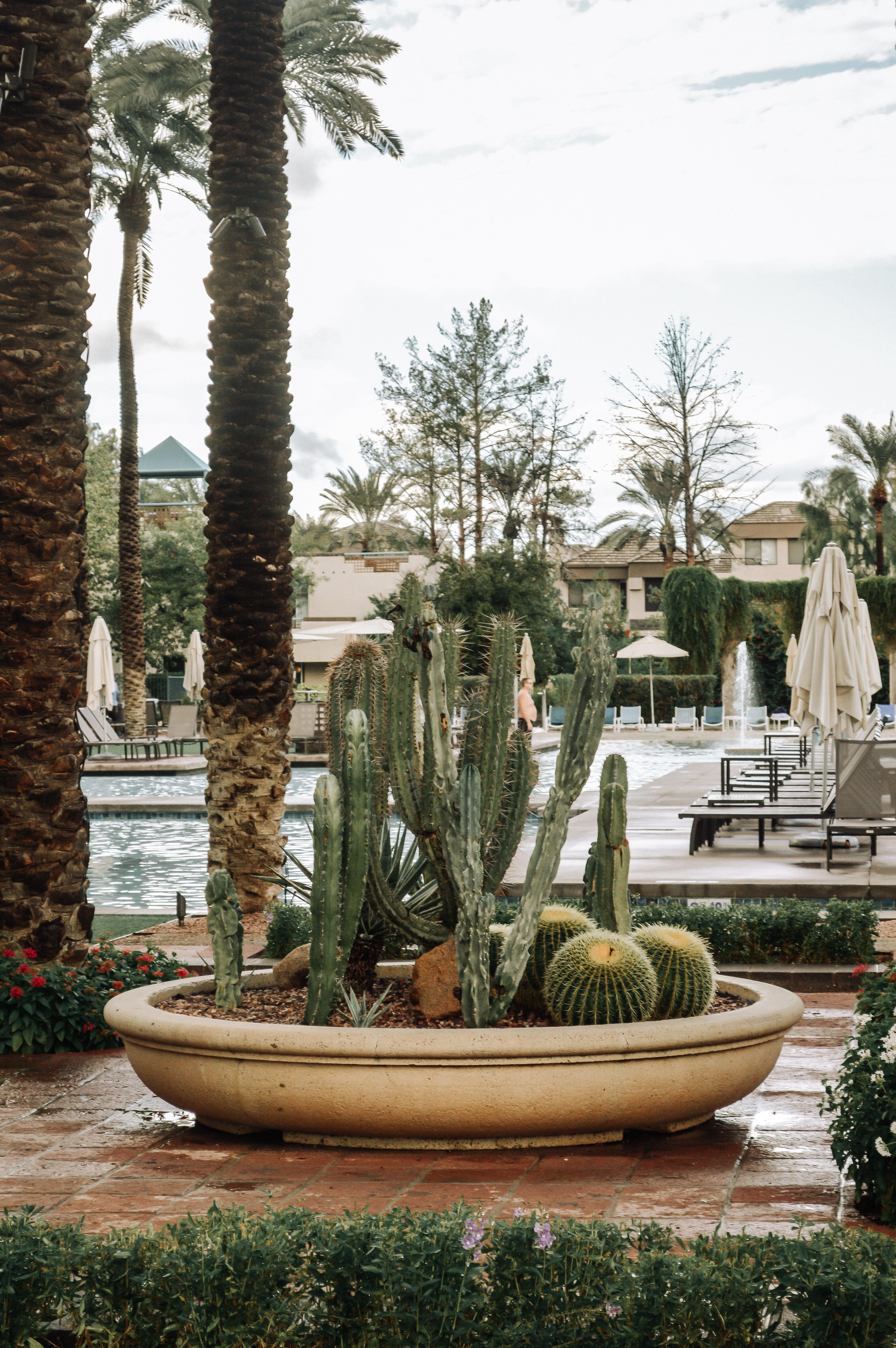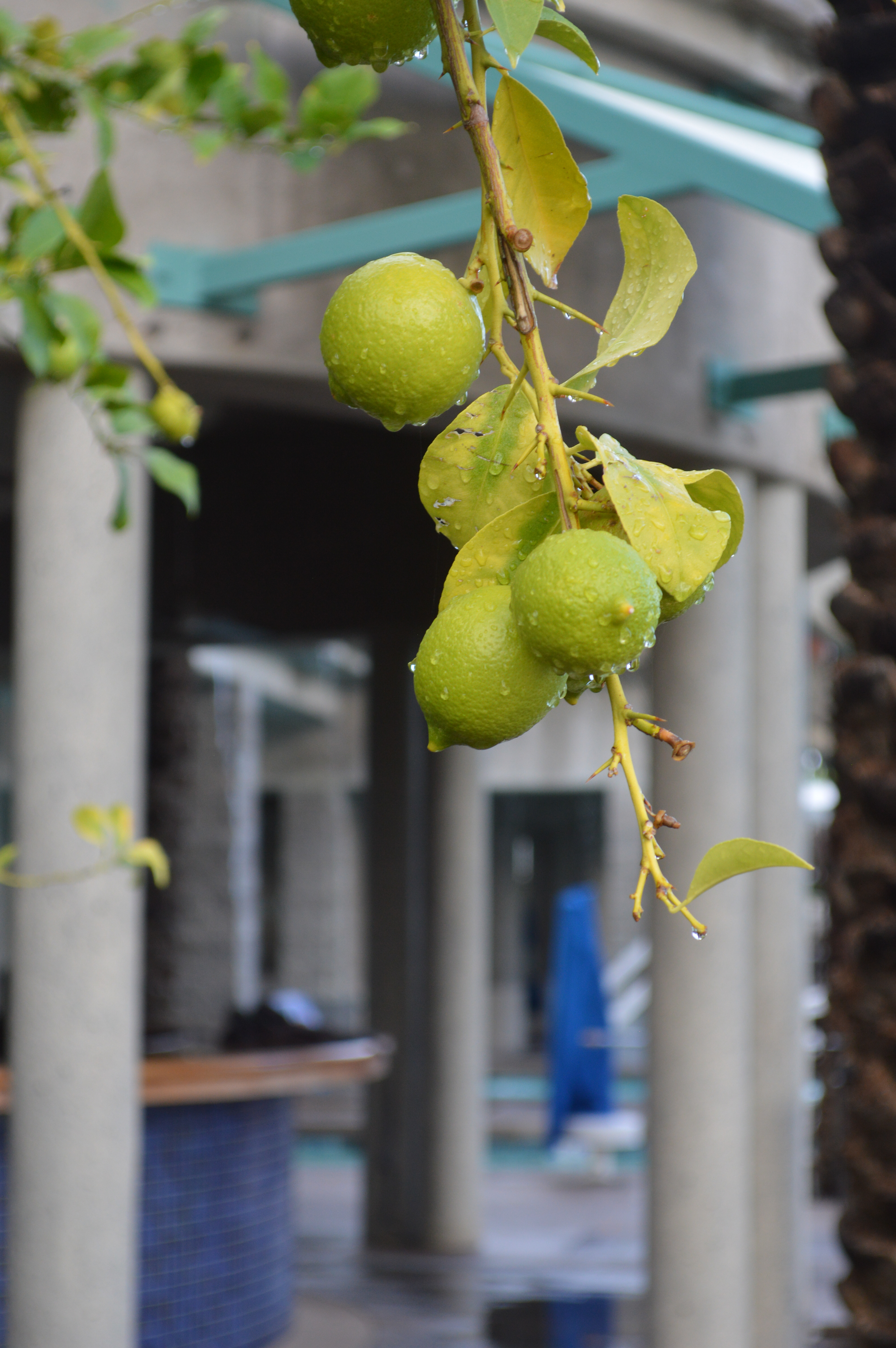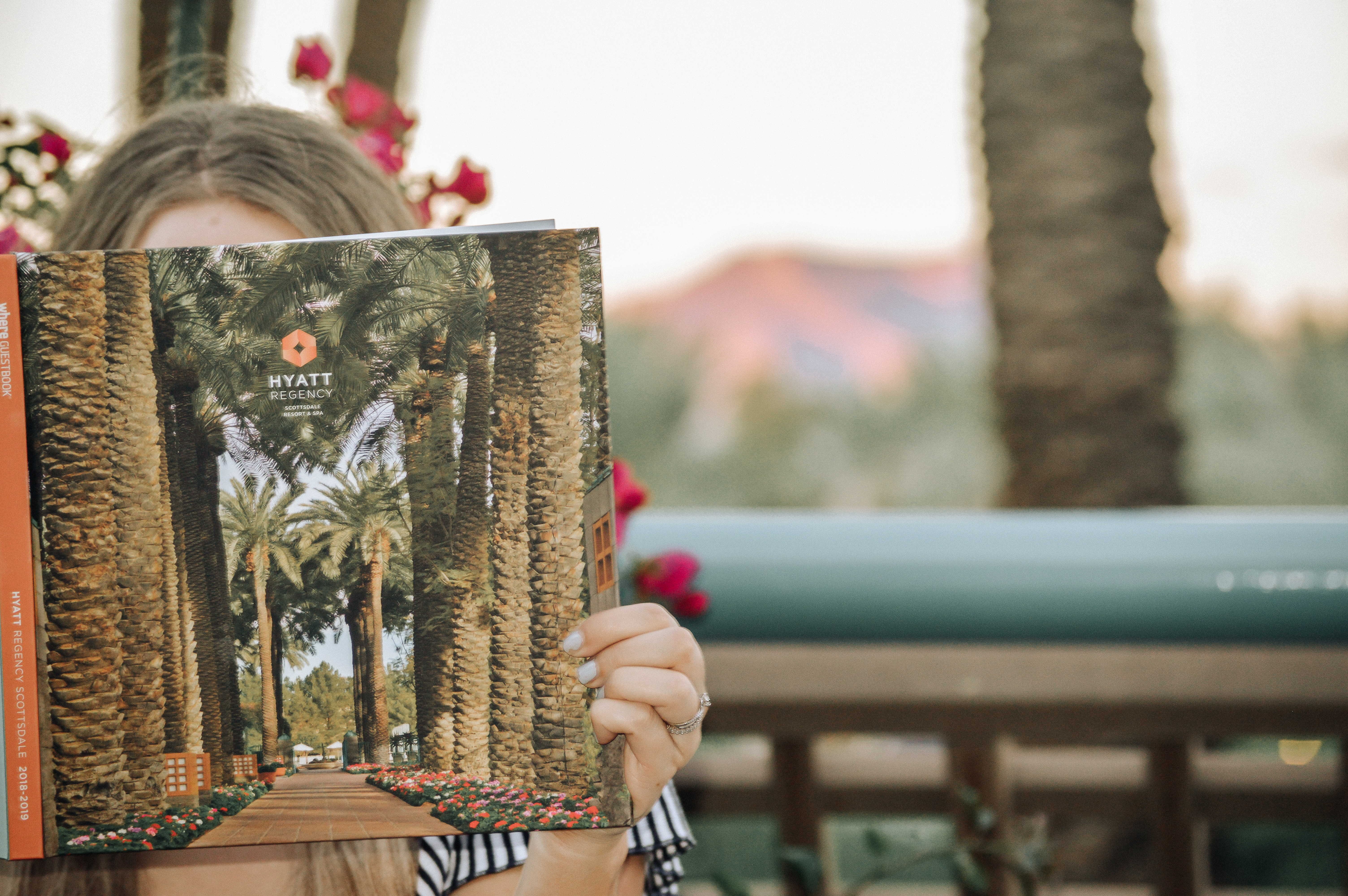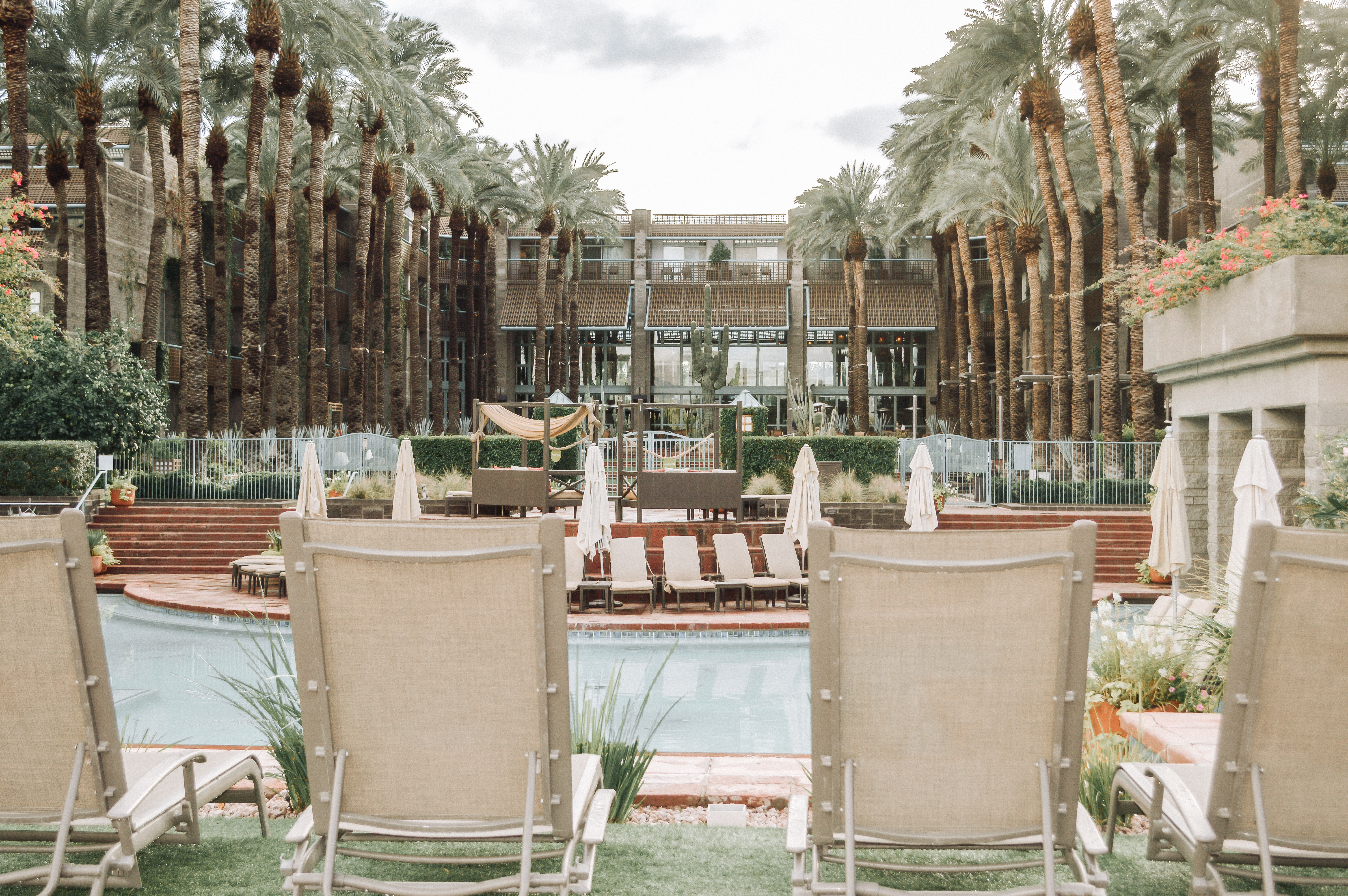 Hyatt Regency Scottsdale Resort and Spa:
|Book | Learn More | Facebook | Instagram | Twitter |
Check out the video of our stay and be sure to subscribe to our channel on YouTube:
xoxo.
Pin It!
Loving this Hyatt Regency review? Click here now for more of our fun Arizona travels!