Disclaimer: We received media tickets to Sea World San Diego in exchange for review. All opinions are my own. Visit my disclaimer page for more information.
We had the opportunity to visit Sea World while we were on vacation last week and had a blast! It was overcast but not too cold and the park wasn't crowded. A perfect theme park day!
Sawyer LOVES animals and has loved the zoo the few times we've taken him so we knew he would love Sea World. Sawyer is picking up new words and phrases like crazy lately. Since he's learning so fast, we are trying our best to make sure he learns everything he needs to at this age. Colors, numbers, body parts, and animals! Our day at Sea World was perfect to teach him a few new animals and some facts about marine life.
When we walked through the gates, our first stop was to the Explorer's Reef. These are large touch pools featuring fish, rays, and even sharks! Sawyer was so brave and wanted to see everything and stick his hands in all the pools. The animals were so chill and didn't seem to even notice us. They even had a pool with those sucker fish that can suck the dead skin off hands and feet. I'm not big on stuff like that and every time the fish got too close to me I would chicken out and pull out my hand! My husband and Sawyer both tried it though and thought it was a great experience!
Our next stop was to Dolphin Point. Sawyer loved this exhibit. While we were there, a trainer got on the microphone and taught us all about Dolphins. Their personalities, feeding habits, and more. The dolphins were extremely playful and loved swimming right up to the kids. It was so fun! I love how social dolphins are, they are truly amazing creatures and getting to experience them so close was amazing! Sawyer loved them. We tried to teach him to say "dolphin" but he just kept calling them sharks. We'll work on it.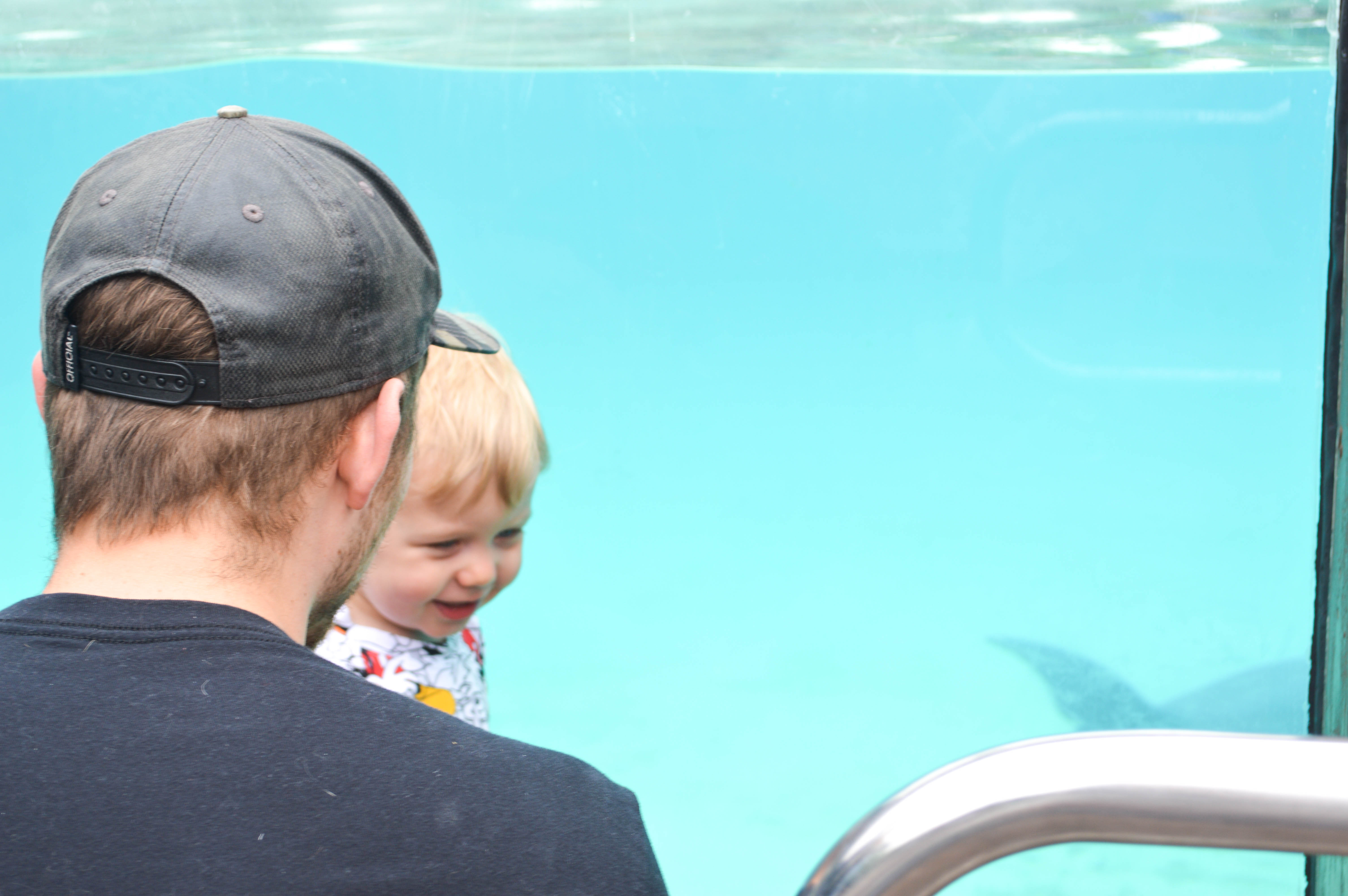 After Dolphin Point, we headed to see some actual sharks! Shark Encounter is my husband's favorite part of the park, and he was determined to make it Sawyer's too (my husband is obsessed with sharks). I think he might have succeeded. He loved looking at the smaller sharks in the little pools, but the highlight is by far the underwater viewing tunnel. This is one of my favorite parts of the park too. Sawyer said "shark, shark!" the whole time, and even picked out a stuffed shark as his souvenir for the day.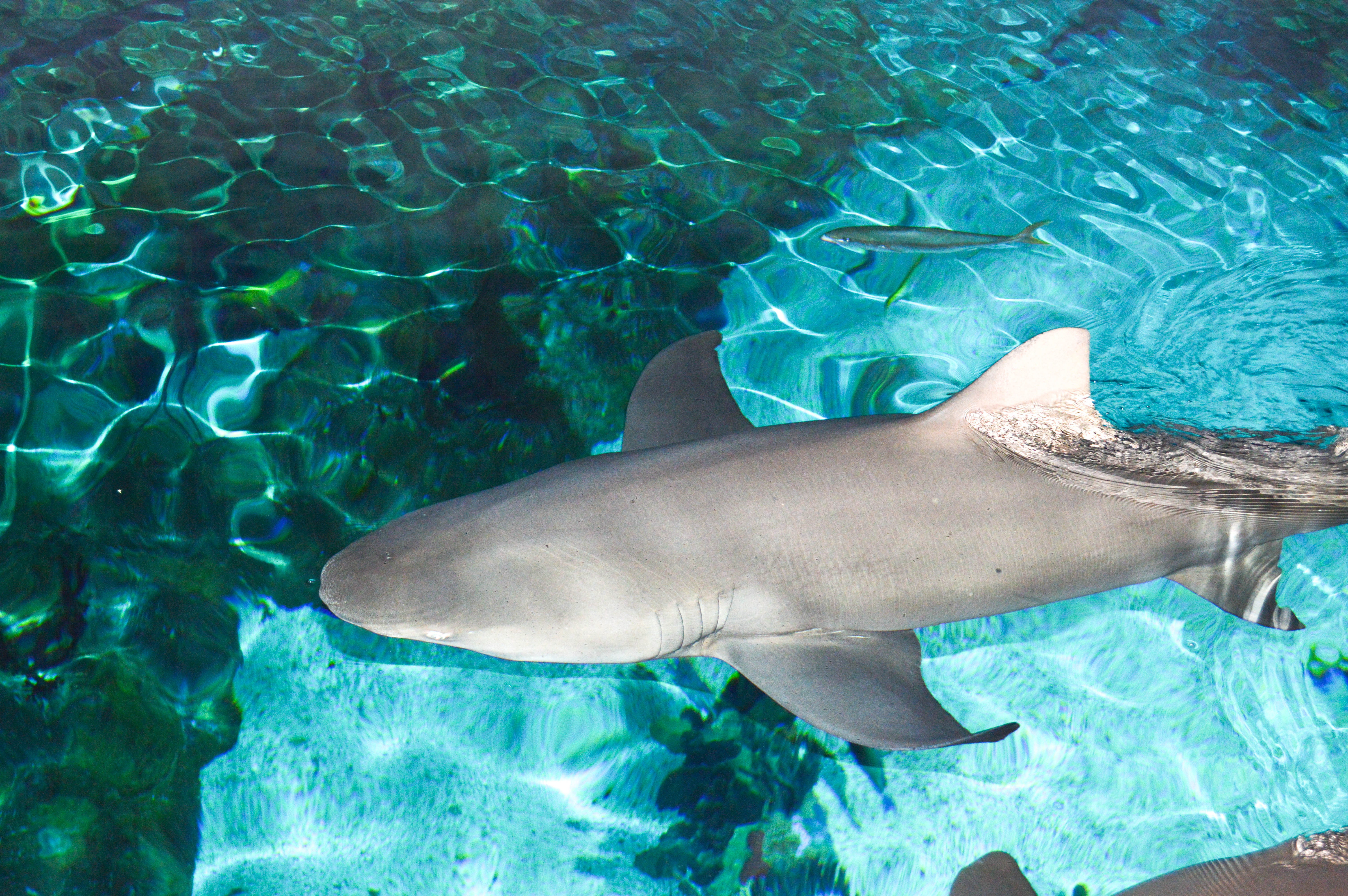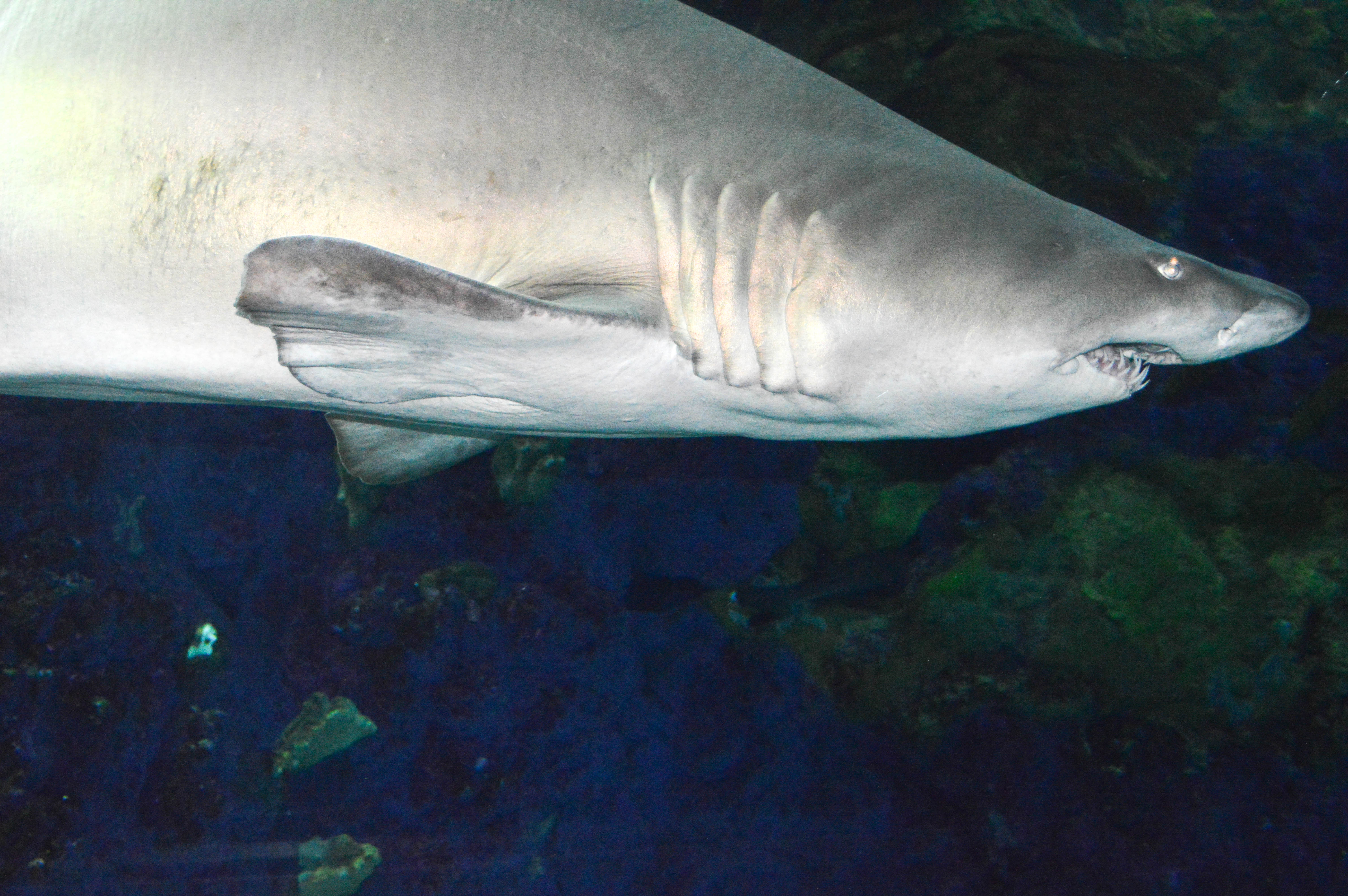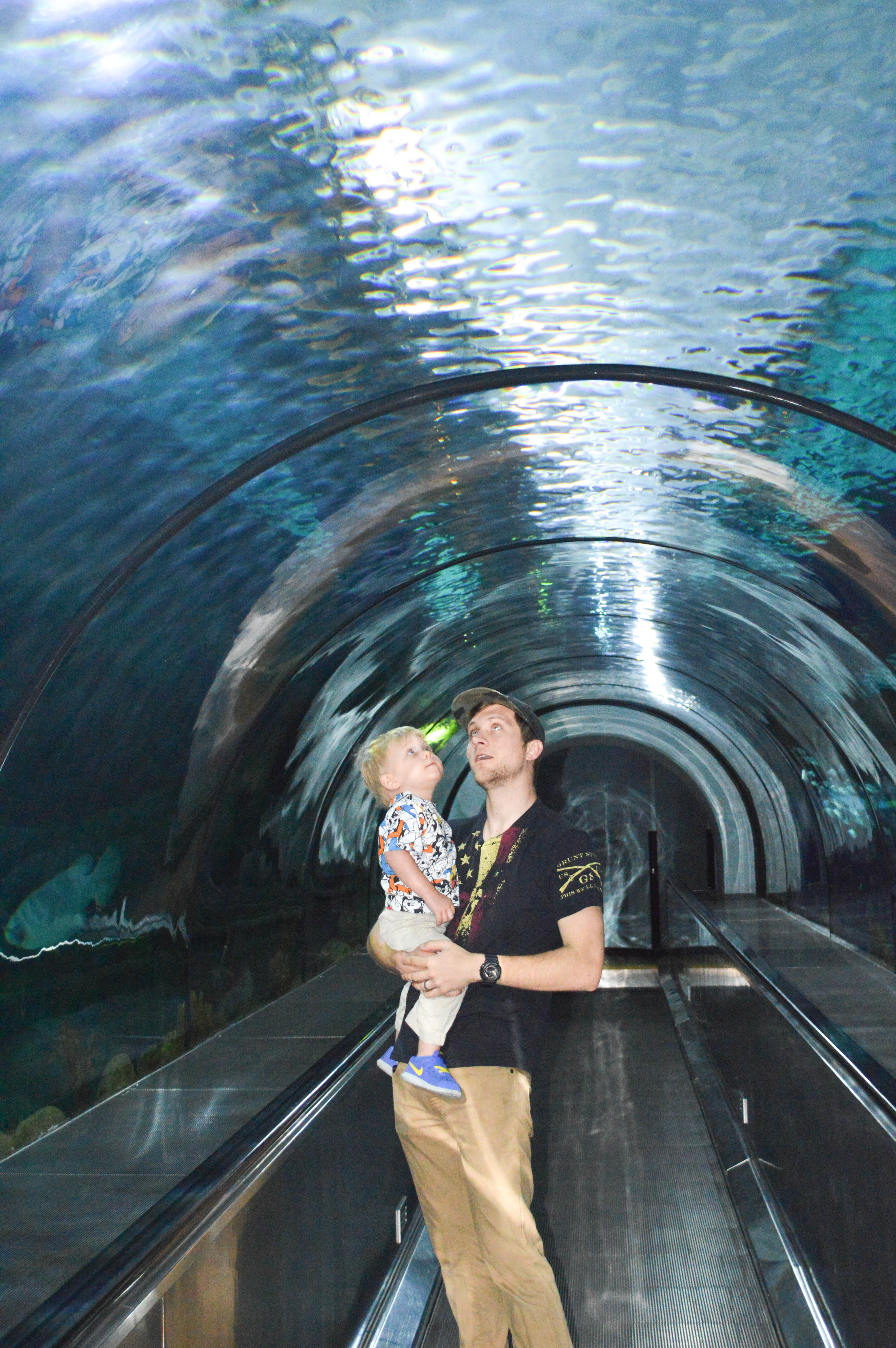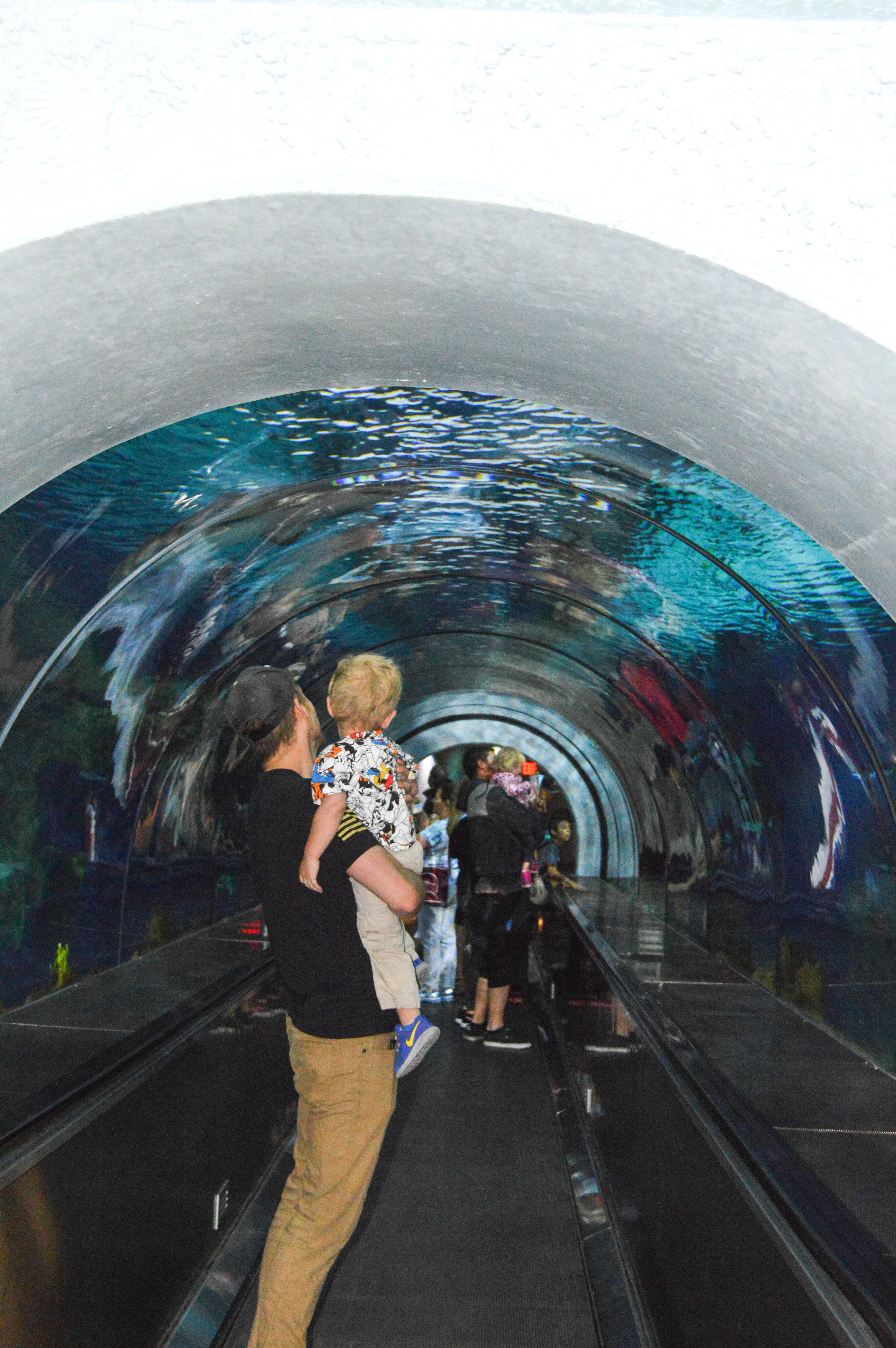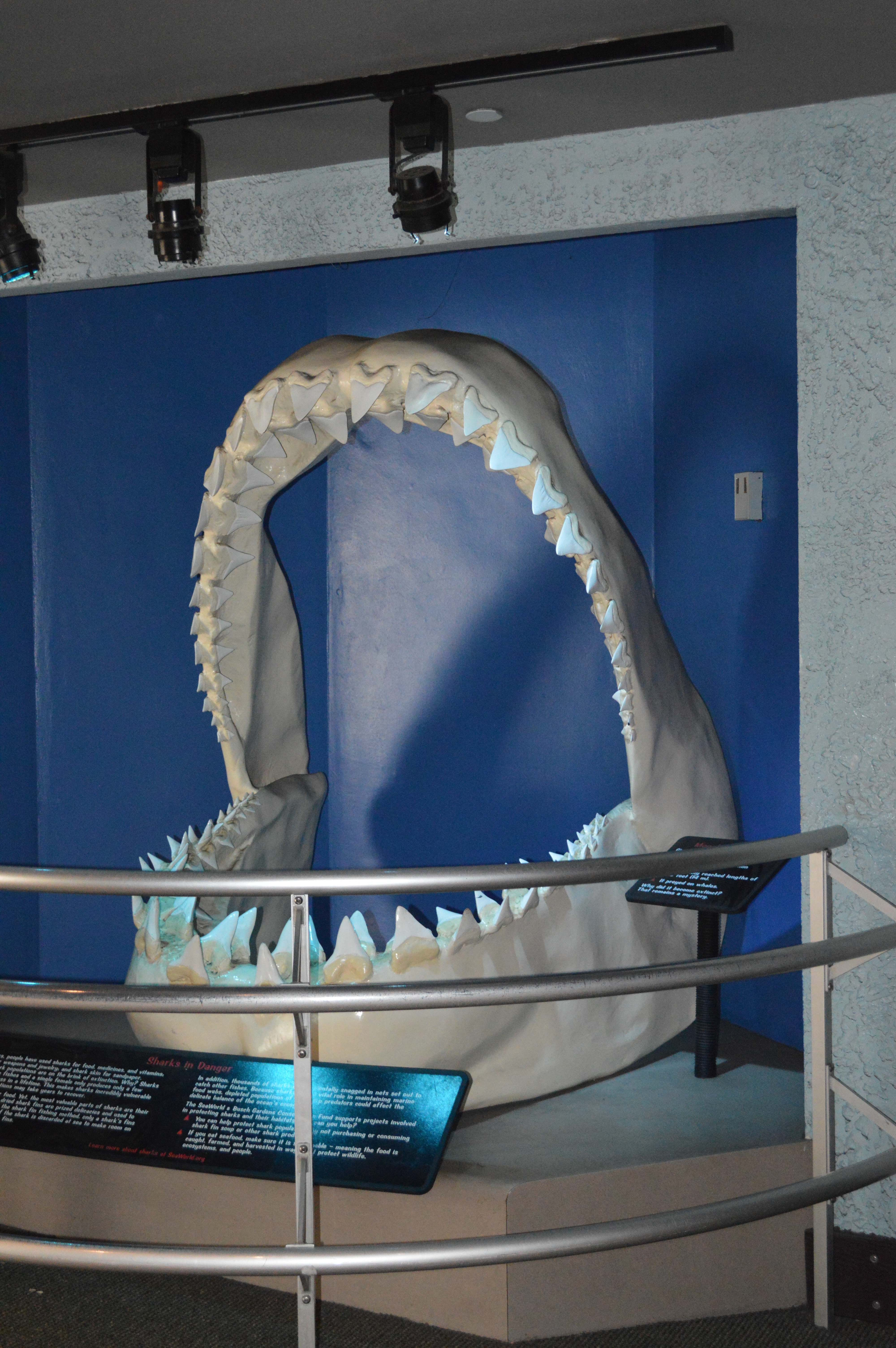 Then, we headed to our first show! SLL or Sea Lions Live. This is one of my favorites. They spoof a lot of current tv shows with the Sea Lions and Otters. It's hilarious and watching the Sea Lions perform tricks and interact with their trainers is so fun. Sawyer laughed and clapped through the whole thing.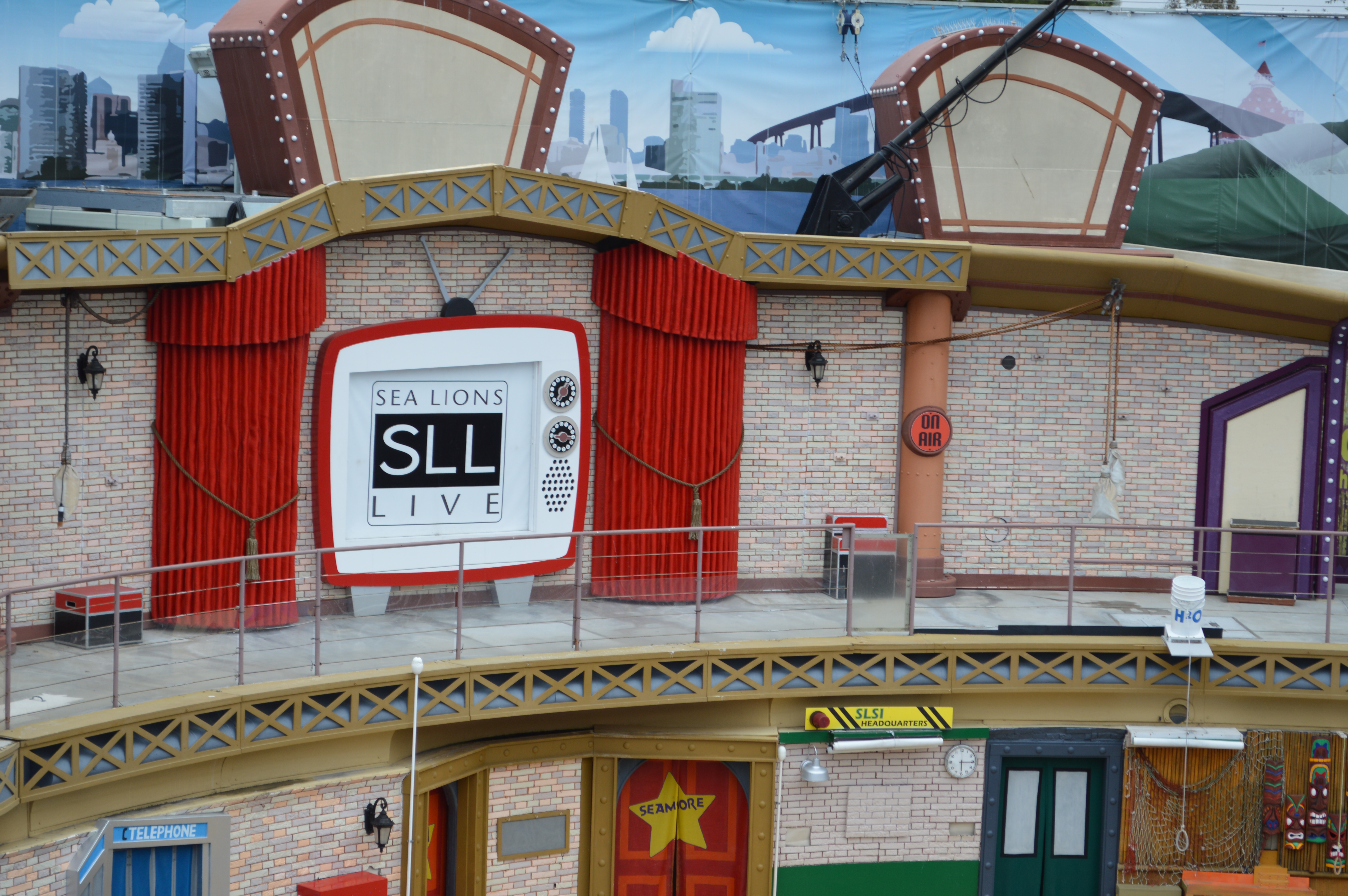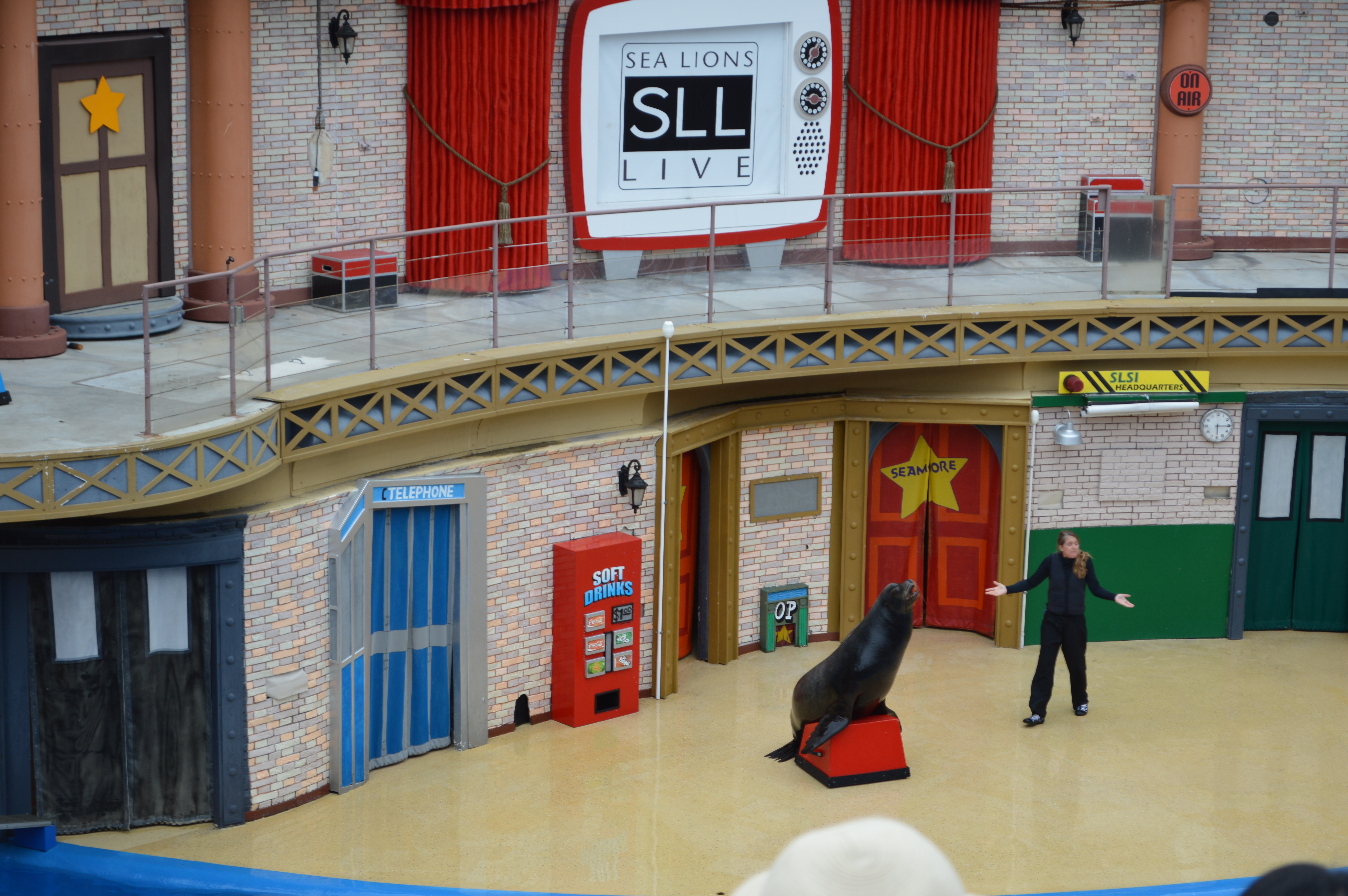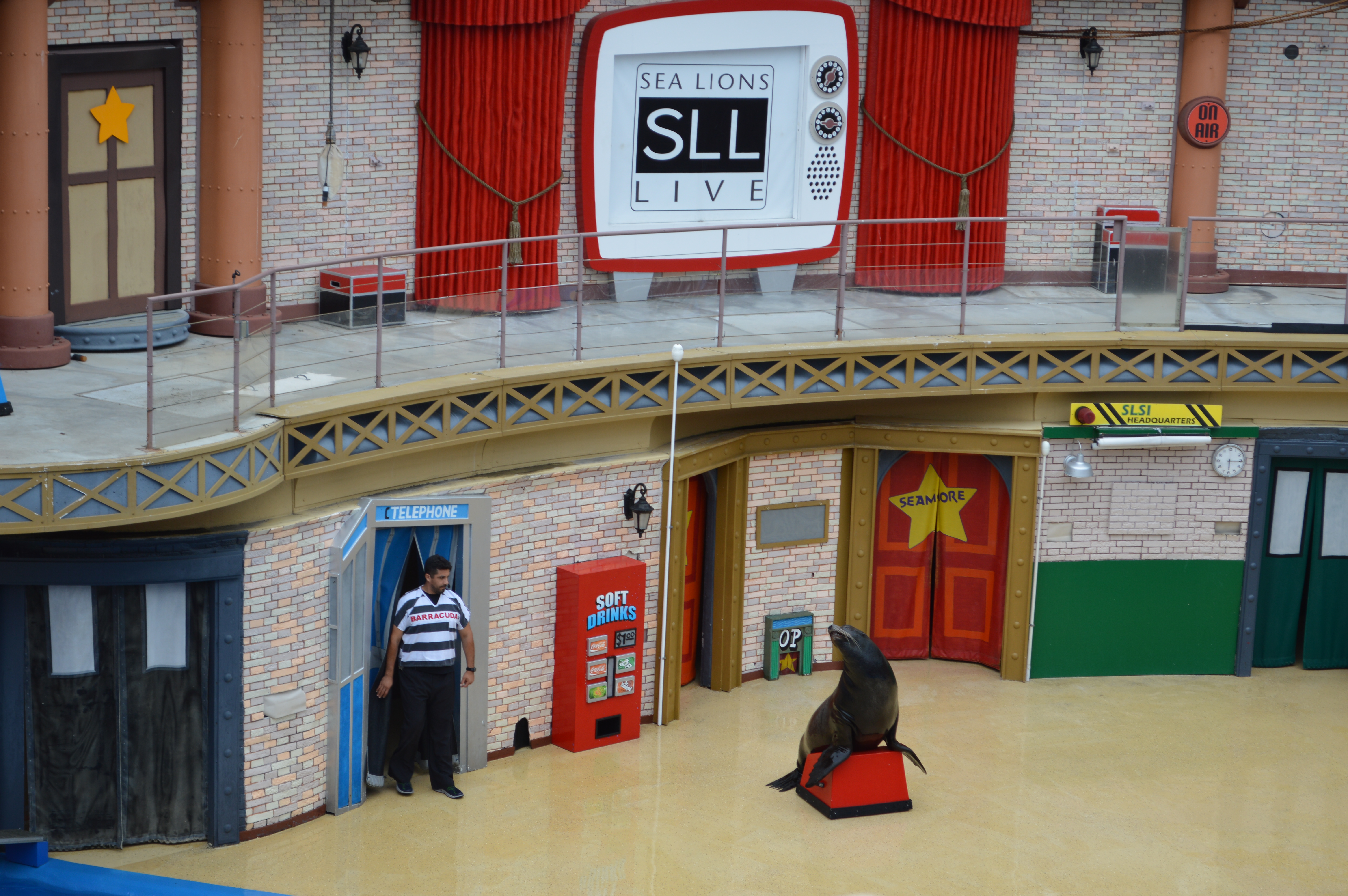 After that, we headed to one of my favorite exhibits, Penguin Encounter! Penguins are one of my favorite animals, and I loved seeing them interact and play! Penguin Encounter also has an indoor viewing area where you can watch them swim which is my favorite part.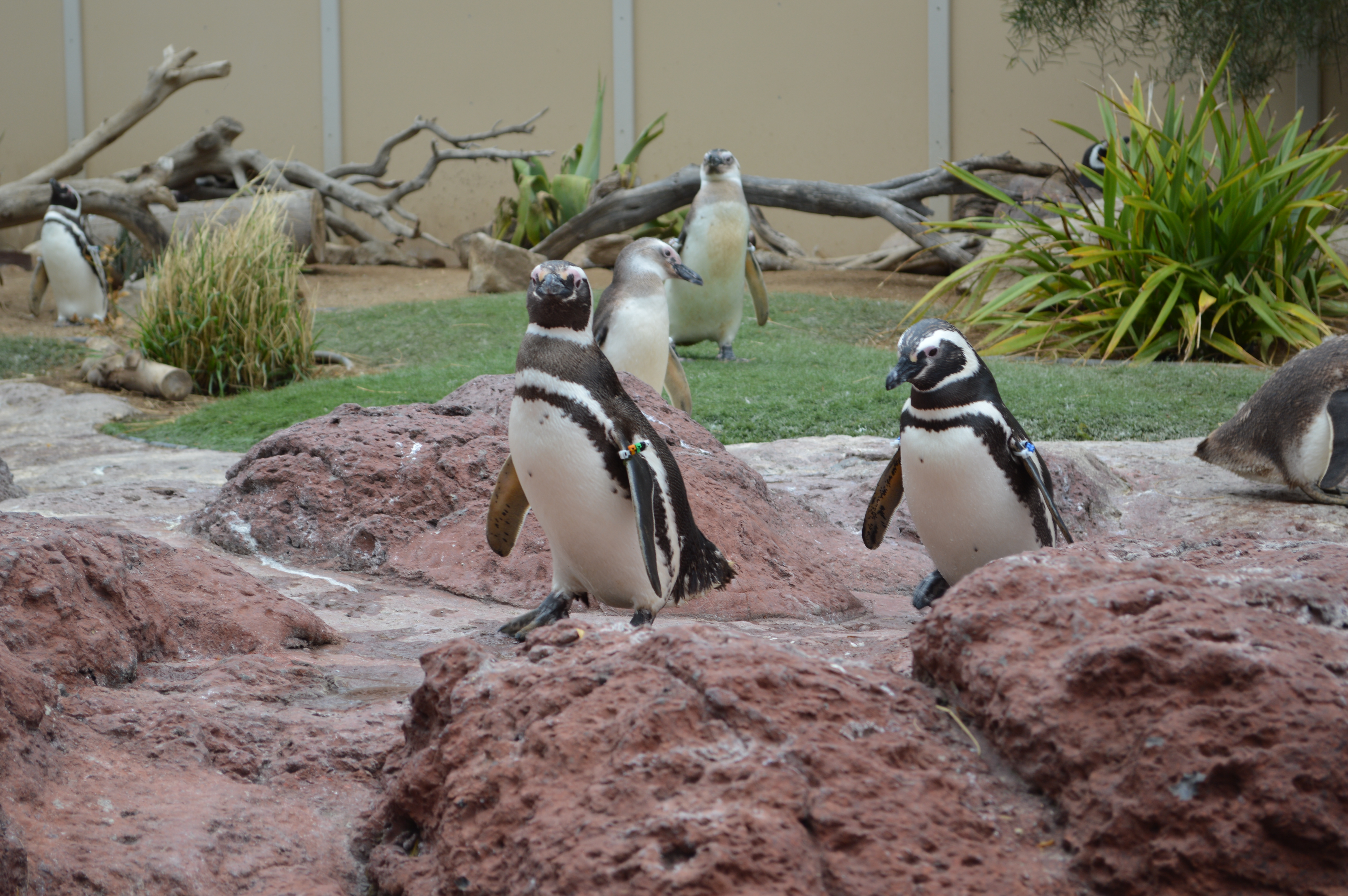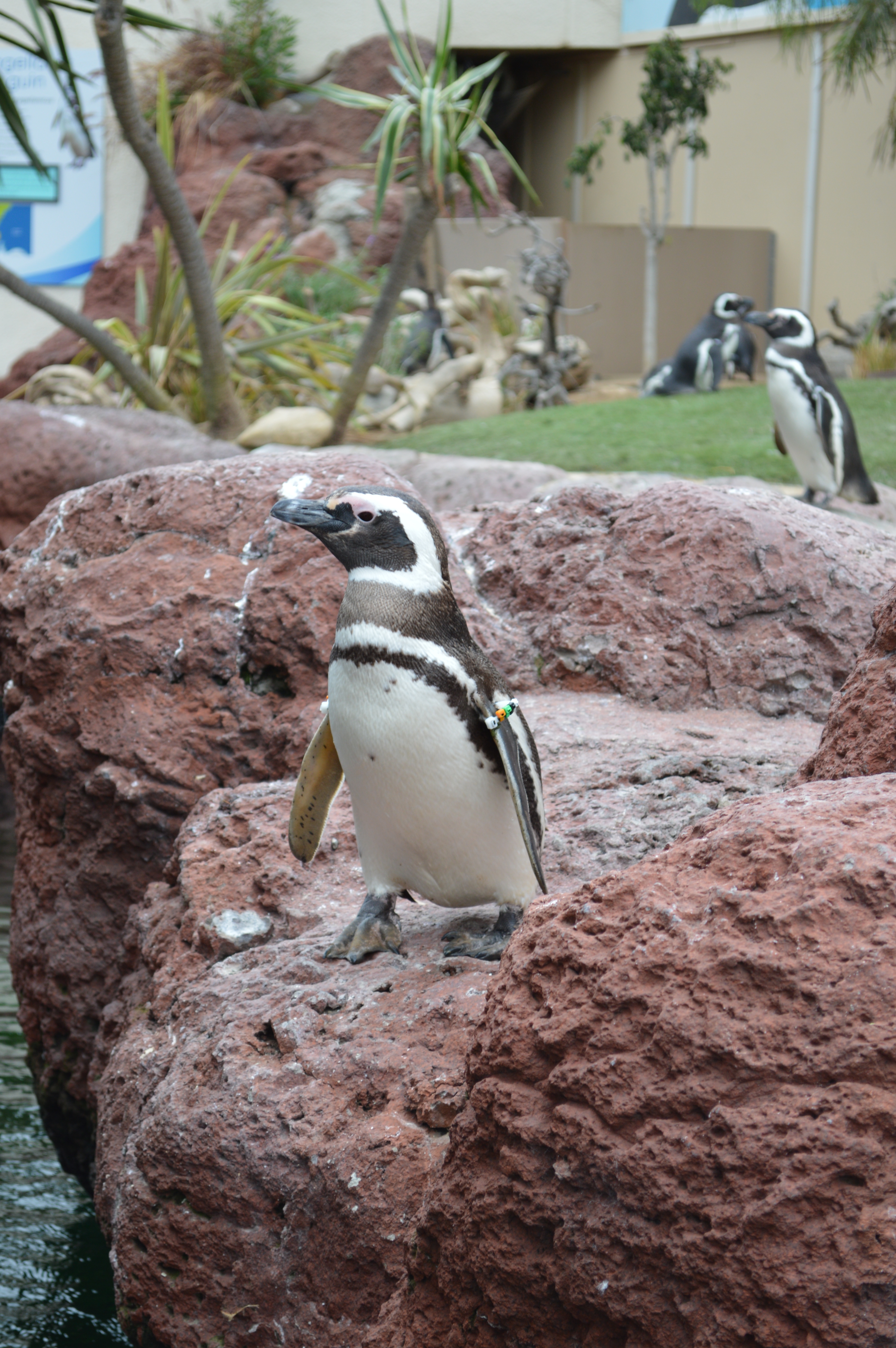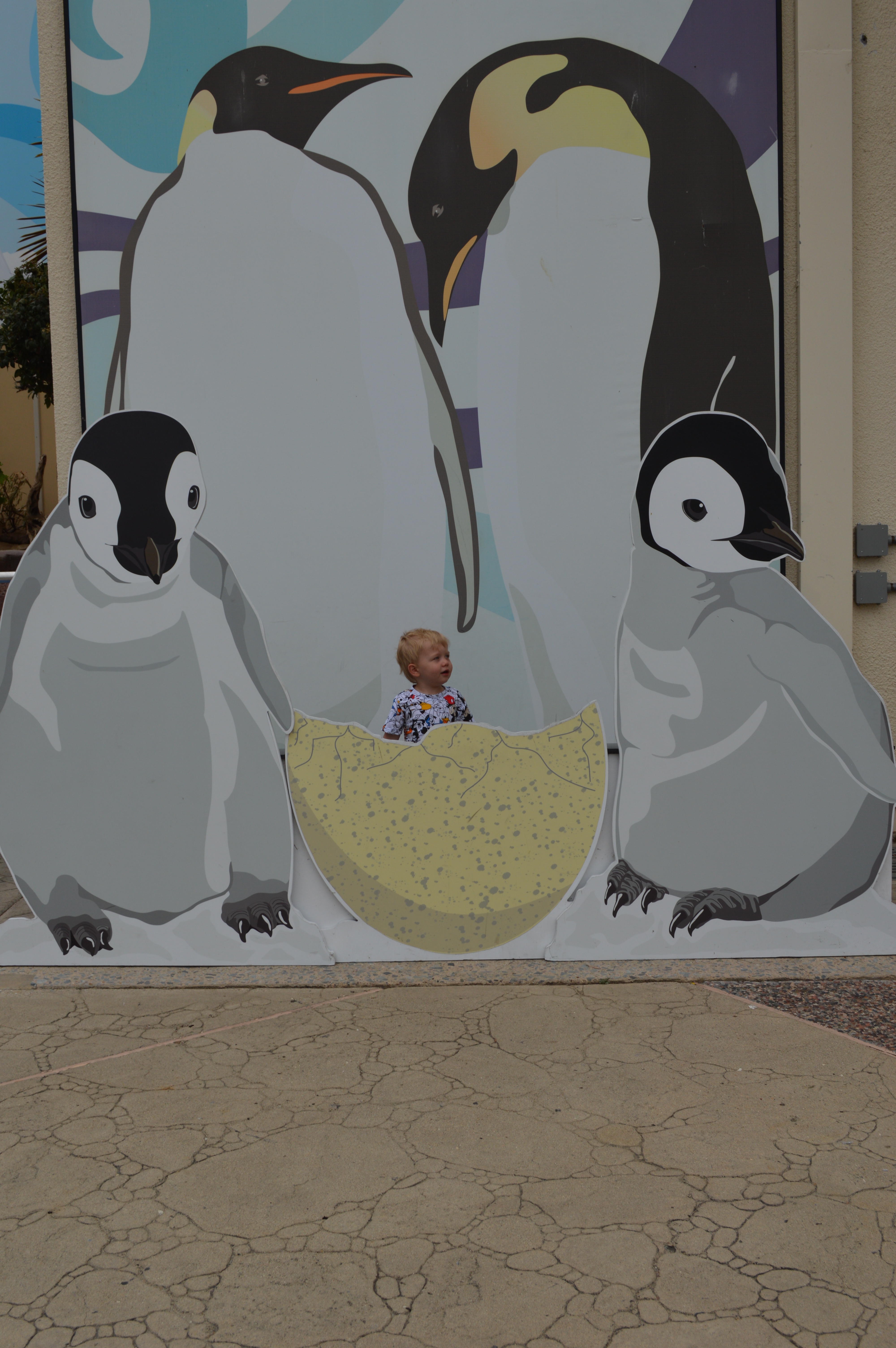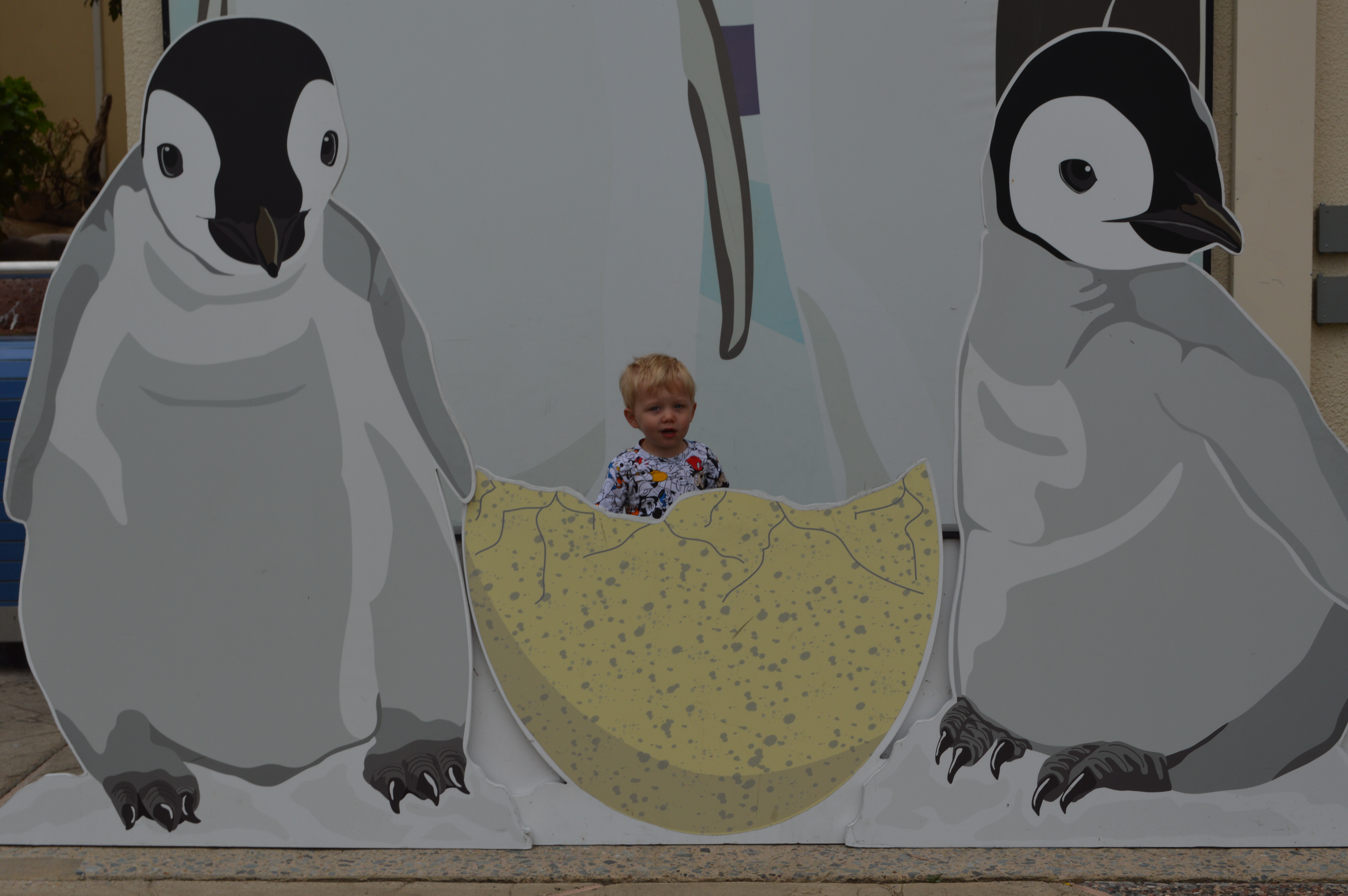 While we were on that side of the park we visited Wild Arctic. Since I am pregnant and Sawyer isn't tall enough yet, we had to skip the ride and do the walk through. Which is a bummer because the ride is super fun! But I actually think this was one of Sawyer's favorite parts of the day. It was definitely one of mine! The Polar Bears weren't out (boo), but the Beluga Whales happened to be working with their trainers right as we were walking through so we got to see them do some tricks! It was amazing! Beluga Whales are so beautiful. We ended up staying at the Beluga Whale exhibit for quite some time watching them work with the trainers and swim around. After the trainers left, we went down to the underwater viewing and watched them swim. It was incredible. By the end, Sawyer was yelling "look!" and pointing to the whales whenever he saw one.It was adorable.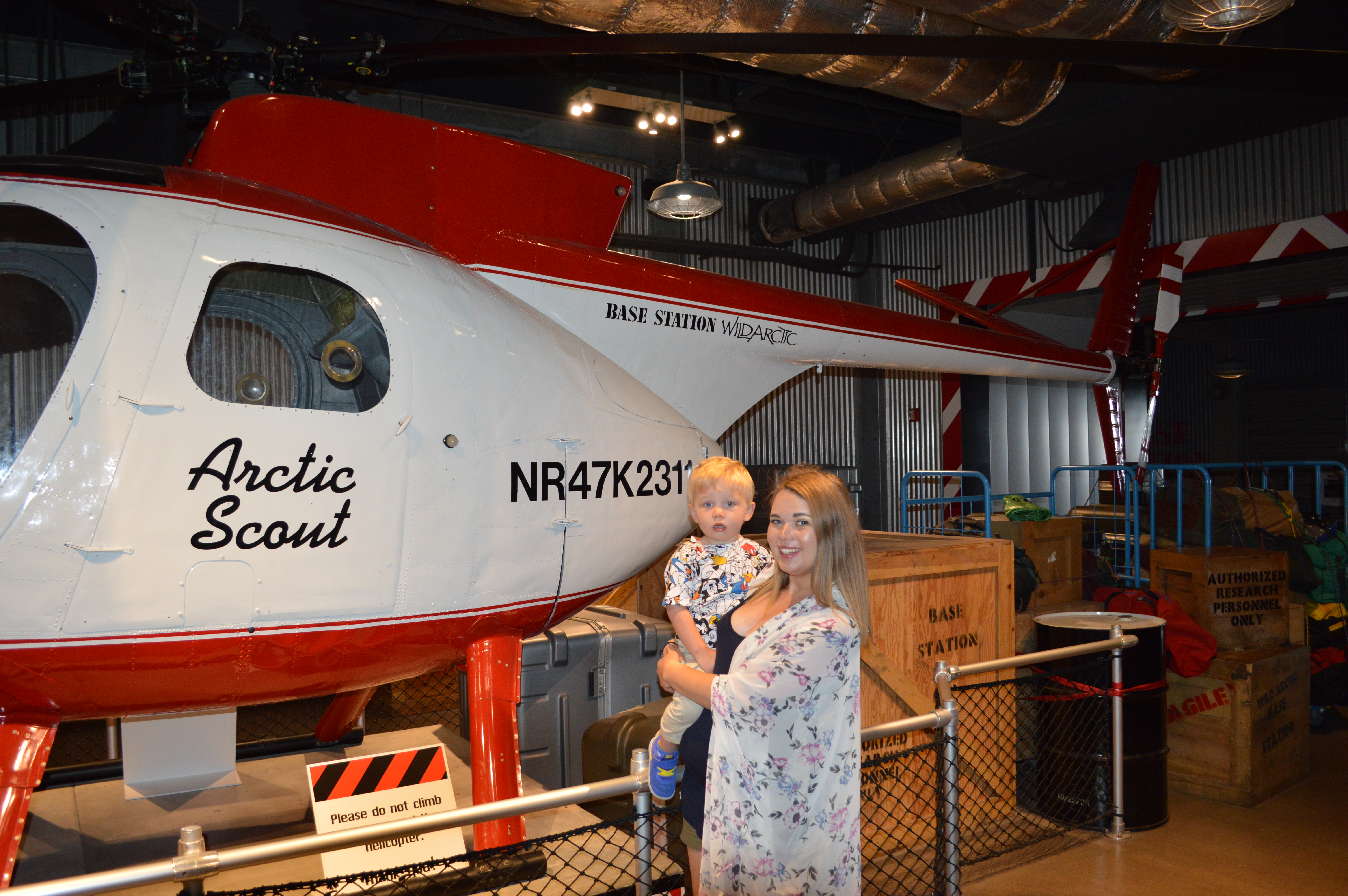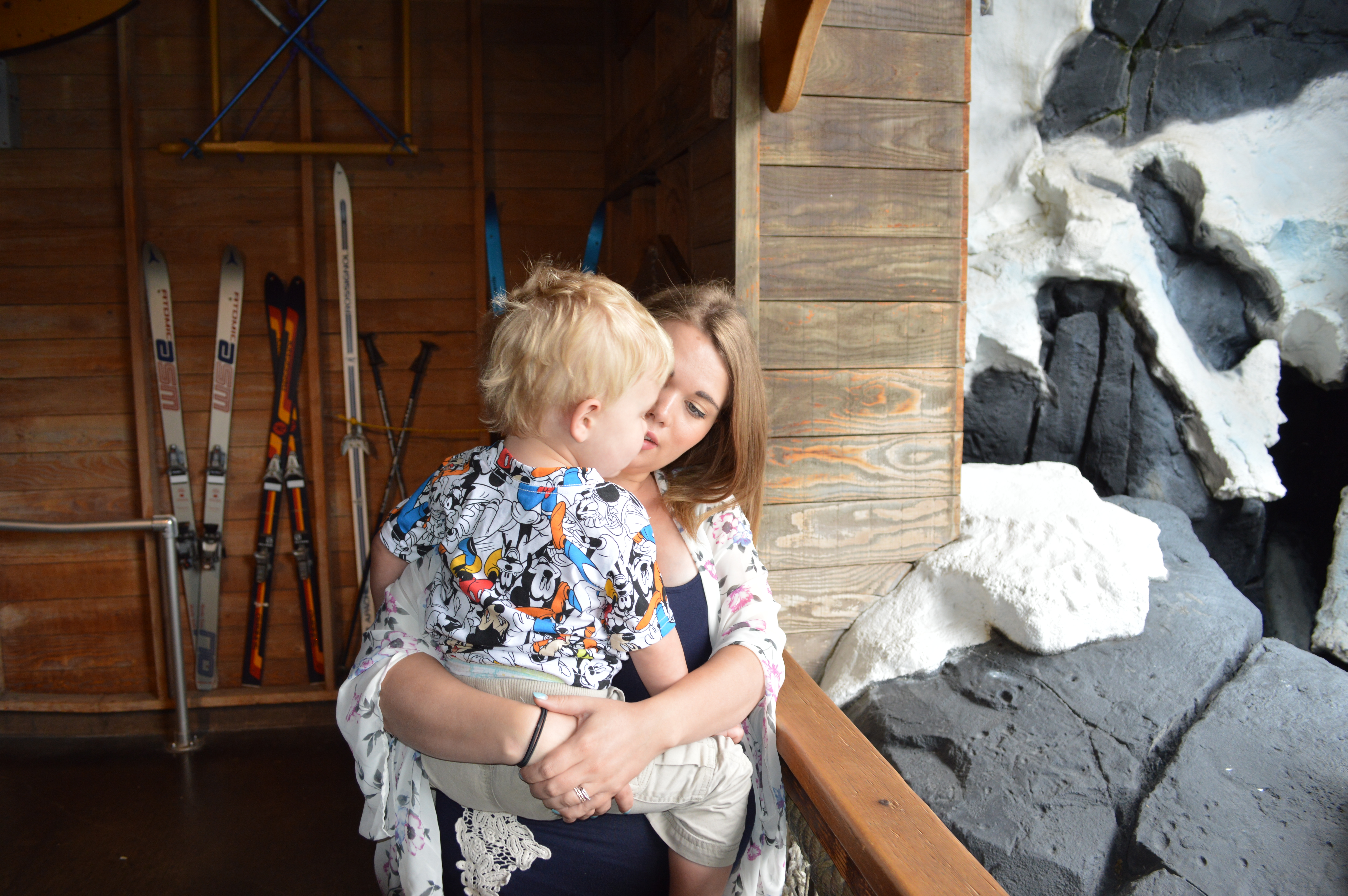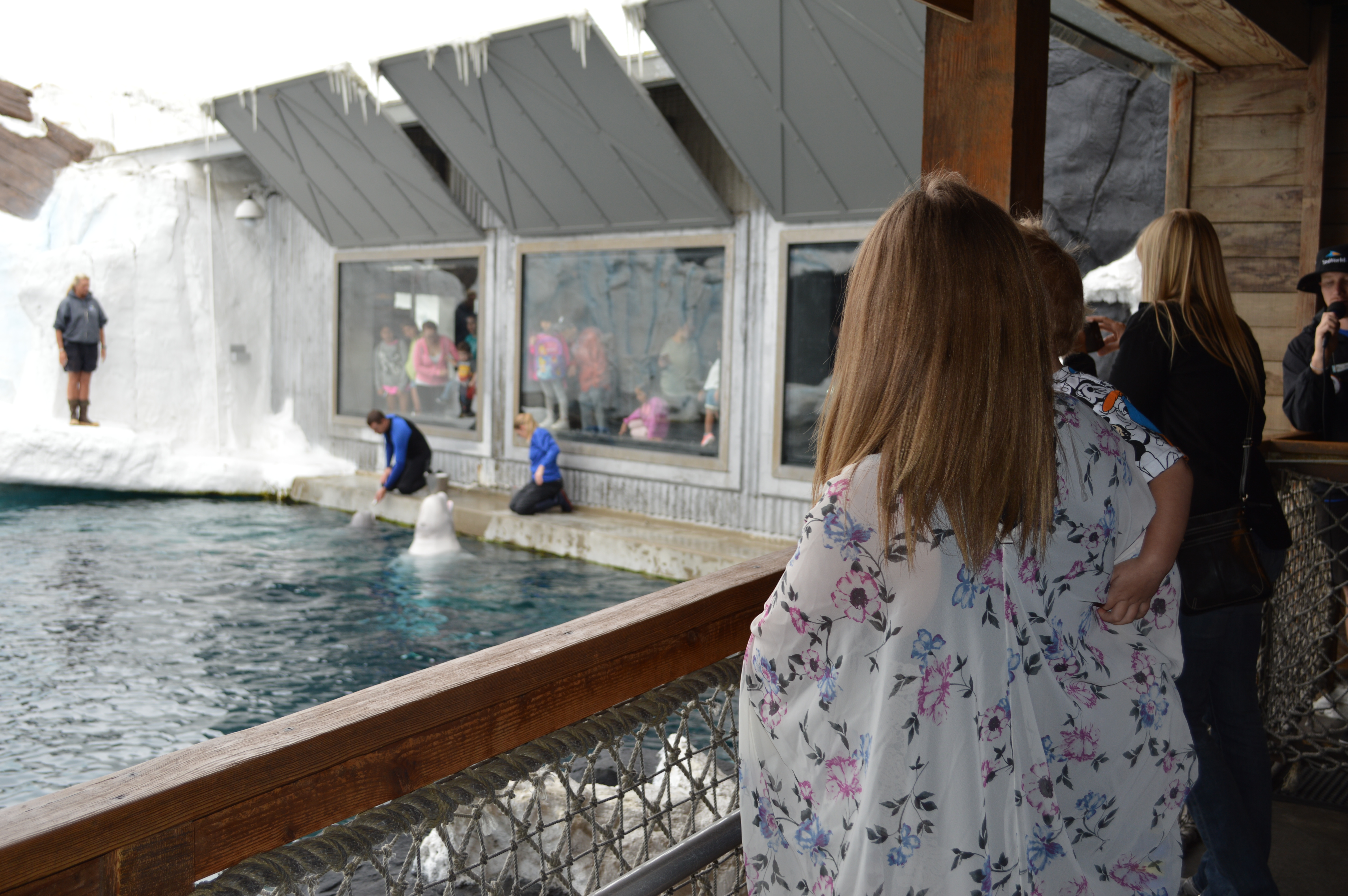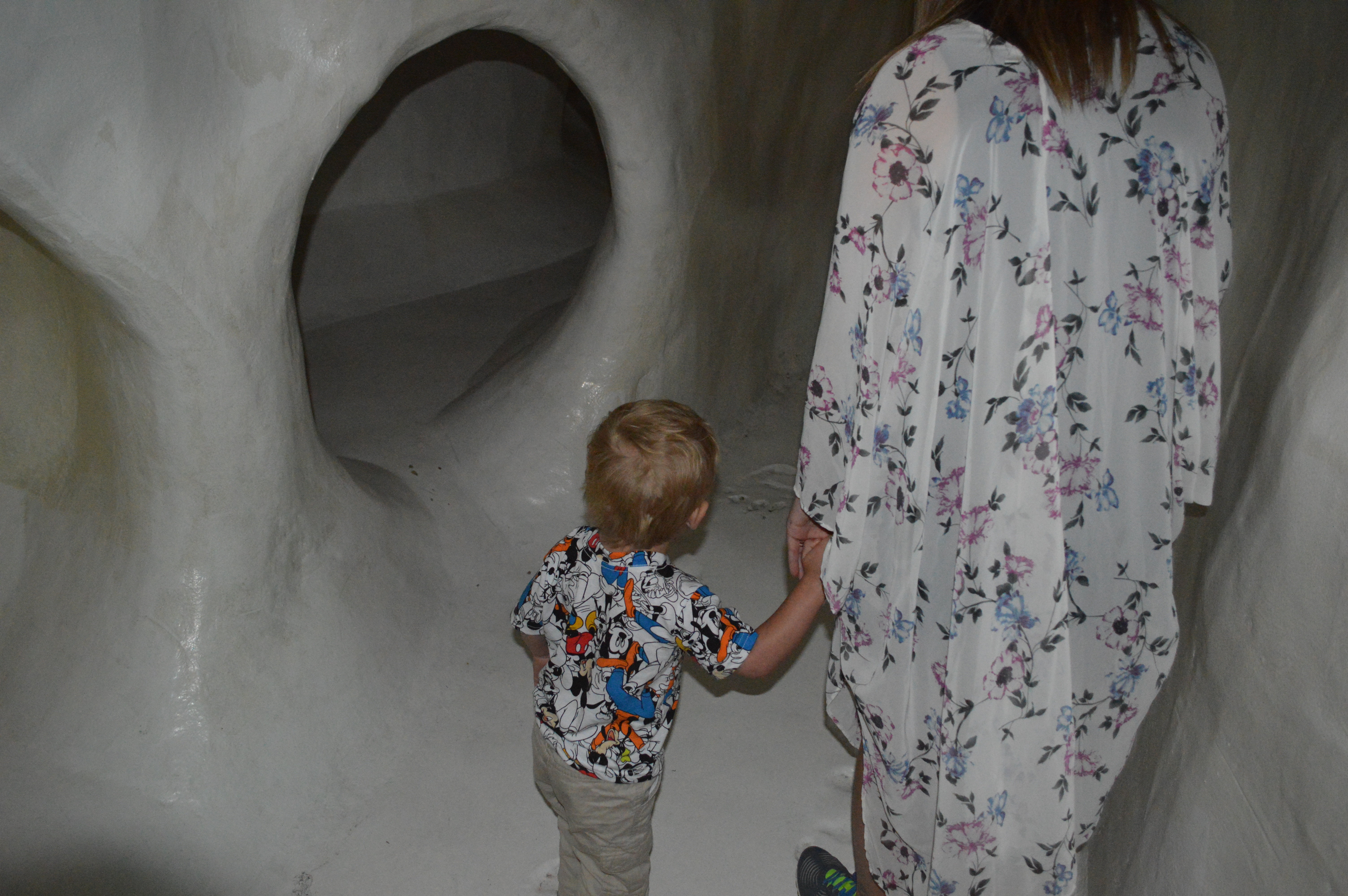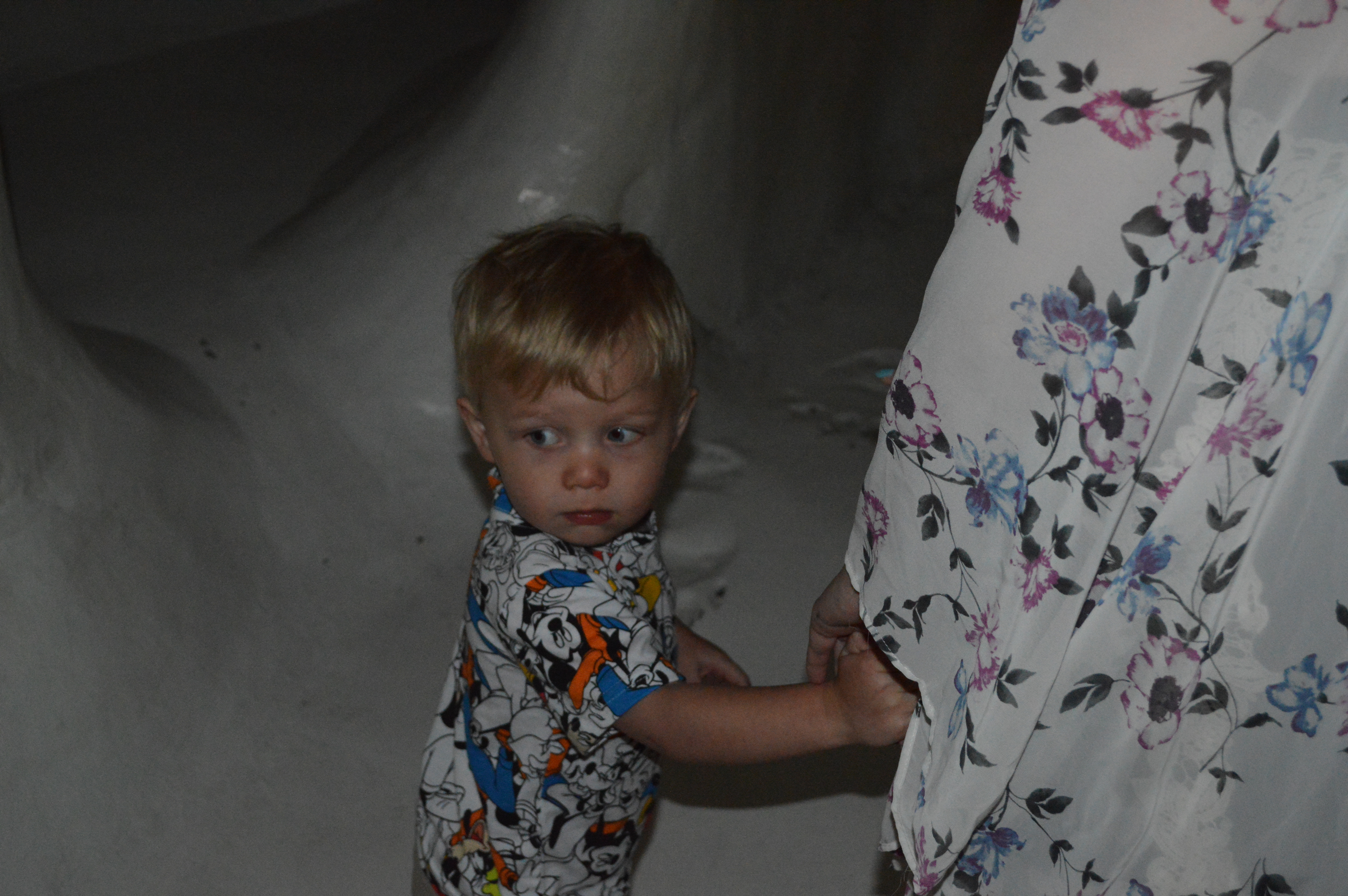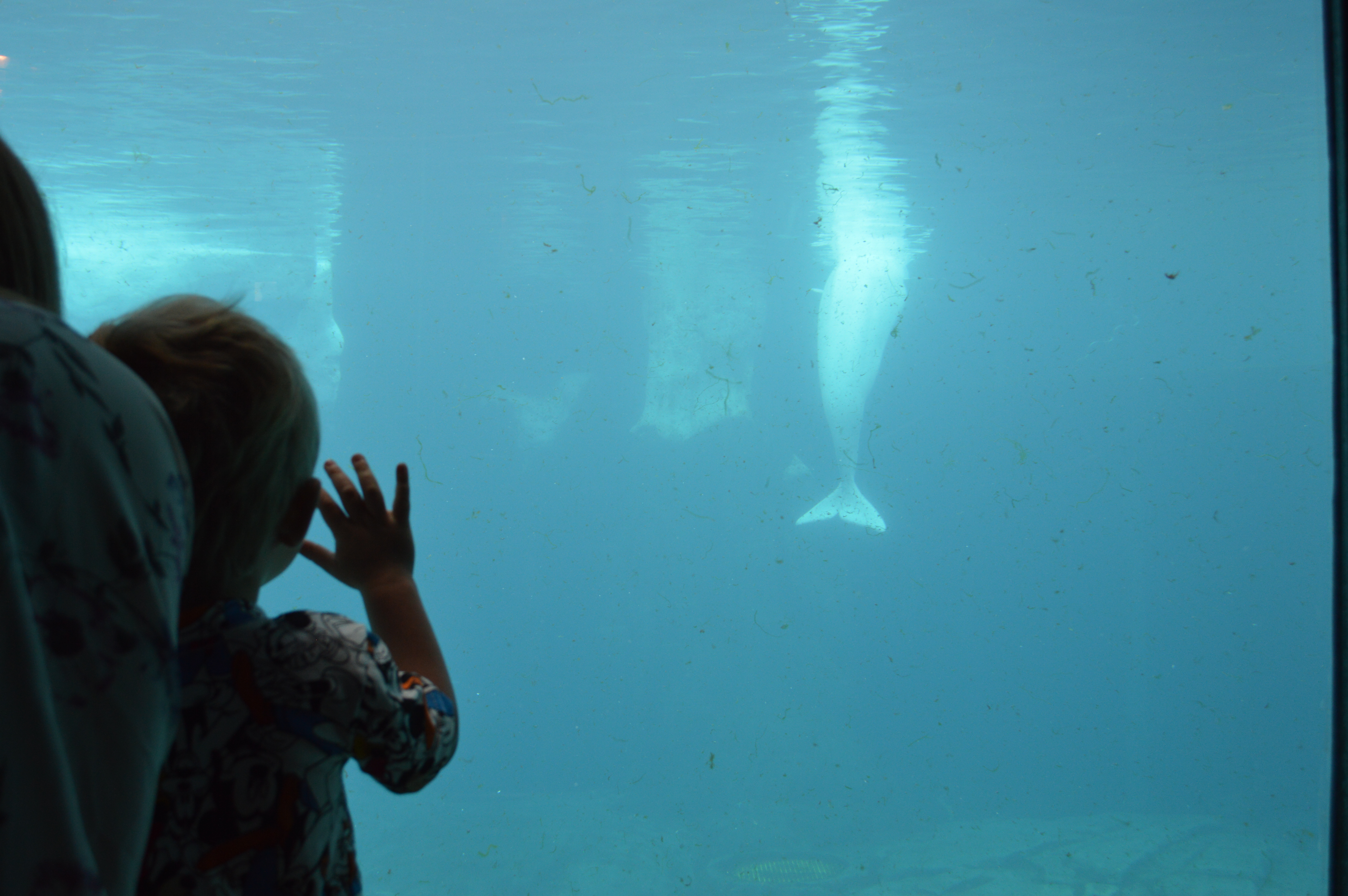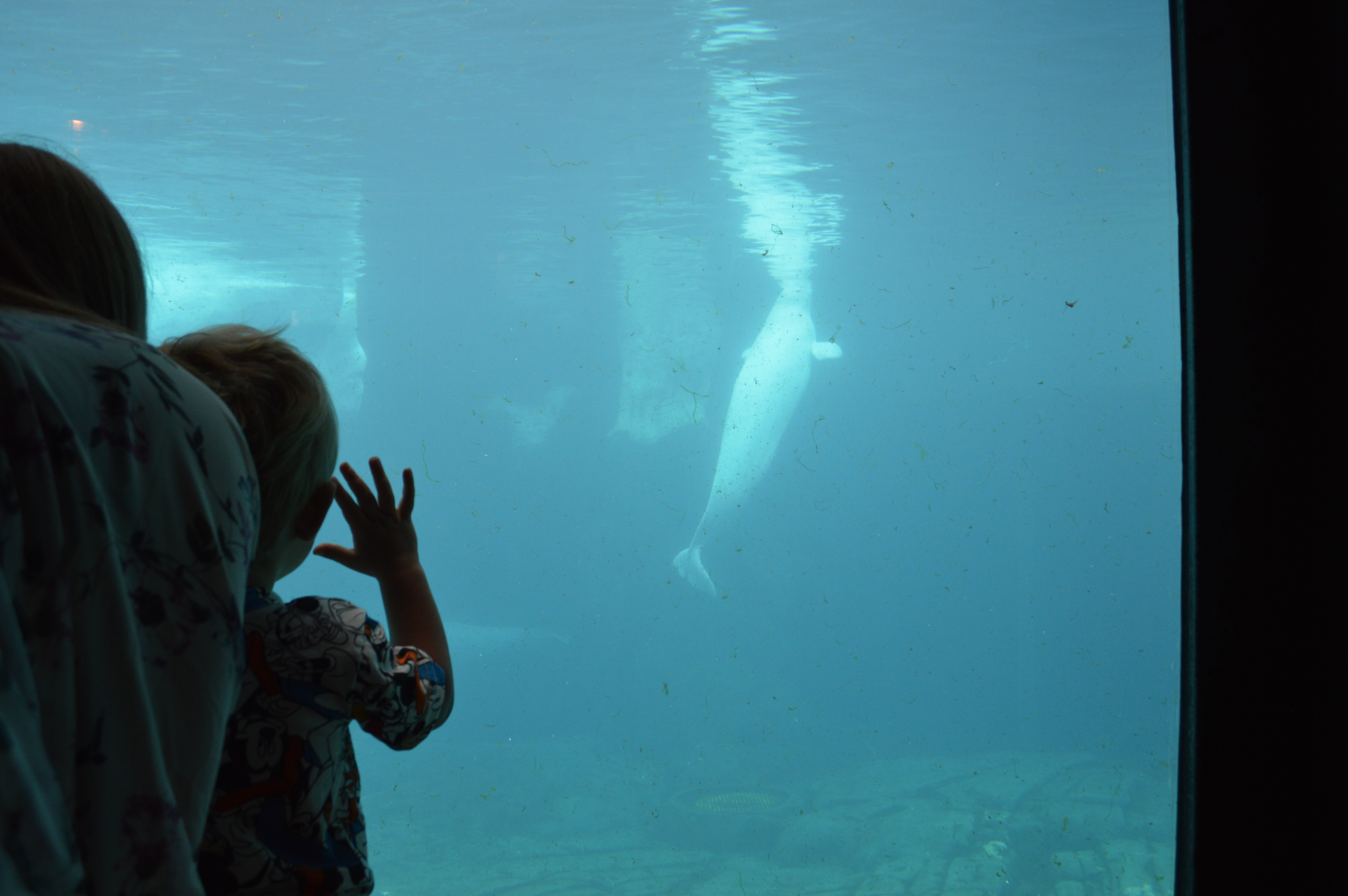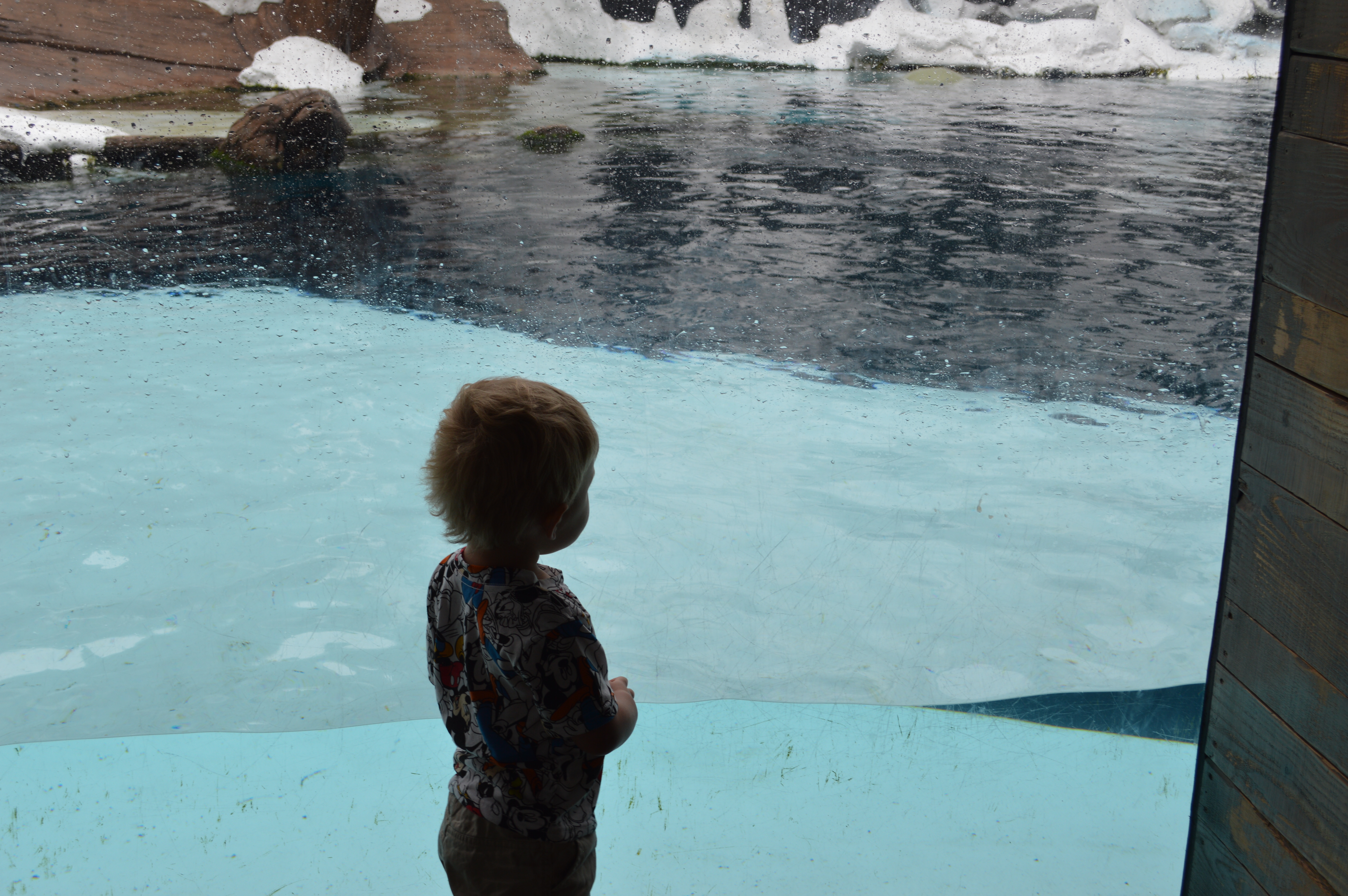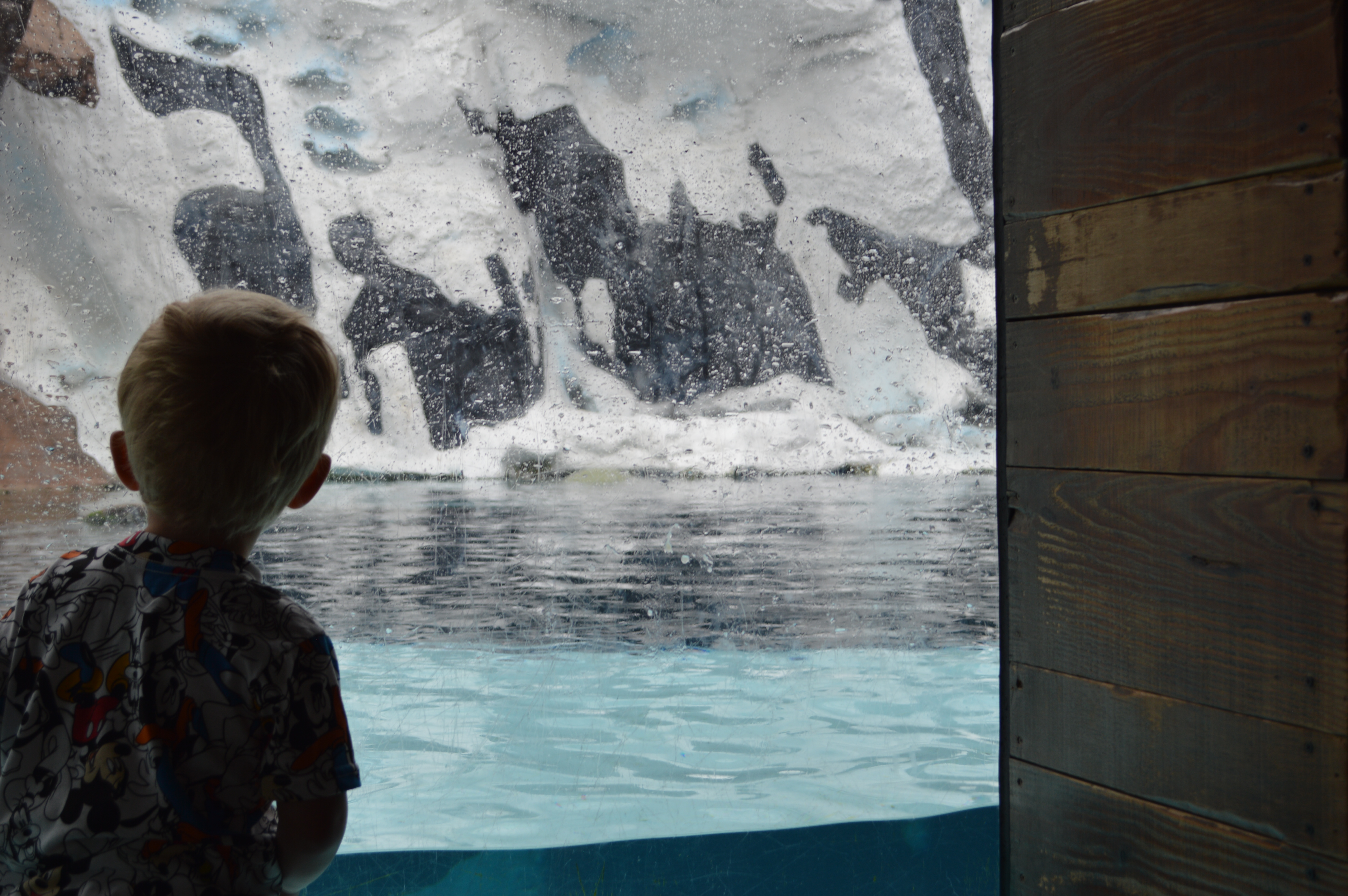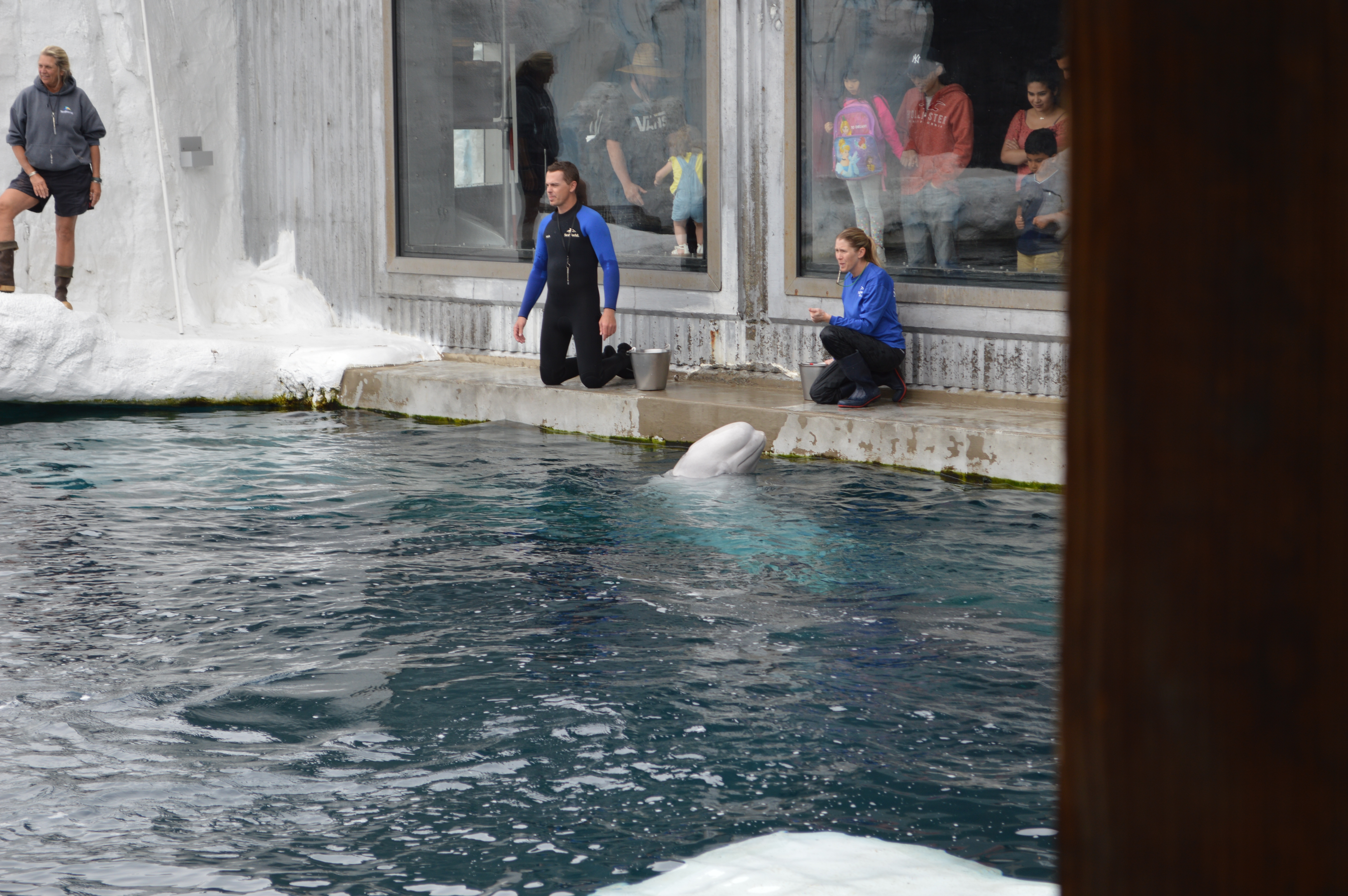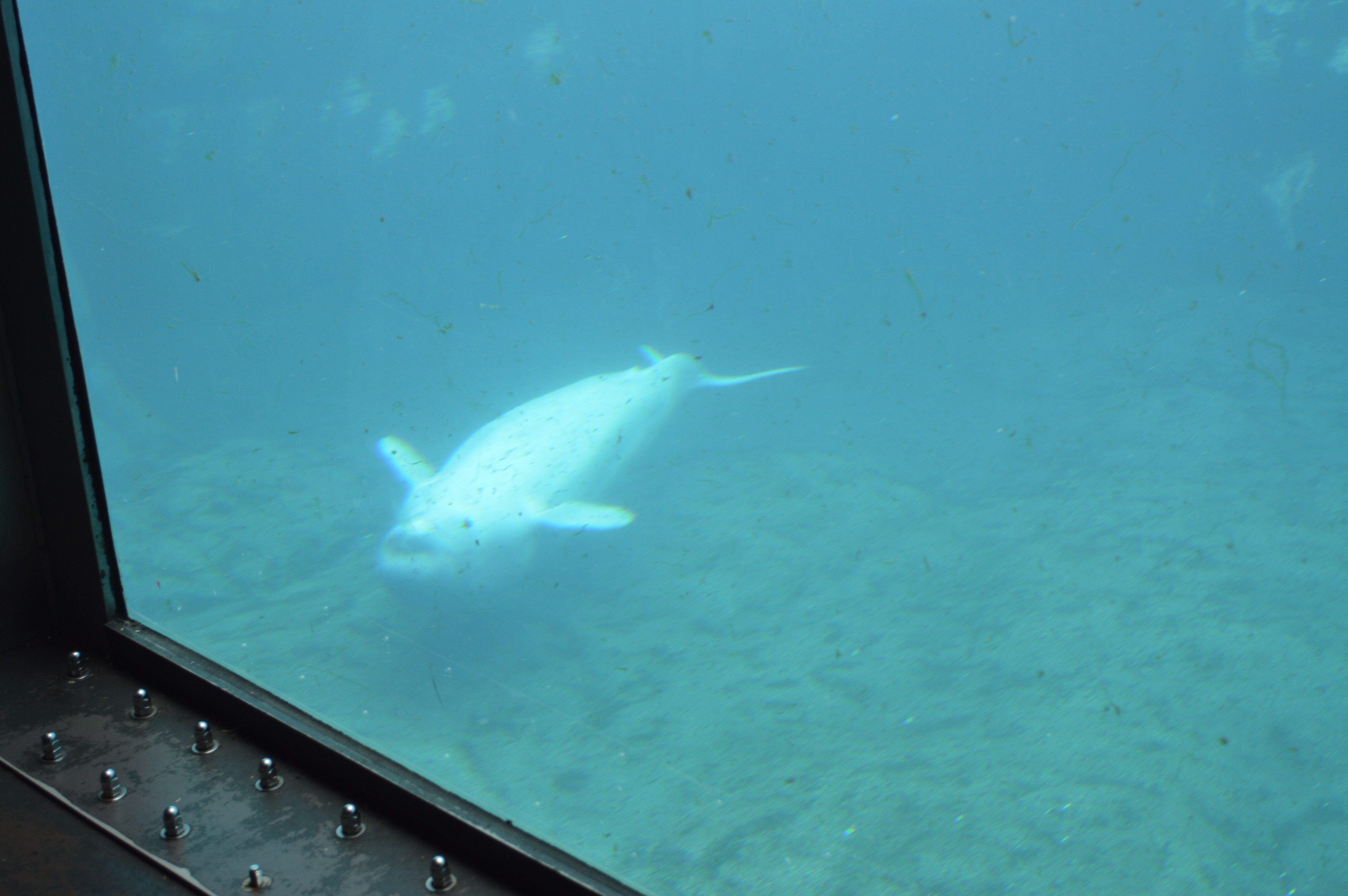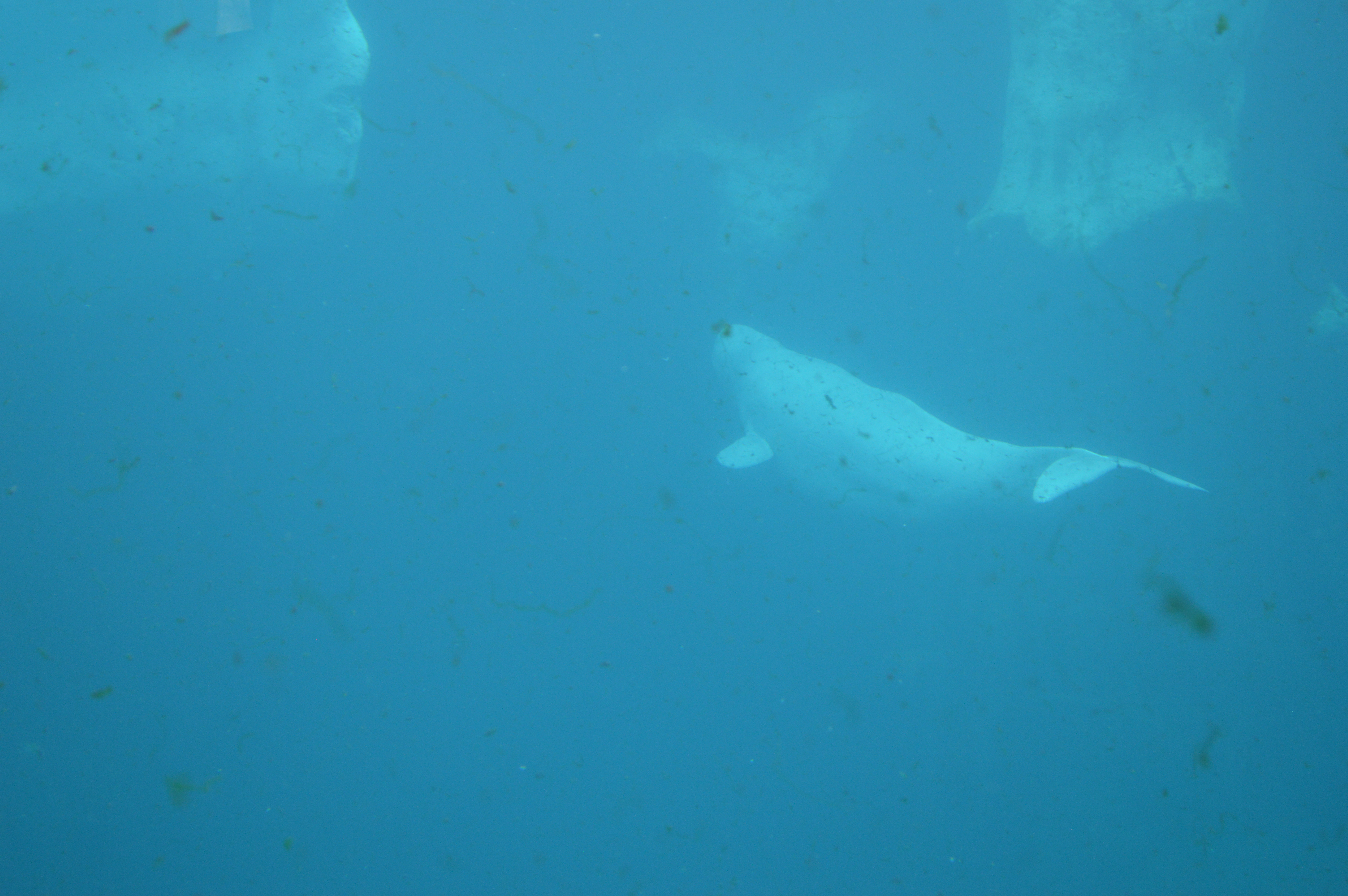 We also got to see Walruses and that was fun too. They would swim right up to the glass where the kids were and open their mouths. I'm not sure if they were trying to eat them or not, haha, but Sawyer was none the wiser and thought they were hilarious.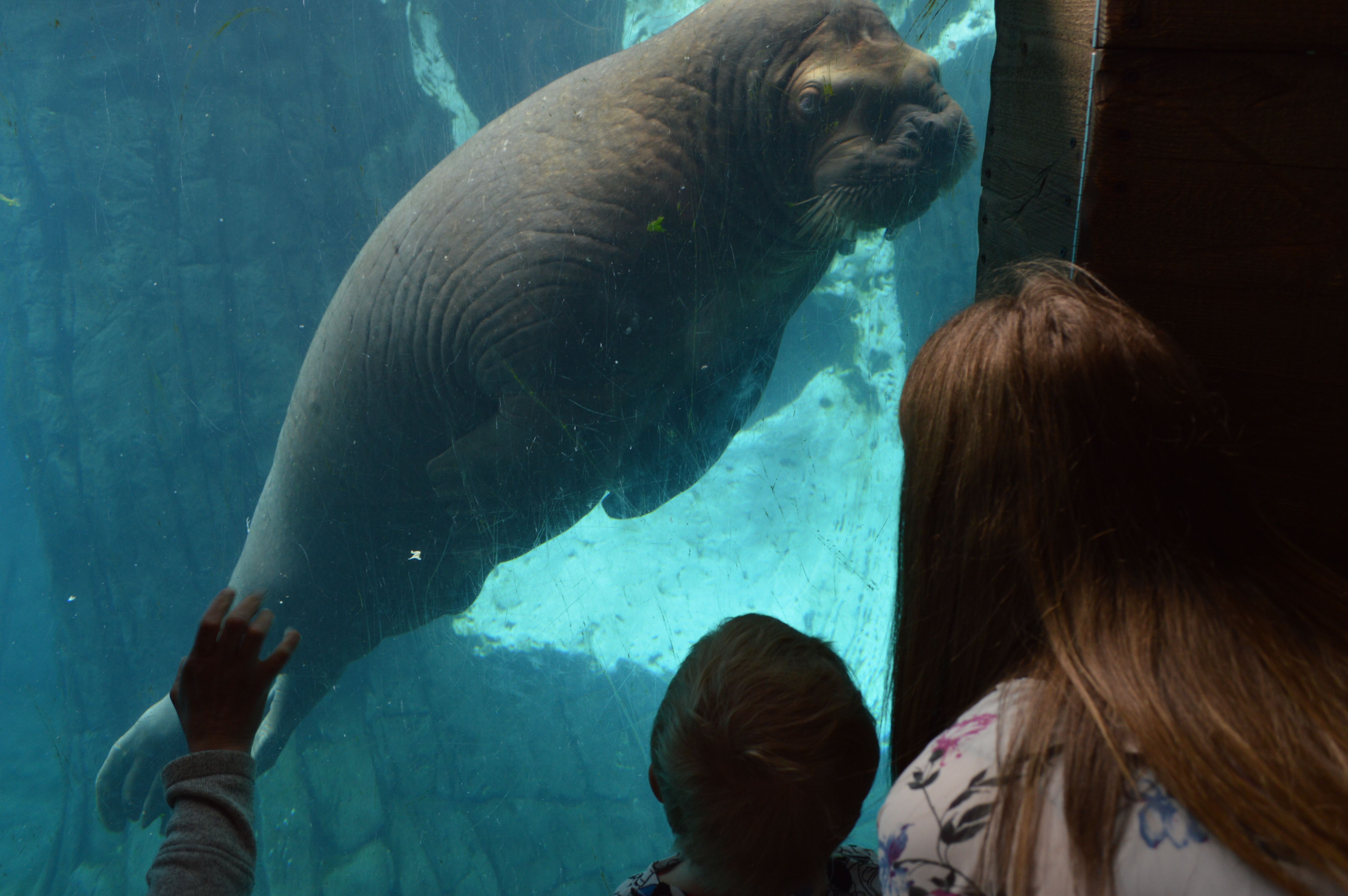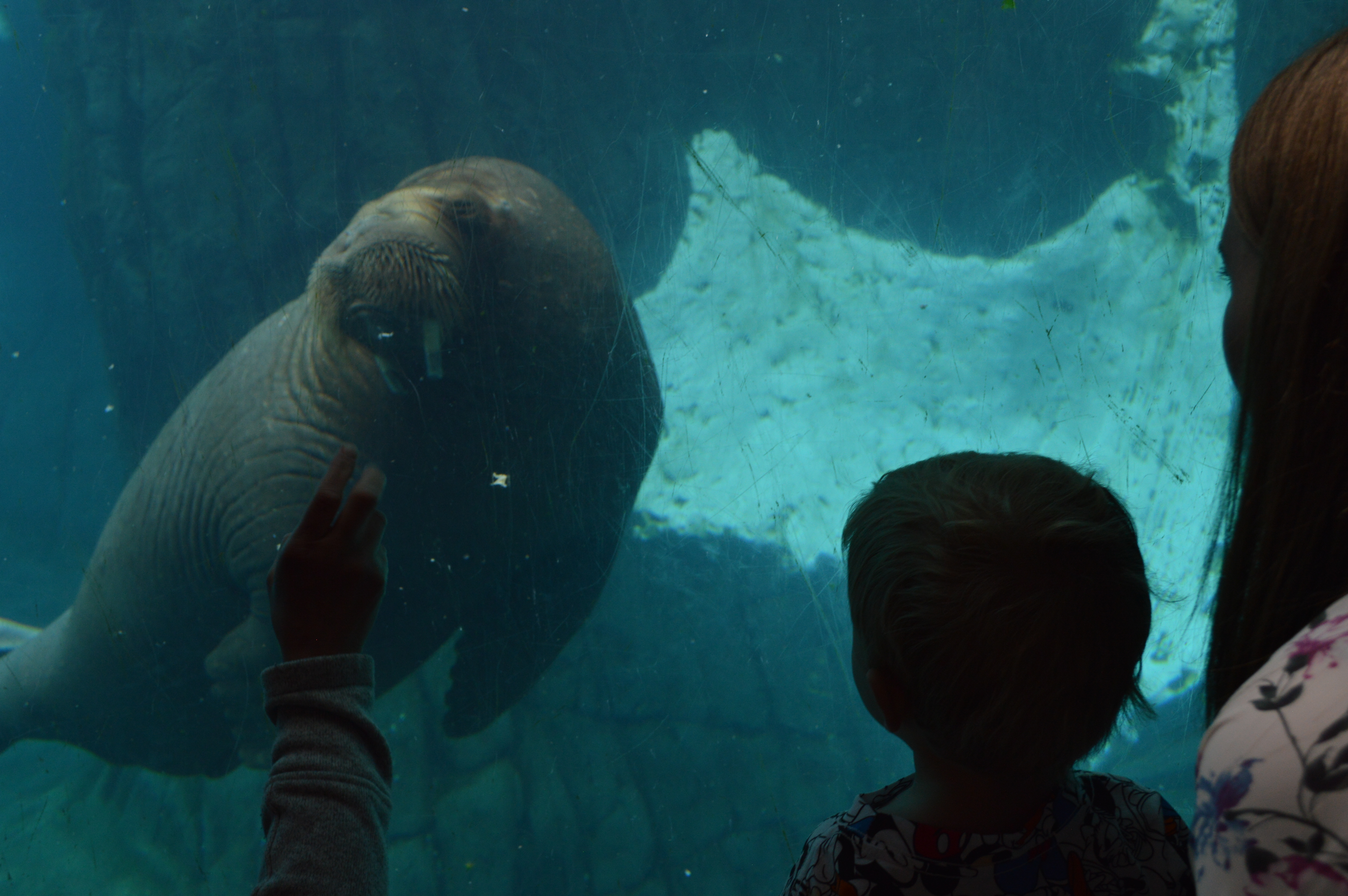 By this time, we were getting hungry so we decided to stop for some lunch. We ate at the Calypso Bay Smokehouse. We decided the split the Brisket Sampler. It came with french fries and 3 different types of meat. It was more than enough for all of us and at $16.99, we saved a lot of money by choosing to share! It comes with a lot of food so I would definitely suggest just getting 1 or 2 depending on the size of your family, and splitting!
When we finished lunch we headed to the Sesame Street Bay of Play. This is like a mini theme park in itself. Sawyer loves Sesame Street (I even threw him a Sesame Street birthday party last year), so I knew this was going to be a hit.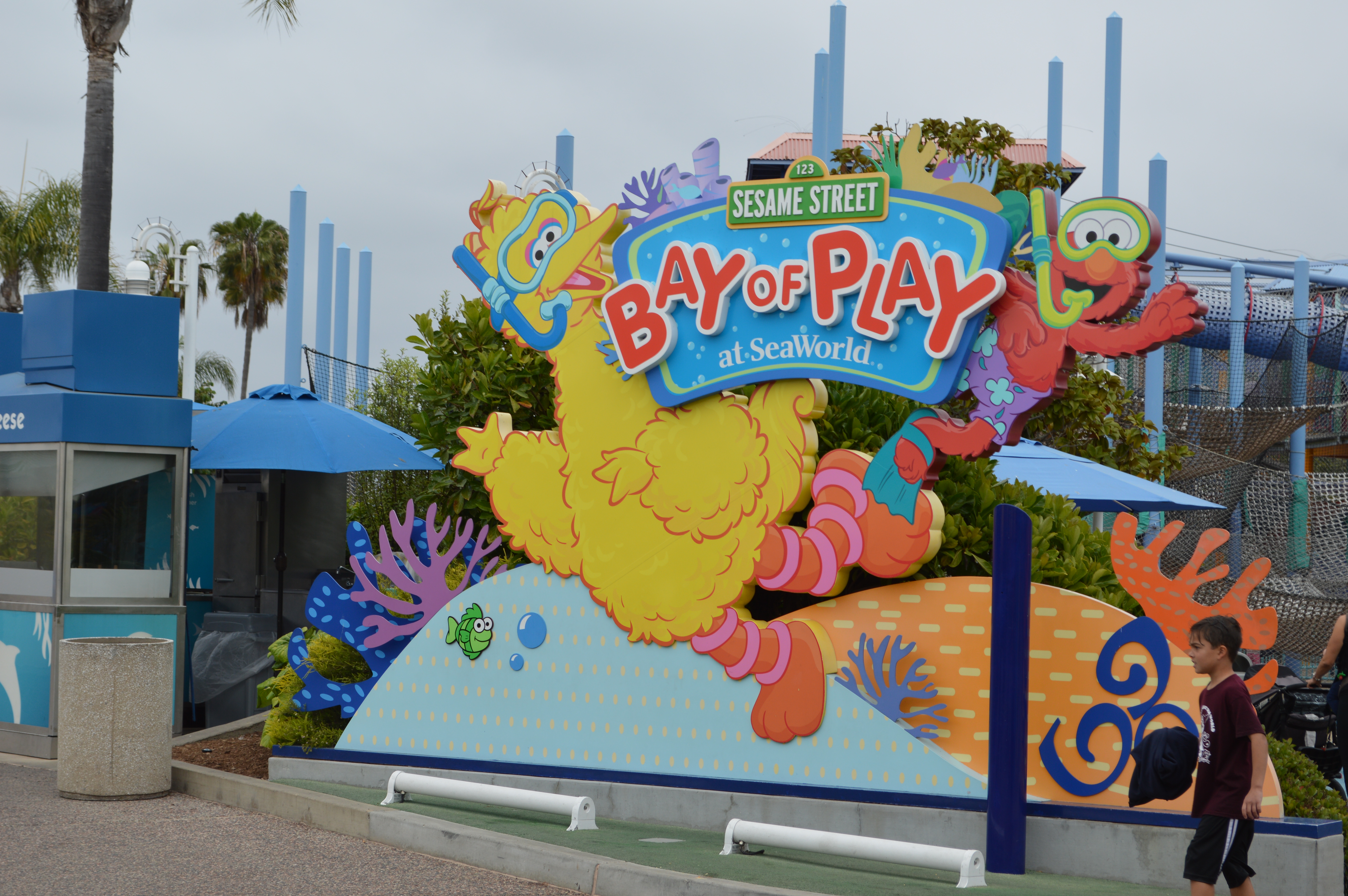 Sesame Street Bay of Play offers 3 rides, 2 splash pads, a full play structure, and 2 bounce pads. Plus a fun Sesame Street gift shop!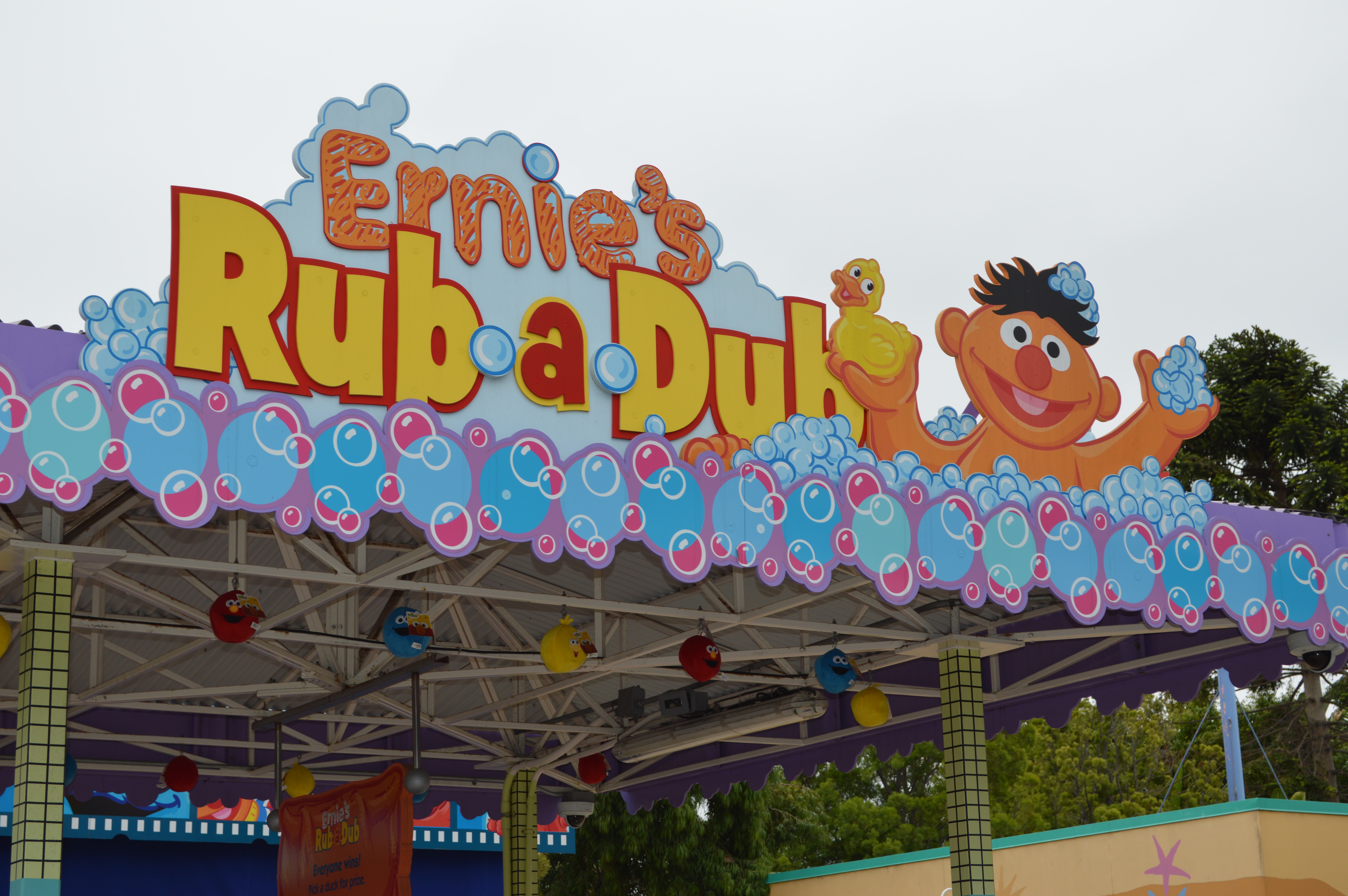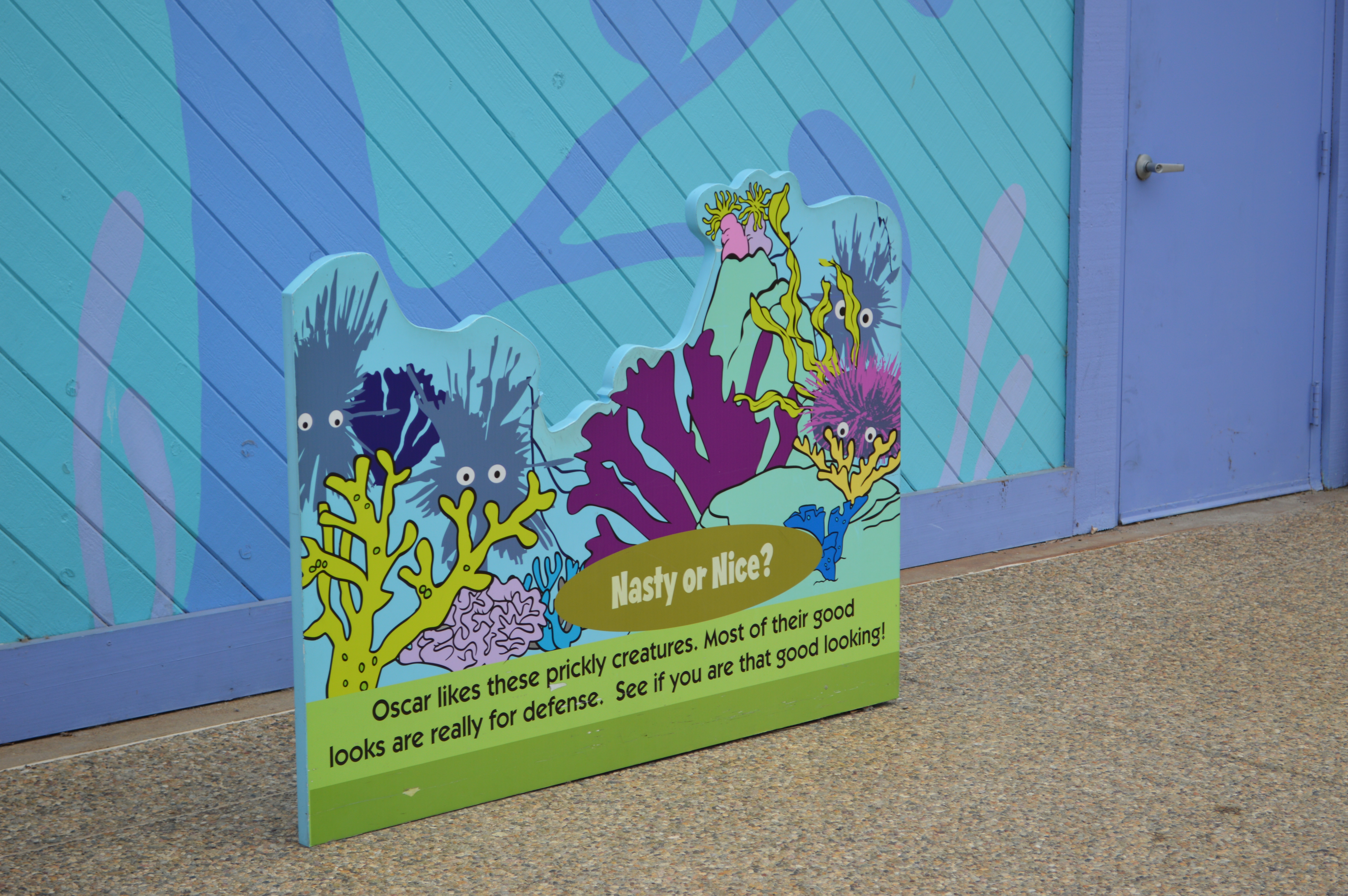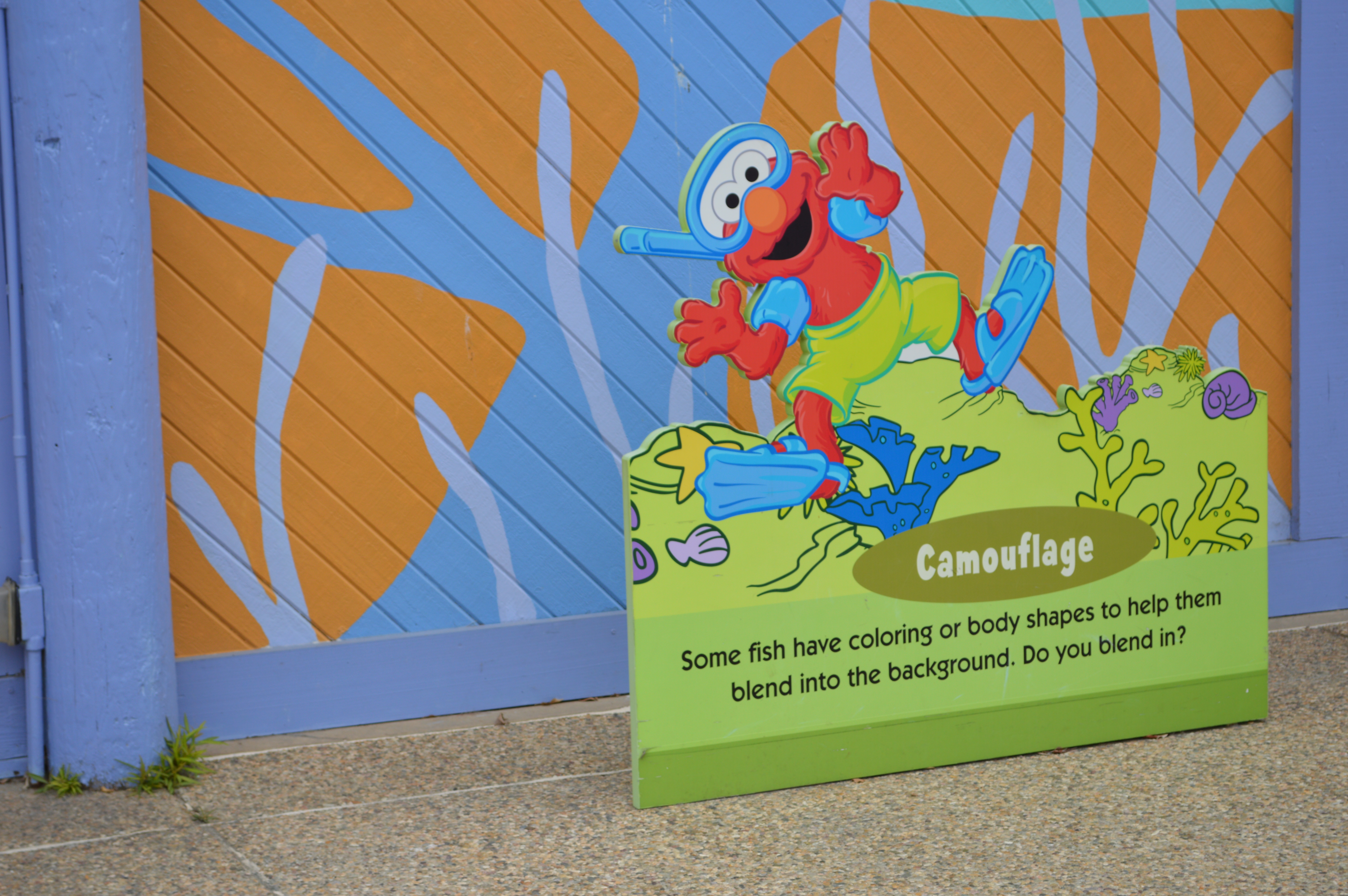 Sawyer rode all 3 rides and loved them! We were shocked at how brave he was! He spent close to an hour in the play structure with his Daddy (he wasn't quite big enough to conquer it alone) climbing the ropes, and going down the slides. And then we introduced him to the bounce pads, and had trouble tearing him away from them when it was time to go. I only wish it was warm enough for the splash pads because he would've had a blast in those! Also, Elmo and his friends are usually out for meet and greets and pictures, and they weren't that day for some reason, which was disappointing! But Sawyer was none the wiser.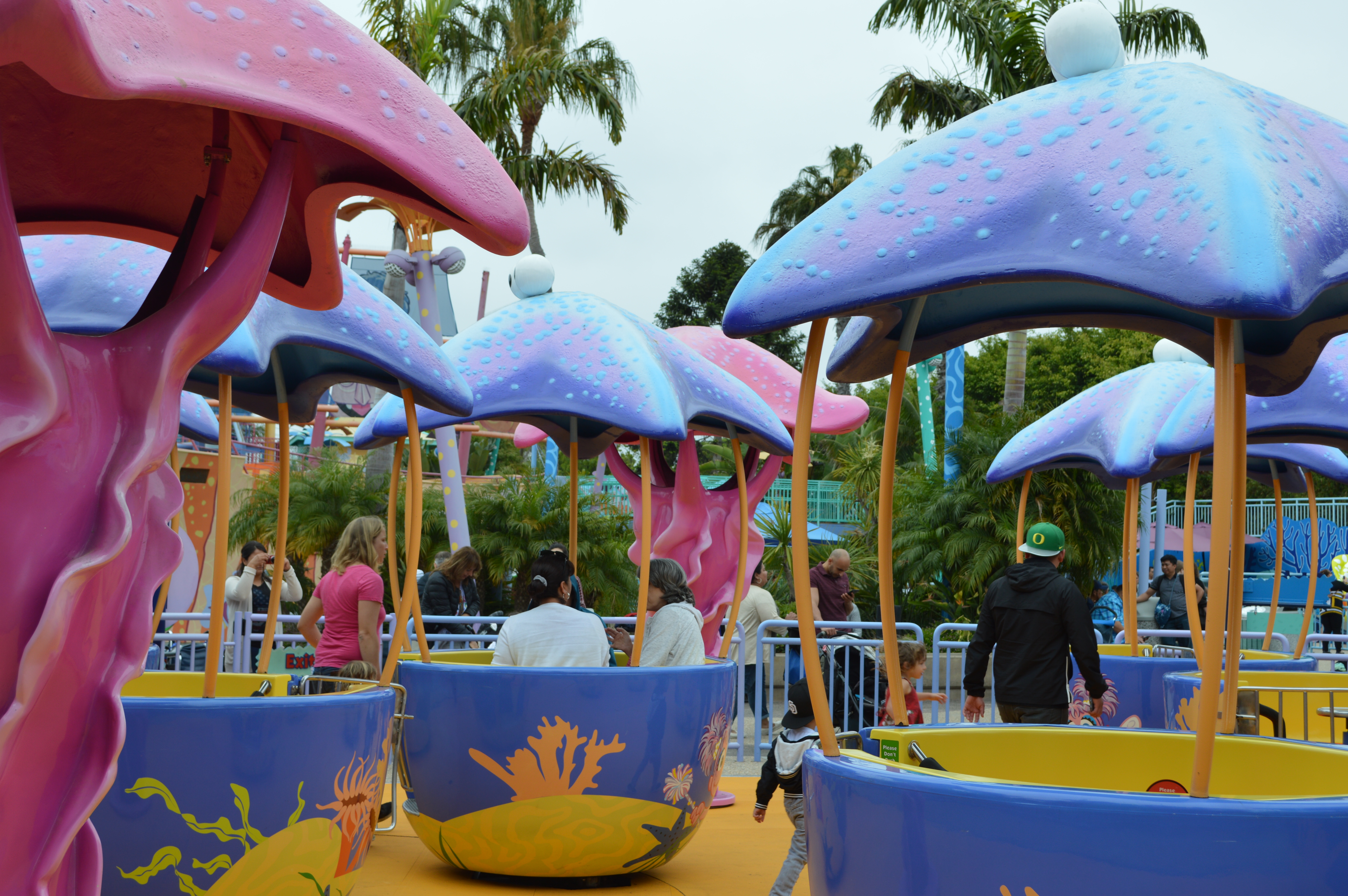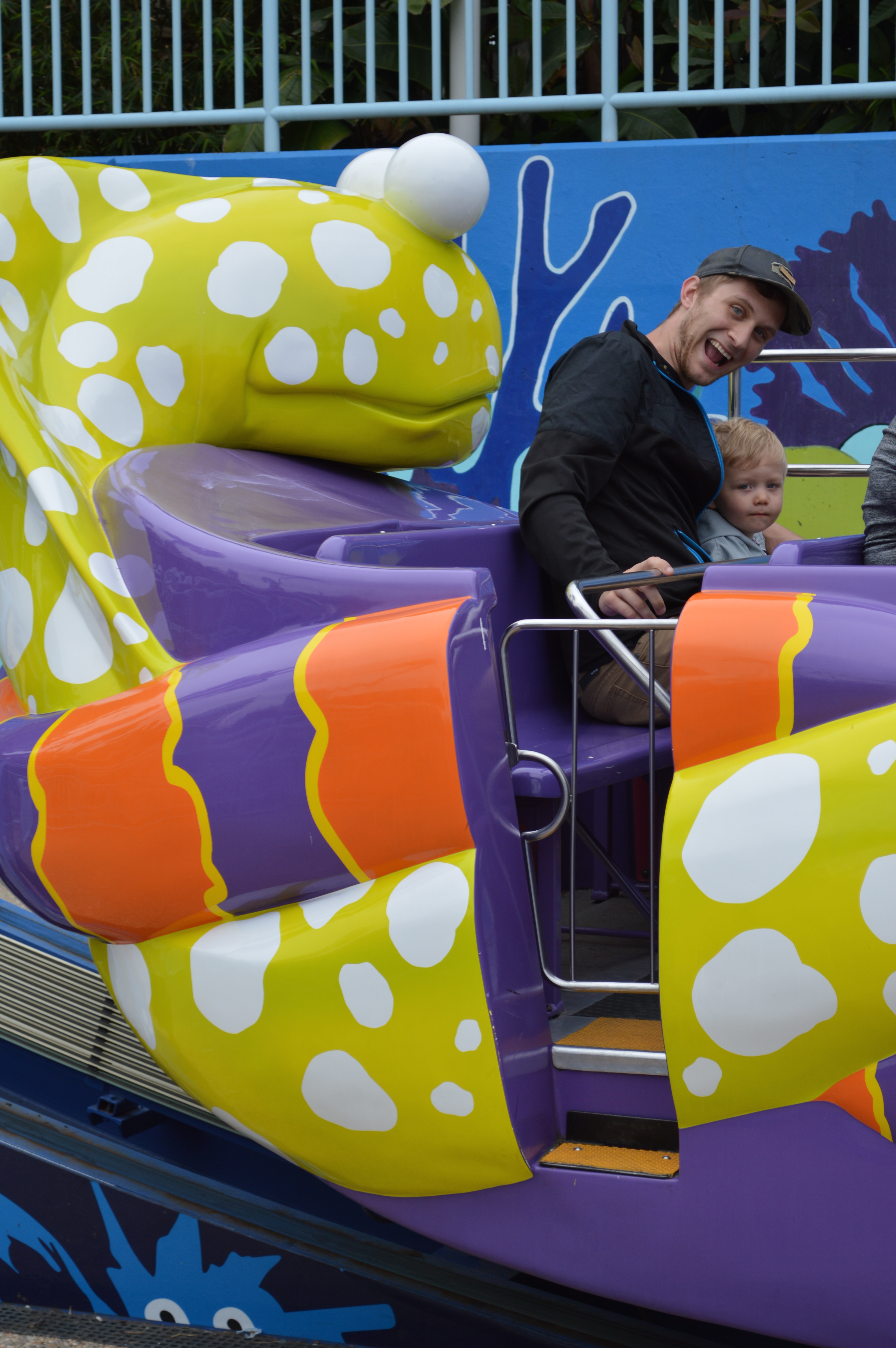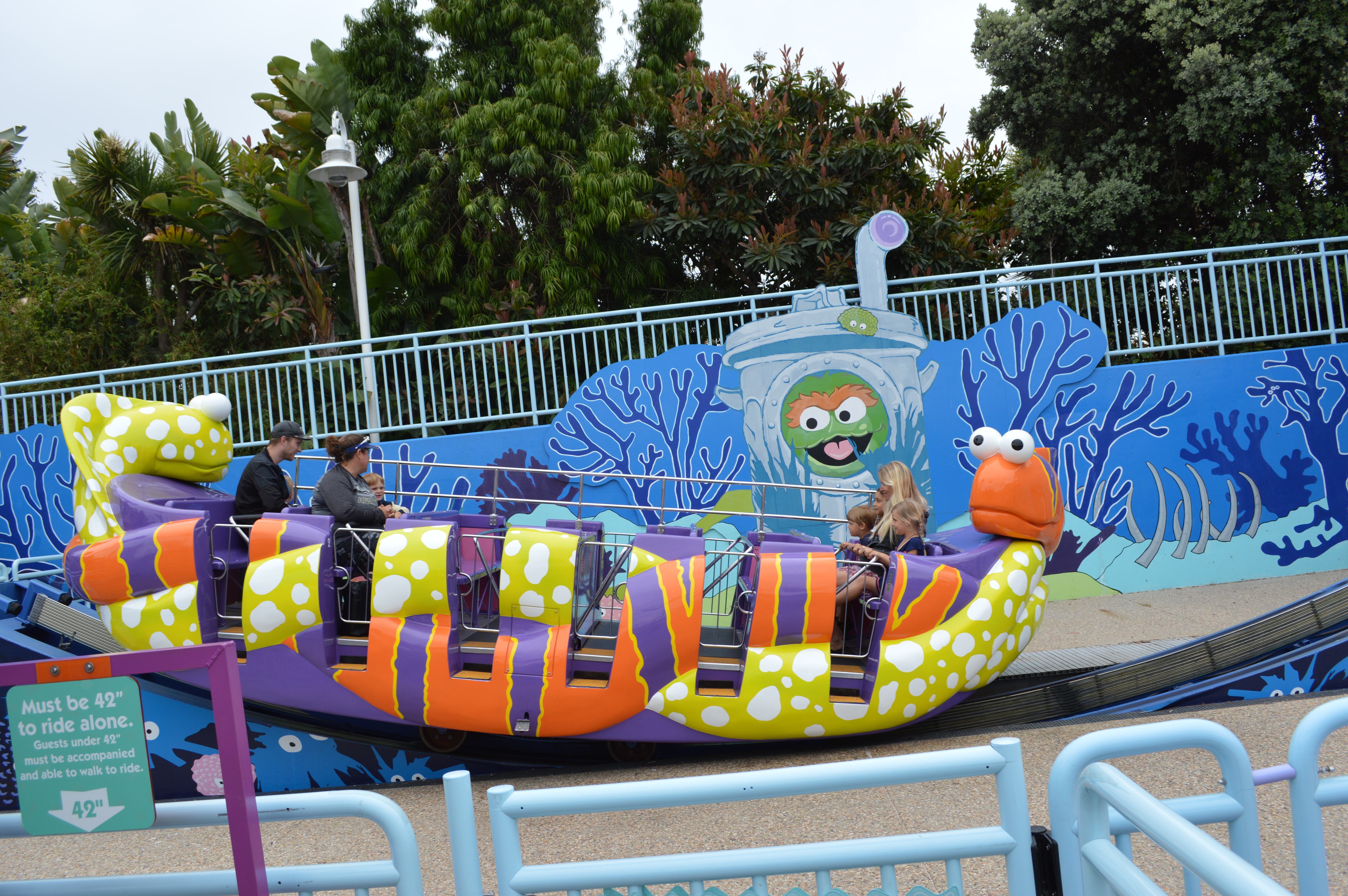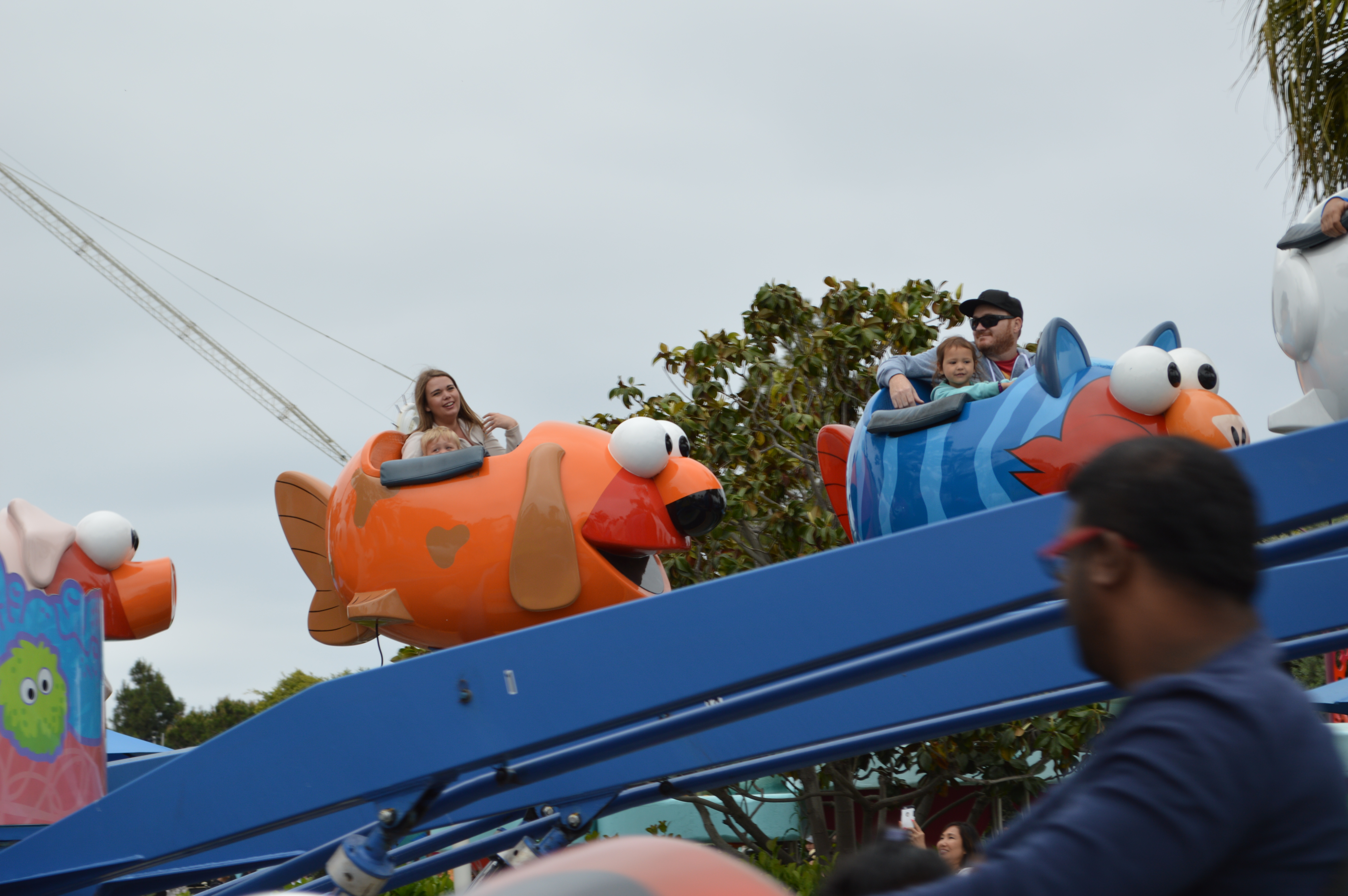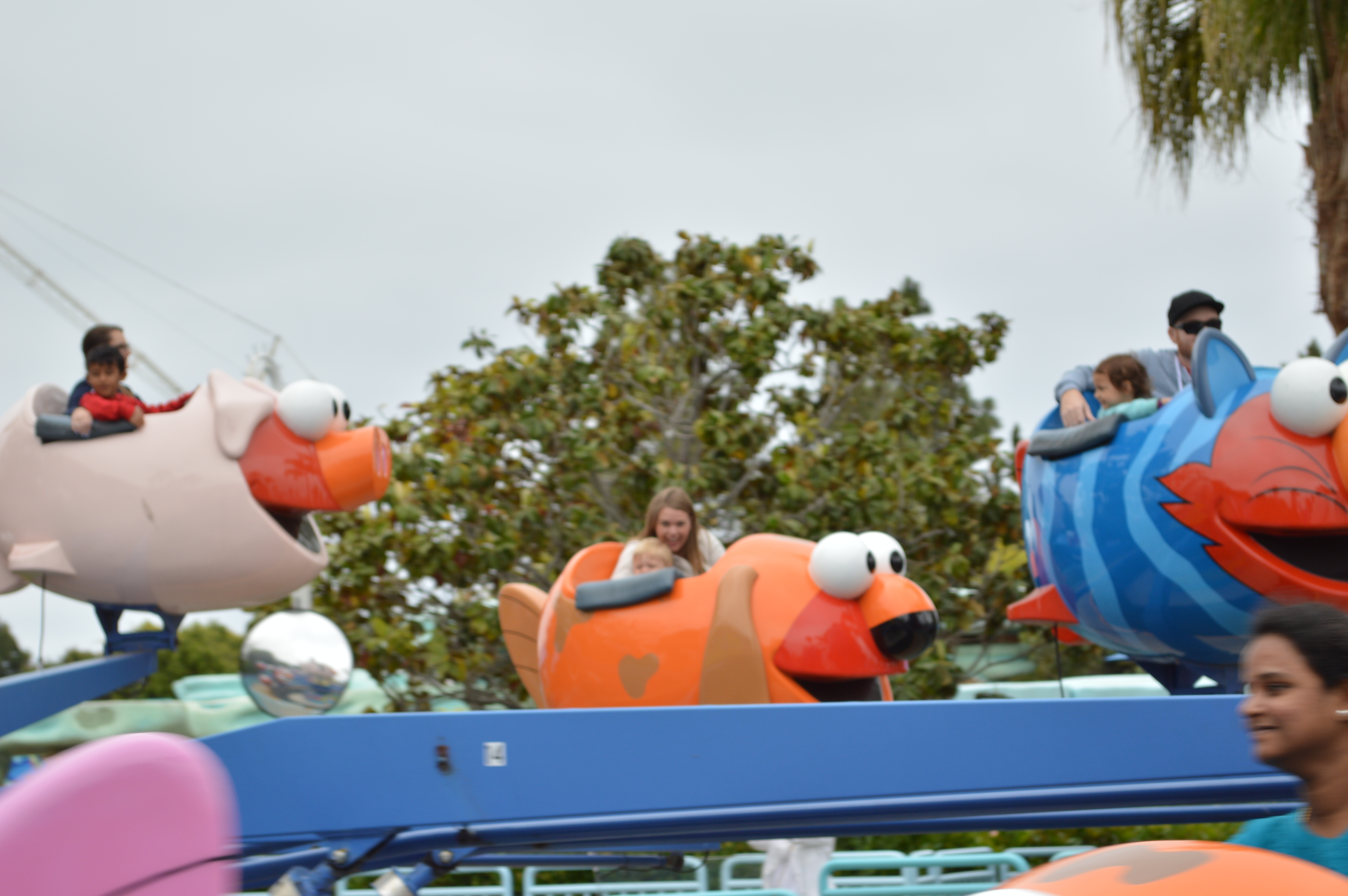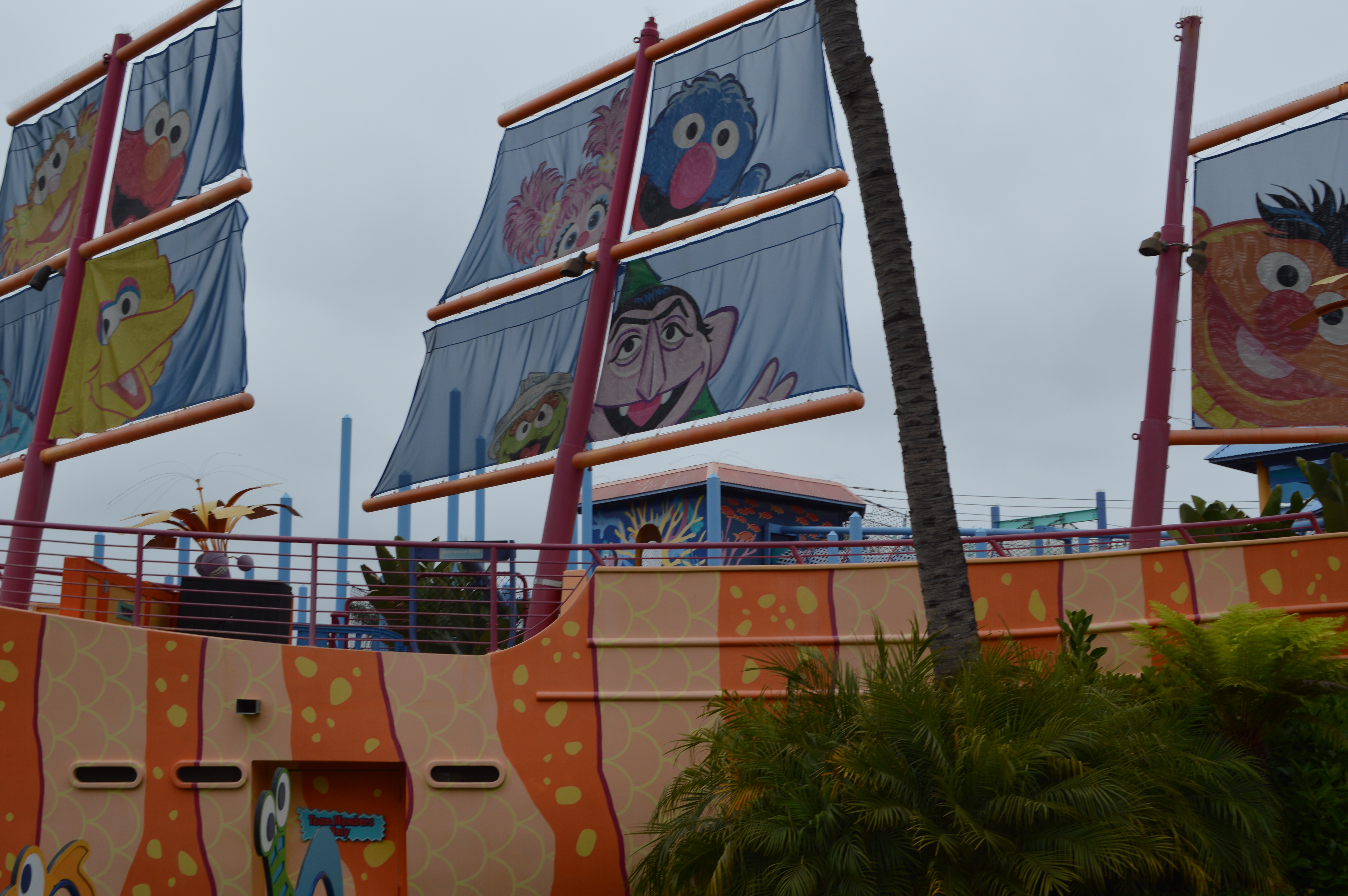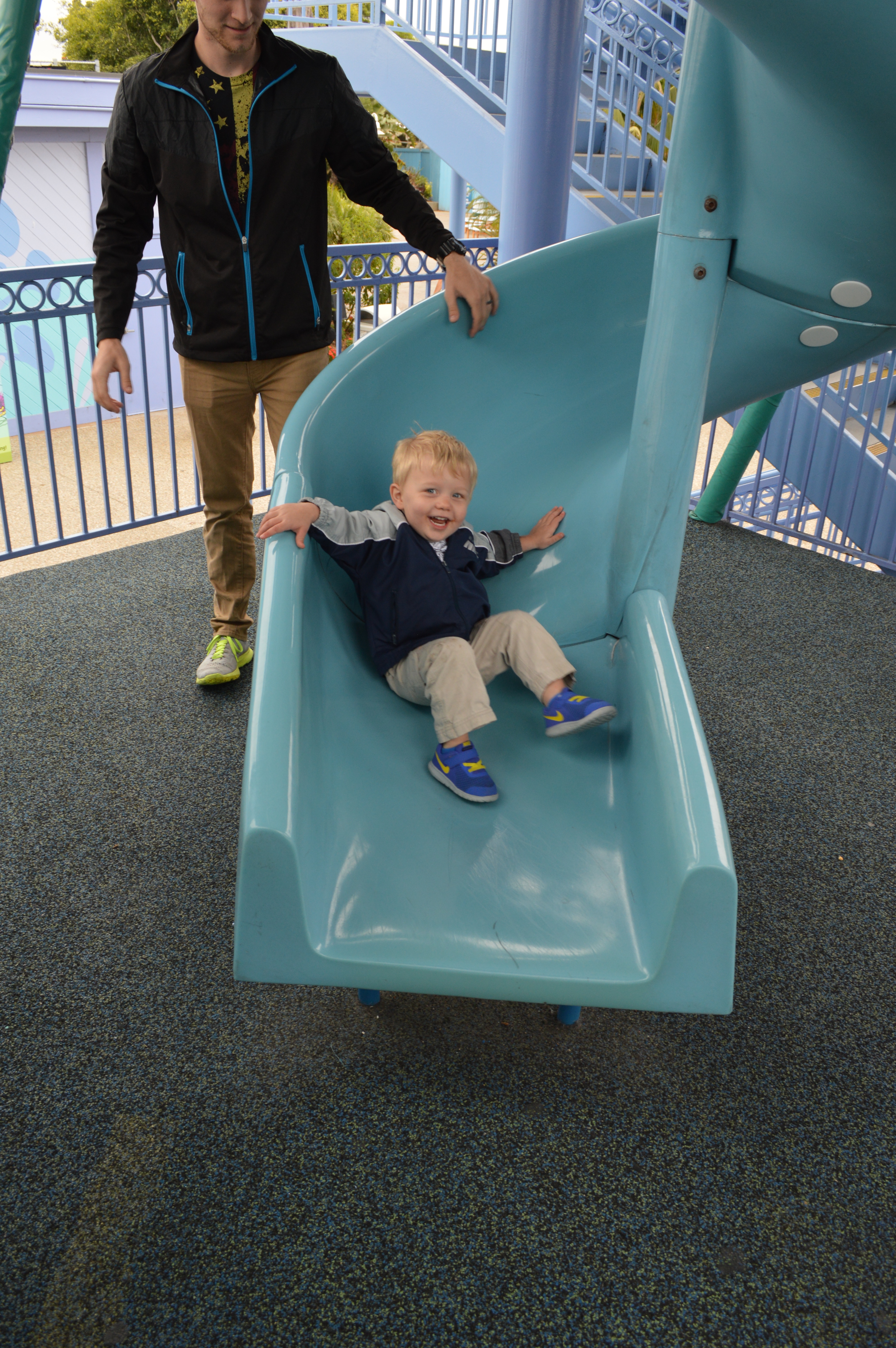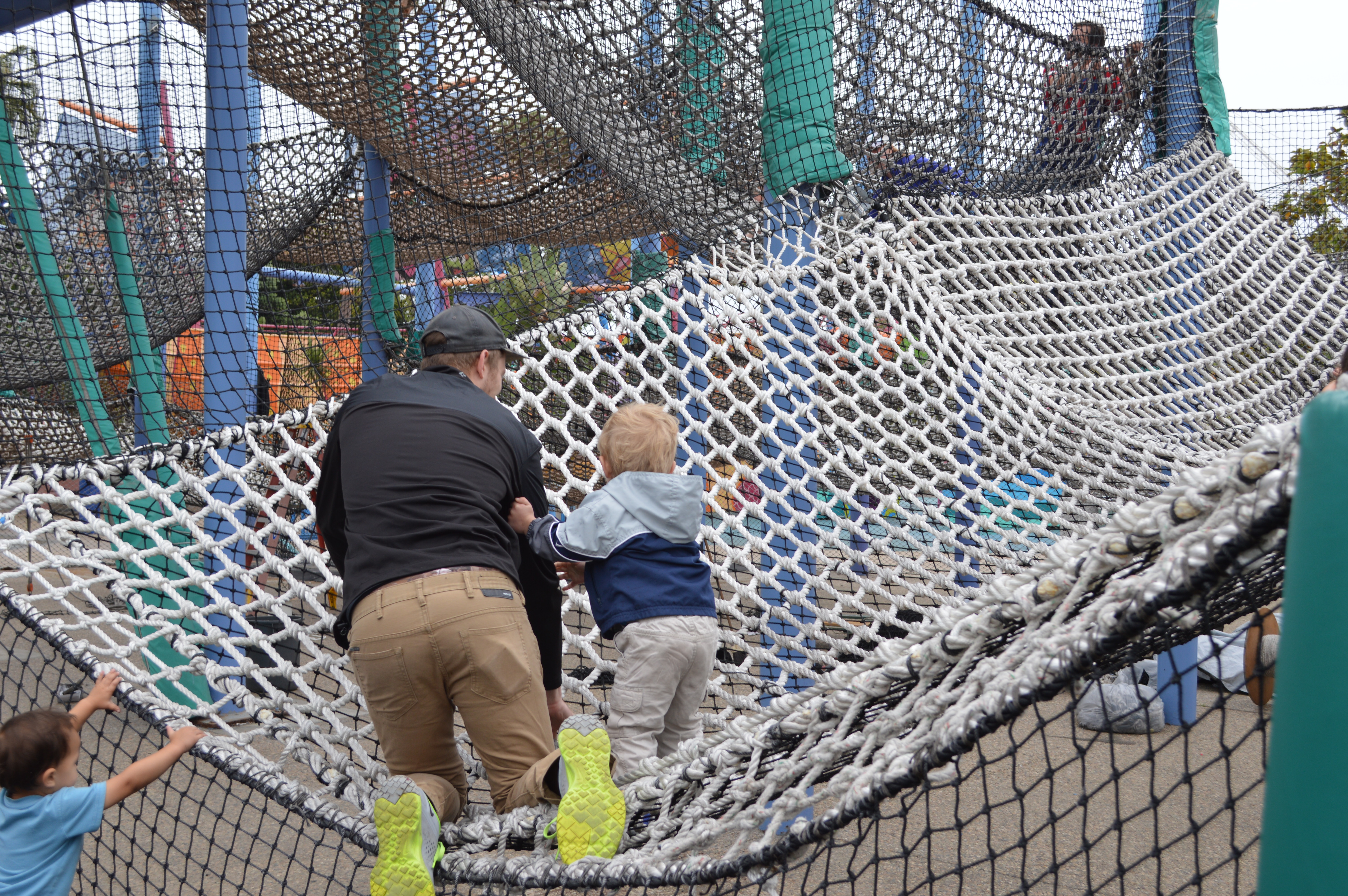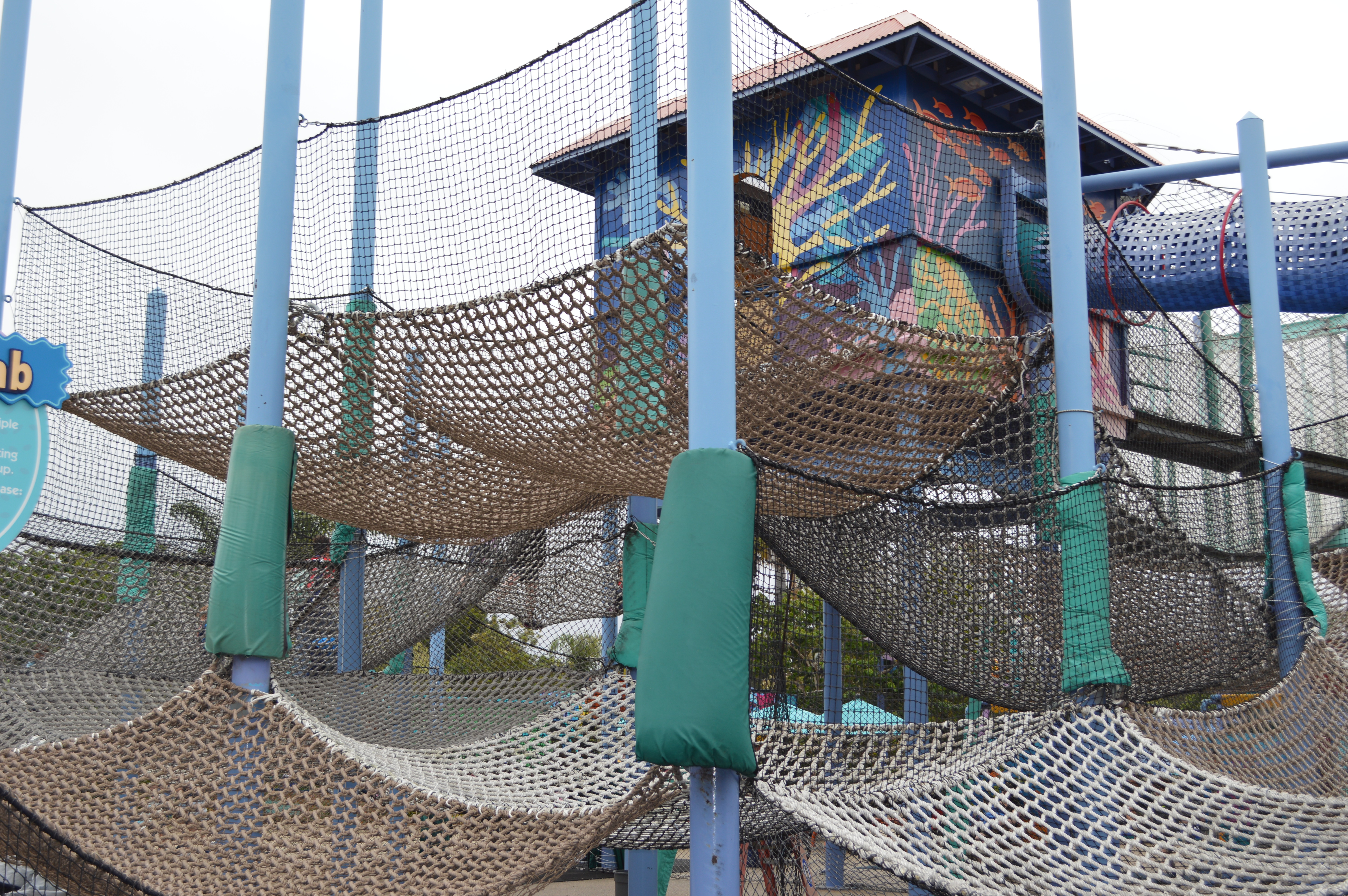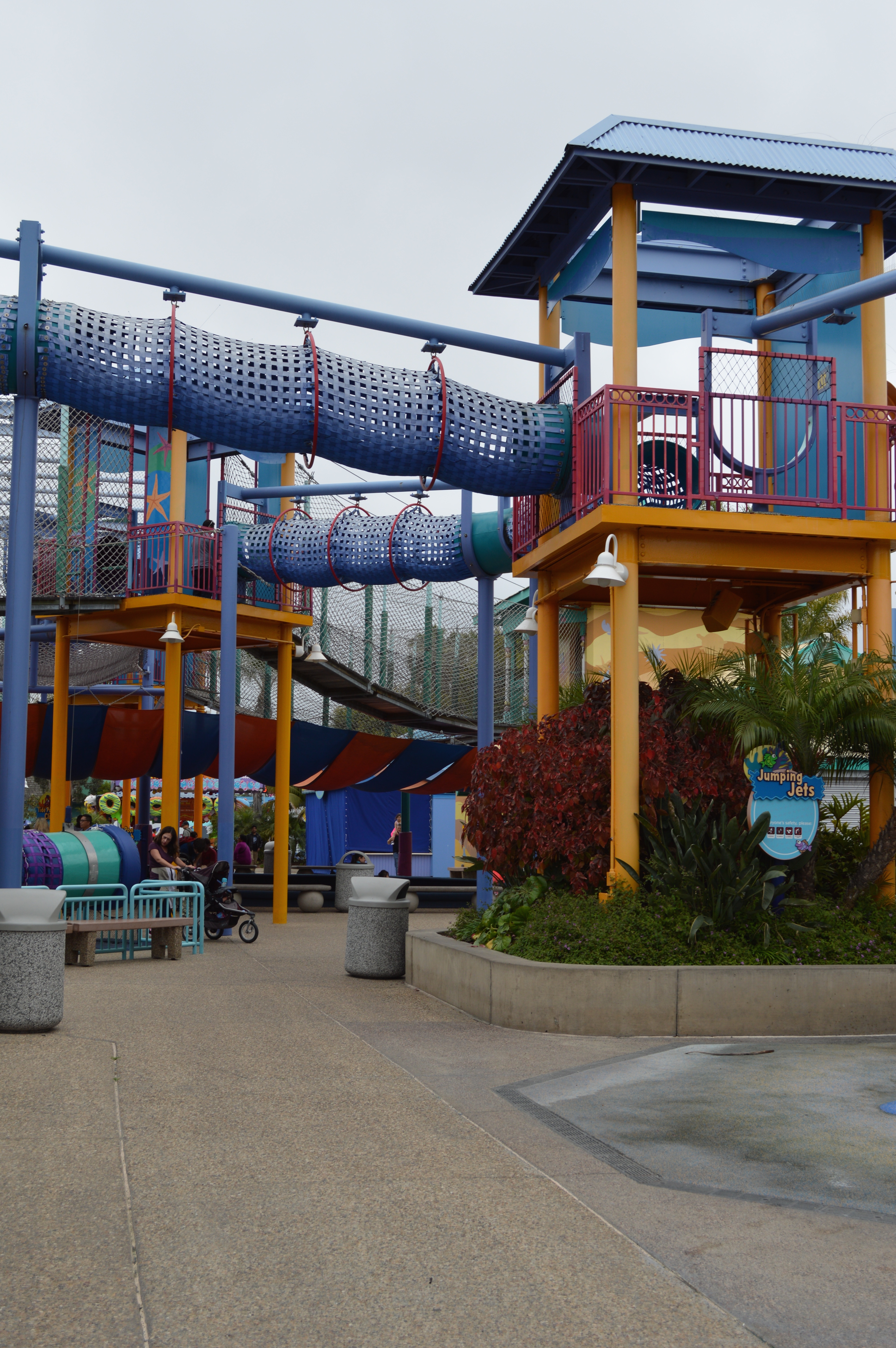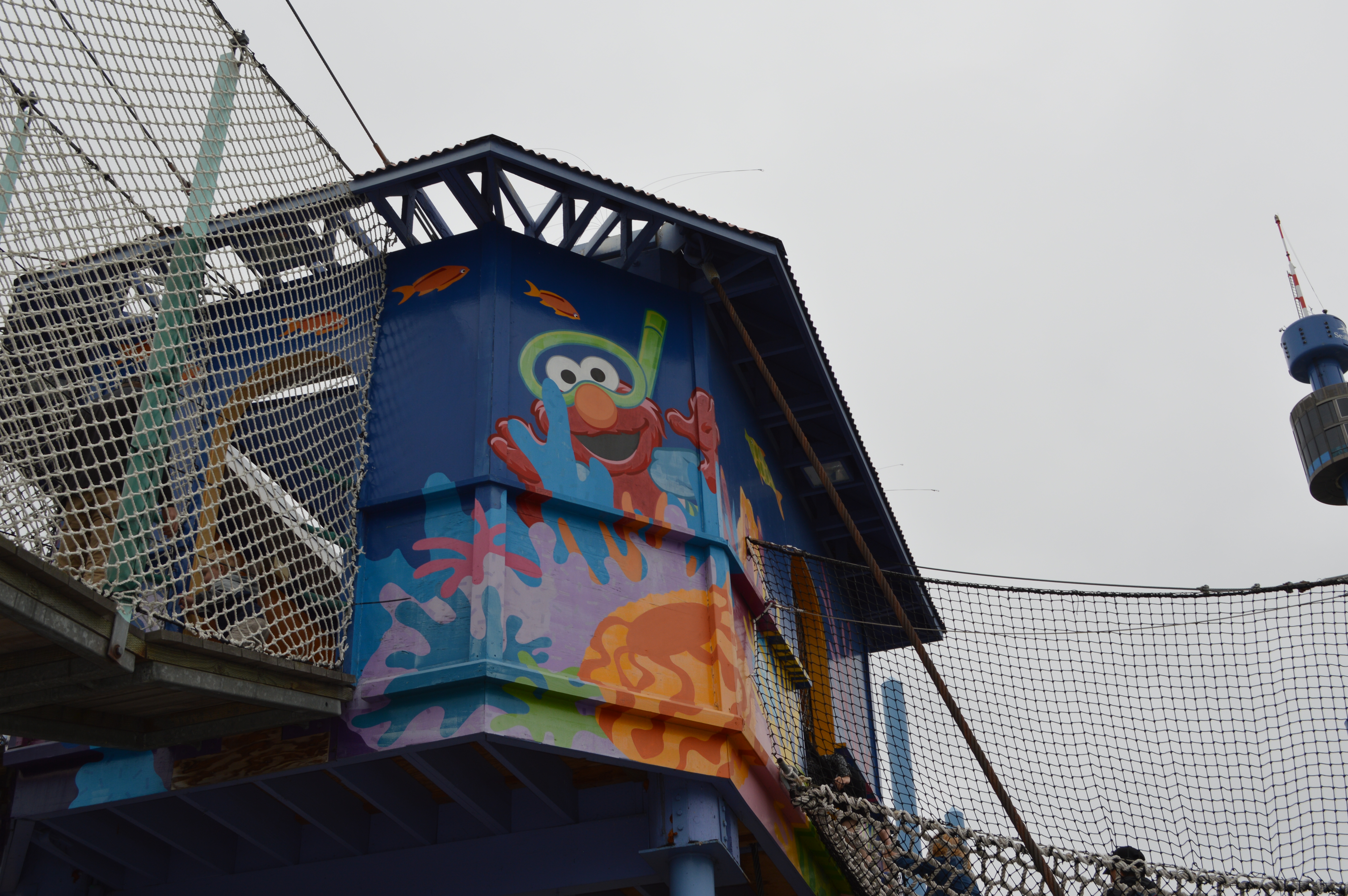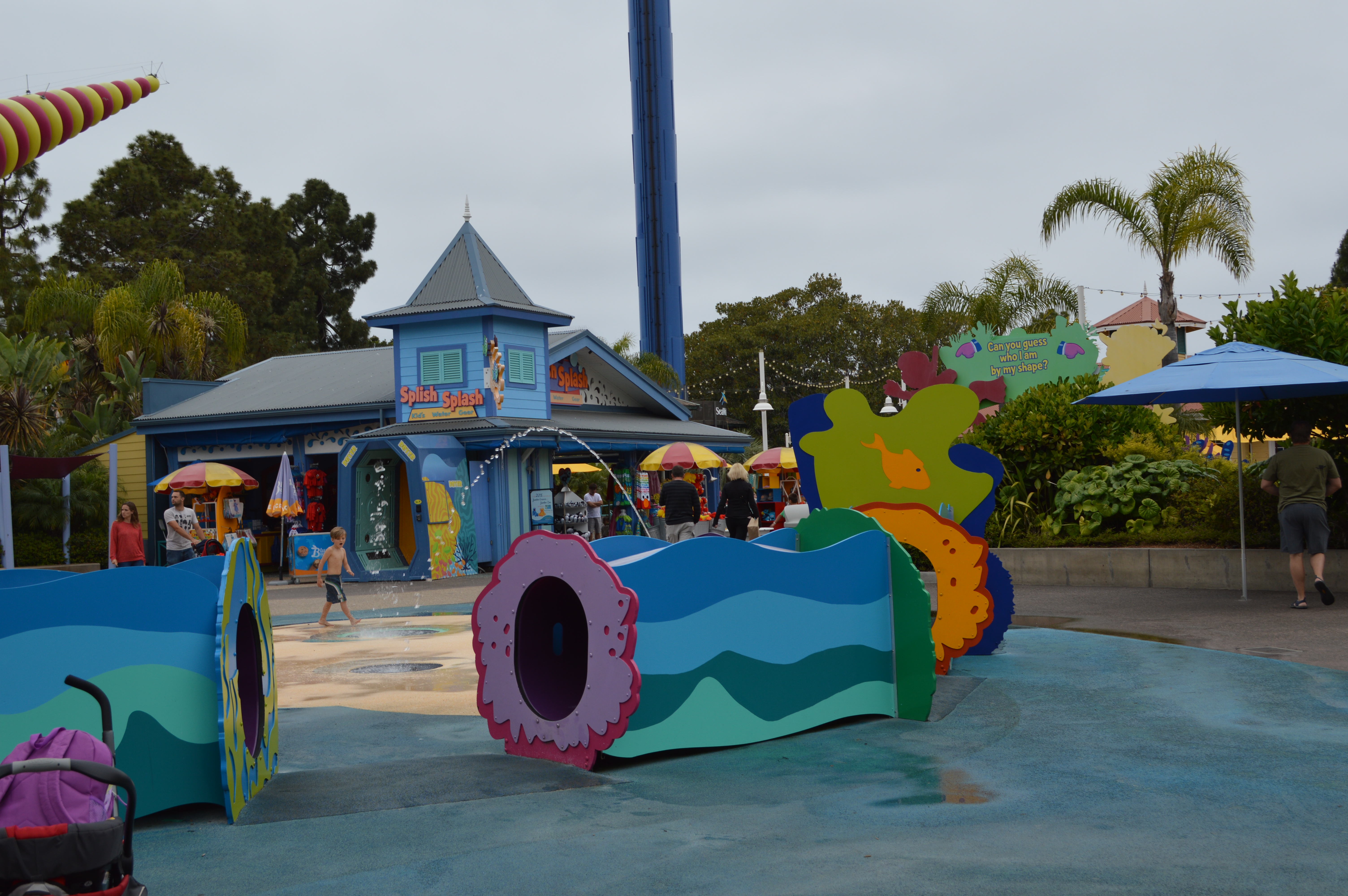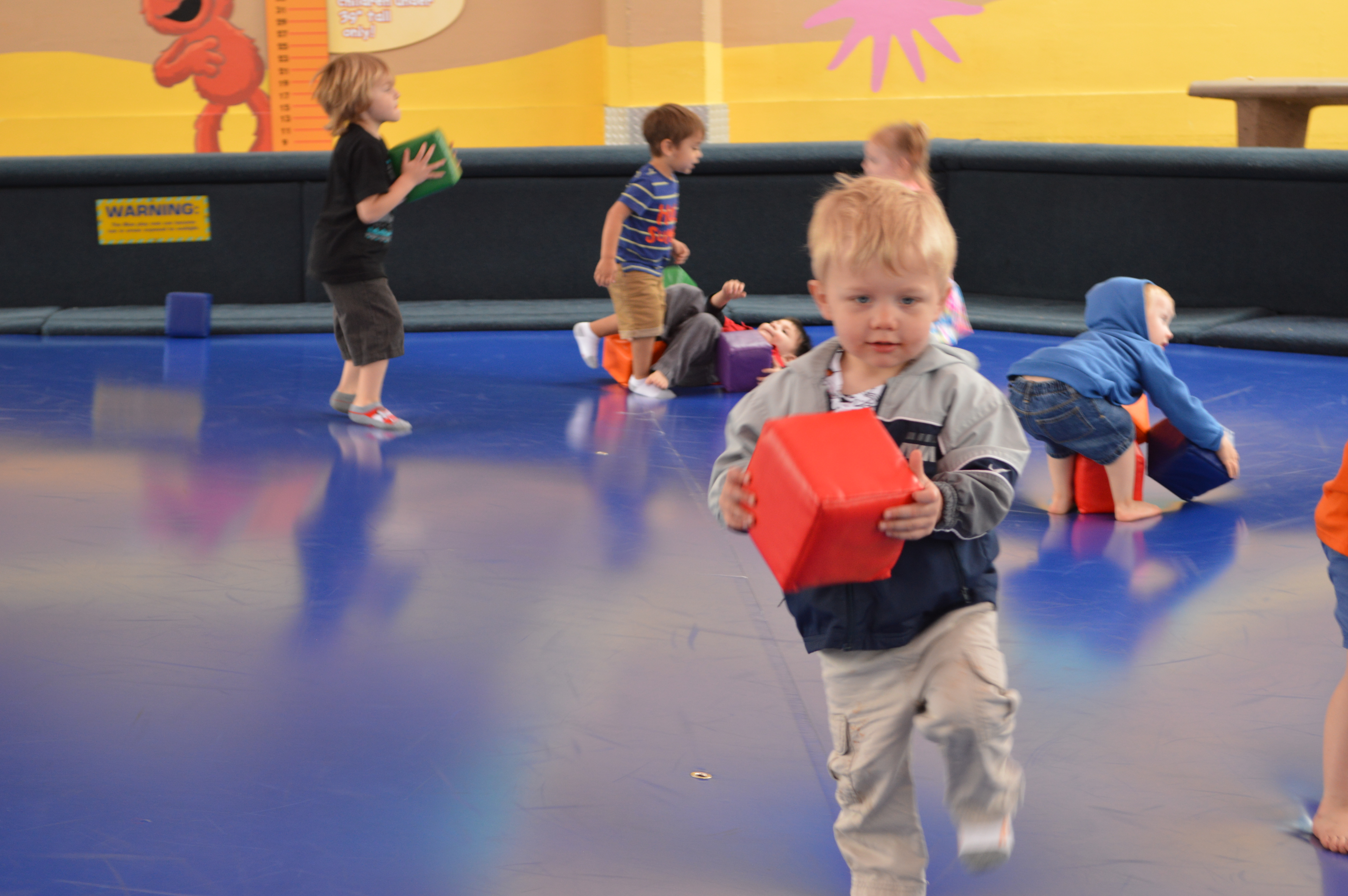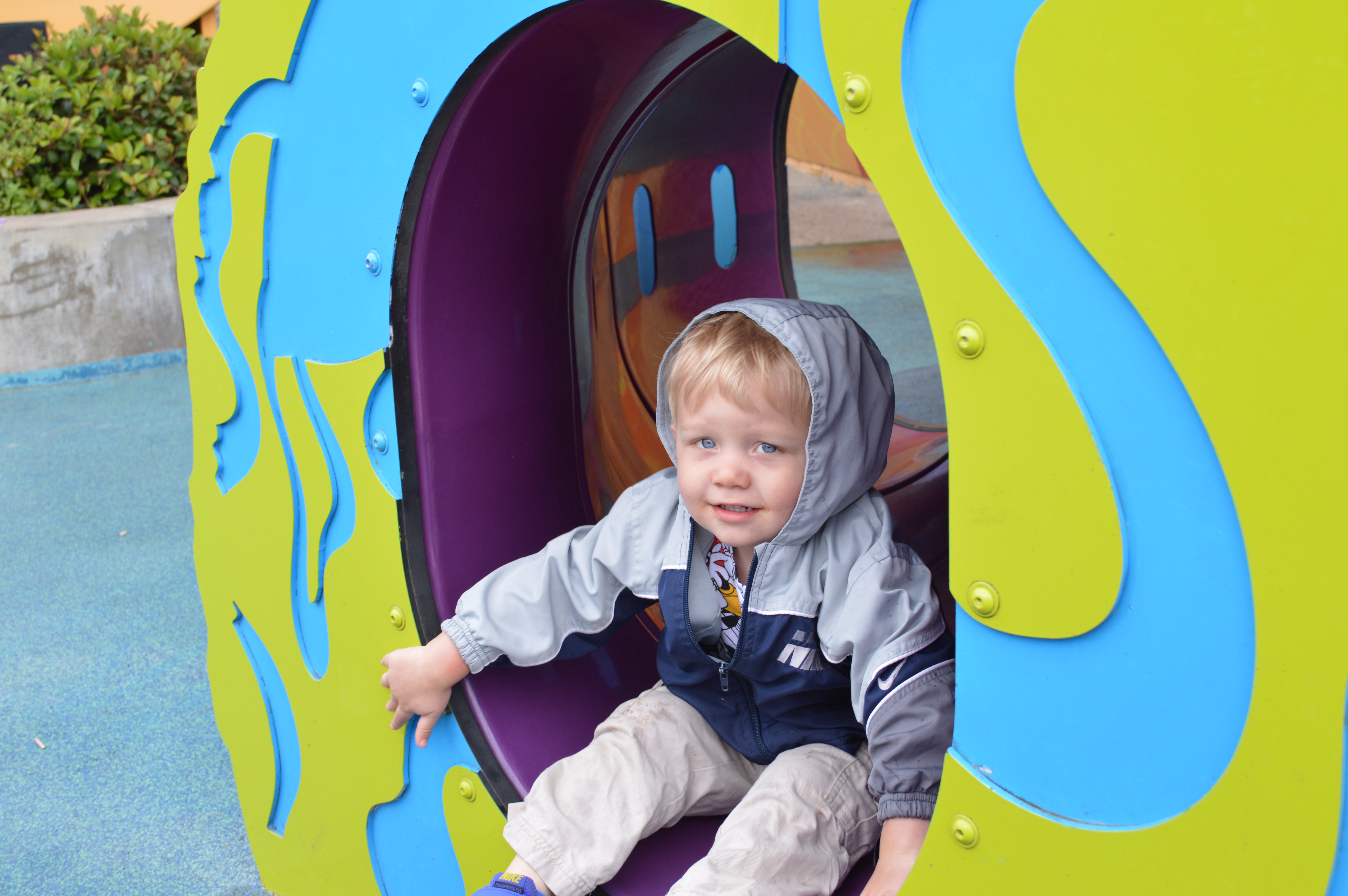 When we finished at the Sesame Street Bay of Play (or so we thought), we went to catch the Dolphin Show, Dolphin Days. This is one of my favorite shows. Dolphins are just so fun it's impossible not to fall in love with them. And who can resist the amazing tricks and trainer interactions! We sat just above the splash zone so we wouldn't get soaked (it was cold after all), and enjoyed watching others get wet while we stayed nice and dry, ha.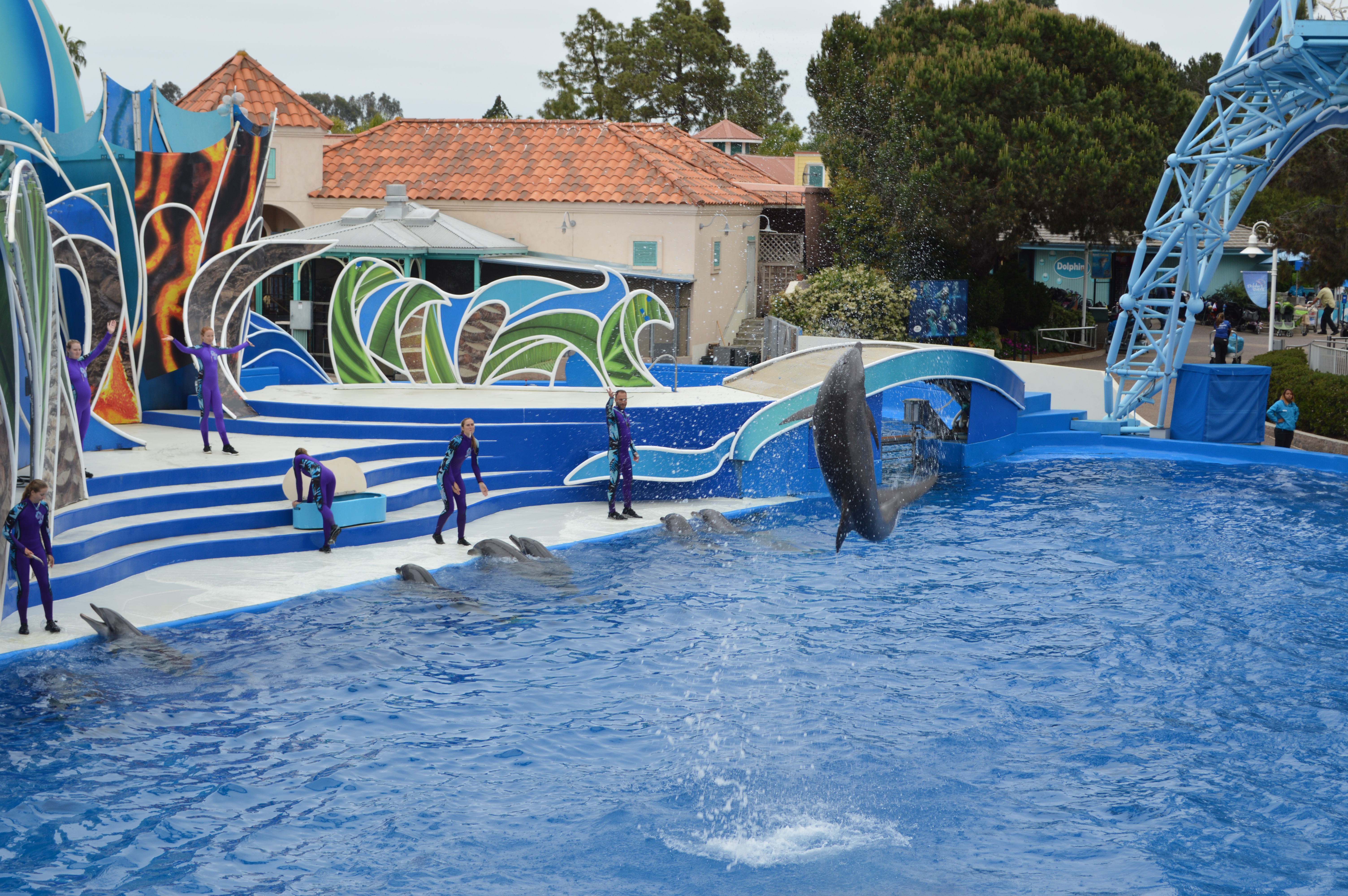 Warning: You will get soaked if you sit in the soak zone. This is no exaggeration. There were lots of people at this show, who must have never been to Sea World before, that were sprinting up to the higher seats after getting splashed one time. They must have grossly underestimated what they meant by soak zone. Be forewarned they mean it literally! Wear a poncho!
Sawyer clapped along the whole time and pointed and squealed at the dolphins. It was so great and one of my favorite parts of the day!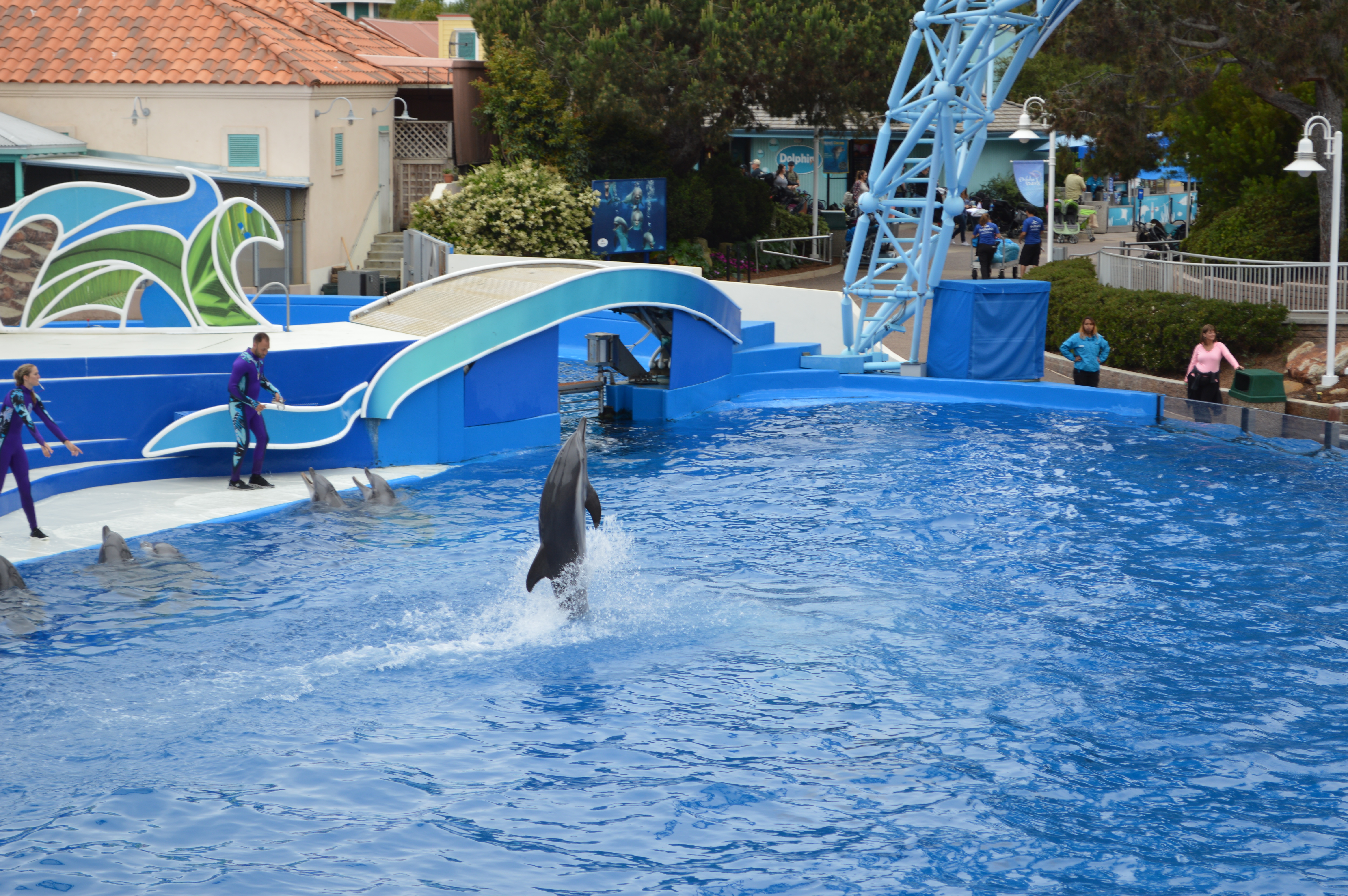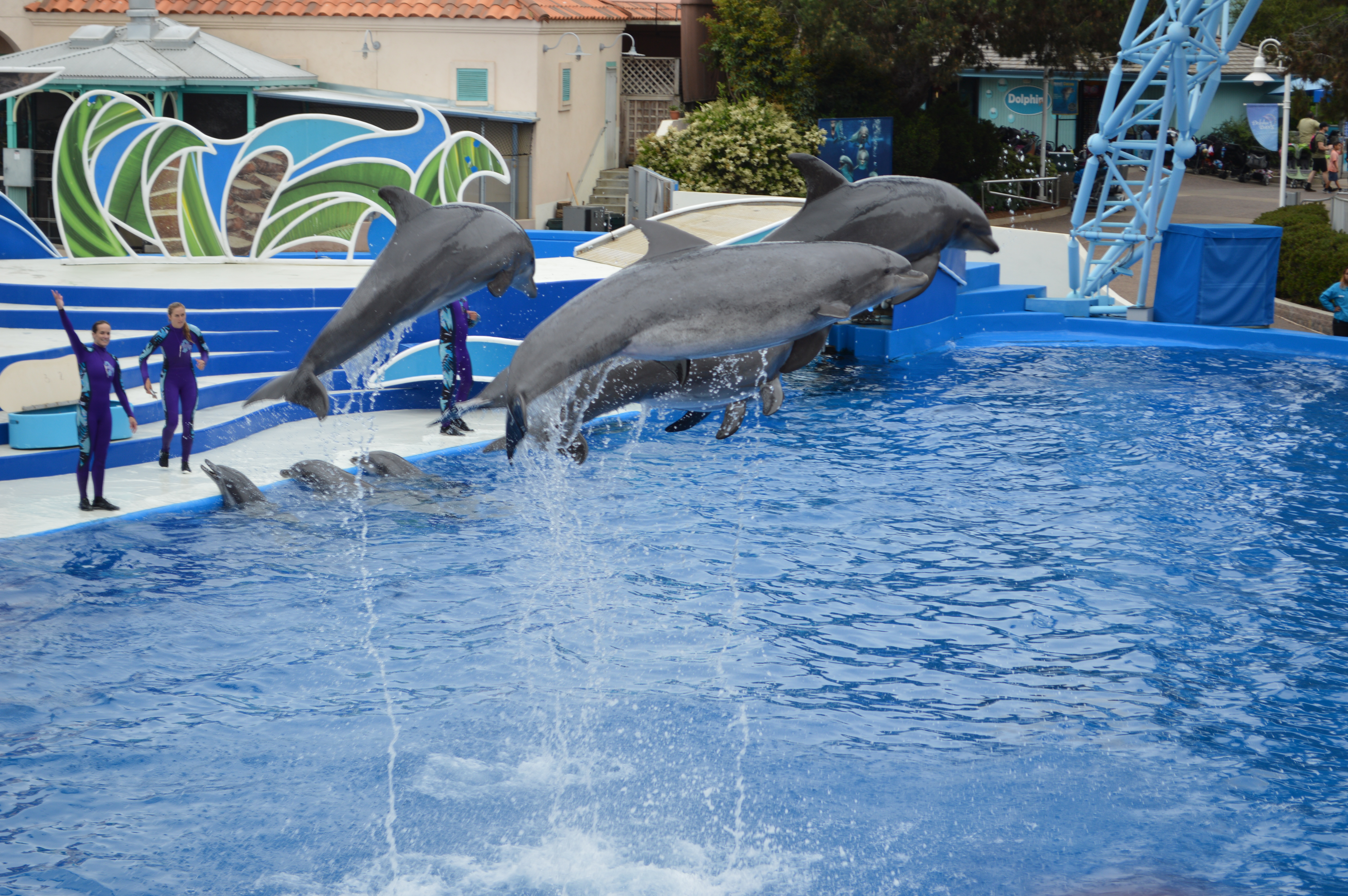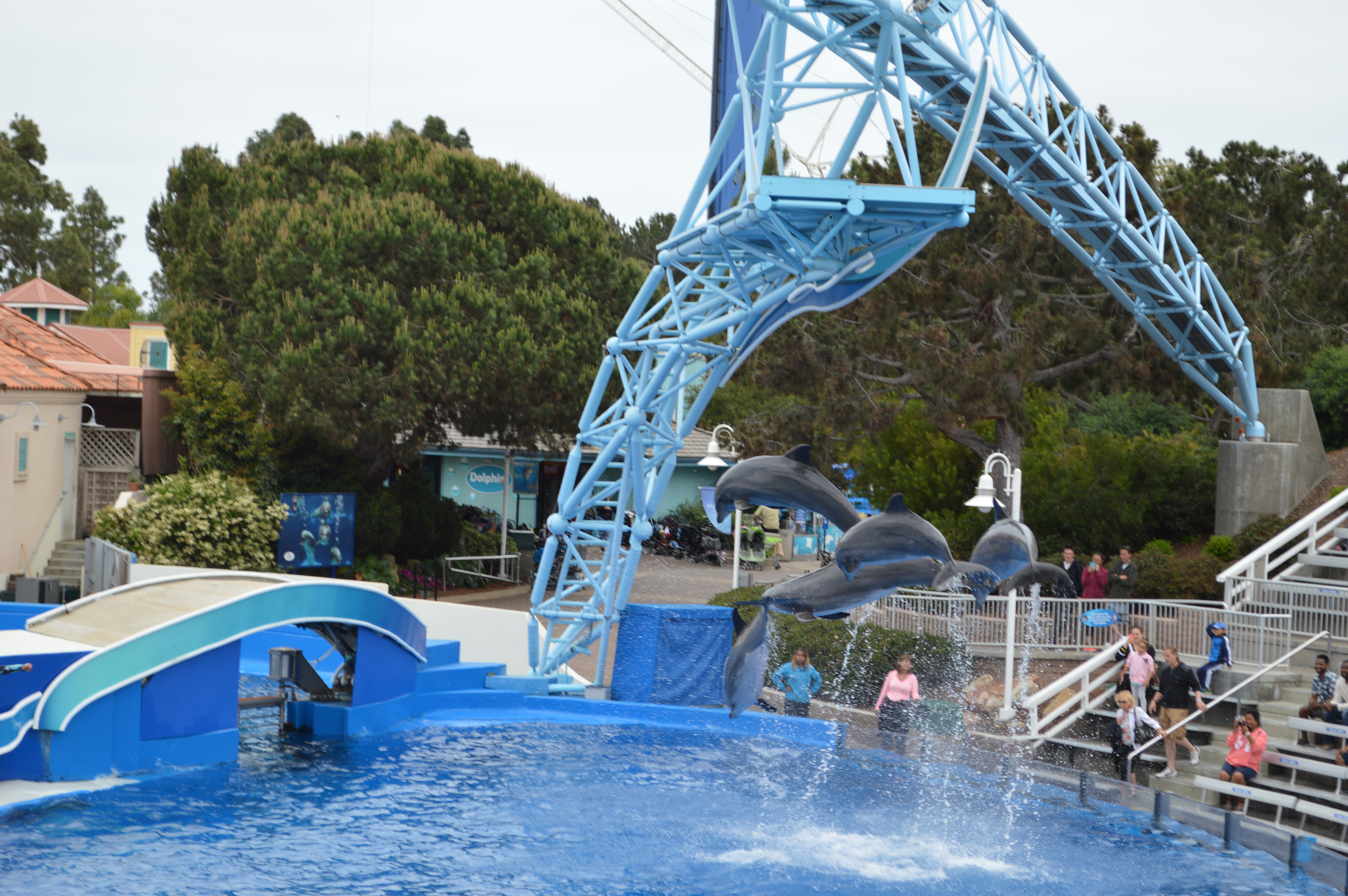 When the show was over, Sawyer was asking for more Elmo! So we went back to the Sesame Street Bay of Play. Kurtis and I enjoyed churros while Sawyer bounced on the bounce pad a while longer.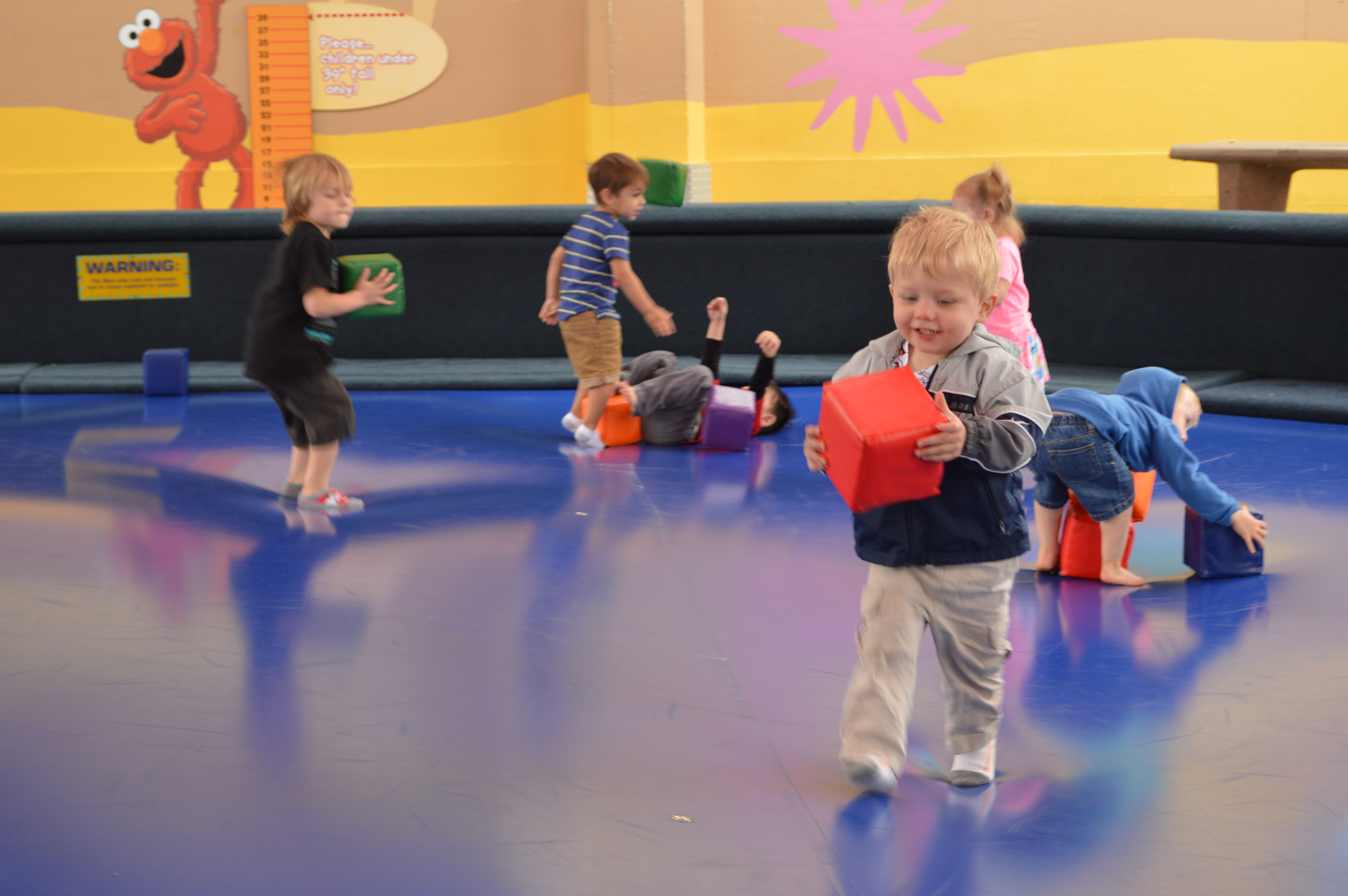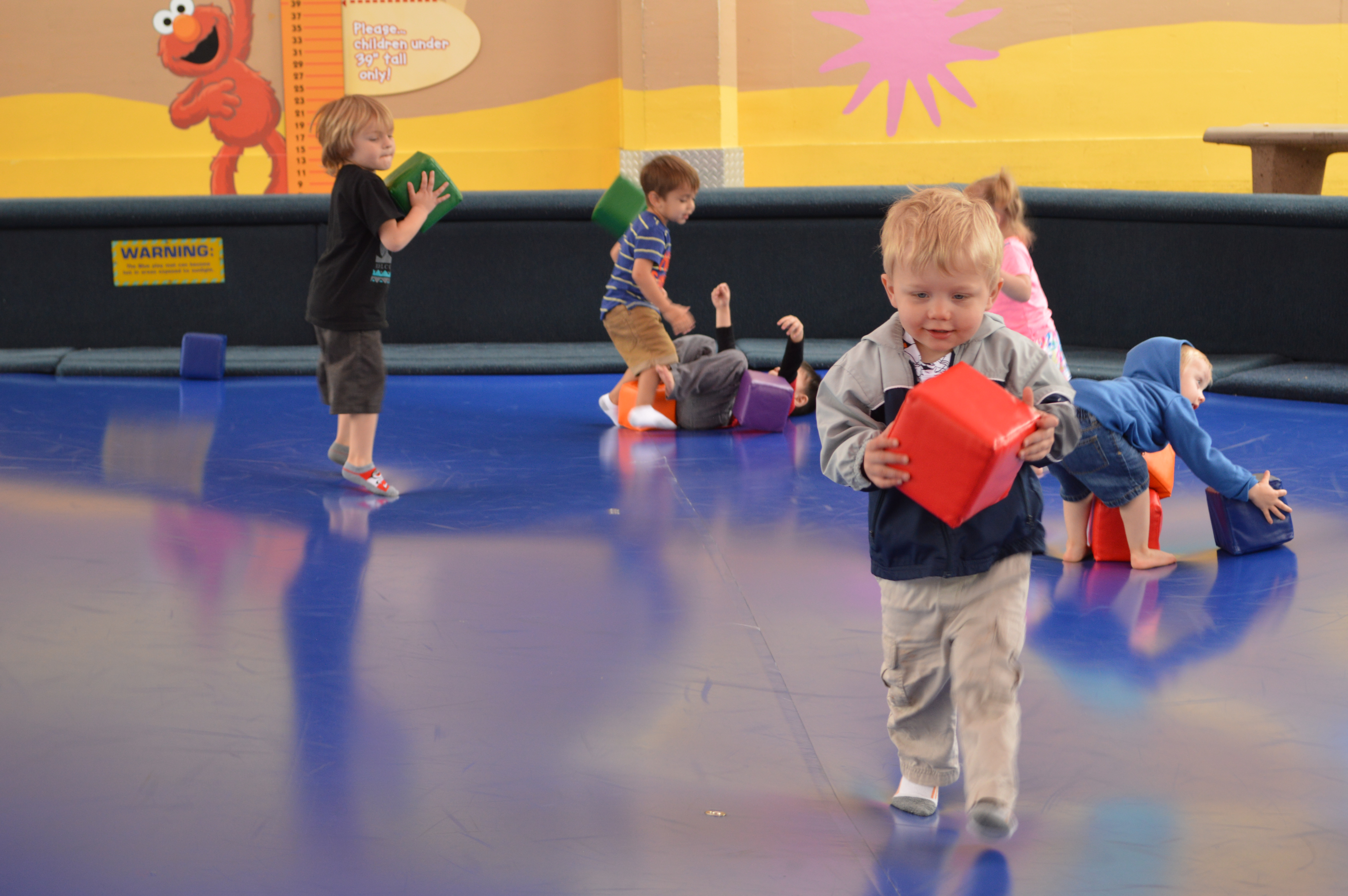 When he had (finally) had his Sesame Street fill, we headed to feed the Sea Lions before exiting the park. Y'all, these Sea Lions are crazy. I'm serious! They were screaming at us for the fish, and on top of that, there were these crazy birds that would try to steal the fish out of our hands before we could even toss it to the Sea Lions! These birds were fearless and relentless. It was madness! We were laughing and screaming and shooing the birds the whole time. Sawyer did get to successfully toss some fish to the Sea Lions, which was fun. But boy, was that an experience.
Sawyer skipped his nap that day and we had been at the park for about 7 hours so we decided to call it a day so he could get some sleep in the car. On our way out, we stopped for some cotton candy (a theme park must for my husband), and visited Explorer's Reef one more time. Sawyer said "bye" to all the fishes and we headed home.
Thank you Sea World for the great day! There is so much for toddlers to do and learn at Sea World San Diego, and they get in free until they're 3 years old! Take advantage of this while they're still young enough and be sure to take them to the park to experience and learn. They'll love it!
Check out my Instagram Stories from our day at Sea World San Diego!
xoxo.
Additionally, I realize Sea World is currently a controversial topic. I have seen Blackfish and done a lot of research on the treatment of the Orcas and other animals at Sea World. My best friend worked at Sea World San Diego for over 6 years and loved her job and speaks so highly of the organization. She assures me the animals receive the best care possible and are adored by their trainers. I commend and respect Sea World's decision to discontinue their Orca breeding program and Orca shows. I believe with these positive changes in place, and more planned for the future, Sea World will continue to be a great destination for families, as well as one of the top animal conservation and rehabilitation centers in the world. Thanks for all you do Sea World!
Save
Save