A few months ago, I took a poll on my Instagram stories asking you guys if you did laundry specifically on one day of the week or if you did just a little bit every day. I was SHOCKED at how many of you do laundry every single day. I can't imagine doing laundry that often, it must be terrible! My theory is this: Laundry is the worst. If you get all your laundry done on specified "laundry days" then you'll do less laundry. That's just math!
My schedule is as follows. I wash and dry all the clothes every Monday. Then, I fold it all every Tuesday night after the kids are asleep. It really doesn't even take up too much of my day since laundry is such a thoughtless chore. And then, I'm only doing laundry 2 days per week and have 5, glorious, laundry free days! Imagine doing an entire companies laundry though? That might make a few of you gasp, so don't worry there are commercial laundry services out there doing this for us. Phew!
Plus, this way, I always know where all the clothes are. There's no question about what I washed when because it all gets washed and then put away on the same days.
How I Do all the Laundry in 1 Hour Per Week
Someone responded to my story and said it would stress them out to do laundry all day long. But…I don't do it all day long! Like I said, laundry is a thoughtless chore. Monday morning, I separate everything into laundry baskets. I separate our clothes into darks, whites, and delicates and I wash the boy's clothes in 1 big load. That's only 4 loads total. I make trips to carry all the baskets into the laundry room. I estimate all this takes me maybe 15 minutes. Then, throughout the day I set timers for when each load will be done and need to switch. Switching each load takes about 5 minutes, for 4 loads, that's 20 minutes total. When it's all done at the end of the day I carry it back to our room. It stays there until the next night when I fold it all after the kids go to sleep while watching tv. My husband usually helps which speeds things up so it only takes about 30 minutes and then another 5 to put away.
That's 60 total minutes. I spend exactly 1 hour on laundry every week.
As a working mom, this is incredibly ideal. I have so much to do every day between my job, taking care of the kids, and keeping up with housework, I couldn't possibly be doing a load or 2 of laundry every day! It's much, much simpler to get it all out of the way on specific days, and then not worry about it again until the next week. It keeps me sane.
I only have 2 children currently. If our family every grows, and as our kids grow up, laundry will most likely take me longer every week as I'll have more loads. Keep this in mind if you choose to try out my method and allot for maybe 90 minutes or 2 hours per week depending on family size and the ages of your children.
How to Keep Clothes Fresh and Odor Free with OdorKlenz
I, myself, like to stay active. I workout whenever I can and enjoy going on hikes and other adventures with my family on the weekends. So I typically have some activewear in our laundry basket every week! With activewear, it can be really hard to get that "sweaty gym smell" out even after washing.
Sawyer recently started playing soccer too! Which means I also have a soccer uniform and socks to wash each week and they do not smell great.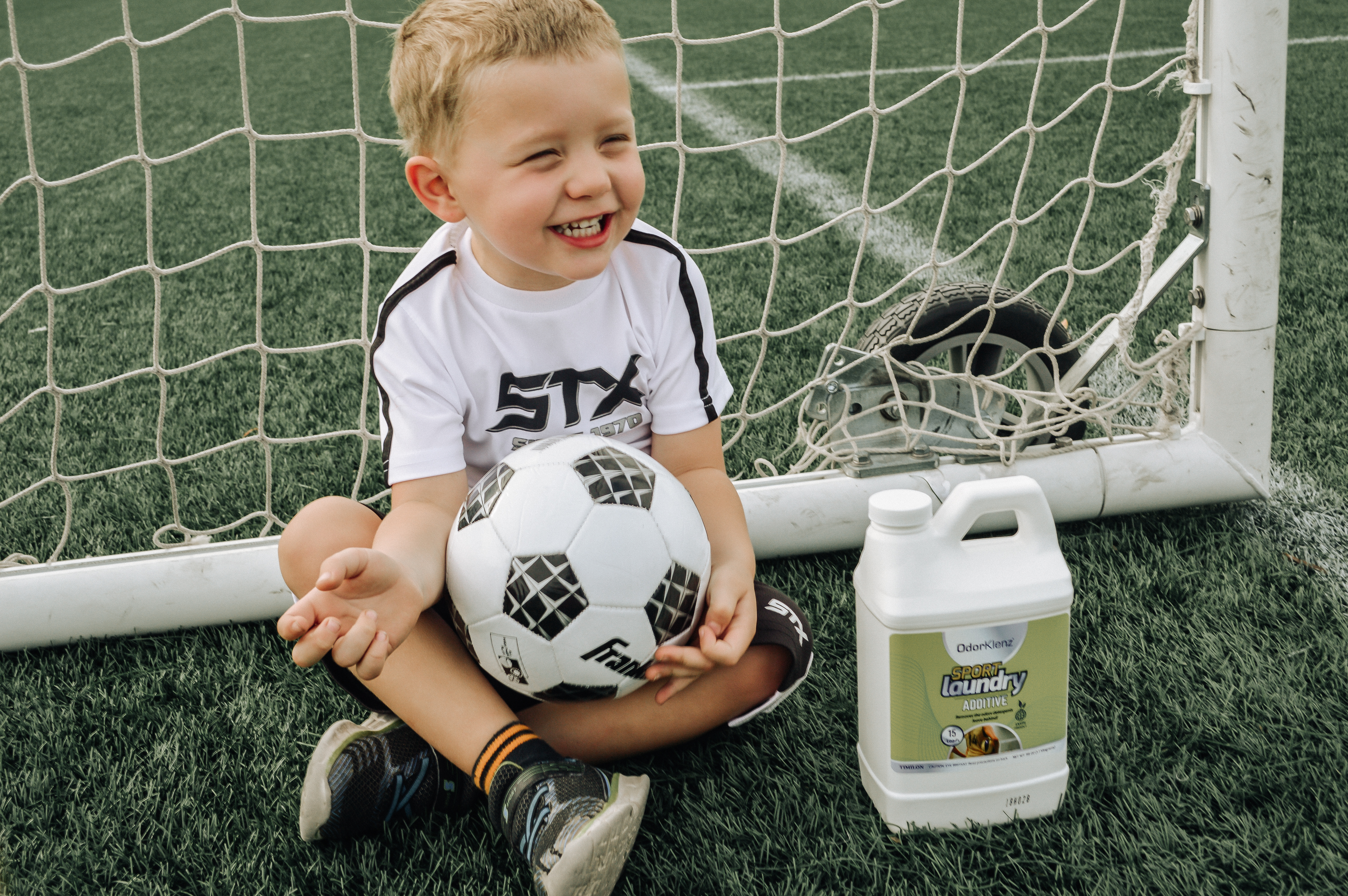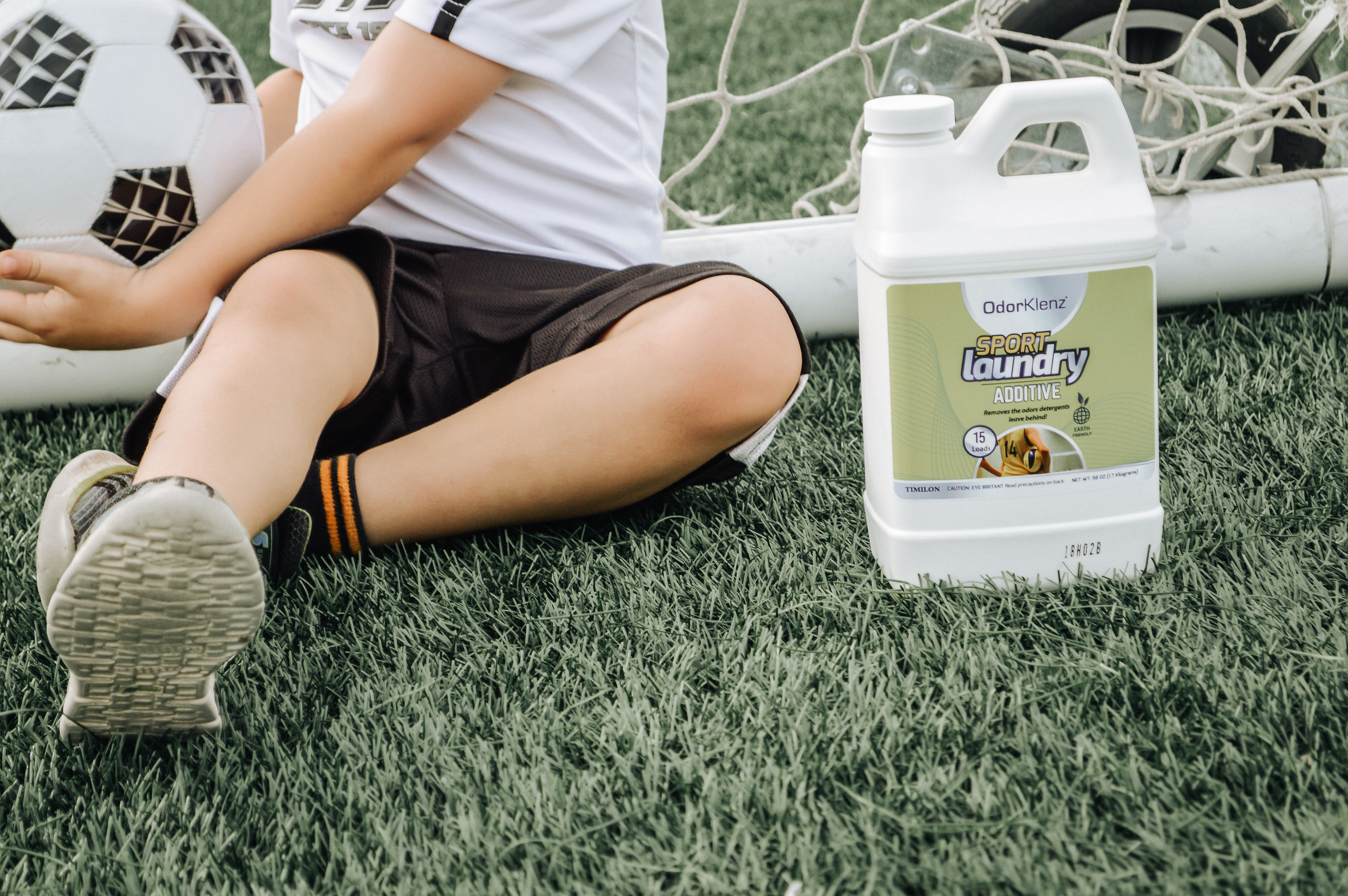 And don't even get me started on pee smell. Having 2 little boys…everything smells like pee. Everything. Especially their pajamas after sleeping through the night…yuck! Sawyer is mostly potty trained these days but still doesn't have great aim if you know what I mean, so just about everything in the boys hamper smells like straight up urine when laundry day comes around.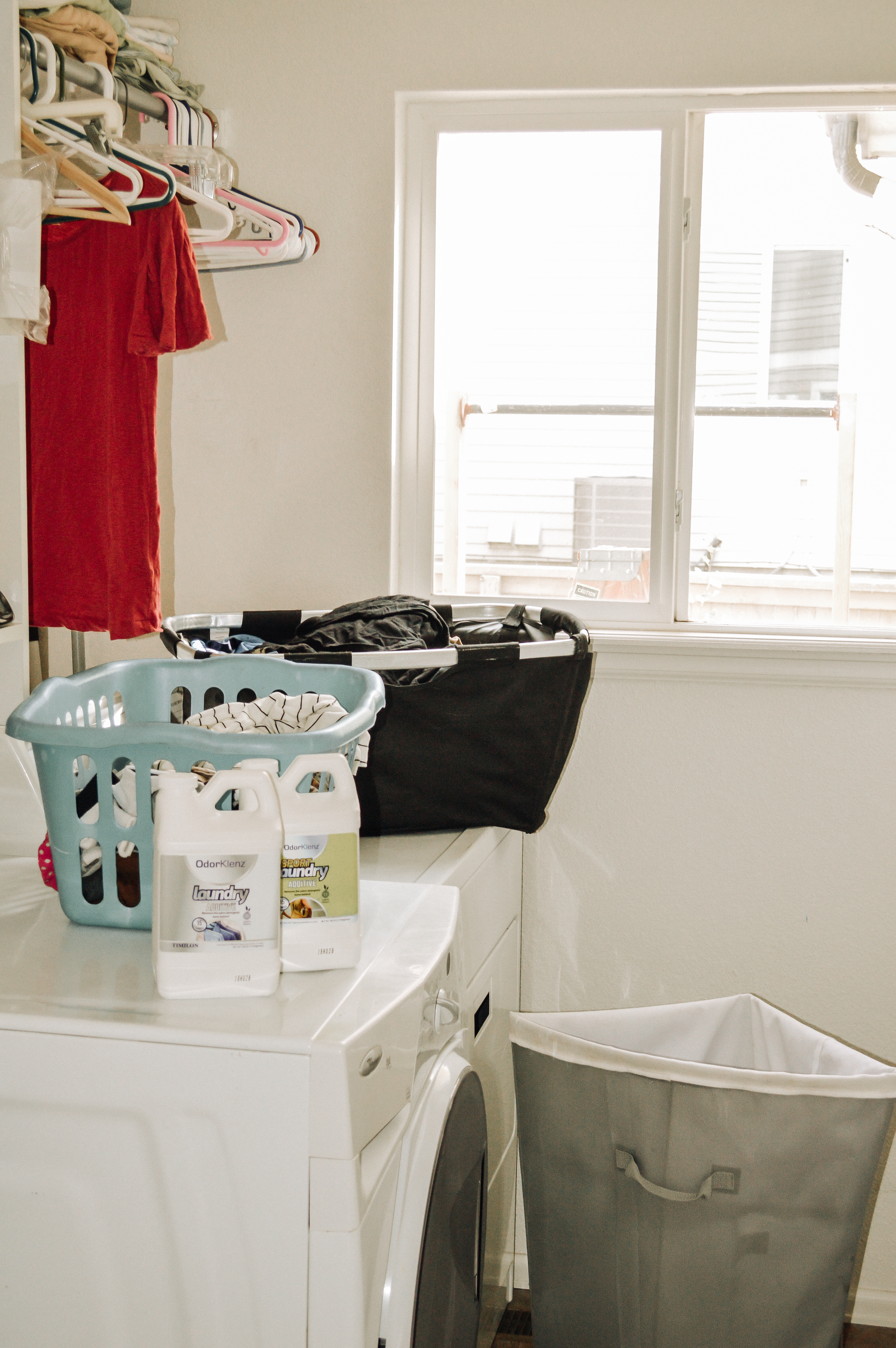 To combat all of these different odors on laundry day I use OdorKlenz. OdorKlenz is such a unique and noteworthy product. OdorKlenz is a laundry additive that removes odors that detergents can leave behind. It's also made from safe earth minerals that I feel confident using on my little one's clothing- and with little boys you know their clothes need it the most! This laundry additive is non-toxic and completely fragrance-free. It uses a patented technology that removes odors at the source instead of just masking the odors like most laundry products on the market. It doesn't just cover up smells, it removes them completely!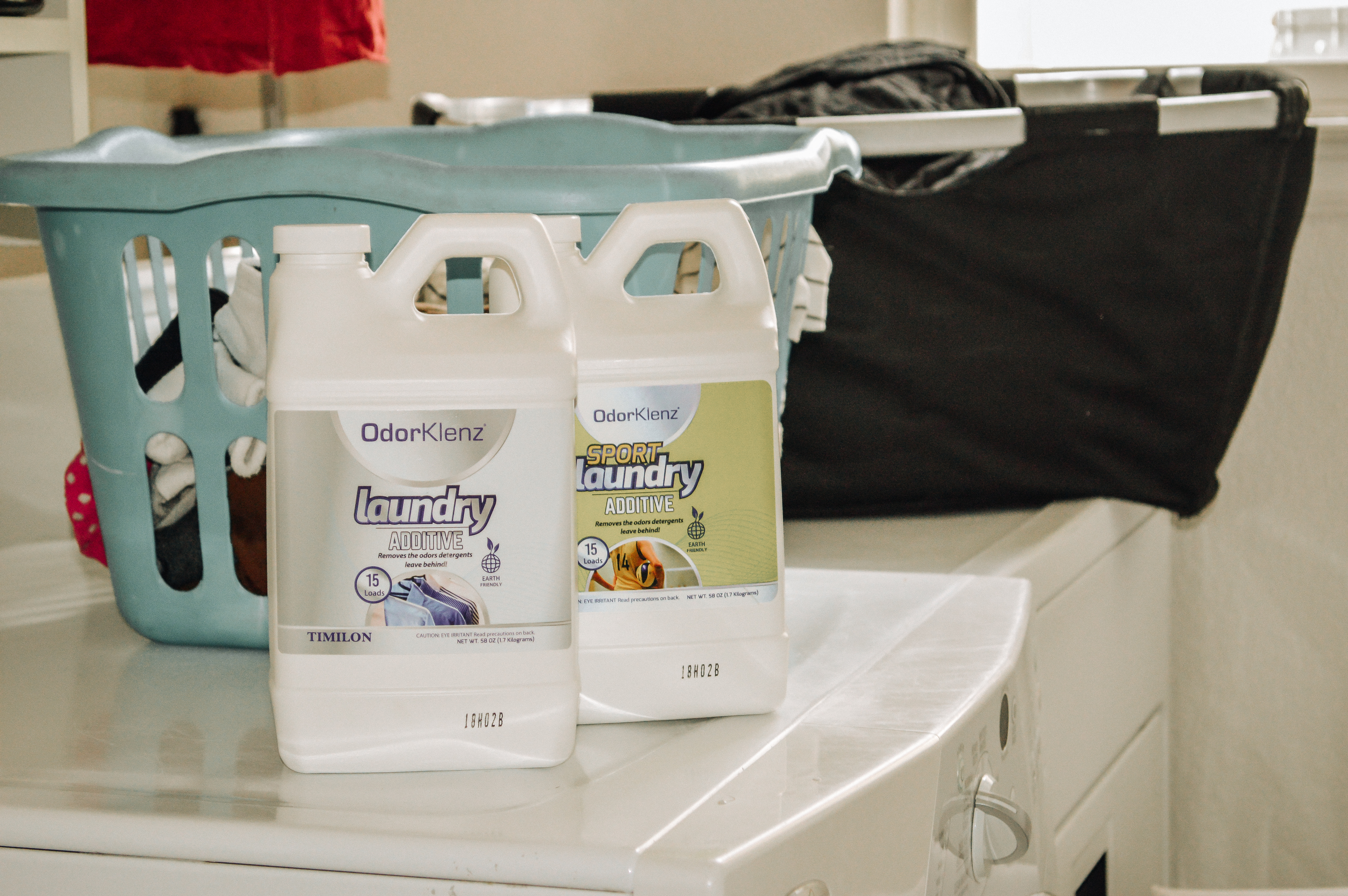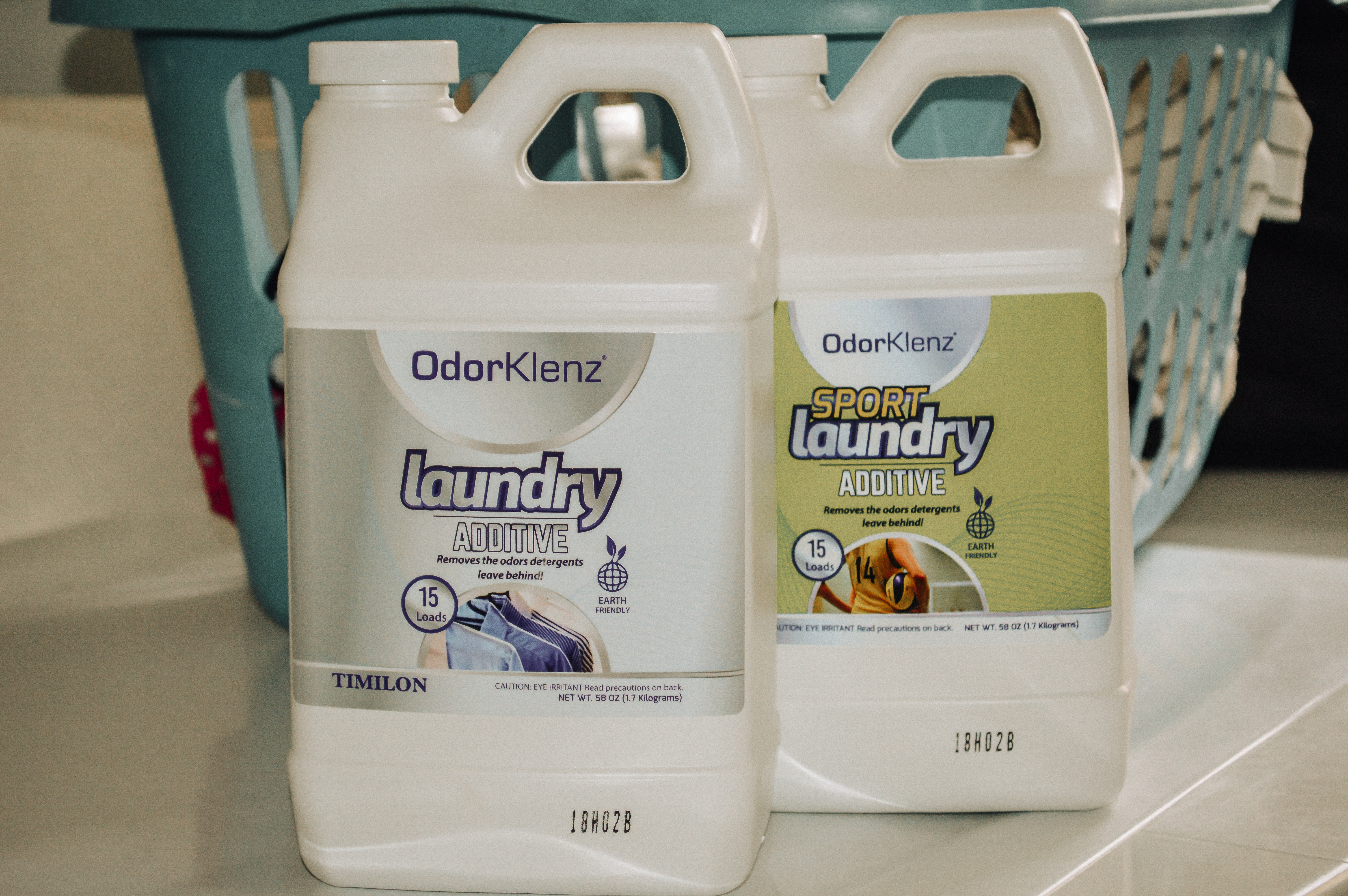 OdorKlenz even creates products for more than just laundry! They can also remove household odors with their sink and disposal deodorizer, subfloor treatment, odor eliminating pads, and more. There's also air odor removers, pet odor removers, so many to choose from that you can safely remove all the odors in your life with OdorKlenz.
OdorKlenz has made a big difference for me in the way I'm able to do laundry. I love being completely rid of the urine smell…for good! And being able to combat those sport odors in our activewear and soccer uniforms is a game changer. Every Mom needs OdorKlenz in her laundry room!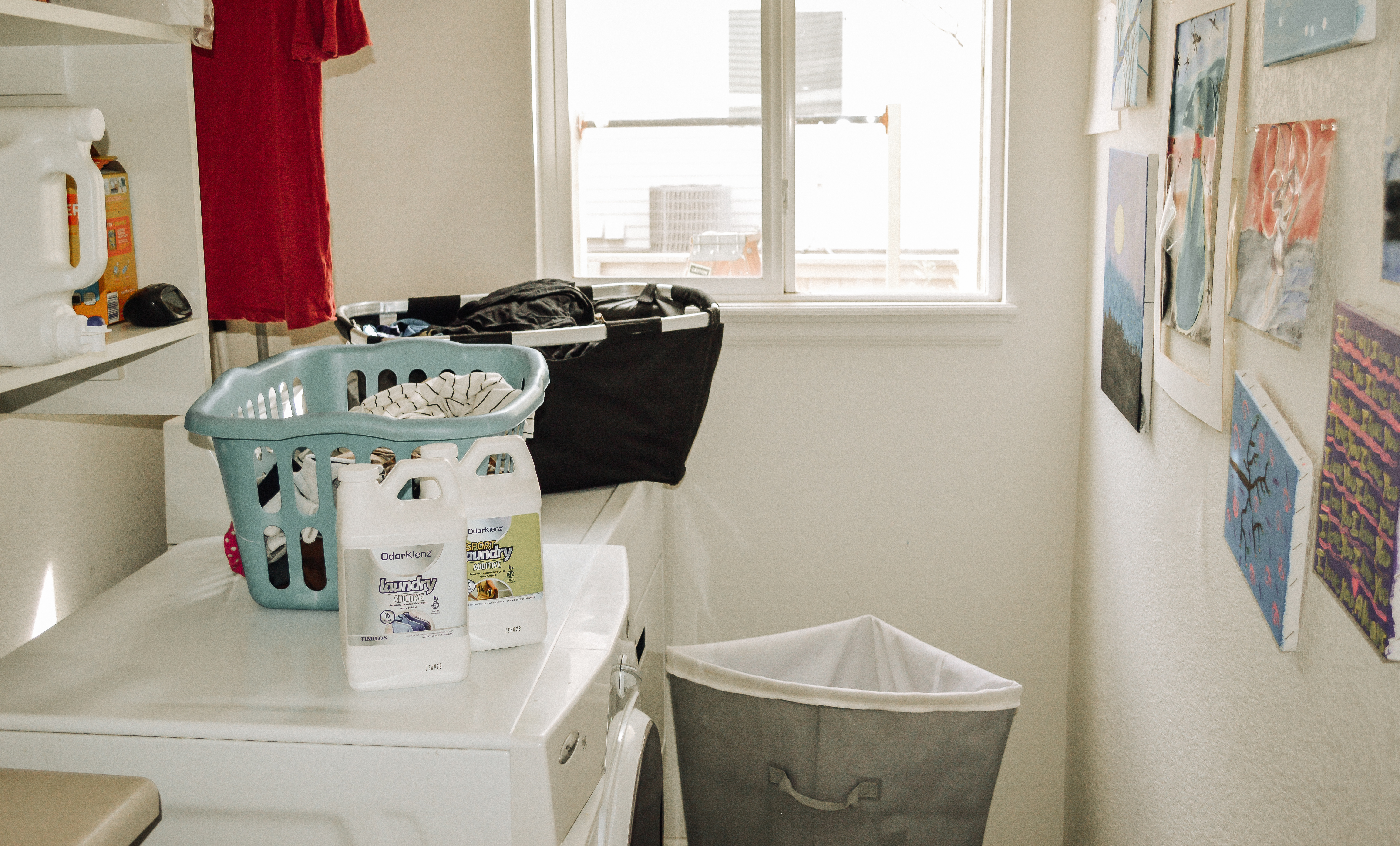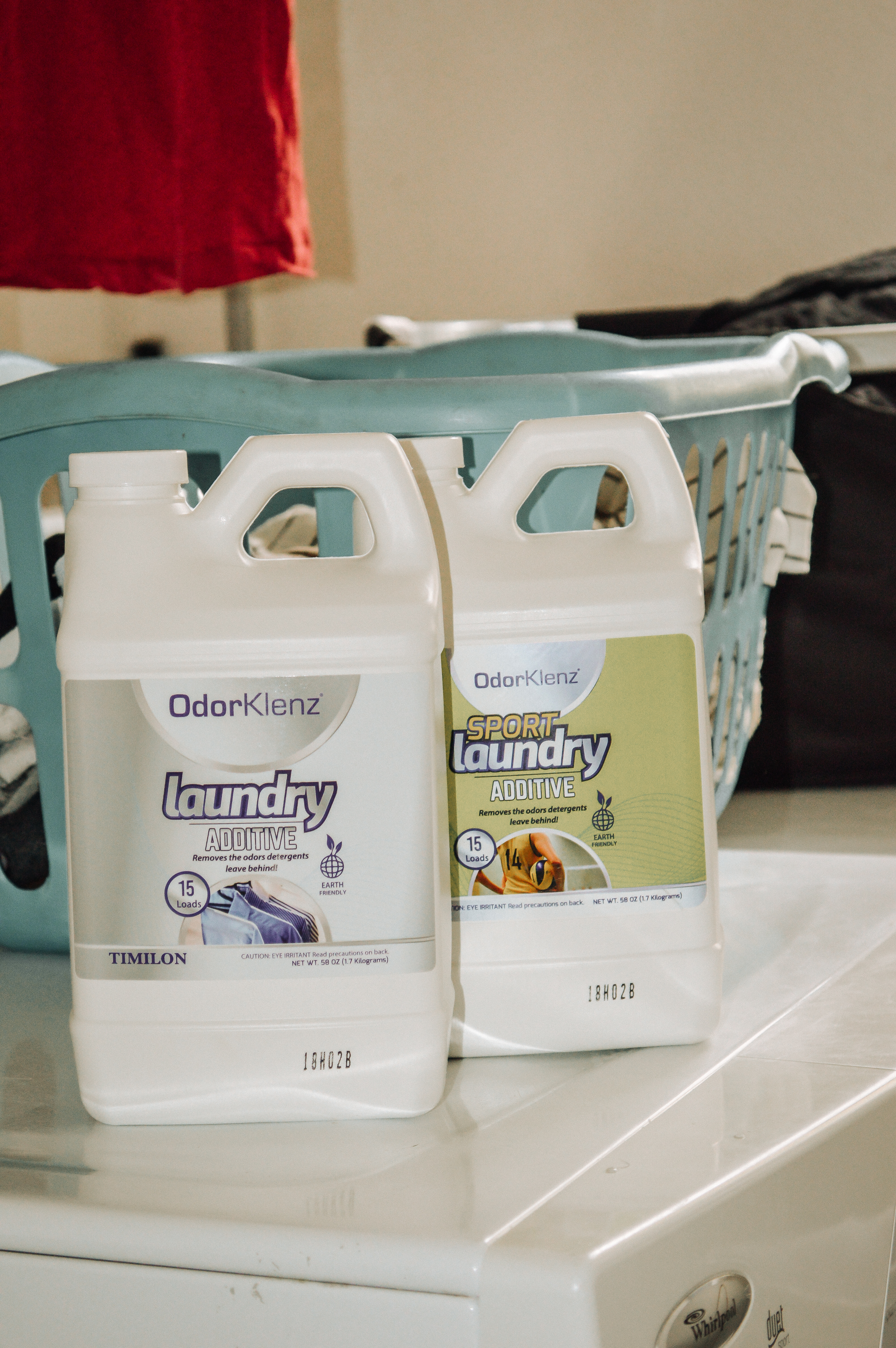 Bonus! Use code "kb15" to get 15% off OdorKlenz!
How you do deal with laundry? Comment below! And be sure to check out OdorKlenz:
| Shop | Facebook | Instagram | Twitter |
xoxo.
Pin It!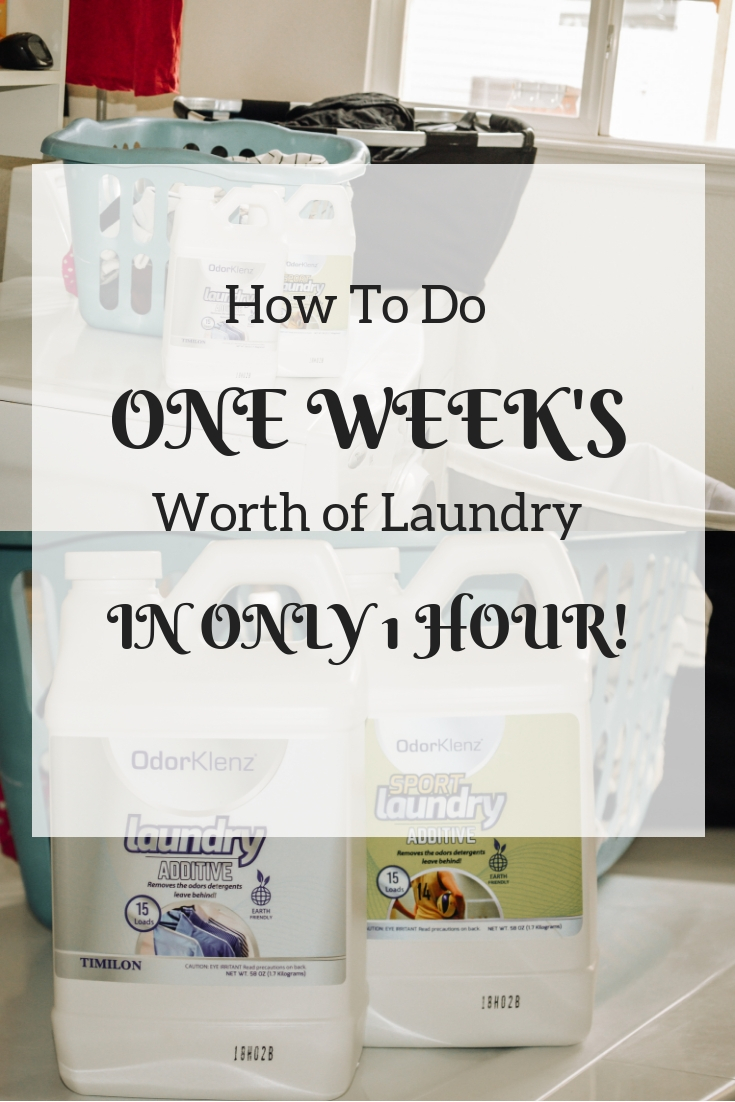 Loving these laundry tips and OdorKlenz feature? Click here now to read more about our family life!!