Disclaimer: Thank you to Legoland for providing media tickets for our day. All opinions are my own.
We recently visited Legoland California and had an amazing time! Sawyer has been loving legos lately, and Legoland is such a little boy's paradise, he had a blast! And we had a blast watching him. We were pleasantly surprised, that even at only (almost) 3, he was tall enough for a TON of rides and activities! There's so much to do at Legoland California, and you want to make sure you see it all so here's my official guide!
First, DOWNLOAD THE APP. The app will be SO helpful to planning your day. The app lets you see a full map of the park, will give you walking directions to any attraction you choose, show you wait times, height restrictions, and age restrictions for all of the rides, provide you show times, restaurants, menus and more! The app is so helpful.
Make sure you get there as early as possible. Although the rides don't officially start running until 10am (most days, this is subject to change so check the website HERE before you go!), the turnstiles open at 9am. Getting there by 9 gives you plenty of time to park, walk to the entrance, get your tickets, get some coffee (there is a great coffee shop with healthy snacks located right at the entrance), snag your place in line for your first ride, or browse miniland. We were all fighting colds during our trip, so we didn't get there until a little after 10 and it was still nice and empty! Make sure you beat the crowds! Legoland is a big circle, I recommend heading to the right once you're inside and then making your way all the way around!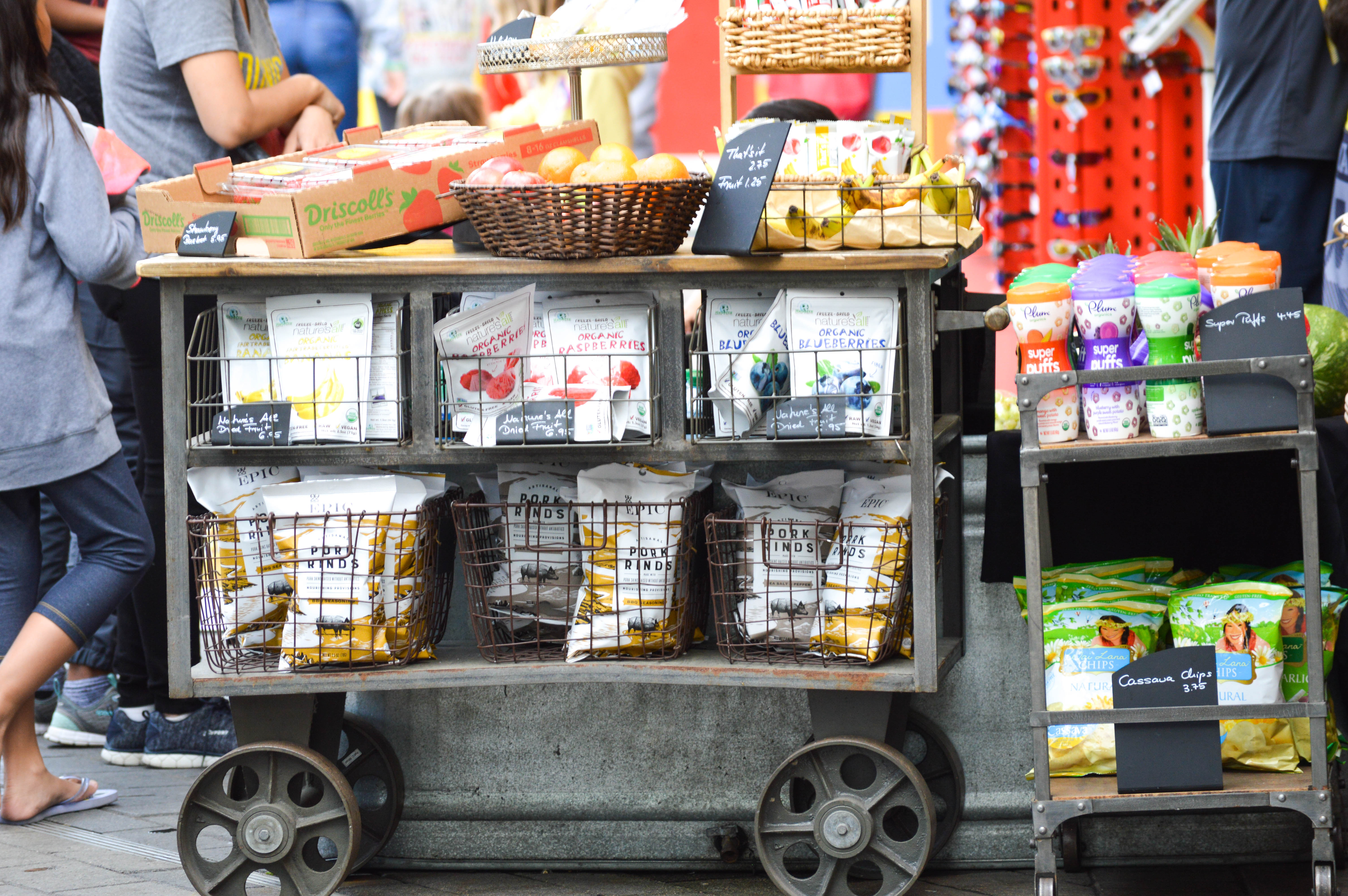 Once you're in and have your coffee, go right past The Big Shop and head on over to the LEGO Ninjago World to get in line for the Ninjago ride! This is one of the most popular attractions in the park and is right by the entrance so hit it up first. After the ride, head on over to the Ninjago 4D movie viewing, view it right away if there's a showtime starting soon, or make a mental note of the next showtime and come back! It's only 15 minutes and is so fun to watch!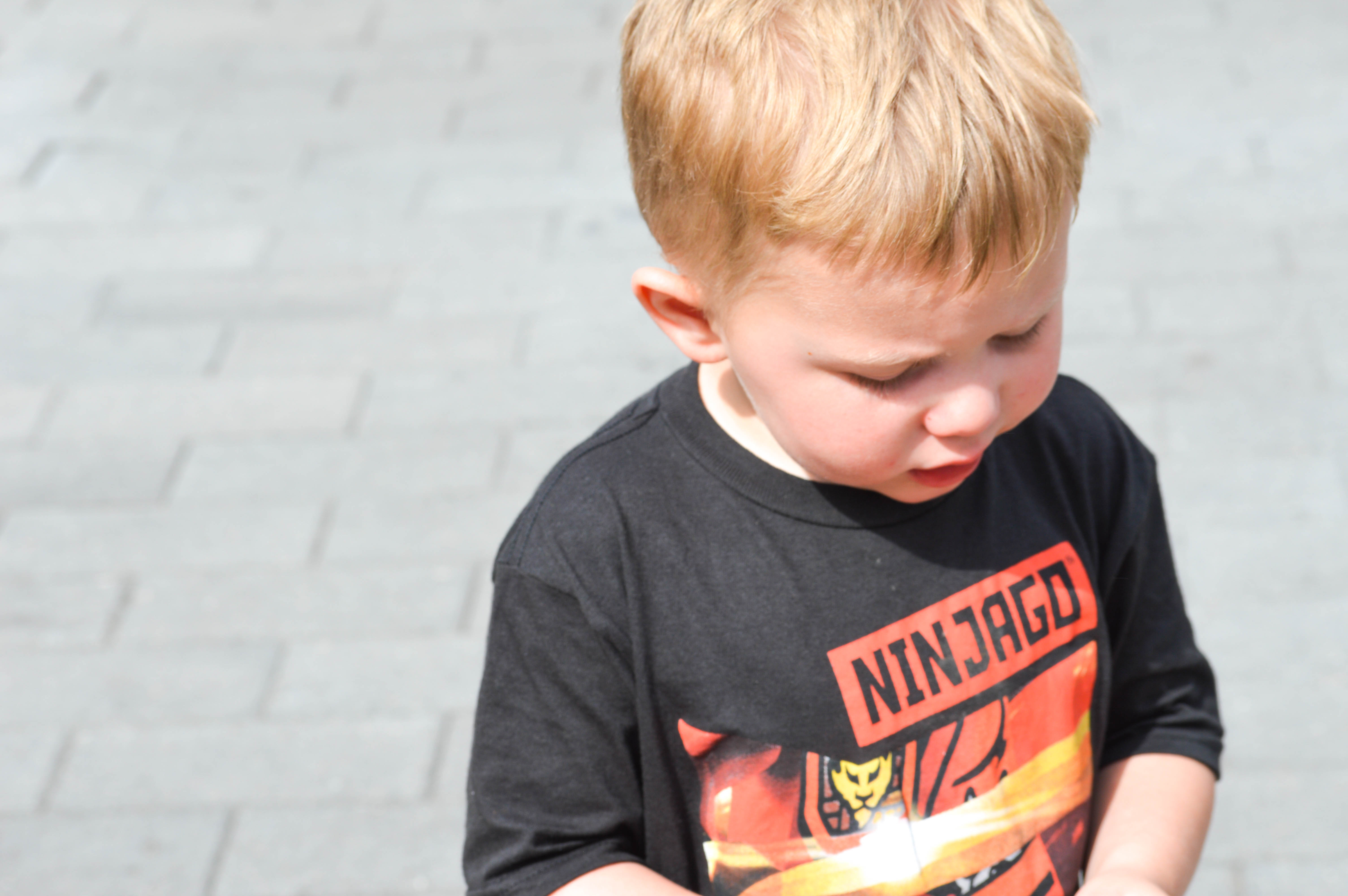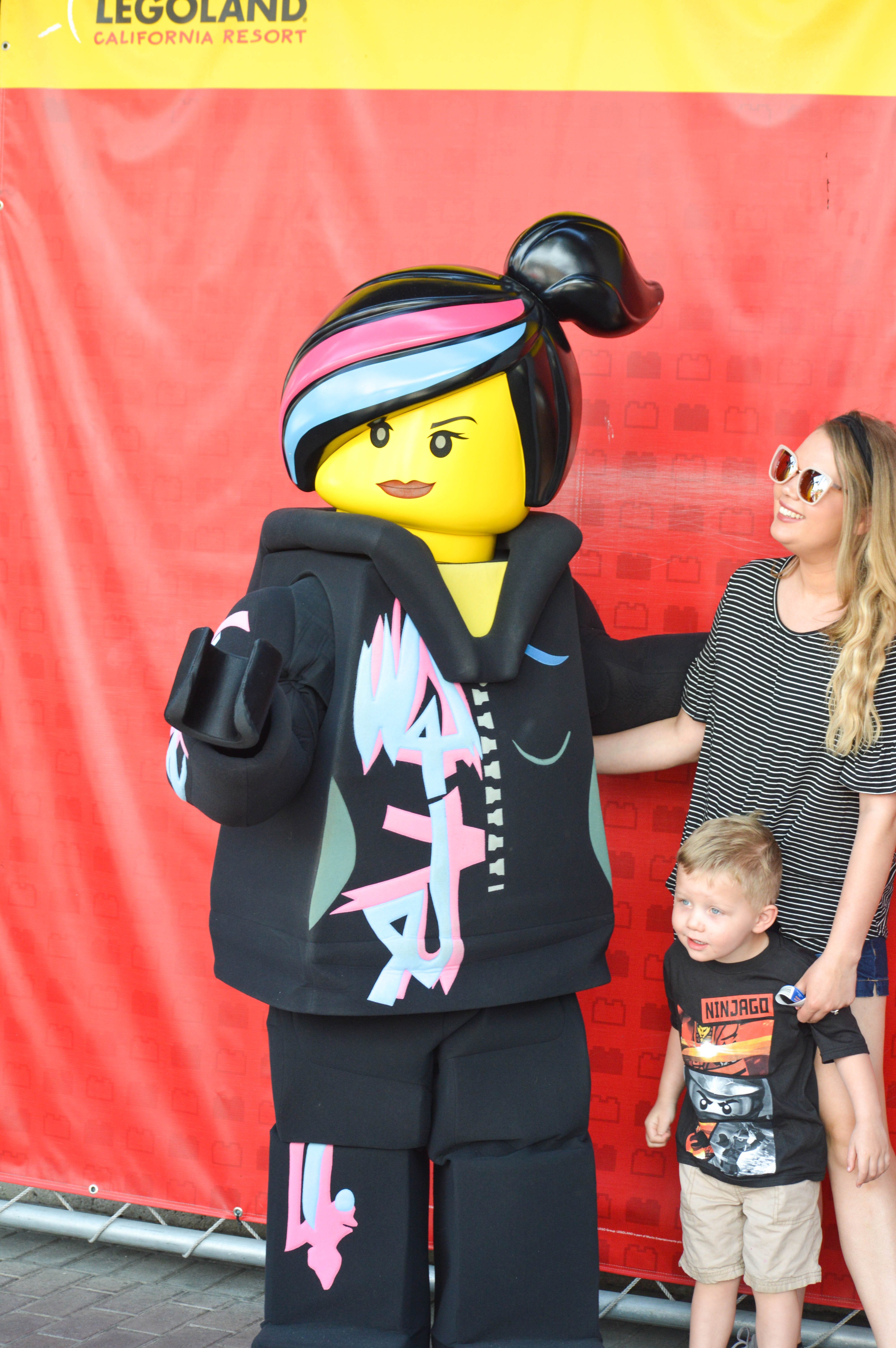 Keep heading right and you'll be in the Imagination Zone with Aquazone Wave Racer, Bionicle Blaster, LEGO TECHNIC Coaster, and a few other activities. A few steps away is Land of Adventure with Cargo Ace, Beetle Bounce, Dune Racers, and Lost Kingdom Adventure. Open up your app and check out the wait times, height and age restrictions, and pick out 2 or 3 for your family to do while in this area and go for it! We did Cargo Ace and Lost Kingdom Adventure in Land of Adventure and had a blast!
After you've finished up over there, keep going to the right and you'll hit Castle Hill. This is my favorite part of Legoland.  The big castle is really cute and great for pictures! Over here you have Knight's Tournament, The Royal Joust, and The Dragon Coaster. My husband took Sawyer on The Dragon Coaster and they had a blast! Pull out your trusty app and decide which rides you want to hit up while in this land and go to town.
By now, it was about noon, so this is where we got lunch. We ate at Castle Burgers and while the food was good, I would skip it next time. The line wasn't very long and yet we waited forever, and it was really expensive for just some burgers and fries. My blogger friend over at This Messy Season who went to Legoland the same day as us, got lunch at Knight's Smokehouse BBQ and said it was fabulous! It's a ton of food for a pretty good price. She recommends getting the kids meal, even as an adult! It's plenty of food and will save you money! I would go there instead. We also picked up a refillable cup for $9.99 so that we could get discounted refills all day long. This was cheaper than all of us getting our own individual drinks throughout the day, and we had a fun cup to take home.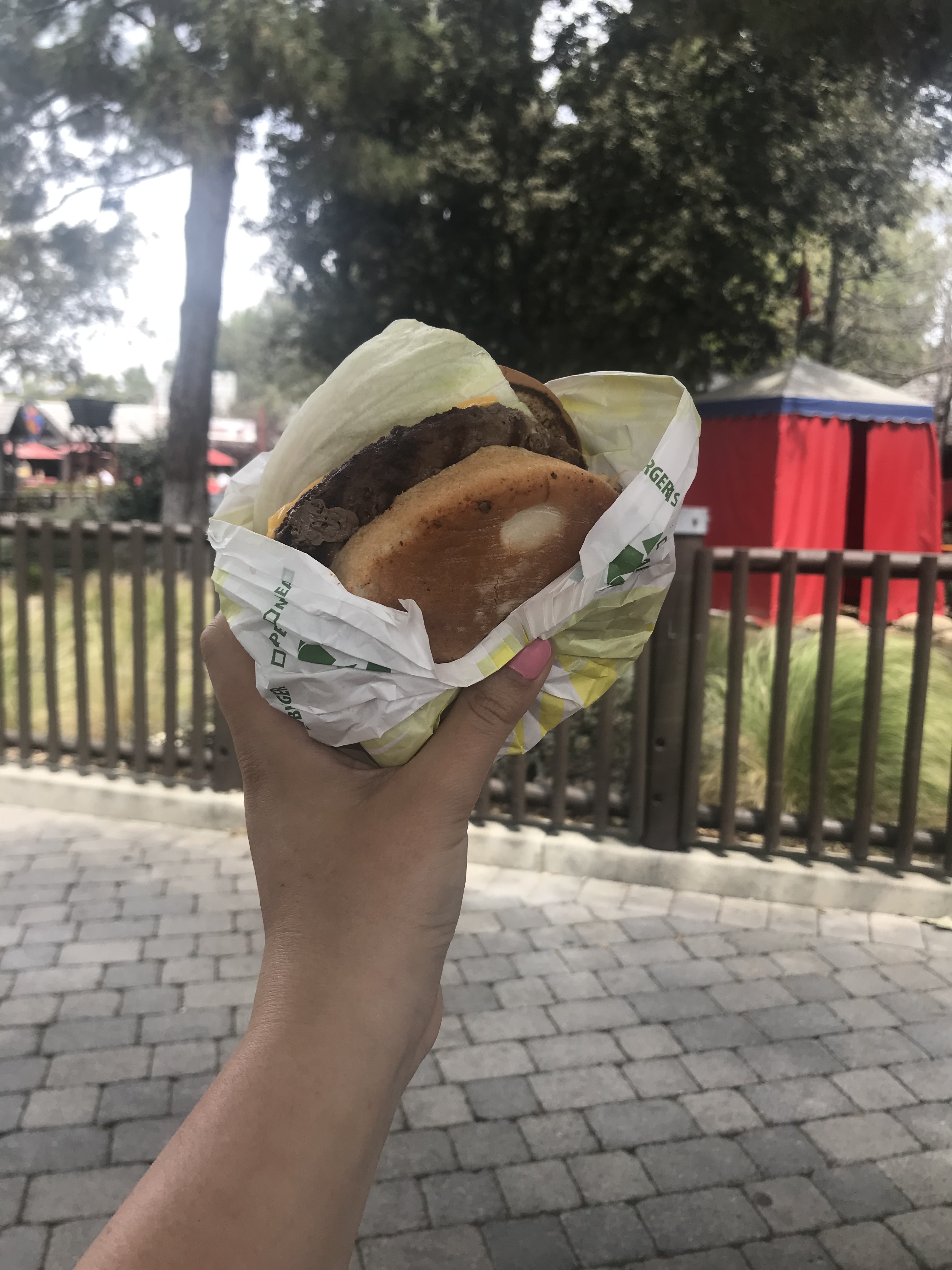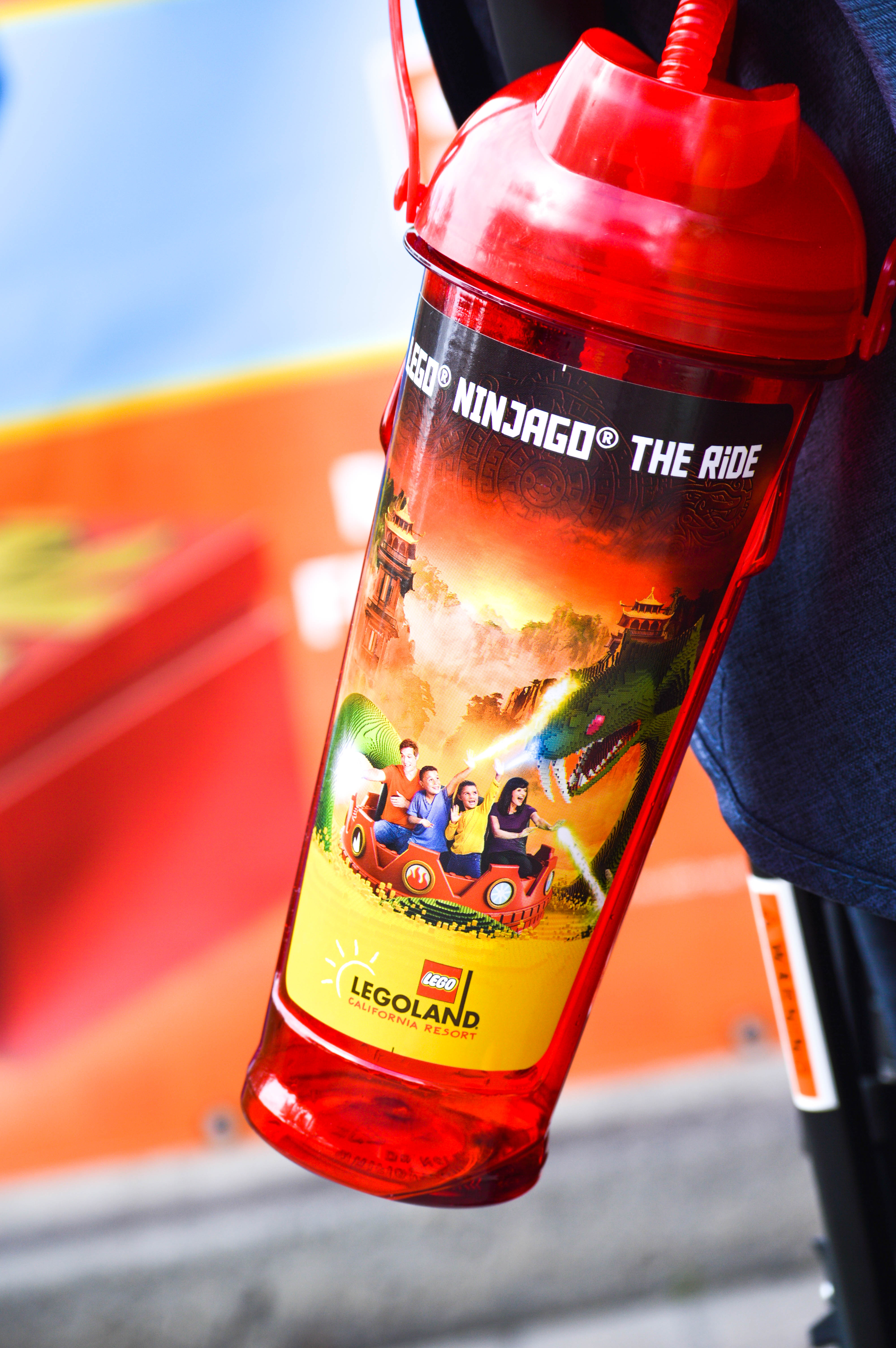 Castle Hill is also where you can get Apple Fries. DO NOT SKIP THIS. Legoland is famous for the Apple Fries and they are so good. You can get them over at the Granny's Apple Fries stand.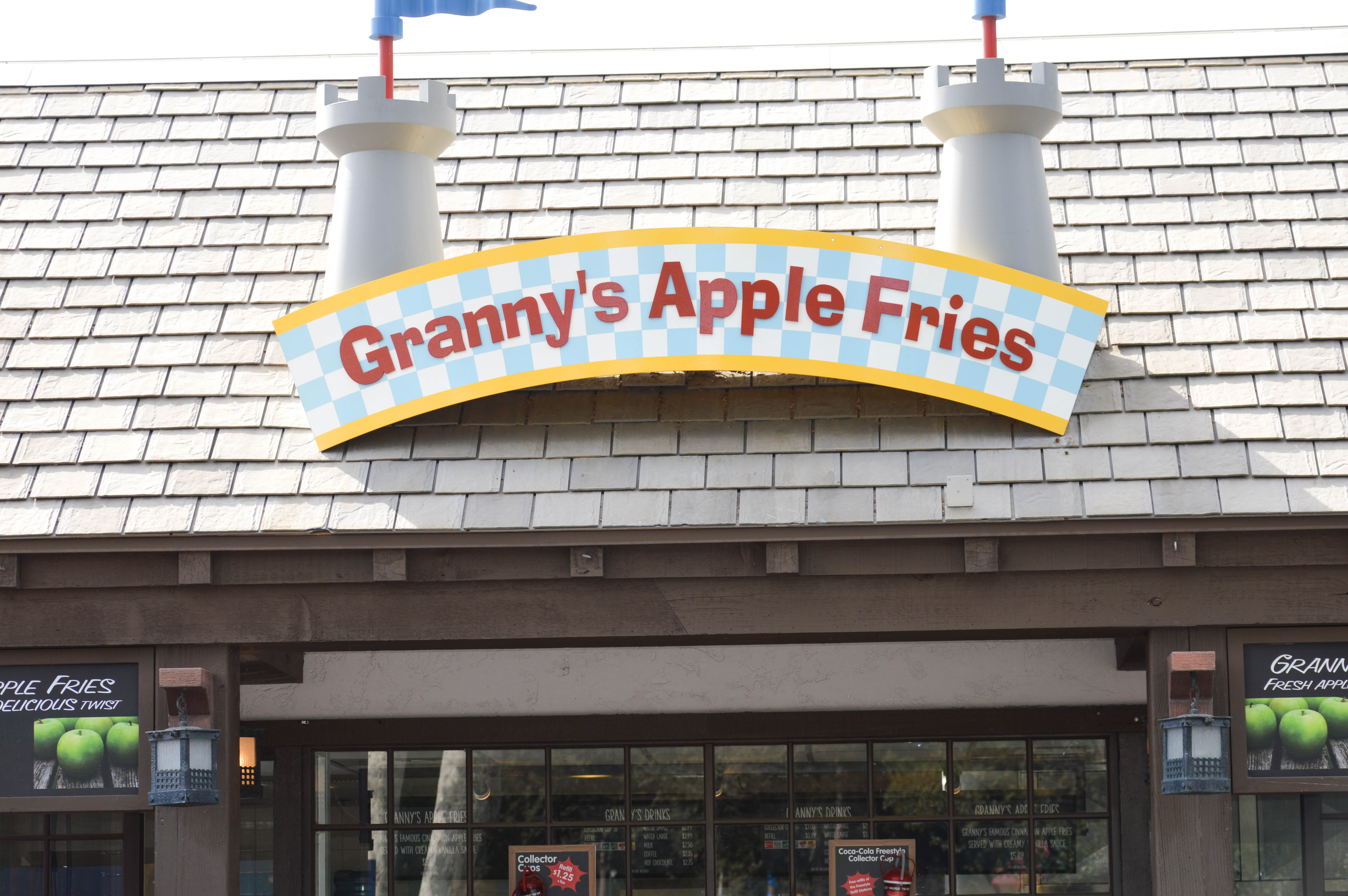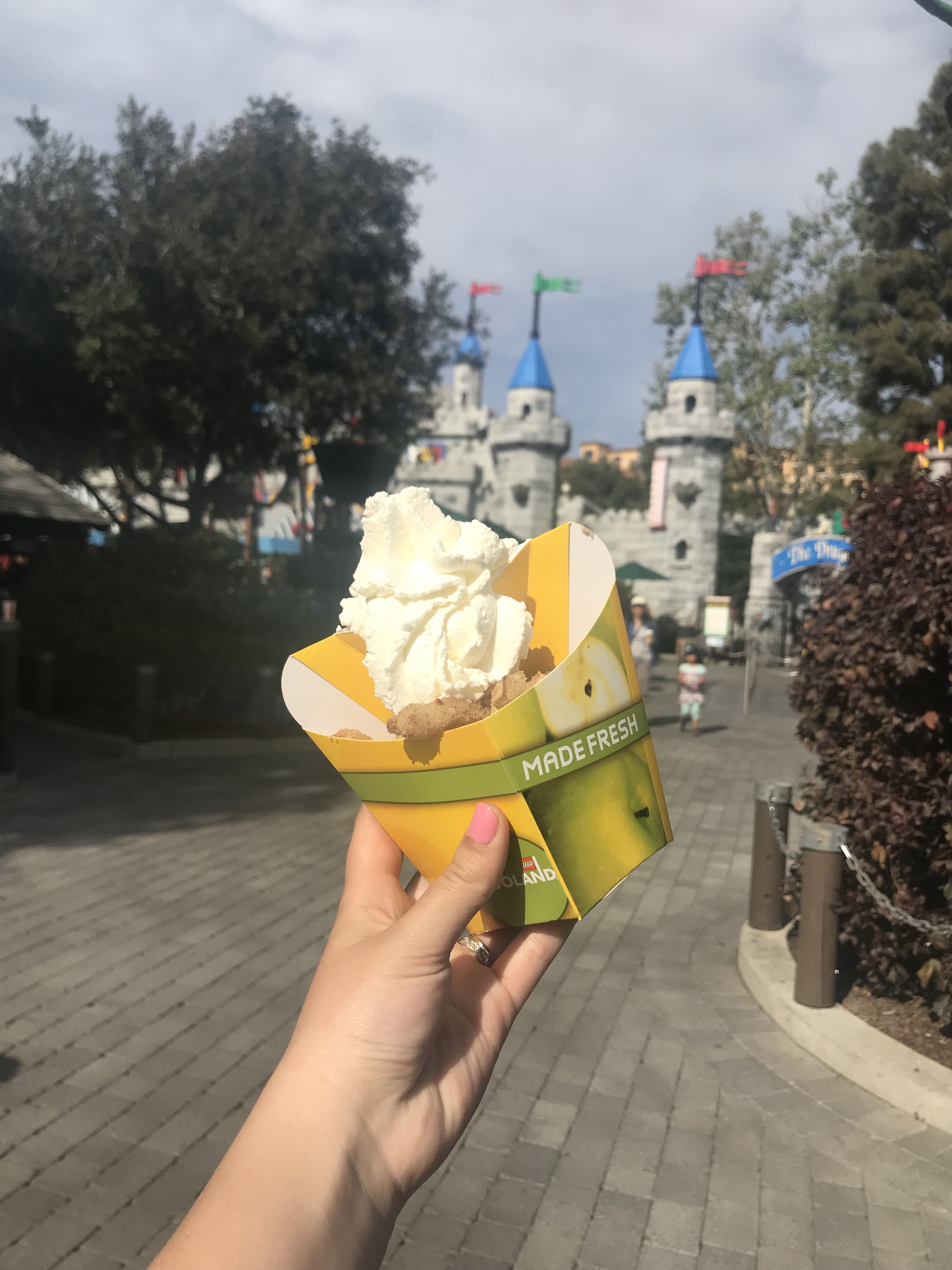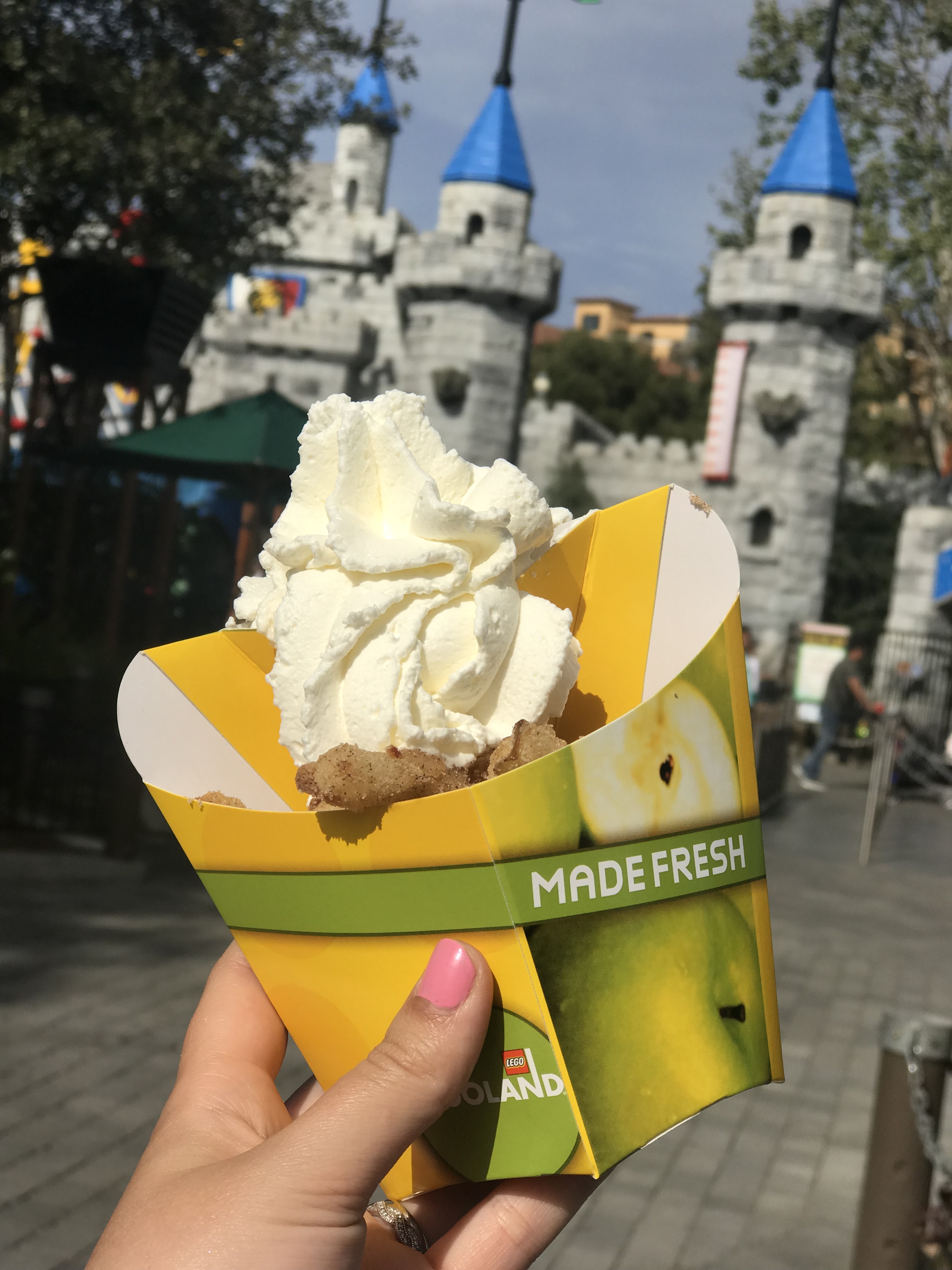 After lunch, take a little pathway past the Knight's Tournament and you'll be in Miniland! There are not rides in this land, but you absolutely cannot miss it. It's seriously impressive. The Star Wars displays are the best part!  There's also a little area where you can build a lego boat and then race it. Sawyer did it and had so much fun!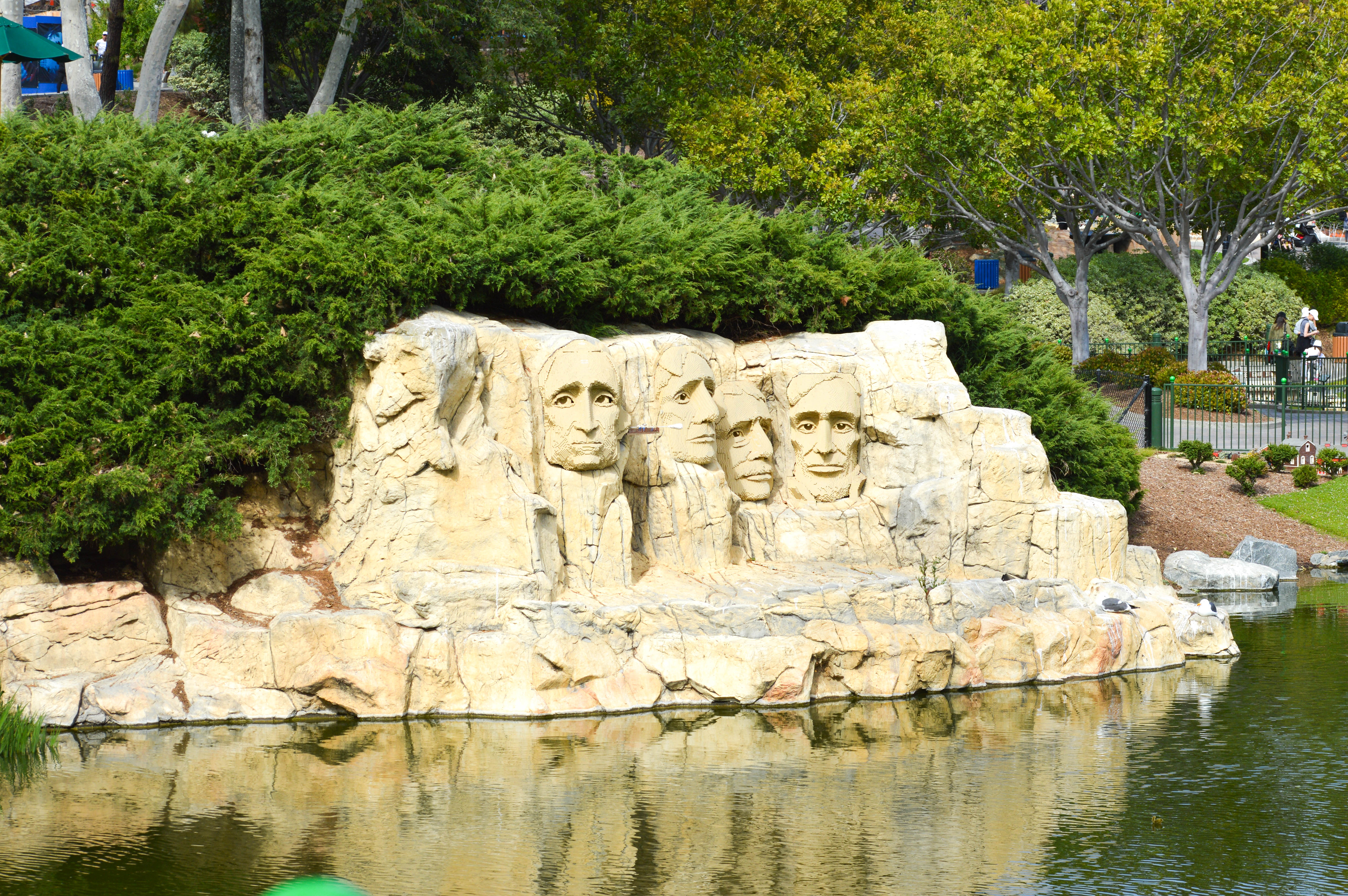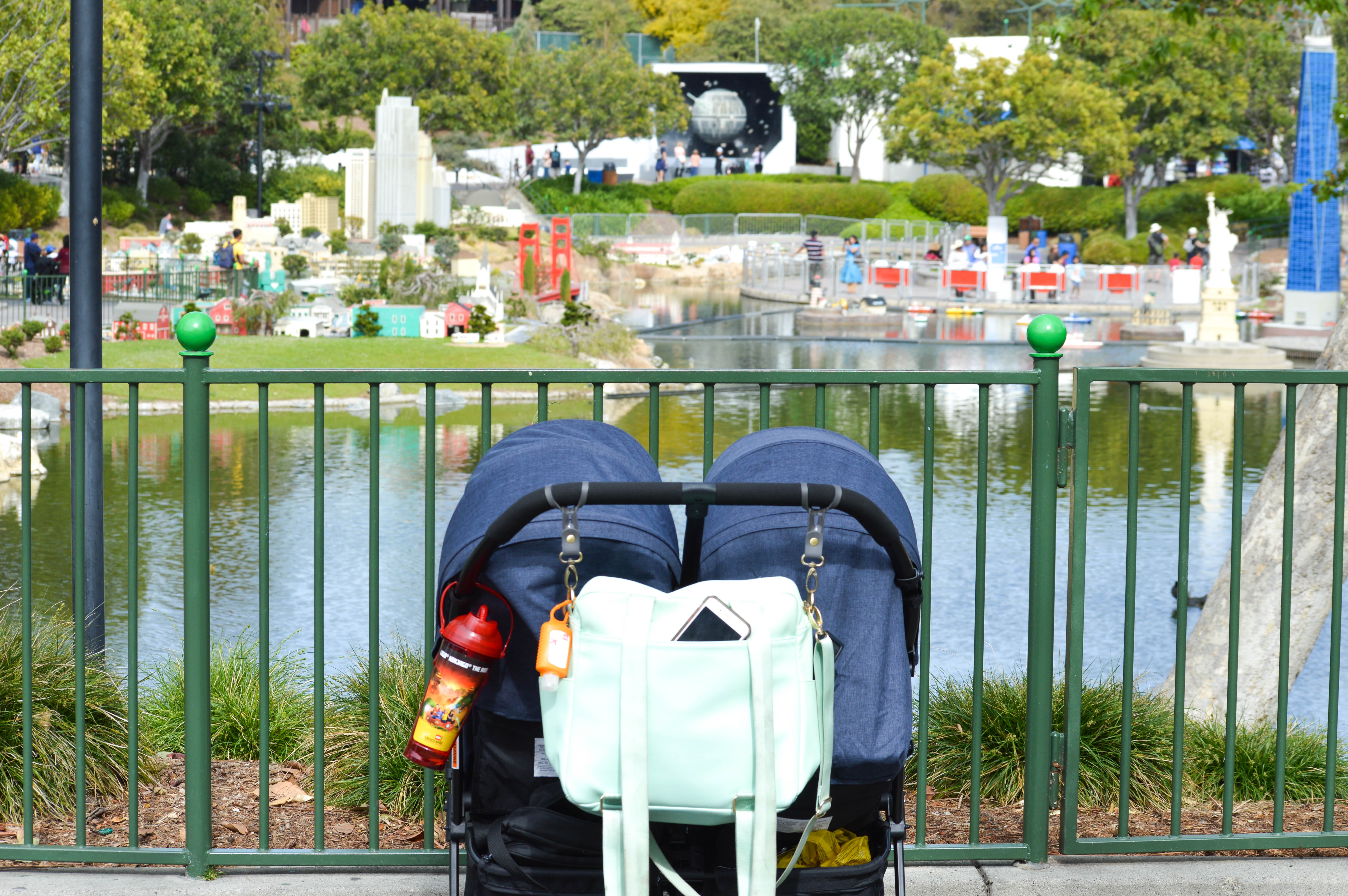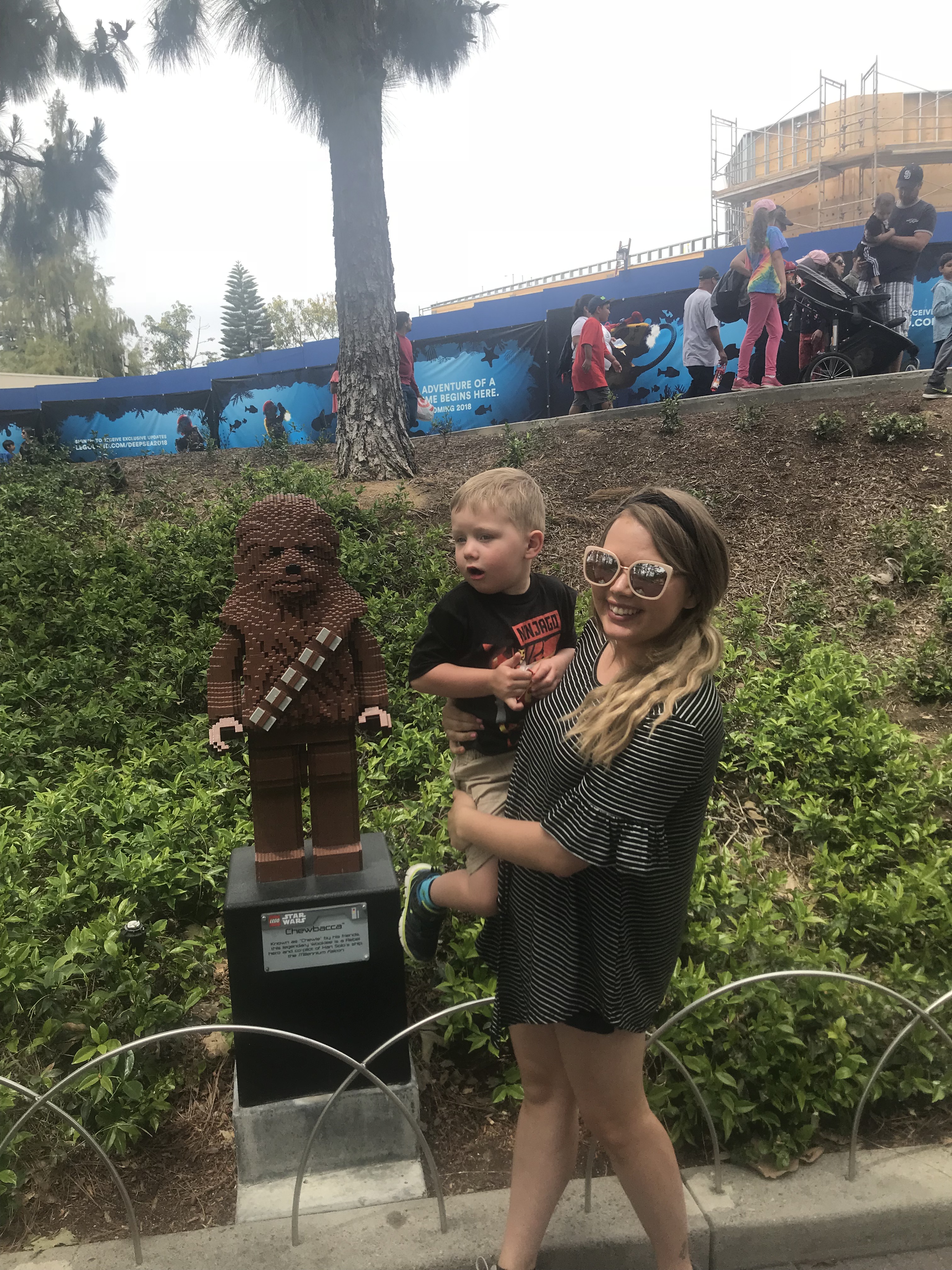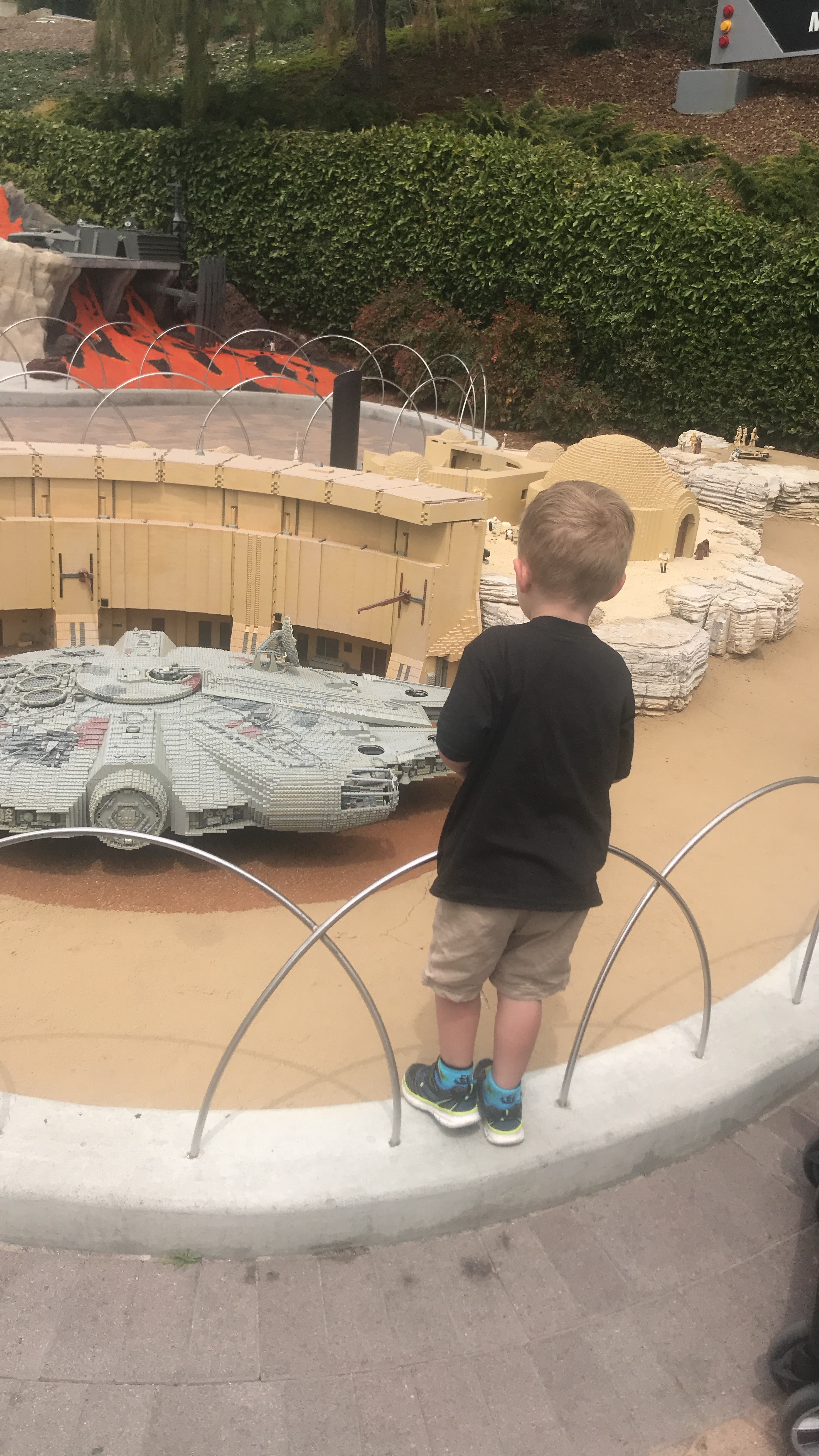 Head back up through Castle Hill and go, once again, to the right to find Pirate Shores. Here you have Pirate's Reef, Captain Cranky's Challenge, Splash Battle, and Skipper School. All the rides in this area are water rides, so be prepared to get wet! If you're not keen on getting wet, I would skip this area altogether.  Pull out your app and pick a few rides for your family. We did Splash Battle, it was fun!
There is also a fun splash pad located in Pirate Shores. If your kiddos like splash pads make sure to bring their swimsuits or a change of clothes for this.
As you pass through Pirate Shores, you'll find the entrance to the water park if you have park hopper tickets. We decided to skip it since our kids were fighting colds but you can once again hop on over to This Messy Season to read her experience!
Keep on going and you'll be in Fun Town. This is a great place for your kids to run off some energy because of the great playground located here!
This is also where the baby care center is located. The Baby Care Center is great. It has private bathrooms, changing tables, rocking chairs for nursing, a microwave and bottle warmer for heating up food and making bottles, and more! By this time, everyone needed diaper changes so we stopped here and got everyone freshened up and I was able to warm up a bottle for Oliver.
Here you'll find Police and Fire Academy, Driving School, Junior Driving School, and Sky Patrol. We chose not to go on any rides in Fun Town and instead let the kids run (and crawl) around the DUPLO Playtown for about half an hour. You'll also find the Legoland Express and Mai's Riding Town just a few steps away.  There's another Splash Pad located here so keep that in mind and pack accordingly!
As you keep walking, you'll hit Explorer Island, which was my kid's favorite part! Here you'll find Fairy Tale Brook, Safari Trek, and Caoastersaurus. Sawyer has been obsessed with watching LEGO Jurassic World on Netflix lately, so this was the highlight of his day. You'll find a bunch of Lego animals and Dinosaurs. We went on Fairy Tale Brook because there was no height restrictions so Oliver could come on with us! Then, my husband took Sawyer on Coastersaurs, which he LOVED. His newest obsession is Dinosaurs so this was his favorite ride all day. Right next to Coastersaurus you'll find Dig Those Dinos. Essentially a big sandbox where kids can dig for dinosaur bones. Sawyer loved it.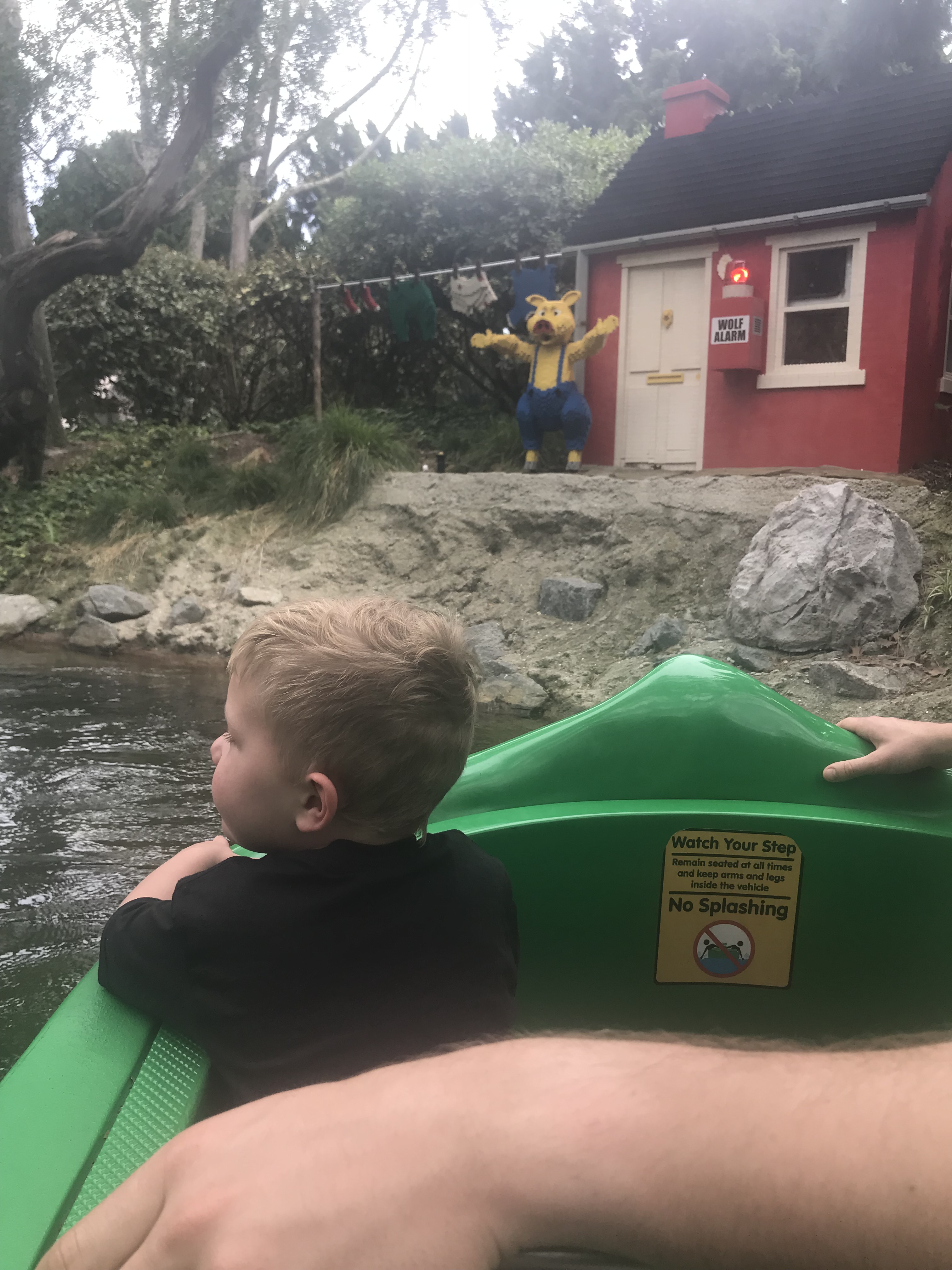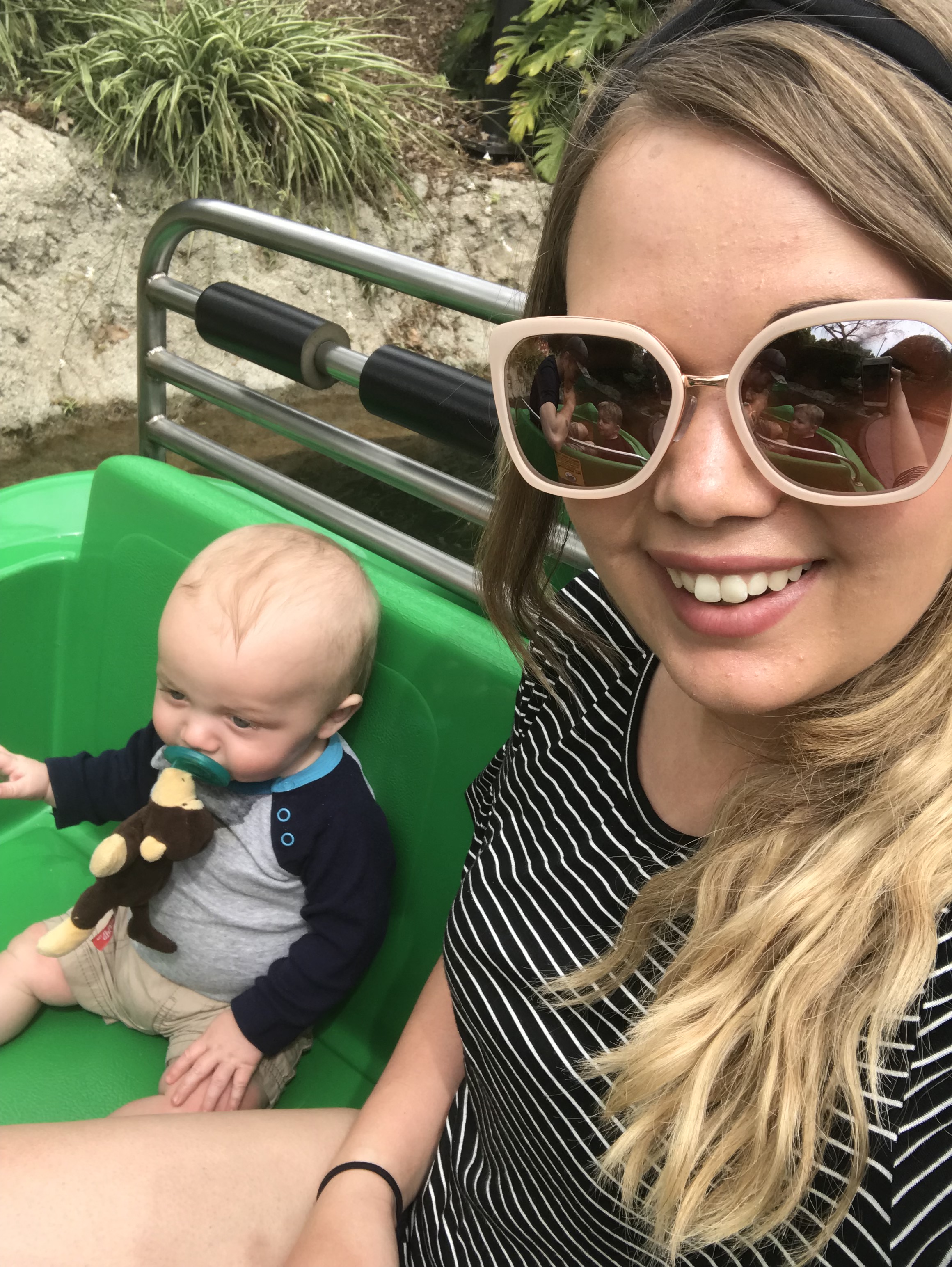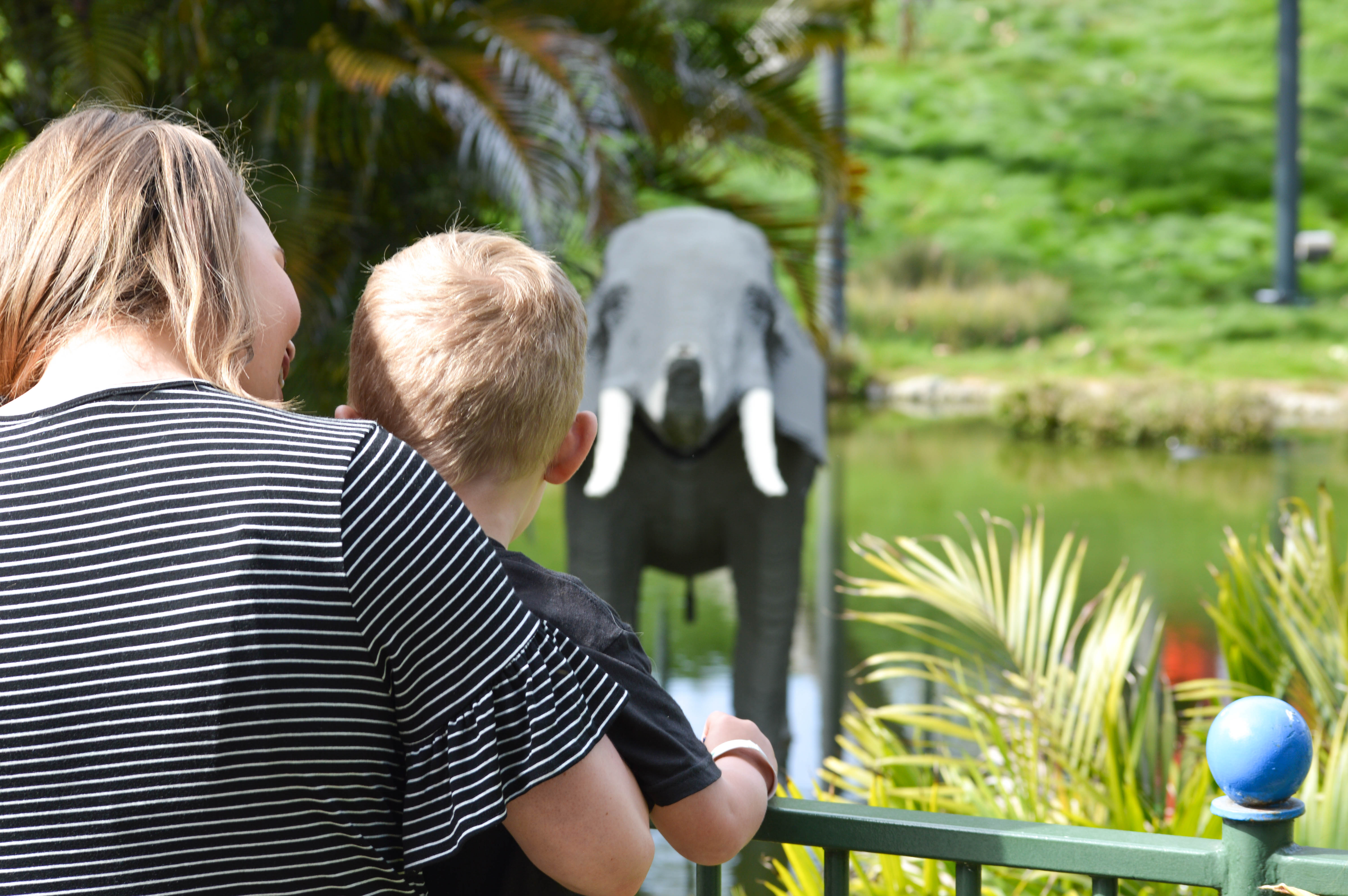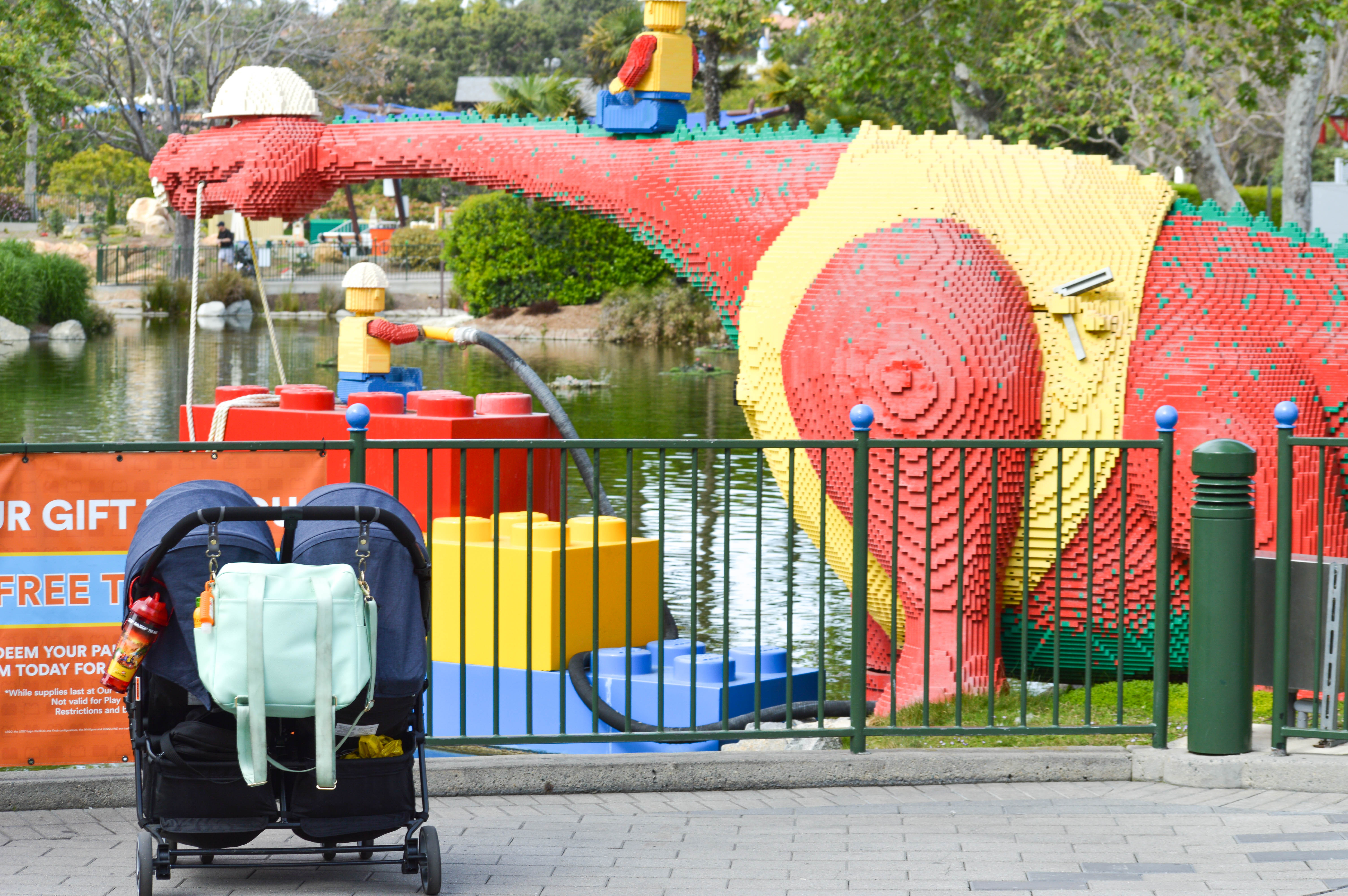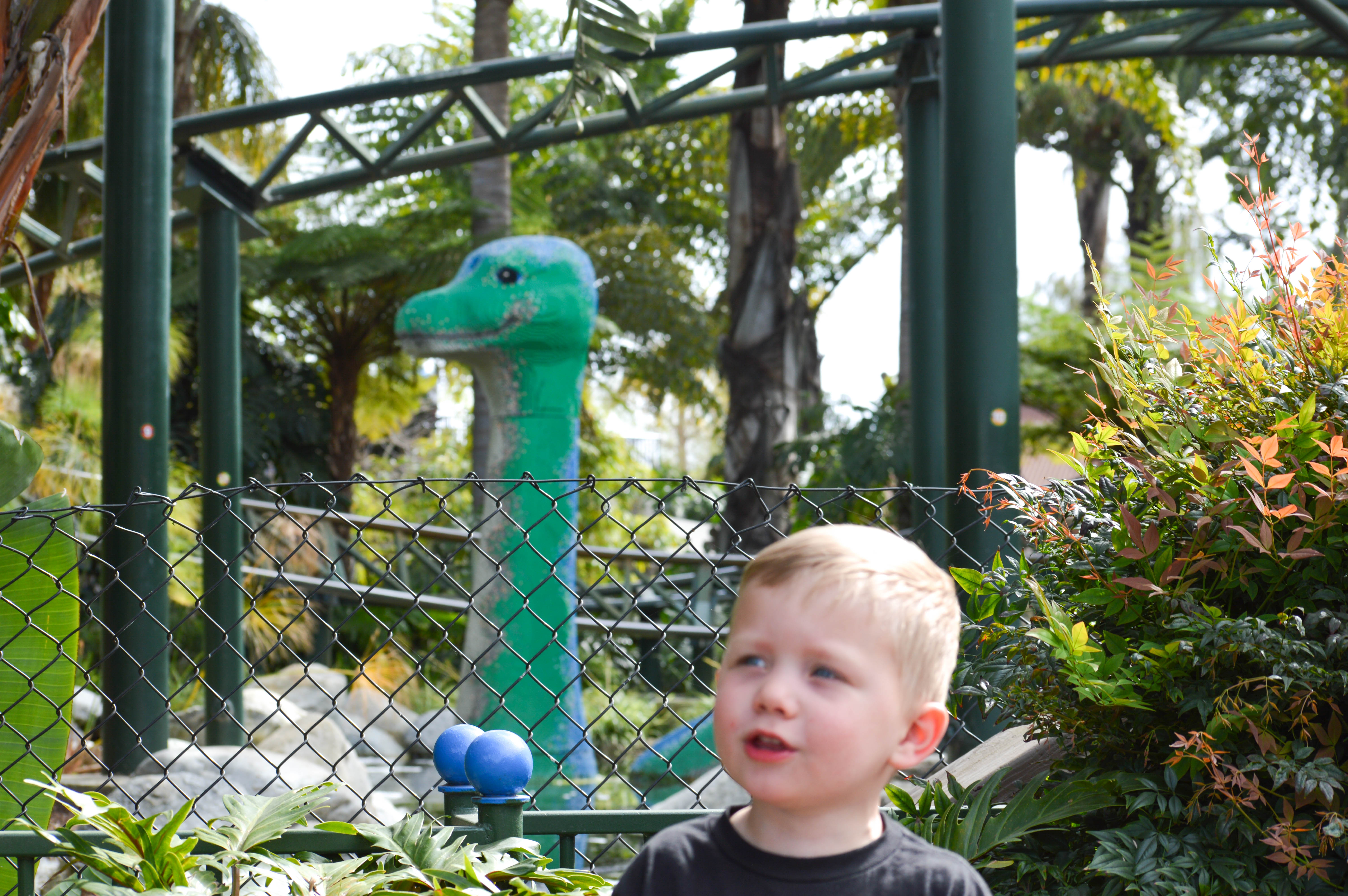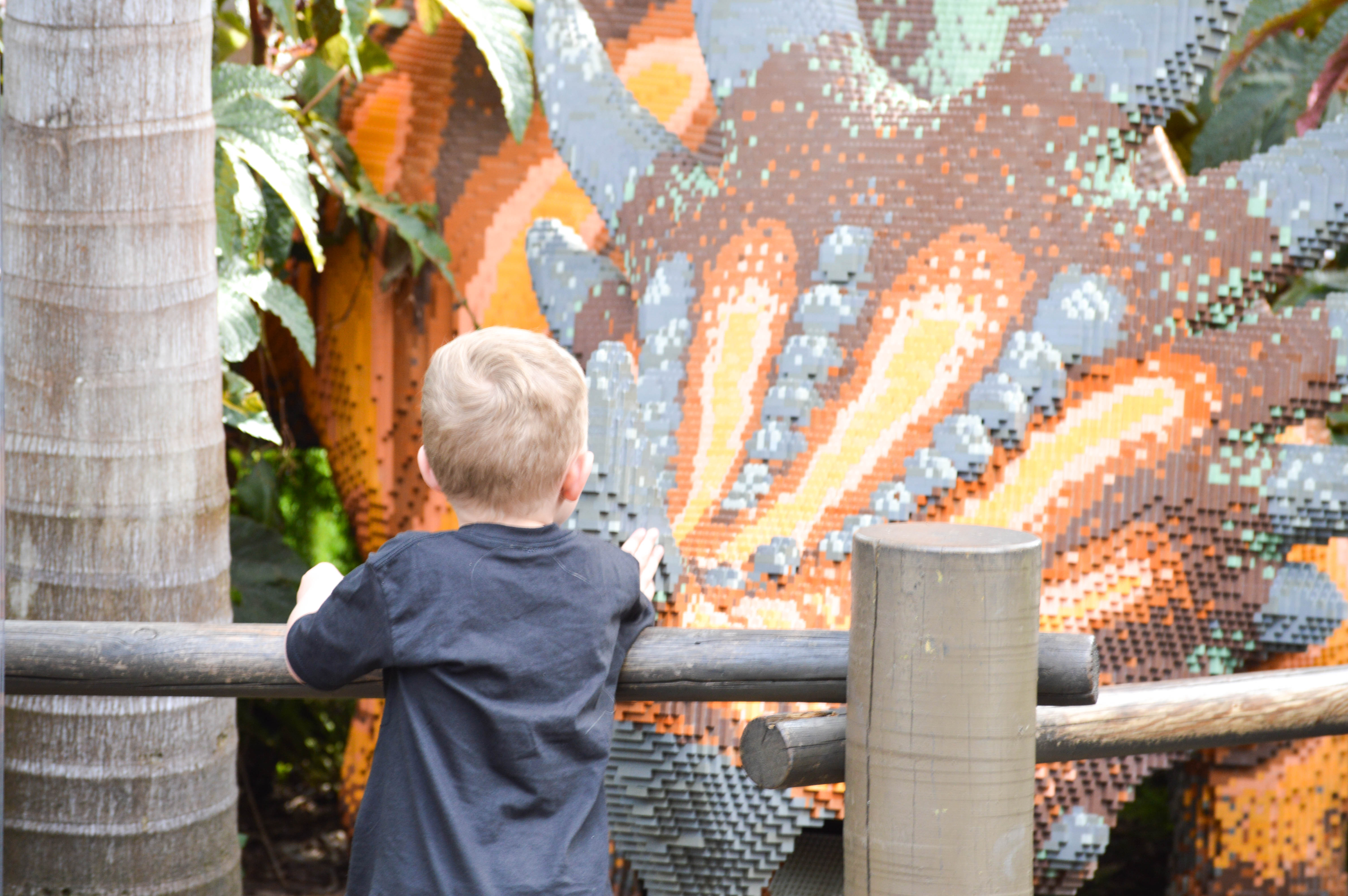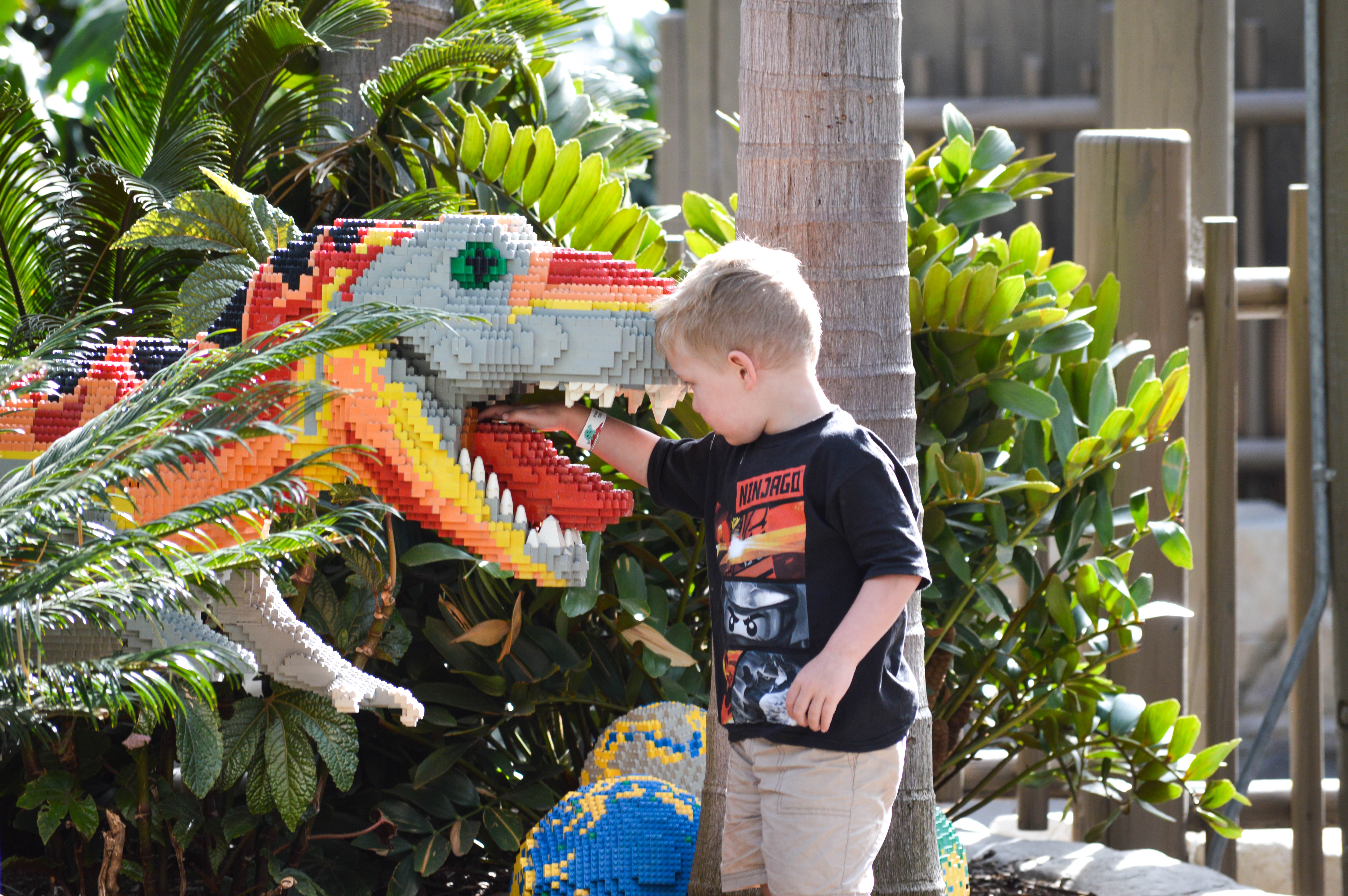 Now, you're back at the entrance! I recommend going on Coast Cruise before you leave, then hitting up The Big Shop for your souvenirs on your way out!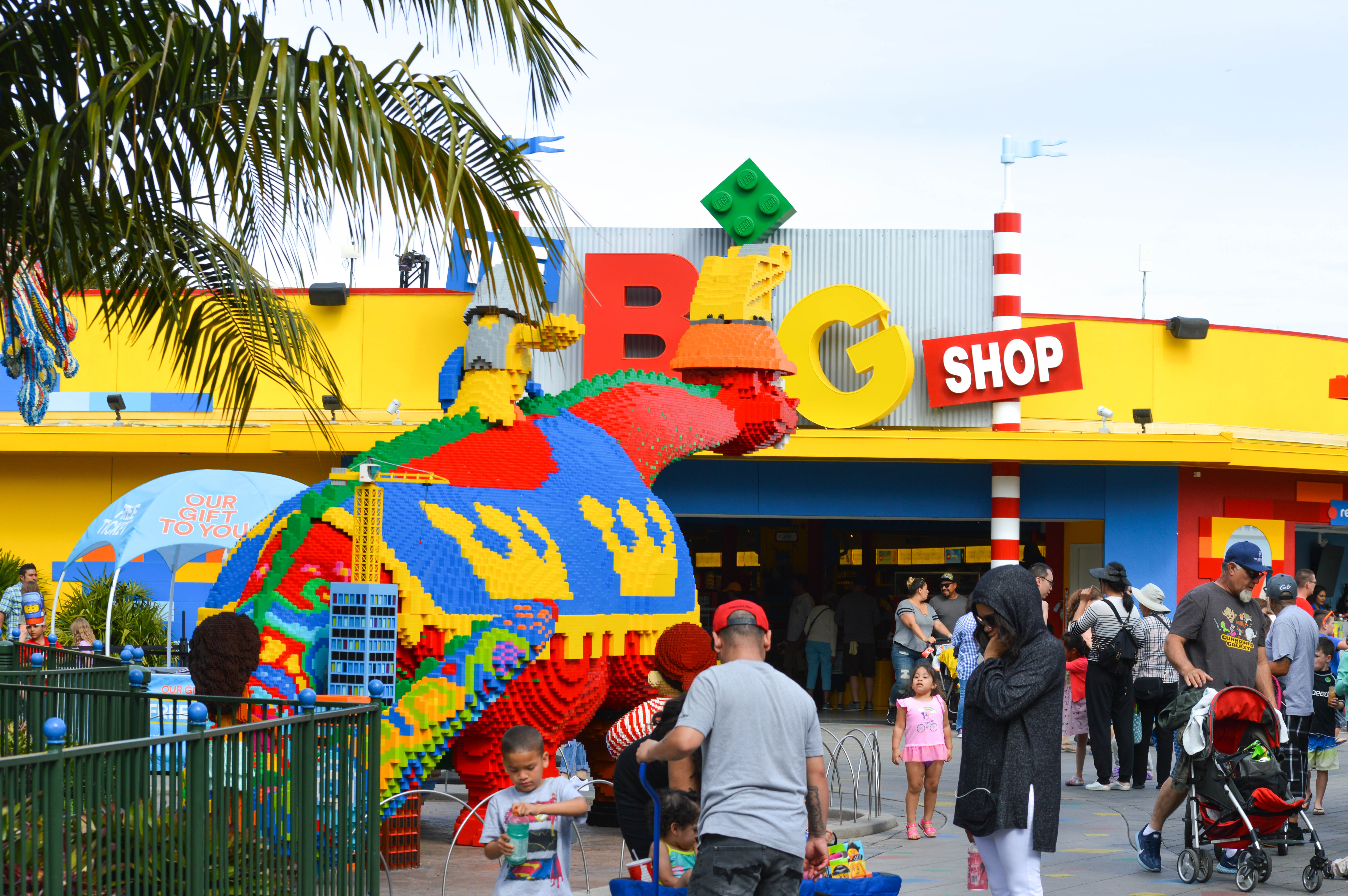 And there you have it, a day at Legoland California! I hope you find this guide helpful. We had an amazing time and Sawyer will never forget it. I hope as Oliver gets older he'll love it just as much. We can't wait to go back!
Buy your tickets here.
And check out the video of our day:
xoxo.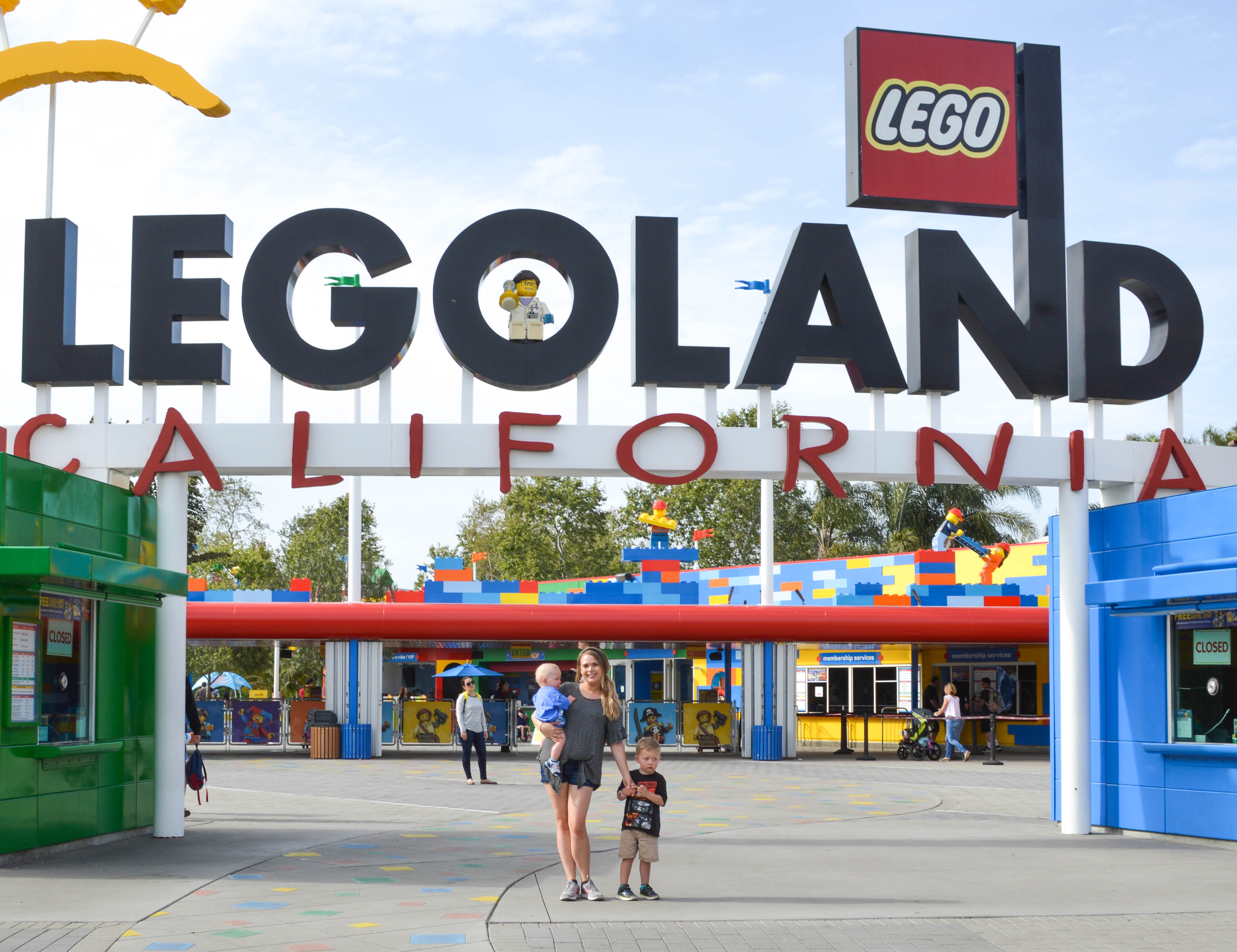 Pin It!
Save
Save