Motherhood is not easy.
Homemaking is not easy.
Making time to take care of yourself is not easy.
Working is not easy.
Blogging is not easy.
Now, imagine trying to do all 5? Seems impossible.
But it's not! And the secret is a really, really, great and tight schedule.
Not everyone is a schedule person. I totally get that. But with everything going on in my life right now, I would be totally lost without it. I also know that keeping the house spick n' span, and making a home cooked meal every night is not everyone's cup of tea. That's totally cool! But it is mine and so I thought I'd share how I accomplish it with this work at home mom schedule.
Before we start I want to be clear that I do not "do it all", nor do the things that I do get done come easily to me. I have a clean house (sometimes) because I work tirelessly to keep it that way. I cook dinner most nights because I enjoy cooking and it saves my family money if we don't eat out. After checking everything off my to-do list (if I even get to everything), I'm completely exhausted. I'm not trying to make this look easy or like everyone should do it, if it's not for them. It's hard.
So, why put myself through it? Because I love my family. I love our home. I love my job. I take care of these things and make sure they are in order because I care deeply about them. They're my motivation!
A few notes about this schedule- I always work during naptime whether it's for Orangetheory or my blog. I'm able to be the most productive while Sawyer is asleep so I make sure to get as much done as possible in that time. The following is a detailed version of my schedule, which will be followed by a basic version you can customize to make your own.
I essentially schedule my day around nap time.
My Work at Home Mom Schedule
Mornings/Before Nap
Get up, get Sawyer a cup of milk, put on workout clothes
Head down to the living room, put Sawyer in the pack n' play to watch Mickey Mouse
Workout. I typically will do a HIIT video, yoga, or strength with hand weights, kettle bells and resistance bands.
Take the Dog out
Make Breakfast
Eat Breakfast/Read Bible/Journal
Do Dishes
Get Ready (freshen up after workout, hair, make-up, dressed)
Do Chores for the Day (I do one chore per day rather than having 1 hectic cleaning day per week)
Sawyer Playtime
Nap!
During Afternoon Nap
Heat up Lunch
WORK! – This is either for my Orangetheory job or for my blog. Depends on the day.
After Nap/Evenings
Run any errands
Work on any project (I'm currently painting the living room furniture, this is something I would do in the afternoons)
Do any Fun Activities (taking Sawyer to the park, the library, going to the mall, Target, etc.)
Walk the Dog
Start Dinner
Eat Dinner
Do the Dishes from Dinner
Pick up the Living Room
Give Sawyer a Bath
Get Sawyer Ready for Bed
Put Sawyer to Bed
Continue any Unfinished Blogging Work
Shower
Read/Watch TV/Hang out with my Husband
Bed
It really helps if I'm making the most of my mornings! Working out and getting all my "chores" done early in the day give me more flexibility for the evenings to work on projects or get out of the house to do something fun. Showering before bed also makes things easier because then I don't have to wait for my hair to dry in the mornings, it can dry while I sleep. To put it simply:
Mornings: Workout, Chores, Pick-up House
Naptime: WORK
Afternoons: Projects, Activities, Errands
Evenings: Cooking, Dishes, Pick-up House, Put Kids to Bed, Relax
Now, here are some free printables for YOU! Print them off, hang them on your fridge! I've added spaces where you can add in tasks that are unique to you. Make this work at home mom schedule work with your day!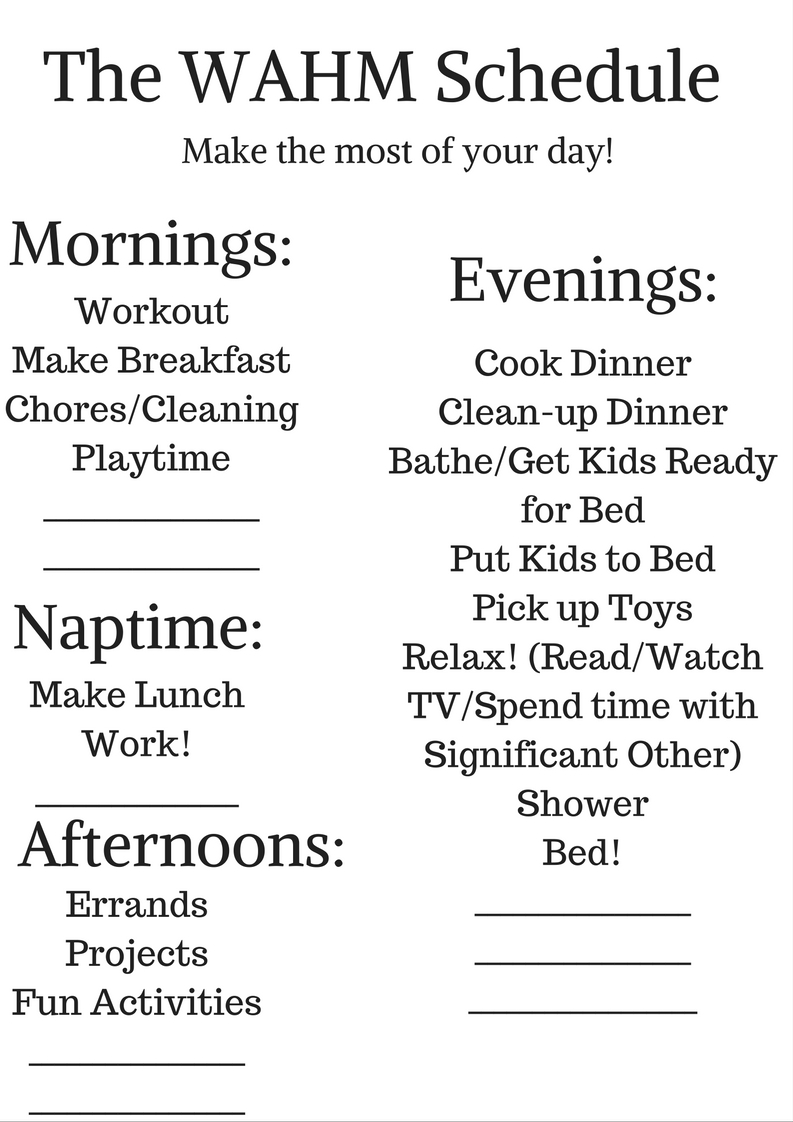 Download it here.
And here's a weekly cleaning schedule for you to follow to keep your house spic n' span! Once again I added in spaces to add chores based on your own based on your household's needs.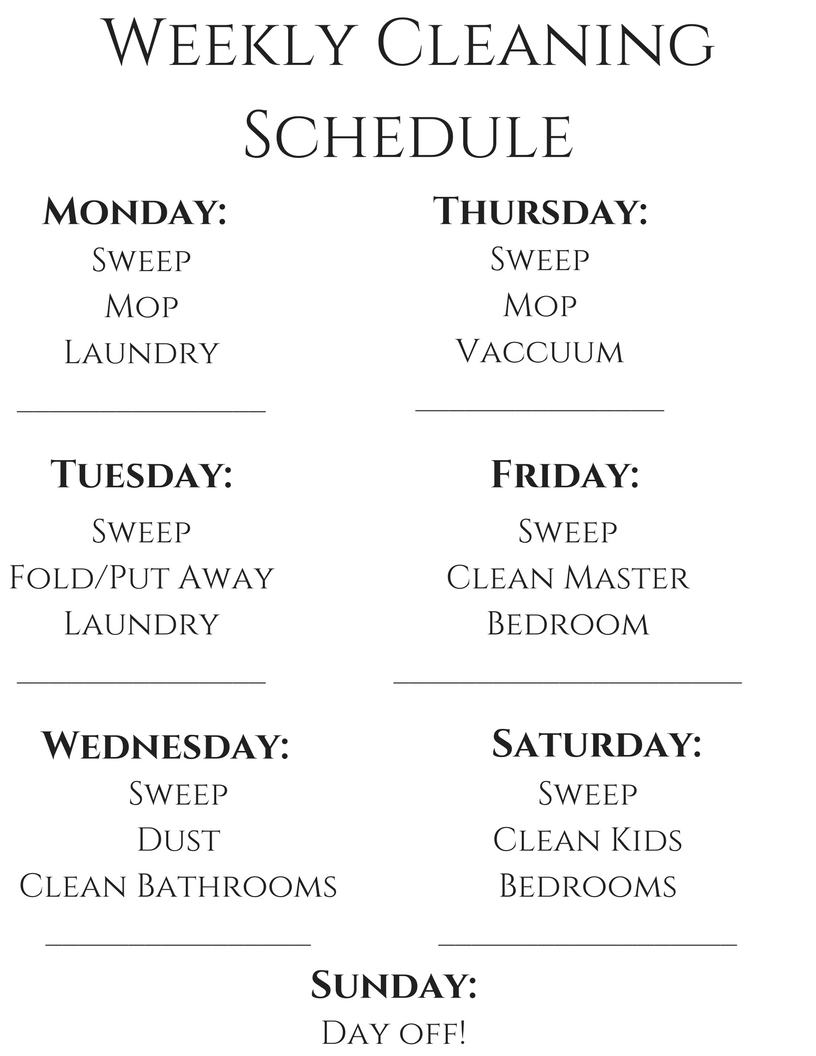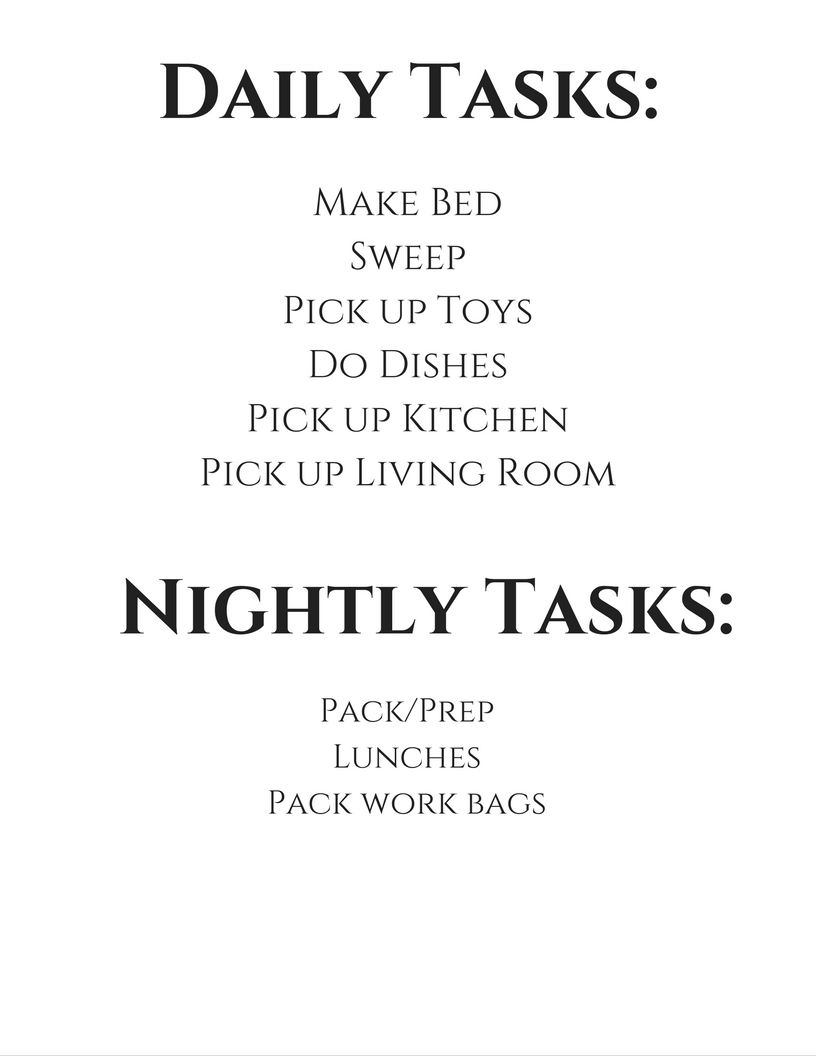 Download it here.
And finally here's a blank one, if you don't want me controlling your life, and so you can add chores to the days you see fit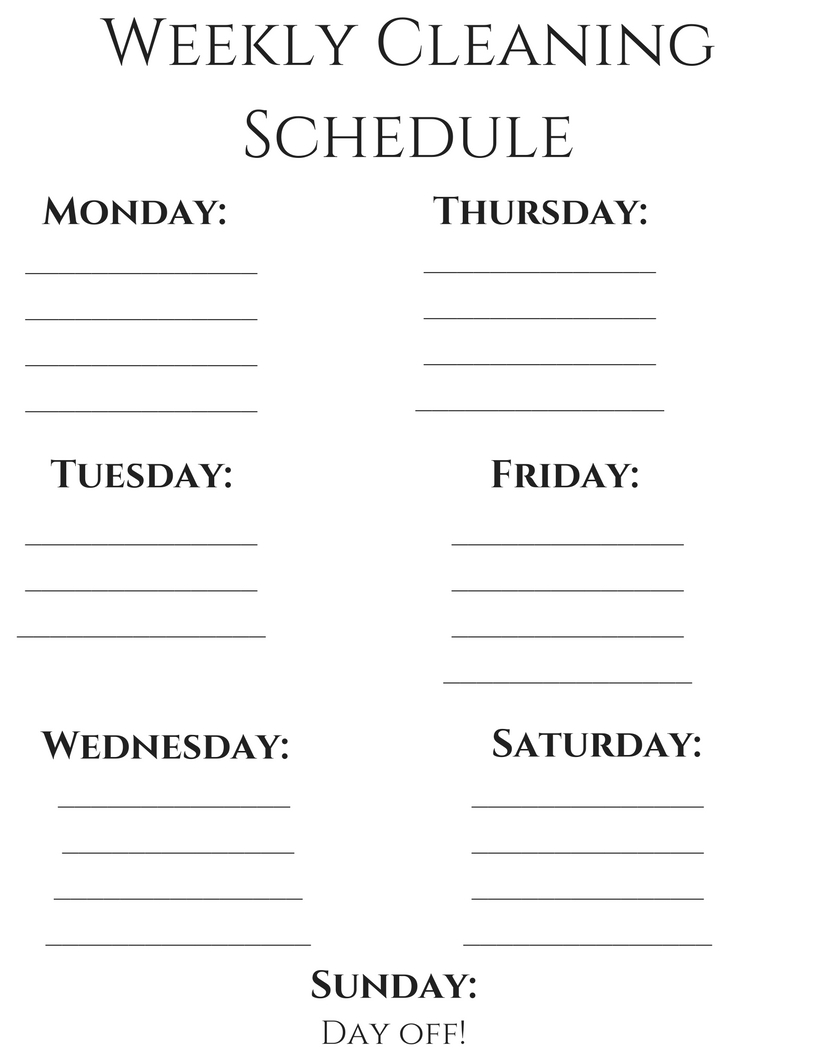 Download it here.
To keep track of everything I use a Plum Paper Family Planner (ME Planner). It's amazing! It has everything I need to organize my day and keep track of all my endeavors. You get to break up your day into 7 categories, labeled whatever you want. I did Home, Family, Work, Blog, Errands, To-Do, and Meals. It's perfect for keeping track of my busy day.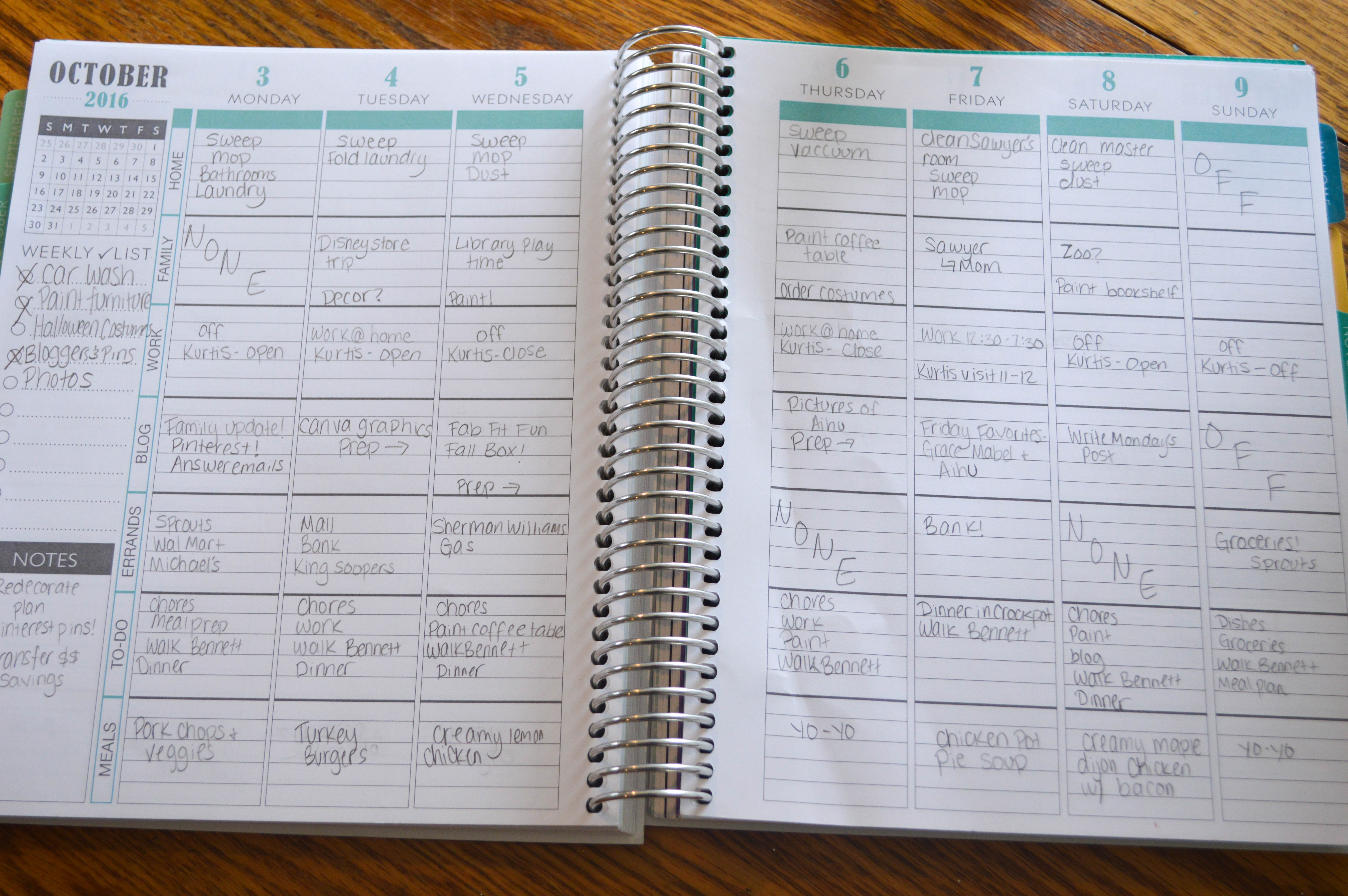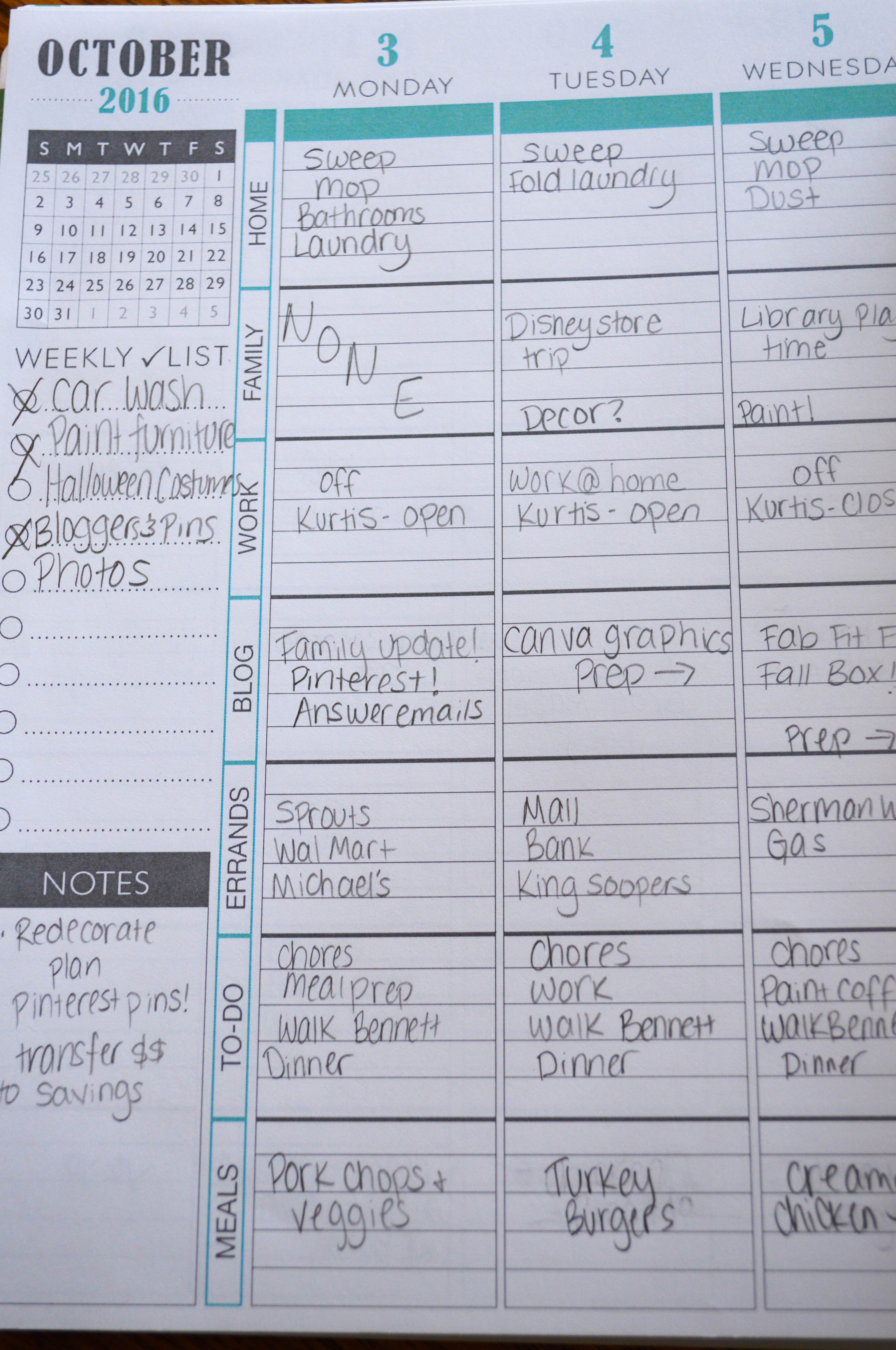 Then, in the back of the planner, I have 3 "add-ons" A meal planner, a home planner, and a blog planner. I highly recommend Plum Paper for anyone looking to organize their life. This post is NOT sponsored by Plum Paper, I just really, really love my planner.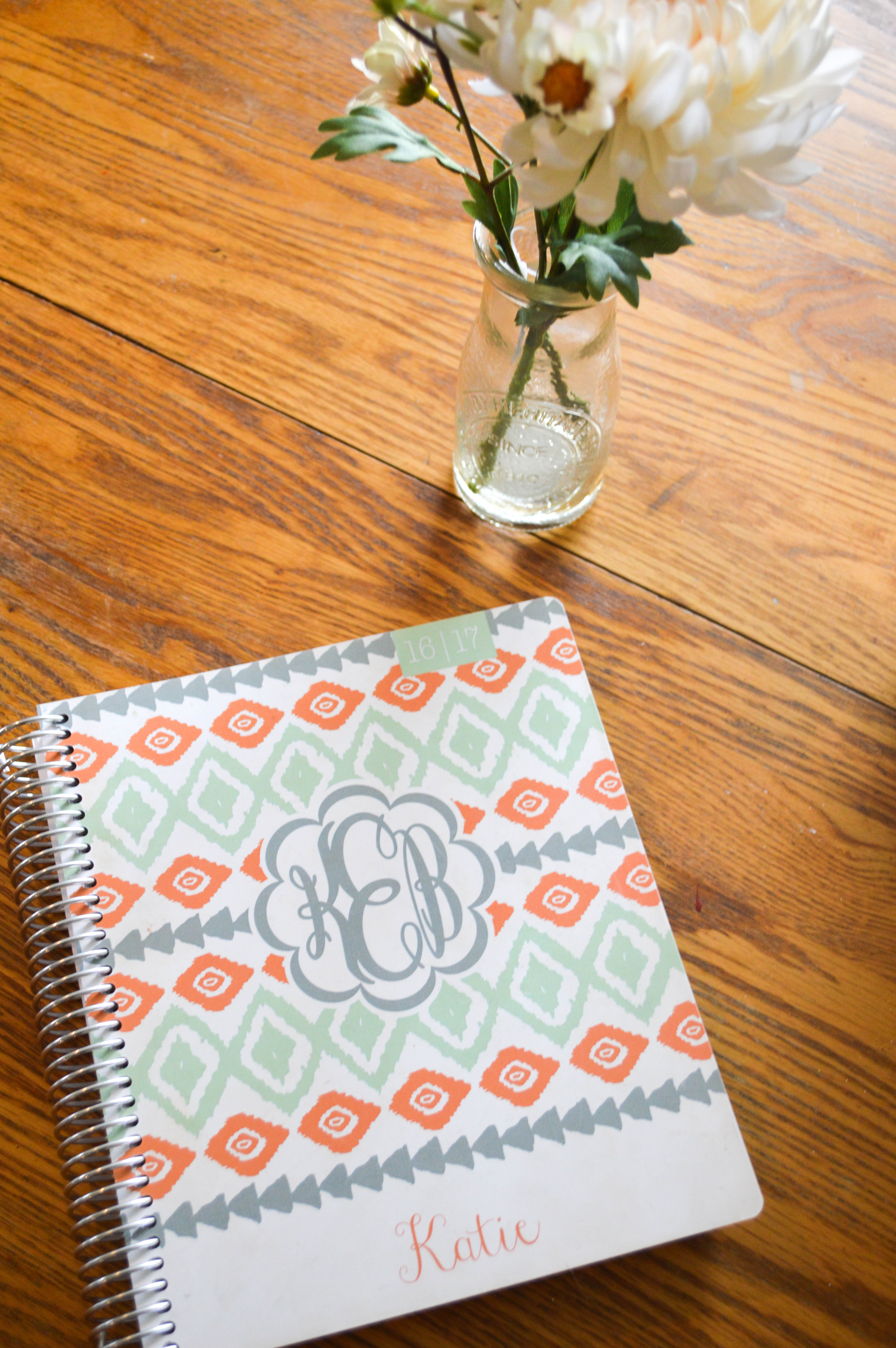 Are you a WAHM or SAHM? How do you keep organized? Do you also have your own work at home mom schedule? Comment below!
Loving this work at home mom schedule feature? Click here now for more parenting tips!!
xoxo.
Save
Save