Hey everyone! I know it's been a while. We had the best time on vacation! And while I love my work here, it's good to take a break. If blogging is going to be my job, then I need a vacation from it too!
But I have so much to share now that I'm back and I can't wait to get started. I"m starting off by sharing some of my meal prep tricks!
If you follow me on snapchat (@katielovelyy) you probably see me meal prepping every Monday. It's a whole ordeal but it makes the rest of the week so much easier! I still follow a mostly paleo diet (80/20) and  meal prep makes it easier to stick to. Kurtis, however, doesn't follow paleo as strictly but does like to eat well. So I meal prep for both of us. Here's what I usually meal prep:
Paleo Chocolate Chip Cookies
Chicken
Fish
Ground Beef
Bacon
Hard Boiled Eggs
Rice
1 Baked Potato
Scrambled Egg Cups
Asparagus
Green Beans
This gives me enough for breakfasts, lunches, and snacks for the week. I make dinner every night or we have leftovers! Today, I'm going to share my meal prep recipes for our lunches.
We're trying to save money for numerous reasons. In light of that, we try to take our lunches to work as often as possible. This helps us stay on track with healthy eating, as well as saves us money. I usually take a chicken breast, salad, or a lettuce wrap. Or a combination of, haha. Here's what I can make
Chicken breast and salad: For this lunch option I'll make up a bunch of chicken breasts seasoned with salt, pepper, and Aged Balsamic La Luna Salt, to put on top of a salad with a simple vinaigrette dressing.
Lettuce Wrap: This is my favorite lunch and what I eat most days! For this I'll cook up a bunch of bacon on my meal prep day. Since I make this so often it's easiest to have the bacon already cooked and ready to go. To make this, I simply take romaine lettuce leaves, add a little bit of paleo mayo, and then fill them with turkey breast, bacon, and avocado.
Taco Salad: For  this meal, I cook up a bunch of ground beef on meal prep day. I season it with chili powder, cumin, salt, pepper, and garlic powder. Then, I put it on top of chopped lettuce and add guacamole. It's a simple and delicious meal!
I like to include a piece of fruit (apple, banana, mayo, etc.), sweet potato chips, a paleo cookie, and fruit infused water. That will usually hold me over for an 8 hour shift.
Kurtis' lunches are much more interesting and what I'll be showing you today. I usually make 2 servings of 2 different meals so he has 4 meals for the week and can buy lunch 1 day. Here's what I make:
Meal 1: Chicken with a Baked Potato and Green Beans
For this meal you'll need:
2 Frozen Chicken Breasts (adjust cooking time if breasts are thawed)
1 Potato
Green Beans
Olive Oil
Salt
Pepper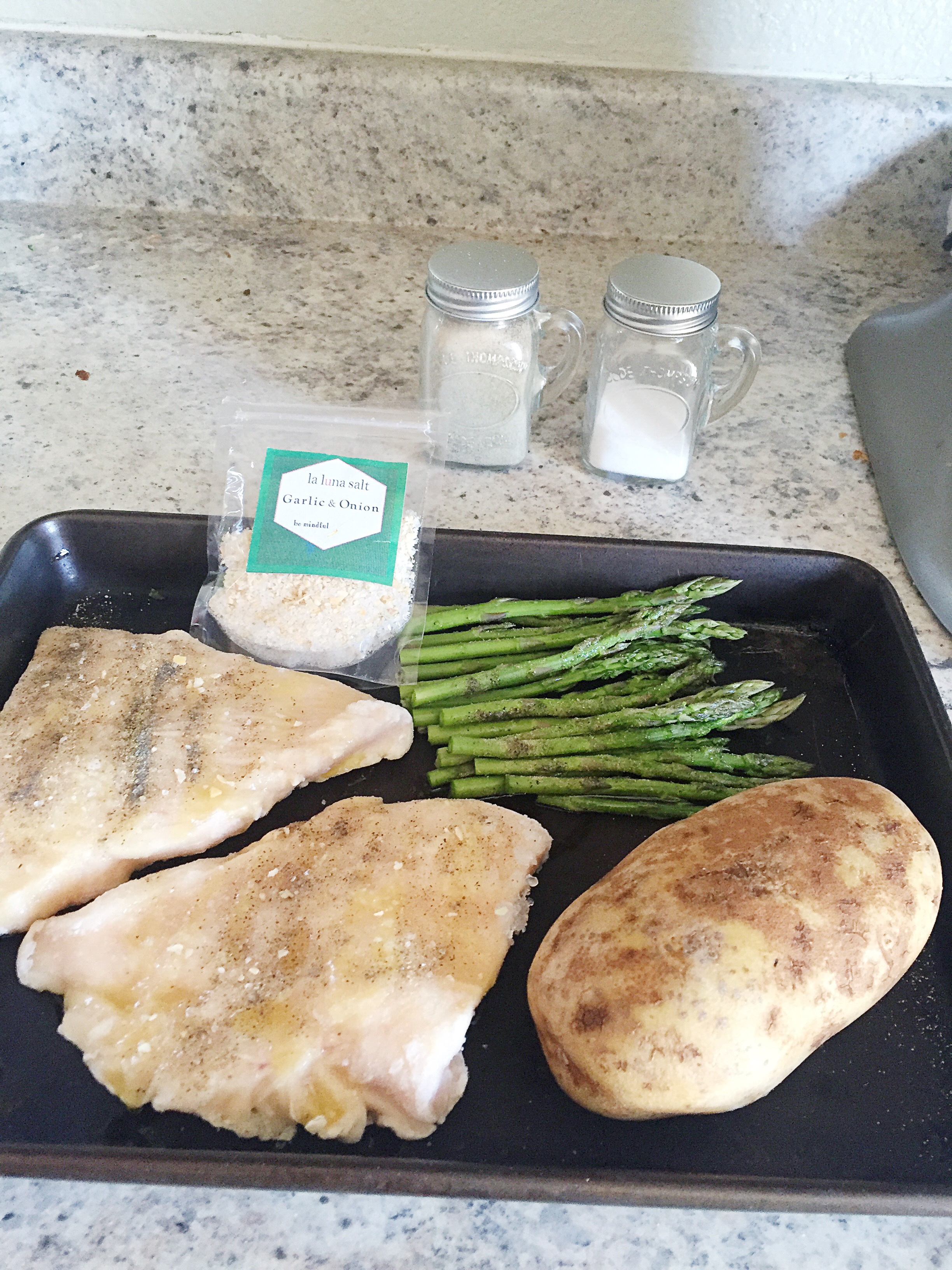 Here's what to do:
Preheat oven to 375
Drizzle your chicken breasts with olive oil
Season with Salt, Pepper, and Garlic Onion La Luna Salt
Add chicken and potato to baking sheet
Bake for 45 minutes
While your chicken is baking, prepare your green beans
Drizzle with olive oil
Season with Salt, Pepper, and Garlic Onion La Luna Salt
When there is 20 minutes left in your chicken's baking time, add the green beans to the oven
Bake for 20 minutes
I put each serving in a tupperware container so it is ready to go! I even add a pat of butter and salt and pepper in a baggie for the baked potato!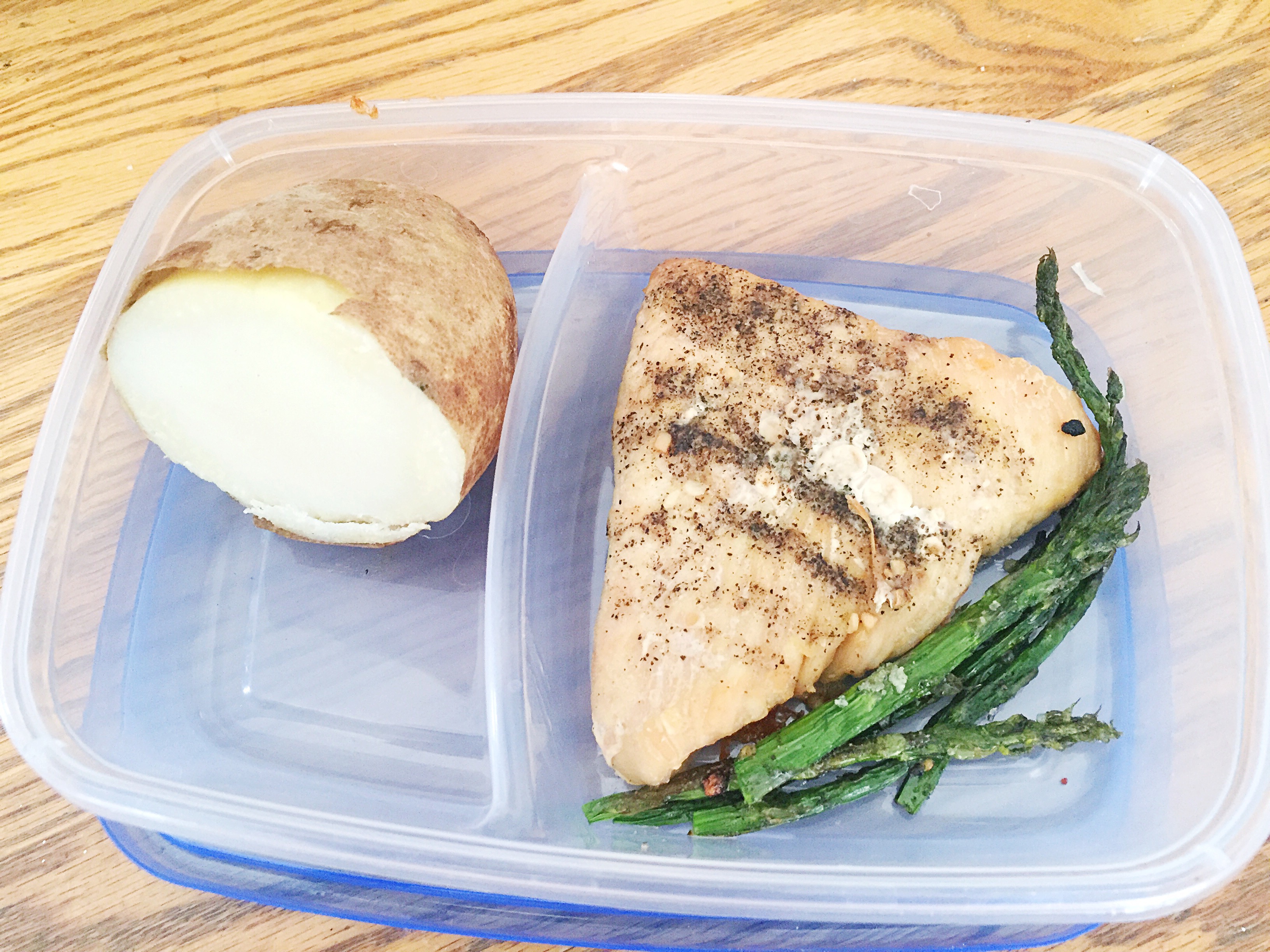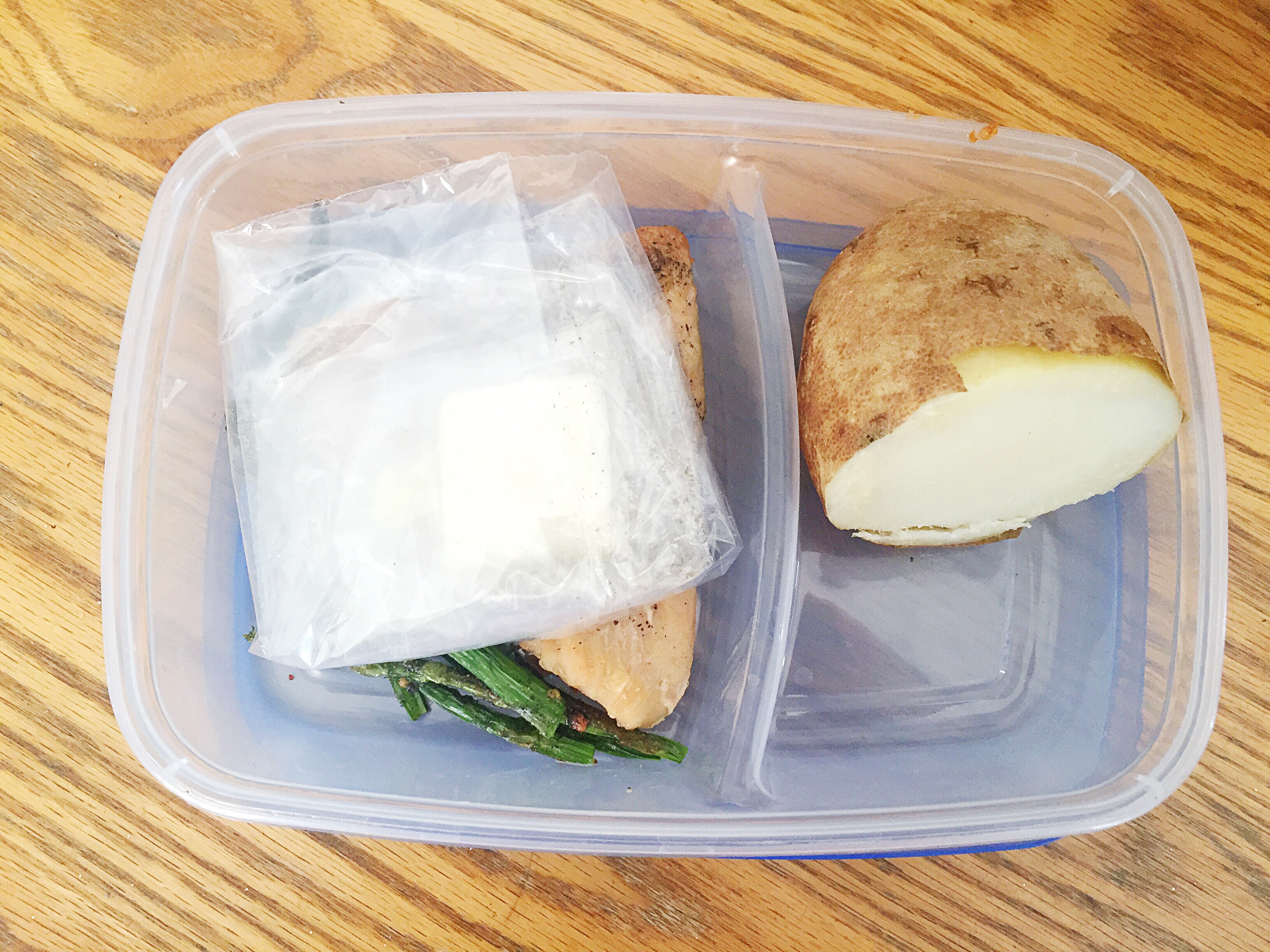 (I completely forgot to buy green beans this week so pictures is asparagus)
Meal #2- Baked Fish with Rice and Asparagus
For this meal you'll need:
2 Fish Filets of Choice (we'll be using Tilapia)
Olive Oil
Salt
Pepper
Rice
Asparagus
Here's what to do:
Preheat oven to 425
Drizzle Tilapia and asparagus with olive oil
Season with Salt, Pepper, and Smoked Jalapeño La Luna Salt
Bake for 15 minutes or until cooked through
While fish and asparagus are cooking, prepare rice
Add to tupperware so it is ready to go!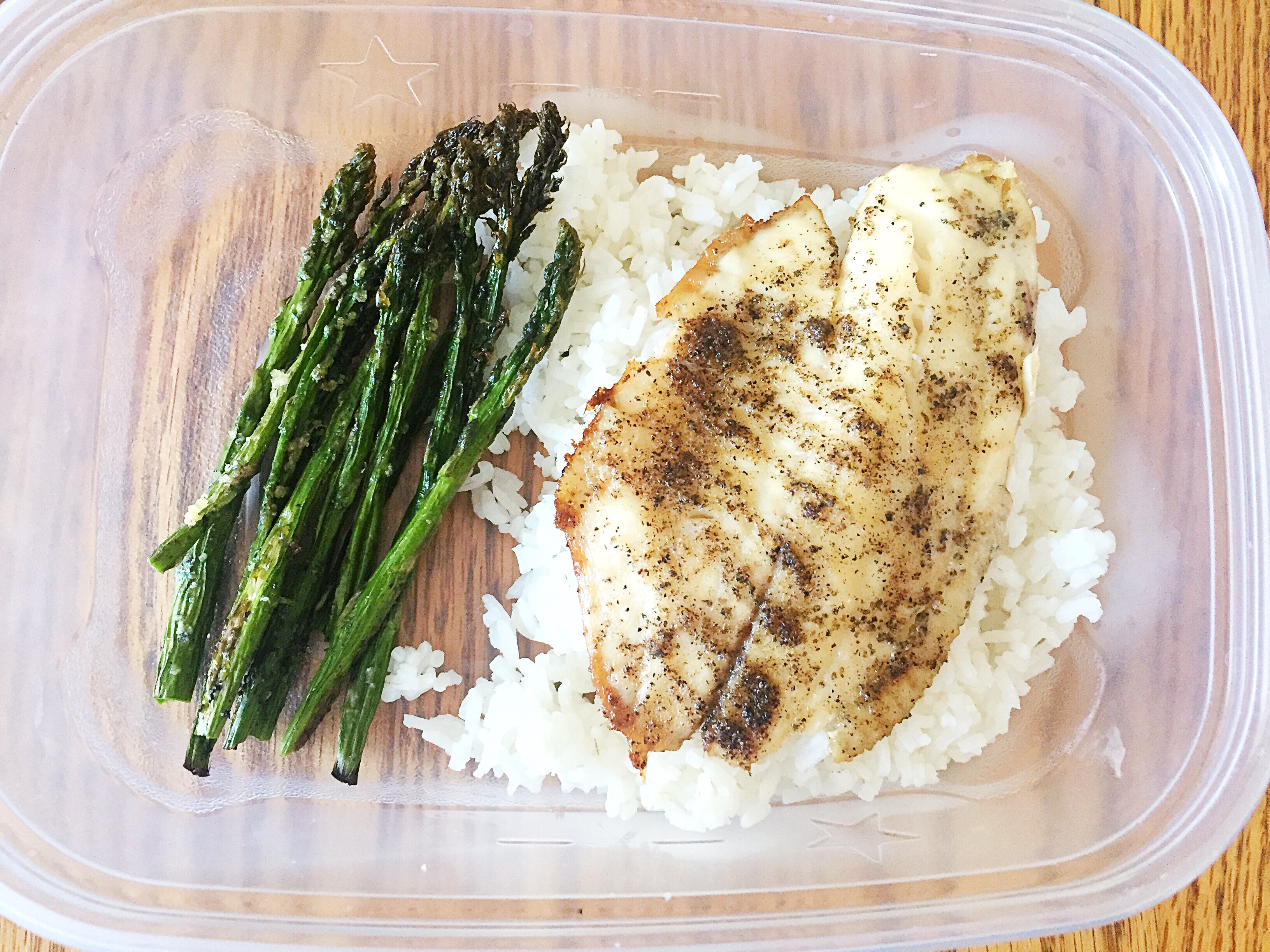 We love to use La Luna Salt in our meal prep to make the flavors exciting! We have 5 different La Luna Salt flavors and we love using different ones from week to week so that our meals don't get boring. Changing the flavors up keeps it fun!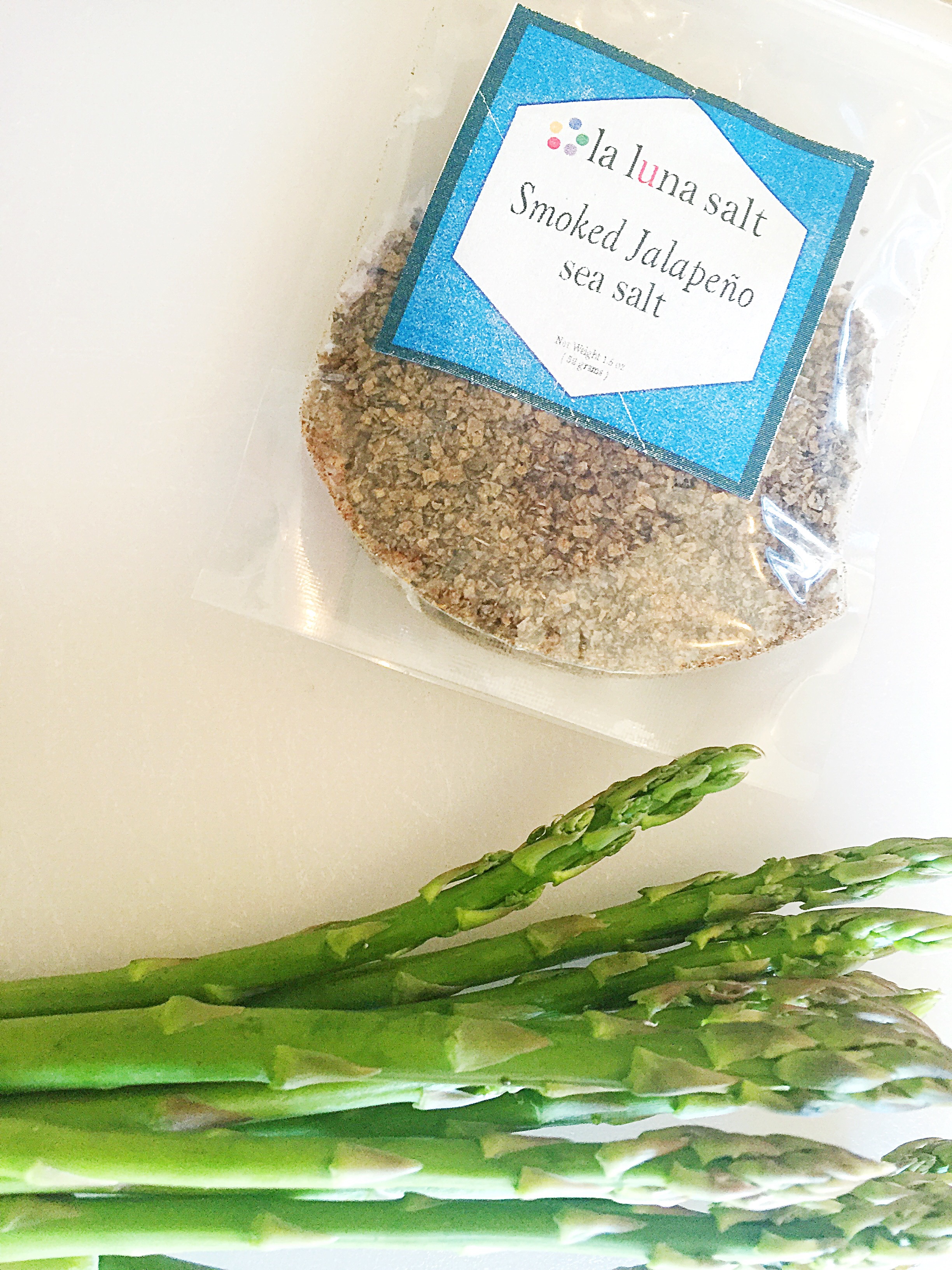 La Luna Salt offers so many fun flavors! I love cooking with them to make new and yummy recipes. Anyone who loves to cook needs these in their kitchen! It's fun to be daring with flavors and La Luna Salt makes that possible. From savory to sweet, you'll never get bored! They even offer yummy chocolate bark. Be sure to check them out!
| Shop | Instagram | Twitter |
How do you like to spice up your meal prep? Comment below!
xoxo.
I received select items in exchange for review. All opinions are my own.