I feel like I'm so late in getting this up but life has just been crazy lately! Planning this party was so fun and I got to work with some awesome businesses and shops as well! I gave myself about 2 months to plan the party and that ended up being plenty. I did a lot of it myself and couldn't be more please with how it turned out!
We had the party on a Wednesday afternoon which was kind of a bummer. We originally had it planned for that Saturday but Krutis' request off at work got denied! And his schedule for the month was already set in stone at that point so we just had to go with a day he did have off that also didn't interfere with our family vacation and Wednesday was the only day that worked. So, unfortunately, a lot of people couldn't make it, but we ended saving lots of money on food! Ha. We also held the party almost 2 weeks before his actual birthday because we were going to be on vacation for his actual birthday!
First up, the theme!
We decided to go with a Sesame Street theme. Sawyer is obsessed with Sesame Street and has been since he was 7 months old. The kid is an Elmo junkie. I started researching on Pinterest and found some really cute ideas on how to personalize the theme to fit Sawyer. It ended up being so much fun!
The Invites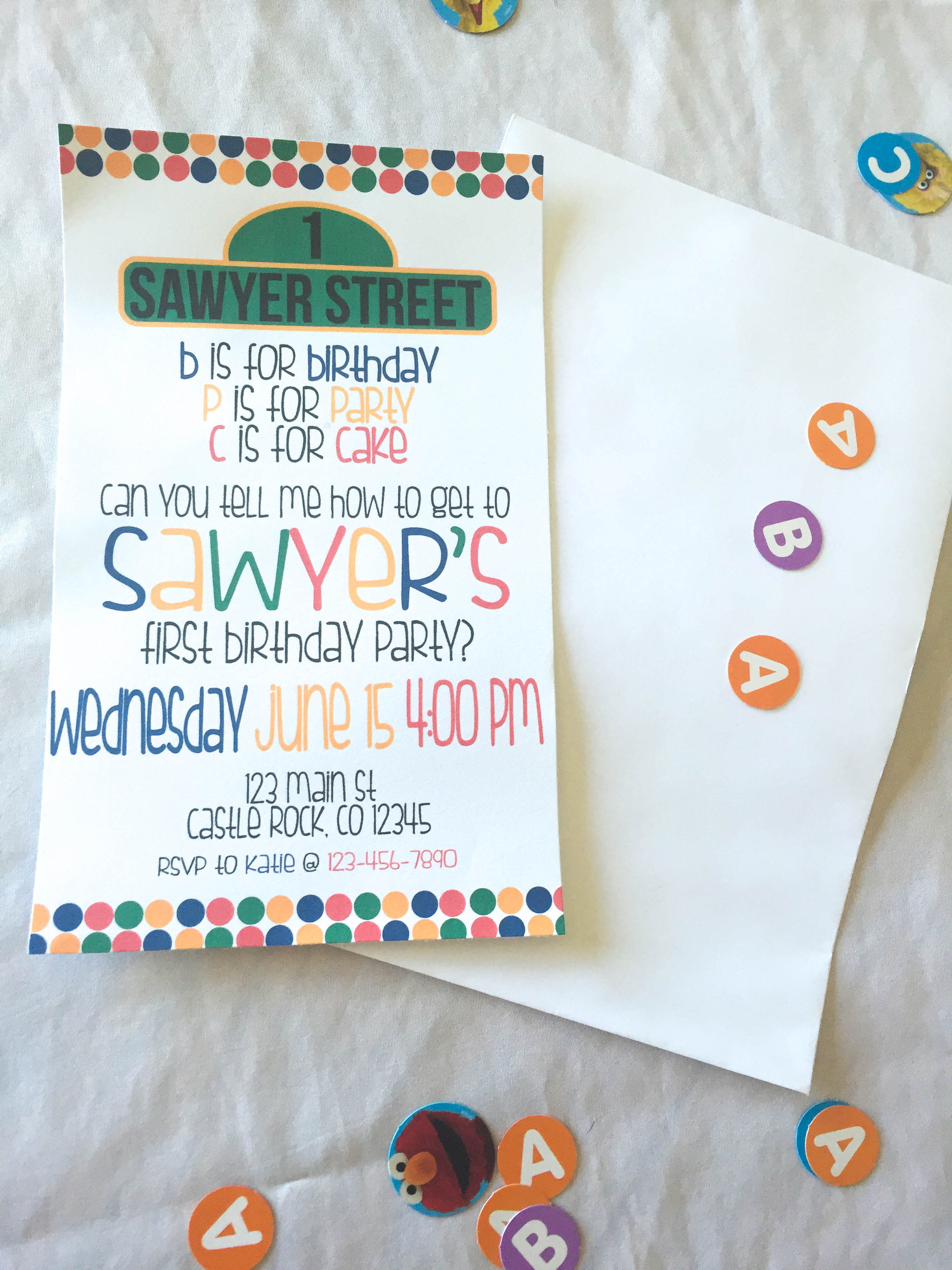 We knew we wanted custom invitations so we could make them look exactly how we wanted. I teamed up with Chasing Prints to create the perfect invites! Working with Kailey was an absolute delight. She listened to everything I wanted, made changes when I requested, and offered her creative opinion when needed. And I couldn't be happier! She does more than just invites too! She offers a wide variety of prints to use for your party. I would use Chasing Prints again in a heartbeat for my next event.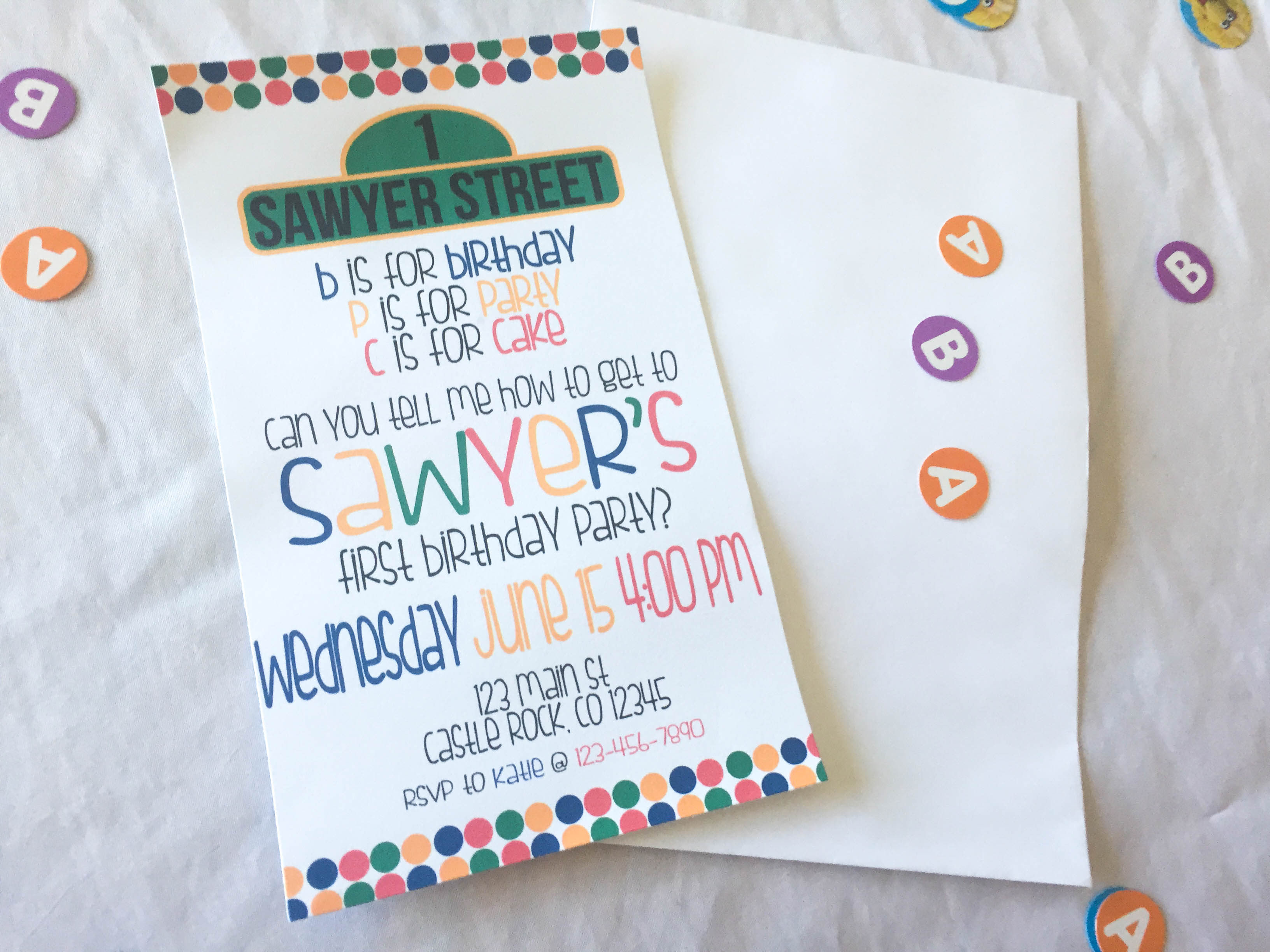 All of their designs are so cute! You have the option to pick something that's already in her shop, or work with her to create something custom. You can't go wrong either way. When I reached out to her, I told her it was Sesame Street themed but I didn't want any characters on the invites. I wanted to focus on the colors red, blue, green, and yellow. And I wanted "Sawyer Street" in the logo at the top. She nailed it!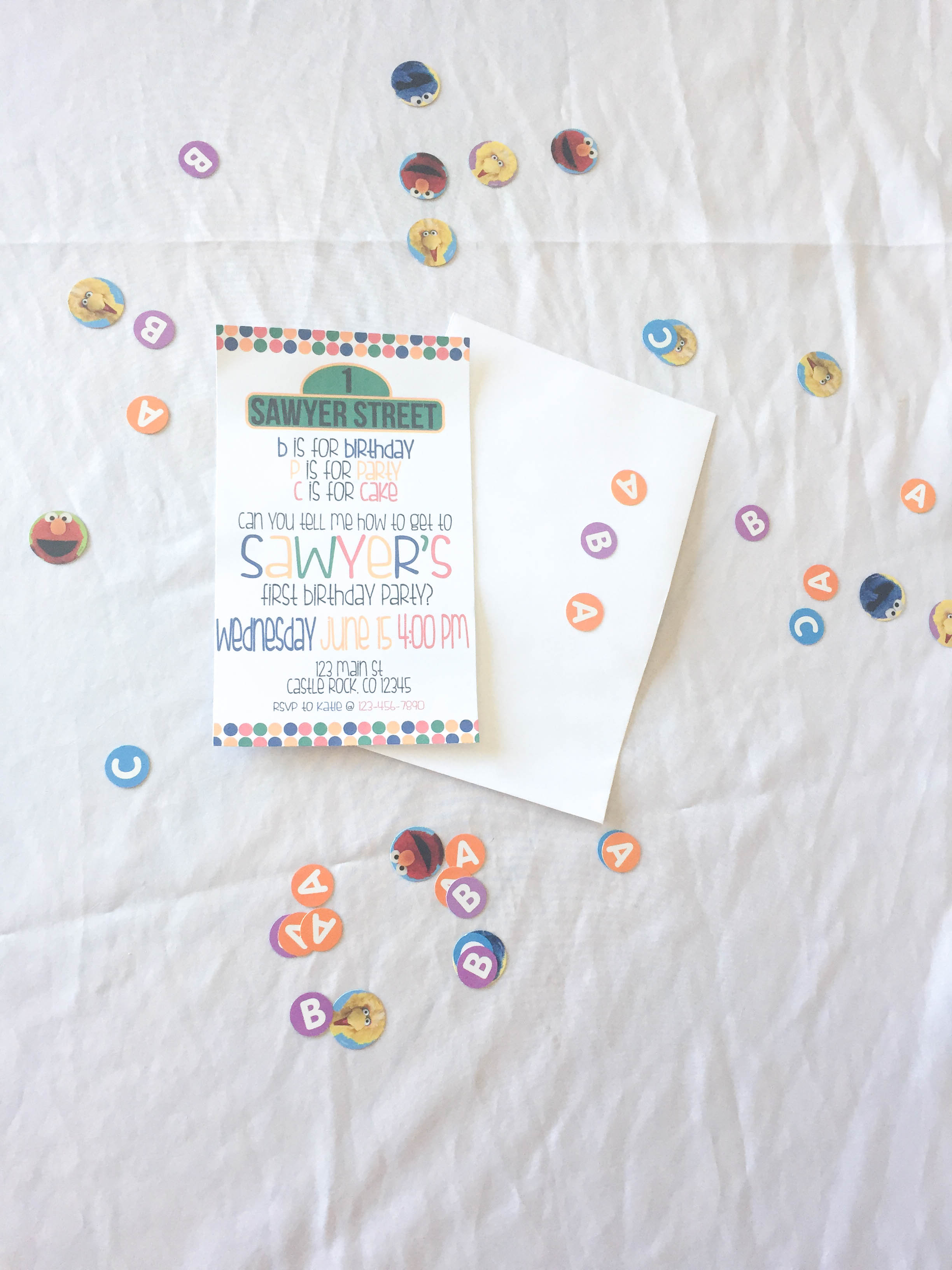 Want to check out Chasing Prints? Use code SAWYER15 at checkout for 15% off your order!
| Shop | Instagram | Facebook |
The Decor
The decor was probably the part that took the most effort. I brainstormed a few of my own ideas, as well as got a few ideas from Pinterest.
First up, the door sign. I made the door sign using free printables from All Things G&D, wooden letters/numers and paint from Michaels. It was super easy to put together (I used a hot glue gun), and it came out so cute!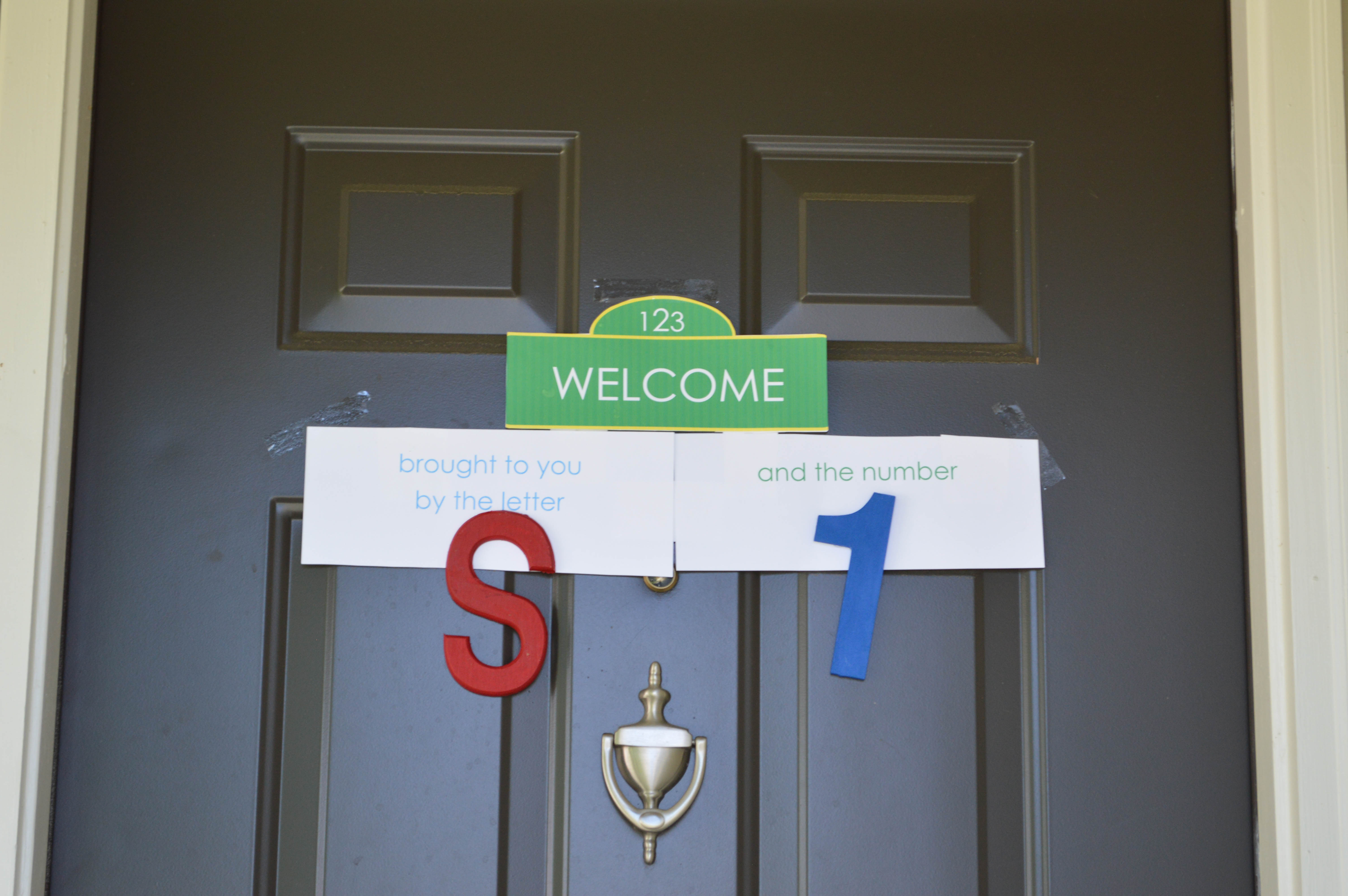 Next was the memory table. I set up a table with some pictures from my pregnancy, his newborn pictures, his 1 year pictures, his baby book, and his milestone board. Every single picture was taken by Our Front Porch Media, I put the baby book together myself and his milestone board is from Pinkie For Pink.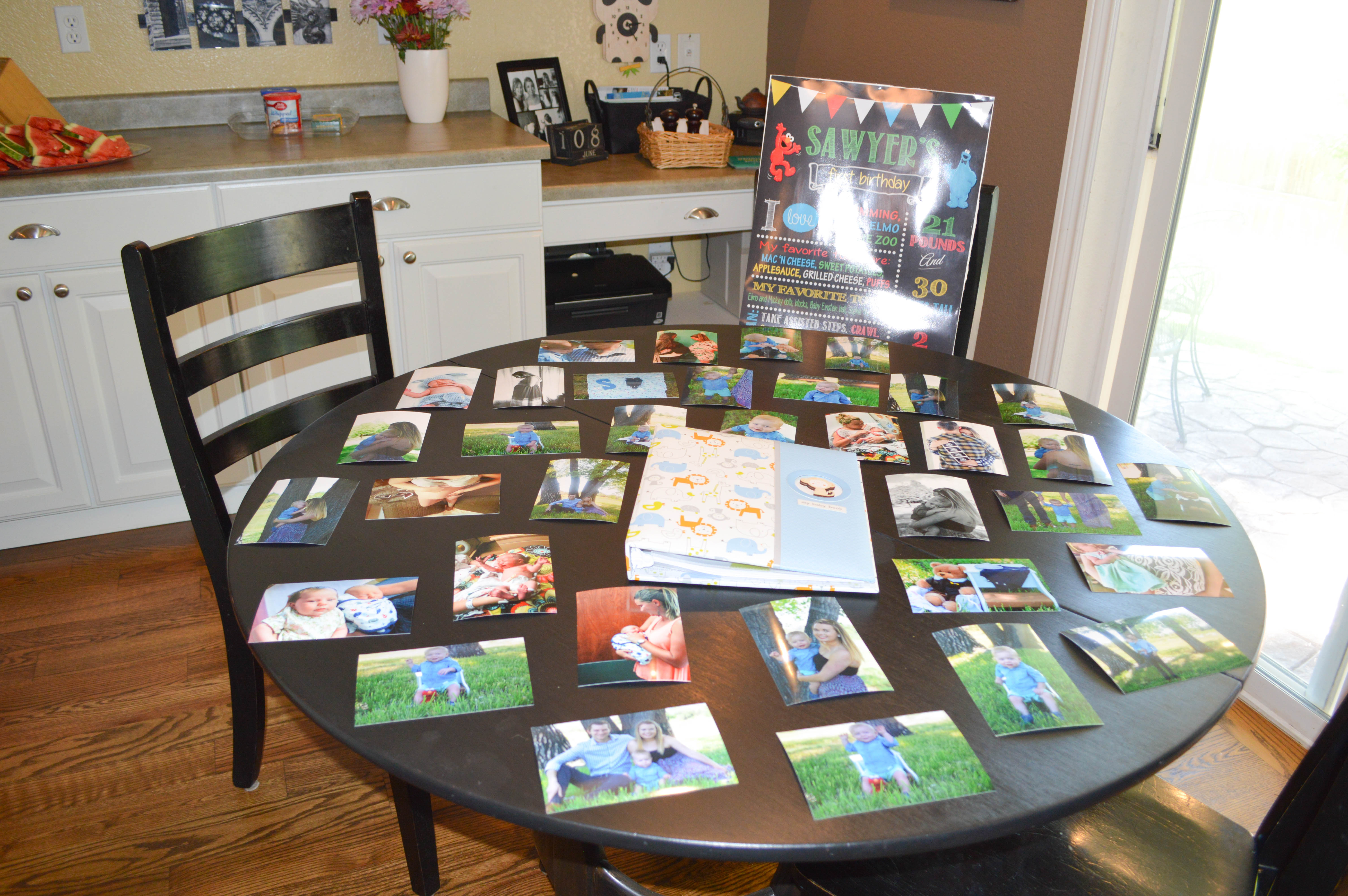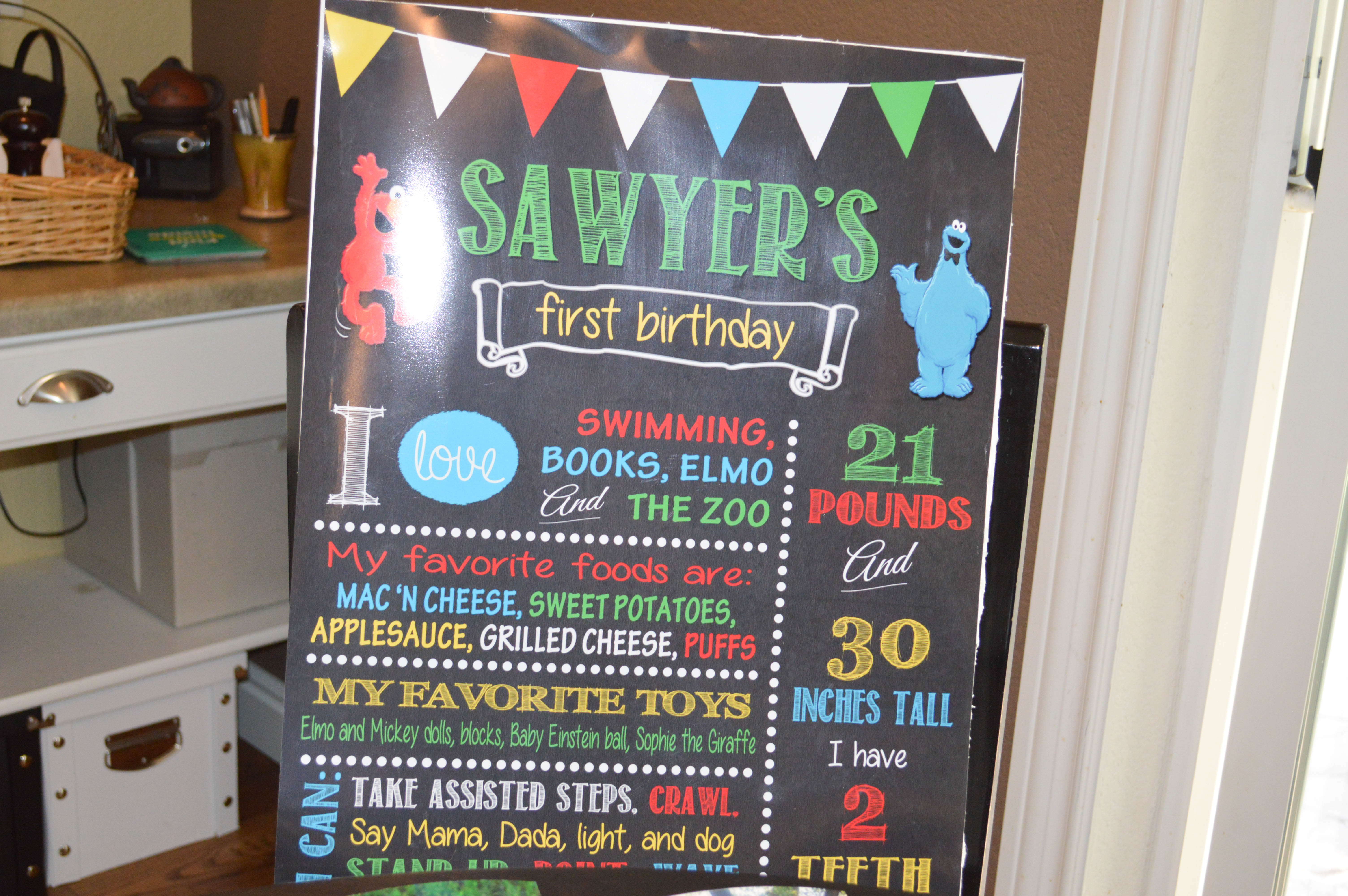 Leah from Front Porch Media is our go to for any photos we many need. She did our pregnancy announcement pictures, my sister's wedding pictures, Sawyer's newborn pictures, and Sawyer's 1 year pictures. We have been in love with absolutely every session and will use her for years to come. If you're local to the Denver area and are interested in the services Front Porch Media has to offer, mention All Things Lovely when you book for $25 off your session!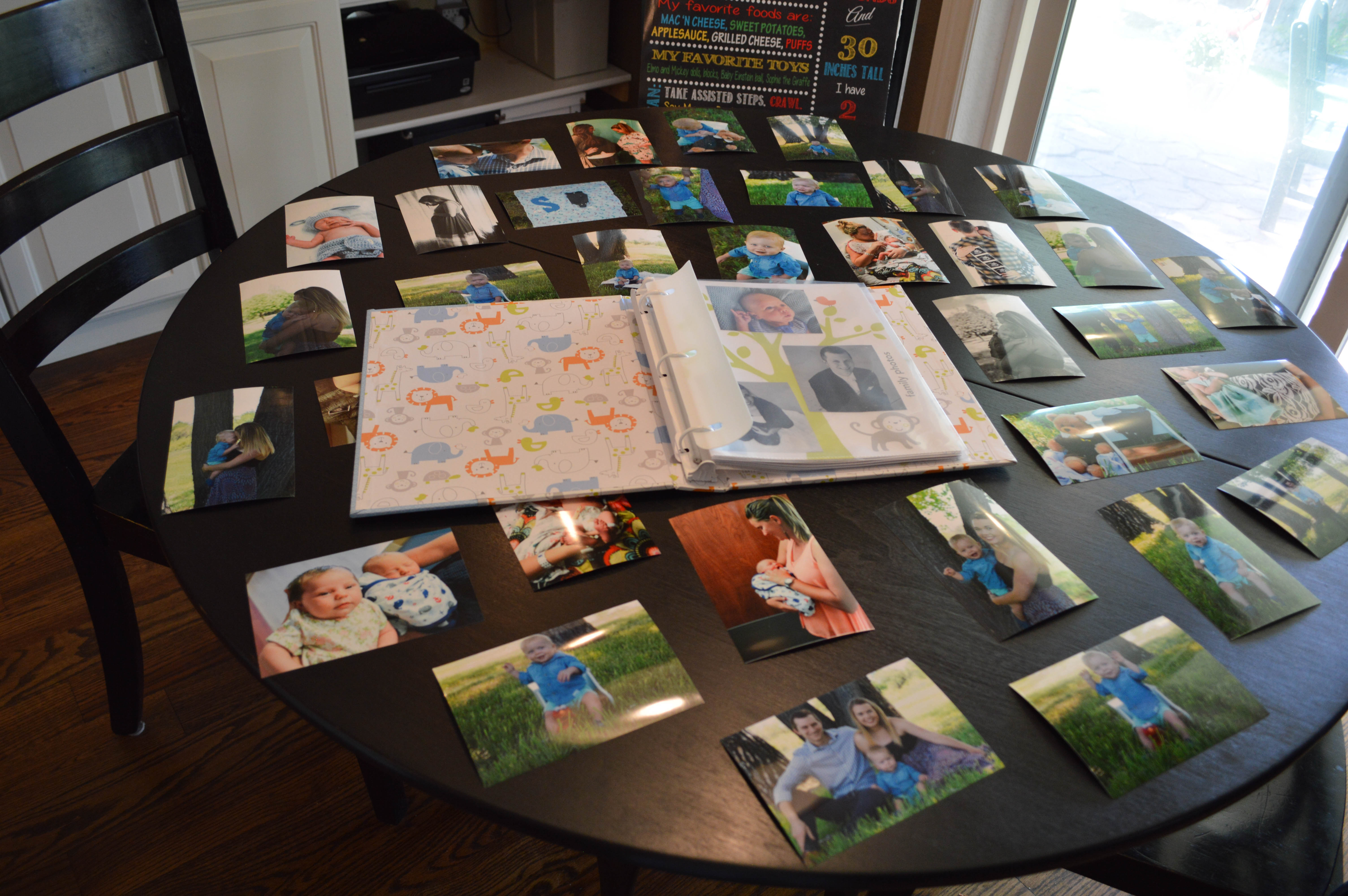 Next, was the food! We served a veggie tray, a cracker tray, goldfish crackers, watermelon, chips and salsa, cookies, cupcakes, and punch! We came up with creative Sesame Street related labels for all the food and I think that was my favorite part of the party! I just typed them up in fun colors and fonts in a word document and printed them out on card stock. We added rubber duckies to the punch bowl for a fun effect!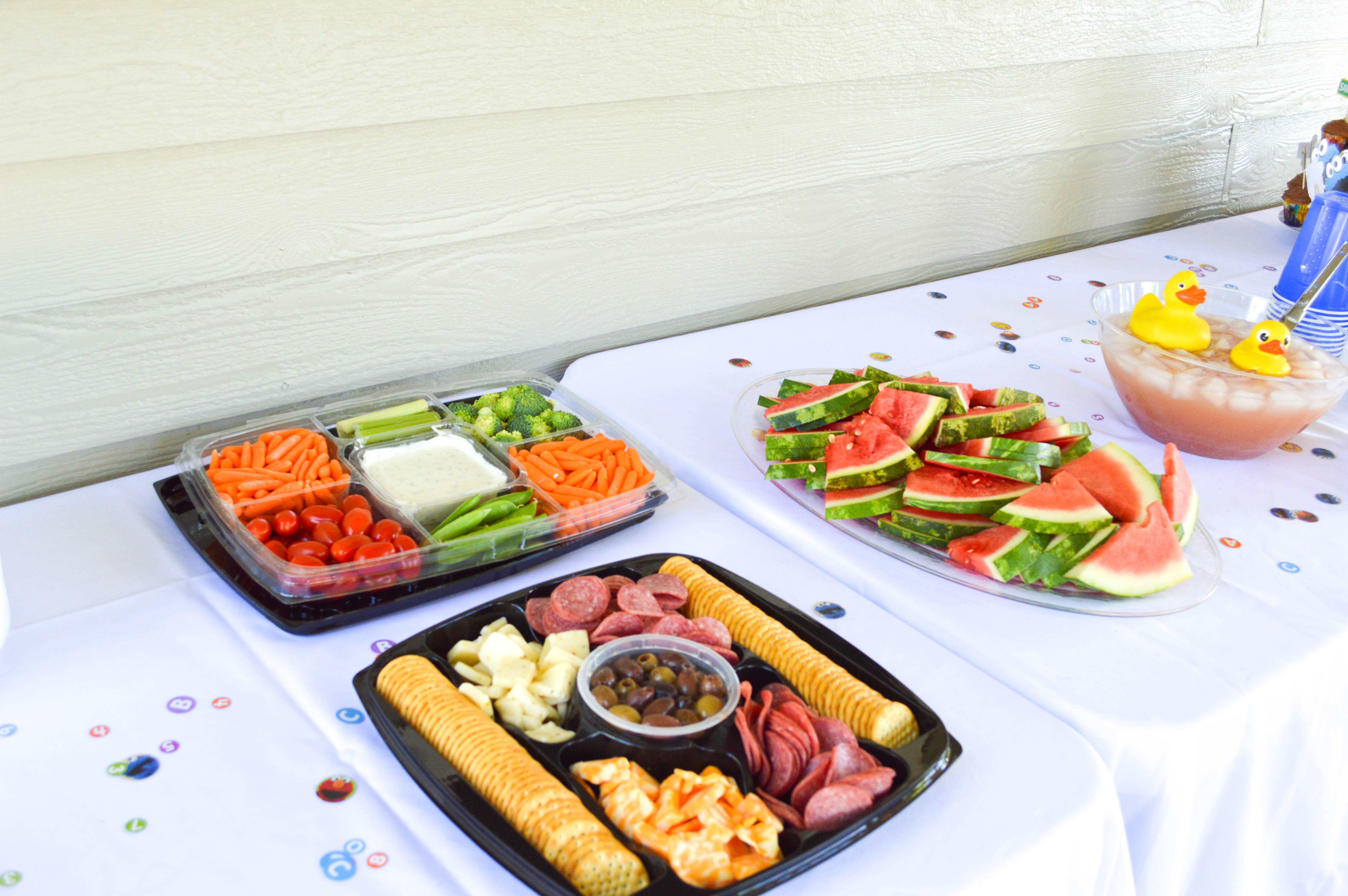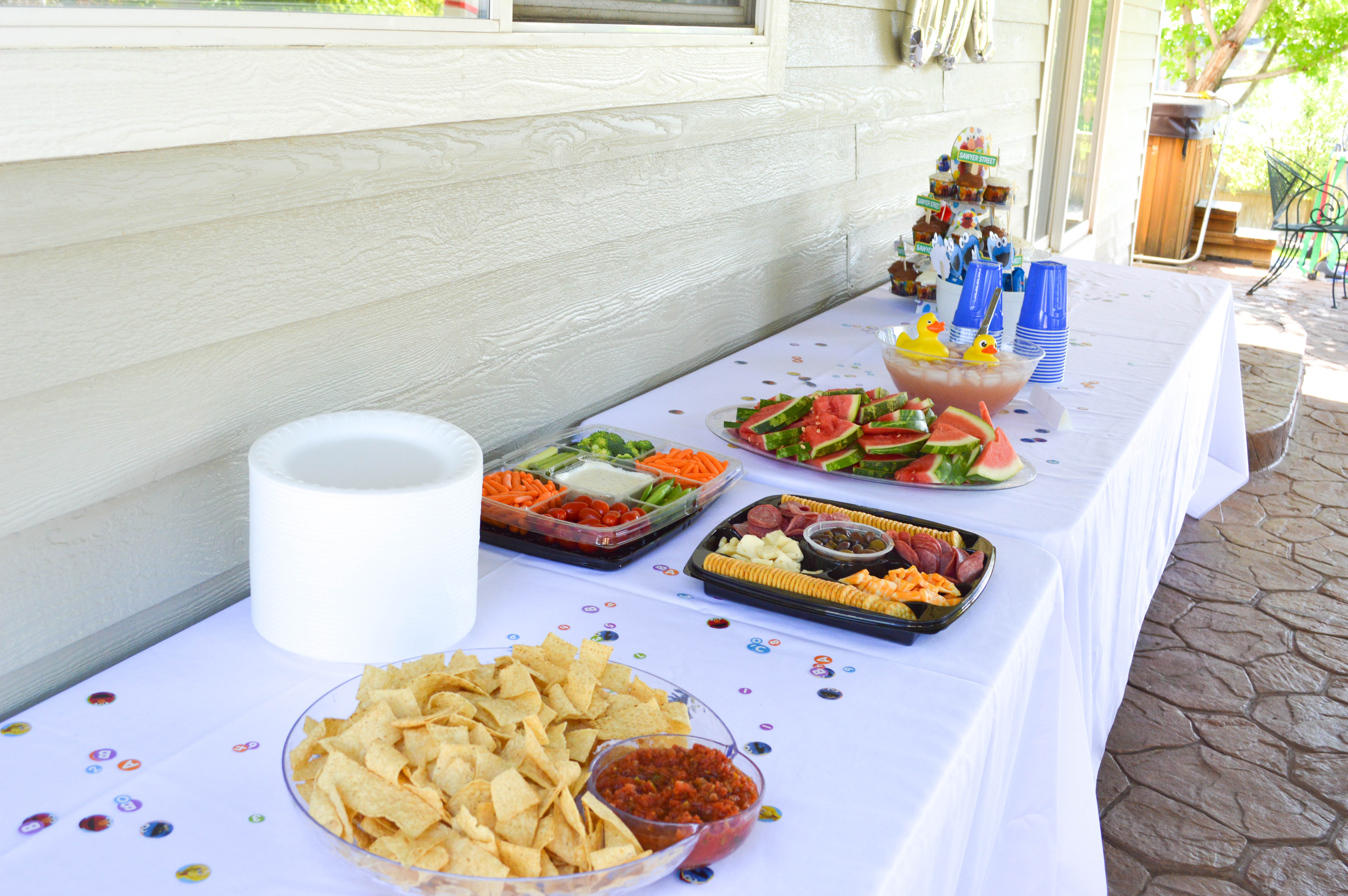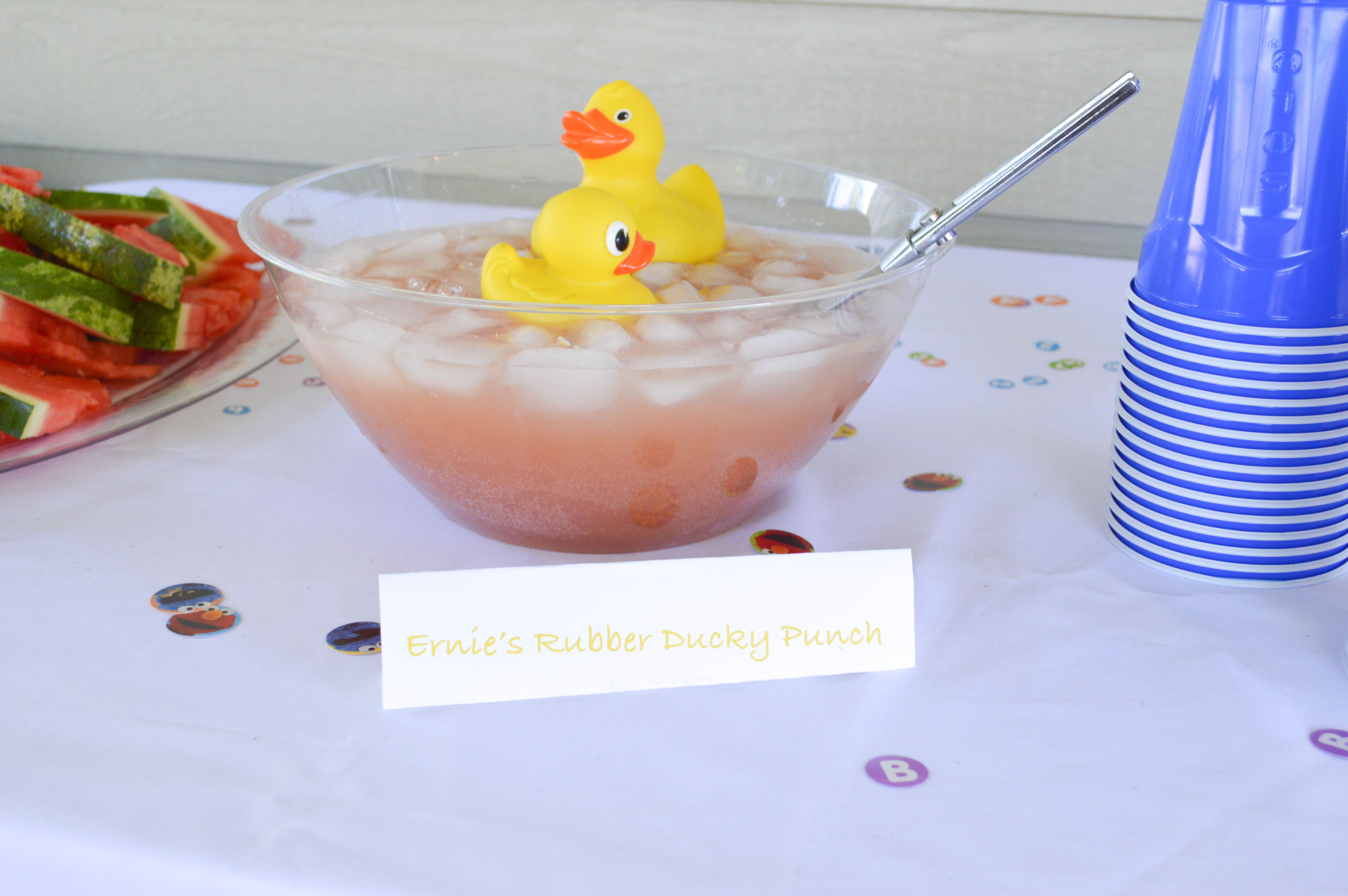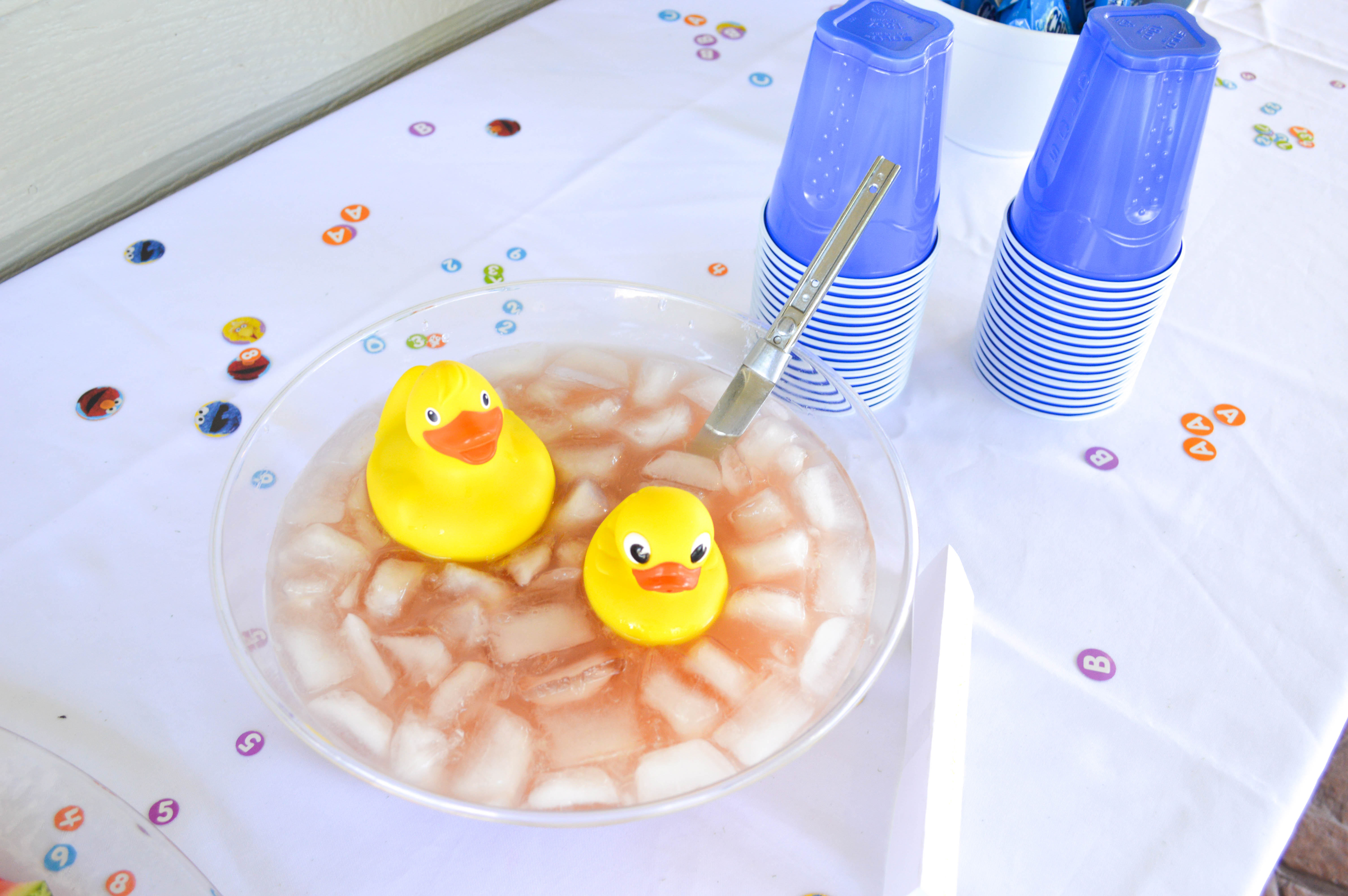 For the cookie monster cookie packages I simply downloaded a picture of Cookie Monster from google, printed it out (a dozen times), cut it out, hot glued it to a popsicle stick, and hot glued the popsicle stick to the cookie package. It was a little time consuming but they turned out so cute!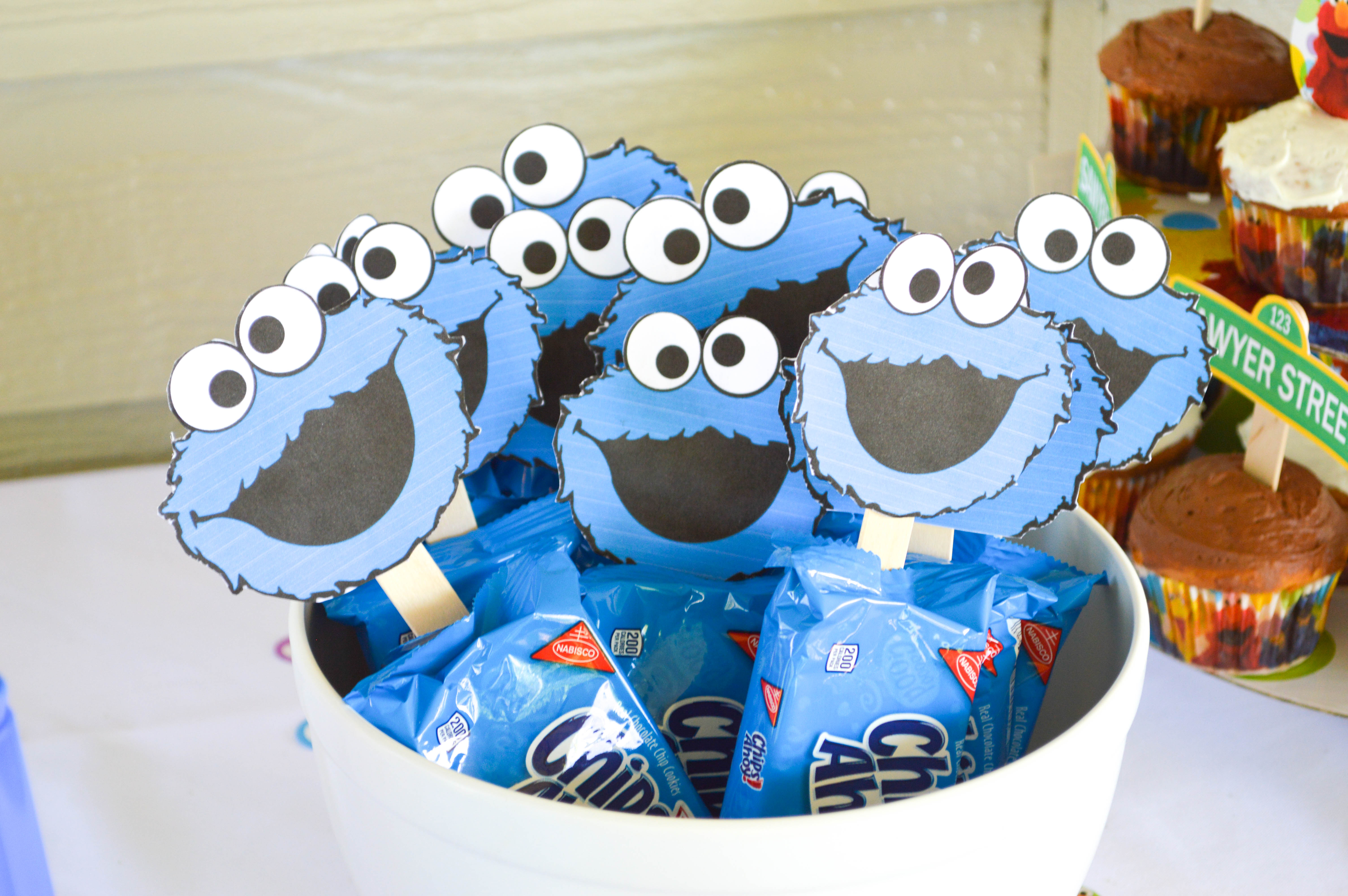 The cupcake tower, the confetti, the balloons, the tattoos, the streamers, the cupcake liners, half the cupcake toppers, and the streamers are all from Zurchers. Zurchers is an awesome party store! They are based out of Utah but have an incredible website that ships worldwide. They had an amazing selection of party supplies and plenty of Sesame Street stuff!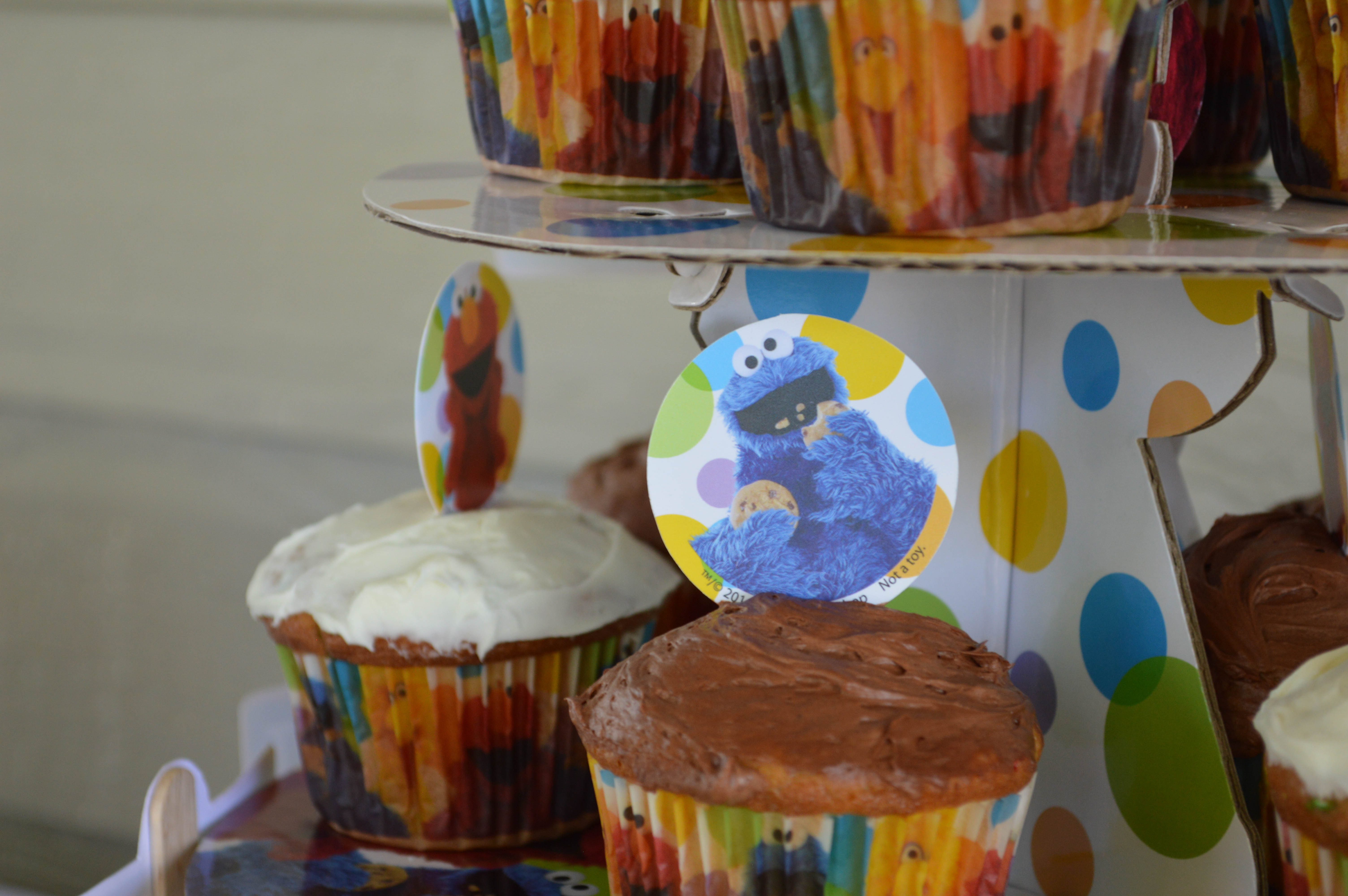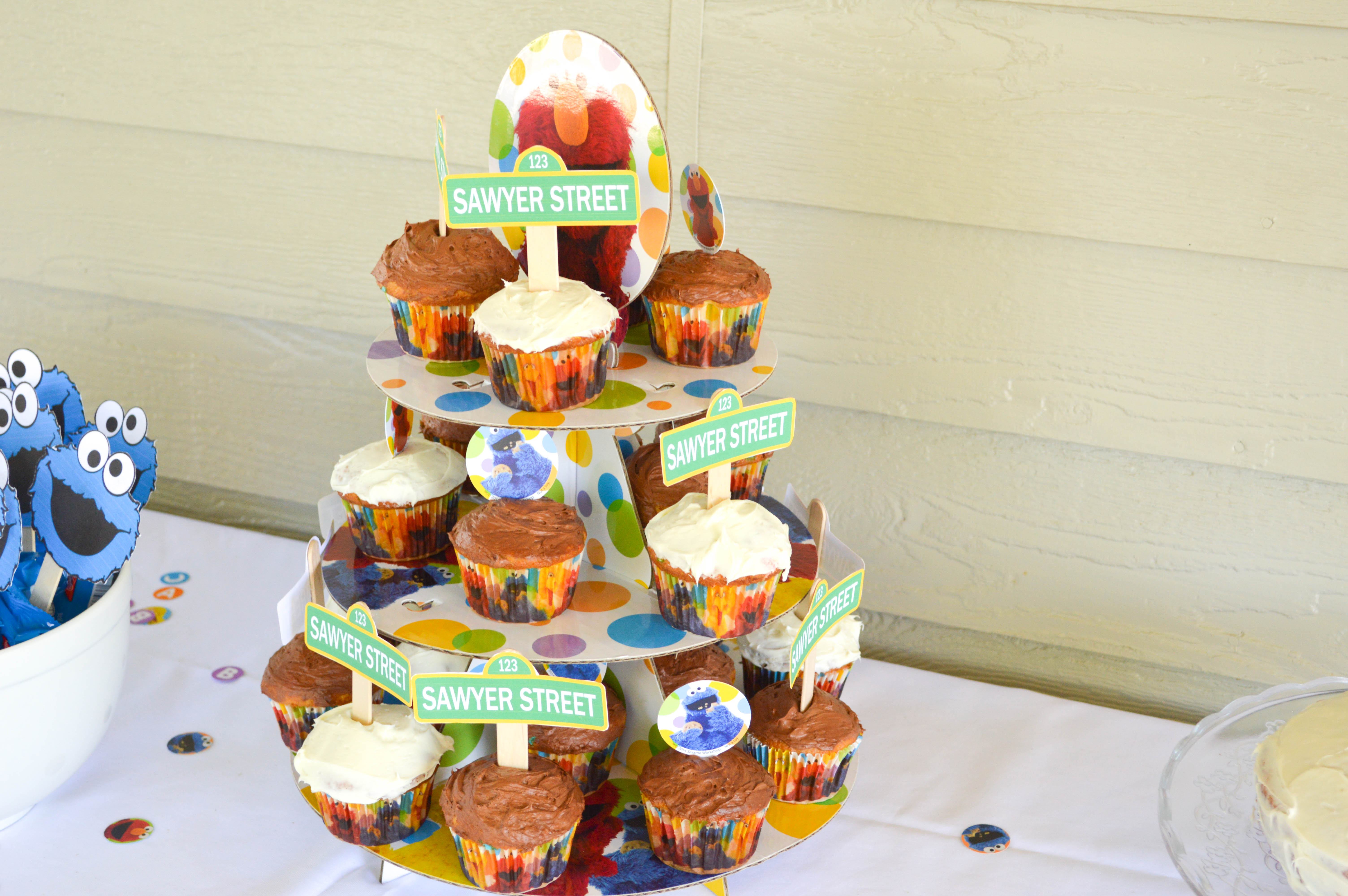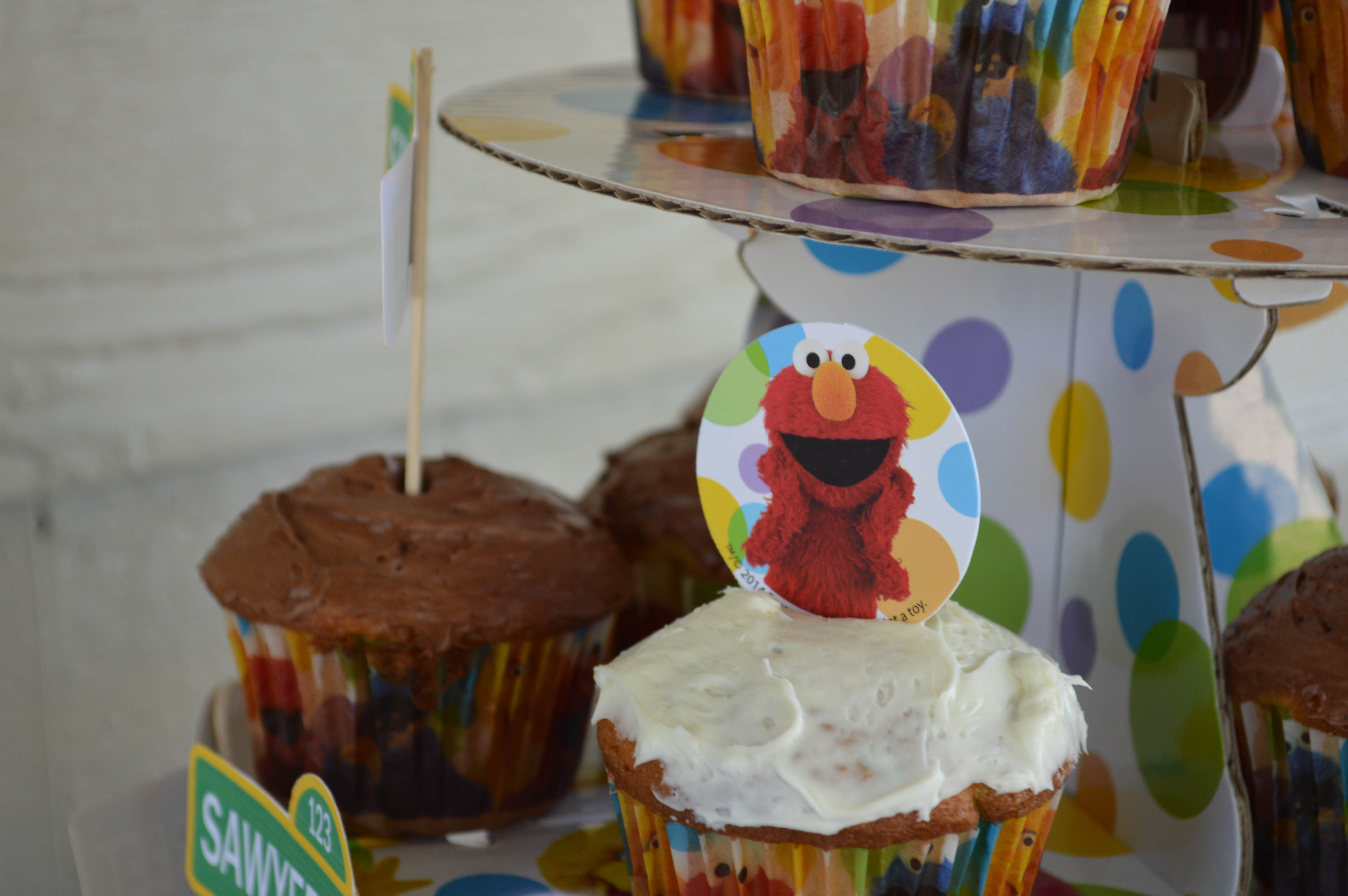 The other half of the cupcake toppers were printables from LittleMsShutterbug. She emailed me the digital file and I printed, cut, and hot glued them to popsicle sticks. They turned out so cute!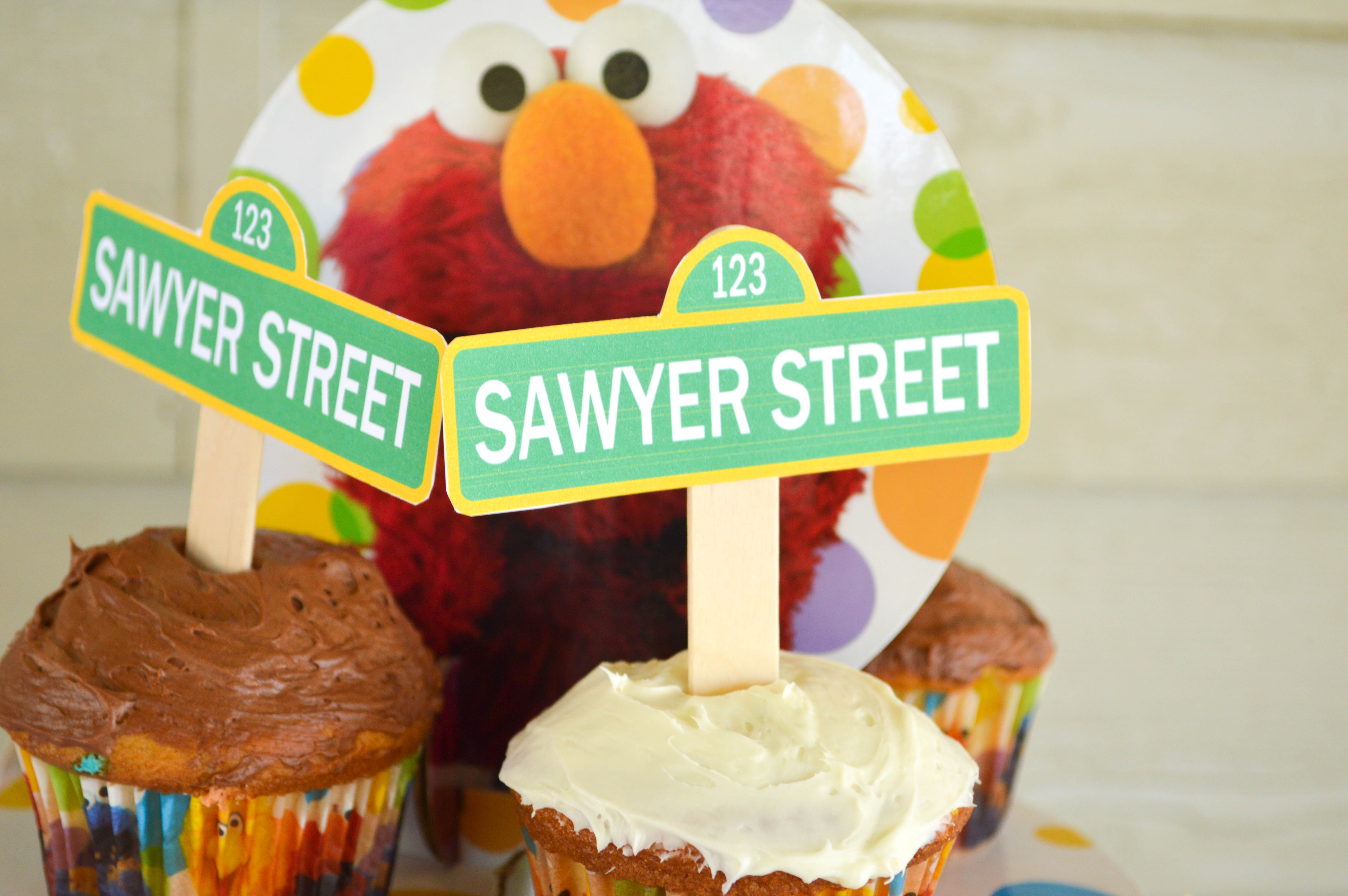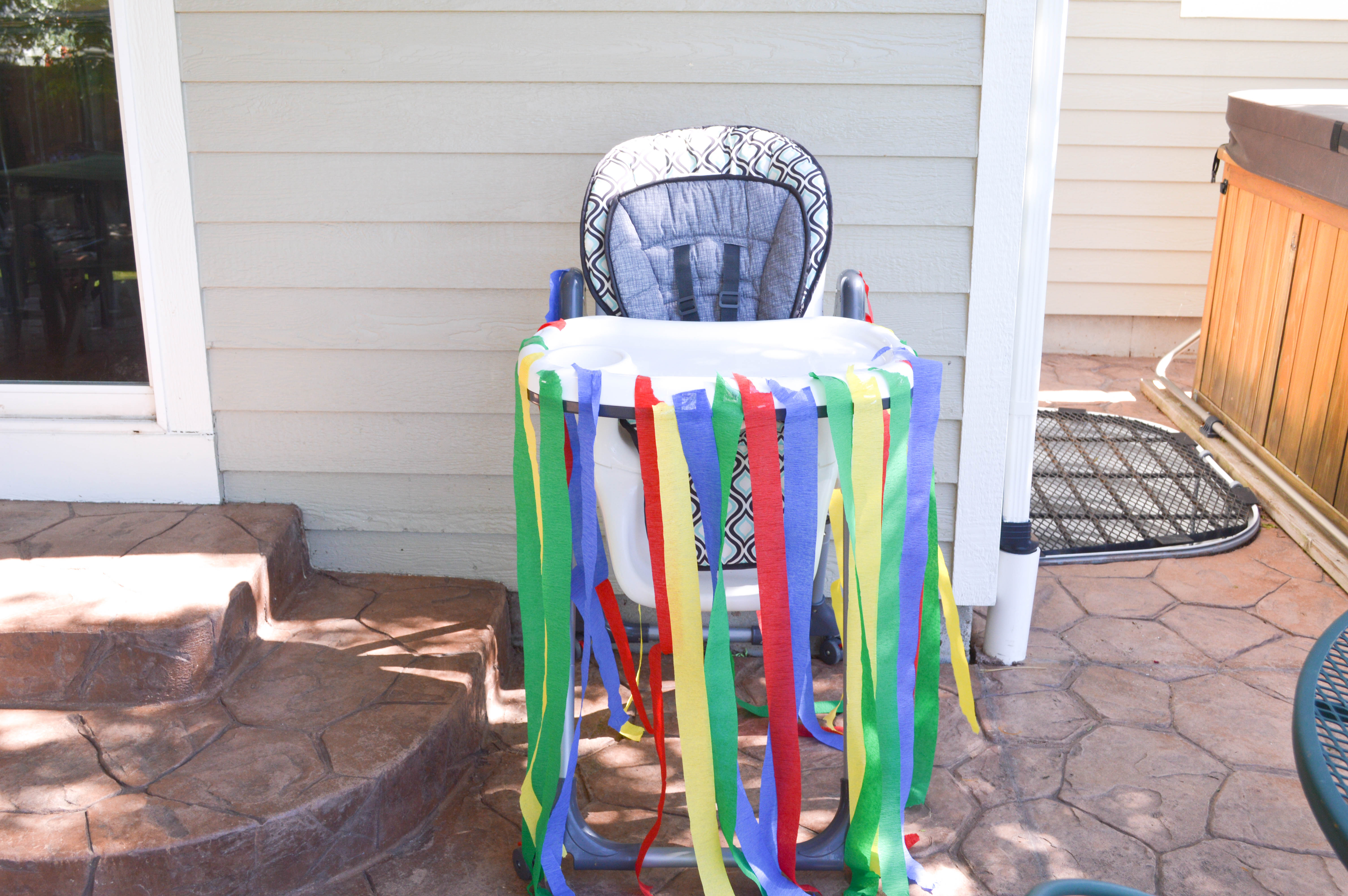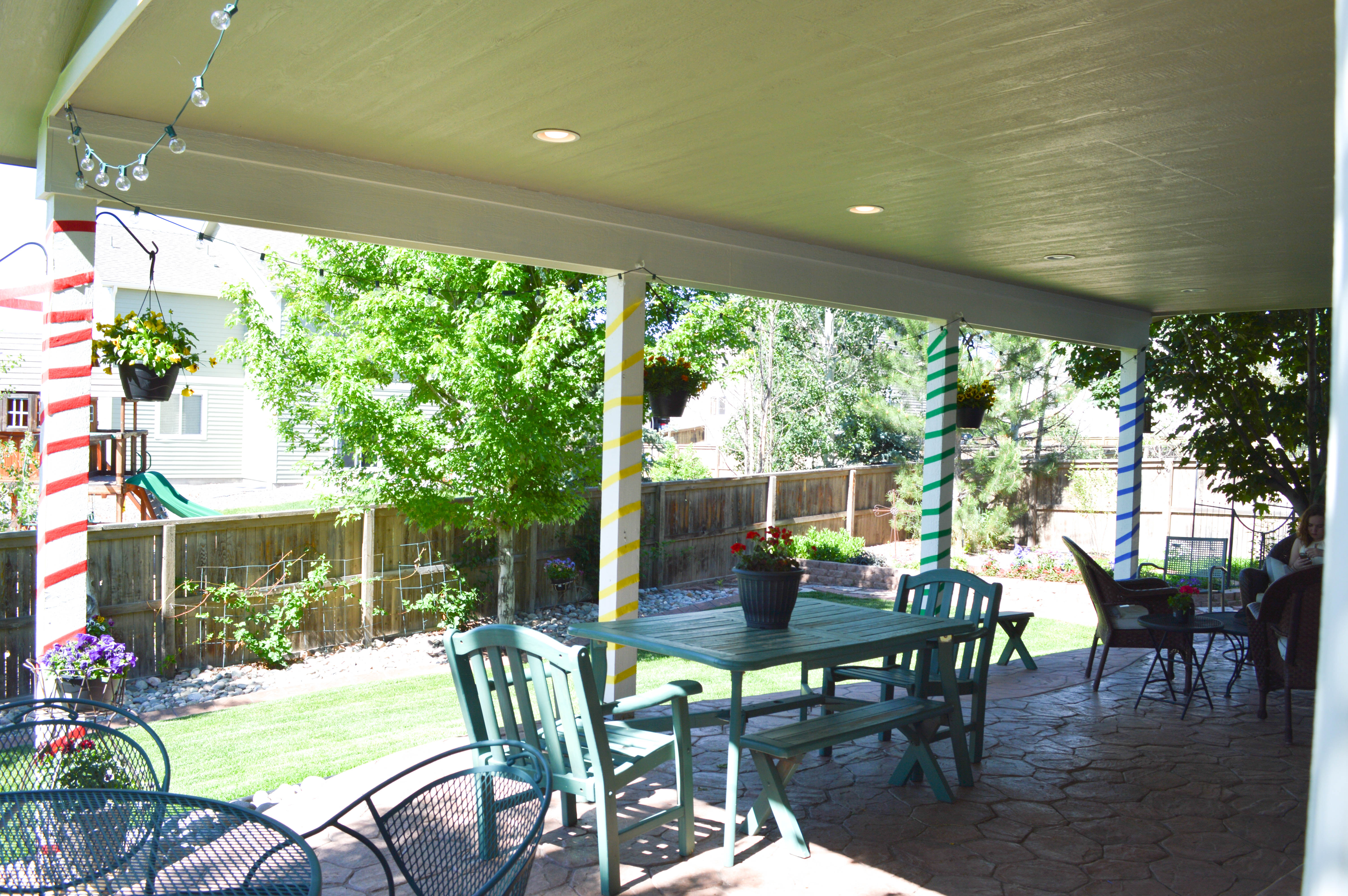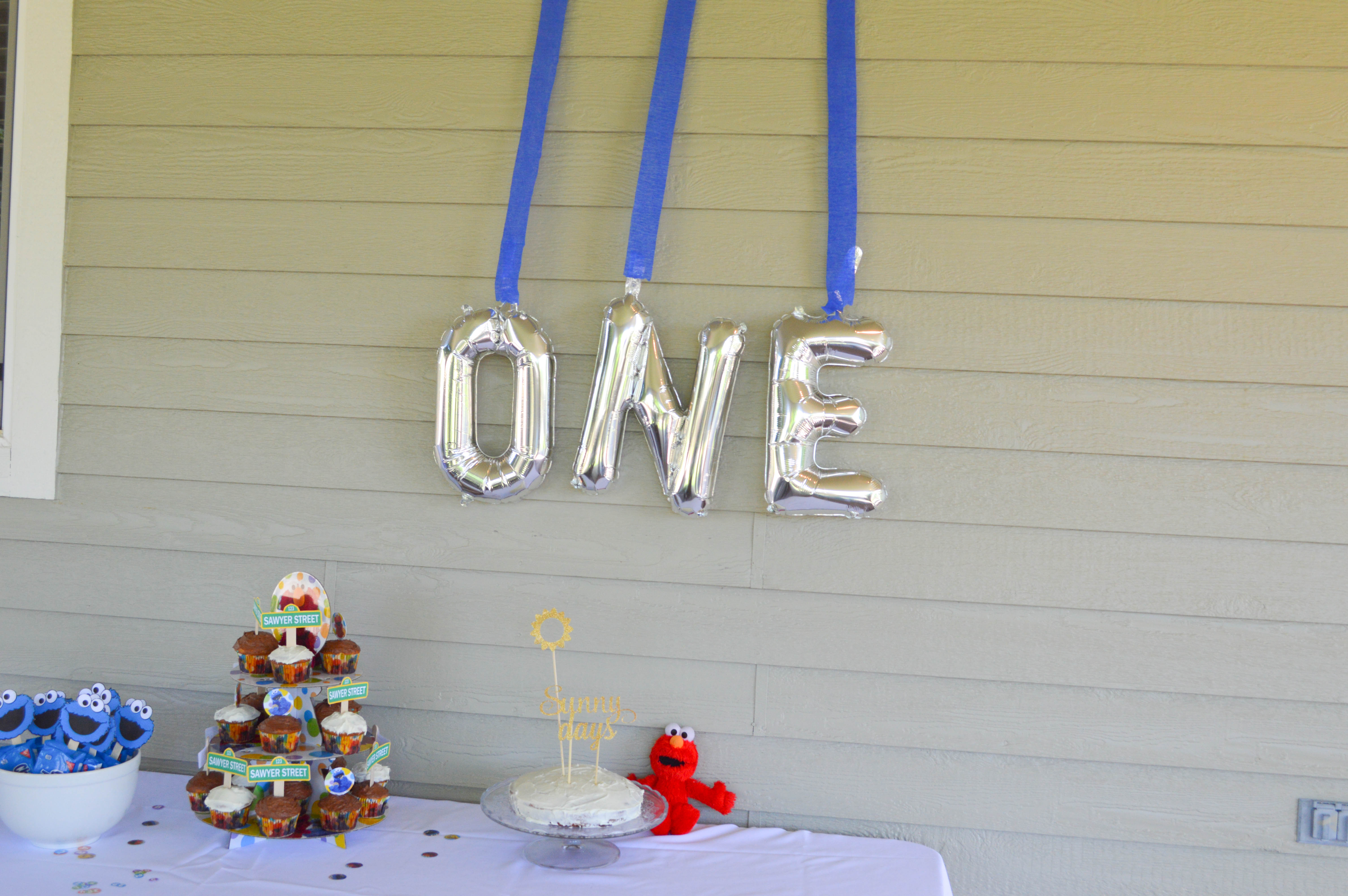 The Fun Stuff
We had tattoos and coloring pages for guests to color! It ended up being mostly my sisters who used the coloring pages, ha!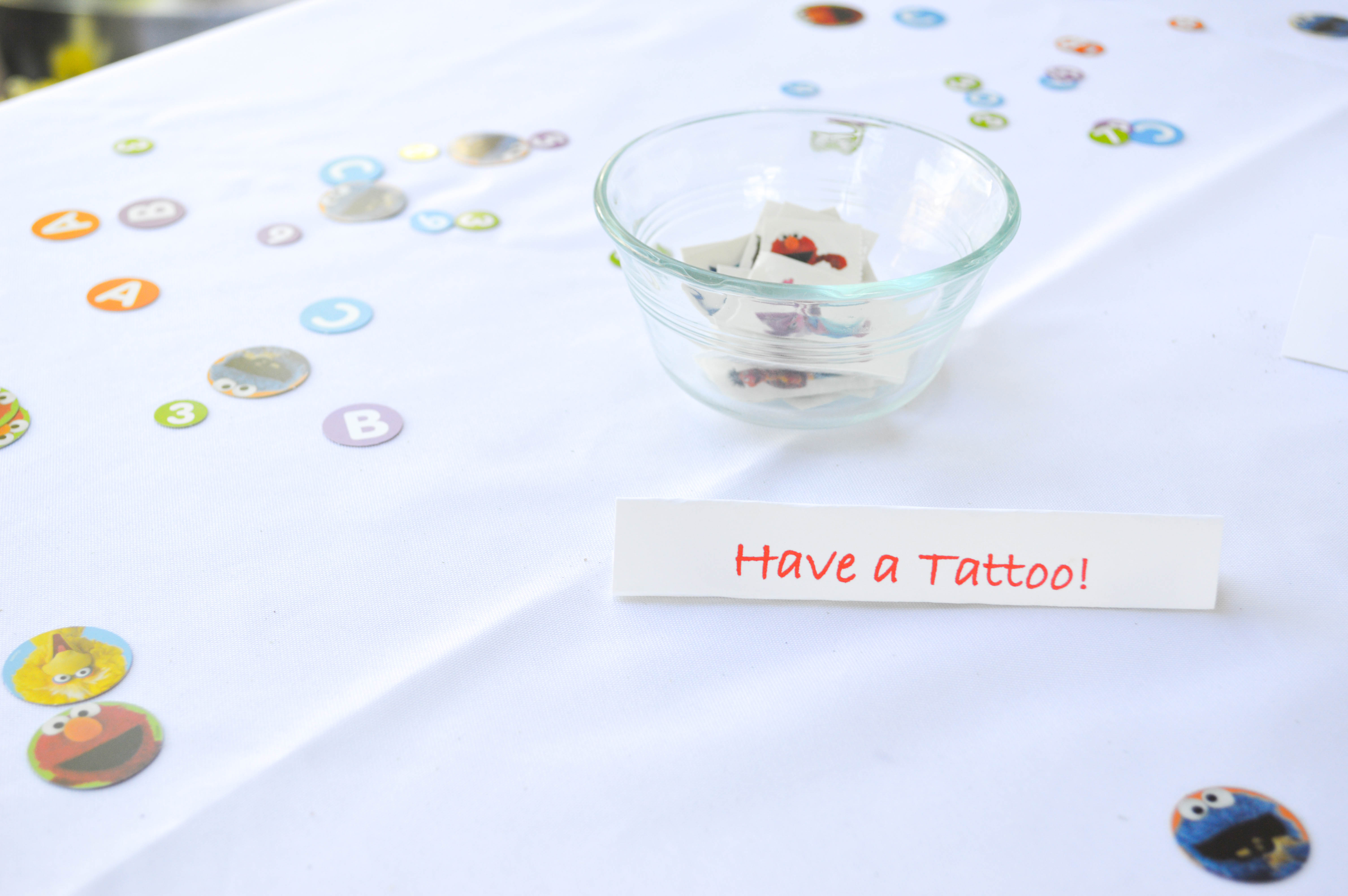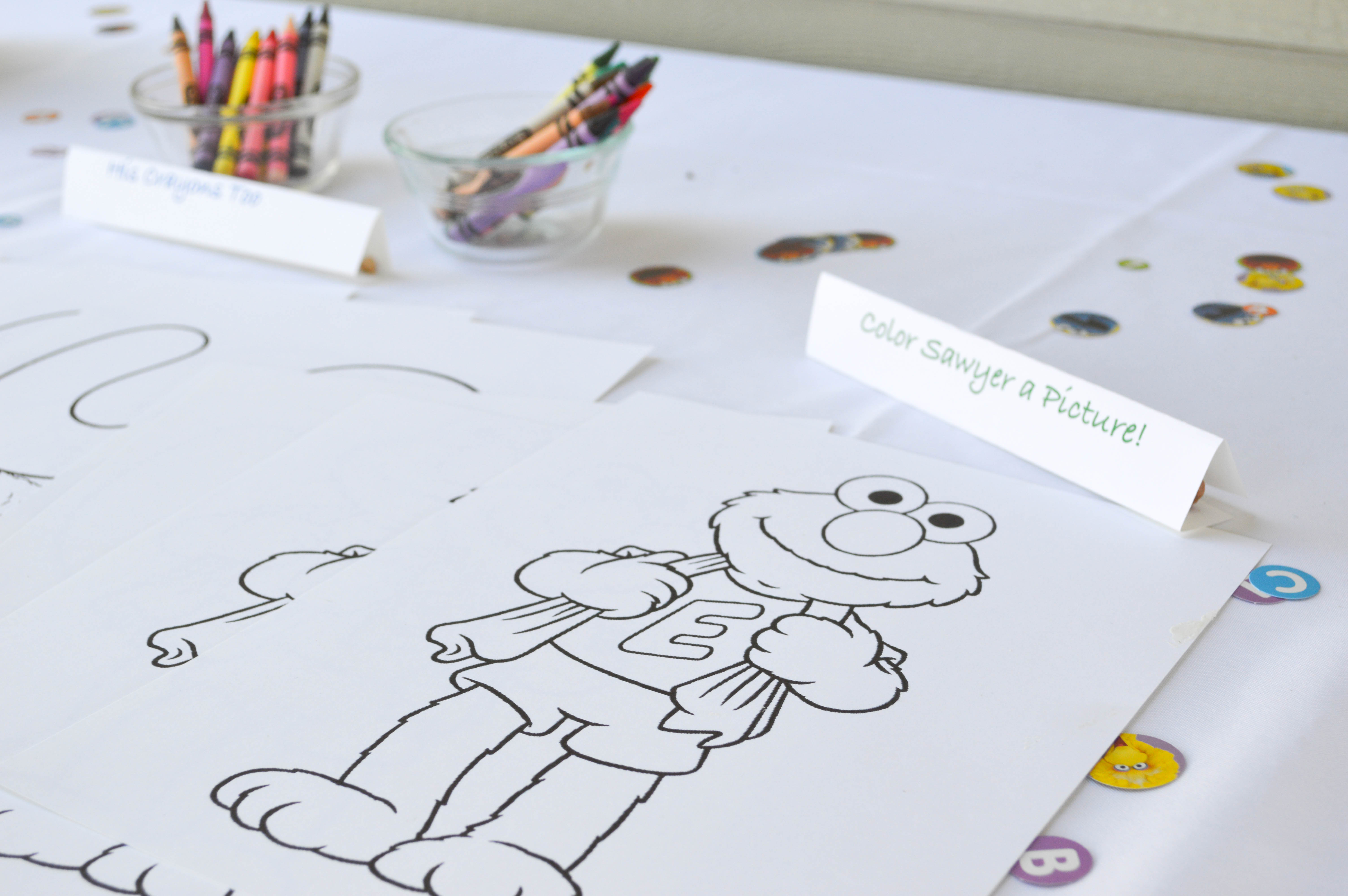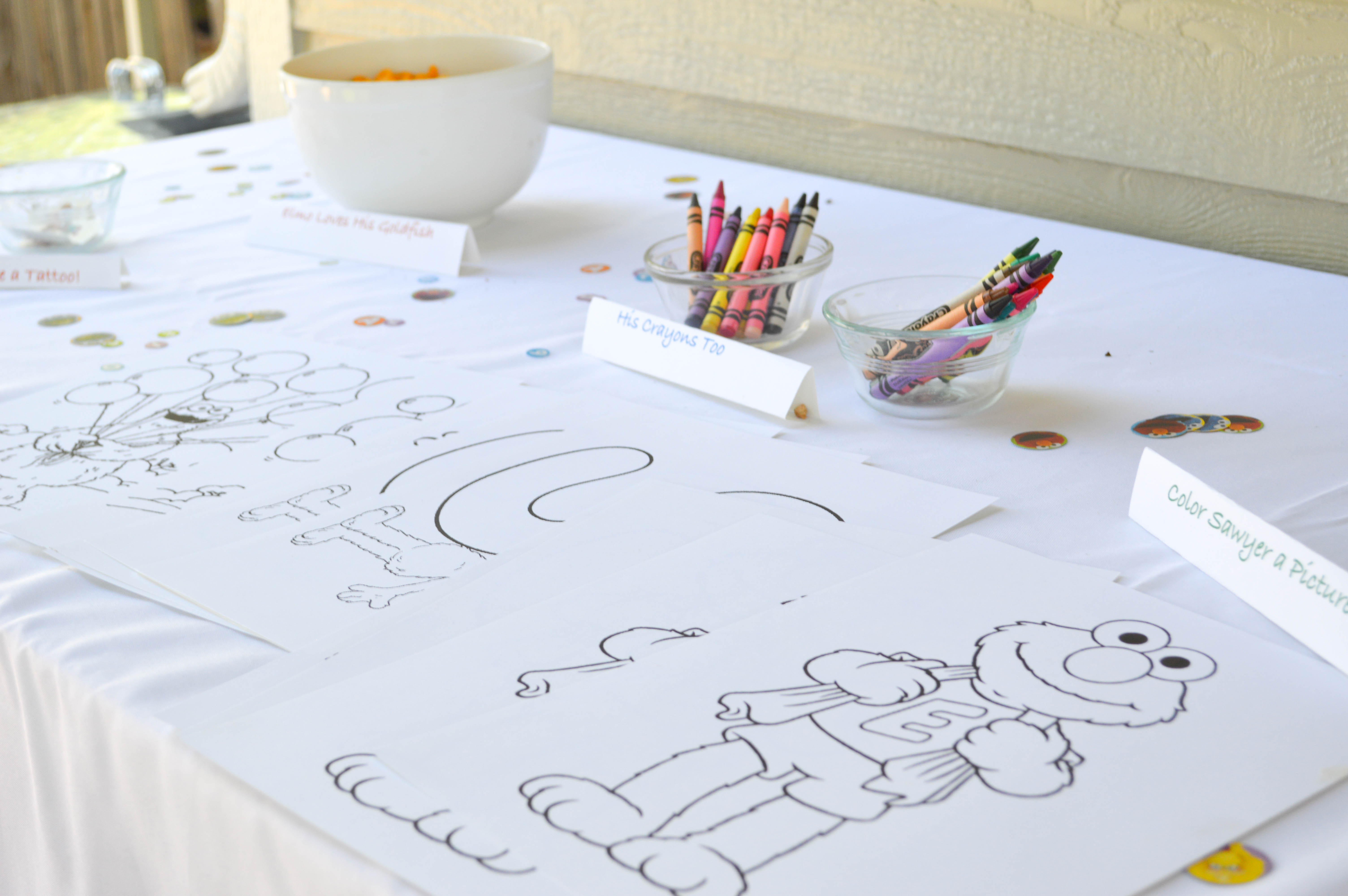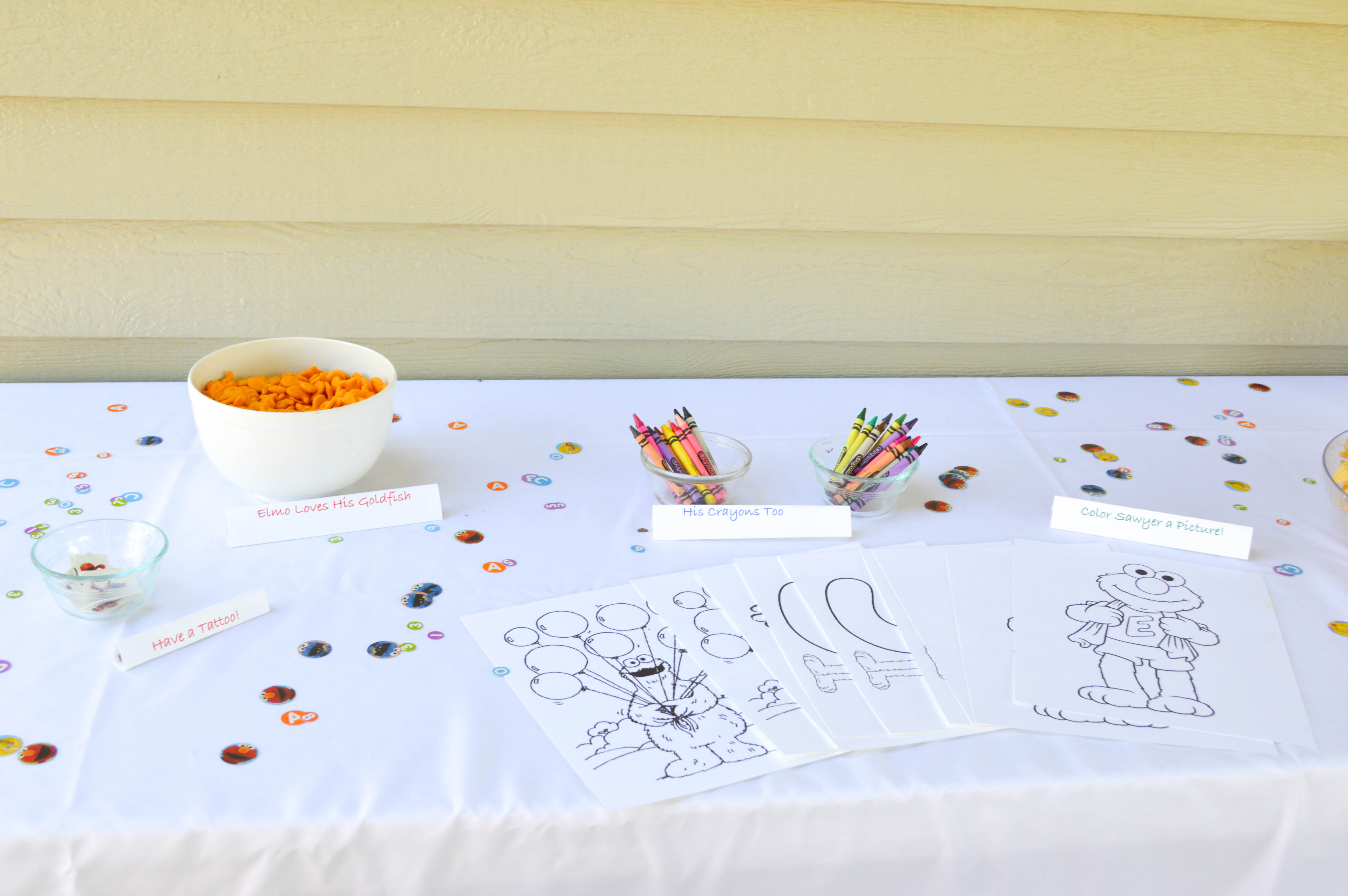 I also did a play on the Elmo's World theme song by putting the goldfish crackers down by the coloring station and labeling them "Elmo loves his goldfish" and "his crayons too"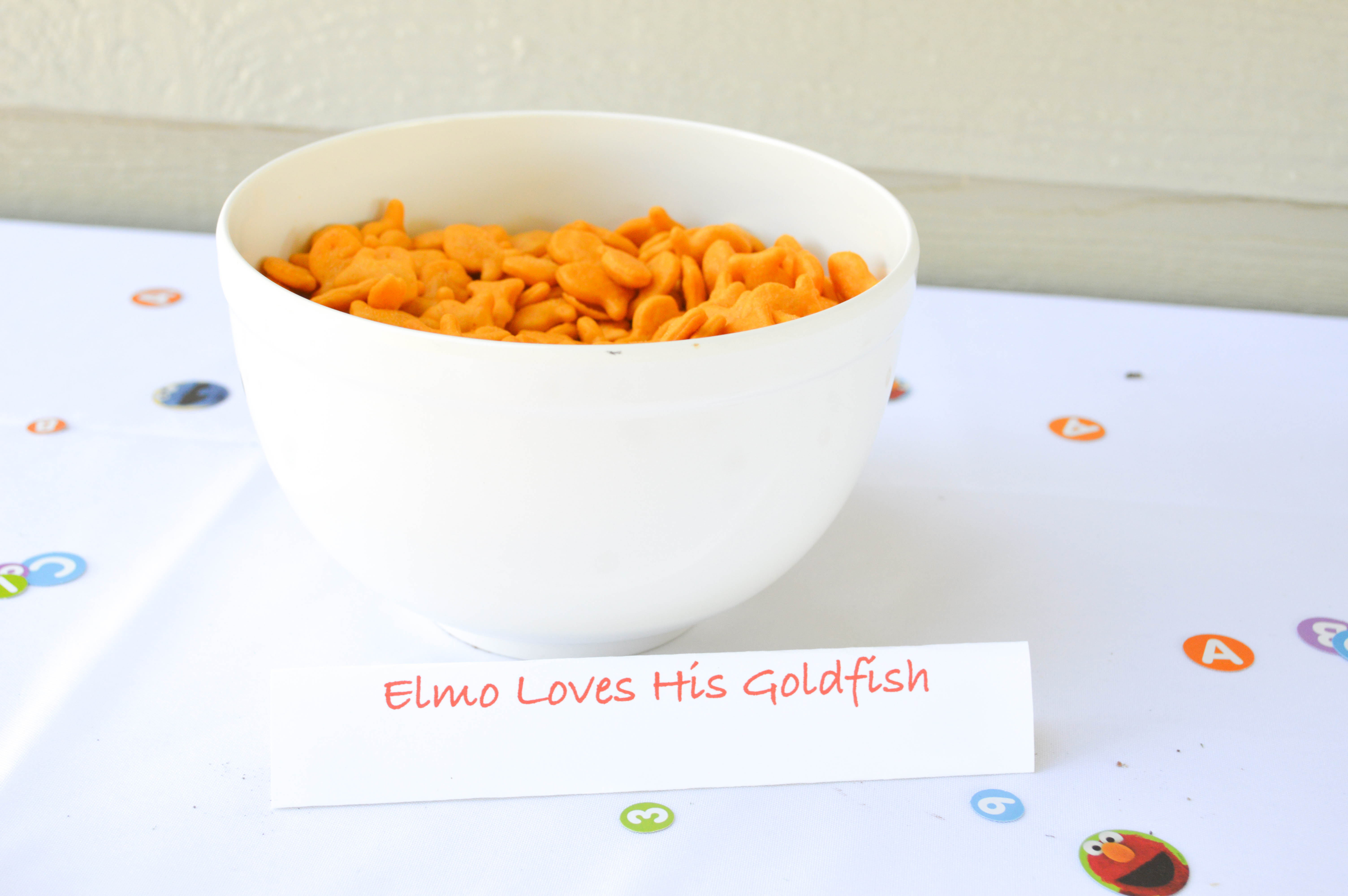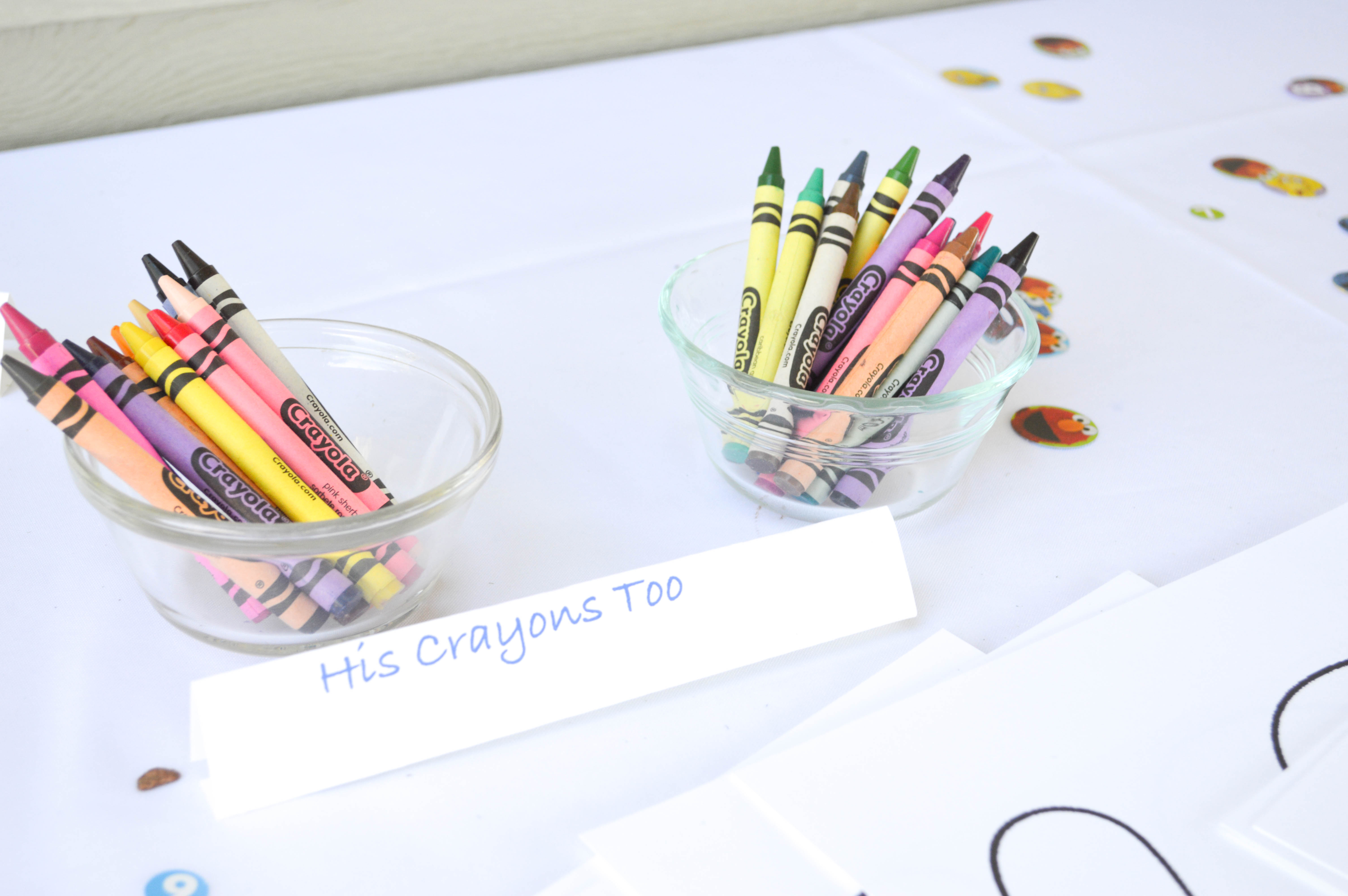 The Cake Topper
The cake topper was to die for! I worked with Rustic Daisy Designs and could not have been happier! We worked together to design it and come up with a saying that would be cute and fit the theme. We were tossing out ideas when she suggested "Sunny Days" and I immediately loved it! It is inspired by the Sesame Street theme song and came out so adorable. I toyed with doing the traditional "Sawyer is One" or "Happy Birthday Sawyer" cake topper but this felt so much more unique and fun!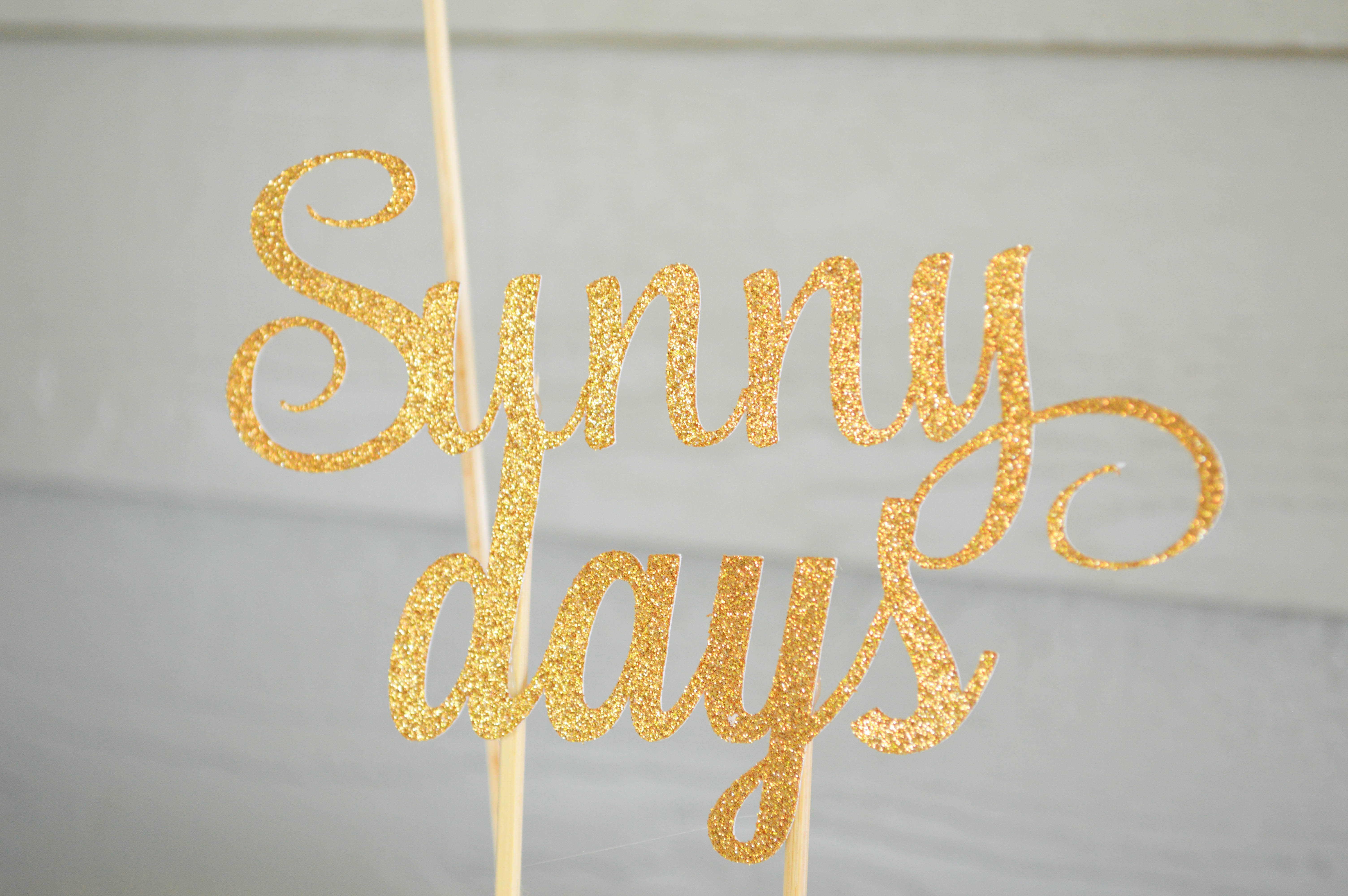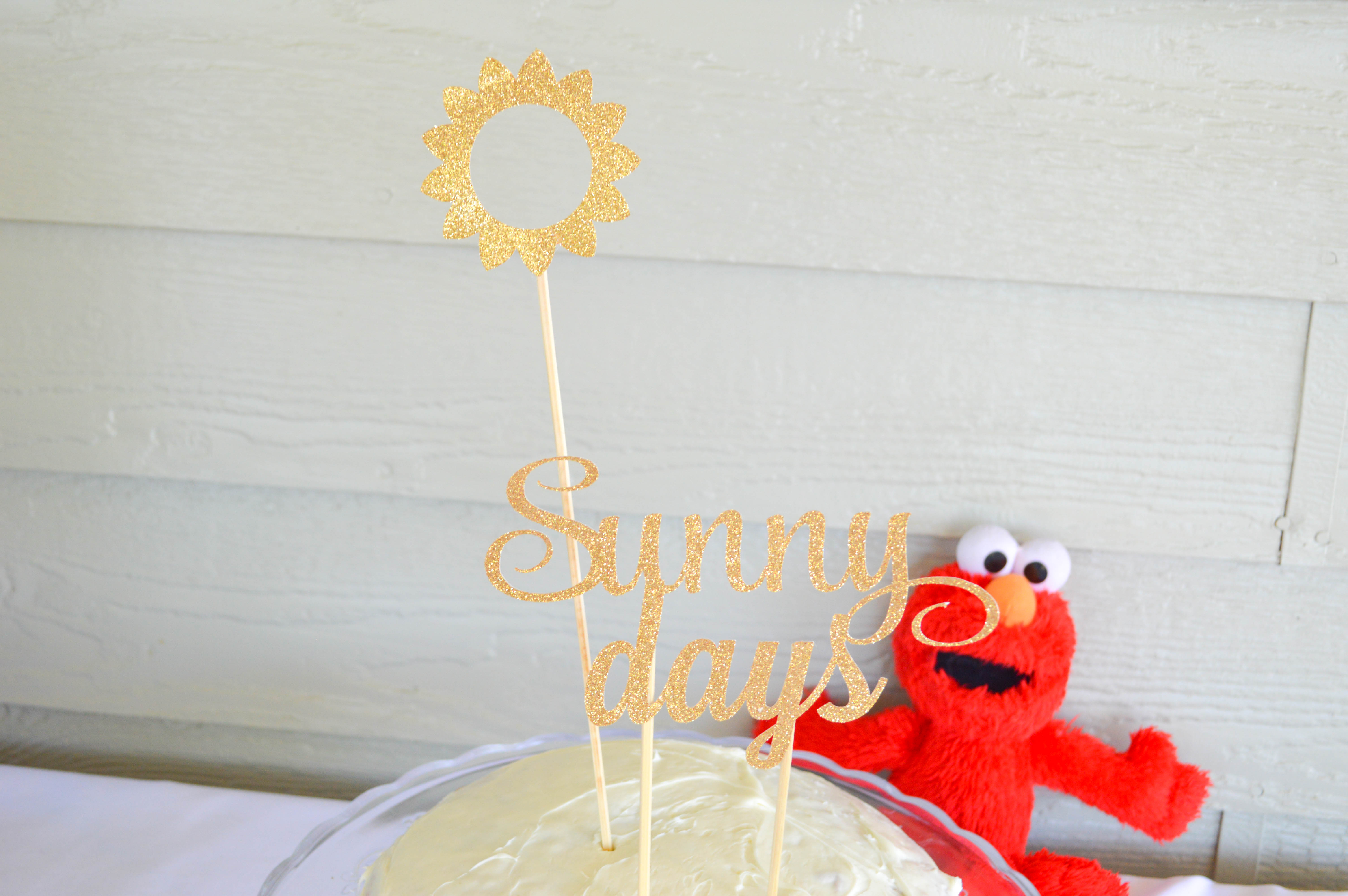 Quinn had my order ready and shipped in record time. When I got it it was absolutely beautiful! It was yellow and sparkly and so fun! It looked great on top of the cake and everyone thought it was great!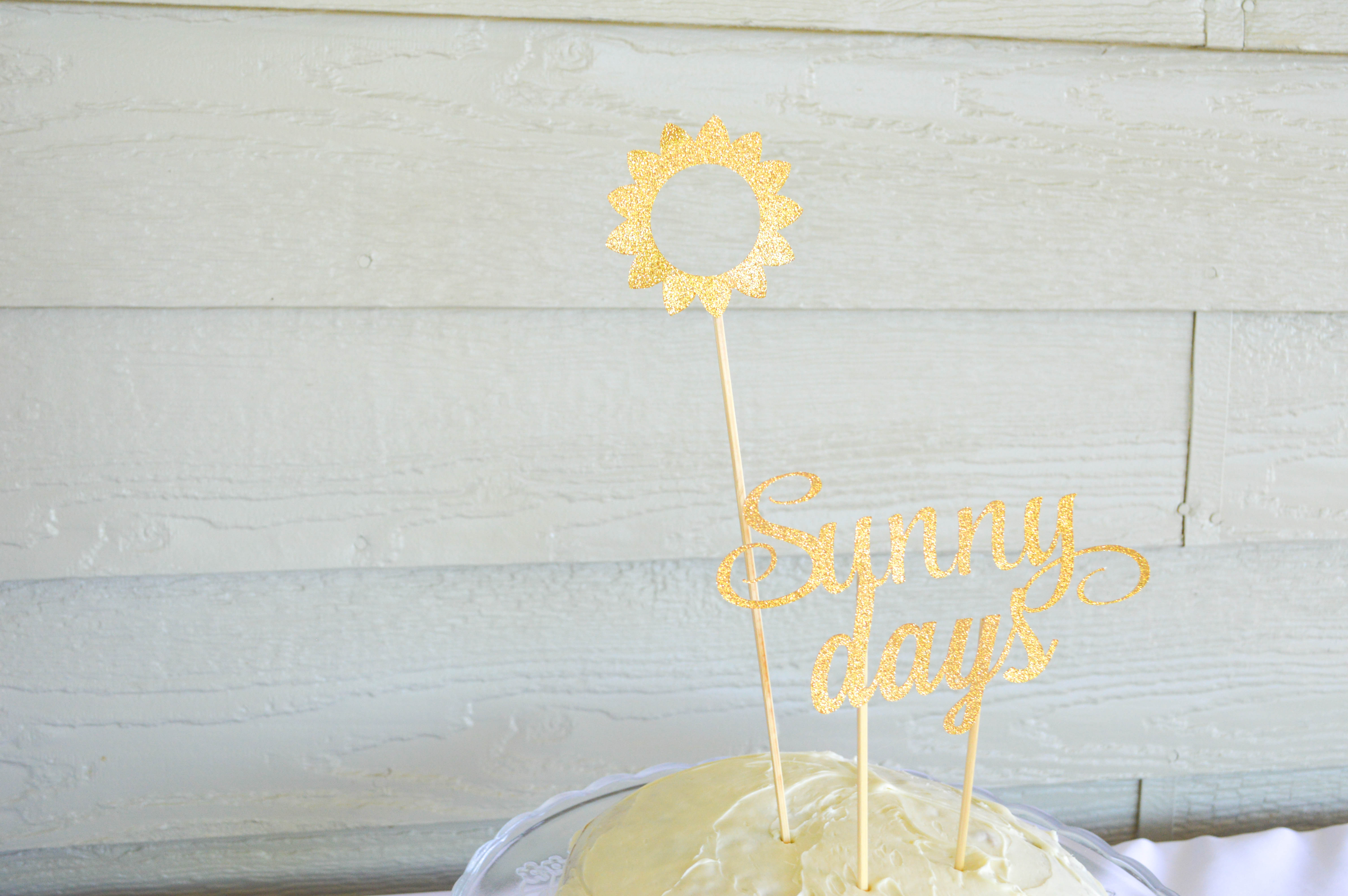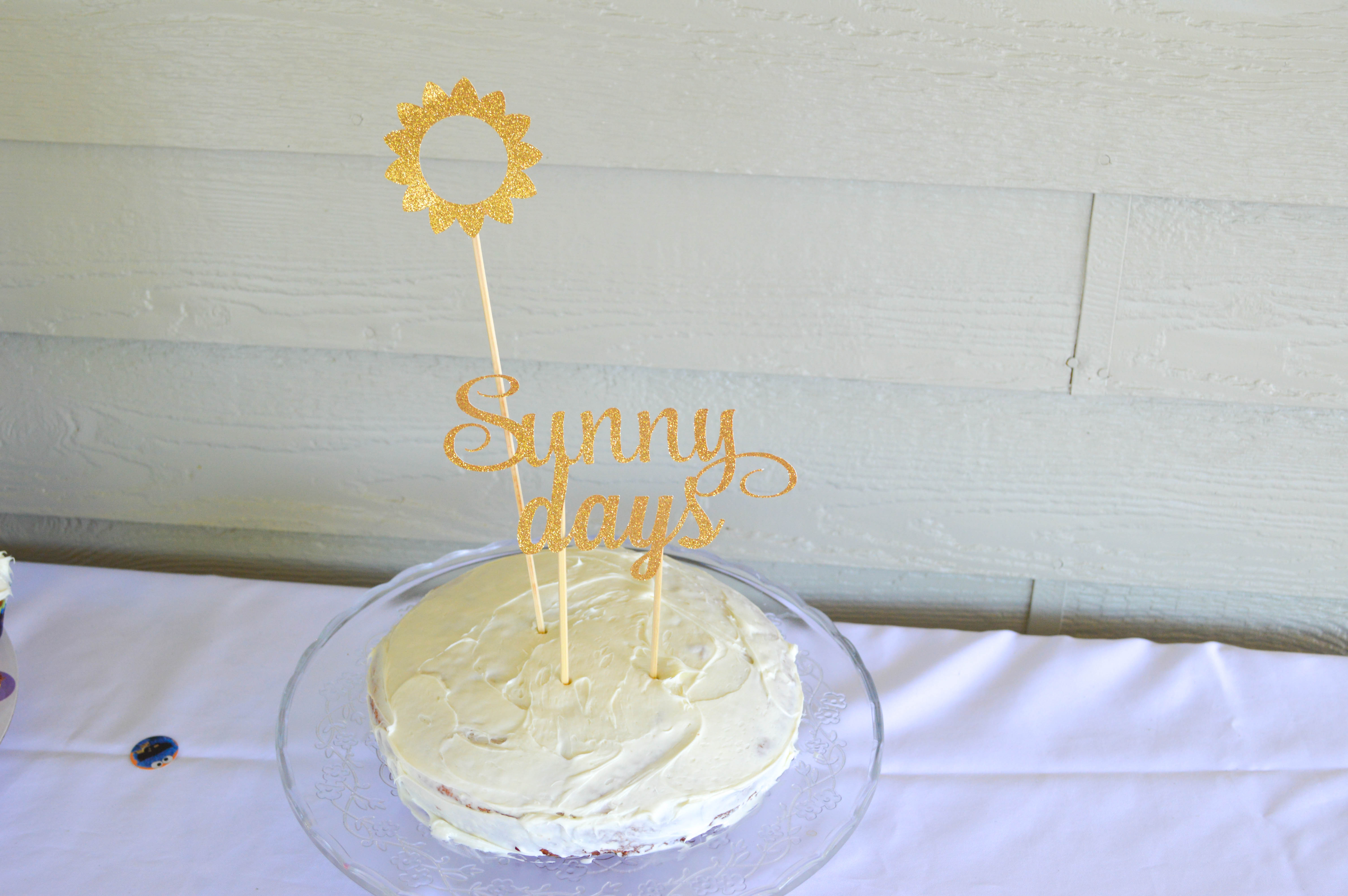 | Shop | Instagram | Facebook |
The Cake Smash
You guys. The cake smash was epic. He killed it. We could not stop laughing!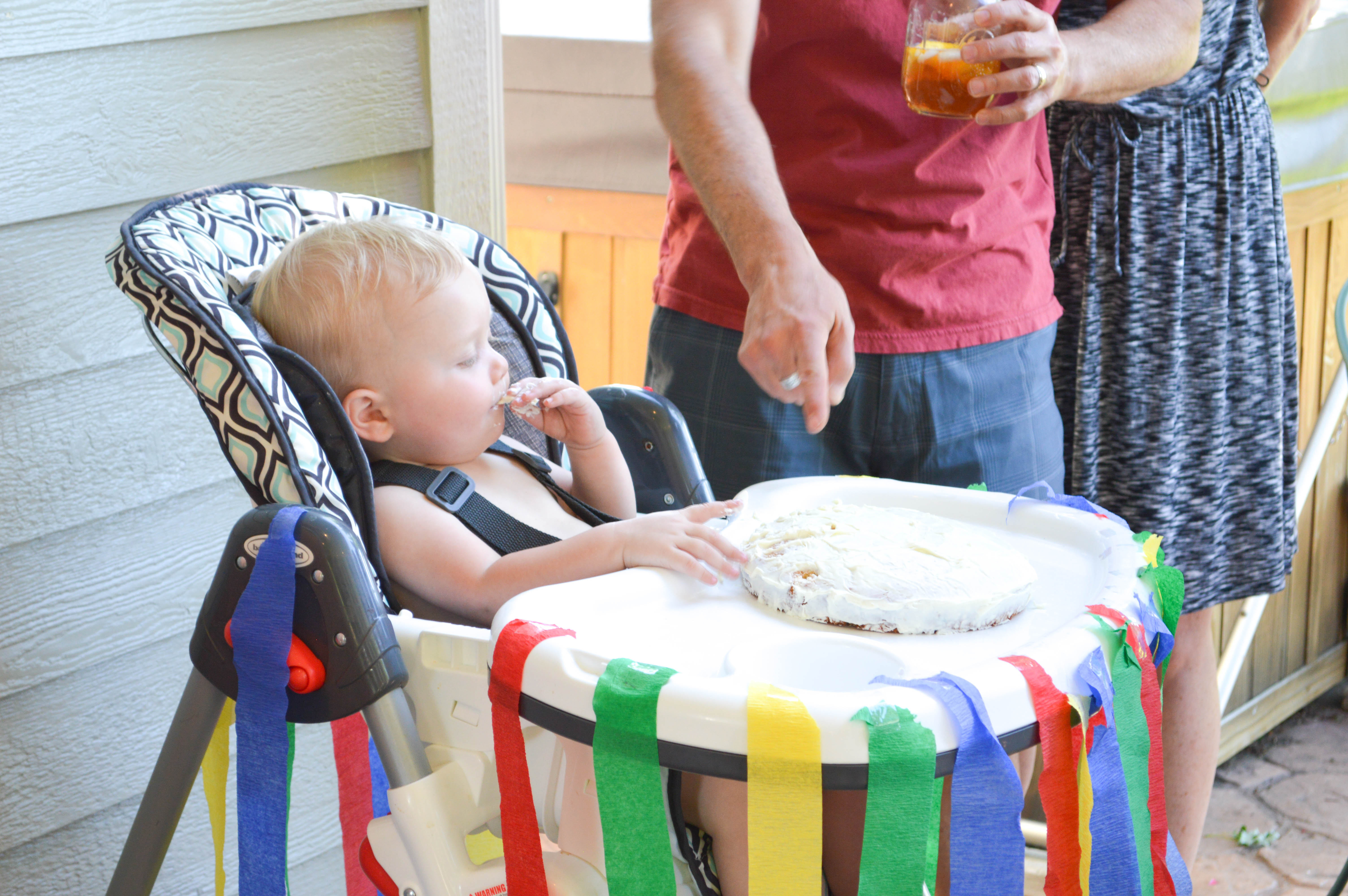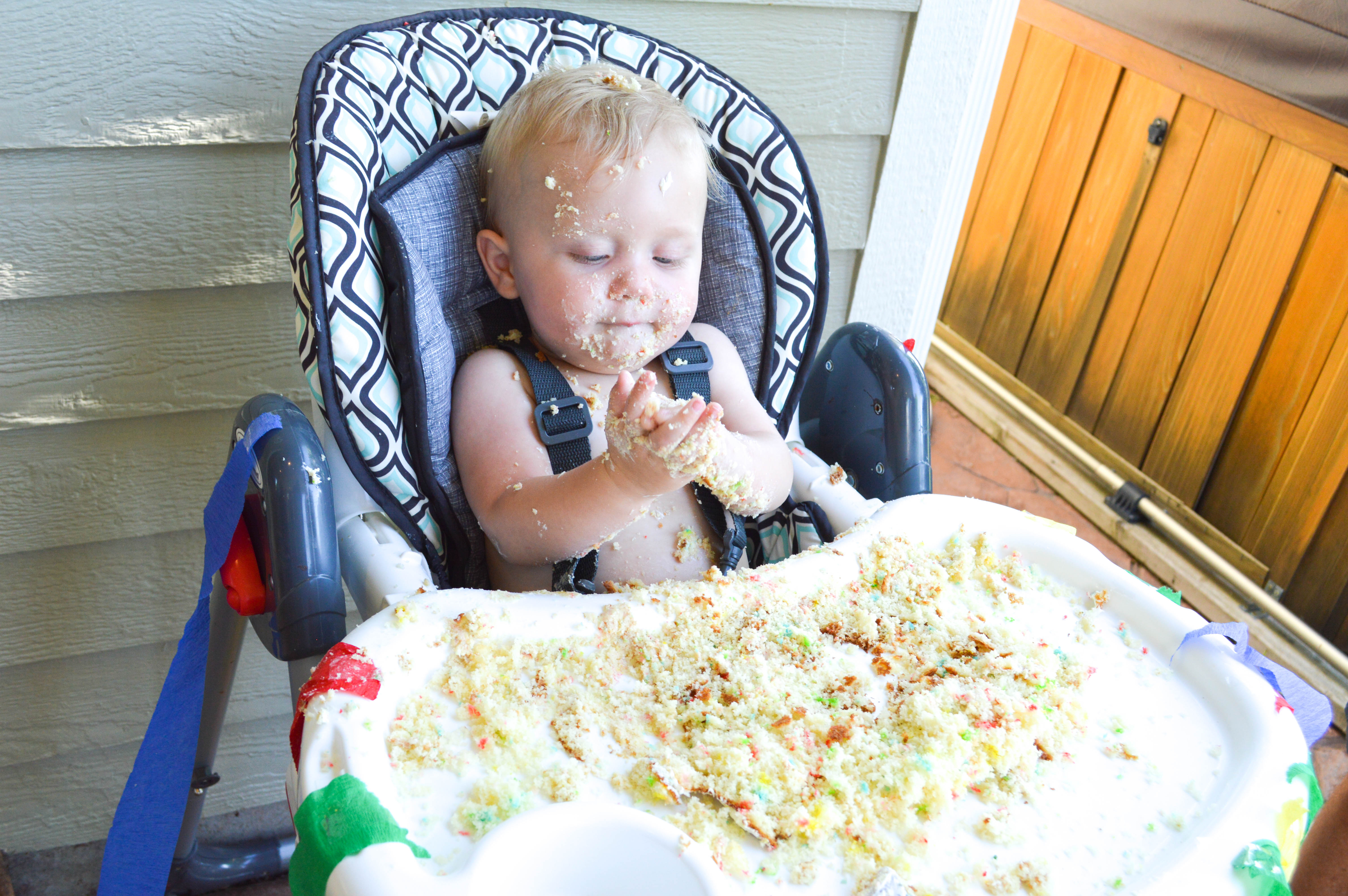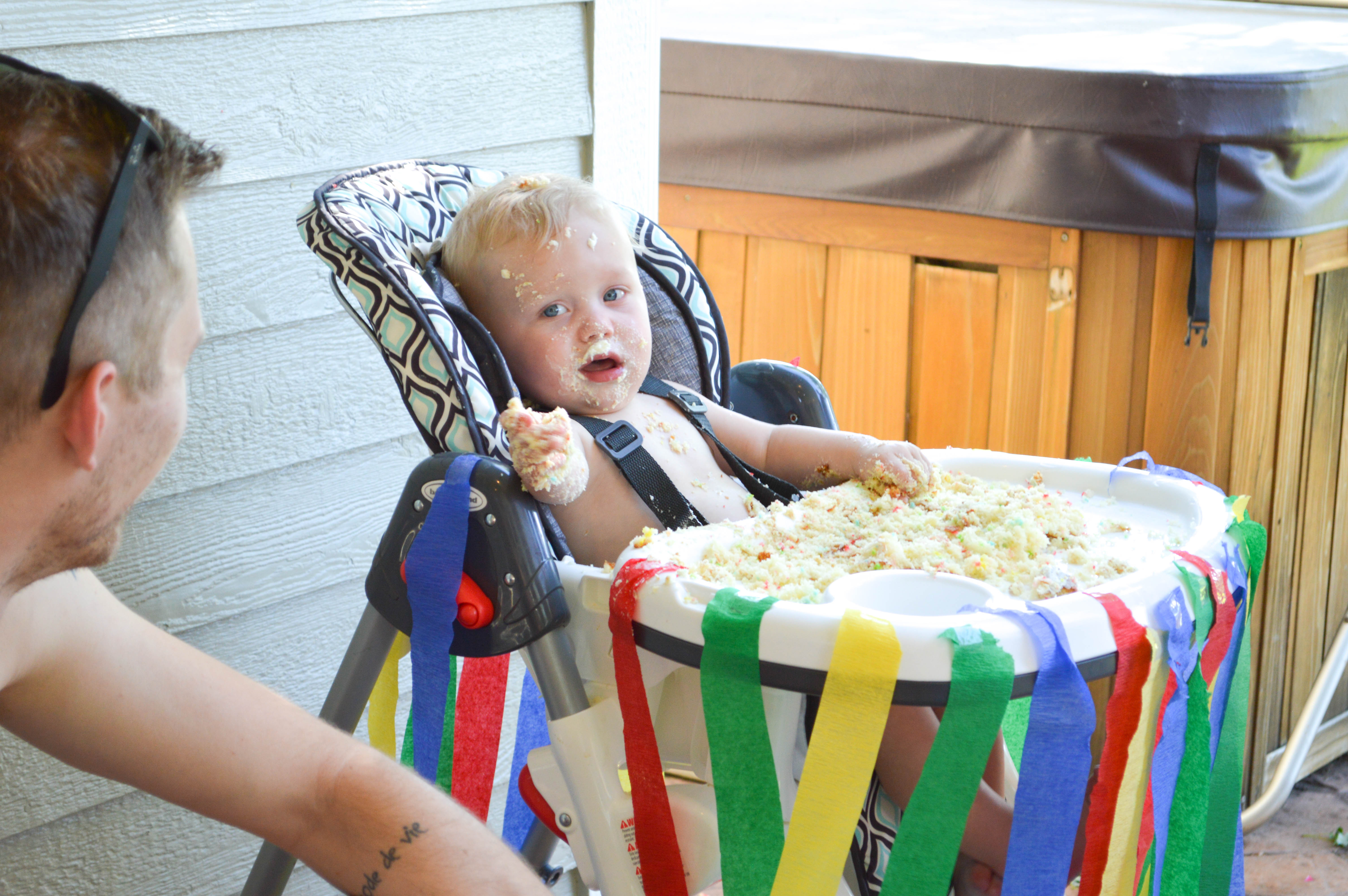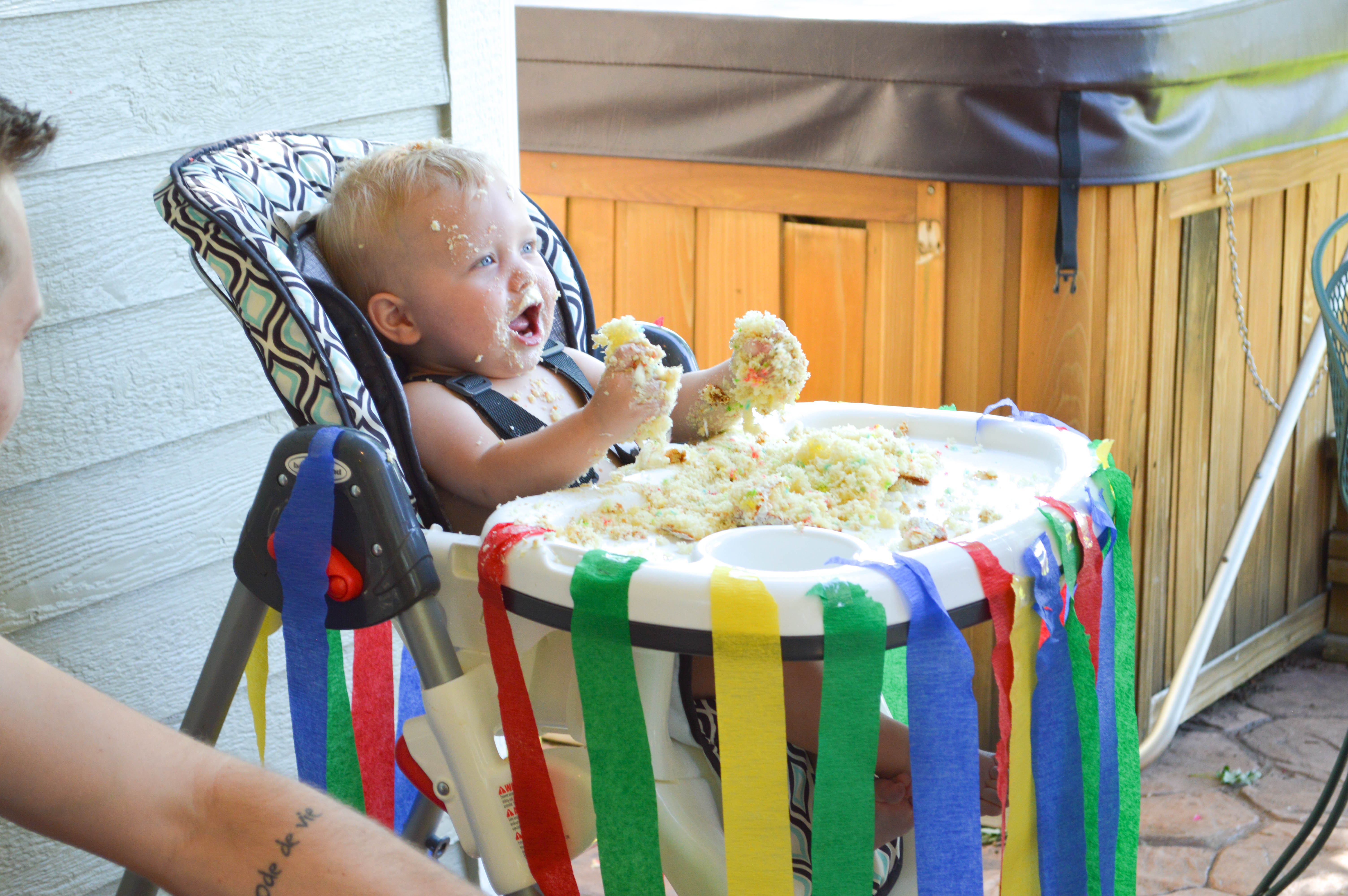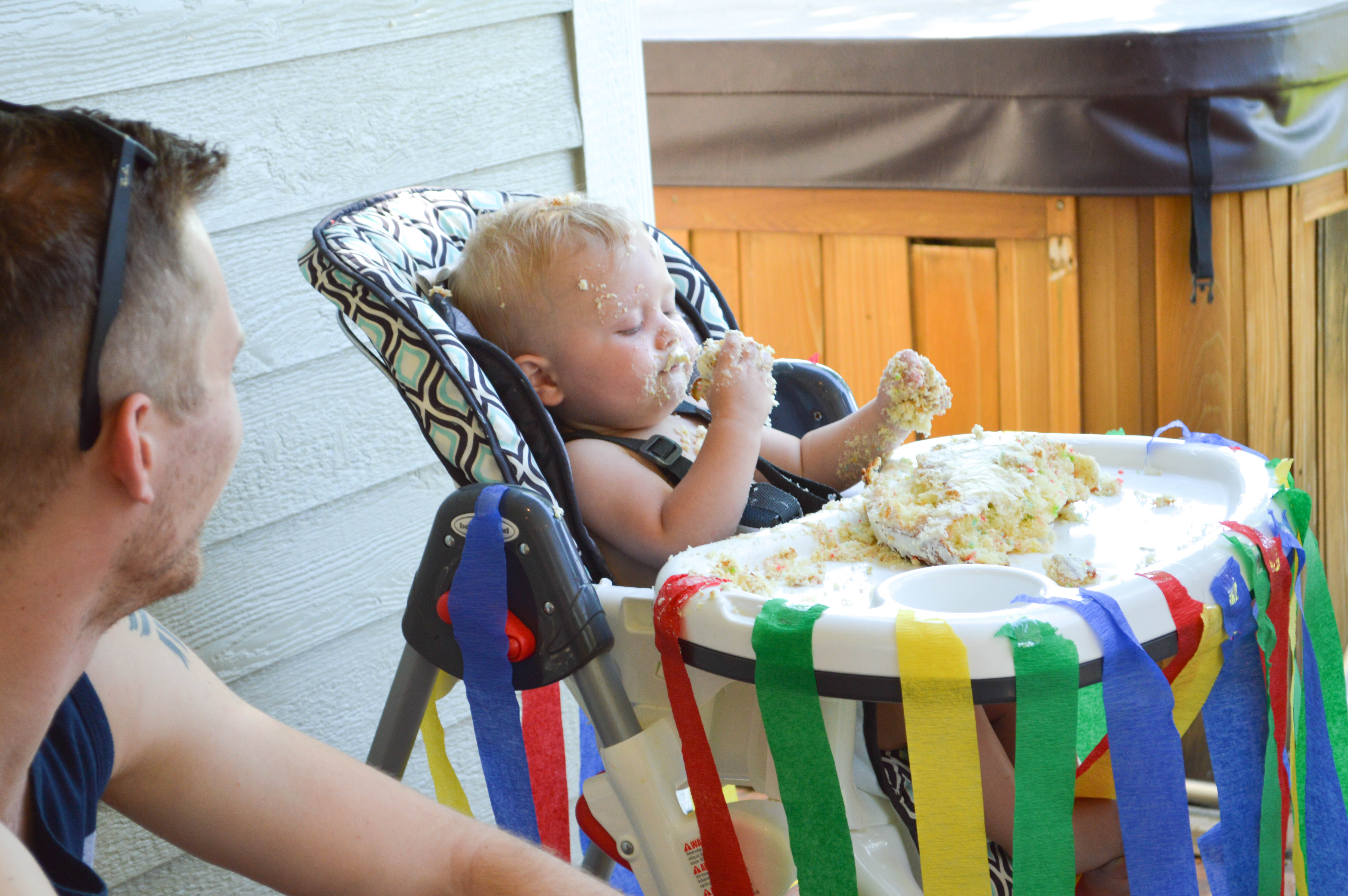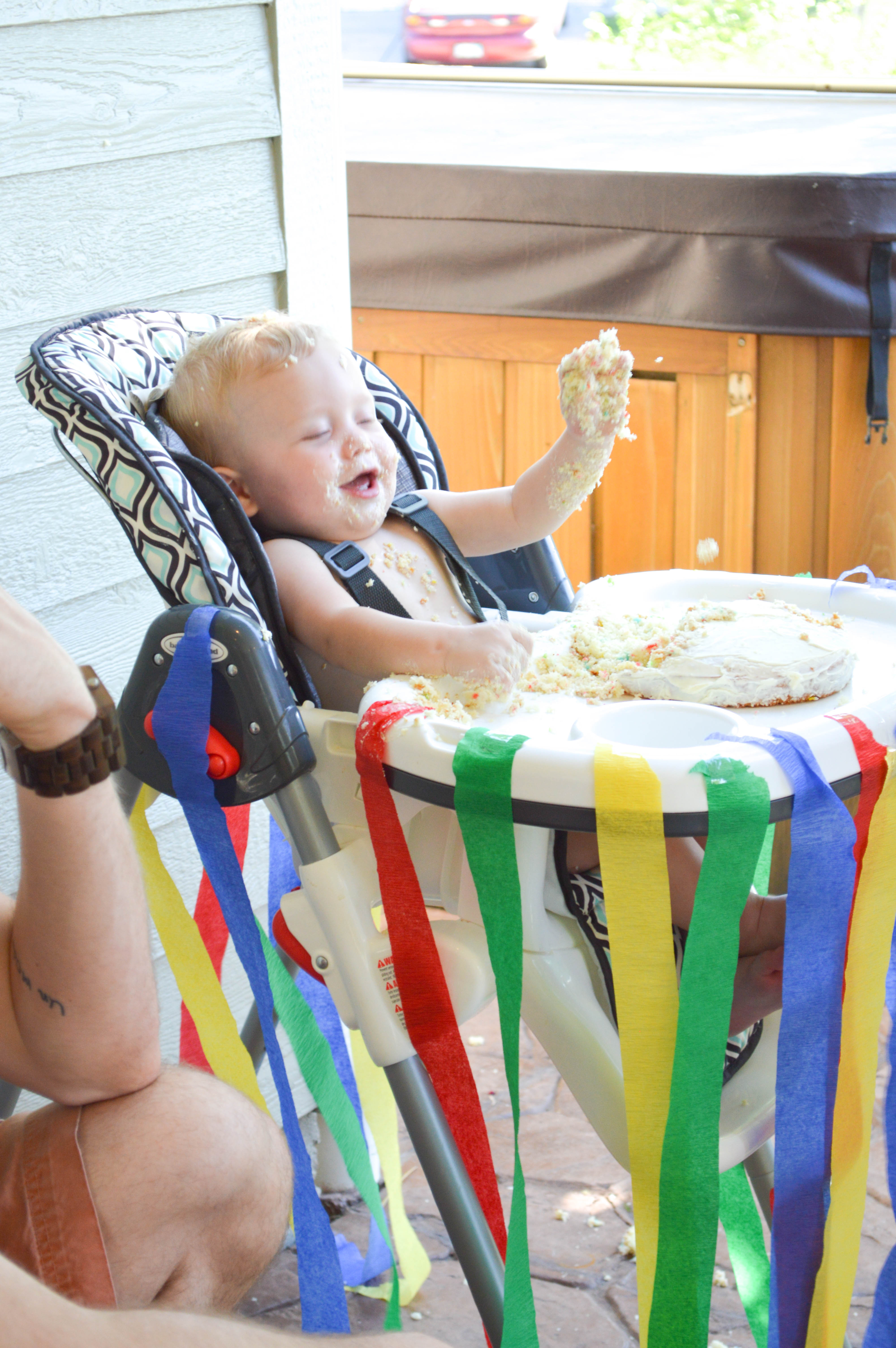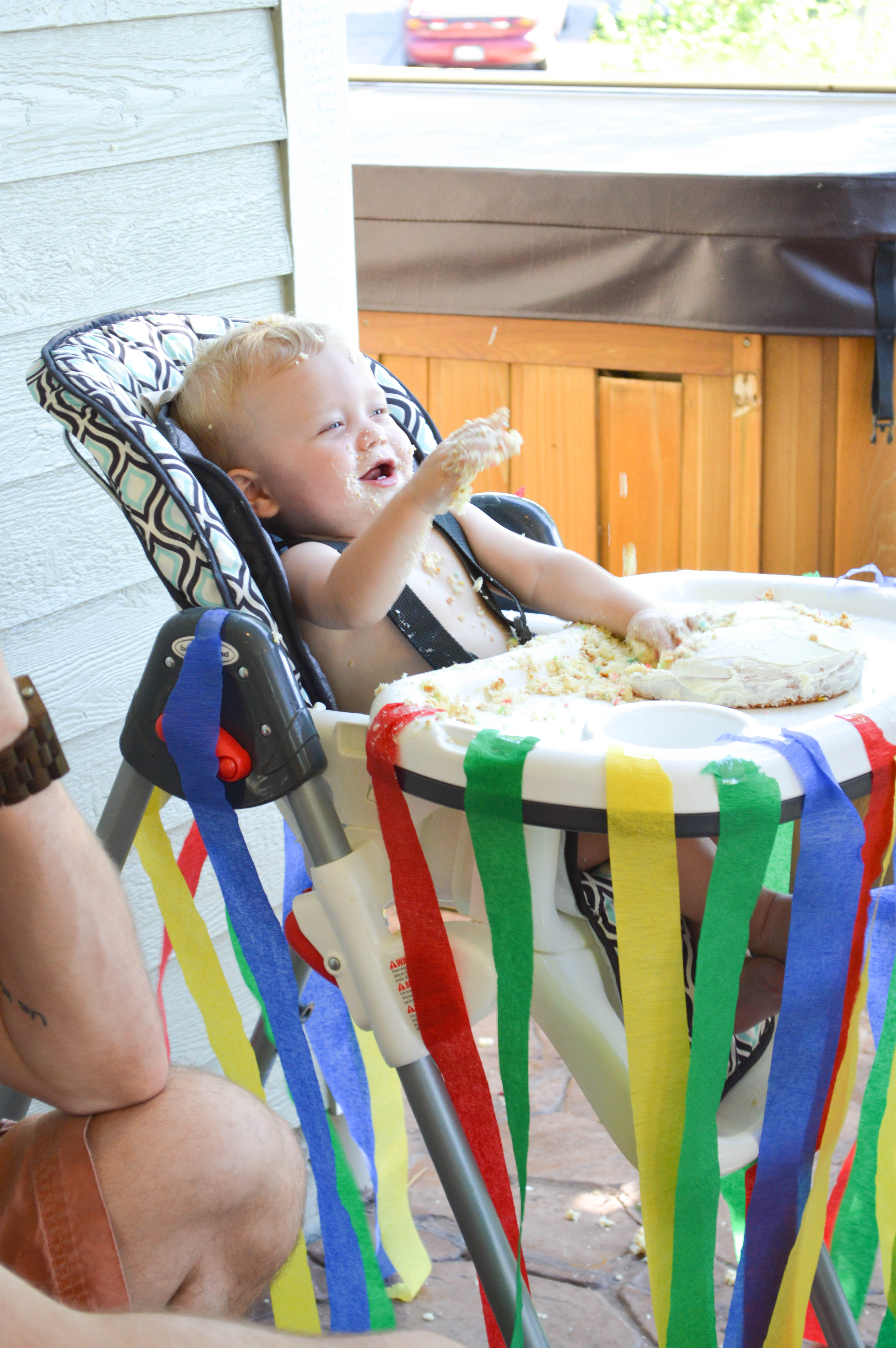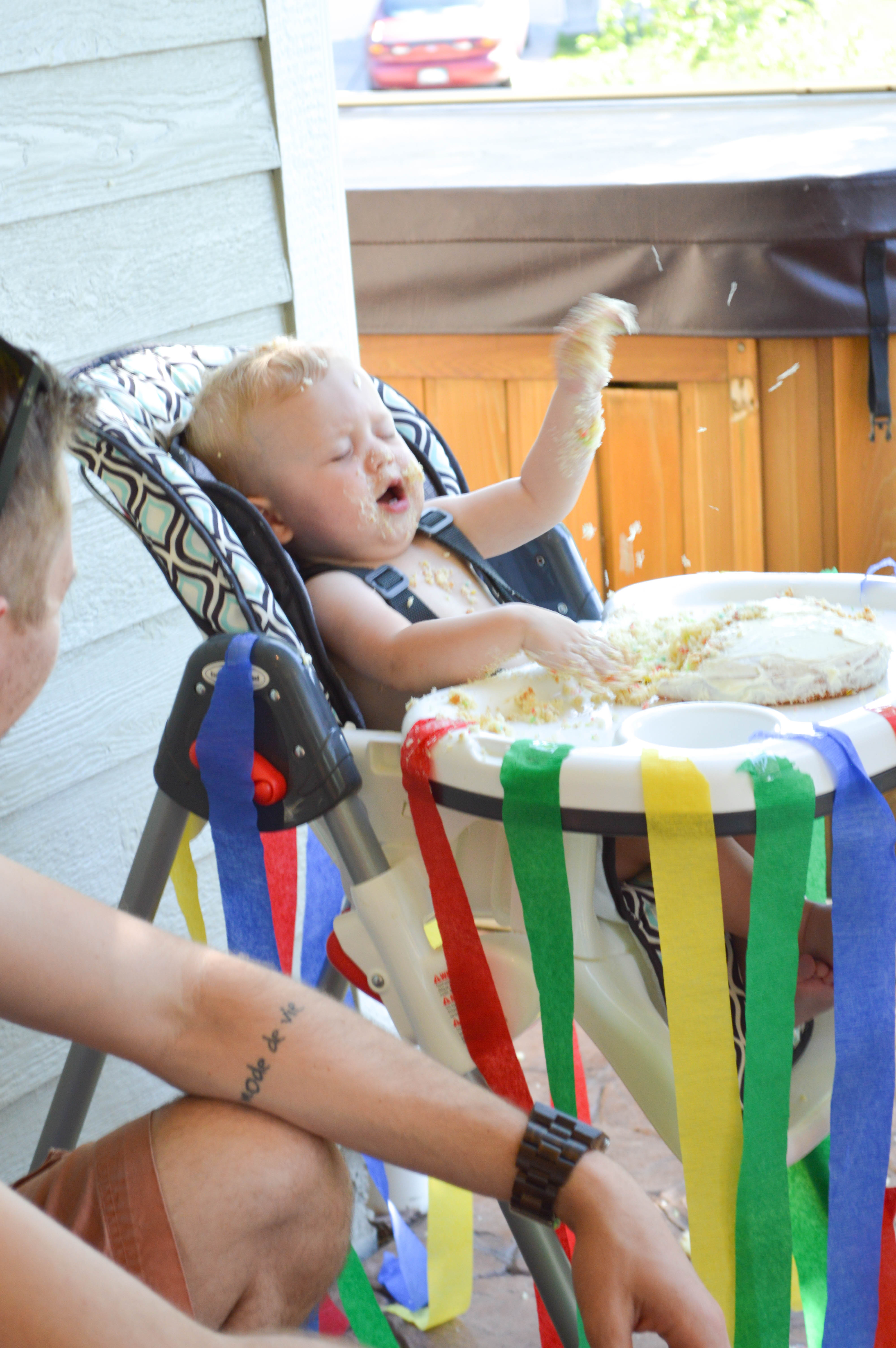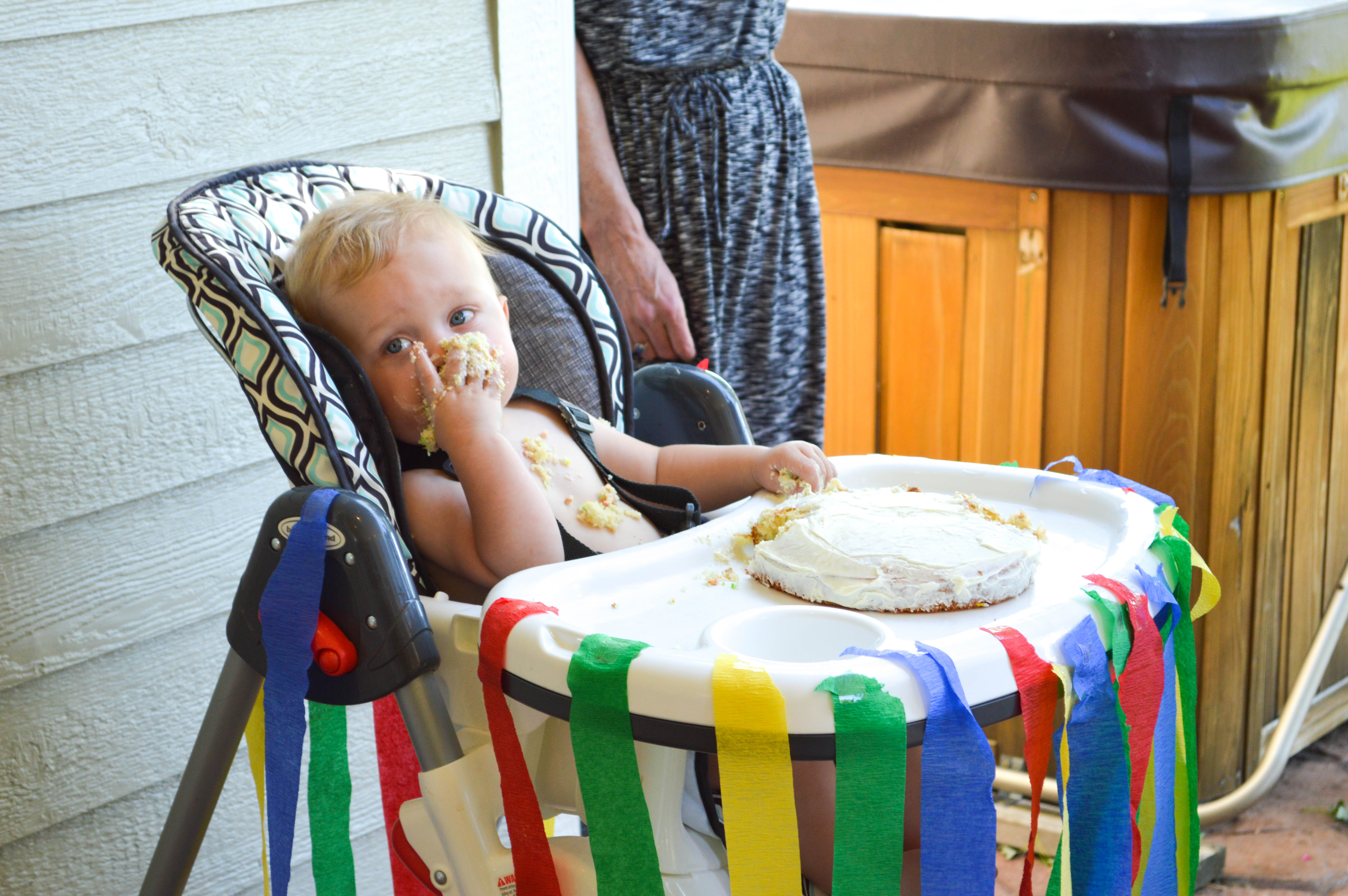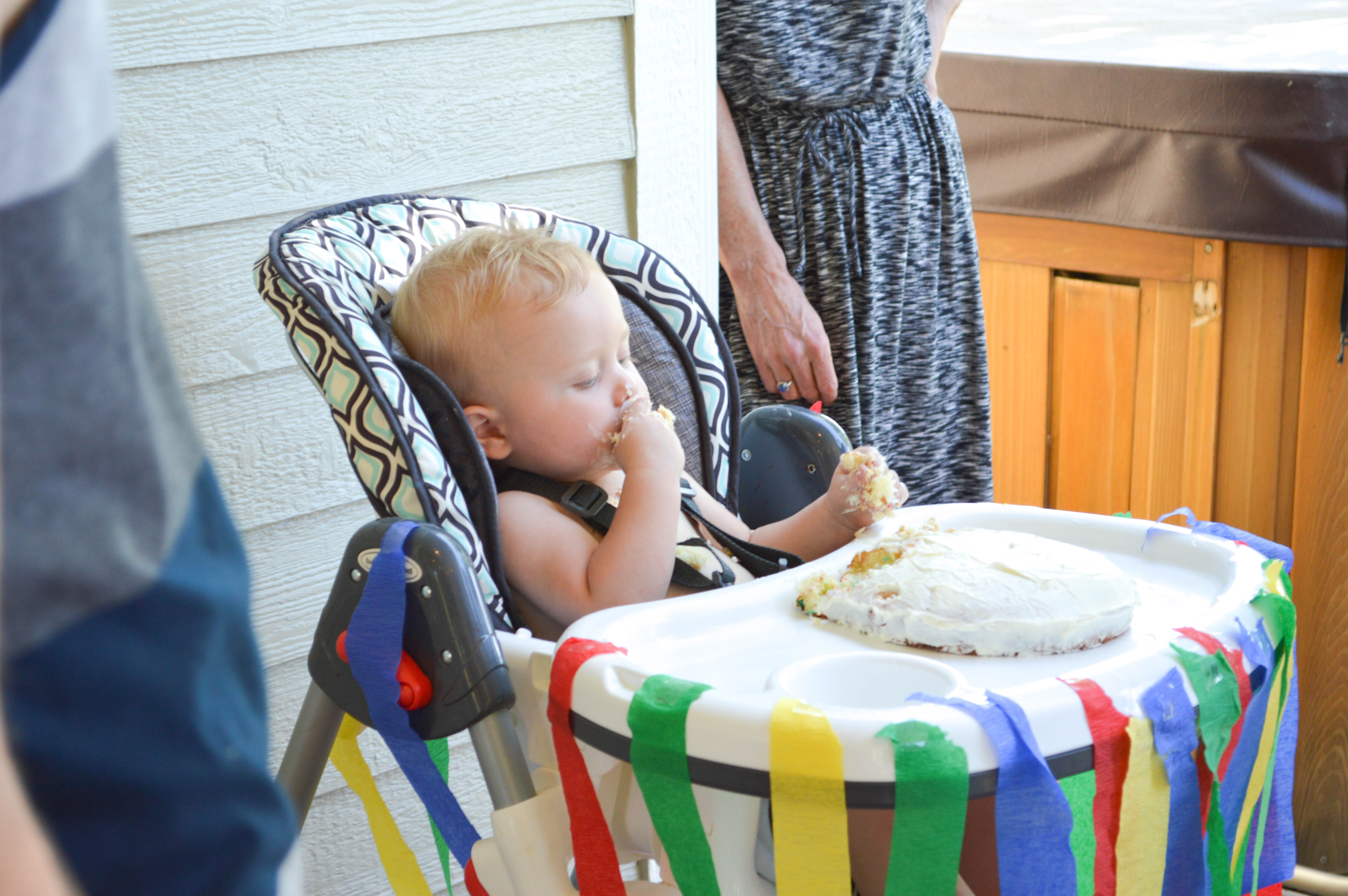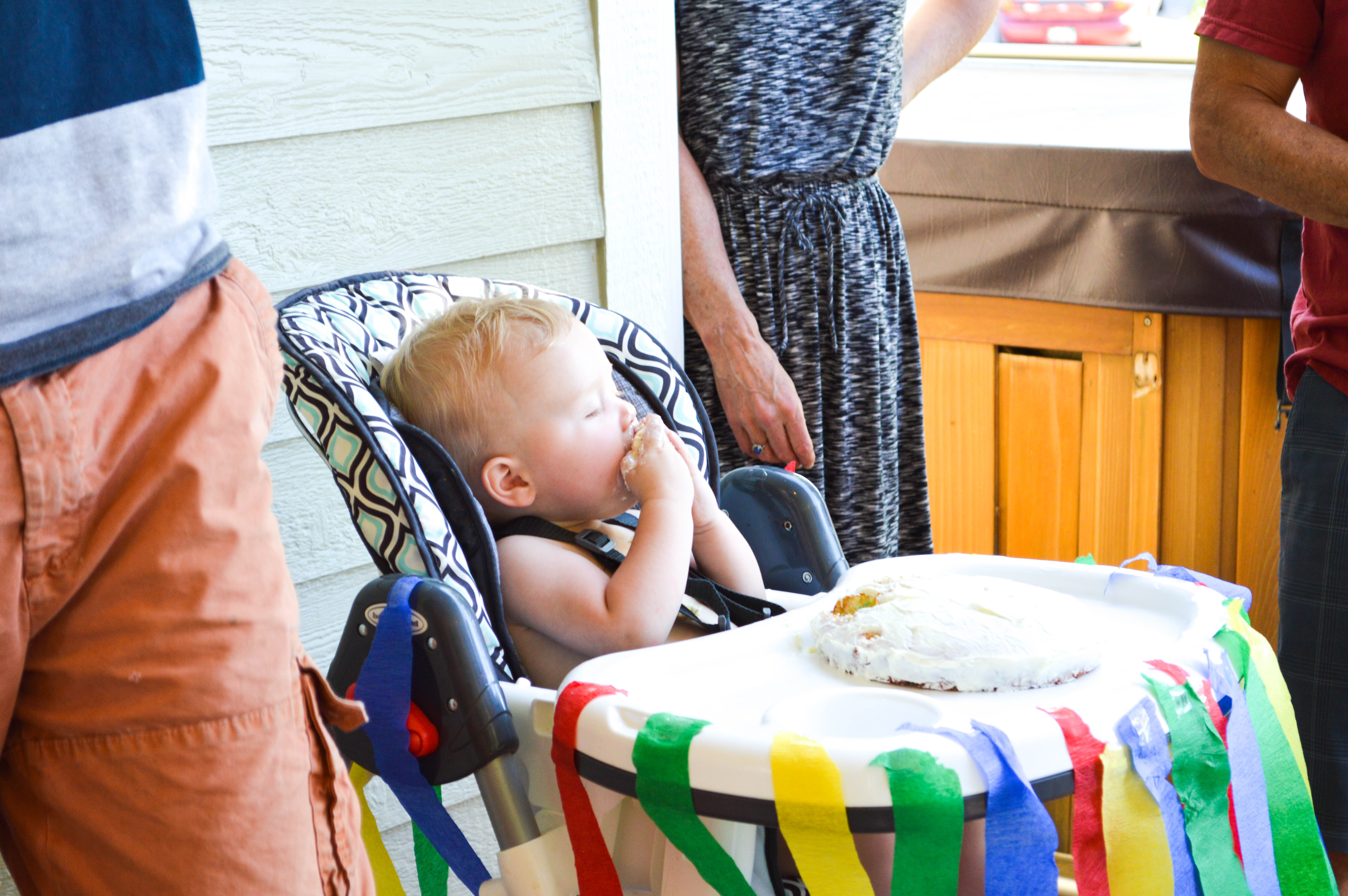 The Outfit
We got Sawyer's adorable Sesame Street Onesie from KottonCactus. I paired it with a denim diaper cover from Carters, and blue moccs from Freshly Picked.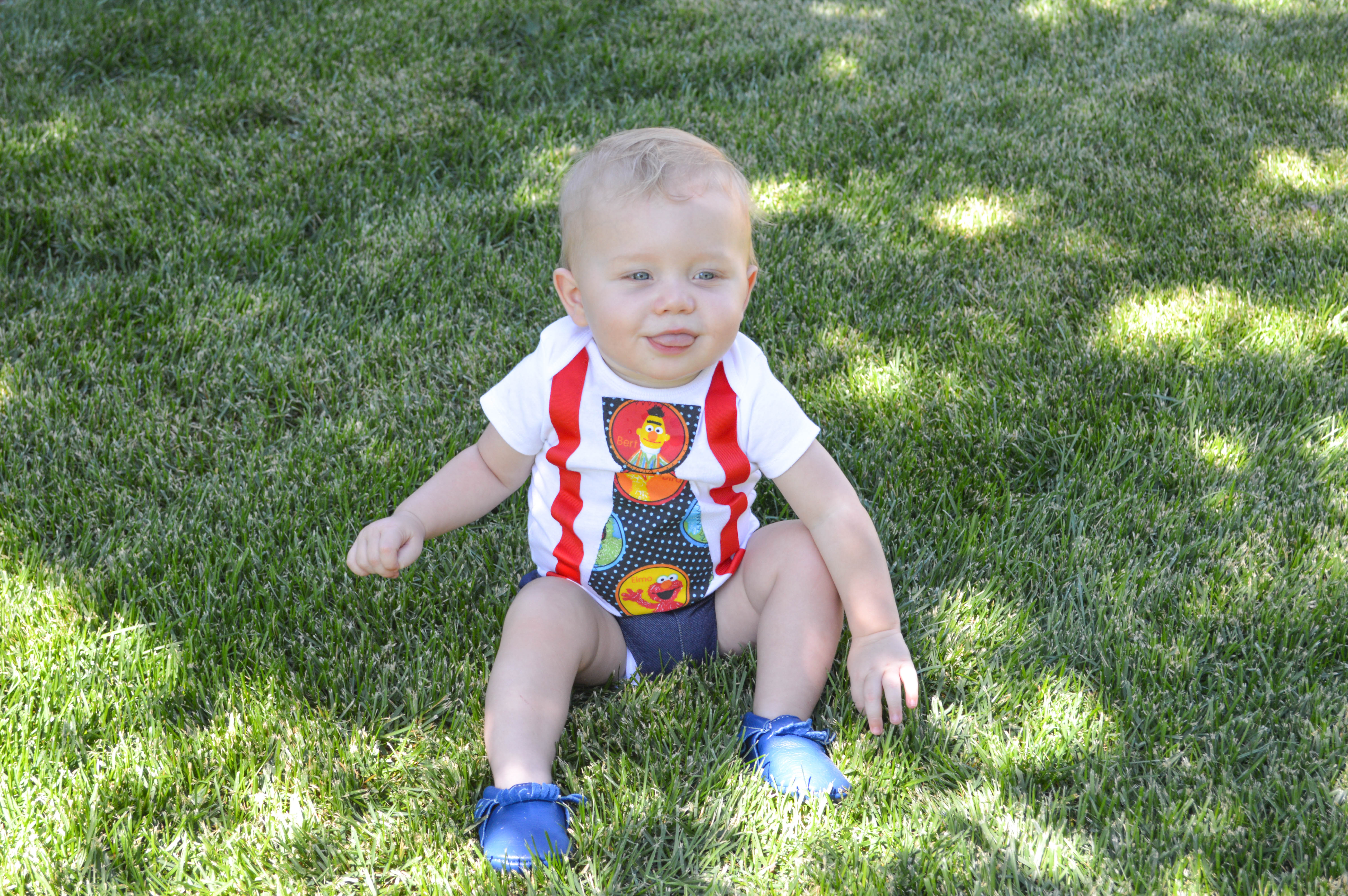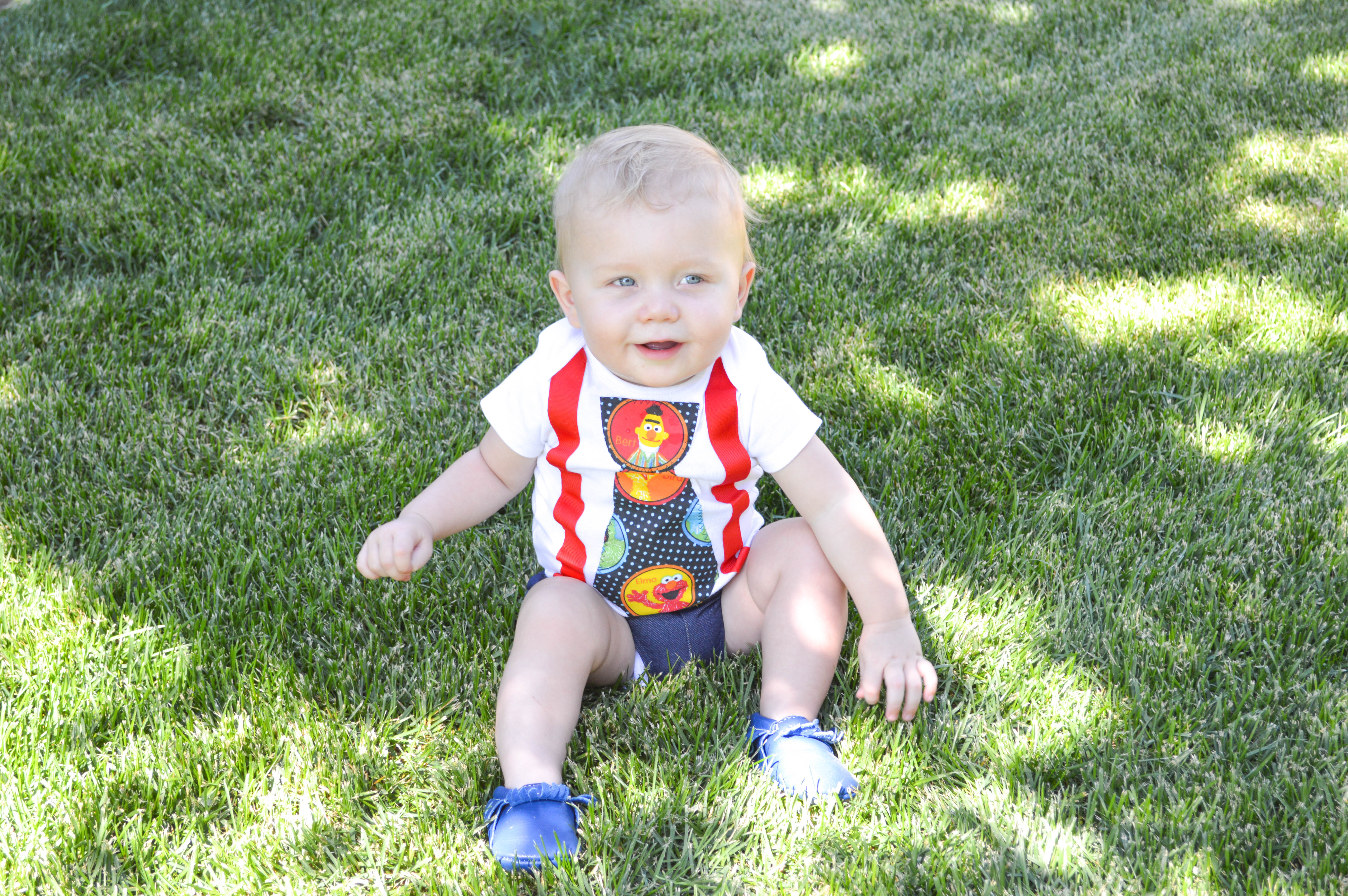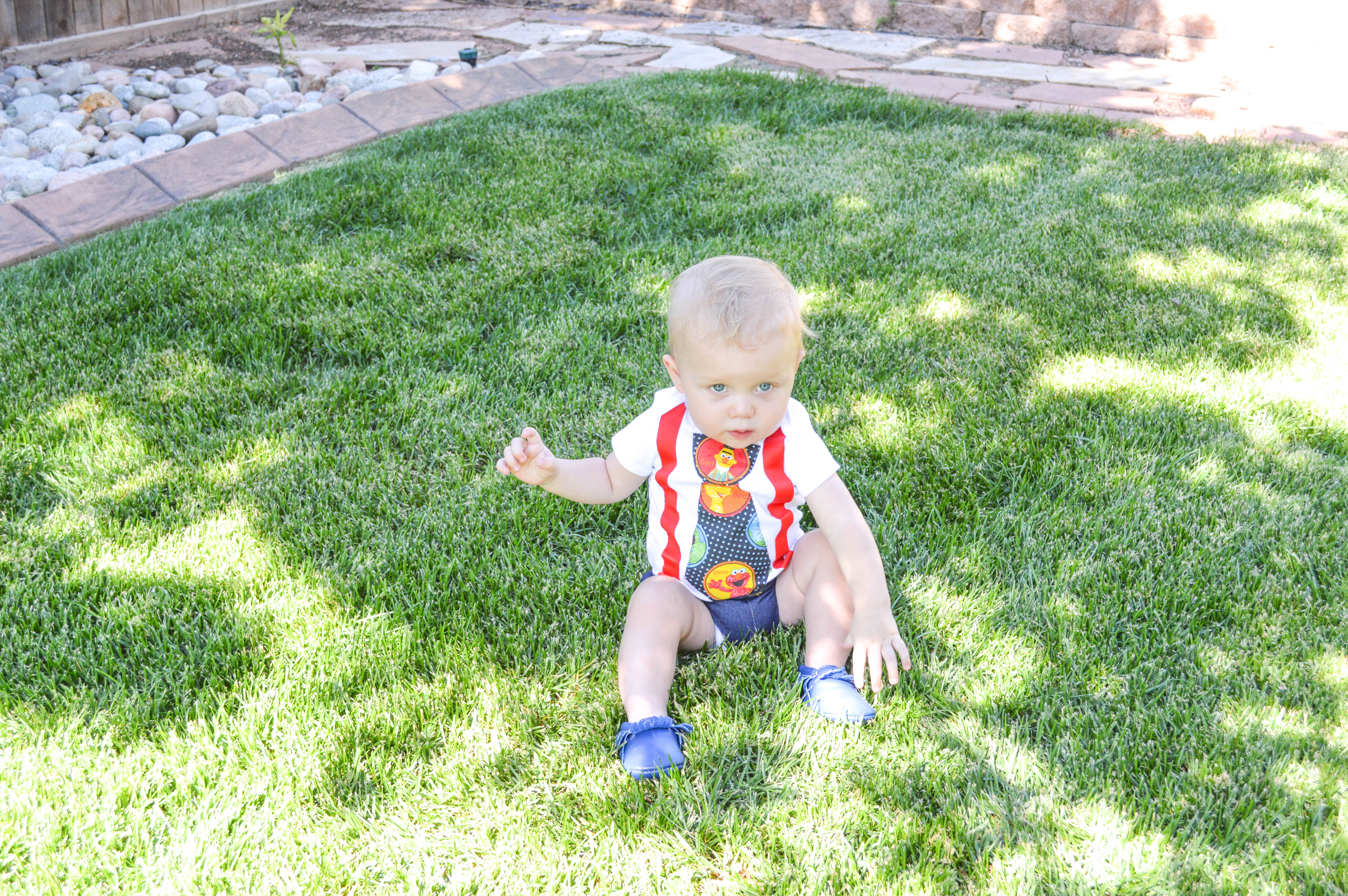 So, there you have it! Sawyer had an amazing time and I loved how everything turned out. Thank you to all of our friends and family who came and celebrated with us, and the shops that made everything possible!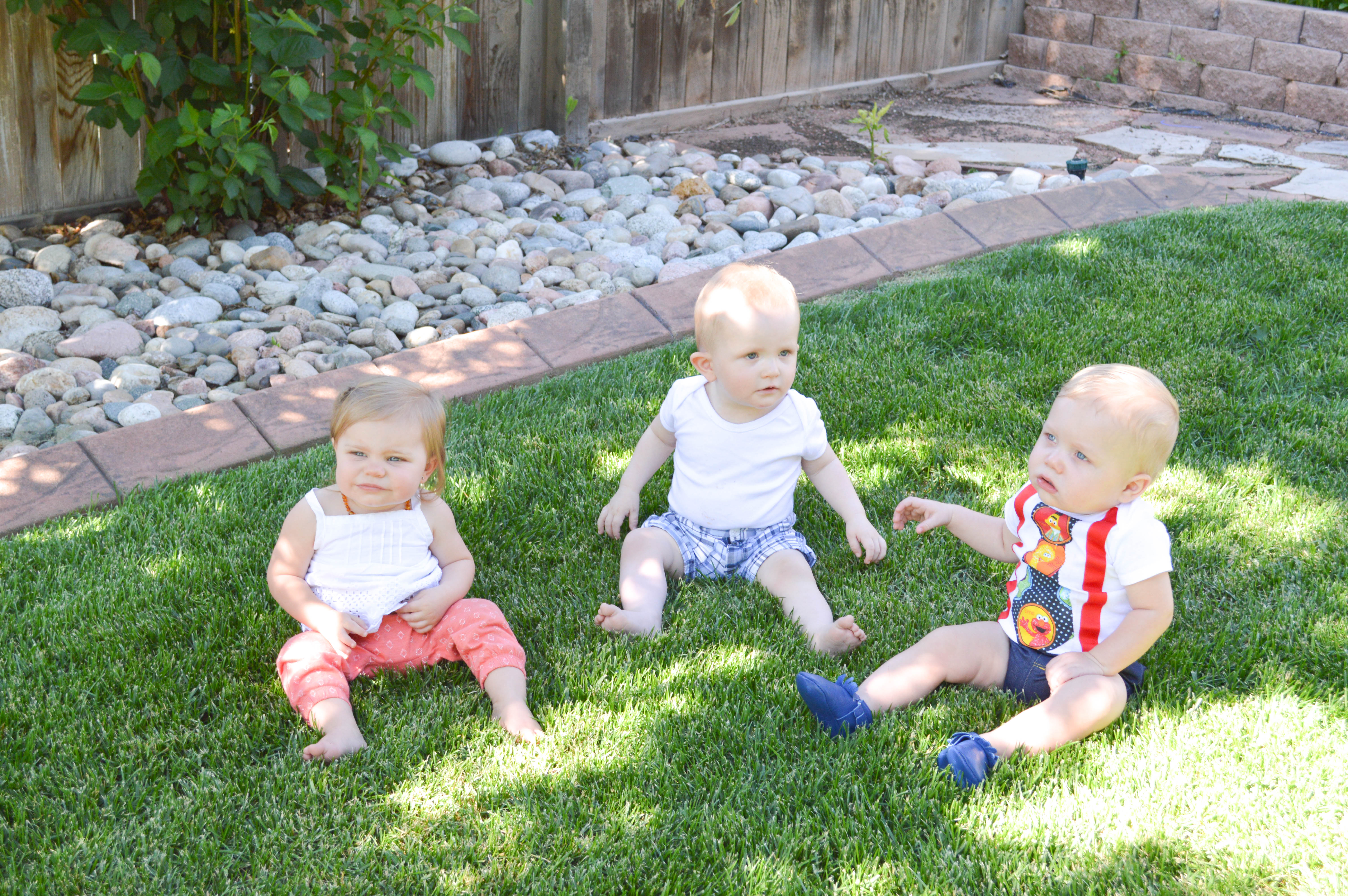 Invitations – use code SAWYER15 for 15% off
Pictures – mention All Things Lovely for $25 off your session
Cupcake Tower, Confetti, Tattoos, Balloons, and Streamers
xoxo.
Save
Save