So Sawyer is over 1 year old now. I spend a ton of time designing his nursery, it came out so adorable, I'm a blogger, and yet I've never shared his nursery! That's weird, right? It never dawned on me until now that I should share it. I worked hard on it and it came out great!
(after finishing this post, I remembered why I never shared before. The lighting in his room is not that great and the pictures never came out very good. Oh, well!)
When I was pregnant with Sawyer, I couldn't wait to get started on the nursery. It's the only room in our house I truly decorated from start to finish (I'm making up for that now by redoing the living room and master bedroom), and I had so much fun with it!
The first thing we needed was a theme. I originally wanted to do a nautical theme, but every single friend I had who was pregnant with a boy (and I was coincidentally pregnant at the same time as a lot of my friends and acquaintances), was doing a nautical theme! And I wanted to be original, but still do something fun.
I wanted the theme to mean something and not be just be because. We ended up going with an aviation theme because Kurtis' dad was in the air force, and we had some aviation decor with cool stories. We went with the color scheme of navy blue, red, and gray.
We hate painting so we decided to just pain one accent wall in navy blue (the rest of the room is beige). Plus we though and all navy blue room would be too dark. We're bad painters and after our first attempt my mom (the best painter ever), had to come over and fix it for us. But it ended up looking great!
Then, I bought the wooden letters for F-L-Y and painted them dark red. I hung them on the accent wall above his crib and loved it!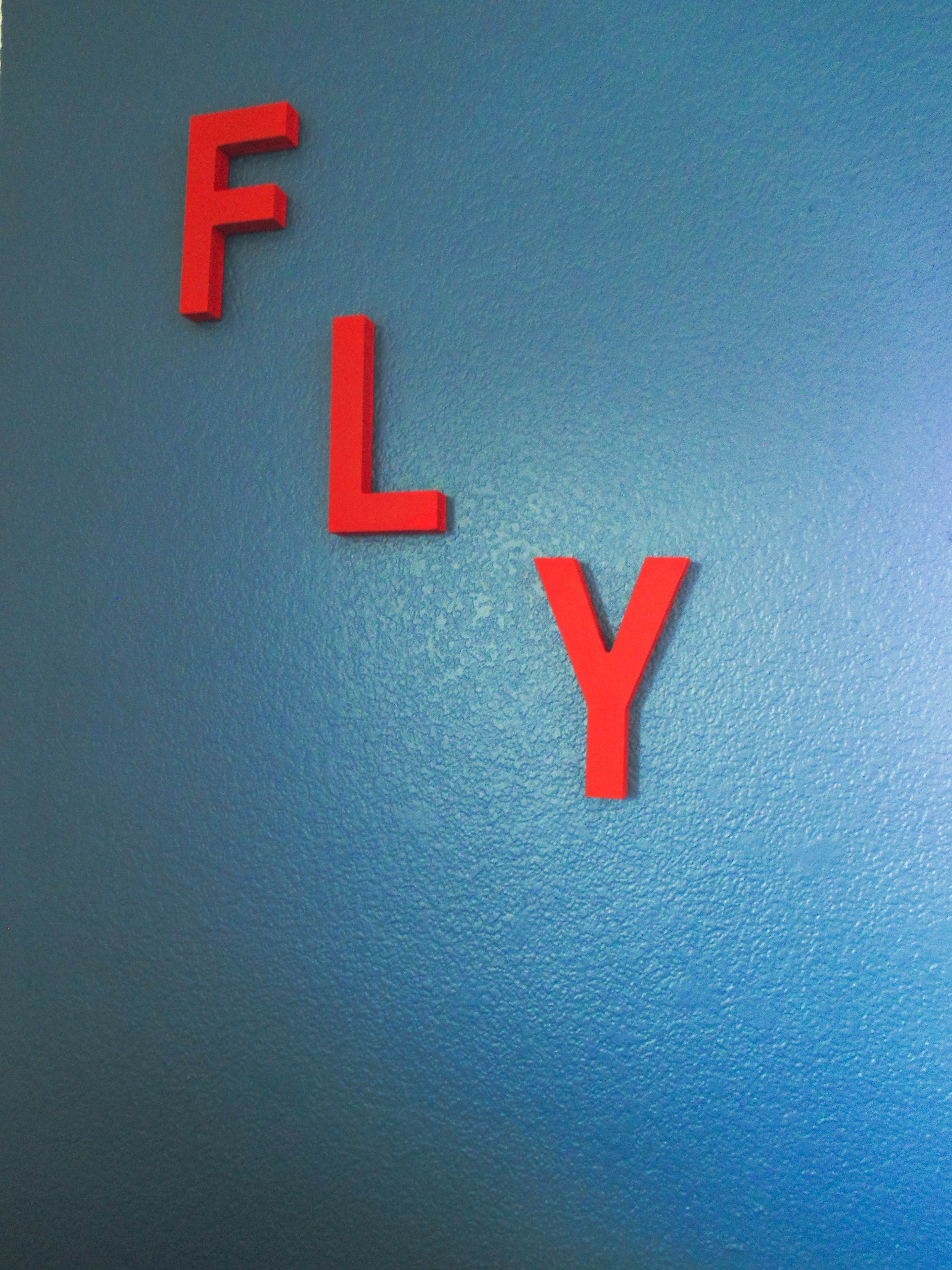 I found the dresser/changing table combo on craigslist for $10. It was originally just a light brown and I painted it gray (all by myself, thank you!). I ordered the print above off of etsy and found a gray frame for it to match. We got this adorable gray changing pad cover form Copper Pearl and love it!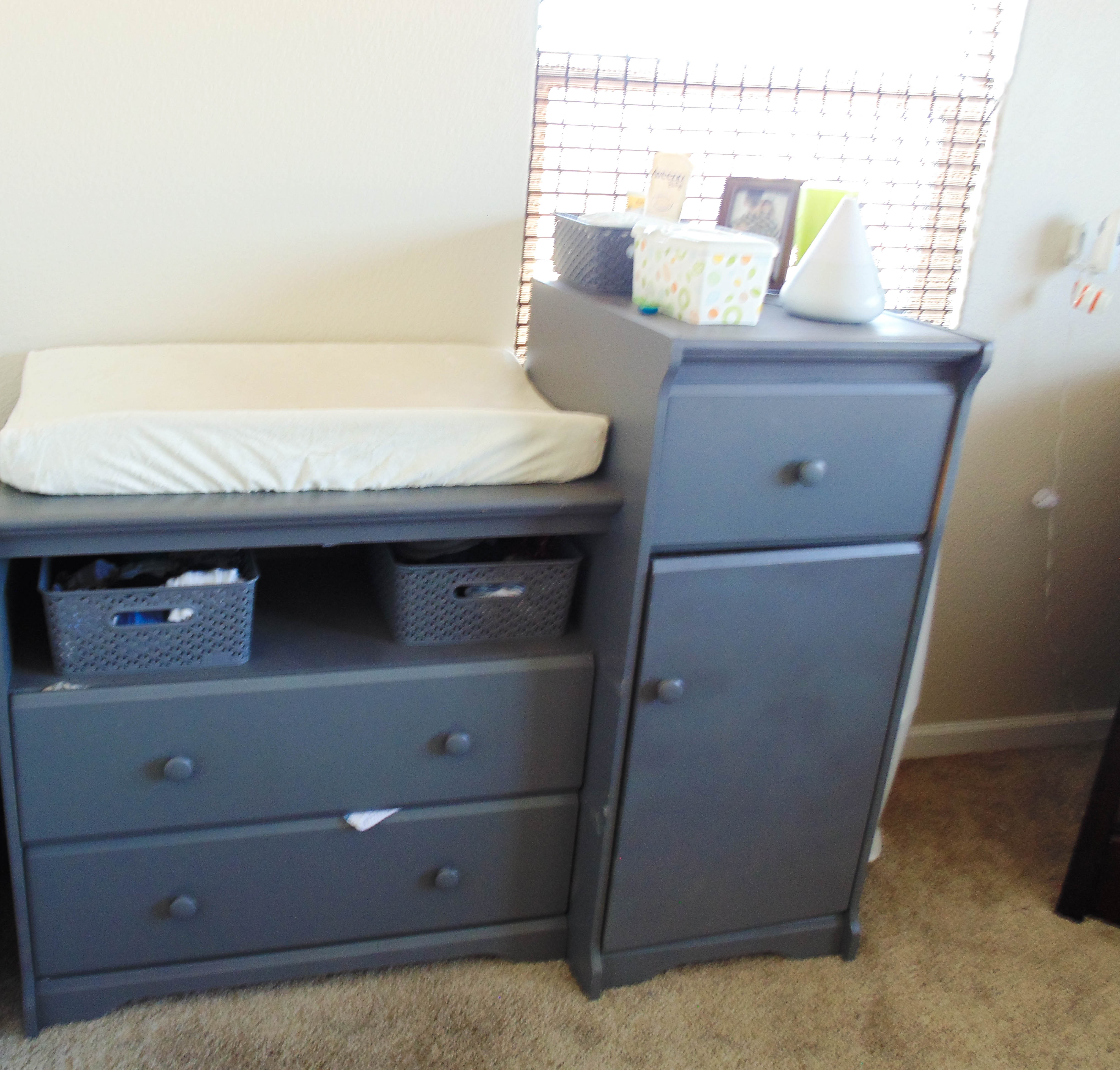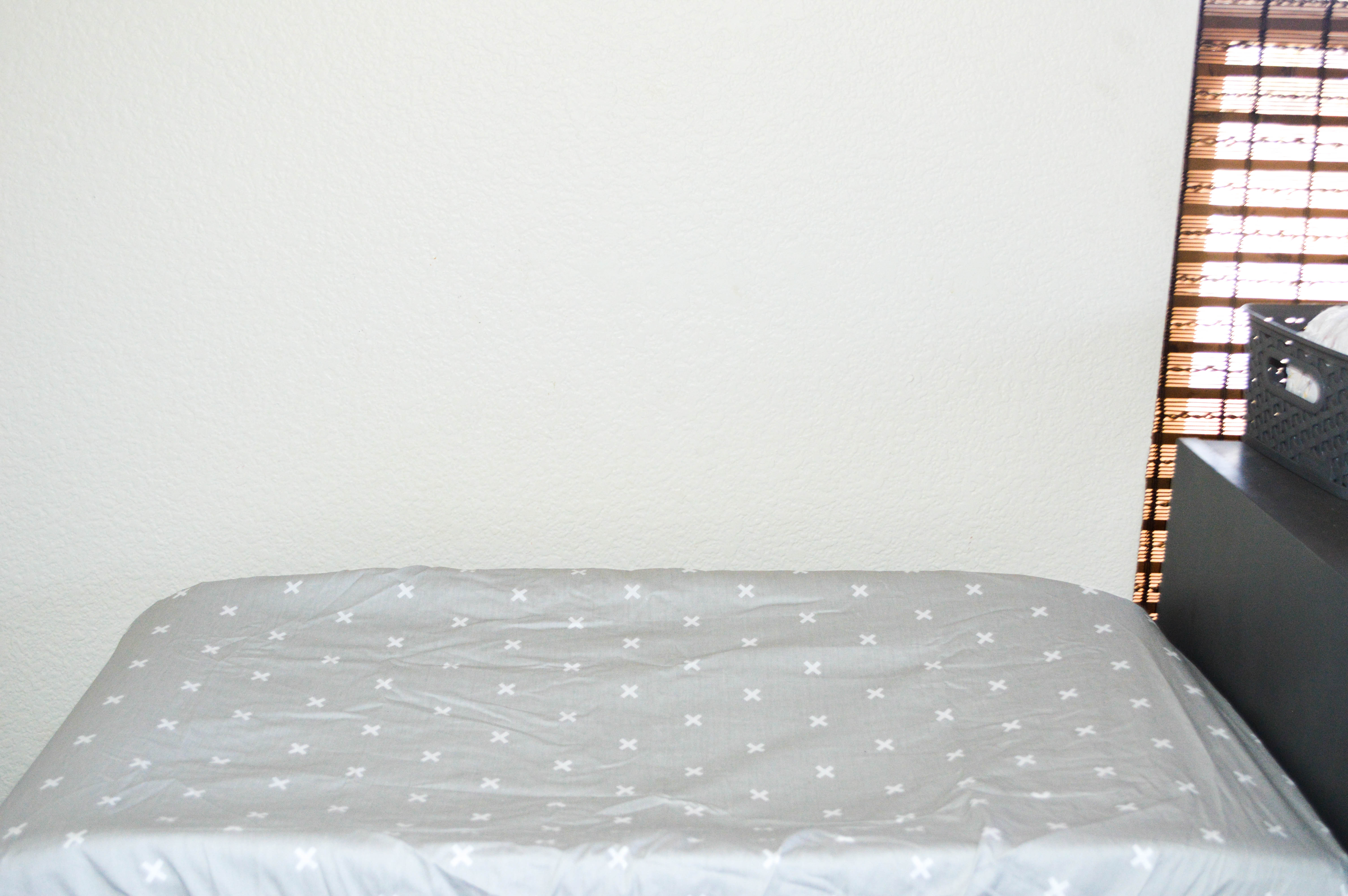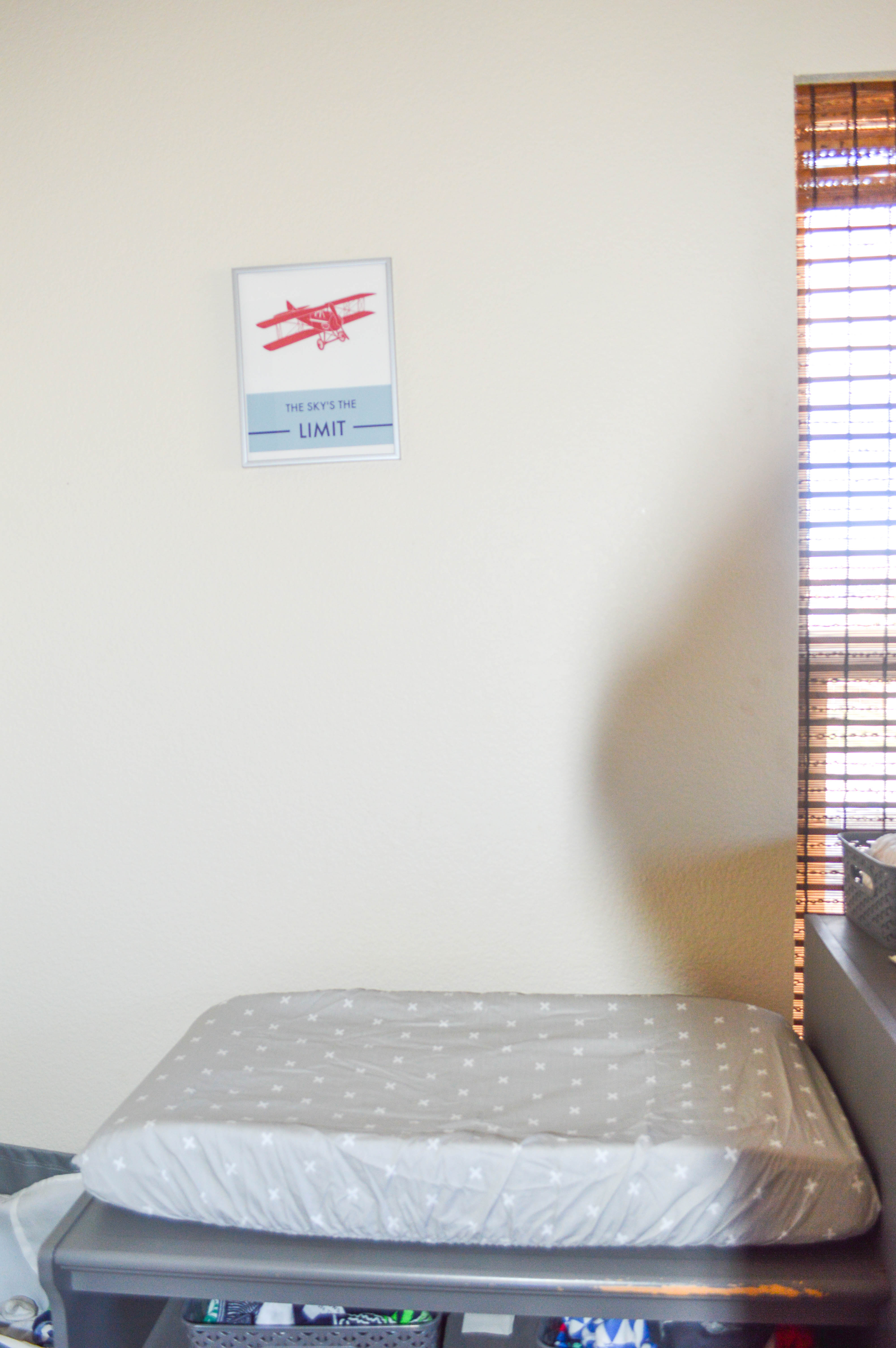 For Sawyer's crib, we originally had bumper pads made of cute fabric with plane designs on them that my mother-in-law made (don't worry, Sawyer didn't actually spend nights in his crib until he was almost 8 months old and the risk for SIDS had gone down). We ended up removing them after a few months because he likes to kick his legs down on them, completely mishaping them. We also had a red bedskirt, made by my mom, that we had to remove once we lowered the crib when he started trying to climb out. His cute gray cribsheet is also by Copper Pearl.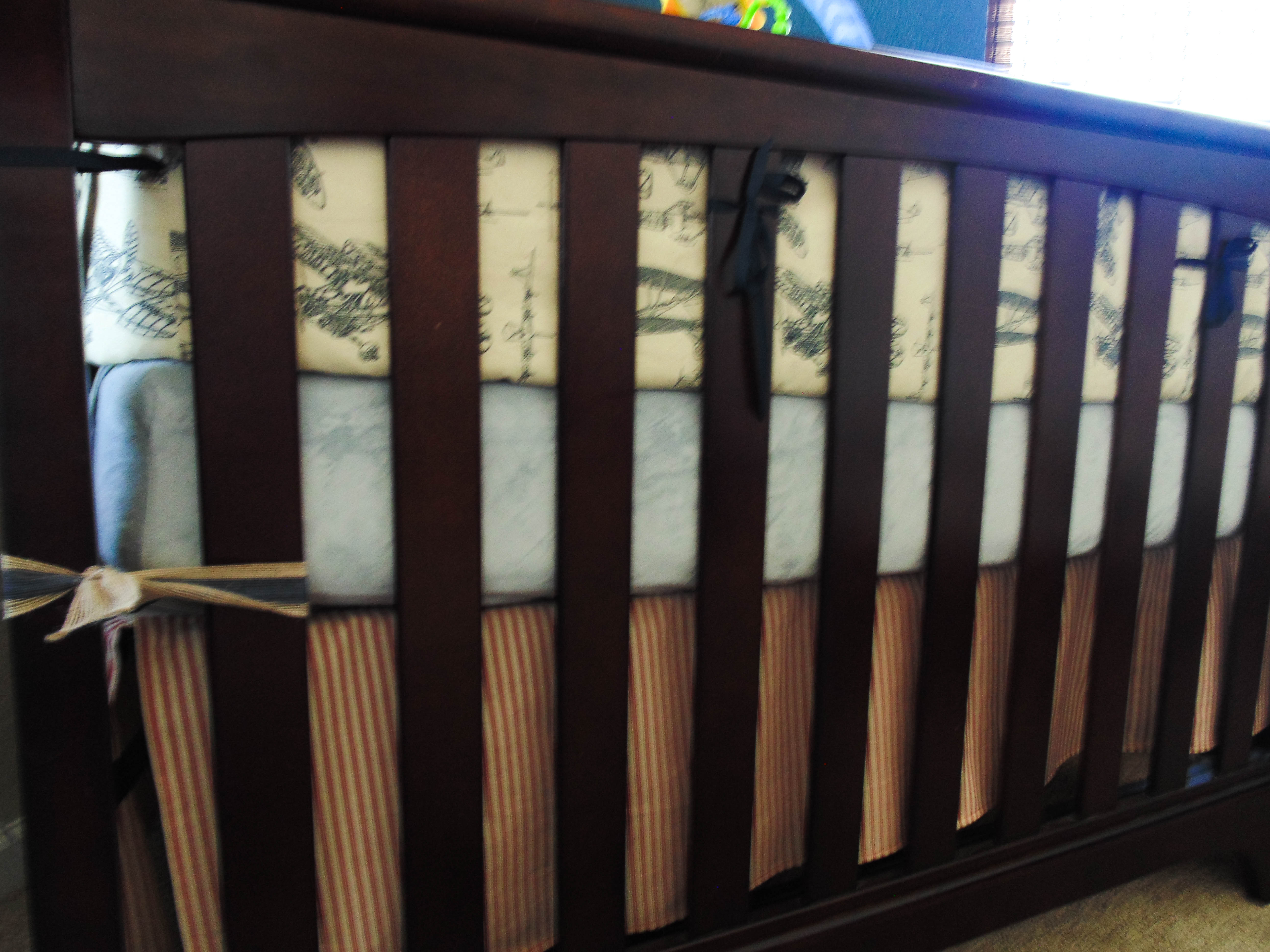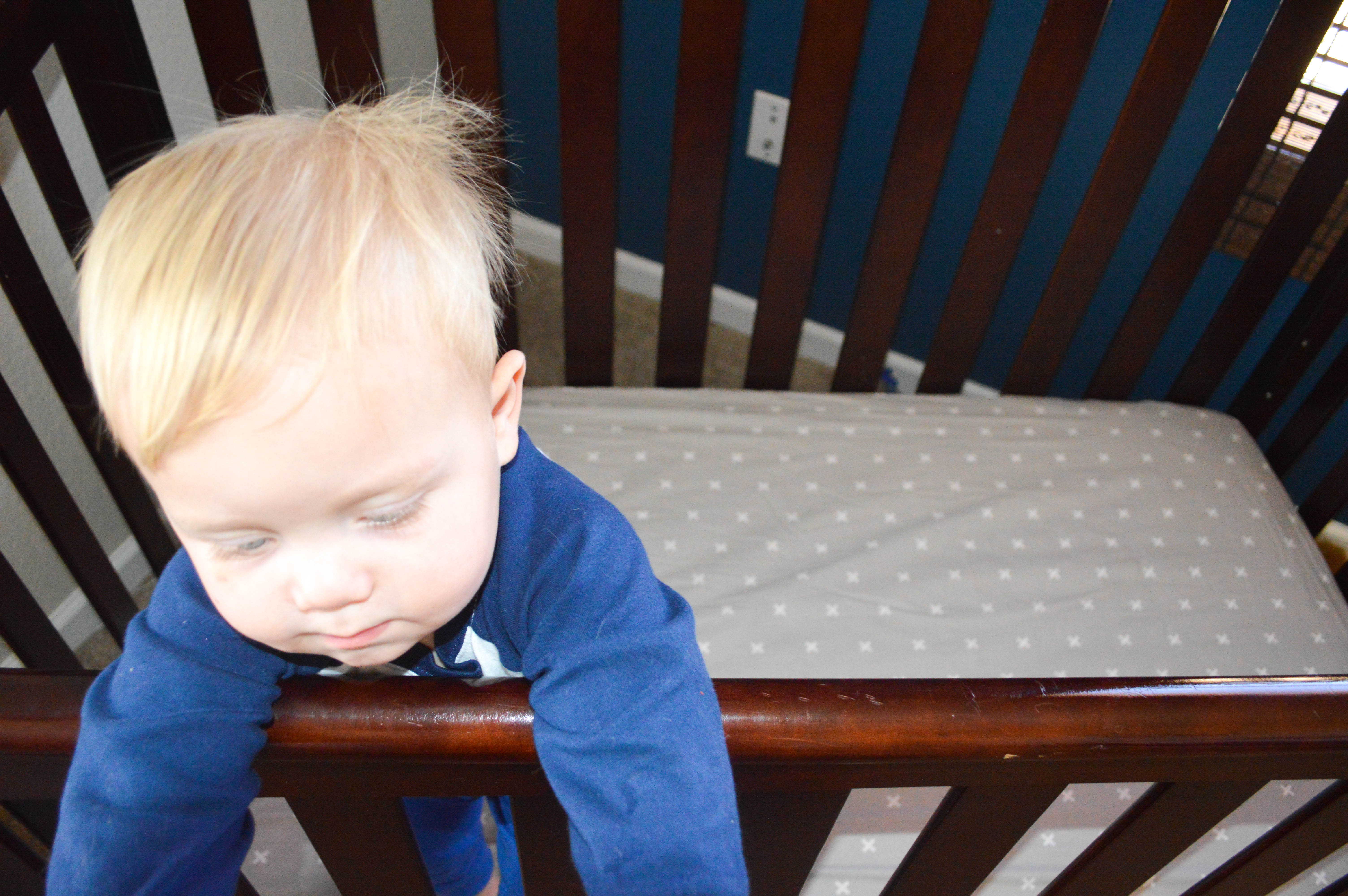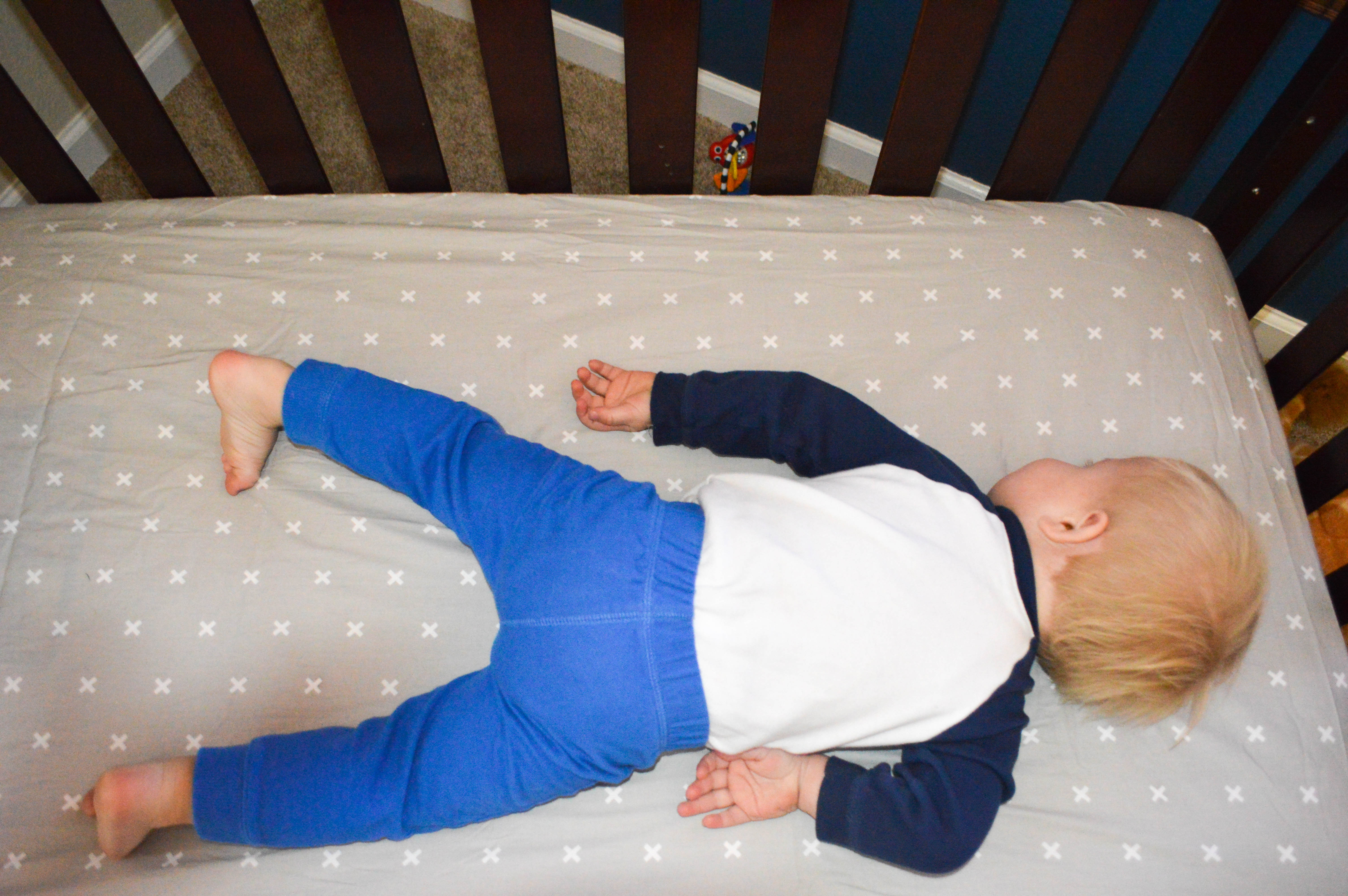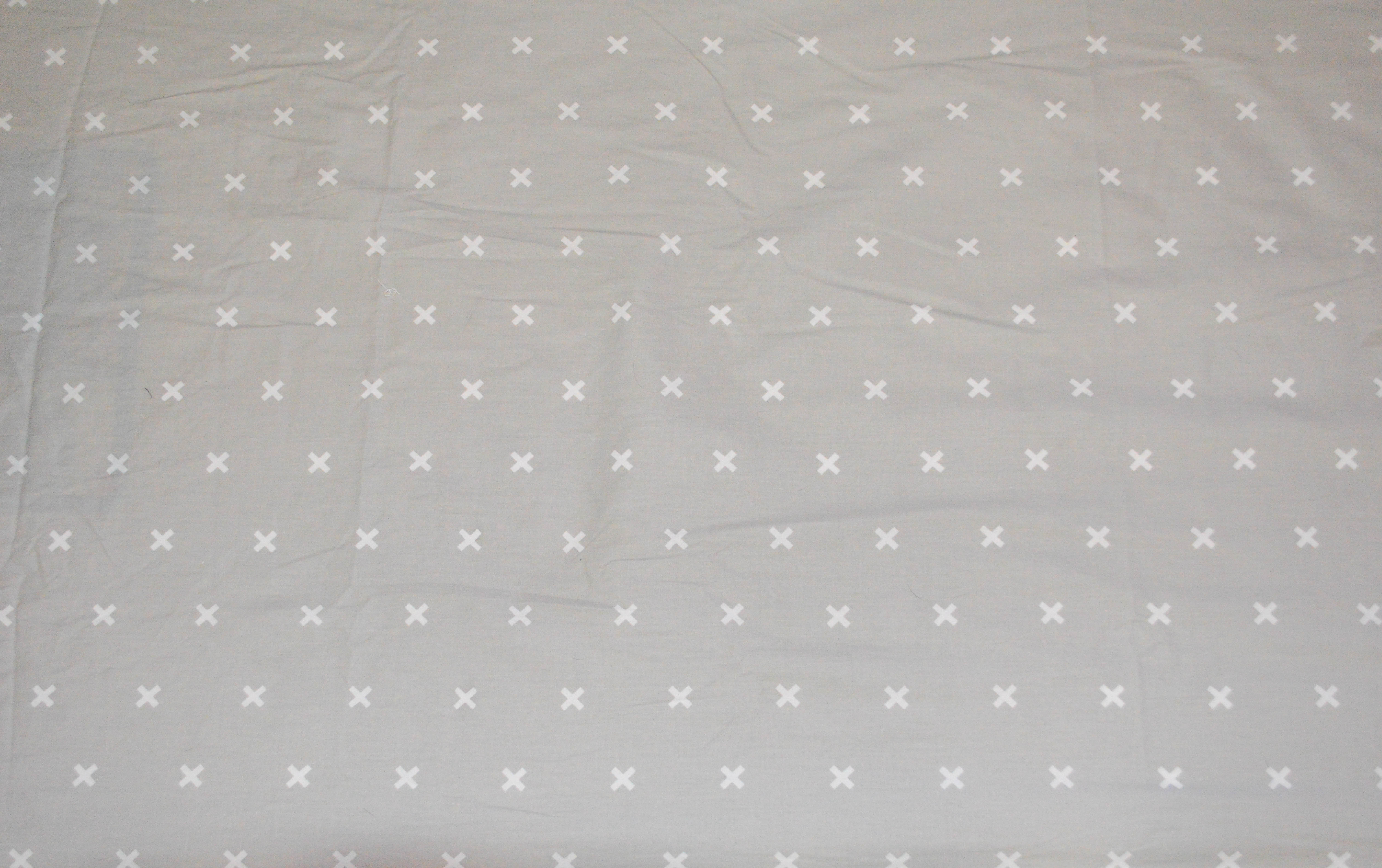 This gorgeous rug was also made by my mother in law and is one of my favorite pieces in the room!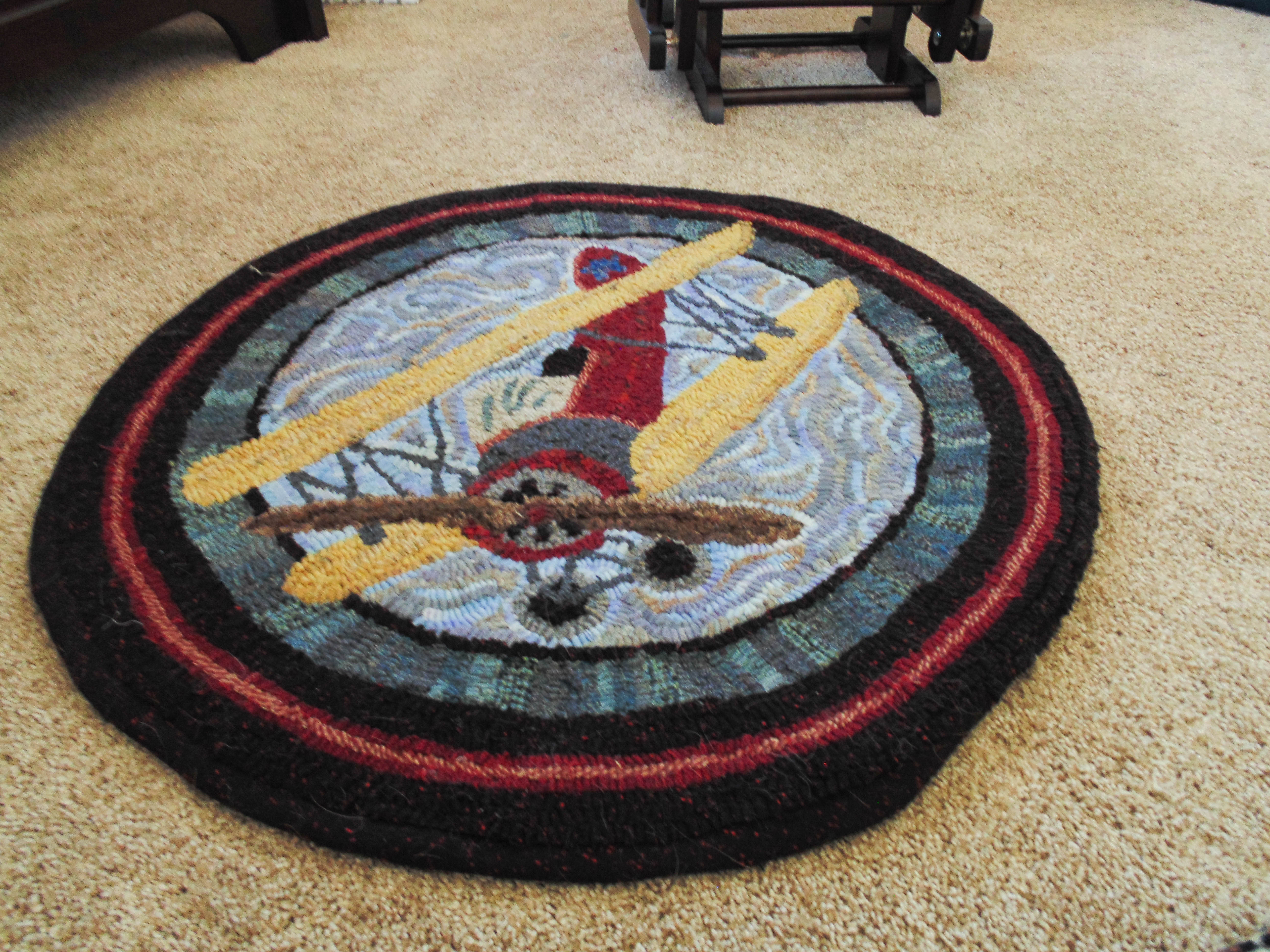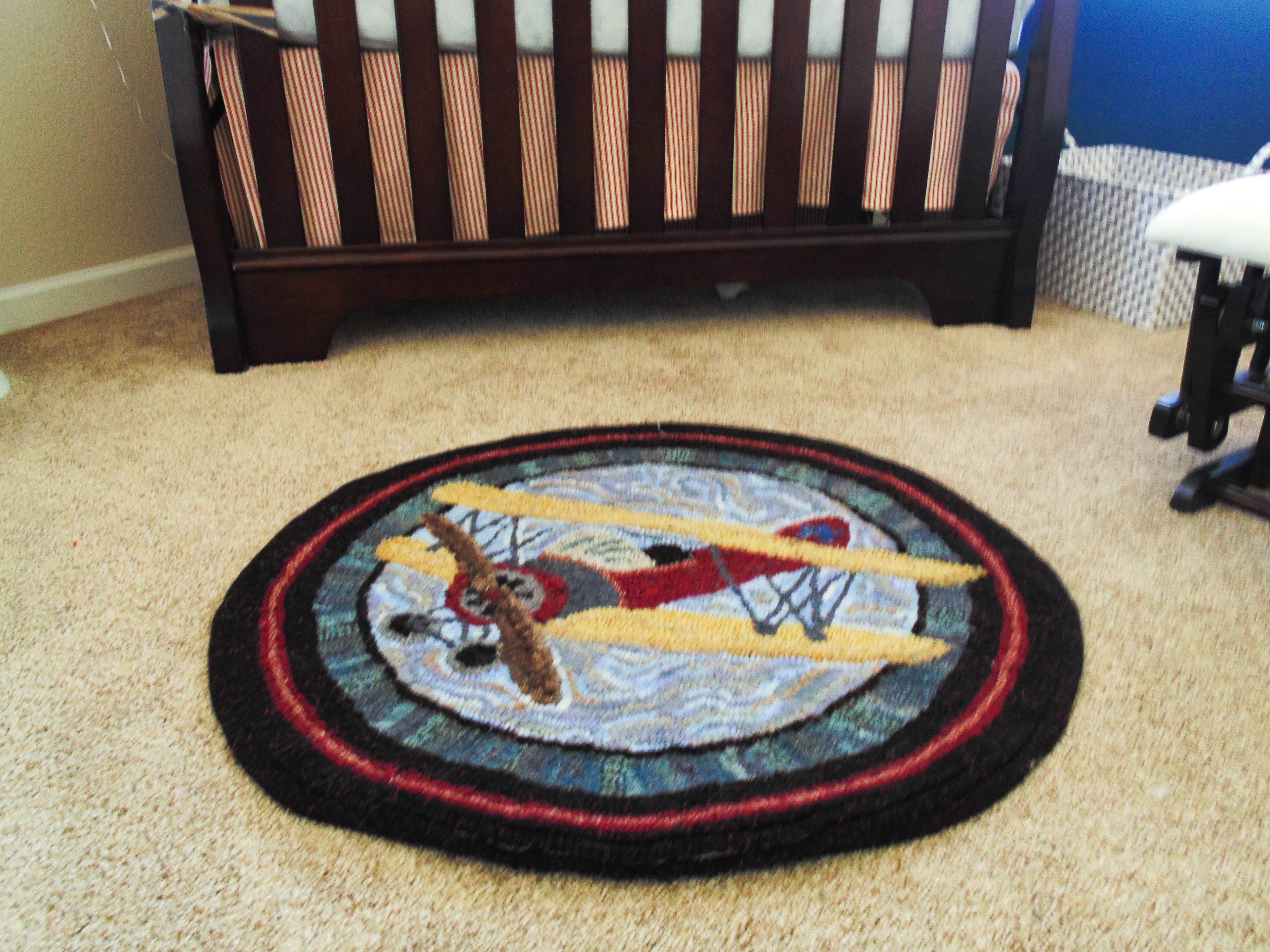 Before I got pregnant, our second room was used as an office/guest room. We have family come in from out of town, or friends stay over from time to time so we didn't want to give up being able to house guests. So, we kept the twin bed in the nursery. It's actually worked out well because when we have a guest, there's a place for them to stay and Sawyer sleeps in our room, and we have a comfy place to sleep when Sawyer is having a hard night and needs constant attention. Plus, once he's ready to transition to a big boy bed, we already have one.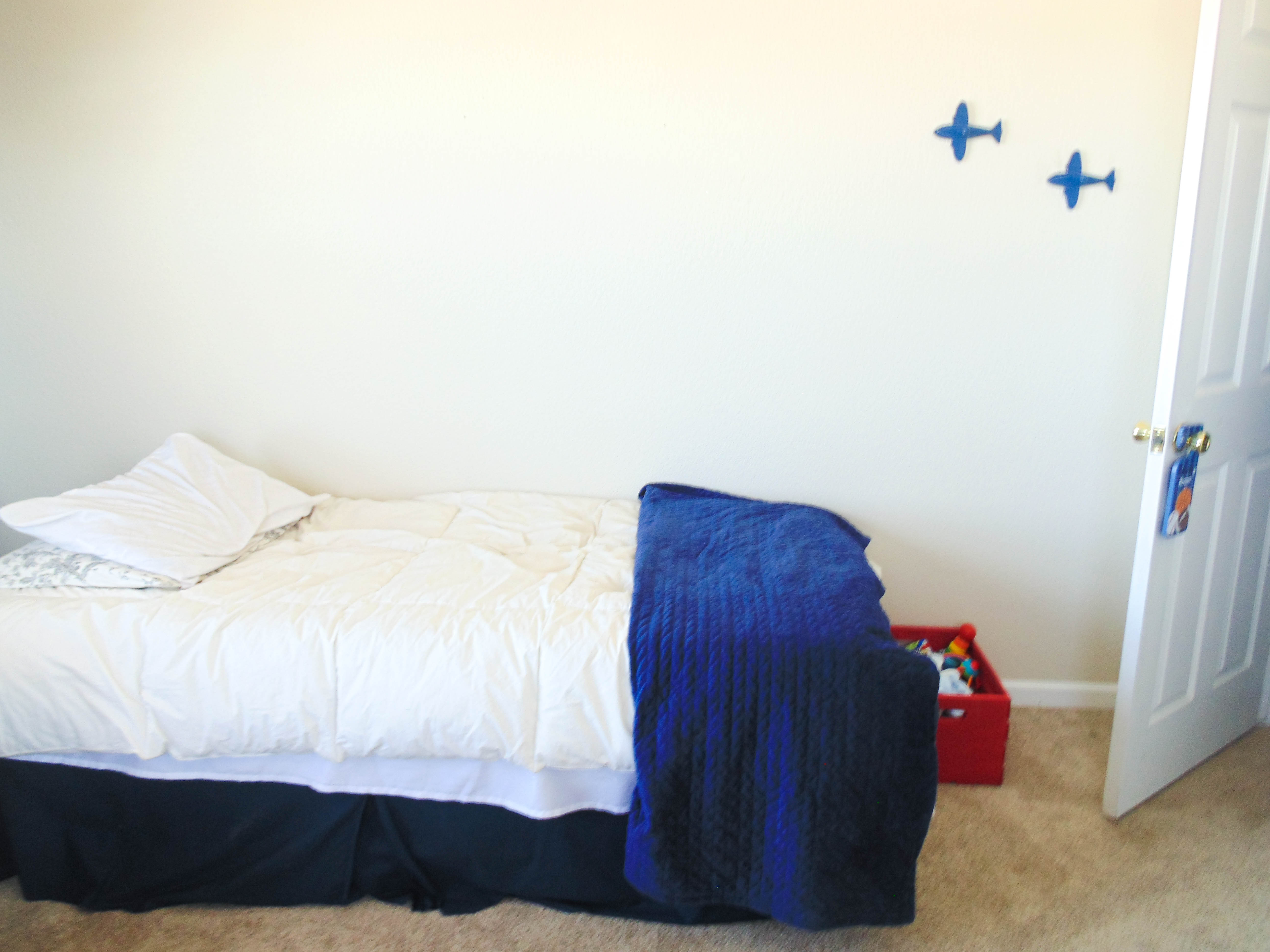 We chose to keep the bedding a plain white (it matches anything), and do a navy blue bedskirt to match the wall. Easy! The cute blue plane coat hangers were a baby shower gift.
The toy box I bought at Michael's and painted red to match the room. Easy and cute!
We got 2 white shelves at Home Depot and filled them up with a few plane decor items! We got the model "Plane" movie planes from the Disney Store, as well as the Planes book (my kids room just had to have a touch of Disney, of course!), and a bear dressed in a pilot's outfit. Kurtis and I made the bear at Build-A-Bear after we found out we were having a boy!  The wooden plane was actually Kurtis' when he was a little boy and we painted it red to match the rest of the room.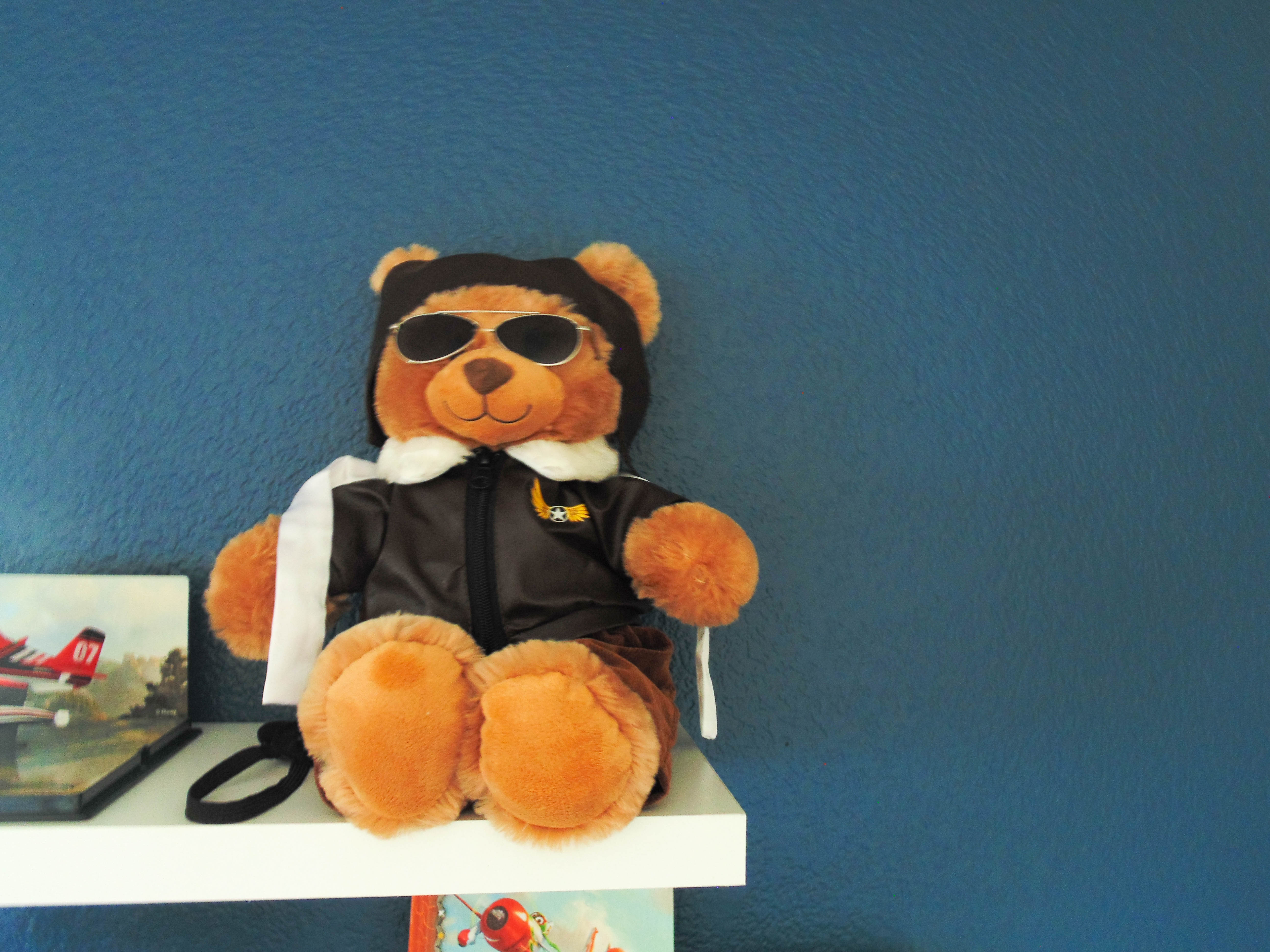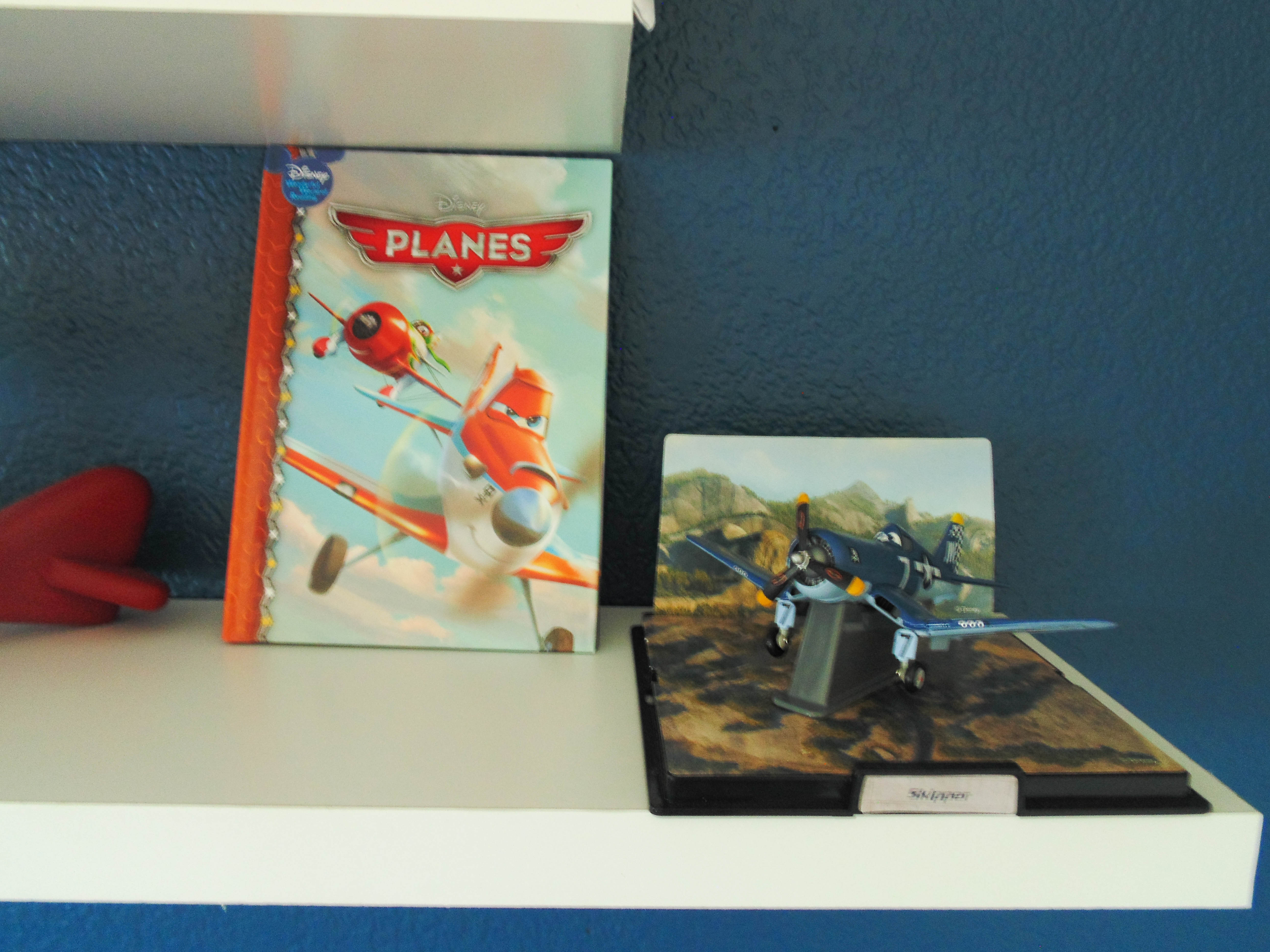 The big plane in the corner above the changing table was my grandparent's. The bought it in Crested Butte, a ski town we used to vacation in every winter when I was younger, and they kept it in my Grandpa's office. When they heard we were doing an aviation nursery, they gave it to us and it fits perfectly in there!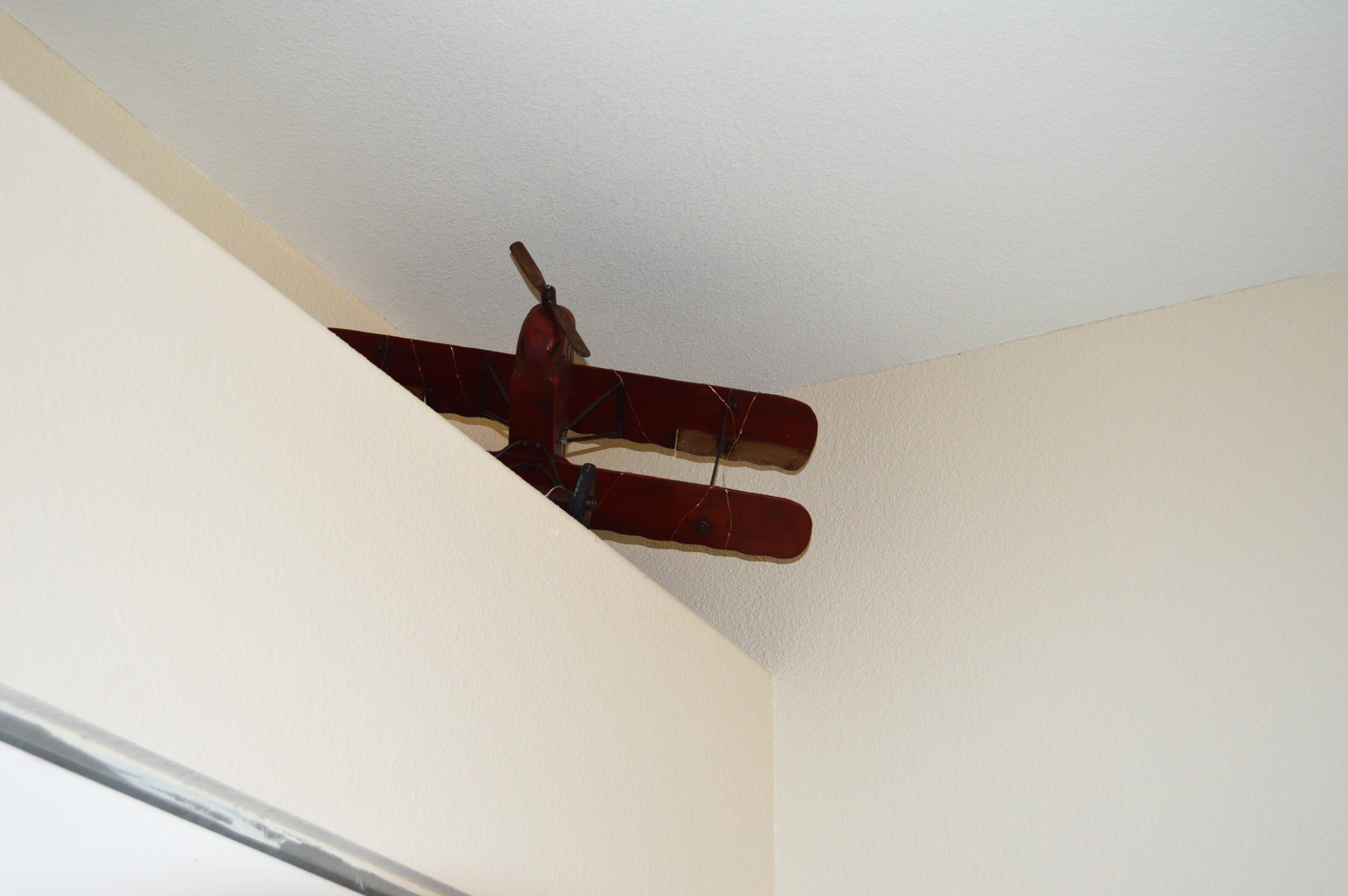 This propeller is probably my favorite part of the room because it comes with such a cool story! Kurtis' great-great-grandfather stumbled upon a plane-wreck on a beach by his house and took it (probably very illegal, but oh well). It's been in the Brown family for generations and we love having it in the nursery! It goes perfectly with the decor and has such history.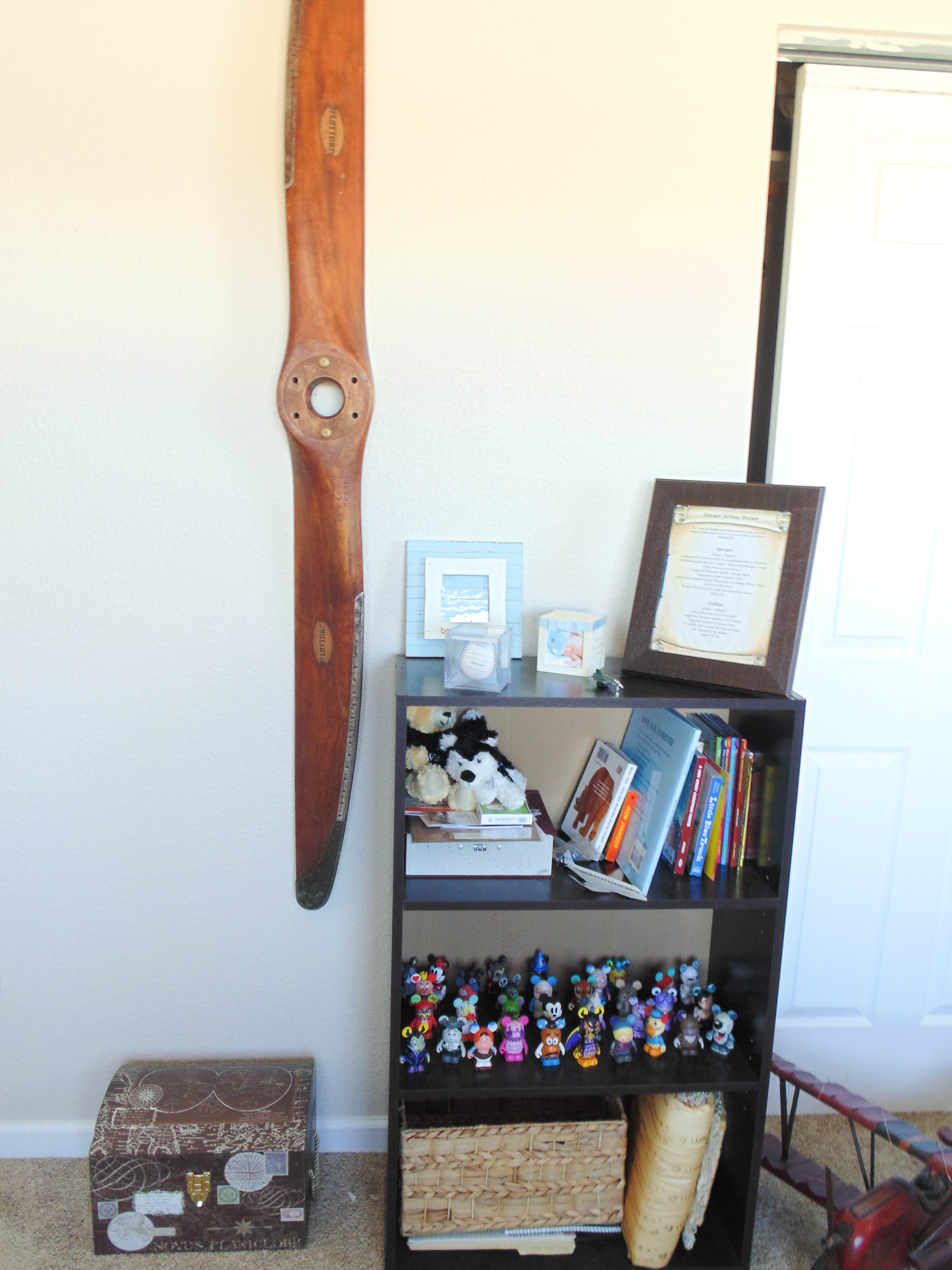 The maps chest contains a bunch of Kurtis' old clothes from when he was a baby and toddler. My mother in law gave it to me at my baby shower and it's so fun to have little pieces of his dad's childhood throughout his room. The "maps" design on the chest also fit in perfectly with aviation decor!
We paid a lot of attention to detail when designing the nursery and I had so much fun with it! It came out so cute and I am so proud.
Thank you to Copper Pearl for supplying the crib sheet and changing pad cover! We recently changed out our old ones for these new, cute Copper and Pearl ones and love them! Copper Pearl has everything you need for you new baby. We also have a bunch of their bandana bibs and absolutely love them! Be sure to check them out: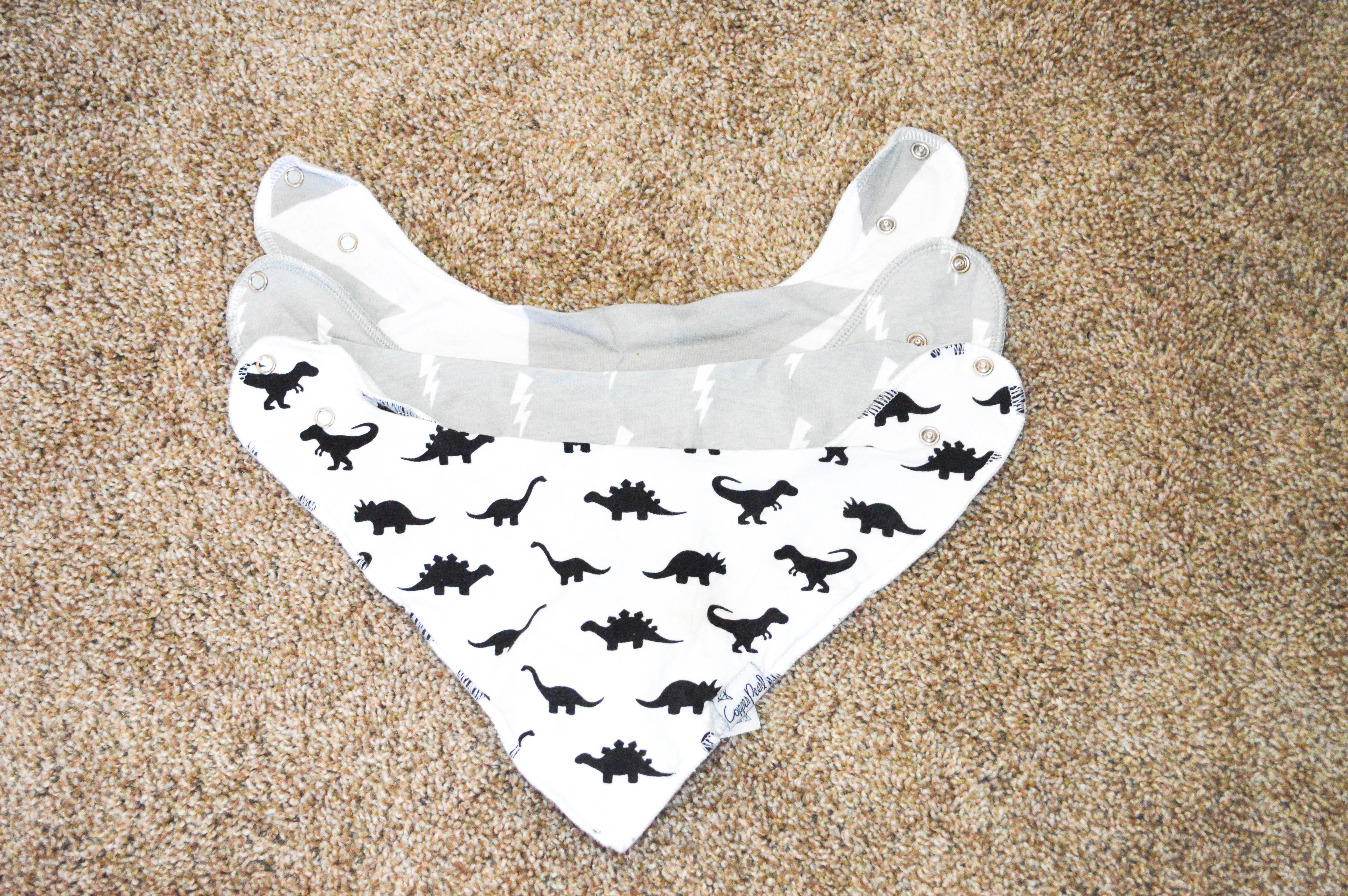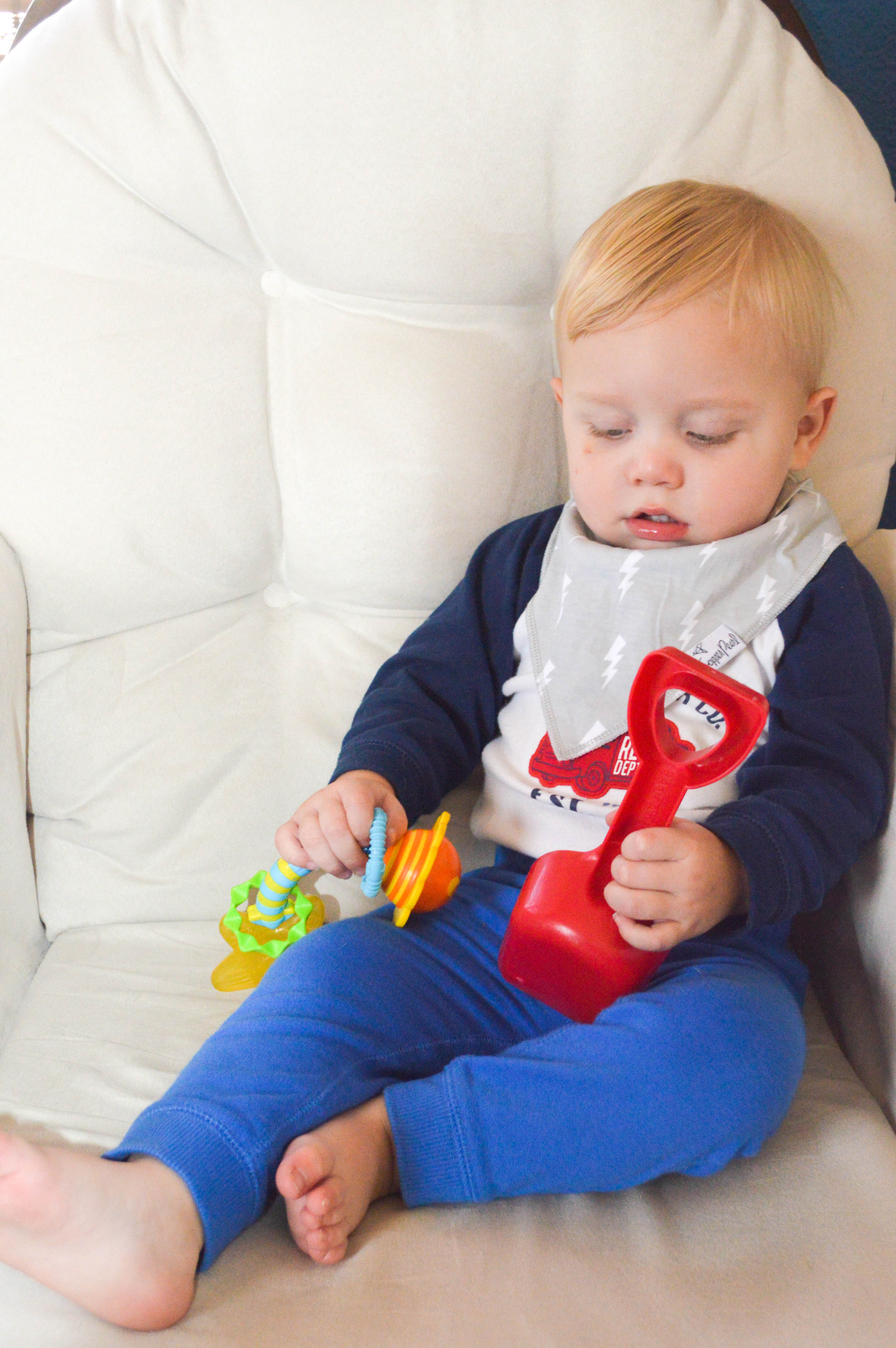 | Shop |Facebook | Instagram |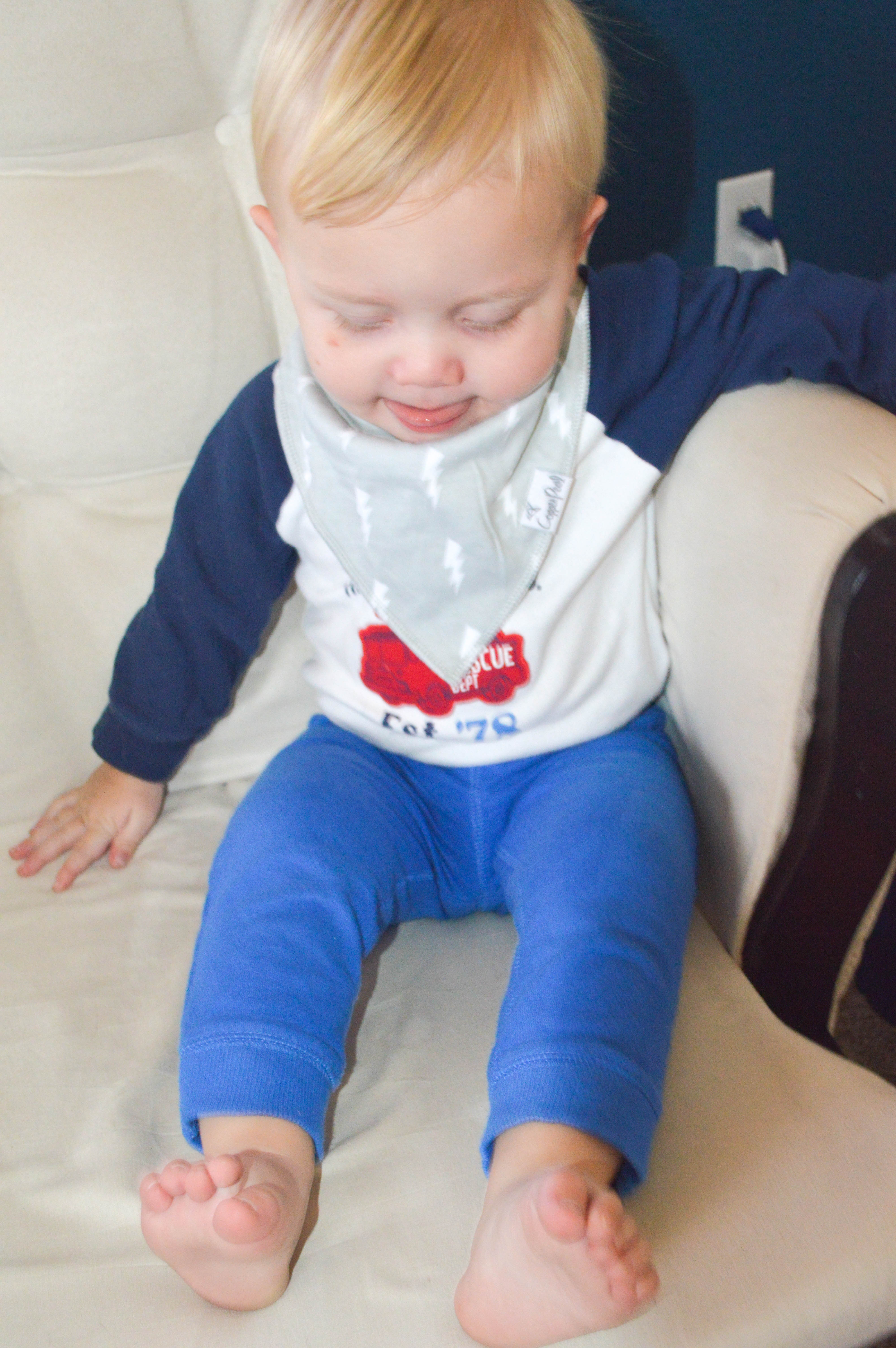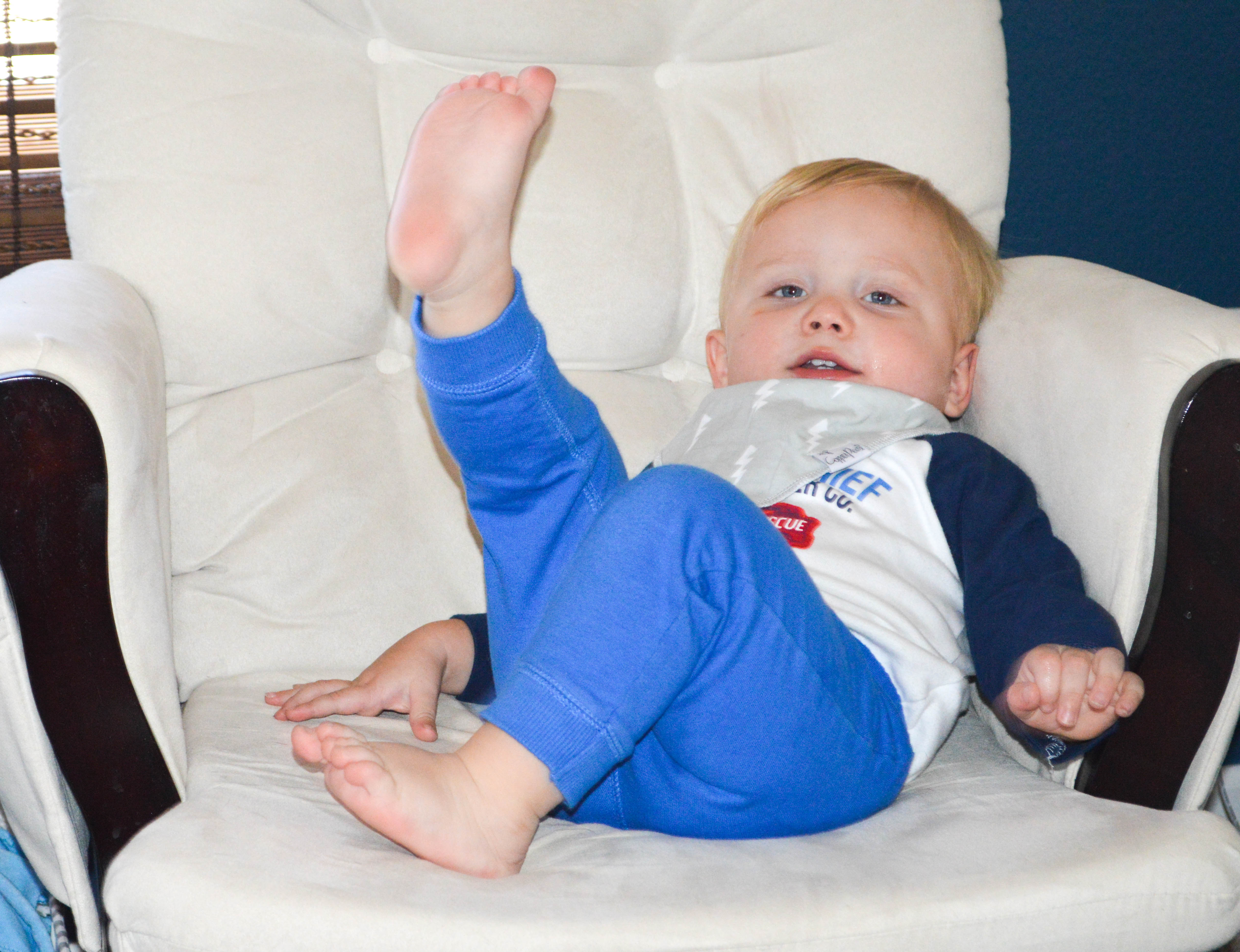 xoxo.
Save