This shop has been compensated by Collective Bias, Inc. and its advertiser. All opinions are mine alone. #EffortlessPies #CollectiveBias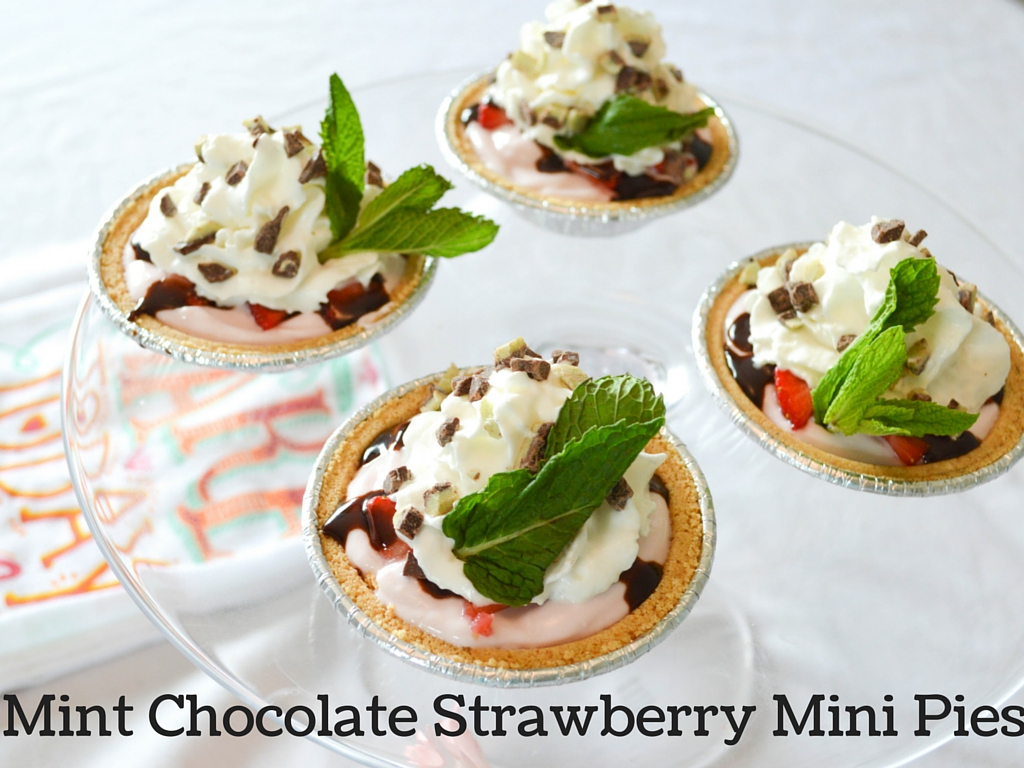 You guys know I love a good clean treat. Today, I'm sharing the ultimate clean treat with you! These mini pies are so delicious! They have minimal sugar, and are low in calories. You'll want to eat them all day long. This is a delicious, refreshing dessert you don't have to feel guilty about!
I love summer. The days are longer, the air is warmer, and there's so much more to do! I love to get together with friends or family for outdoor dinners and barbecues. There's nothing like good food to bring people together. In the summer, I don't want to spend tons of time in the kitchen. I want things that are quick, easy, and delicious so I can maximize my time with friends and family. I also want treats that aren't going to undo all my hard work on my summer body!
These mini pies are just that. They are so easy to make, they're delicious, and they're guilt-free! You can grab the ingredients in less than 5 minutes in the store, and they only require 4 steps to make. And if you check out Ibotta you can earn rebates on all of these ingredients!
What you'll need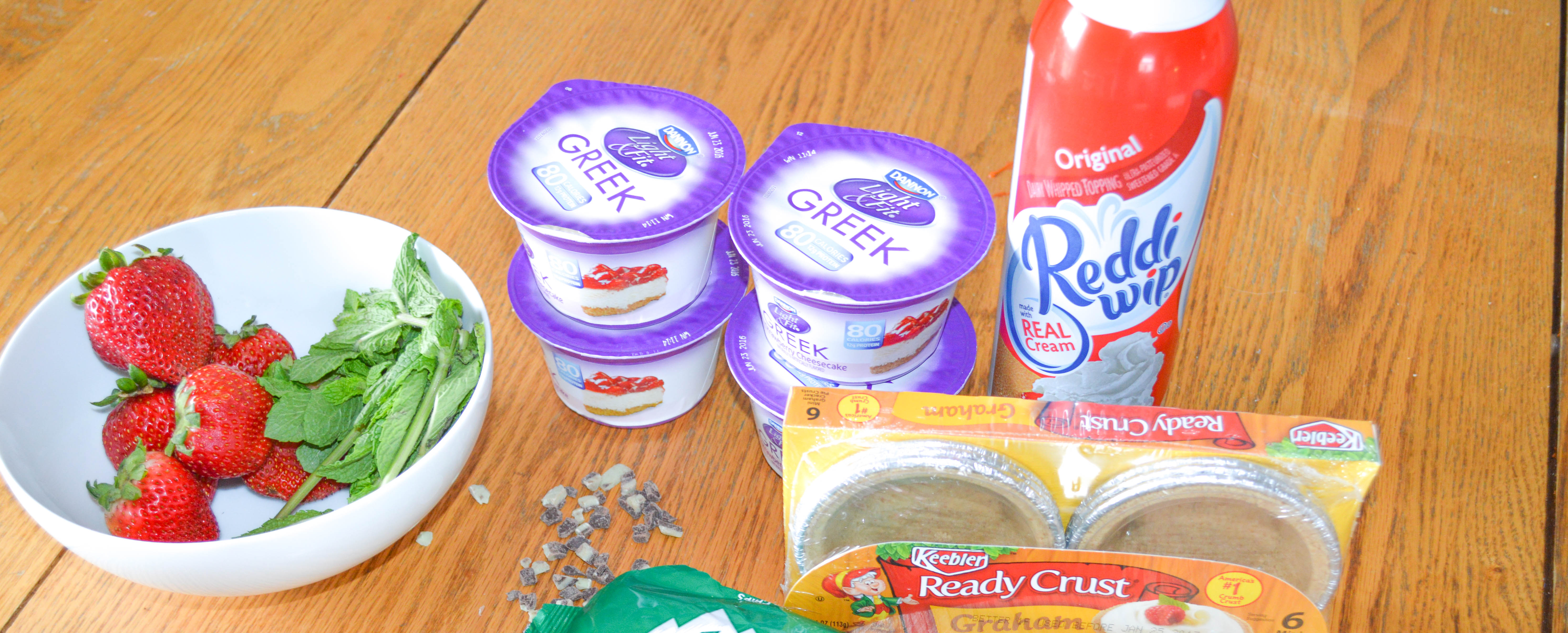 Dannon® Light & Fit® Strawberry Cheesecake Greek Yogurt
Keebler® Ready Crust® Mini Graham Cracker Pie Crust
Reddi-wip®
Strawberries
Fresh Mint Leaves
Chocolate Sauce
Mint Chocolate Candies
I was able to gather all the ingredients I needed at my local Walmart. The Dannon® Light & Fit® Strawberry Cheesecake Greek Yogurt and Reddi-wip® were both in the dairy section, the Keebler® Ready Crust® Mini Graham Cracker Pie Crust was in the baking section, and the Strawberries and Mint Leaves were both in the produce section. I made a quick run in and was out of the store within 5 minutes! It was easy as pie.
Directions
Fill your mini pie crusts with yogurt. I used about half a cup of yogurt per pie crust.
Cut up the strawberries and add on top of the yogurt.
Drizzle with chocolate sauce (I recommend using a sugar free or "light" chocolate sauce to minimize the calories and sugar content of the pies).
Top with Reddi-wip® and garnish with mint chocolate candies and mint leaves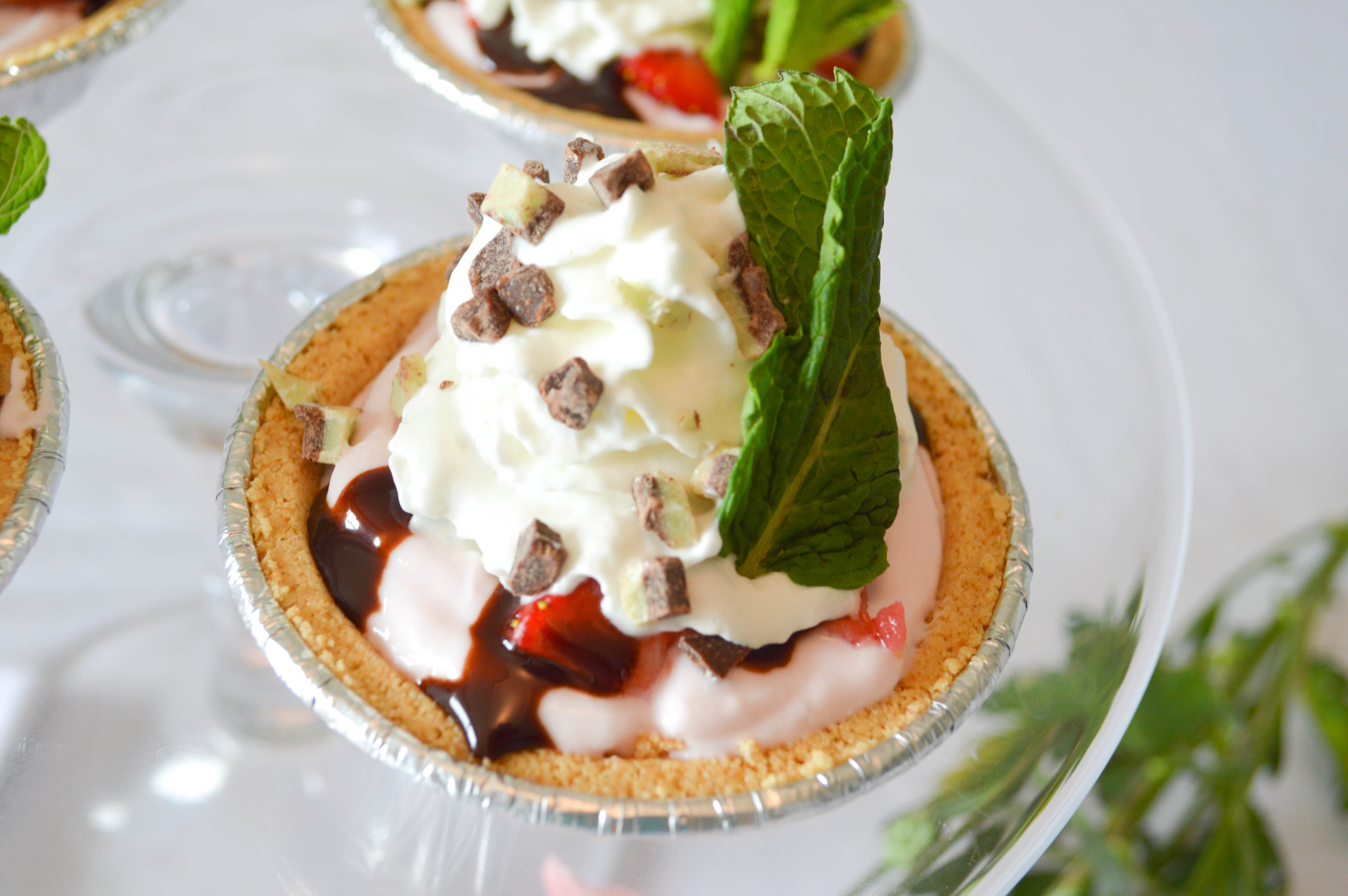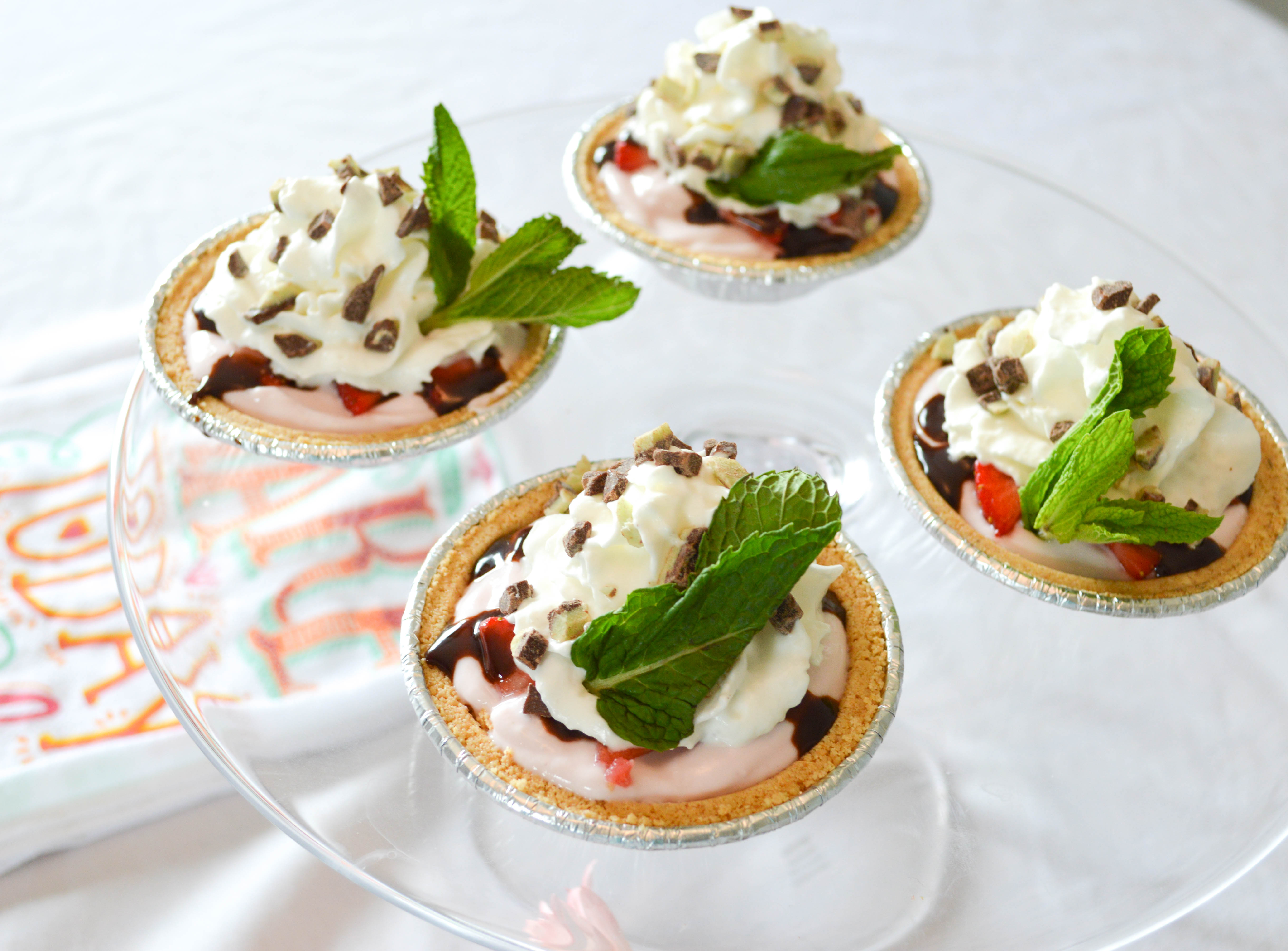 By using Dannon® Light & Fit® Strawberry Cheesecake Greek Yogurt (in place of a sugary pie filling), fresh strawberries, and a light chocolate sauce, this is a refreshing dessert you can indulge in, and not beat yourself up about it. We all deserve a treat!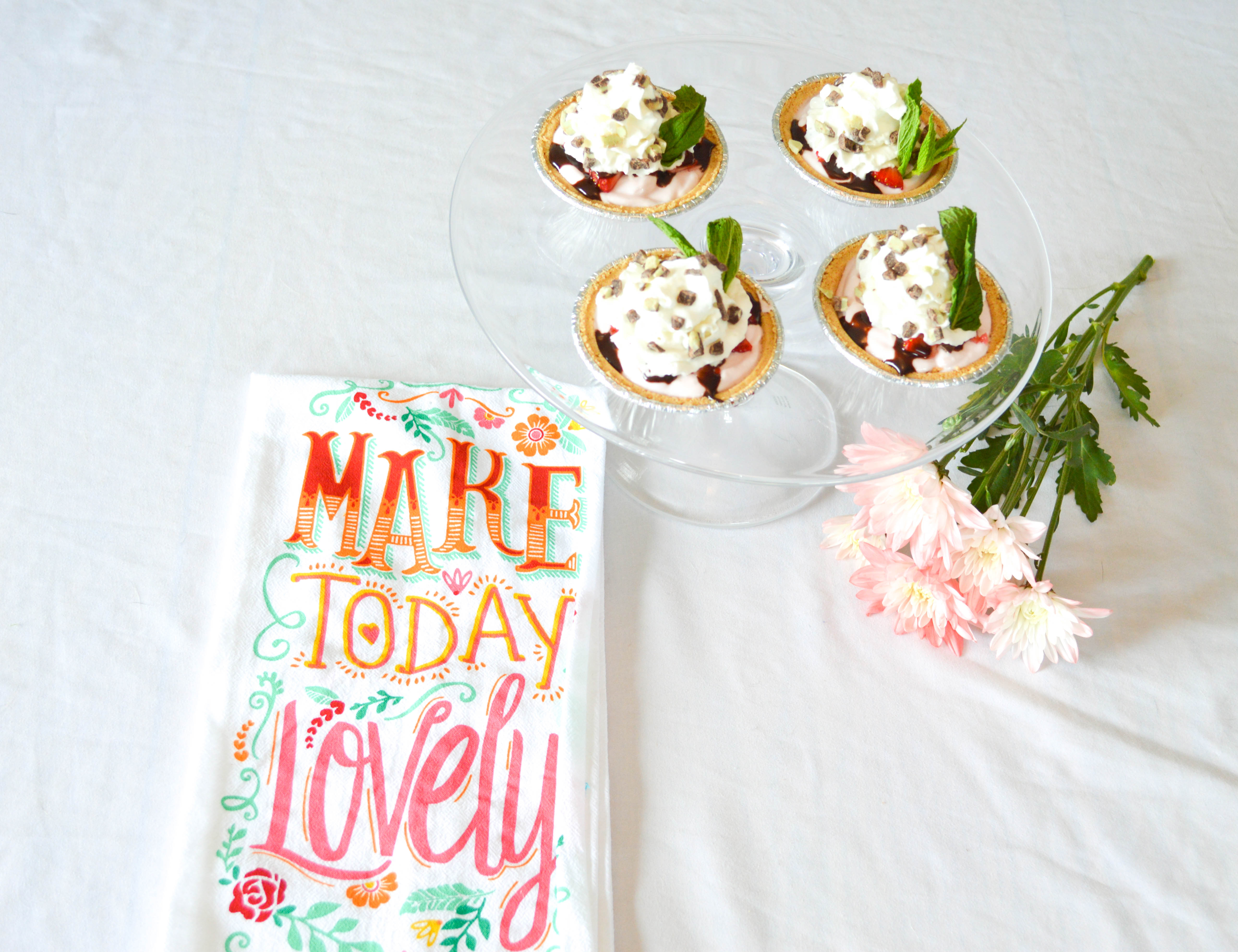 How cute is this towel? Since my blog is titled All Things Lovely, I just had to grab it to add to my kitchen decor!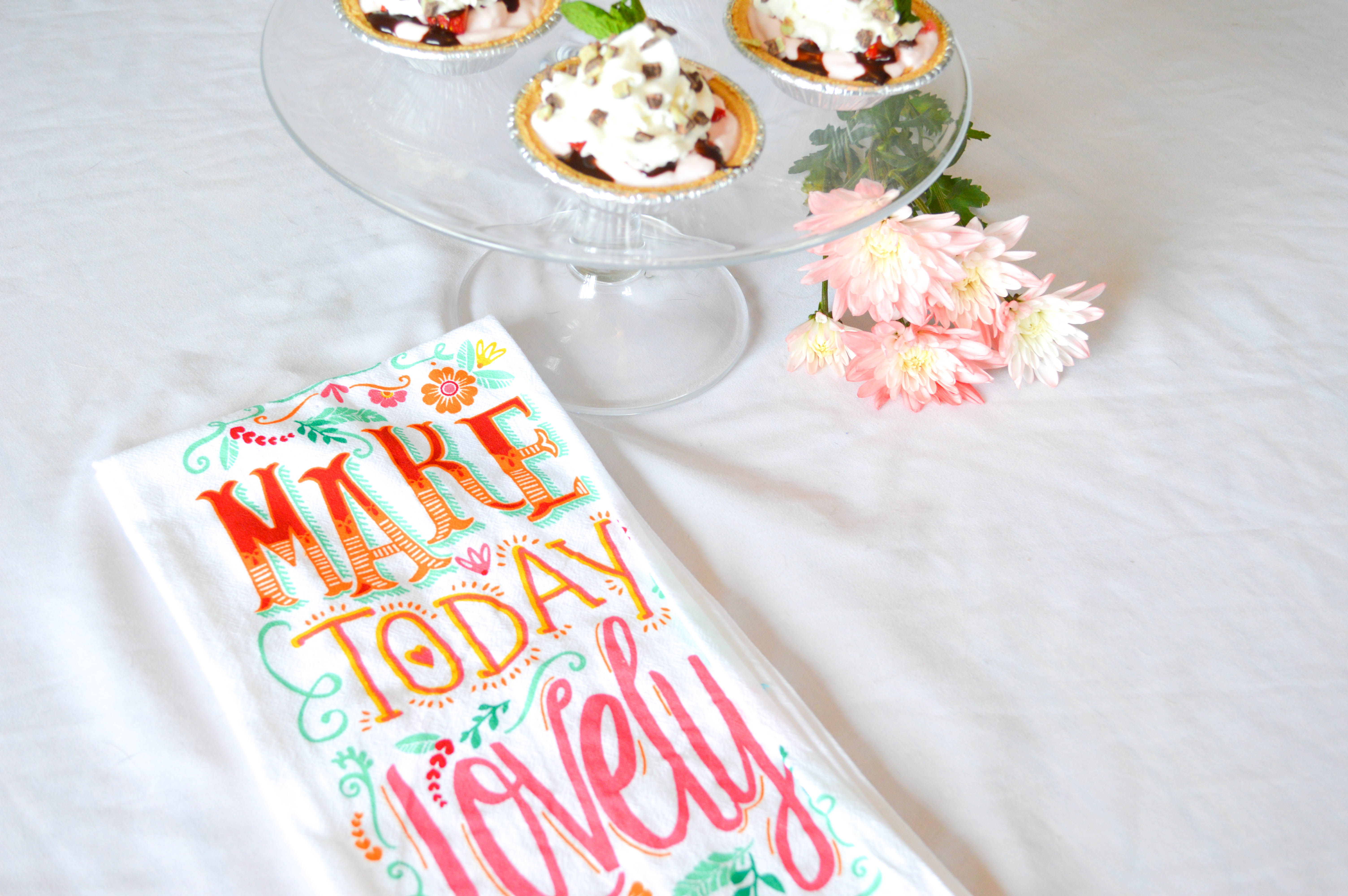 Speaking of kitchen decor, I designed this adorable printable for my kitchen! It fit in well with my mini pies (which I had to dig in to immediately), and printables are a super easy way to add cute decorative pieces to your home.
How fun is that quote? I put it in the windowsill on top of my sink and it looks adorable.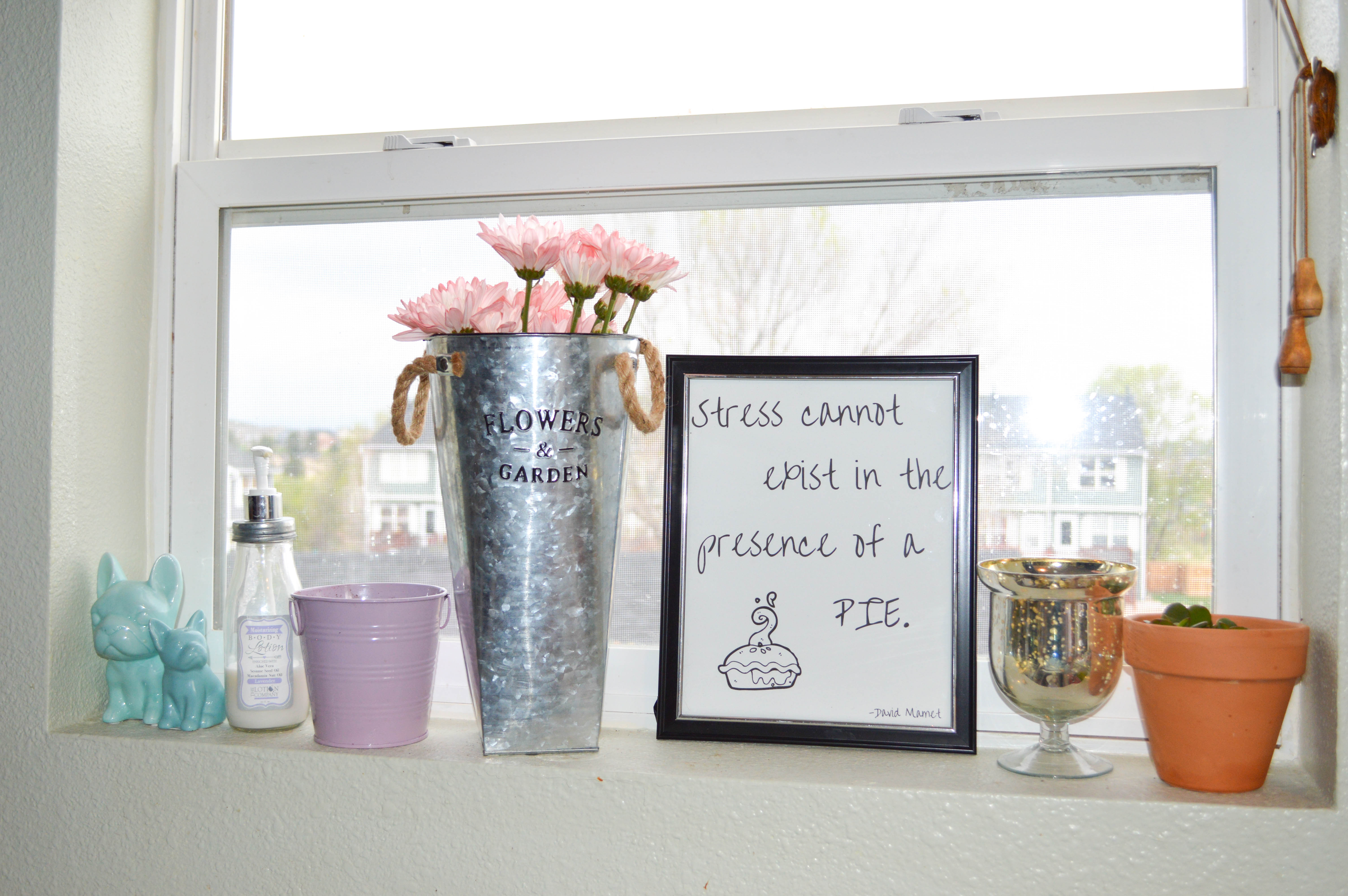 Want it for your kitchen? Download it HERE!
These pies were so good my husband and I probably ate 3 each. Kurtis doesn't usually like things that aren't the "norm". He was skeptical to try pies filled with yogurt rather than traditional filling, but he really enjoyed them! They are a light and refreshing summer treat, and since they only took a few minutes to make, I'll probably make them all summer long! And because they can be served cold, it's the perfect way to cool down this summer. They're great for any summer get together or barbecue, you could even change out the yogurt flavor and garnishes based on the color scheme of the party. I think I'll be making them for Sawyer's first birthday party! For more ideas on making effortless pies head here.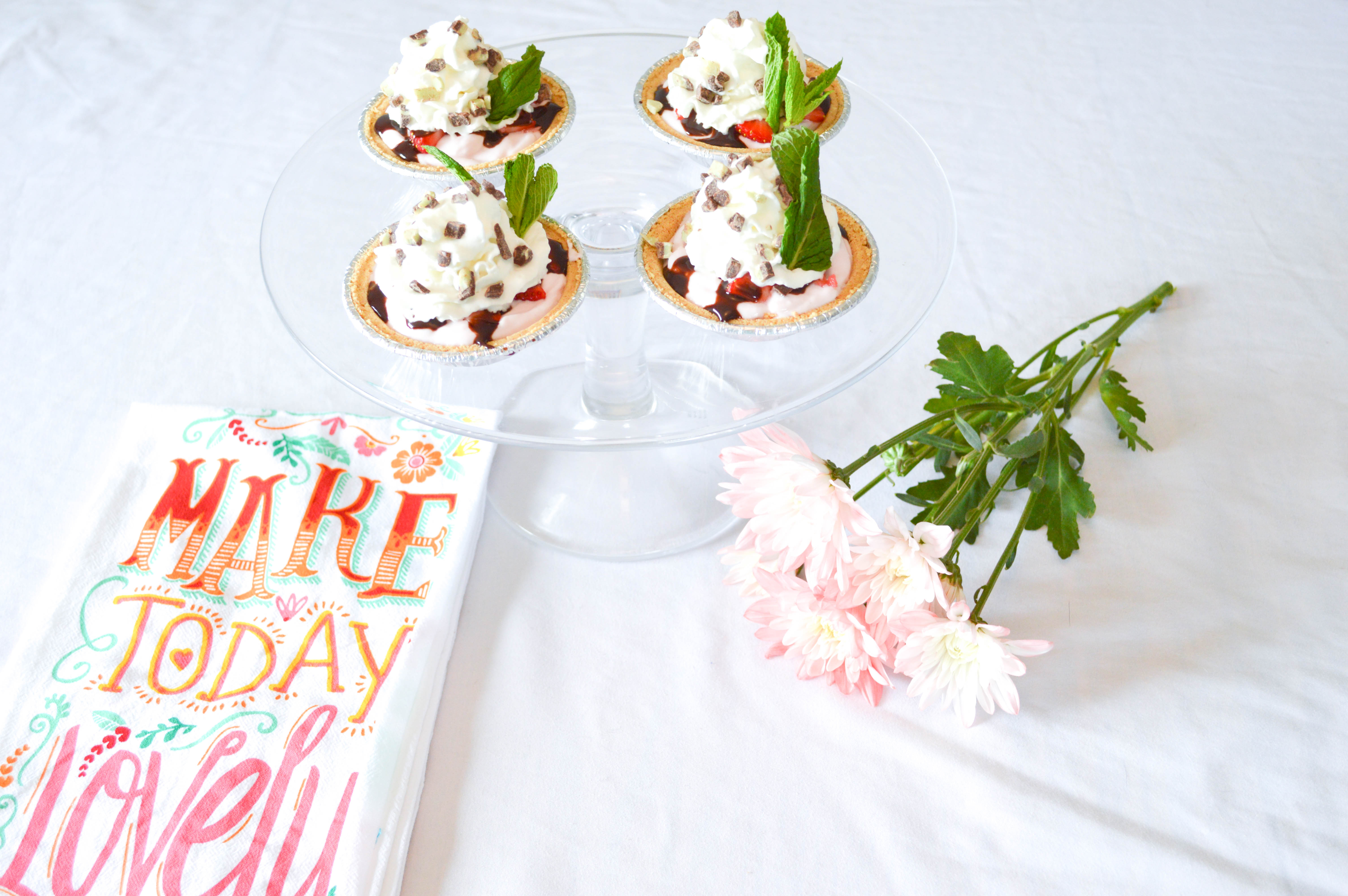 And don't forget to download the FREE kitchen printable!
What's your favorite refreshing treat during the summer? Comment below!
xoxo.