I cannot believe Spring is almost here! I love all the seasons for different reasons. I feel like Spring and Fall are so fun because it's when the seasons really change! Spring sort of leads into Summer and Fall sort of fades into Winter, but With Spring and Fall you really get the change of going from cooler weather to warmer weather and vice versa!
I love spring colors. And I love Easter. Growing up in a Christian family (as a pastor's kid, no less) Easter was always kind of a long day. My dad always teaches a Saturday night service, an Easter sunrise service, and 3 regular Sunday morning services, so by the time Church is over he is wiped. So we usually spent our Easters eating yummy food and napping. Which is the best way to spend it! As I got older, we started having brunch after church to spend time together as a family before heading off to nap. Now that I have my own family I definitely want to include fun Easter traditions. Sunday brunch is always a must, but Easter brunch is even better!
I teamed up with my lovely friend Becca from Lashes + Honey to put together this lovely brunch! We used Spring and Easter as our inspiration.
The reason we wanted to do this particular tablescape is to encourage you all that you don't need to spend a ton of money to make a pretty tablescape. I know that the looks you see on pinterest, in magazines, and on websites are gorgeous, but they're also decadent and expensive. We wanted to put our tablescape together using things we already had around the house and had easy access to. To prove that you don't need to stress yourself out trying to reach tablescape perfection. We wanted this to be pretty, but simple. Elegant, but achievable.
We used mason jars and faux flowers for our decorations. Becca will be posting on Lashes + Honey later this week with a DIY on how to make them so be sure to check back! I had a few mason jars from my sister's wedding and Becca had a bunch of antique ones she found at a garage sale that worked perfectly! And she already had the faux flowers too!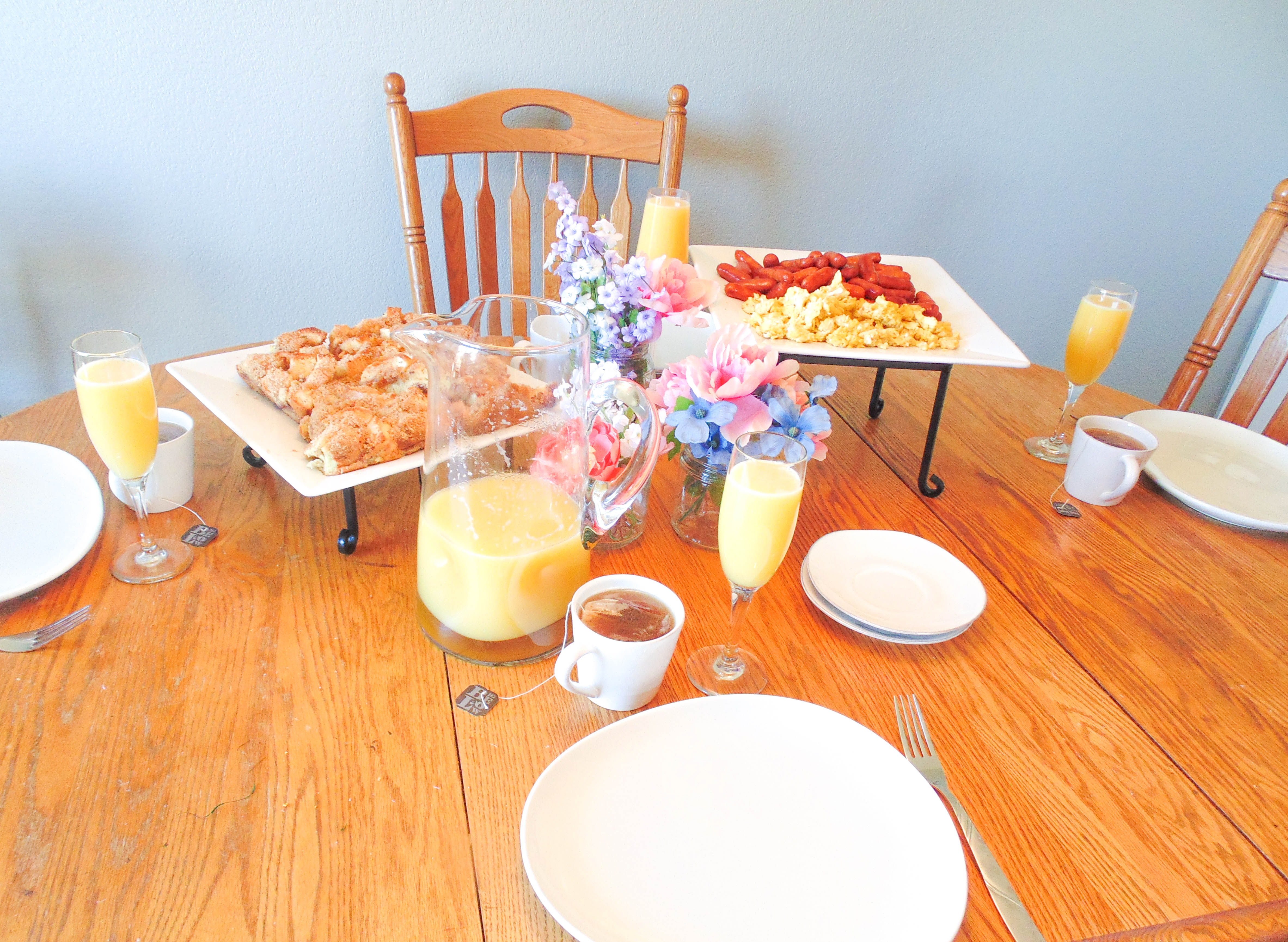 We also didn't want our menu to be too complex. We wanted easy and delicious! We feel that often times lifestyle blogs (such as ours! we're guilty too!) and pinterest can make women feel like they have to go above and beyond being the perfect homemaker, hostess, chef, decorator, mother, and wife. We're here to tell you that can have a perfectly wonderful, instagram and pinterest worthy life, without a ton of fuss!
For the menu, I made this delicious French Toast Casserole from Gather for Bread. This recipe is so awesome. My hats off to the creator. And it was so easy. I prepped it in 15 minutes the night before, let it sit in the fridge, and then popped it in the oven the next morning. We also had simple scrambled eggs, and Becca brought little smokies! Which I had never had for breakfast before, but the savory taste of the sausages, really complimented the sweet taste of the French Toast Casserole!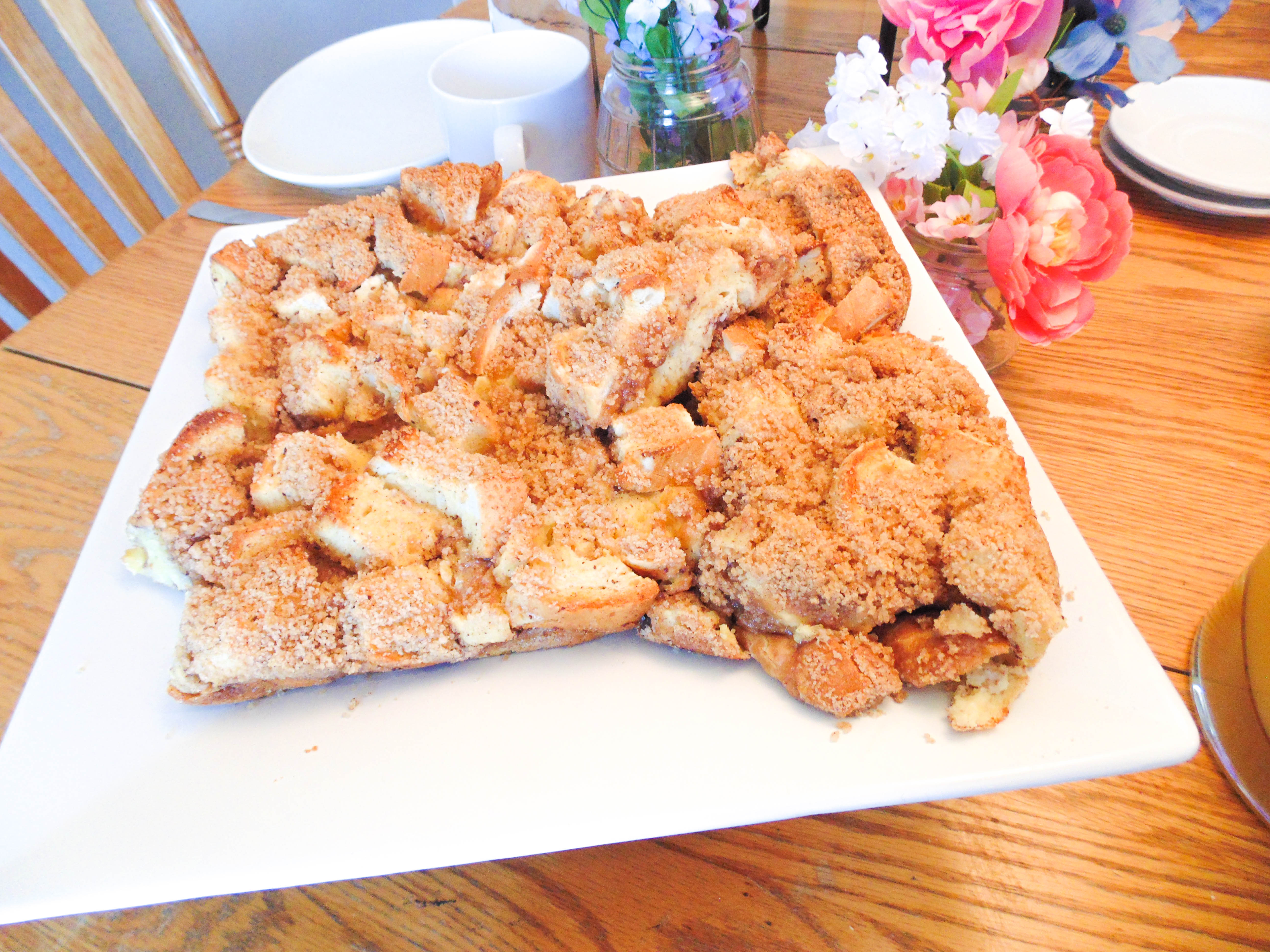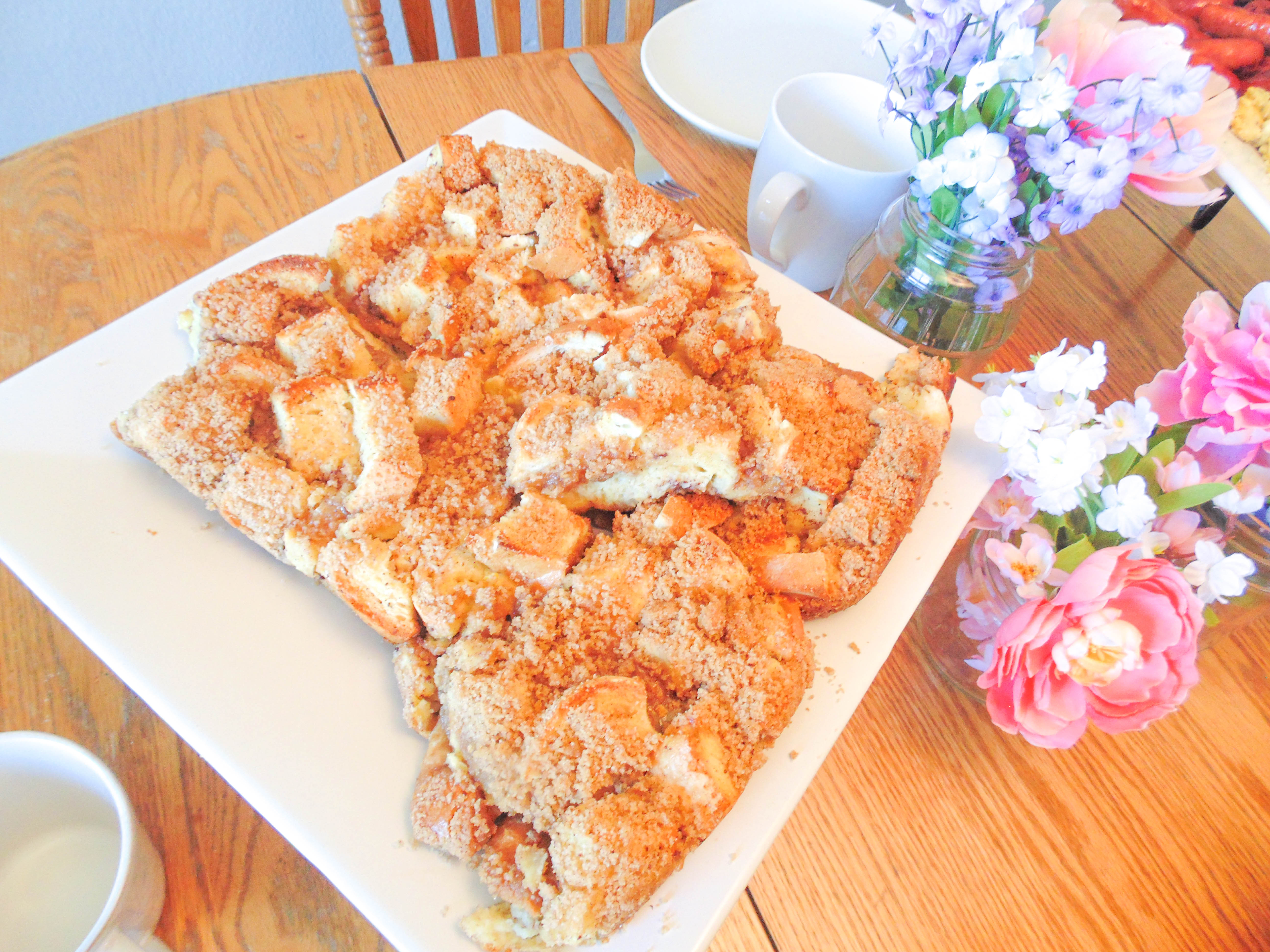 _
For beverages, we offered mimosas, black tea, and coffee. And we couldn't forget the babies! Sawyer and Hunter had greek yogurt and a little fruit.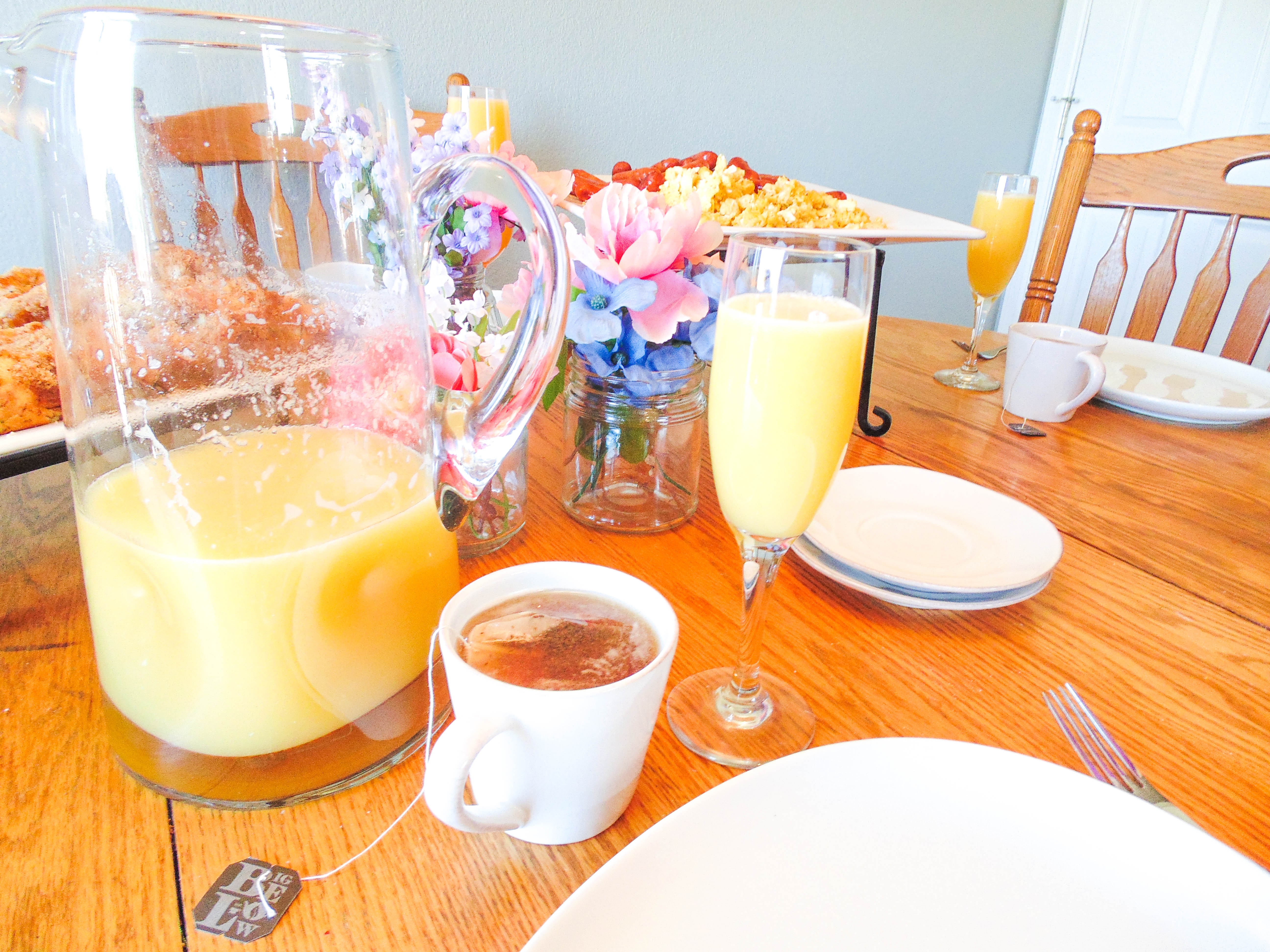 So there you have it! A super easy Easter brunch! What are your plans for Easter?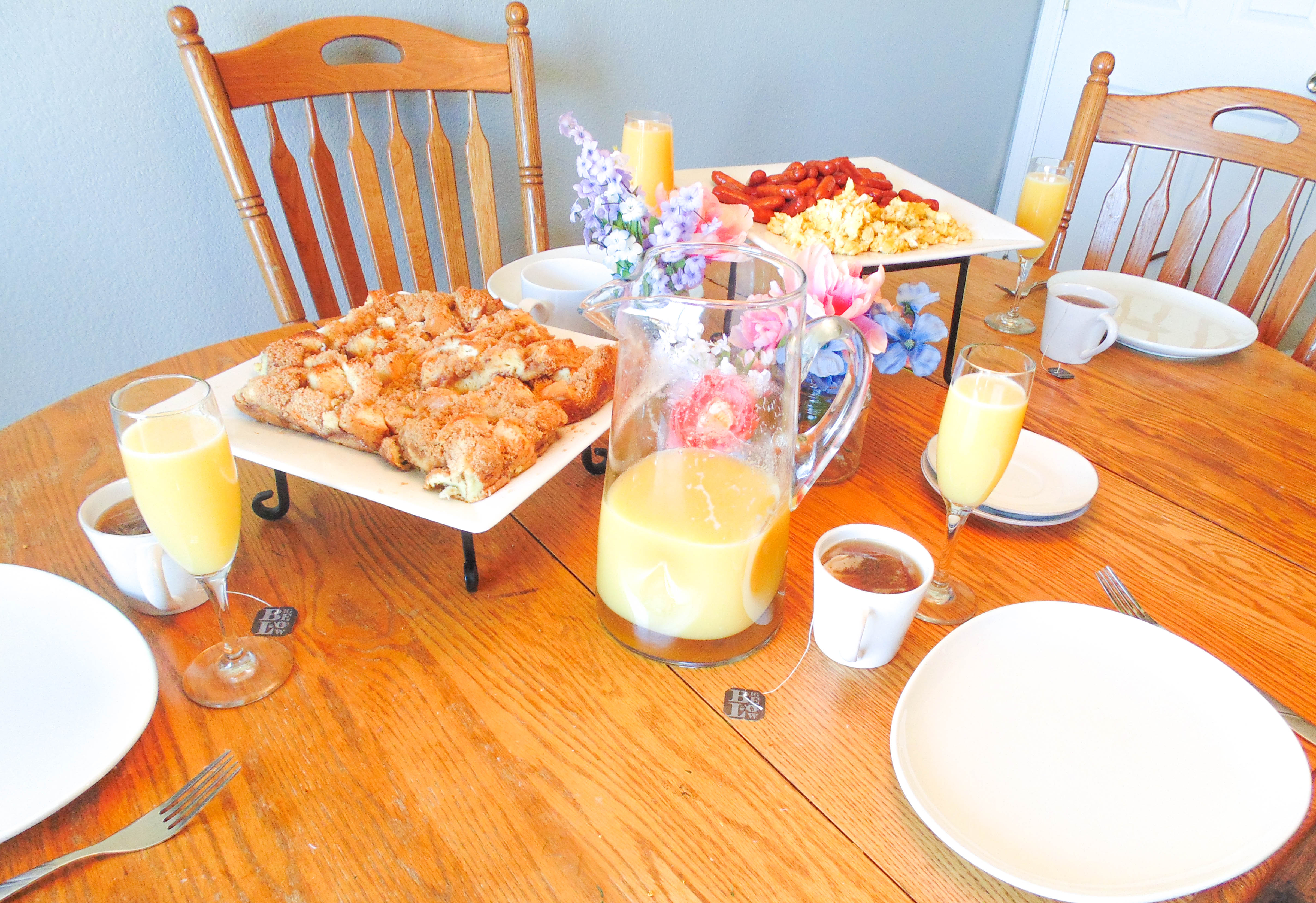 _
xoxo.