This shop has been compensated by Collective Bias, Inc. and its advertiser. All opinions are mine alone. #ScrubDishCloth #CollectiveBias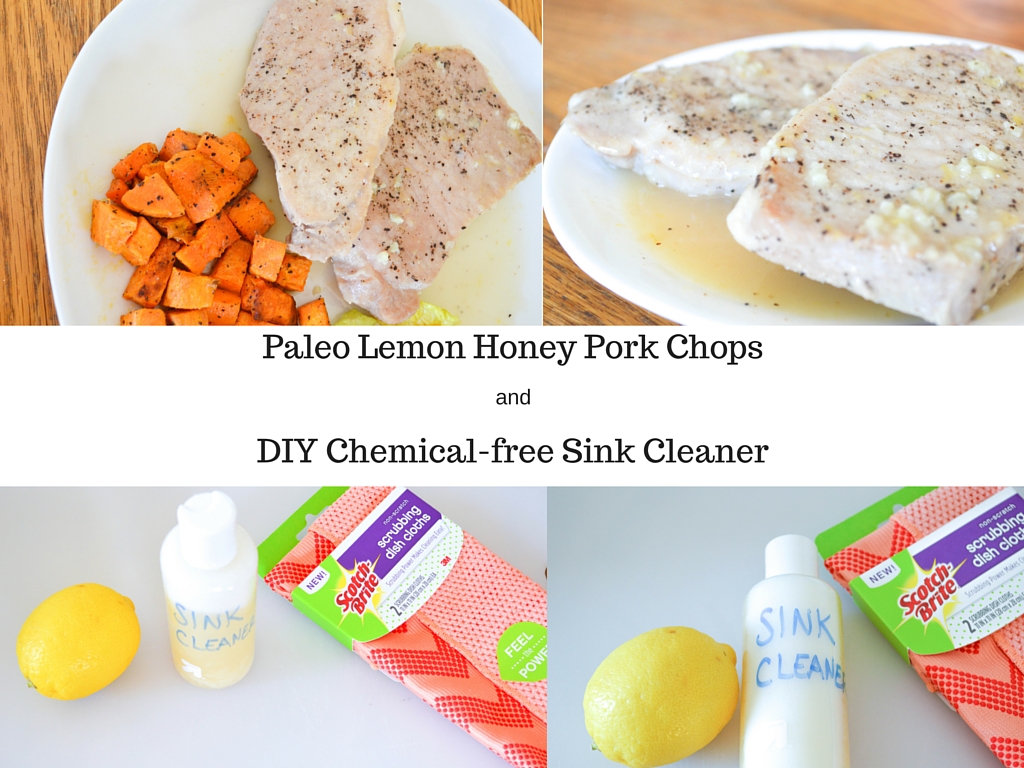 Happy Monday! June is just flying by! Today, I'm sharing an awesome recipe and tutorial I'm really excited about!
You all know how I enjoy eating clean and living a chemical free lifestyle. Today I'm sharing two things that fit into both those categories. I'm going to show you how to make a delicious paleo meal, and then how to execute your clean up with an amazing DIY chemical-free sink cleaner! Let's get started.
Today, we're making Creamy Honey Lemon Pork Chops with salad and roasted sweet potatoes. Here's what you'll need:
Creamy Honey Lemon Pork Chops
4 boneless pork chops
1 can of coconut milk
1/4 cup honey
1 lemon- zested and juiced
4 cloves of garlic
Salt
Pepper
Garlic Powder
Heat olive oil or coconut oil in a skillet over medium high heat until pan is warmed
Season your pork chops with salt, pepper, and garlic powder evenly on both sides
Brown the pork chops about 2-3 minutes on each side (they will not be cooked through)
Remove the pork chops to a plate
Add your coconut milk, honey, garlic, lemon zest and juice to the pan and bring to a boil, stirring every few minutes
Add the pork chops back to the pan, reduce the heat to medium-low and simmer for about 10 minutes or until pork is cooked through
Serve with roasted sweet potatoes and salad
Roasted Sweet Potatoes:
You'll need:
2 Sweet Potatoes
Olive Oil
Salt, Pepper, and Garlic Salt
Pre-heat oven to 400 degrees
Skin and chop sweet potatoes into small squares
Drizzle with olive oil and season with salt, pepper, and garlic salt
Roast for 30 minutes or until soft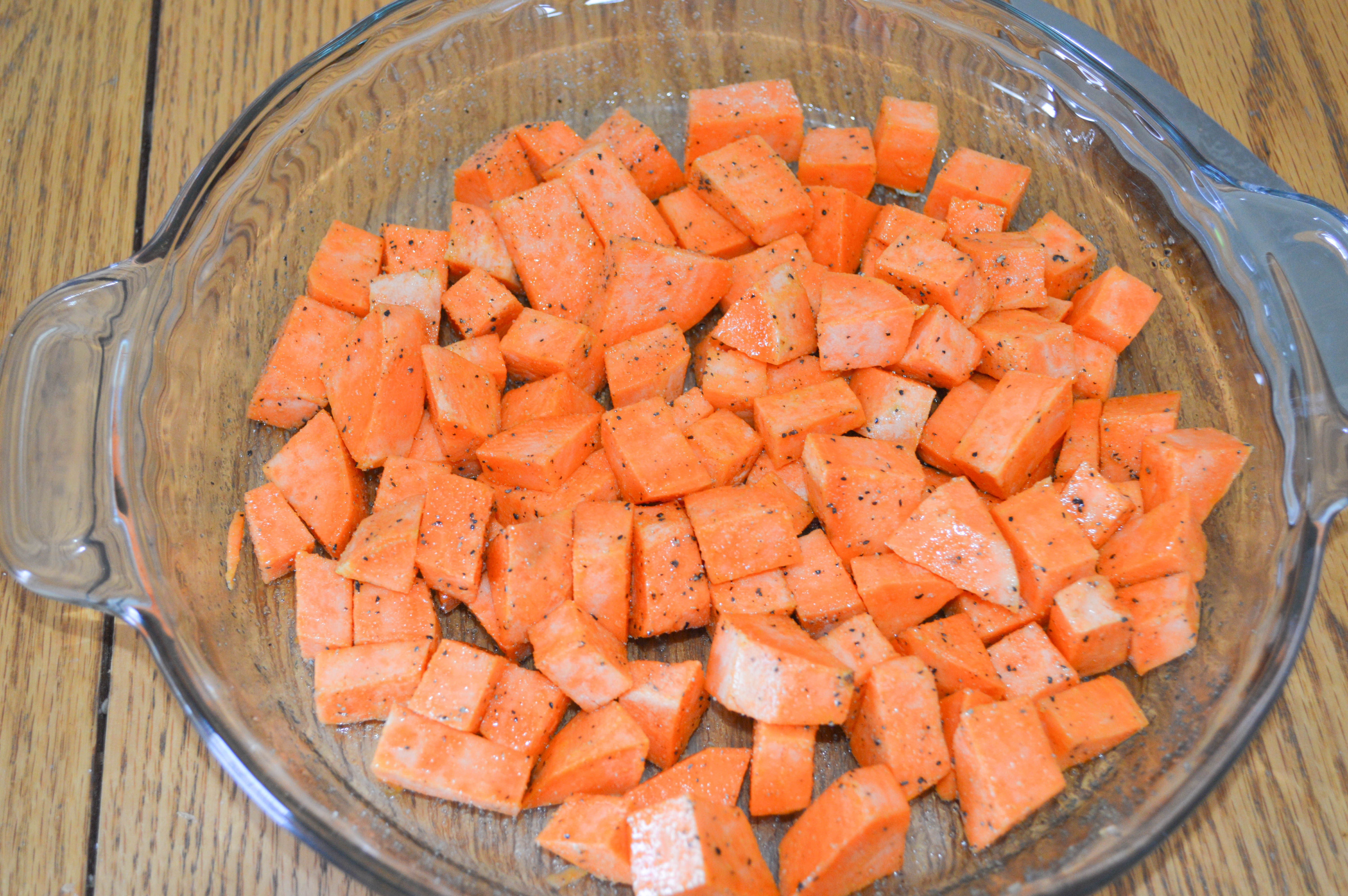 This is one of my favorite Paleo recipes to date!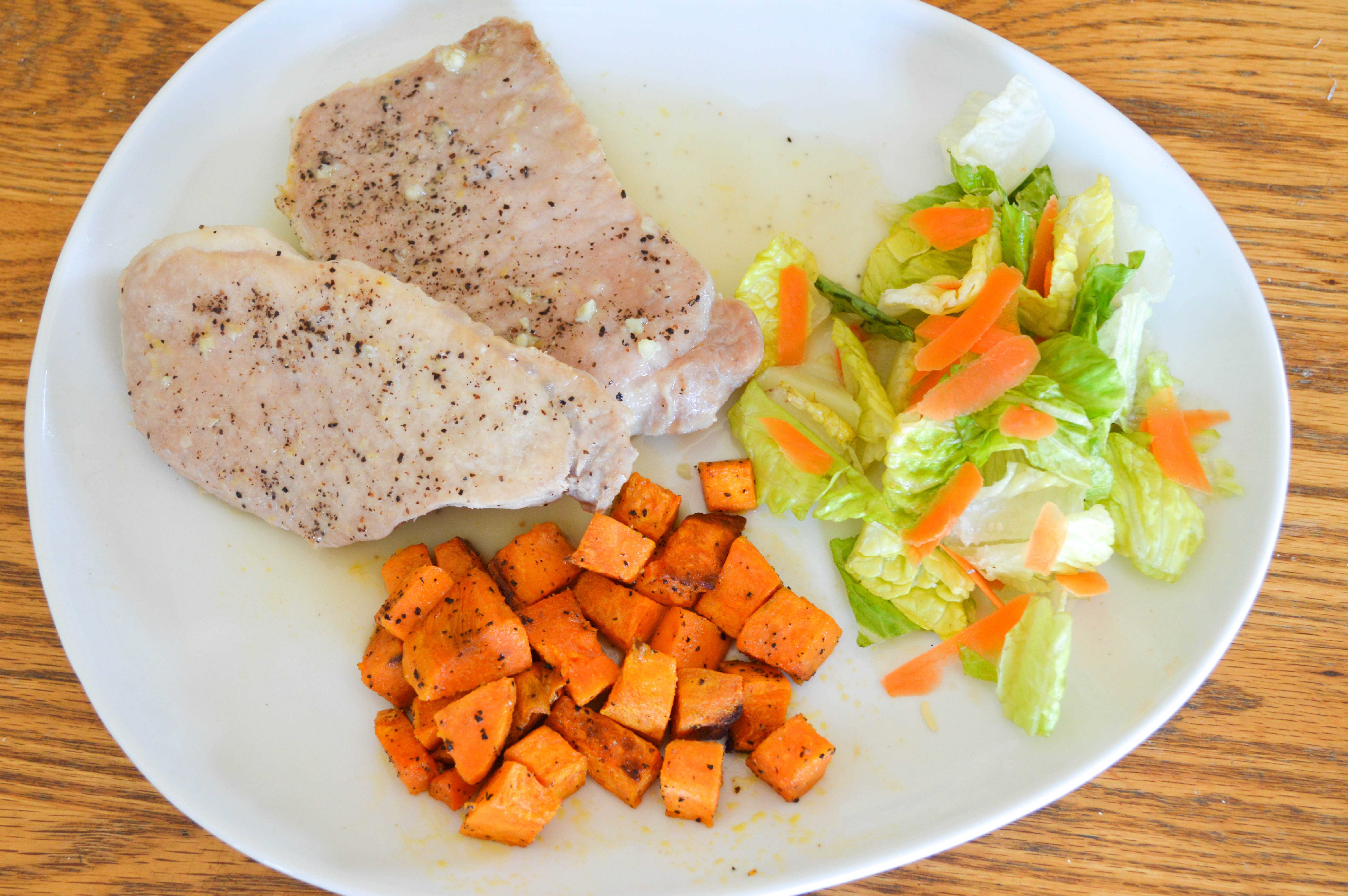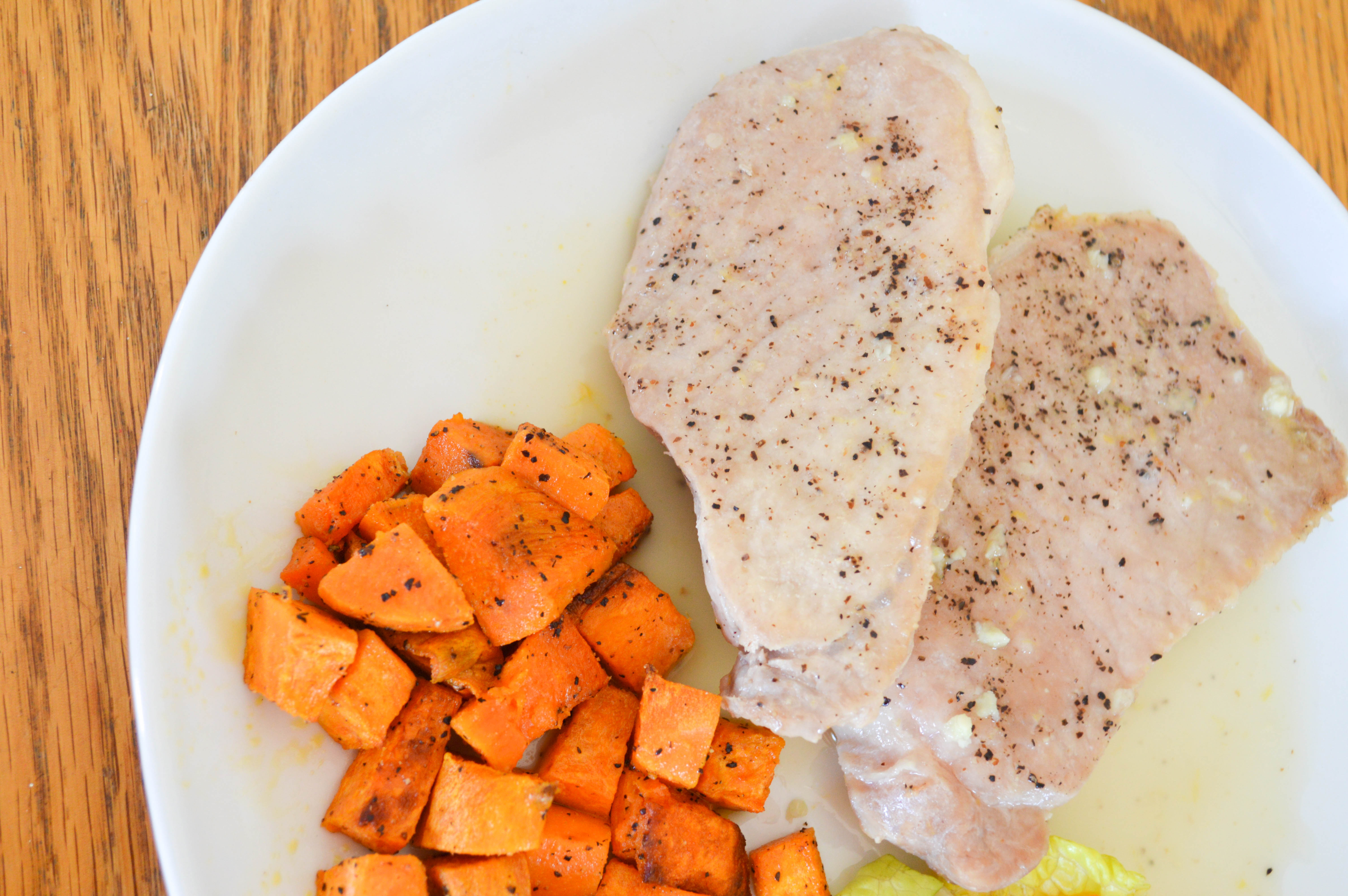 The creamy sauce is so yummy, you'll want to lick your plate!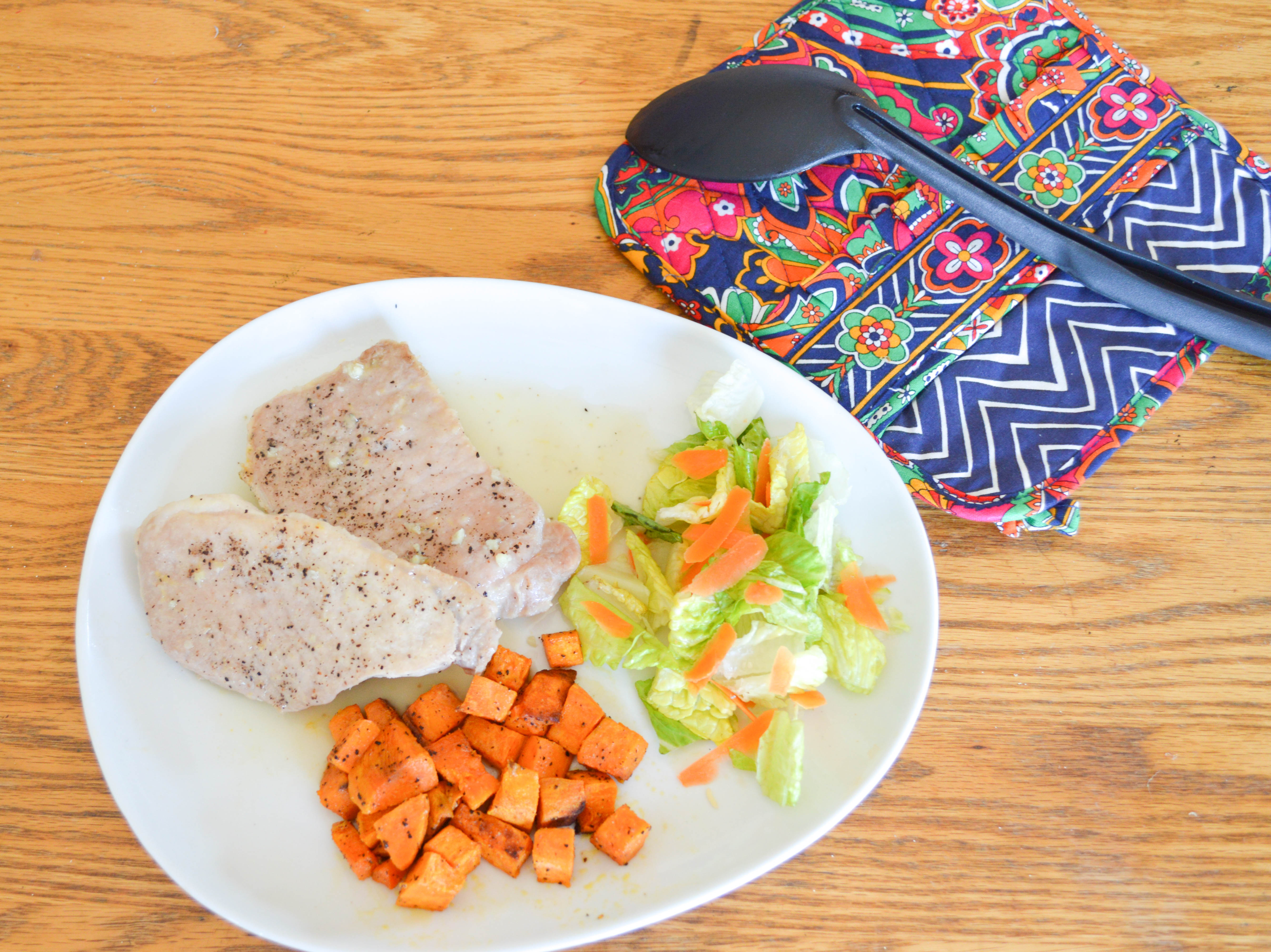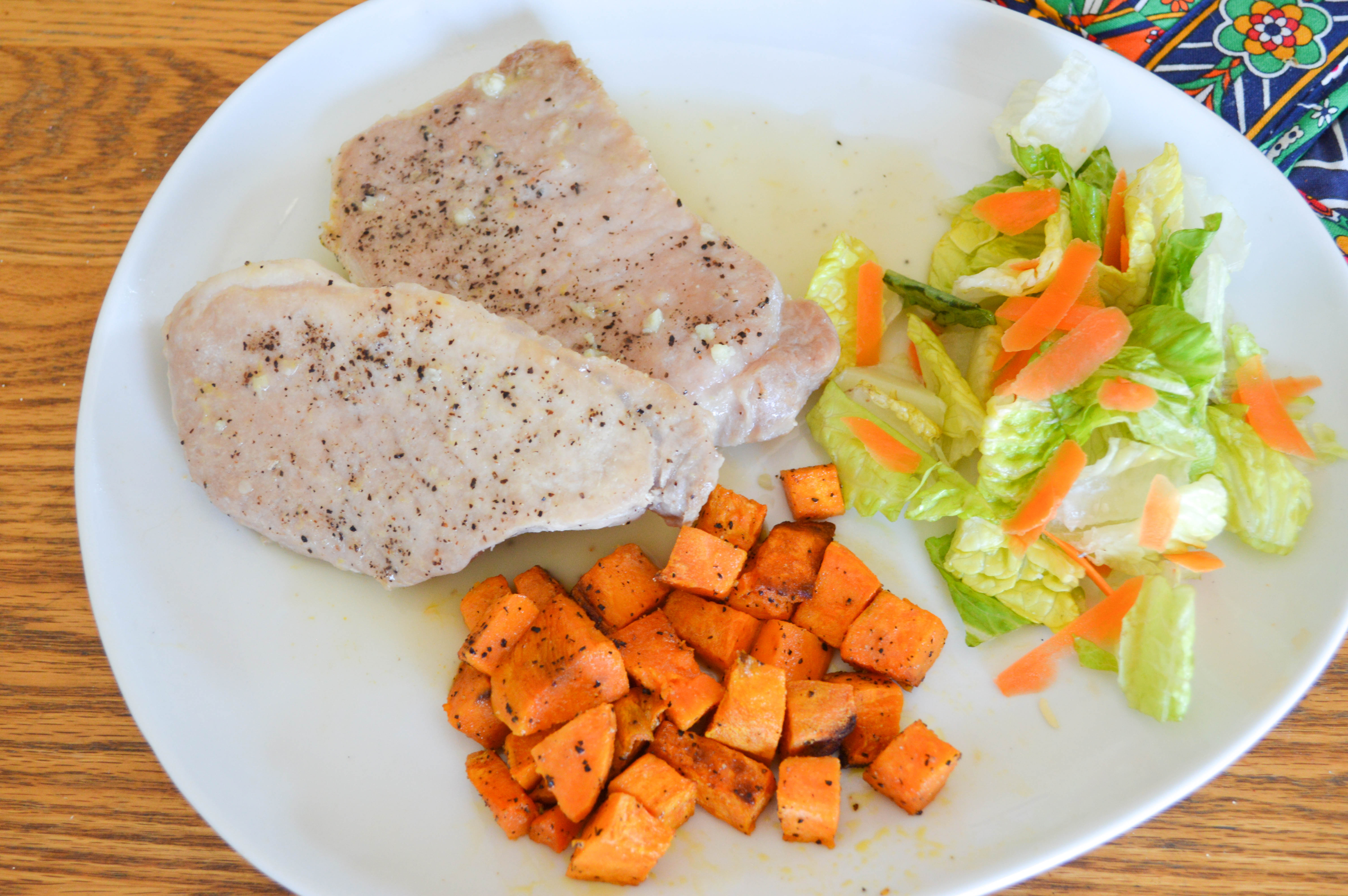 The only downside is, it creates a pretty big mess that requires a lot of cleanup! The creamy sauce can make the pan a big, sticky mess! And my stovetop often doesn't look to pretty after cooking this dish either, but cleanup has been made easy ever since we started using Scotch-Brite® Scrubbing Dish Cloths. This is a new product from Scotch-Brite that is now a must have in my kitchen! It comes in a 2 pack in 4 colors options, gray, mint, floral, and navy, and you can find them at Target for only $4.99! Check them out here.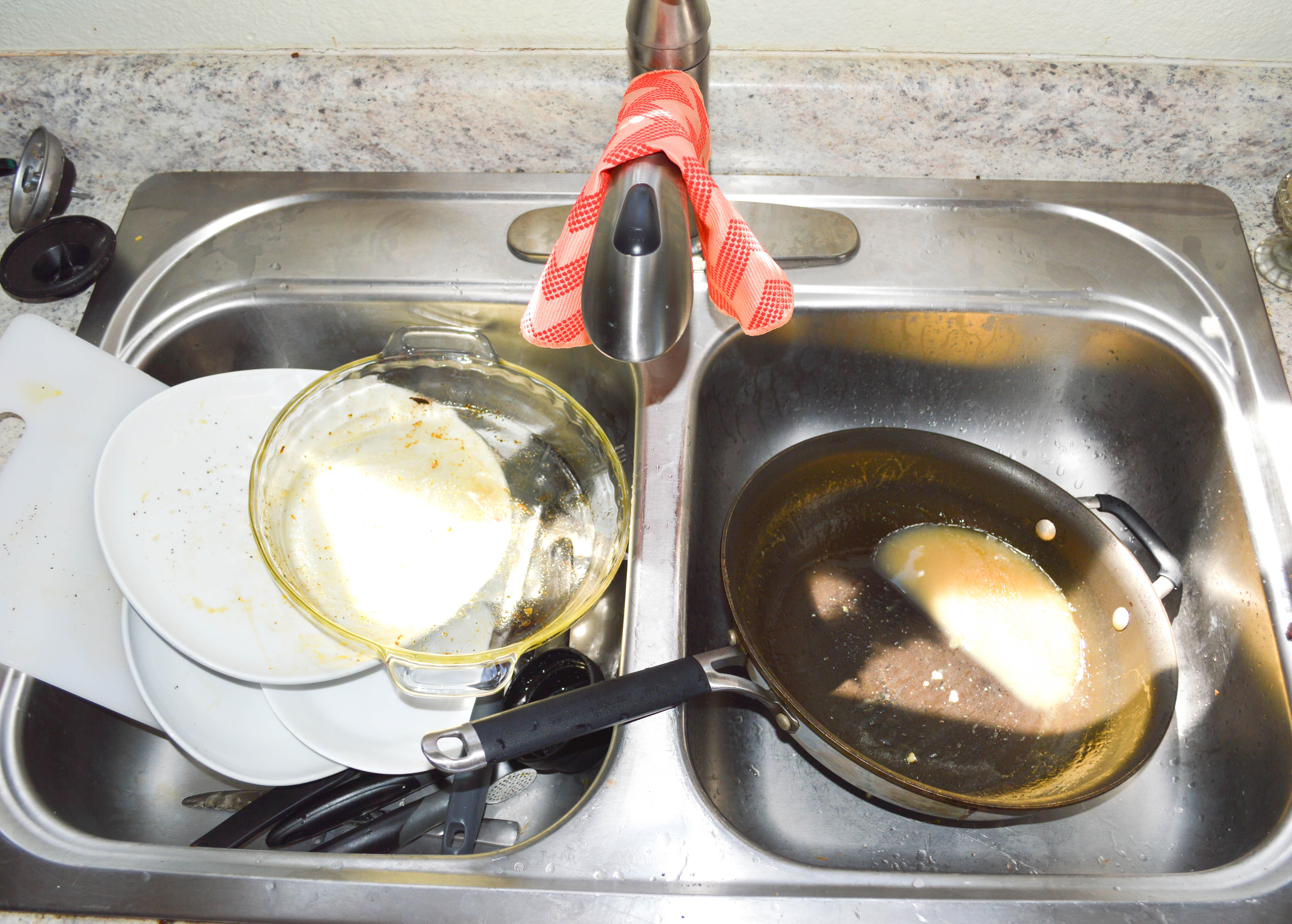 These dish cloths are two-sided, giving you the scrubbing power of a sponge on one side, and the drying effects of a towel on the other! They are multi-functional and with the scrubbing dots you can get rid of stubborn stuck on messes in a breeze! The best part about the Scotch-Brite Scrubbing Dish Cloth is that it is non scratch and won't harm your dishware. The scrubbing power makes cleaning easy! You can even save on Scotch-Brite Scrubbing Dish Cloths at Target with the Cartwheel App. Find the discount here ! (offer valid 6/19-6/25)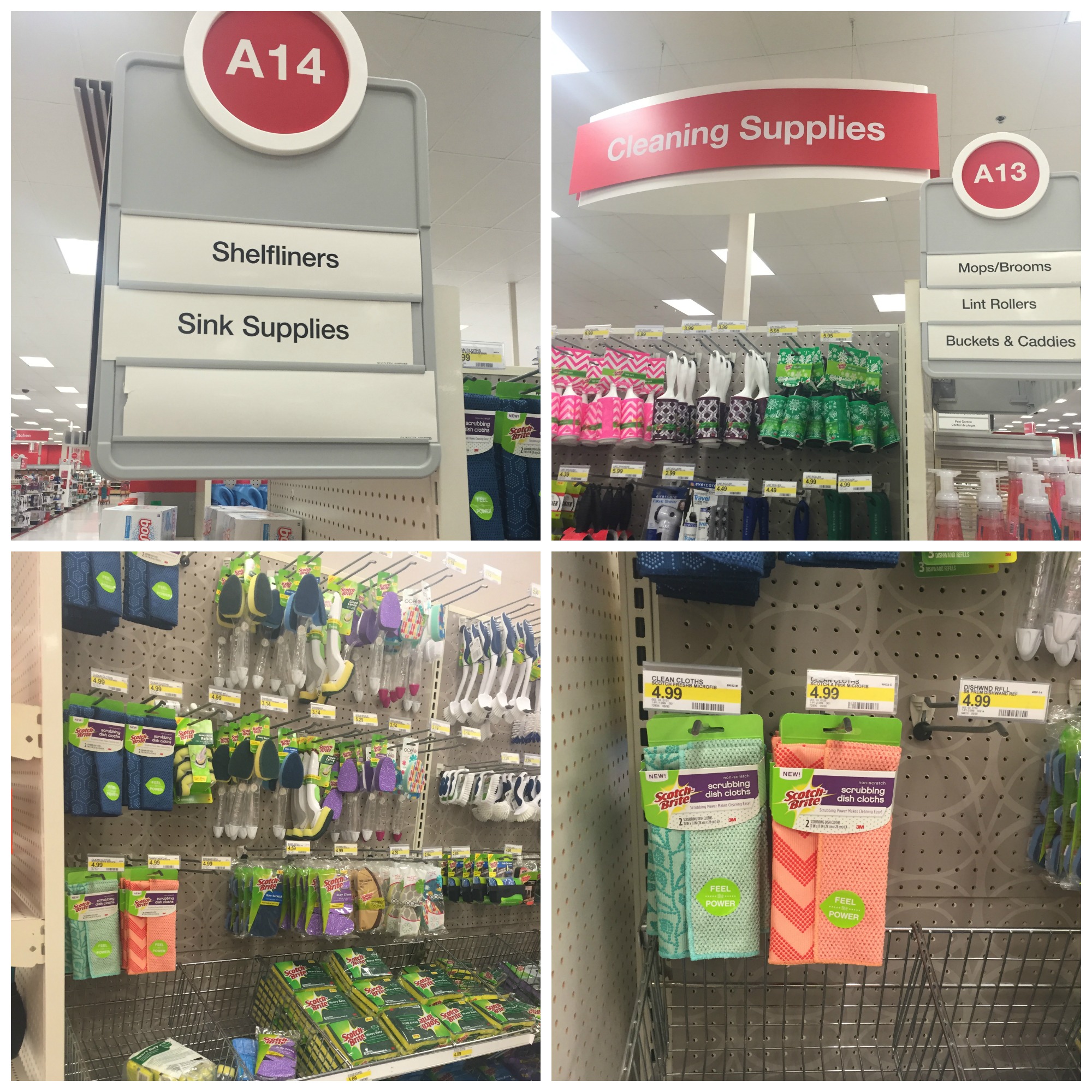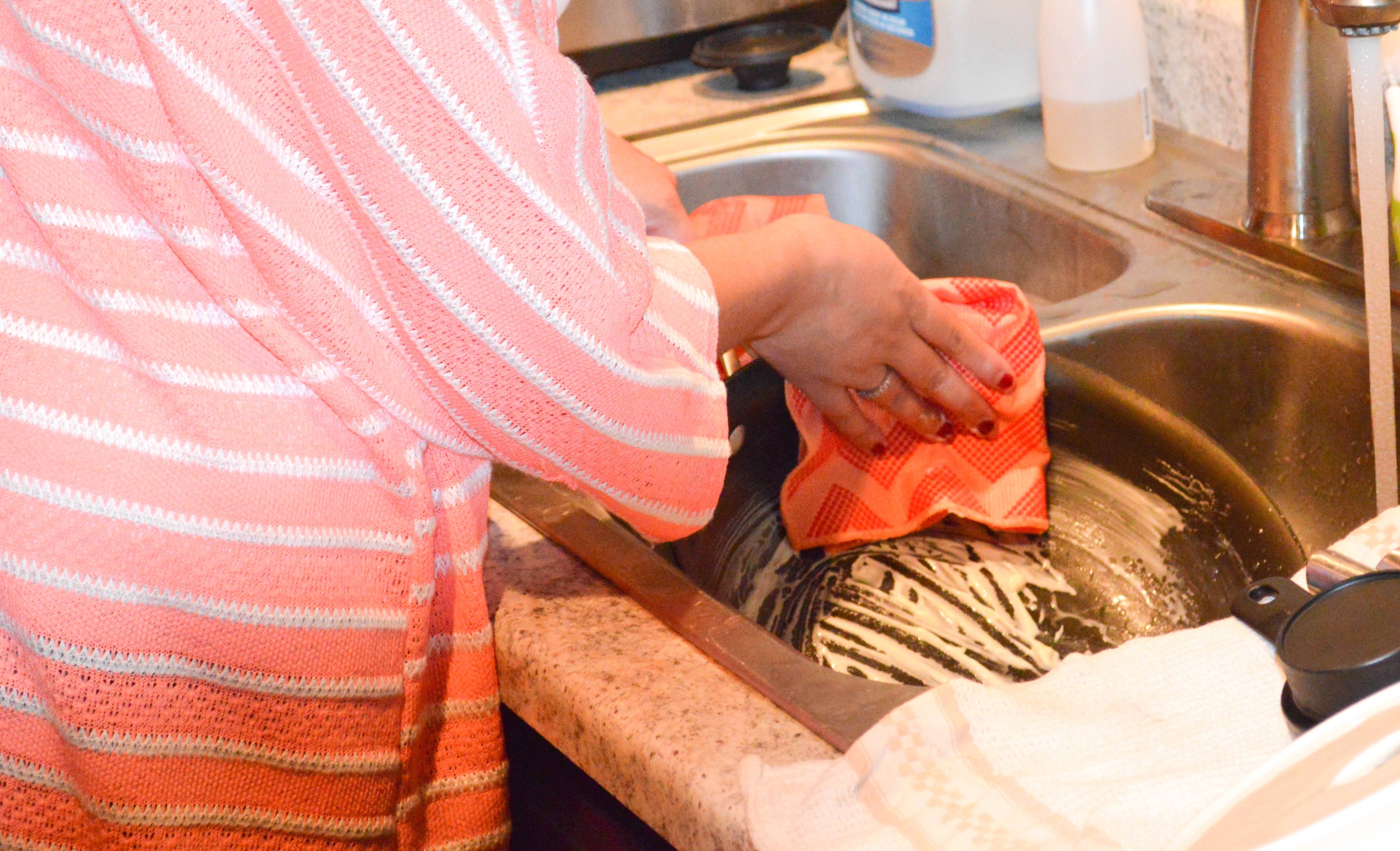 After all my dishes are done I like to scrub down my sink to make sure it shines! So many sink cleaners on the market contain harmful chemicals that I don't like so I decided to attempt to make my own and I couldn't be happier with the results. This sink cleaner takes only a few minutes to make, will last you a long time, and is much less expensive than what you find on the shelves. Oh, and completely chemical-free! Here's what you'll need:
3 Tbsp Baking Soda
1/2 Cup Unscented Castile Soap
20 drops citrus essential oil  of choice (optional)
Scotch-Brite Scrubbing Dish Cloth
Combine all the ingredients into a mixing bowl and whisk until combined
Add mixture to a bottle and shake
Pour the mixture into your sink and scrub with a scotch brite scrubbing cloth
Let sit for 5-10 minutes
Rinse with HOT water
Enjoy your sparkly sink!
The castile soap and the baking soda will naturally separate. Be sure to shake vigorously before each use. The essential oil is an optional ingredient but lemon and other citrus flavors provide a pleasant scent and are a natural disinfectant! I used grapefruit in mine and it smells incredible!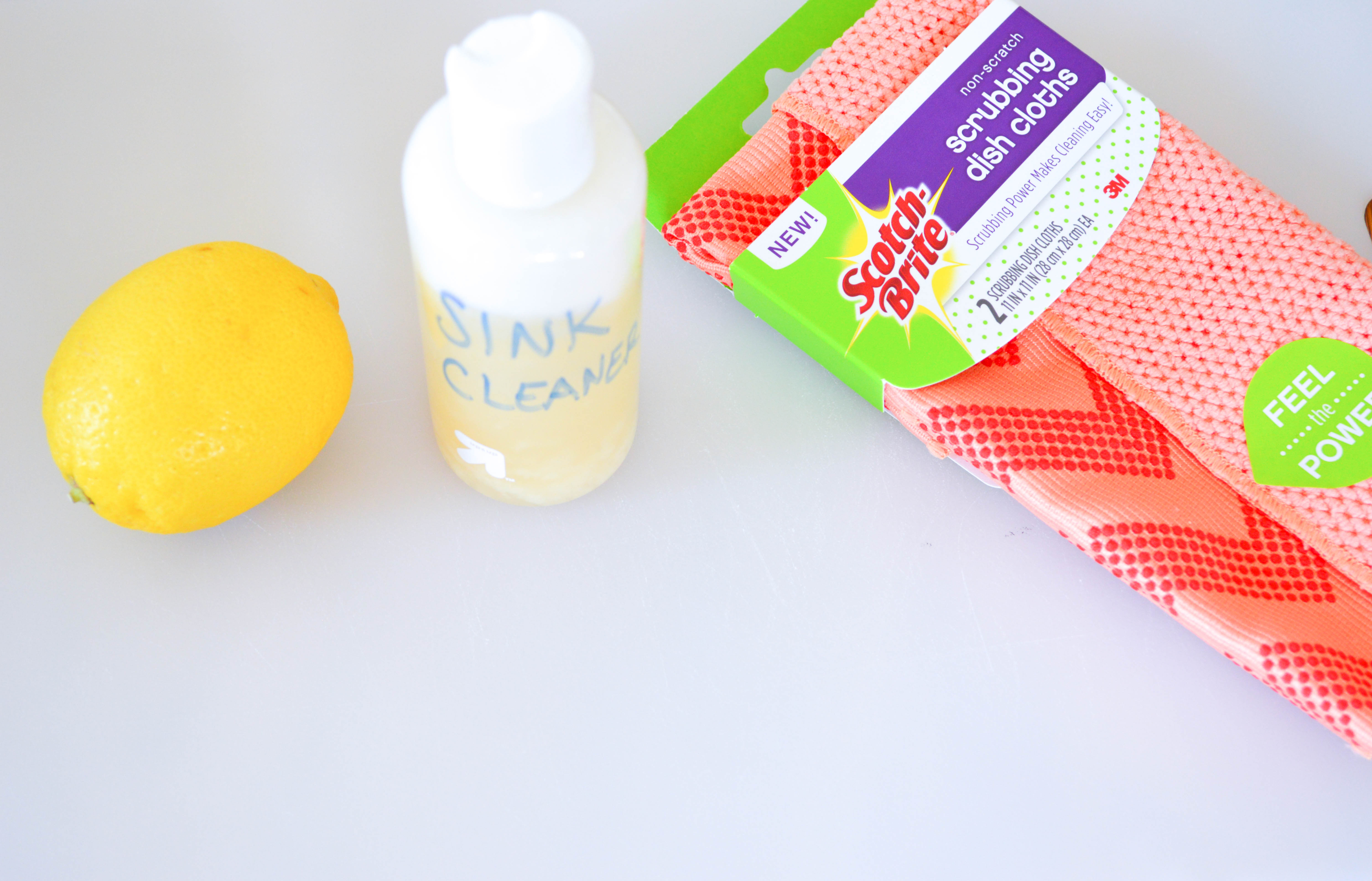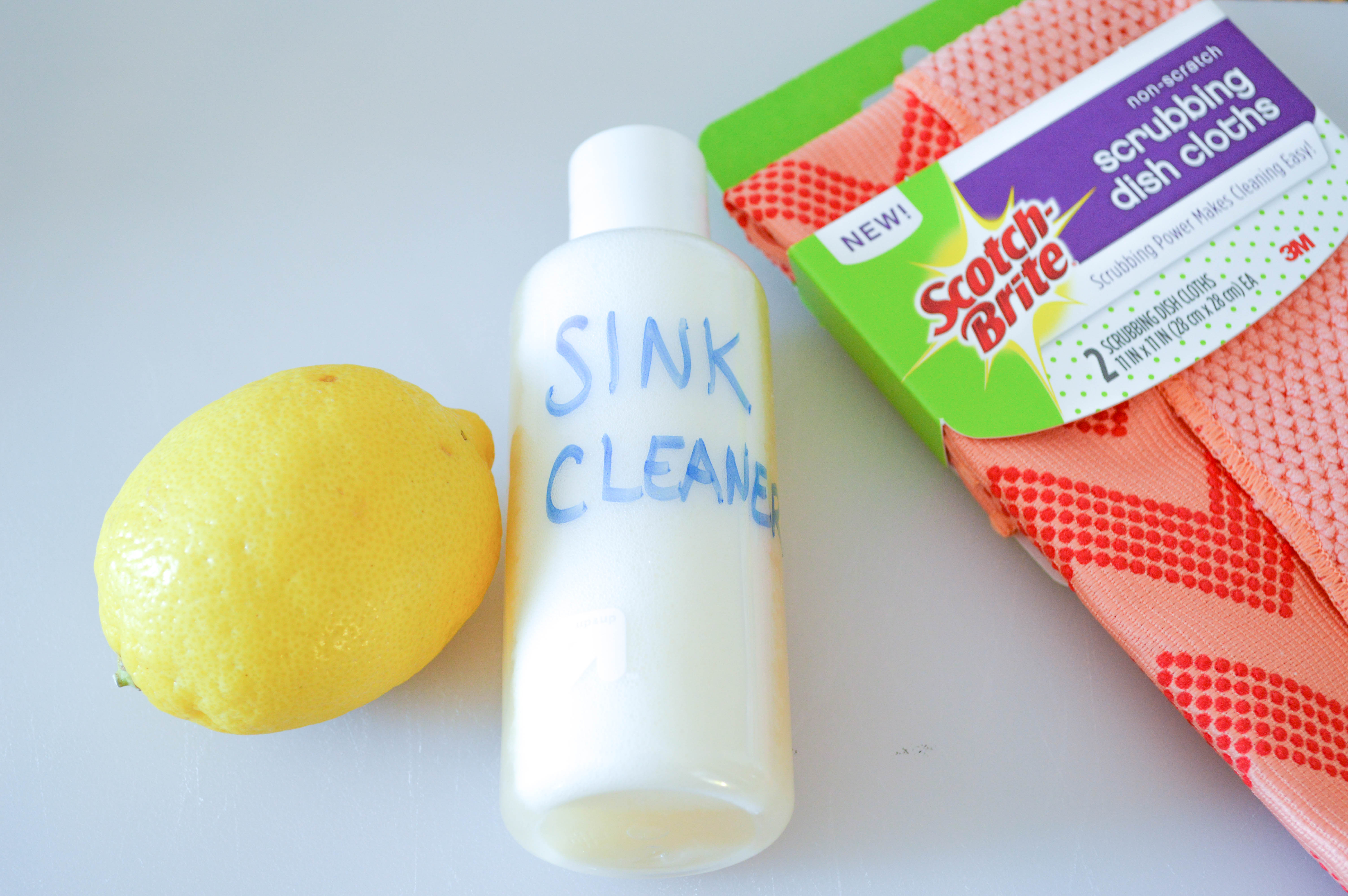 Check out other great recipes and cleaning tutorials here!
Whats your favorite messy meal? Comment below!
xoxo.
Save
Save
Save
Save
Save
Save
Save