Happy Sunday! Every Sunday, if Kurtis is off, I like us to have Sunday dinner as a family. This casserole is really delicious and really easy. Plus, it makes for a lot of leftovers, which I love for easy lunches!
Chicken Cordon Bleu is one of my favorite dishes, but it can be kind of hard to make and perfect. Doing it in casserole form makes it a lot easier. I was so excited when I stumbled across this recipe!
Here's what you'll need:
1 rotisserie chicken
Sliced ham
Sliced swiss cheese
1/2 tbs djon  mustard
1 stick butter
3 cups milk
4 tbs flour
1 1/2 tsp salt
1/2 tsp pepper
2 tbs lemon juice
1/2 tsp paprika
1 1/4 cups italian bread crumbs
1/4 cup parmesan cheese
First, the meats and cheese!
Preheat your oven to 350. Layer your casserole dish with shredded chicken on the bottom, top with slices of ham, and then top with slices of swiss cheese.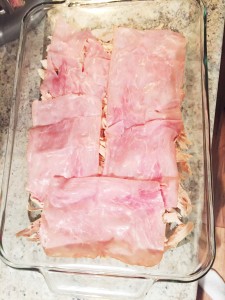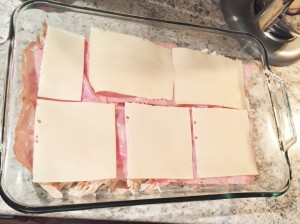 Next, make your sauce!
Melt half your butter (4 tbs) in a saucepan over medium heat. Add the flour and stir for 1 minute. Then, add the milk, slowly, a little bit at a time. Use a whisk to prevent clumps from forming. Cook until it boils and thickens (you may want to turn the heat to high), remove from heat and add the lemon juice, salt, paprika, pepper, and mustard. (The original recipe called for 1 tbs of dijon mustard. I'm not a big fan of mustard, so I adjusted it to 1/2 tbs so the flavor wasn't so powerful.) Pour the mixture over the swiss cheese in your casserole dish.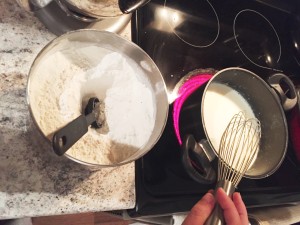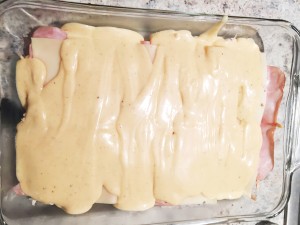 Finally, make your topping!
In a microwave safe dish, melt the remaining 4 tbs of butter. Then, add your bread crumbs, and parmesan cheese and whisk until the butter is even distributed. Pour over the top of your dish and bake for 45 minutes.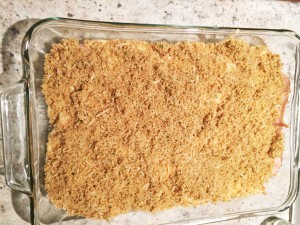 The result is a delicious Chicken Cordon Bleu dish in casserole form! Since I only cook for 2, Kurtis and I were eating these delicious leftovers for almost a week before it was gone. Leftovers are my favorite (less cooking for me!), so I wasn't complaining.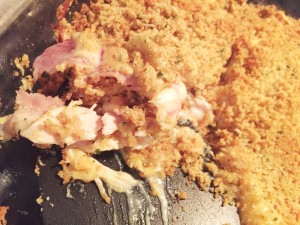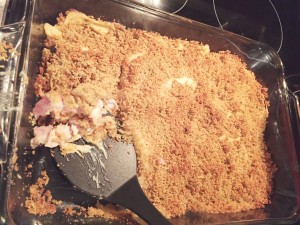 I found the original recipe via Pinterest here.
Happy eating!
xoxo.