It's been so long since I've done a Friday Favorites post! I'm so excited to share a few things with you guys today!
The past few months have been crazy. In April we were hardly home between traveling and housesitting for my parents. And May has been so crazy with lots of graduations and graduation parties and birthdays! Sawyer is going to be 1 in just a few weeks and we can't believe it. This year is flying by!
Here are some things I'm loving lately:
Disclaimer: I received select products in exchange for review. All opinions are my own. 
Game of Thrones
My sister gave us her HBOGO password and we've been binge watching ever since! The story is so unique and captivating. There's so much to follow and we've been losing sleep with how late we stay up watching it. We're obsessed!
A Color Story
This app has completely changed my Instagram game. I'm obsessed with Instagram, it is by far my favorite social media app. I'm very picky with what I post and the pictures have to be edited just right. I like photos that are bright and colorful! A Color Story makes them just that! When I first downloaded it, I was amazed at how beautiful all the filters were and I loved the curves tool. It makes every photo bright and colorful!
Beachfront Baby Carriers
I so wish I knew about these carriers when Sawyer was a newborn! They are incredible! Beachfront Baby makes waterproof carriers and slings! Yes, you read that right! Now, of course these are great for taking baby to the pool or the beach but here's the ingenious part…you can wear them in the shower. Stay with me on this, but we've all been there. Newly postpartum, haven't showered in days with a baby who just wants to be held. How long do you go without showering during those newborn days? 5 days? A week even? I can't even tell you for sure how long I went, but it was a long time.
Sawyer always loved to be worn and always loved the bath. If I had had this sling back then, I could've been showering every day, no problem! I was able to try Beachfront Baby ring sling and loved playing with it! All my other wraps are front carriers and so I really wanted to try a sling, now that Sawyer is big enough for a hip carry. The pools here don't open for a few more weeks and we're not heading on our beach vacation for another month, so I hopped in the shower to try it out. Even though Sawyer is past the age where I can't shower for days at a time, I still couldn't help but get excited over being able to use it for the next baby. Bye bye postpartum shower fast!
*Disclaimer: We are both wearing swim suits for the sake of this post 
You'll be seeing us use this sling a lot this summer! I'll be sure to show you how to use it at the pool and the beach when the time comes, but for now, I can tell your from experience, everyone with a newborn needs one of these wraps. We all deserve to shower after all!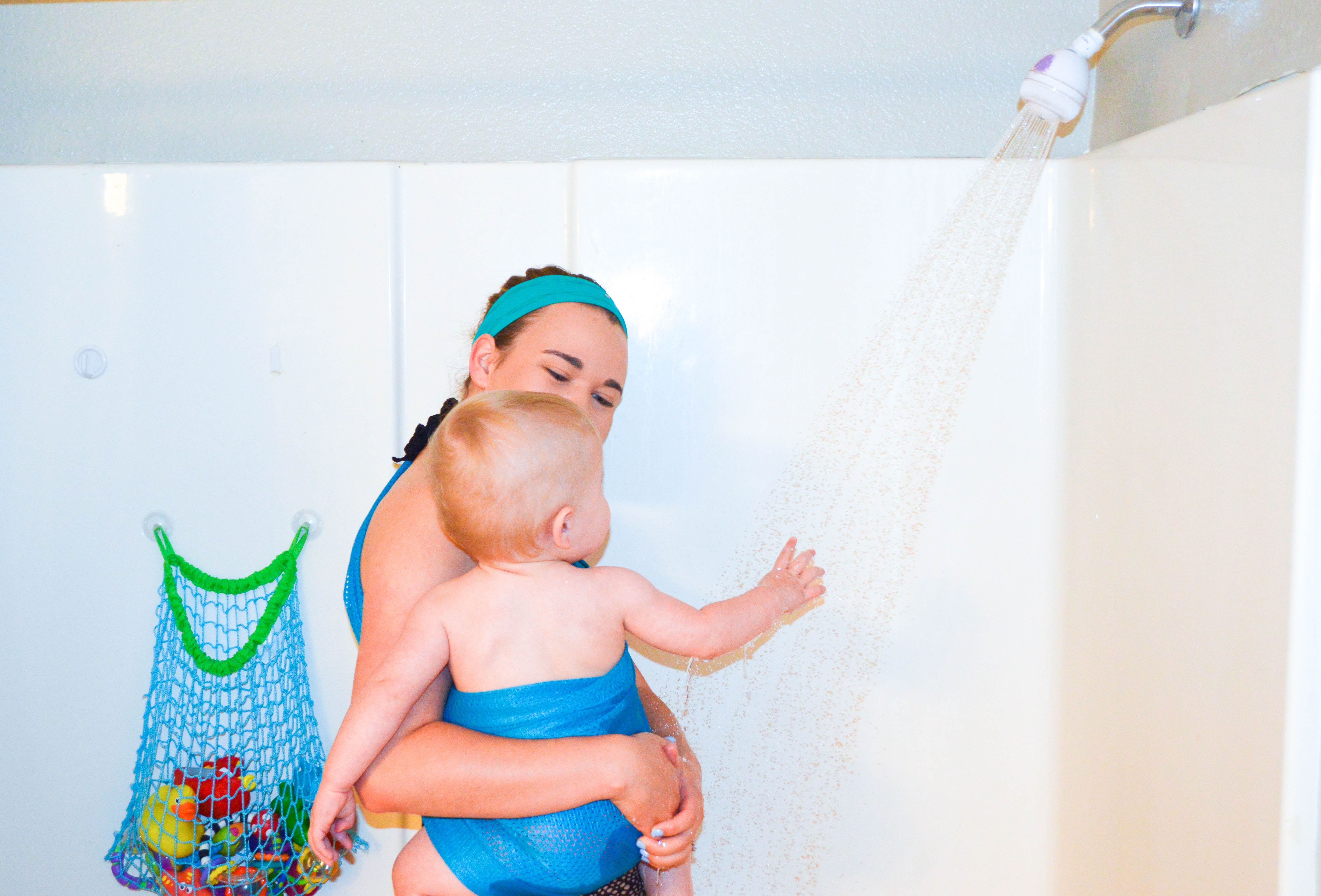 Beachfront Baby makes both slings and wraps in a variety of colors! We have a One-Size Ring Sling in Caribbean Blue and I love it. I can't wait to take it to the pool and the beach this summer! Be sure to check out Beachfront Baby and get one for yourself this summer!
| Shop | Instagram | Facebook | Twitter |
Maple Bacon Dijon Chicken
This is by far my favorite paleo recipe I've ever made, I just had to share it. I make it once a week, at least. And I'm not sick of it! It's by the trusty Wholesomelicious. I swear, I love all of their recipes! This one is incredible good, and paleo! You can find it here. Make it for your family this week, you won't be sorry!
Happy Friday! What are you loving this week?
xoxo.