Today, I'm kicking off a new series that I'm really excited about it! I've decided to rid my house of chemicals this year. This means switching to either homemade, or all natural cleaning supplies, detergents, candles, shampoos and conditioners, beauty products, bath products and more! I will be recording this journey here and sharing all my DIYs and recipes for a more natural and safe home!
My reasoning for doing this is simple. I want my home to be the safest place possible for my children. If we didn't have Sawyer I probably wouldn't even be thinking about this. But I do think about it. Babies and toddlers literally put everything in their mouths. And he's going to be mobile soon. I would hate to look away for one second and turn around to see him drinking out of the Windex bottle. That would result in a pretty long day in urgent care, and in the worst case scenario, possibly even death. But if I turn around and he's drinking from my all natural window cleaner made of only distilled water, baking soda, and vinegar, he might get a tummy ache but he's probably going to be fine.
It's also so much better for us to minimalize the chemicals in our lives. They. Are. Everywhere. In our food, our beauty products, our air fresheners, our laundry detergent, our dish soap, EVERYWHERE. Why are we so okay with allowing such harmful chemicals to be in our lives? To come in contact with our skin? To eat in our food? Especially when it can actually save a lot of money to make your own products at home. And even if you aren't a DIYer, there are plenty of all-natural, chemical free products on the market you can purchase. But even though there are safer options, we still buy the harmful ones. Why?
But my family deserves better than that. And so does yours! That's why I'm taking the challenge to minimalize the chemicals in my home this year. I know it's impossible to completely rid our home of chemicals, and I know some are necessary but I'm going to replace what I can. And you are invited along for the ride! Feel free to use any of the recipes and DIYs I post, and if you have any questions, you can contact me directly!
I started off easy, with lotions, moisturizers and perfumes. These products are super easy to make yourself, or, if you're not into DIYing (or you don't have the time) there are plenty of companies that make safe, all natural, chemical free products you can purchase. I will be sharing a few of them here!
I've really been needing to clean out my bathroom cabinets anyways, so this came at a perfect time. By the time I was done, I had a trash bag full of old half-used products I needed to get rid of anyways.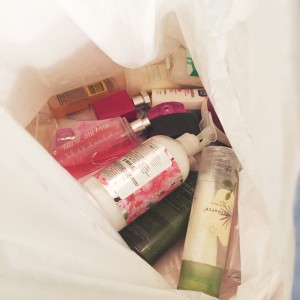 What I threw out: Any bath and body works products, lots of lotions, perfumes, and bubble bath.
What I kept: The perfume I wore on my wedding day, a lotion set I just got for Christmas (I don't want to offend anyone by throwing out a brand new gift. I'll make sure to use it before tossing it), a Chanel perfume Kurtis also got me for Christmas, Lush bath bombs and bubble bars.
Lush products are already chemical-free, all natural and so fun to use! So I obviously kept those. Everything else I kept were just things that had sentimental meaning to me or were way to expensive to just throw away (Chanel perfume, obviously).
Face Moisturizer
I live in Colorado, and I have extremely dry skin. However, long before I started this journey, I discovered almost every single face moisturizer on the market made me break out horribly. For a long time, I just lived with the dry skin. I figured dryness was better than a break out. But then, I started using raw coconut oil, and it works wonders. Coconut oil is incredibly moisturizing, and its 100% pure, so no breakouts! It's been my go-to moisturizer for about a year now. The best part is, you don't even have to do anything to it! You can scoop it straight from the jar and put it on your skin. It's totally safe and will make your skin so soft! I like to scent mine with a little Citrus Bliss essential oil by DoTerra. It gives it just a little fragrance to make it smell yummy! Essential oils are completely safe to use on the skin when diluted with a carrier oil, such as coconut oil!
Hand and Body Lotion
There are so many recipes for creating your own body lotion. I will be trying a few of these out and posting about them on a later date. But for now, I'm using some trusted chemical free products made by some awesome small shops! A really great body lotion is made by The Lotion Company. They make amazing all natural lotions that I swore by during my last few weeks of pregnancy. Their lavender lotion was so soothing on my itchy belly.
Another product I recently came across is Butternut Products all natural lotions and moisturizers! Their butter is not only moisturizing, it's healing. Last week, I had a bad sore/cut on my ring finger. My skin got pinched between my engagement ring and wedding band and I slept on it. It was not pretty. But I've been putting Butternut Product's butter on it every day and it has healed so quickly! The butter is made with Grade A Shea Butter and the following essential oils: Melaleuca, Lavender, Rosemary, and Lemon. It is amazing. It has even been known to help eczema, wrinkles, sunburns, bug bites, and skin allergies. The shop owner, Rebekah, makes it all by hand and sells it for only $11! You have to get some, it will change your life! Right now I keep mine above my sink to use after washing dishes to keep my hands nice and soft. Works like a charm!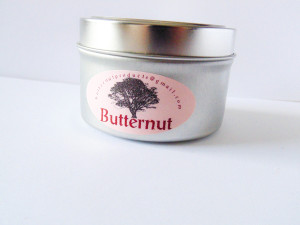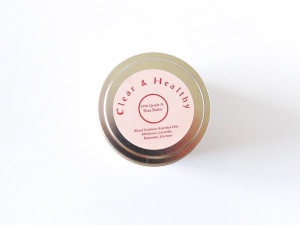 I've teamed up with Butternut Products to give away a tin of butter to one lucky reader! Giveaway will begin tomorrow (2/2) head to my Instagram to enter!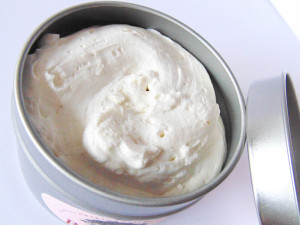 Shop HERE and follow them on Instagram!
Perfumes
Ever wonder why your favorite perfume often gives you a headache? Because it most likely contains a lot of harmful chemicals. I recently started making my own perfumes with DoTerra essential oils. It's so easy and much safer!
You'll need:
Oils of your choice ( I like fruity ones like Lemongrass, Citrus Bliss, Lemon, Lime, and Wild Orange) I will be using Lemongrass and Wild Orange
Carrier Oil (I will be using fractionated coconut oil)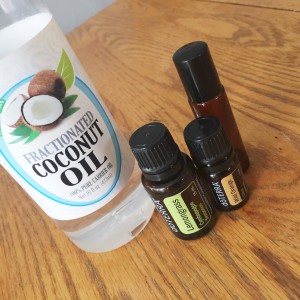 Add 10 drops Lemongrass and 10 drops Wild Orange to the roller bottle, then fill to the top with your carrier oil.
Done!
See? So easy and so much safer and better for you. And, it smells really good. My husband always compliments me when he notices I'm wearing it. And I've noticed the scent lasts a lot longer than store bought perfumes.
So there are some quick and easy ways to get rid of some of the chemicals in your house! Stay tuned for much more and be sure to check out our giveaway with Butternut Products tomorrow!
xoxo.
Disclaimer: I received select products in exchange for review, but all opinions are my own.