Disclaimer: This post is in collaboration with Great Wolf Lodge. All opinions are my own. Please visit my disclaimer page for more information.

Last weekend, we had the incredible privilege of checking out the newest Great Wolf Lodge: Colorado Springs!
3 years ago, construction began on what was supposed to be a grand hotel and convention center. Unfortunately, the project was scrapped, and the future hotel sat there, unfinished, for almost 2 years. Finally, the Great Wolf Lodge came along and decided to buy the property for their newest location. Because construction on the hotel had already been started, that gave Great Wolf Lodge room to be creative with the extra space.
Because the convention center space had already been built out, Great Wolf Lodge decided to utilize it to create the first "dry" adventure park in the Great Wolf franchise. This was by far a highlight of our stay. Great Wold Lodge offers adventure passes that allows you to experience the Adventure Park. The Adventure Parks offers attractions such as a full arcade, mini golf, a climbing wall, a ropes course, the creation station, a bowling alley and MagiQuest. The addition of the Adventure Park provides entertainment for days, making it so you truly never need to leave the resort during your vacation.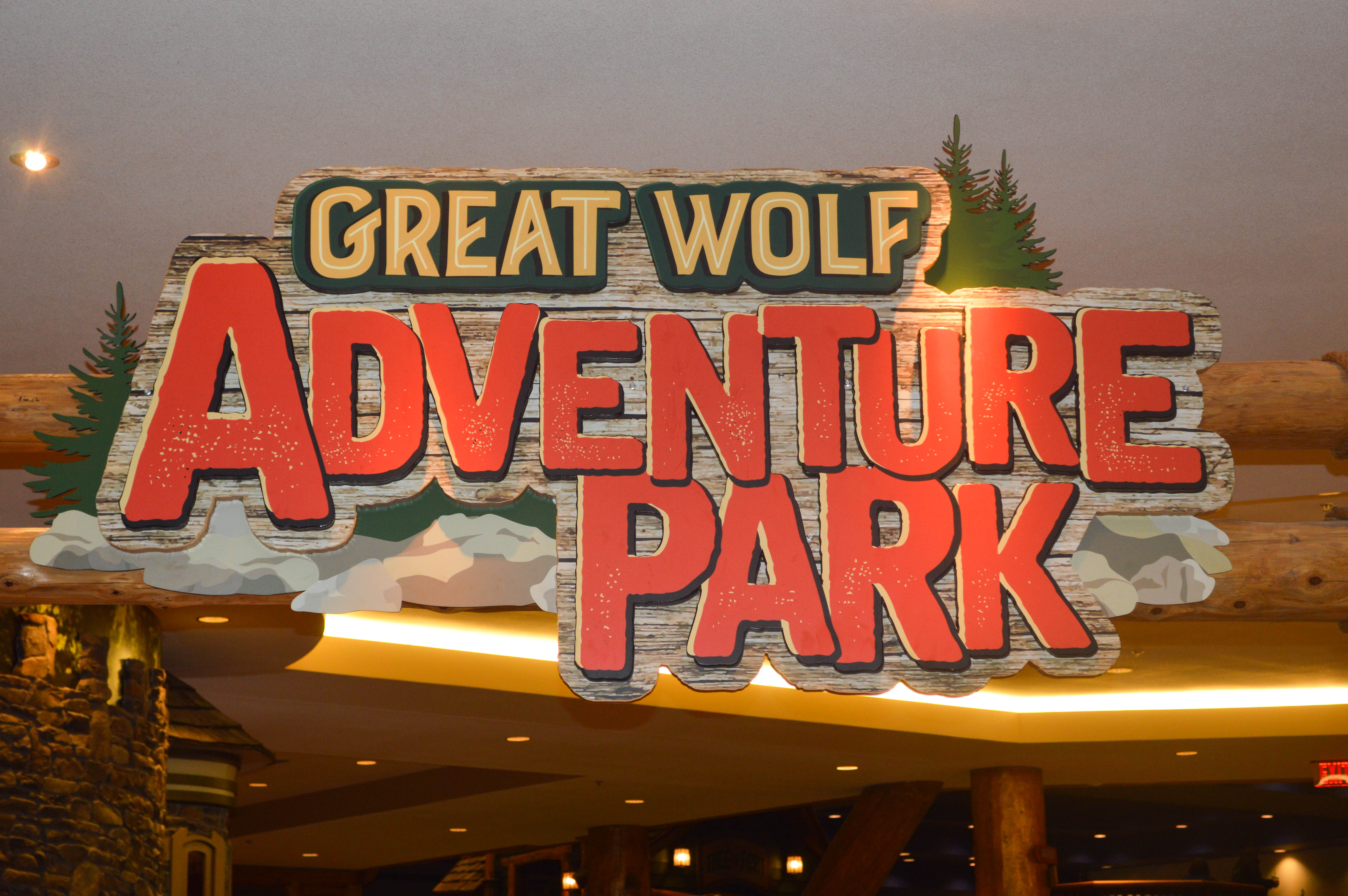 Sawyer had a blast creating stuffed animals at the Creation Station, and running around the mini gold course while we played. The arcade is chock full of fun games and prizes to win, the ropes course takes up hardly any room in the Adventure Park because it is suspended above the rest of the park. It's so cool! I was really impressed by MagiQuest. It is a live action game that can be played throughout the hotel. And get this- you can pick up your game at any Great Wolf Lodge location! A lot of the online reviews I read complained about the kids running around the floors of the hotel playing MagiQuest- but I felt the opposite. This is a kid-friendly family-centered resort, and all the kids I saw running around playing, seemed to be having the time of their lives. I thought it was great!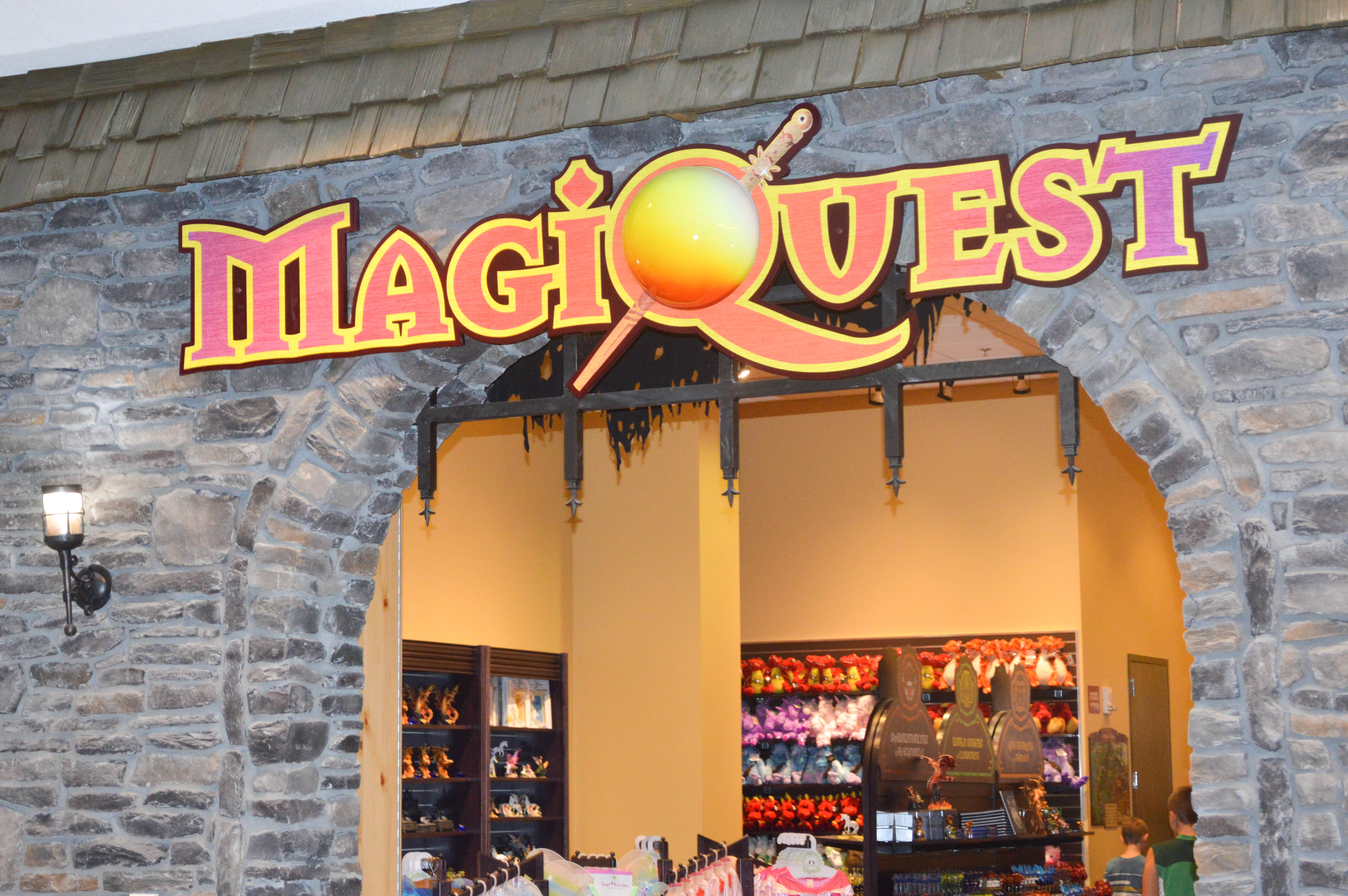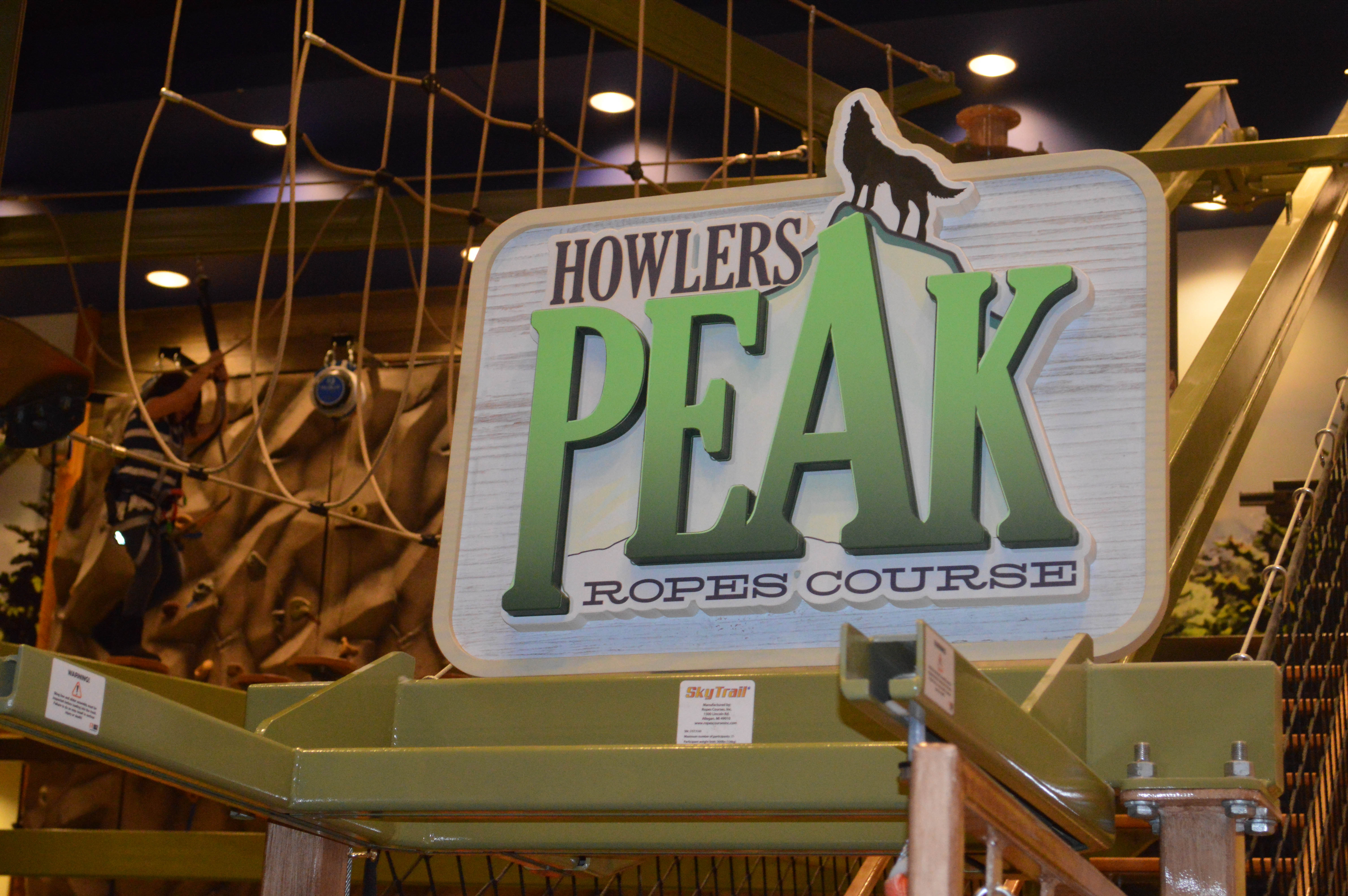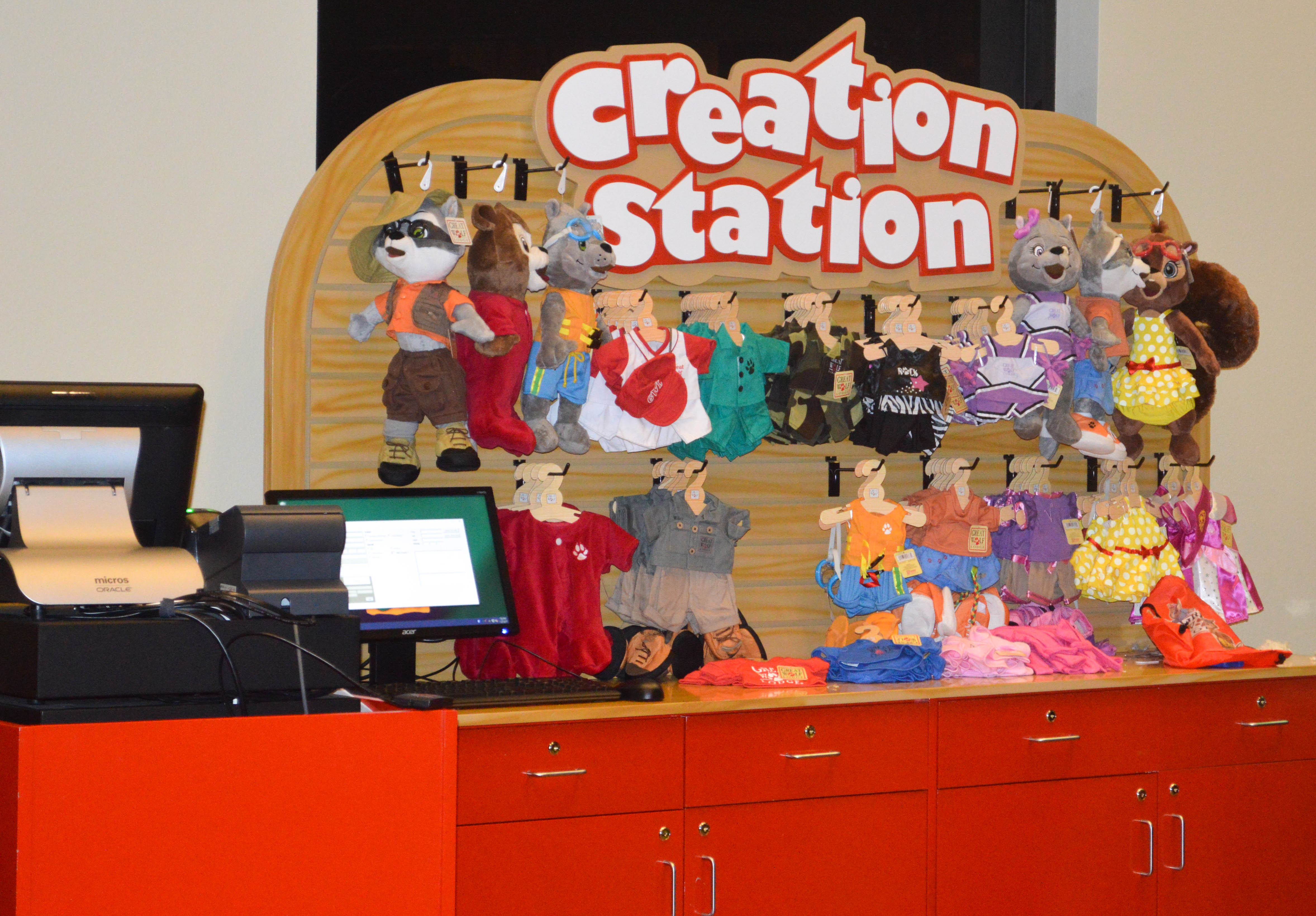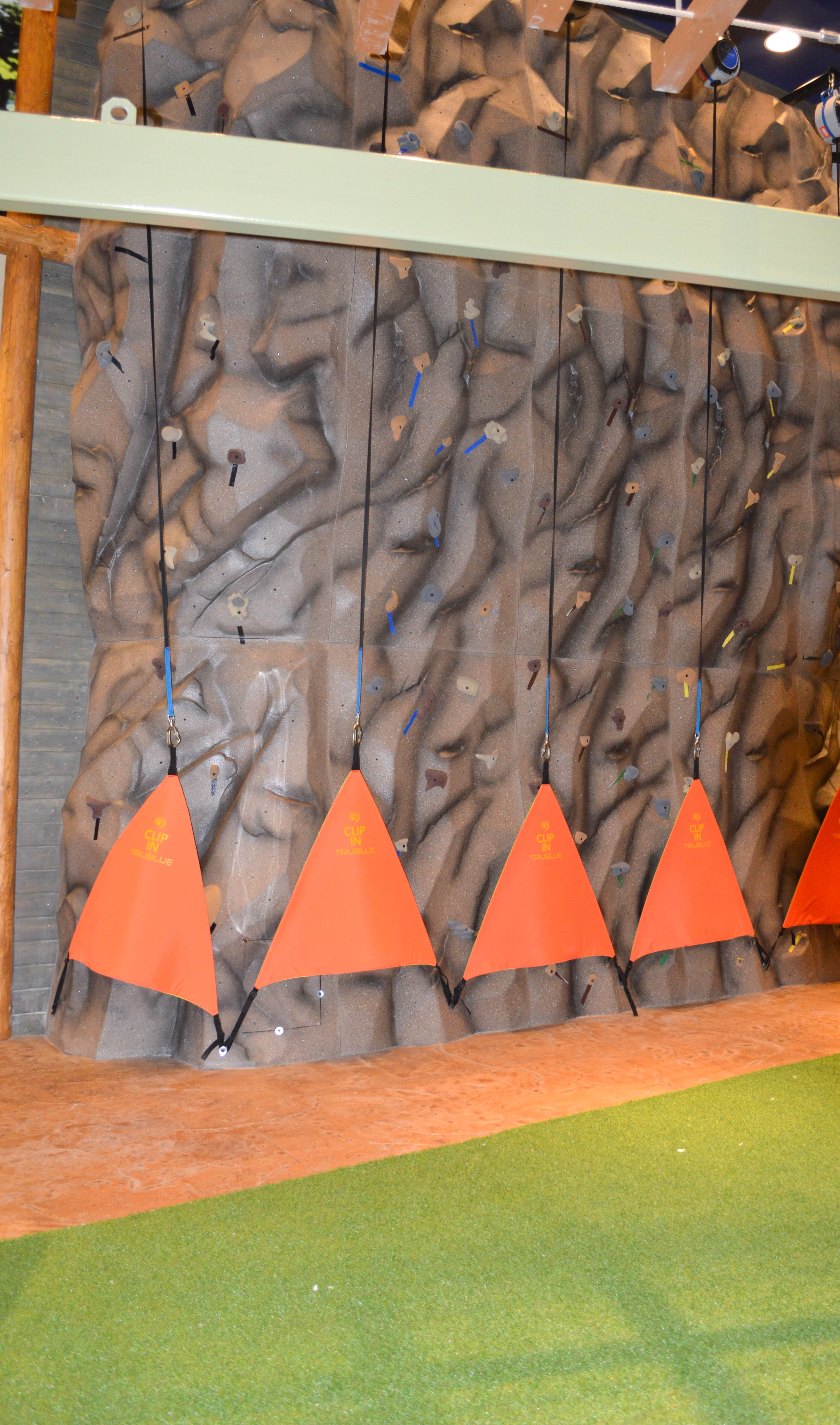 We had the pleasure of eating at every restaurant and dining station in the resort. The newest Great Wolf Lodge offers so many dining options. The Loose Moose Family Kitchen all you can eat buffet, Barnwood, Hungry as a Wolf, Buckets Incredible Craveables, The Outpost, and even a Dunkin' Donuts, Ben and Jerry's, and The Great Wolf Candy Company!
The first night we ate at The Loose Moose Kitchen. My husband loves all you can eat buffets (who doesn't), so we made sure to eat there while he was with us (unfortunately, my husband couldn't get Saturday off from work so he was only there with us Friday and Sunday). The food was actually really, really good. I tend to not expect a lot from buffets, but the food was all hot and fresh, and I saw almost every single item replaced with hot, fresh ones in the hour we were there. There were plenty of kid-friendly options like mac n' cheese, chicken tender baskets, and more! And there was plenty for adults too, a salad bar, a pasta station (my personal favorite), even a carving station with roast beef and turkey. I only wish they had more dessert options. After our meal, our waitress brought over a basket of cookies, which were very good, but at a buffet I would expect a dessert station as well. We ate until we were stuffed! I still dream about the pasta.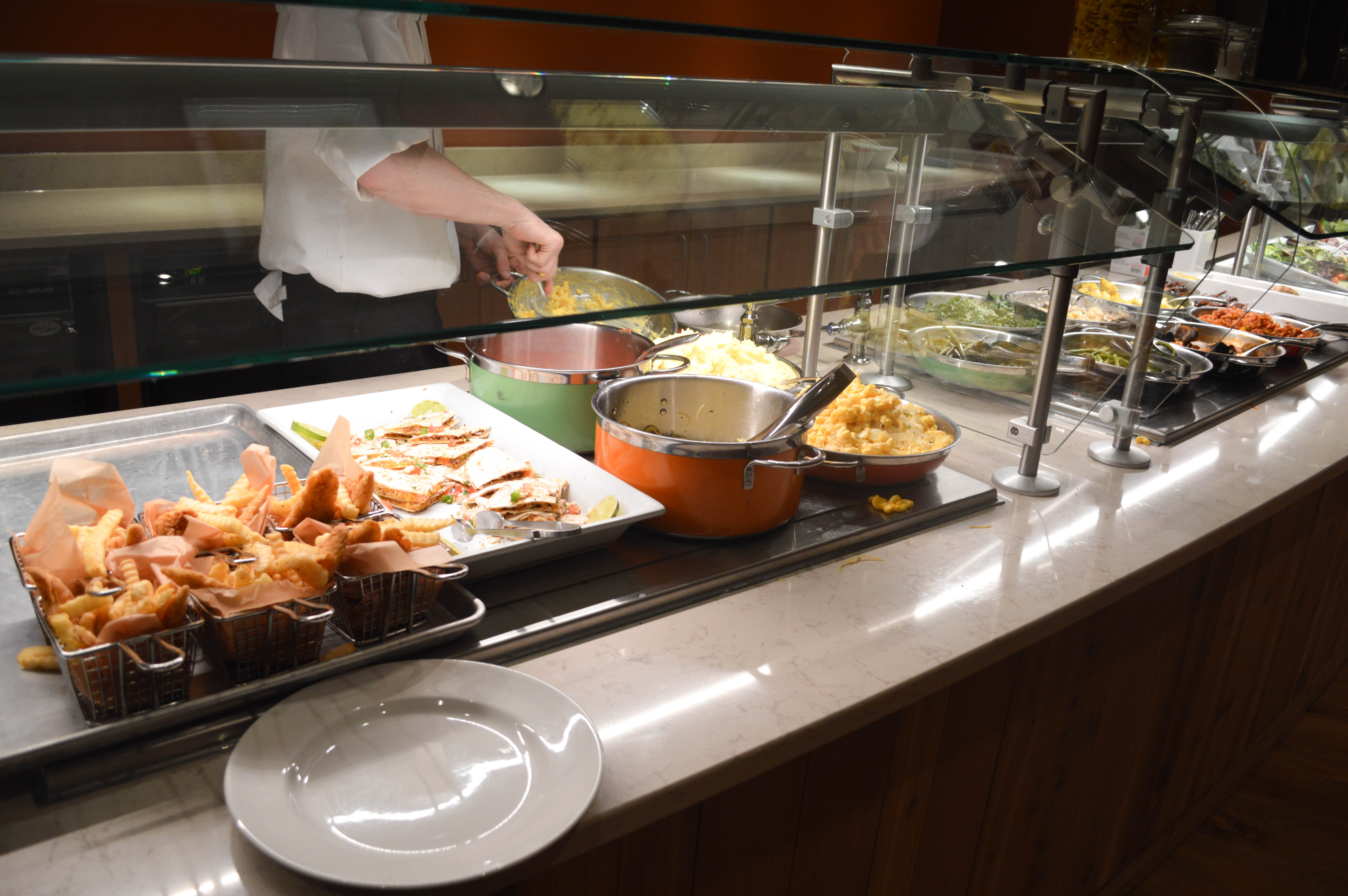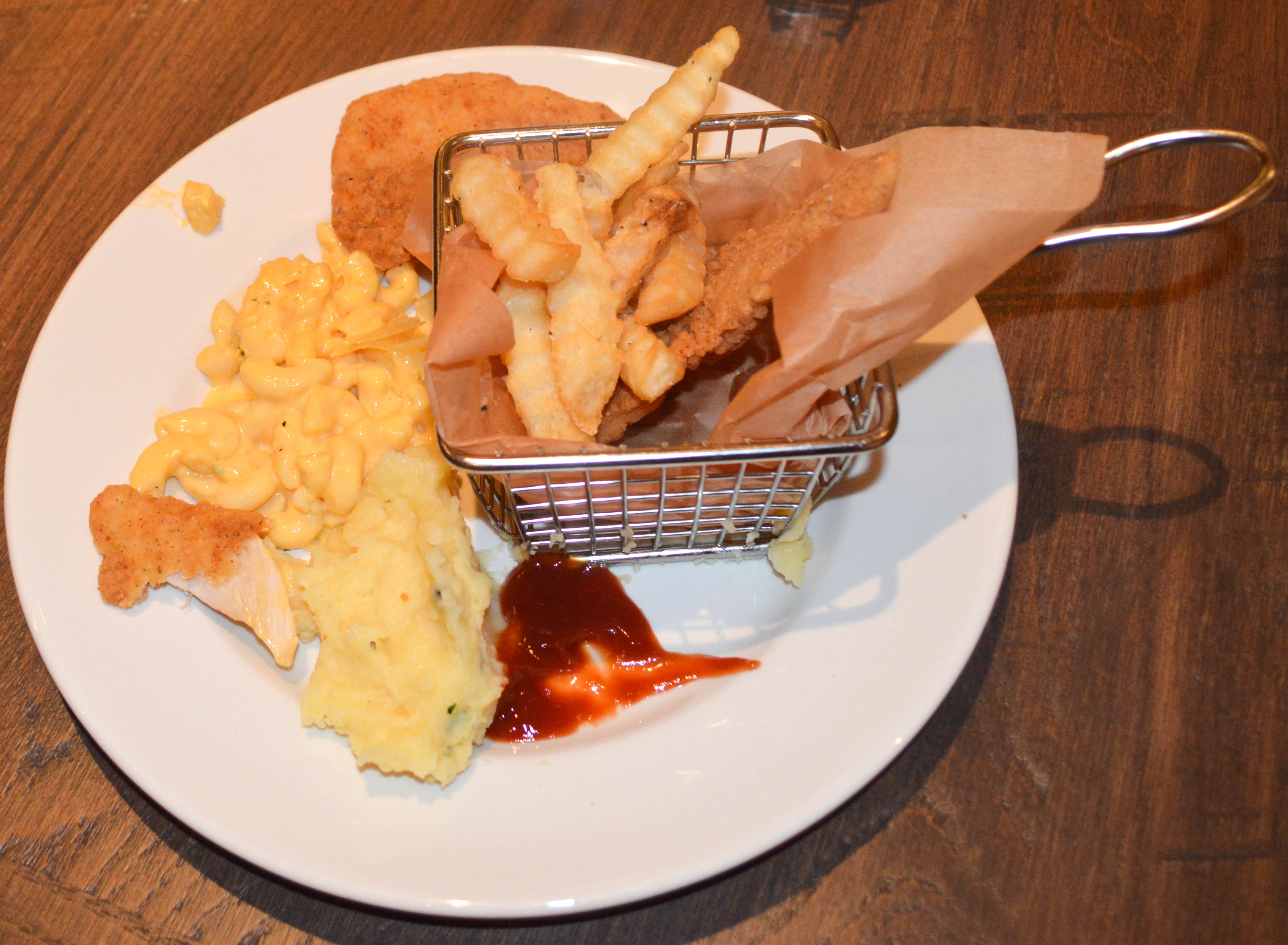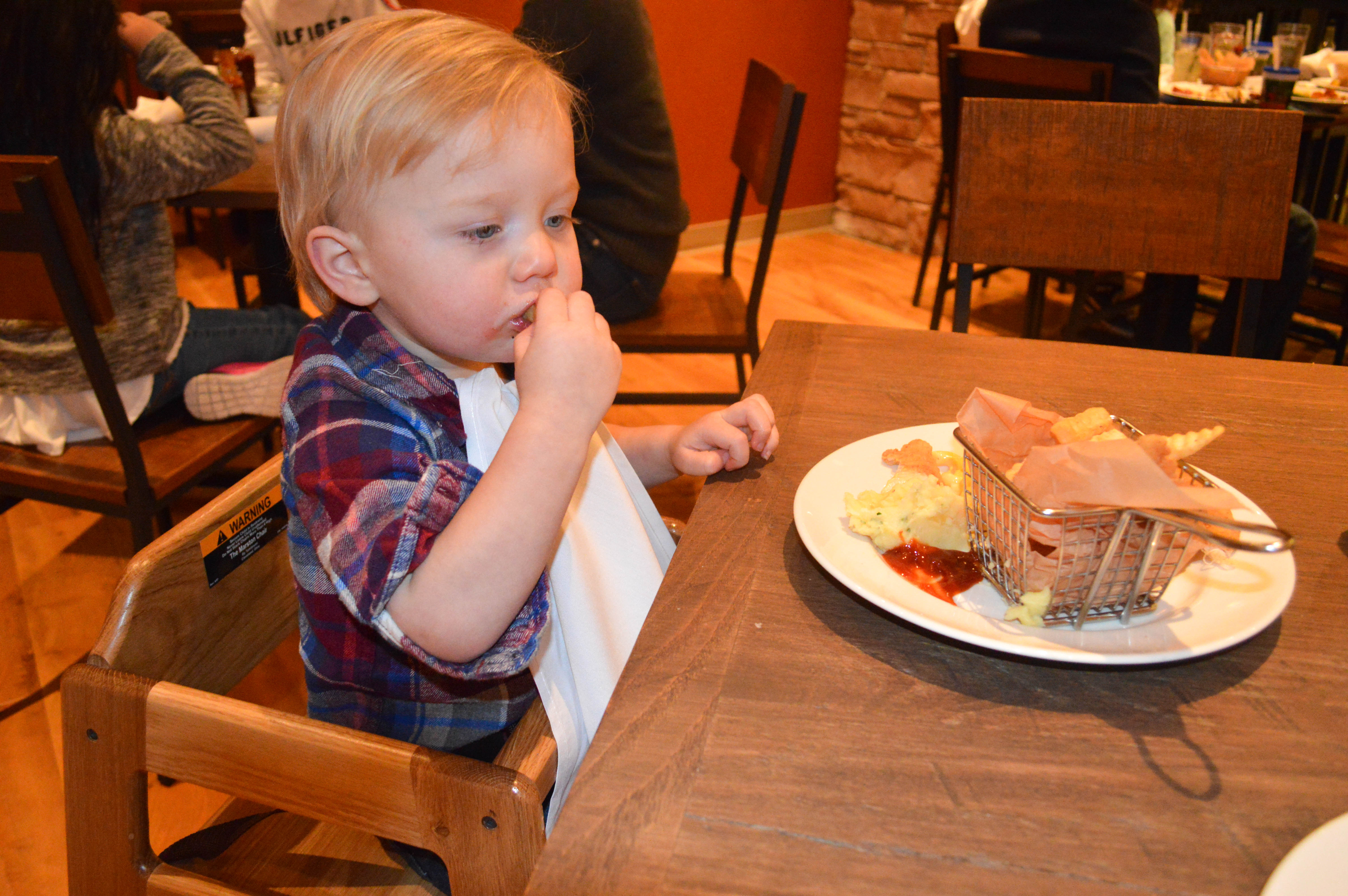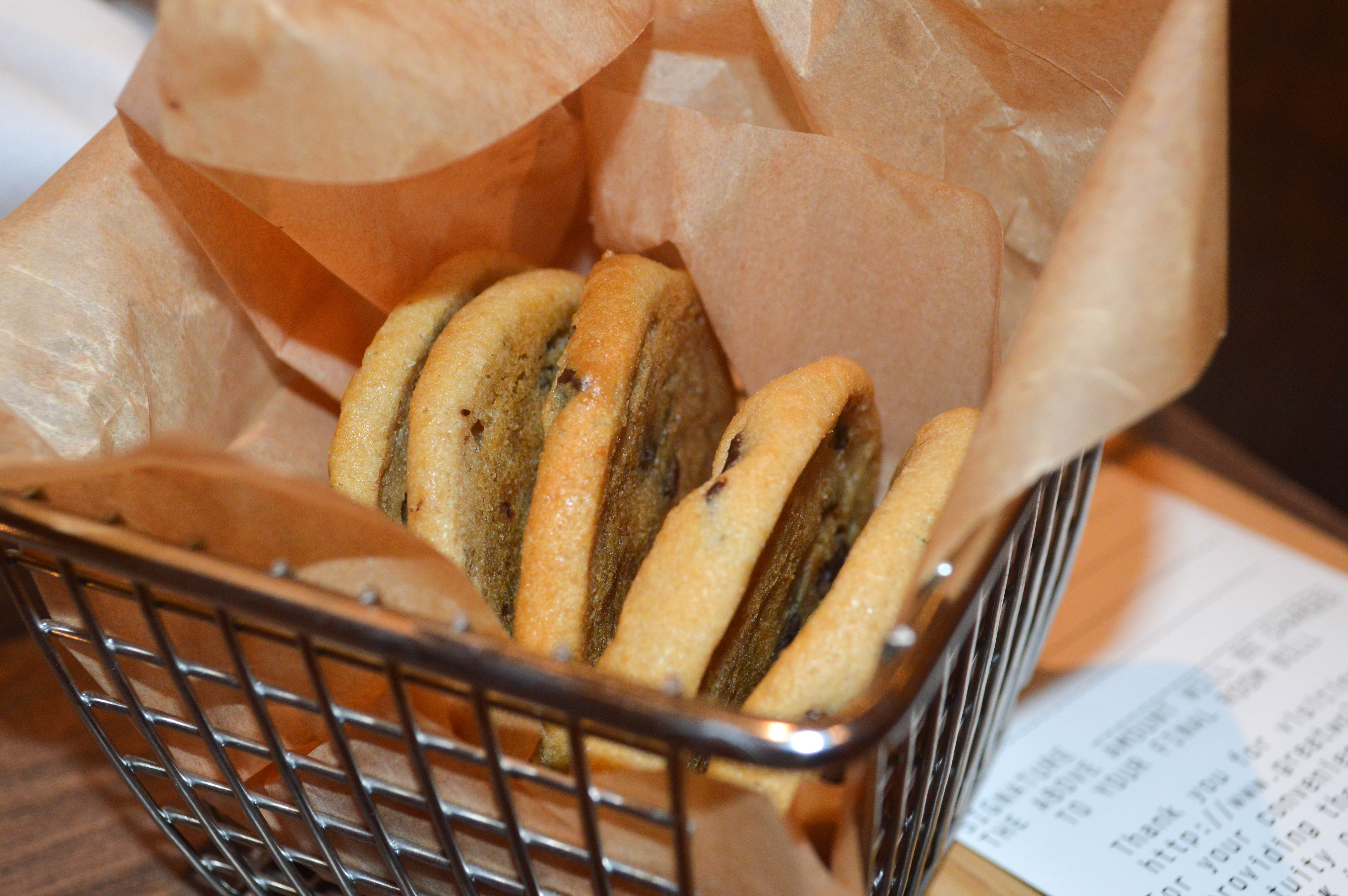 The second day, I had the opportunity to dine with the Executive Chef of all 14 Great Wolf Lodge locations, Chris Hammond. We were served food off of Barnwood's menu. Barnwood is the sit-down restaurant inside the resort. Chris Hammond oversees all of the restaurants on site at every location, but Barnwood is truly remarkable. Here's what I tried:
Roasted beet salad with ricotta cheese and a honey vinaigrette
Toasted frocaccia
Butter lettuce with a raspberry vinaigrette
Roasted squash with a giant prawn and baby rice popcorn with hot sauce butter
Rack of lamb with potato puree and carrots
Wisconsin state fair cream puff
Everything was absolutely incredible. I cannot rave enough about it. I still think about it. Giant prawn with popcorn and hot sauce butter? Definitely not something I would ever order. But once I tried it? Holy cow. It was incredible and inventive and unique.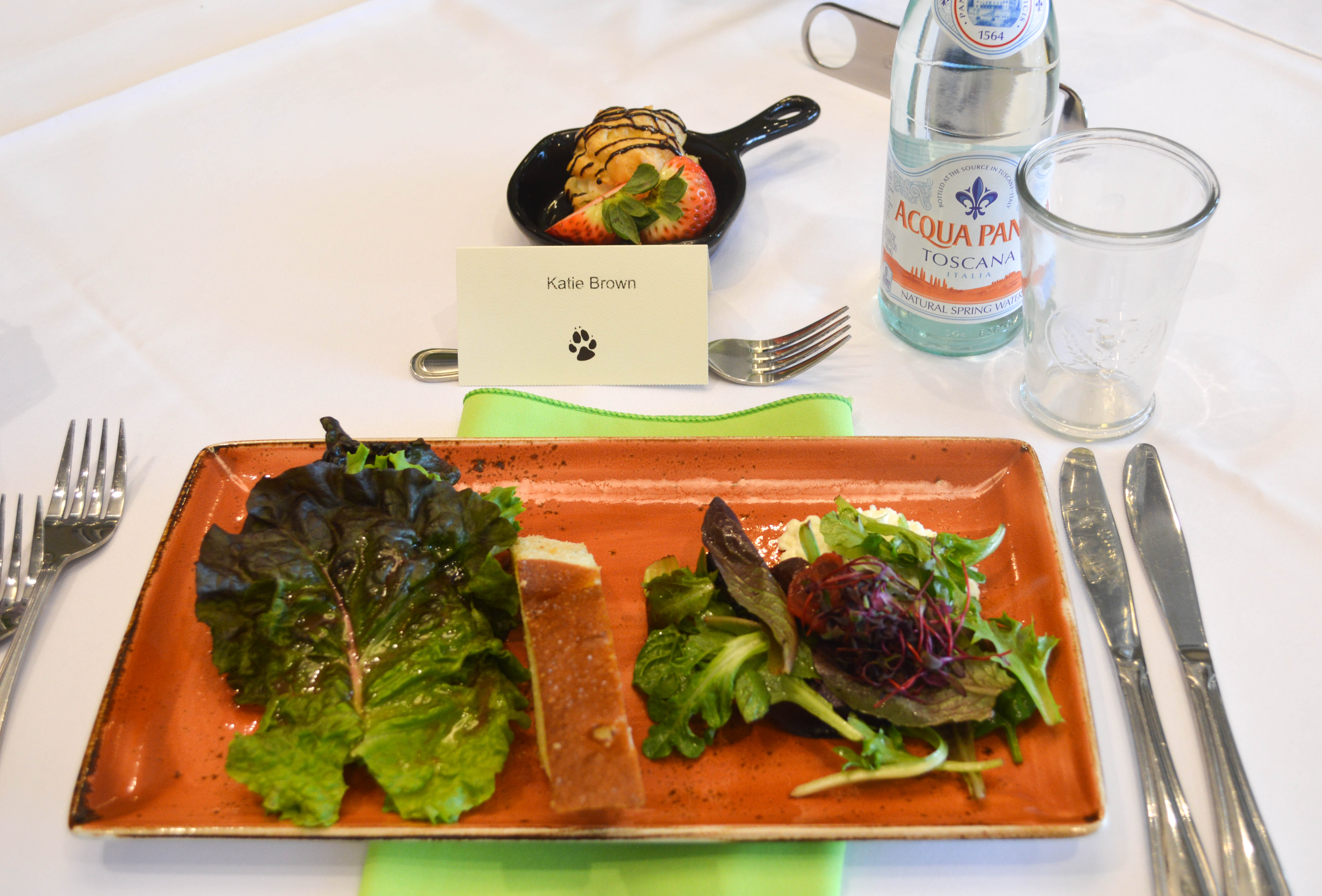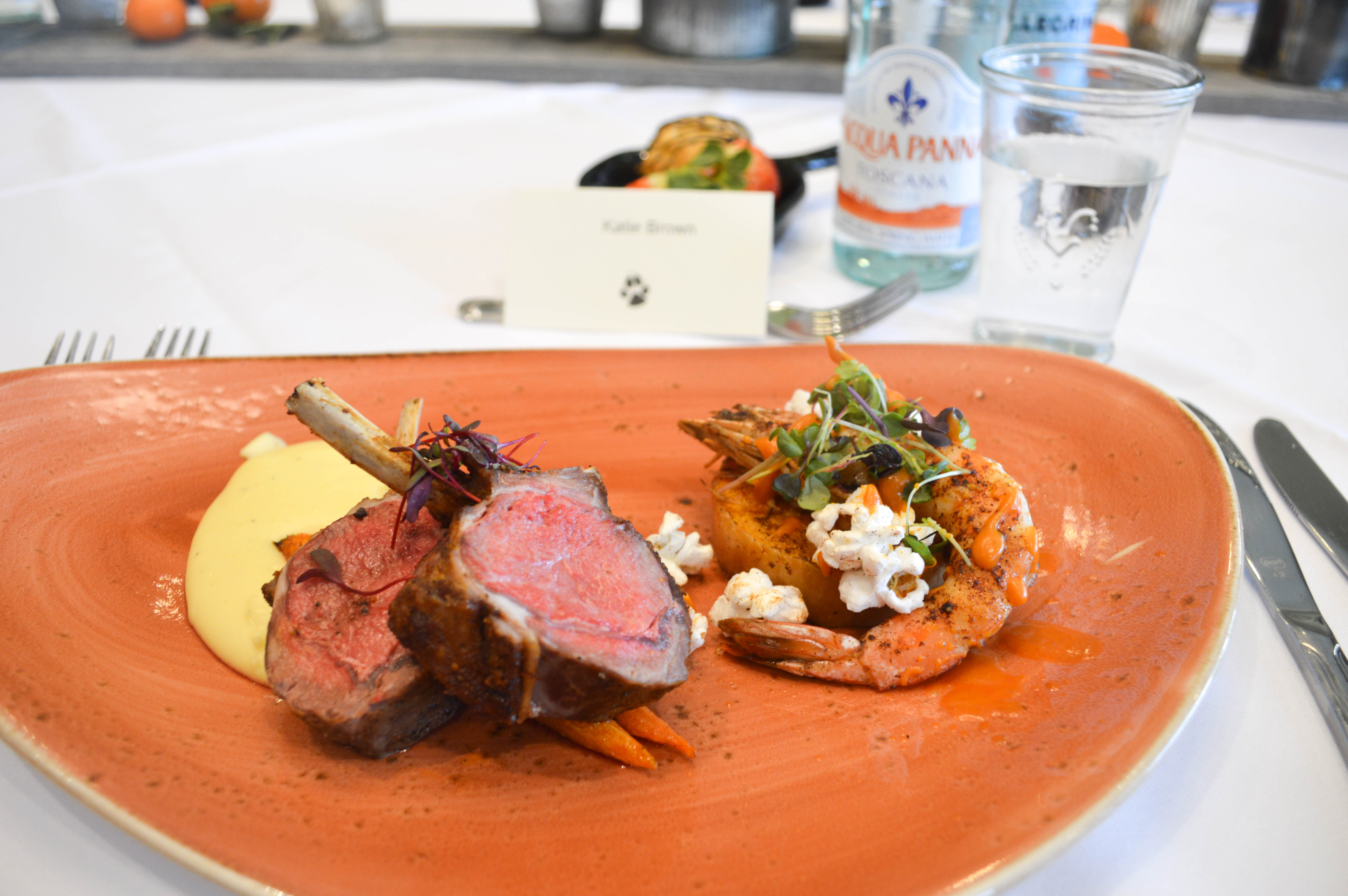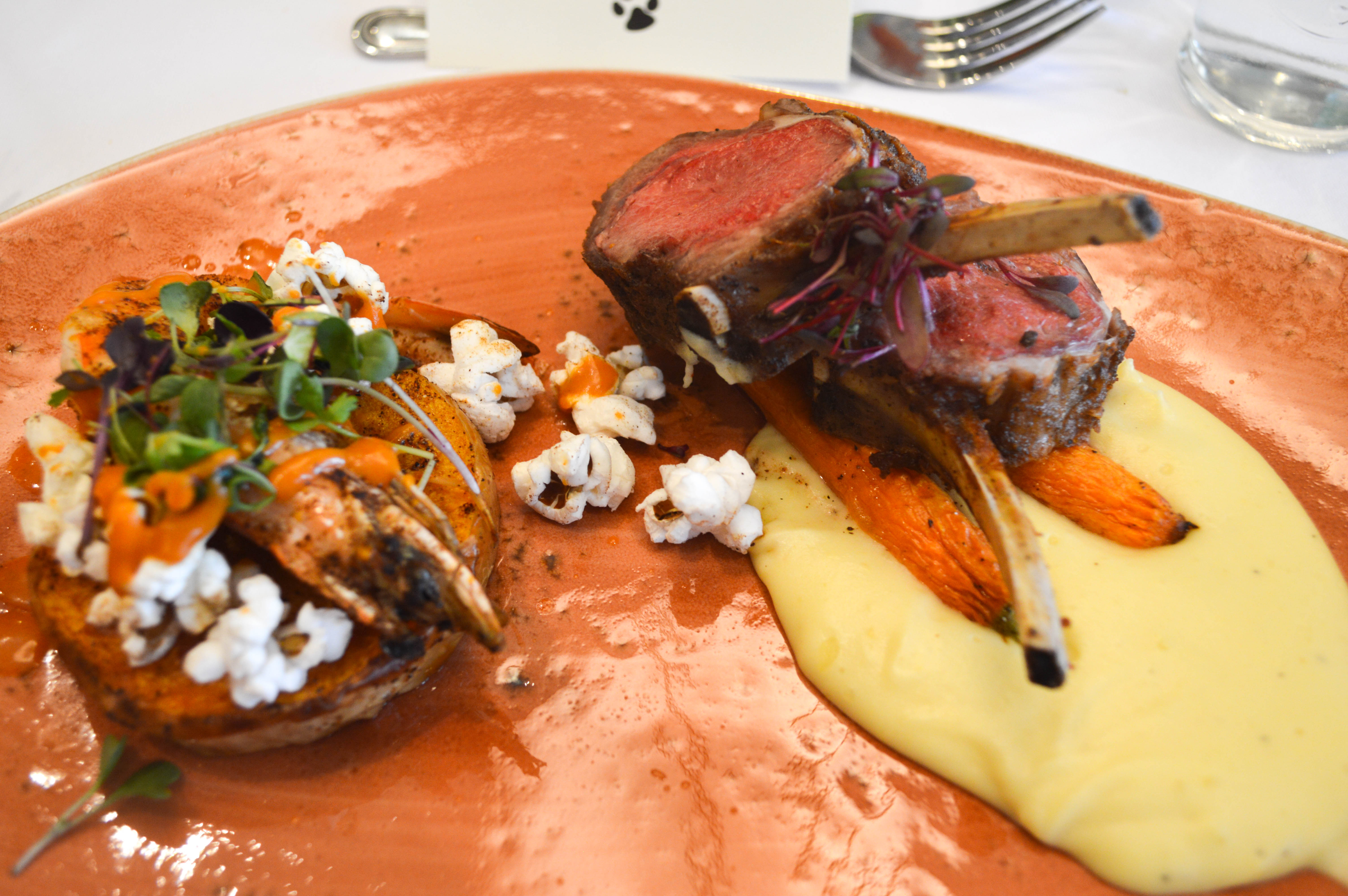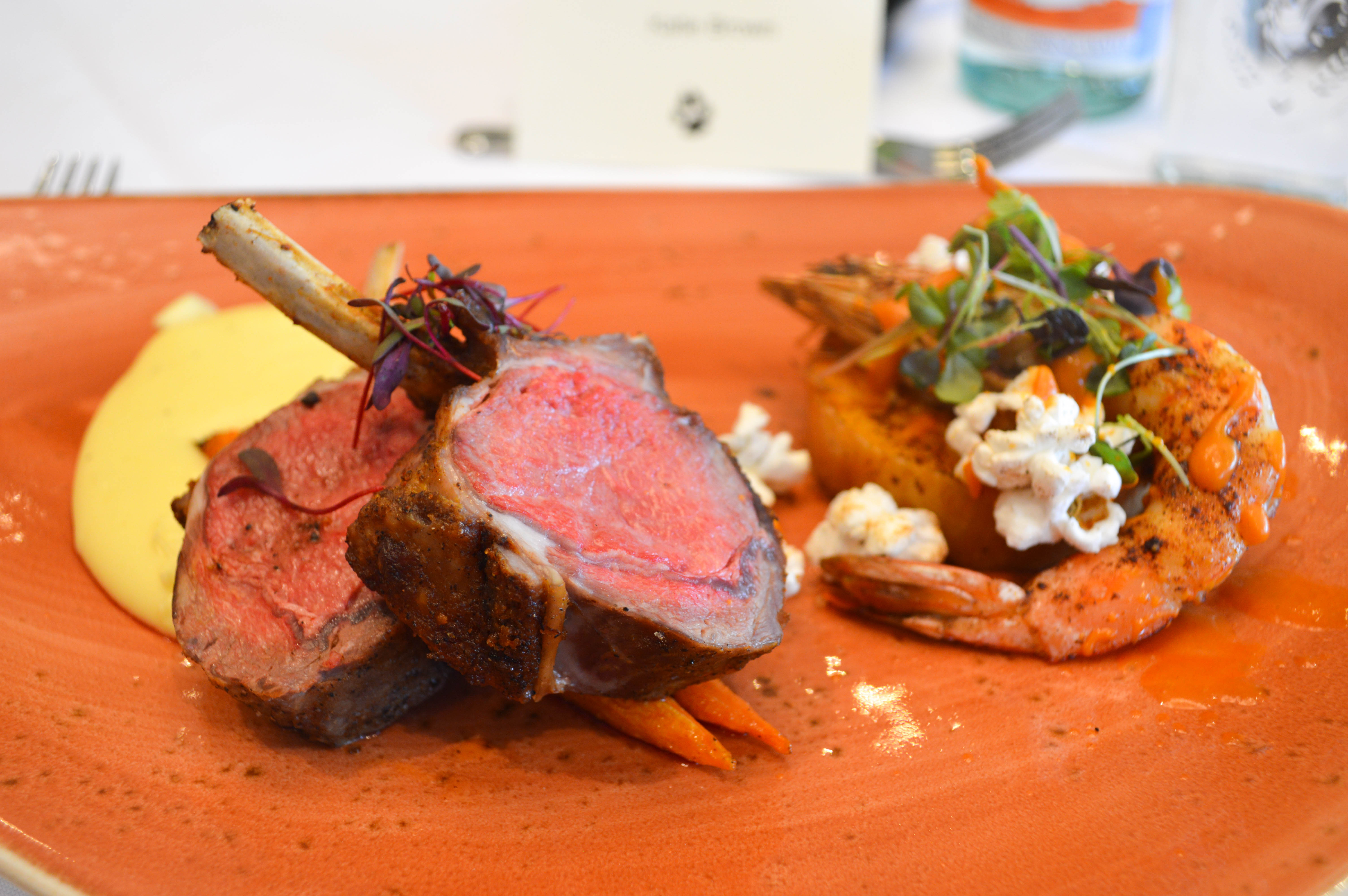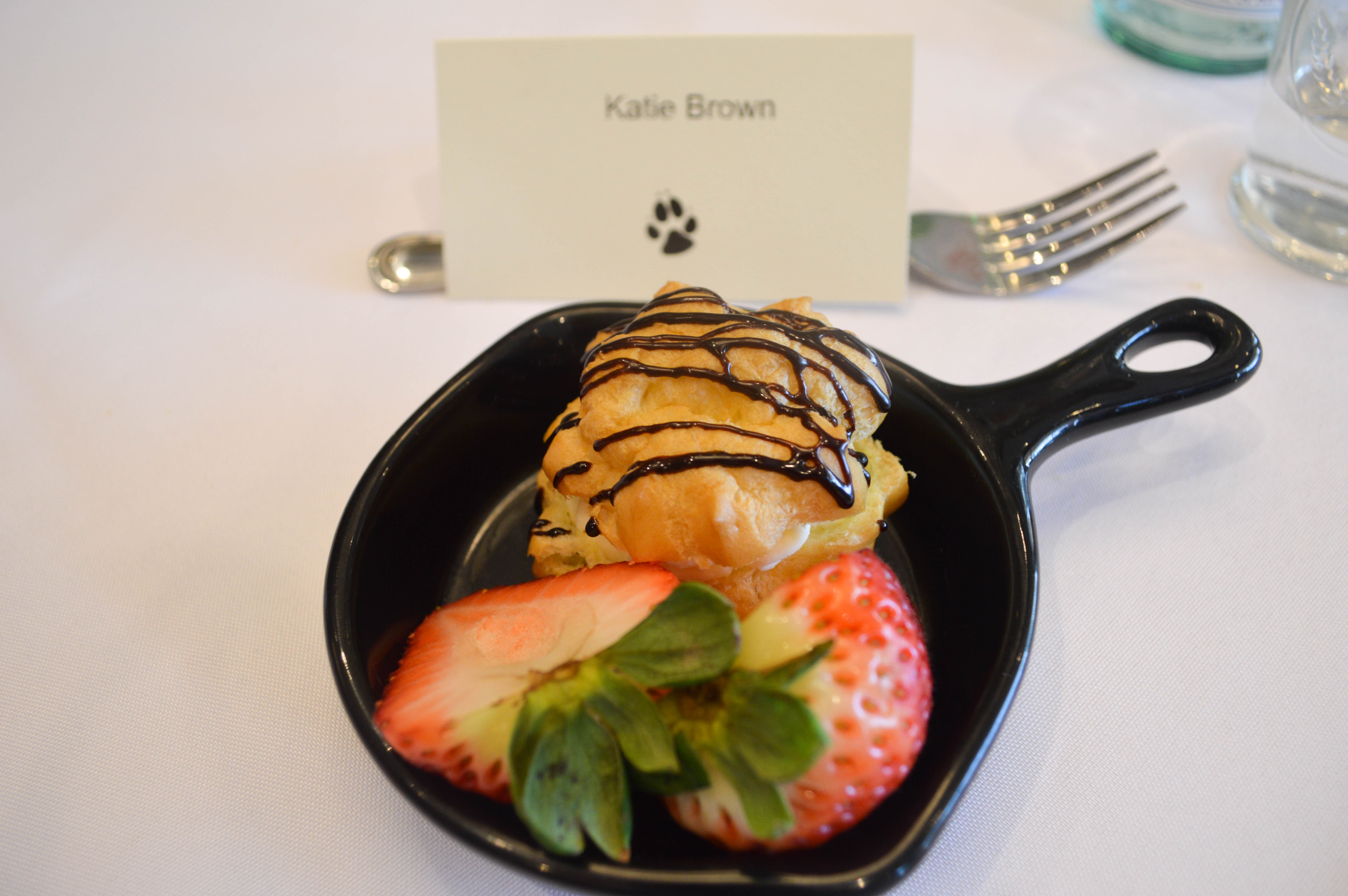 Chris Hammond takes his work and the guests extremely seriously. They go to great lengths to keep their food free of preservatives and chemicals. They take great pride in caring for guests with allergies and sensitivities. They keep everything as locally sourced and farm to table. My favorite quote from my time with him was this
If we can't do it in 5 ingredients or less, we're not gonna do it
As a "crunchy" mom, that was extremely encouraging to hear.
We also went to a cocktail hour at Barnwood and that was incredible as well!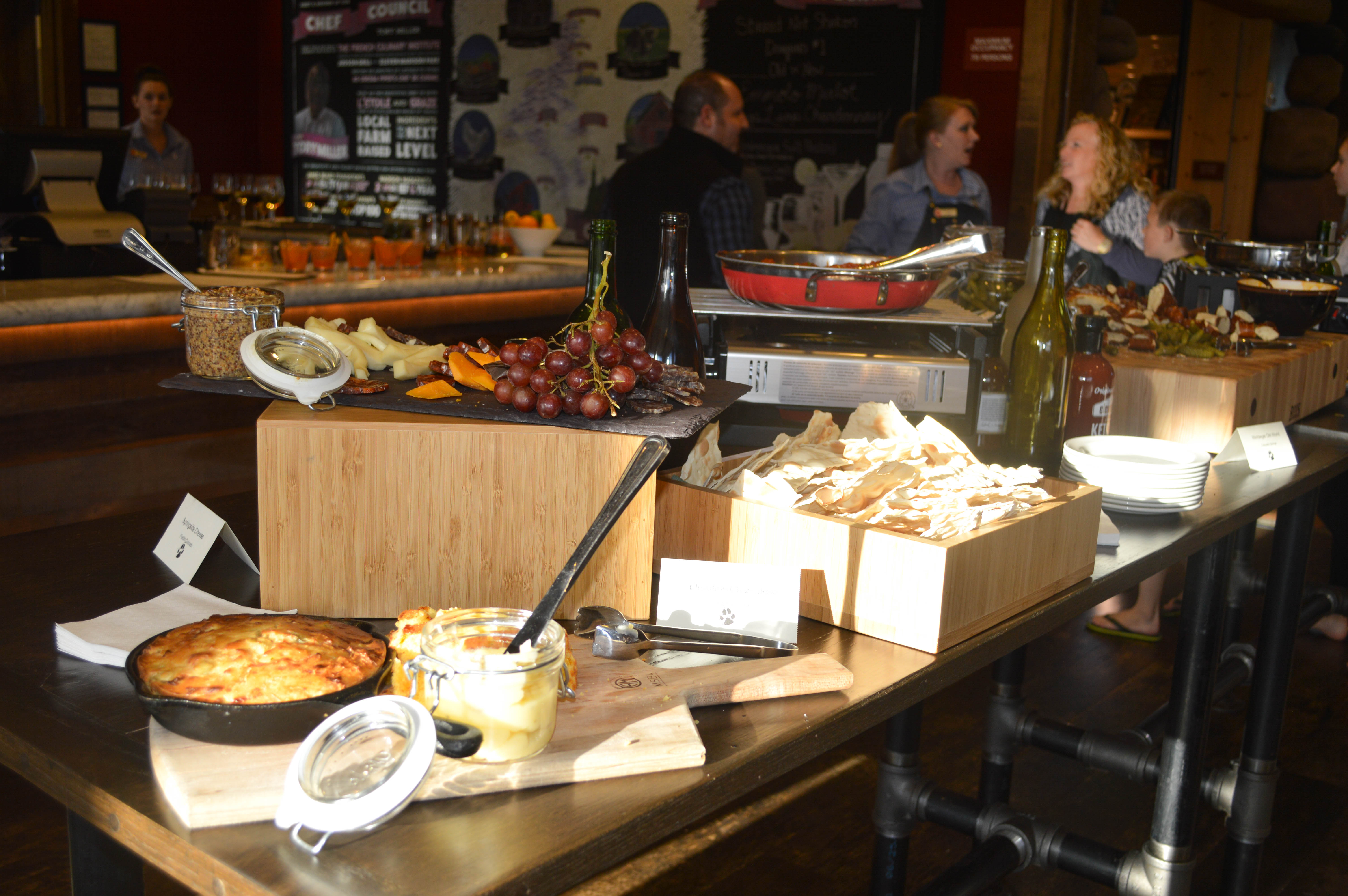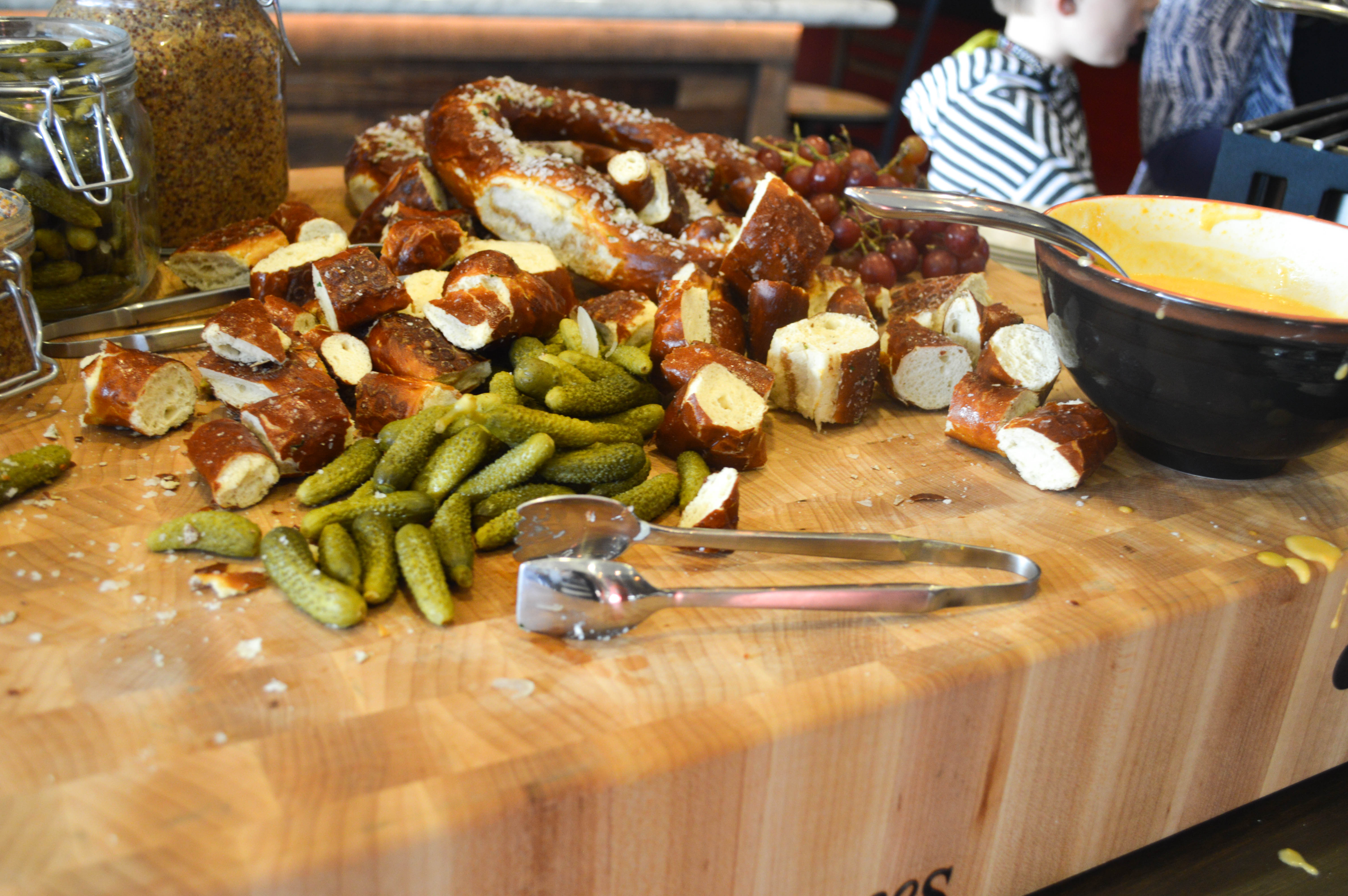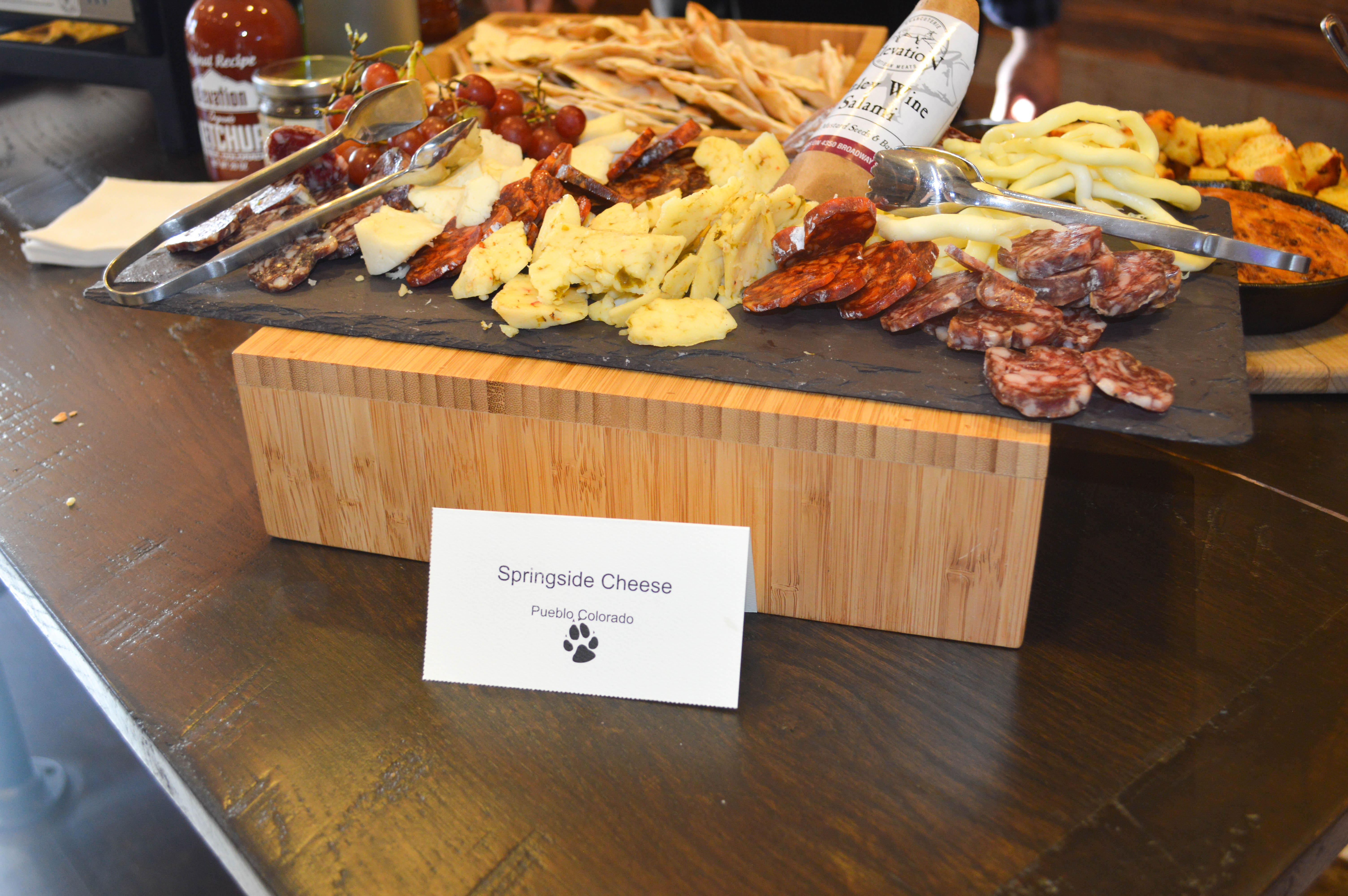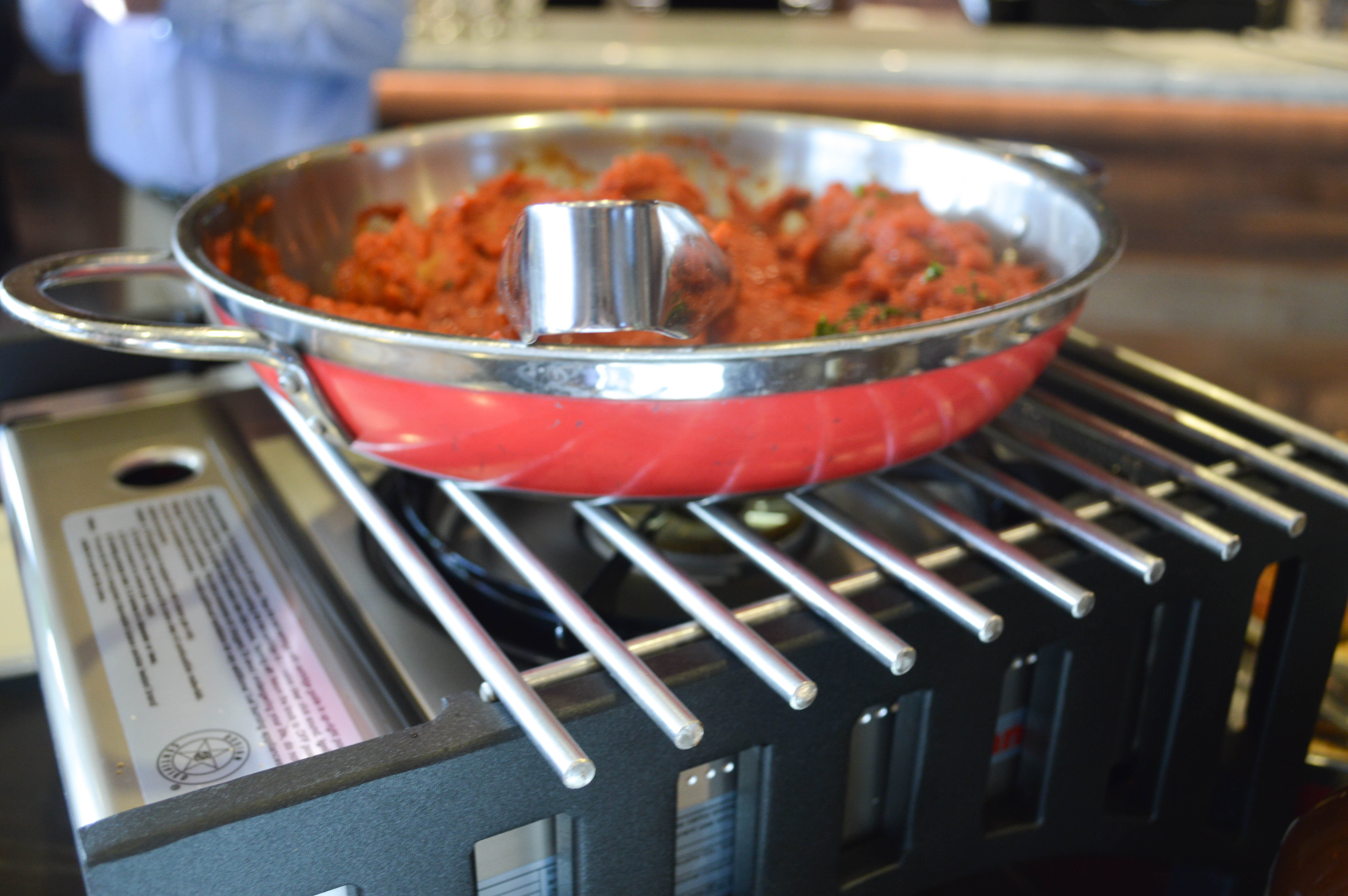 The second night we had Hungry as a Wolf. The onsite Pizza Kitchen! It was delicious. Chris Hammond told us during our lunch that they make their own dough and sauce from scratch, and they have their own cheese blend. It was seriously delicious. My vegan sister (who stayed with us all day Saturday to help me with Sawyer while my husband was at work), took one whiff and knew it was worth the cheat! Looking at the picture I took of it makes me drool.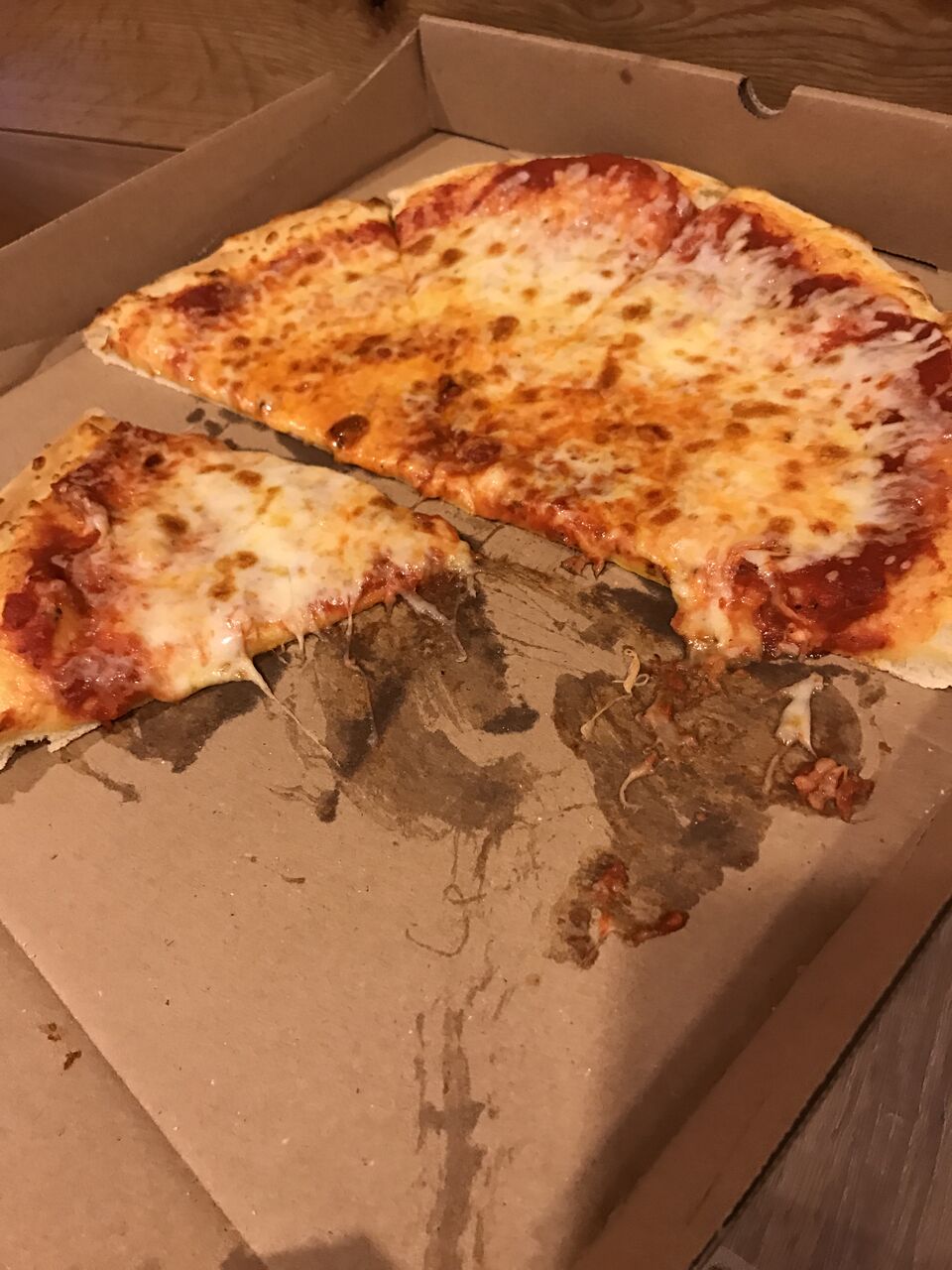 We had Buckets and Craveables while we were there too. Craveables is the snack bar inside the Adventure Park and Buckets is the same, but inside the water park. They offer salads, sandwhiches, burgers, hot dogs, pretzels, veggies, and lots of other snacks or "easy meals" that you can chow down on while you're having fun. My pregnant self was extremely happy with the Nathan's Hot Dog I had been craving for weeks! We also hit up the Ben and Jerry's, Dunkin' Donuts, and the Candy Shop before we left. It was so convenient and fun to have all of that right on site!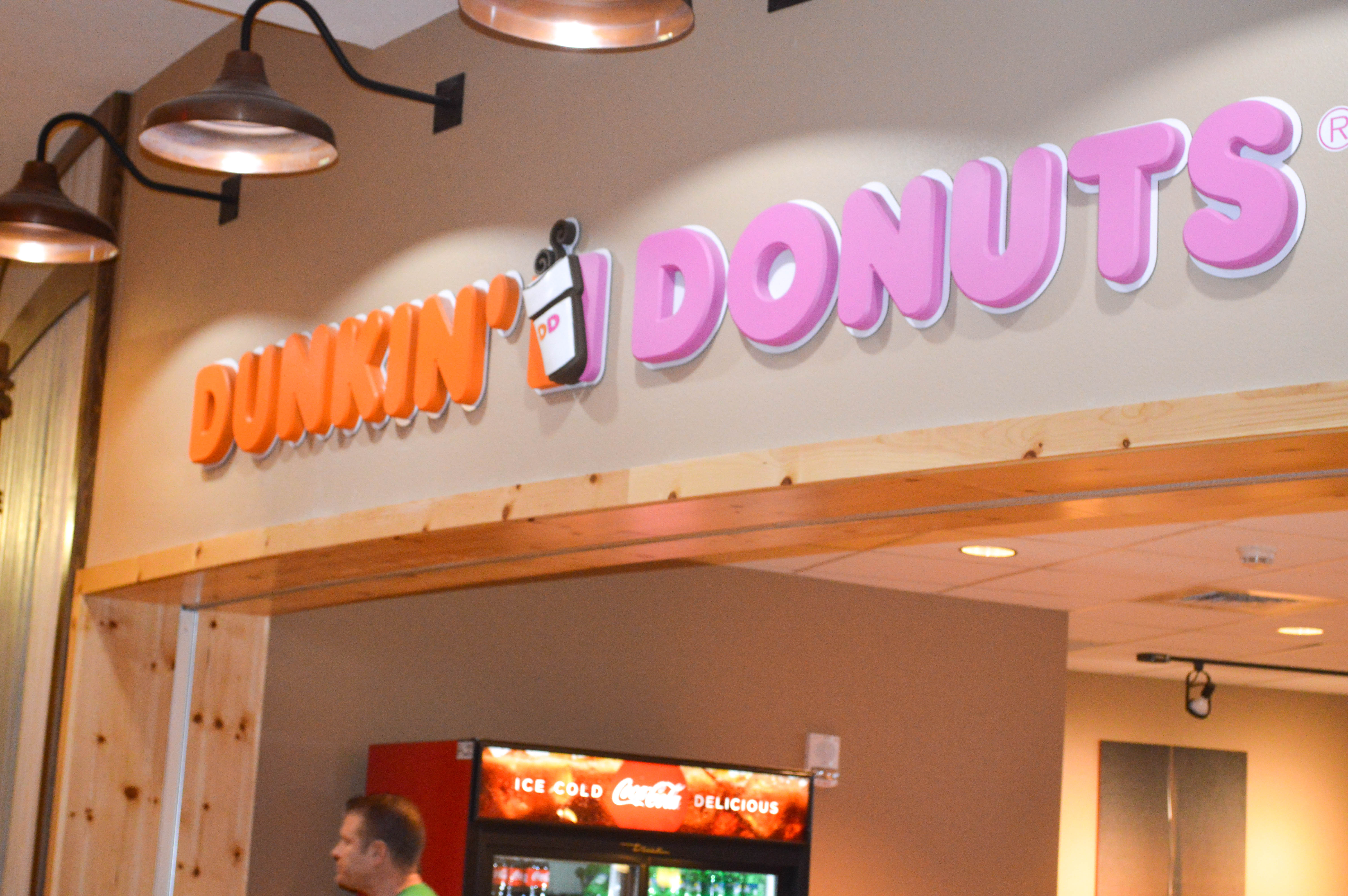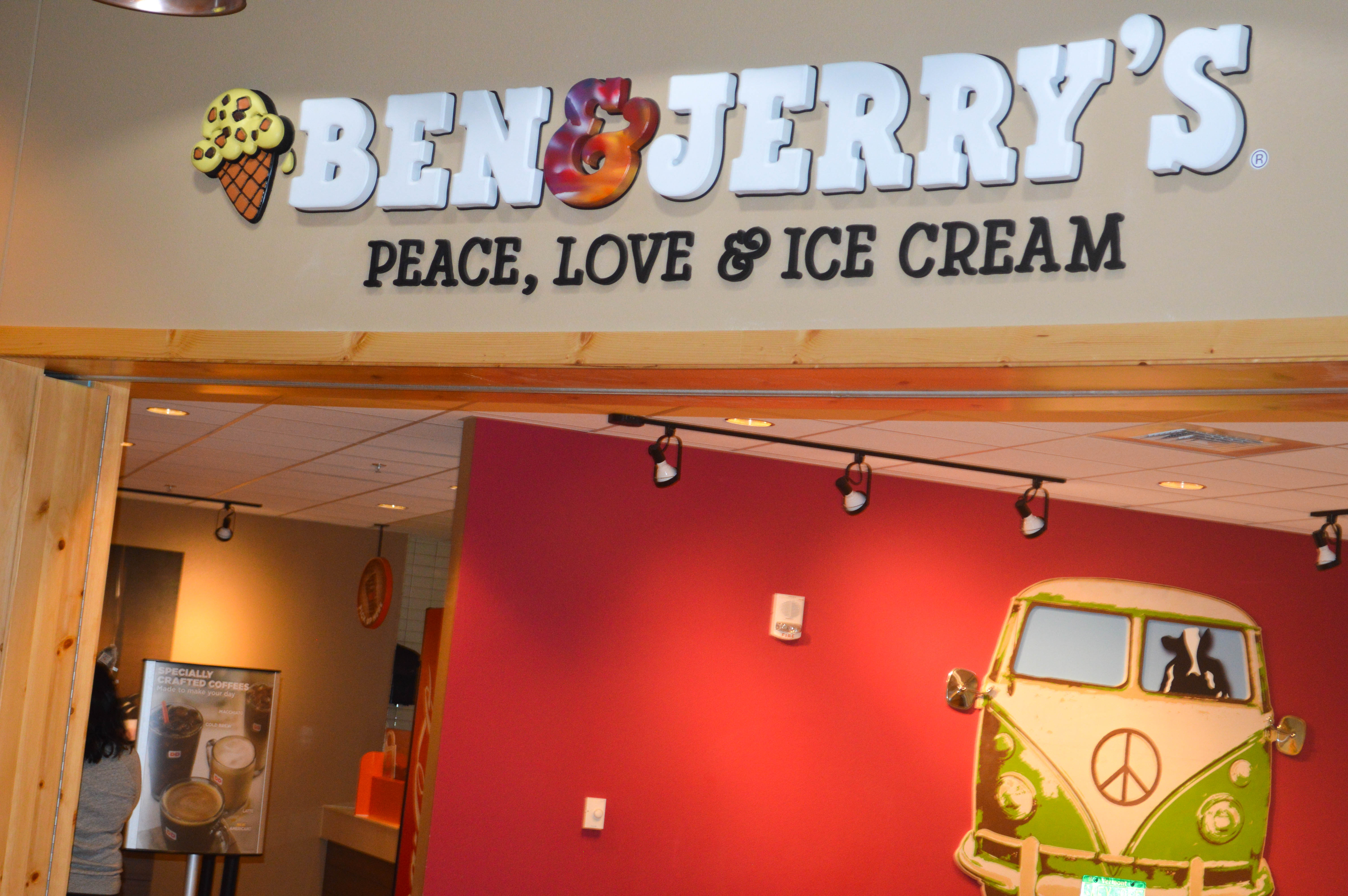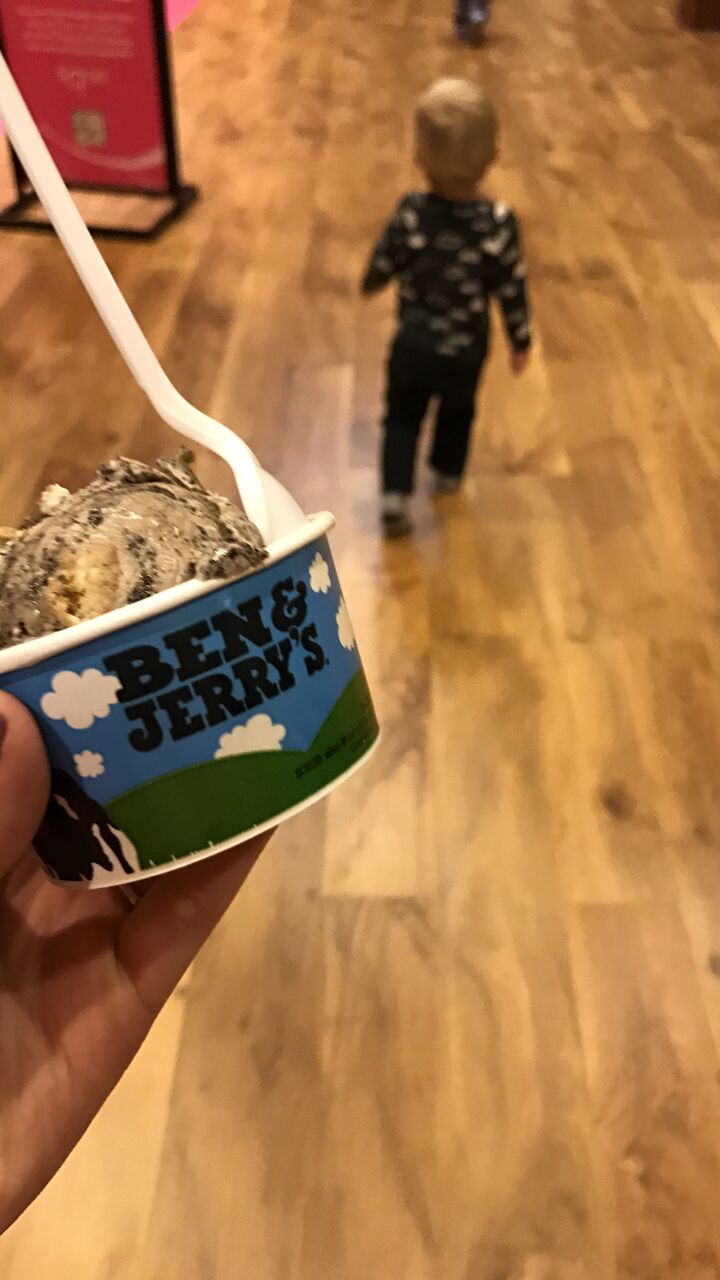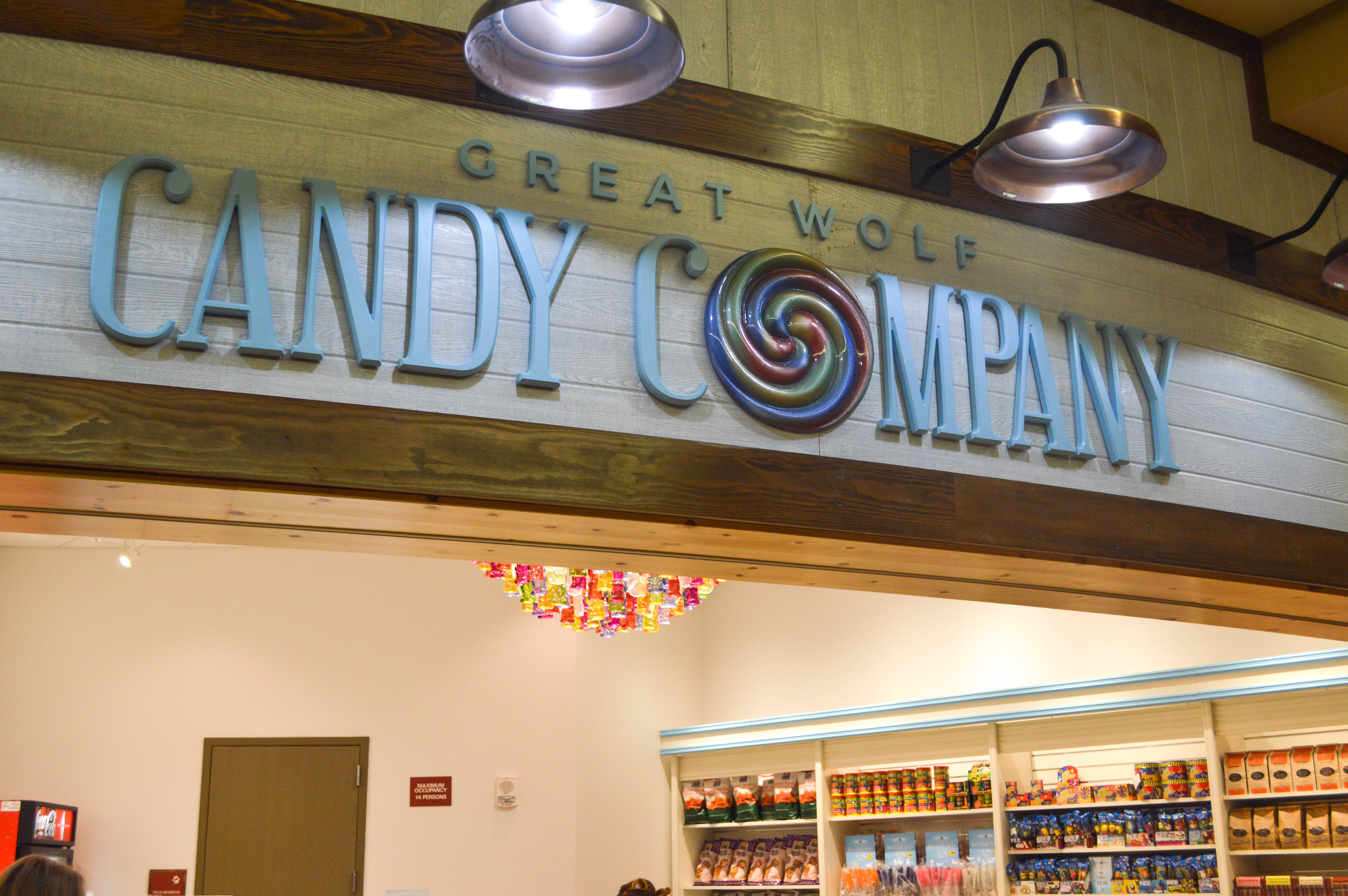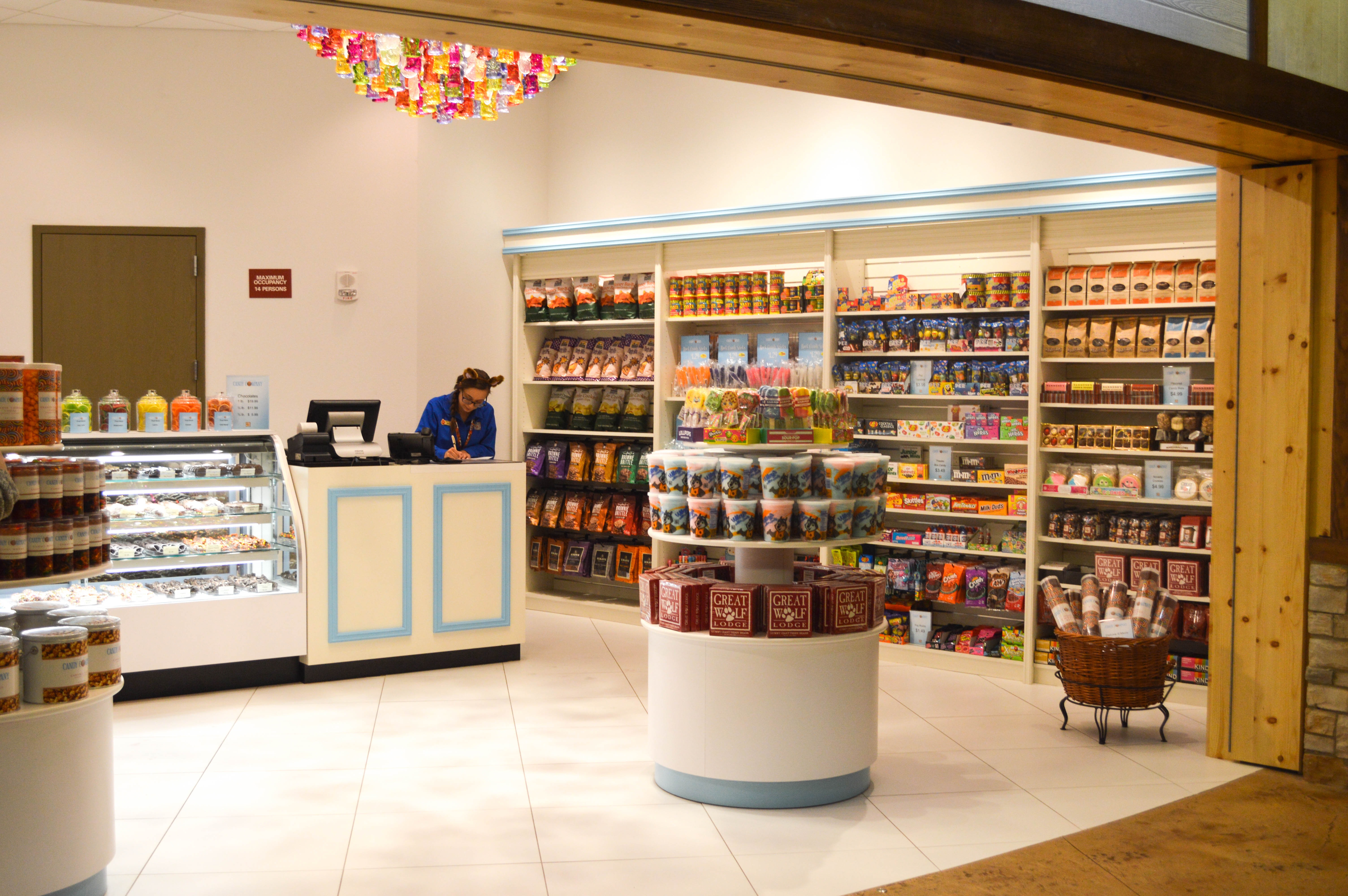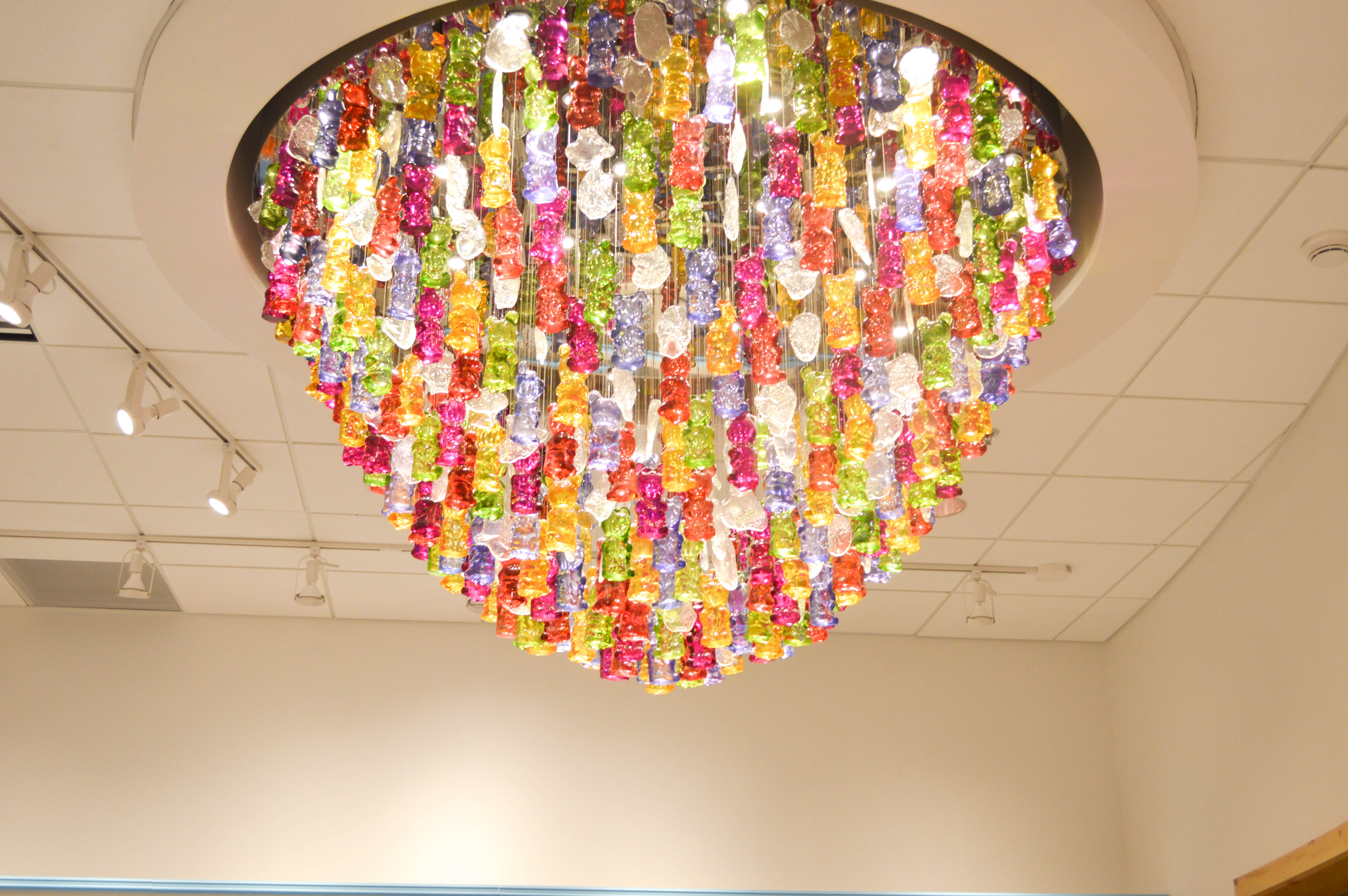 Now let's get to the important part- the water park! Sawyer adores the water. He loves pools, the beach, the bath. The water park made him absolutely ecstatic! He would've spent all day there if we let him and threw a little fit every time we had to leave. I was pleasantly surprised that there was a lot for him to do, even though he's only 18 months old. He loved playing in the wave pool with his Daddy and auntie, they had a toddler area with fountains and small slides that he adored, and he could even run around Fort Mackenzie (with our supervision, of course).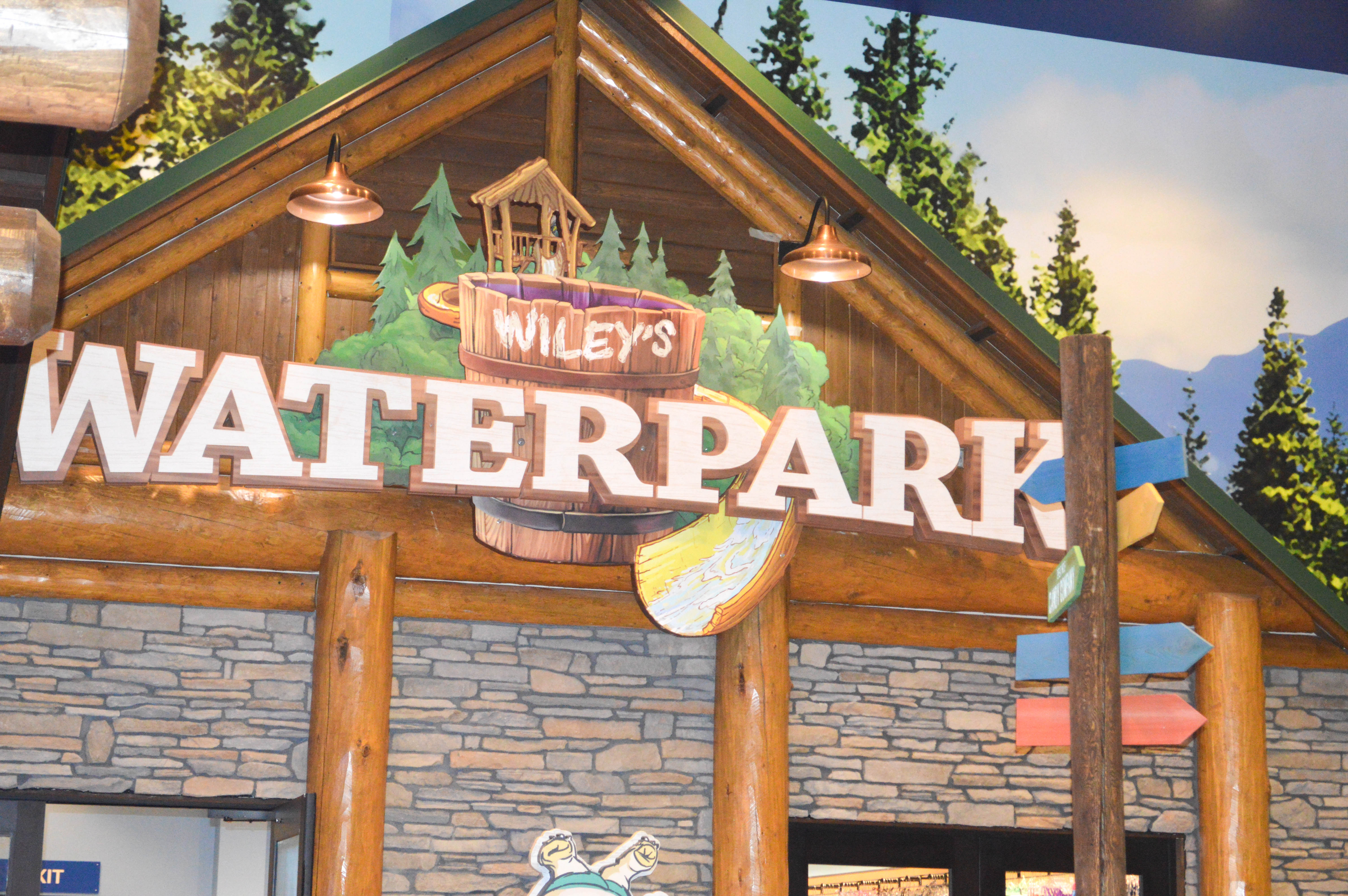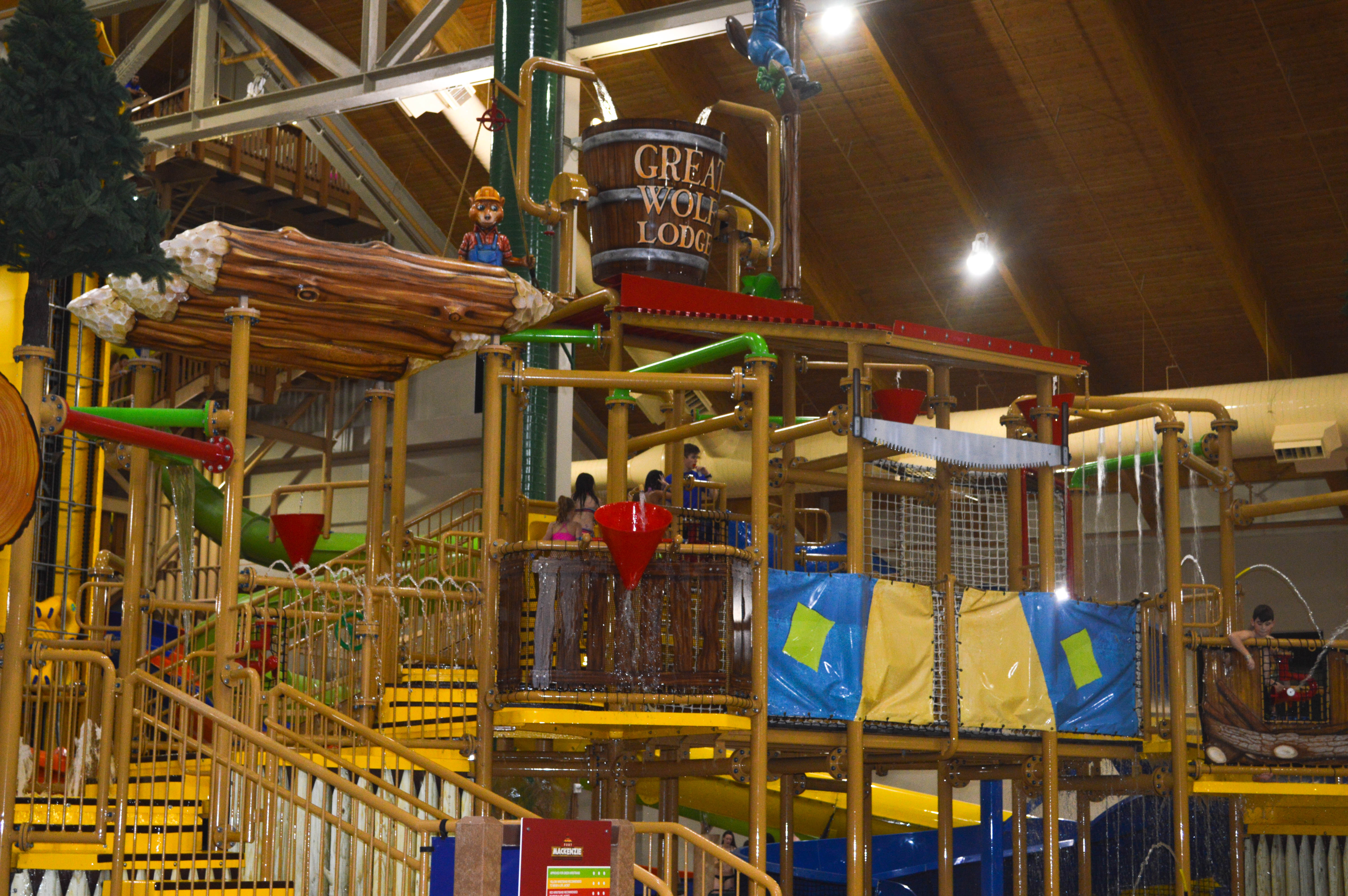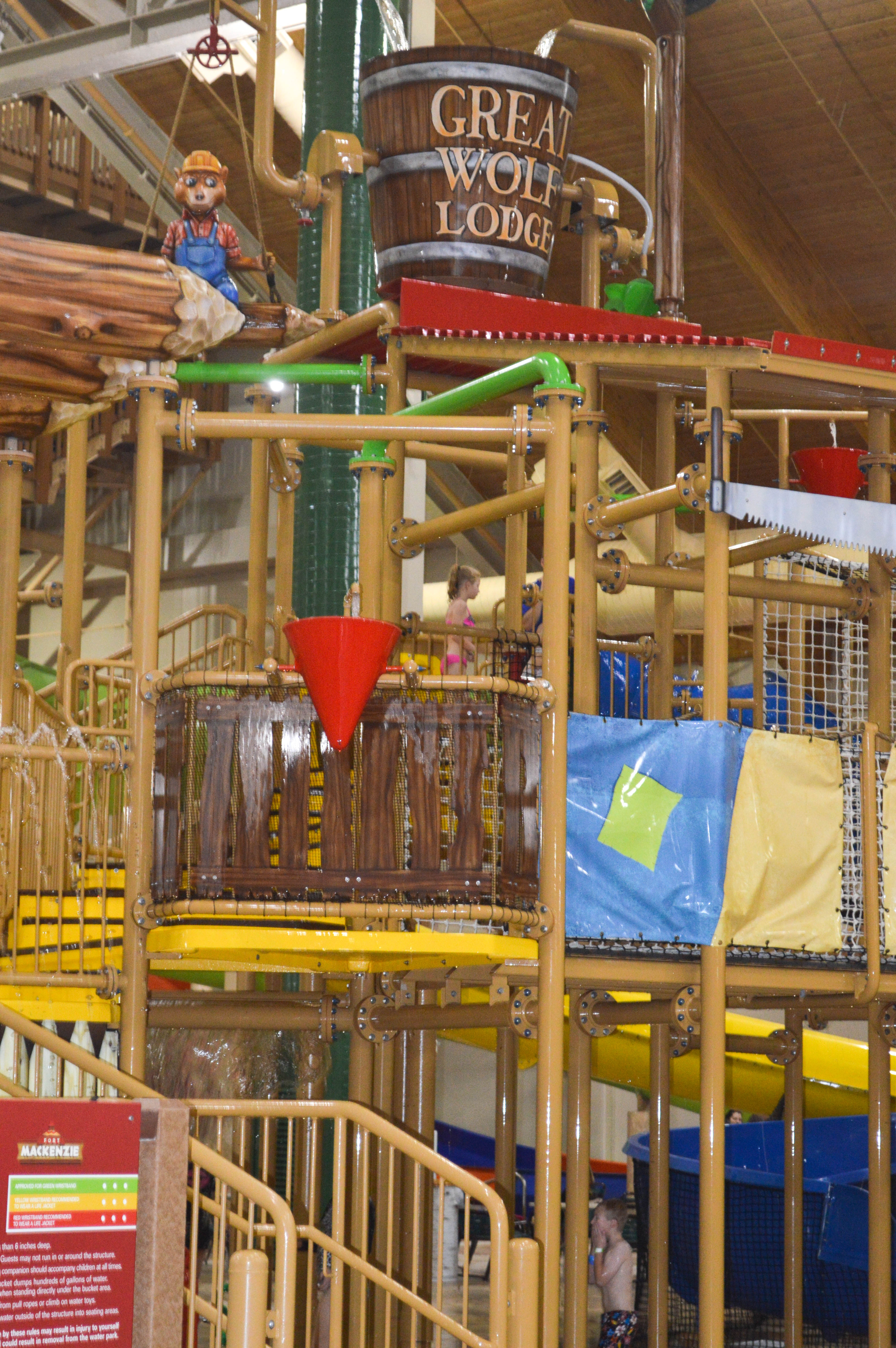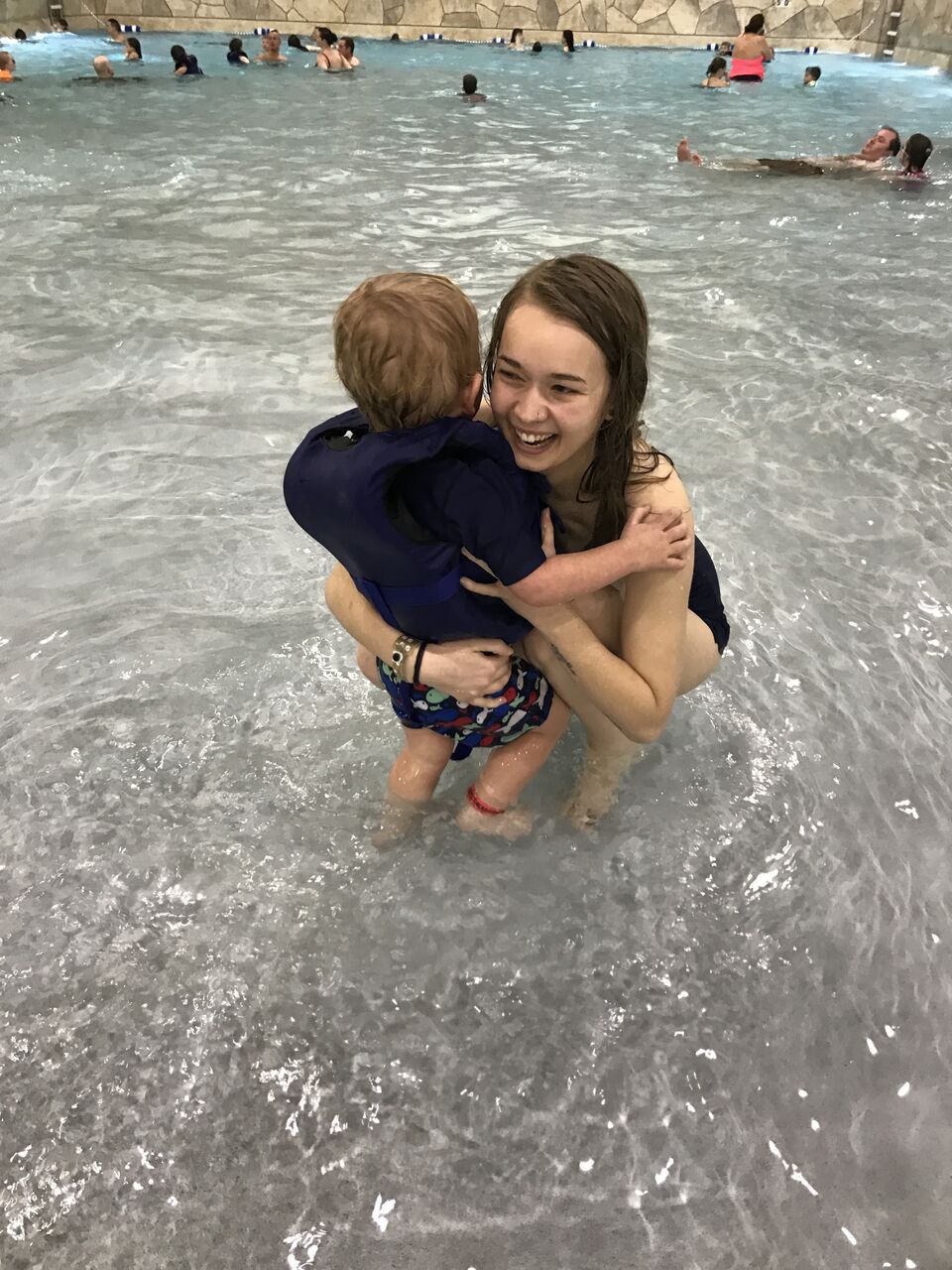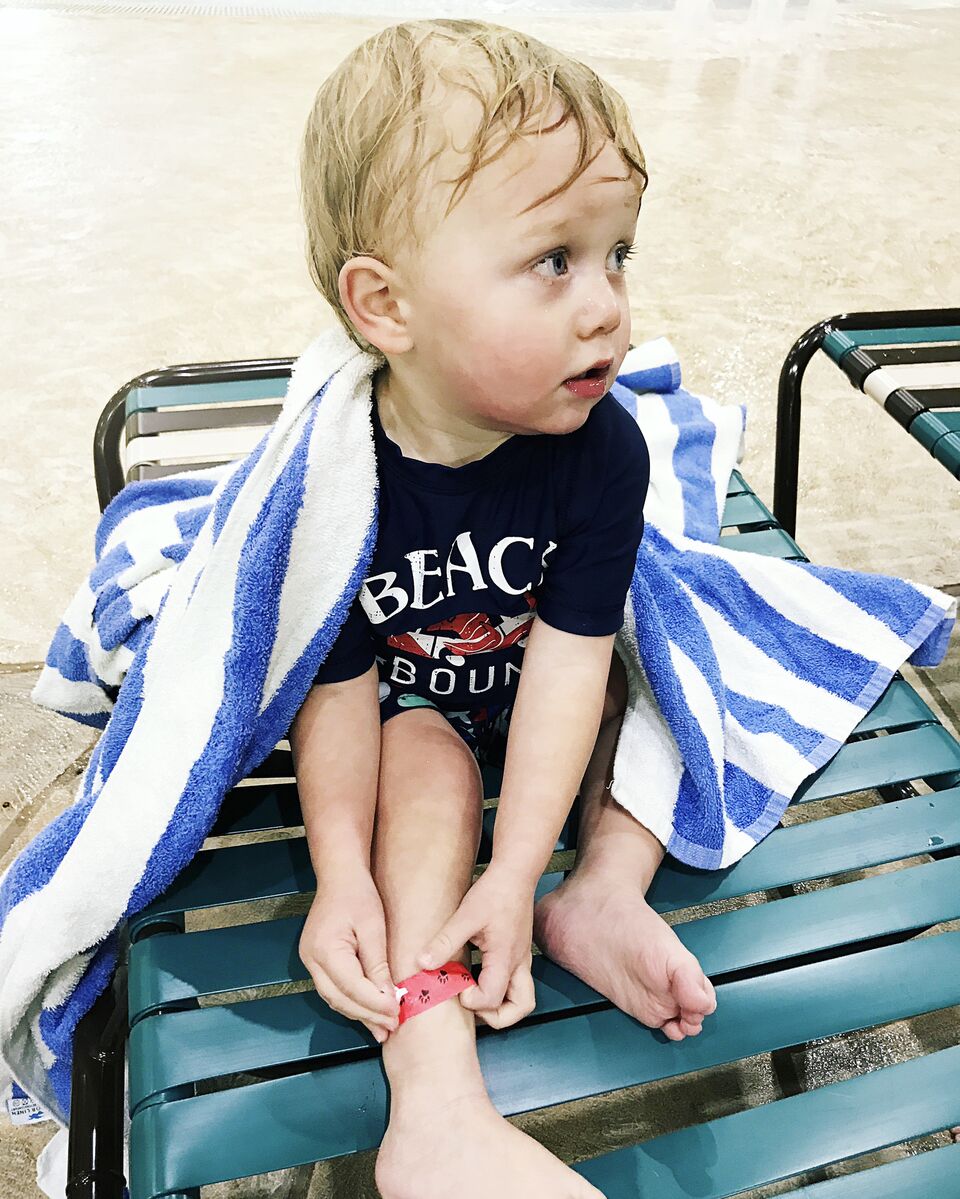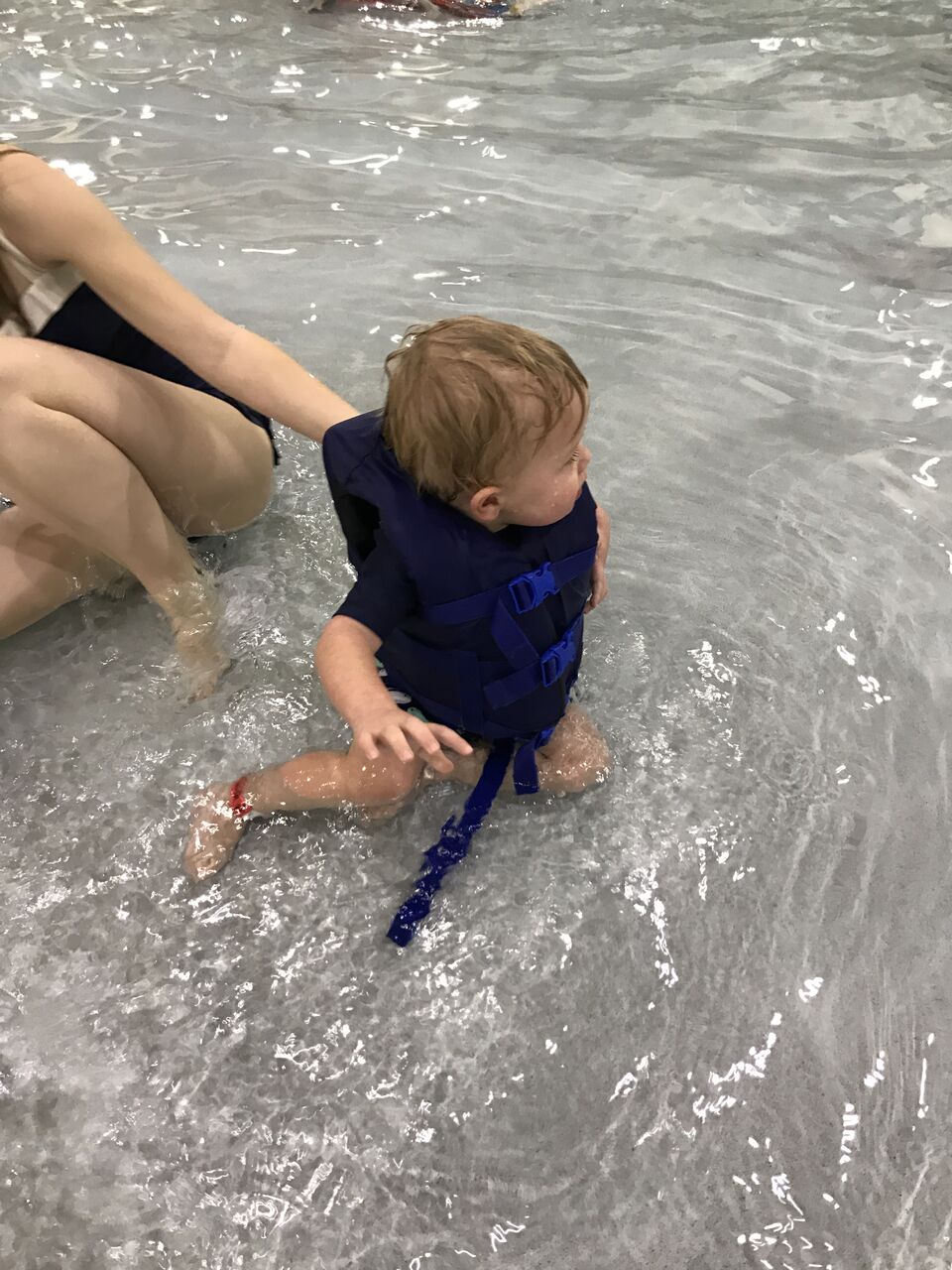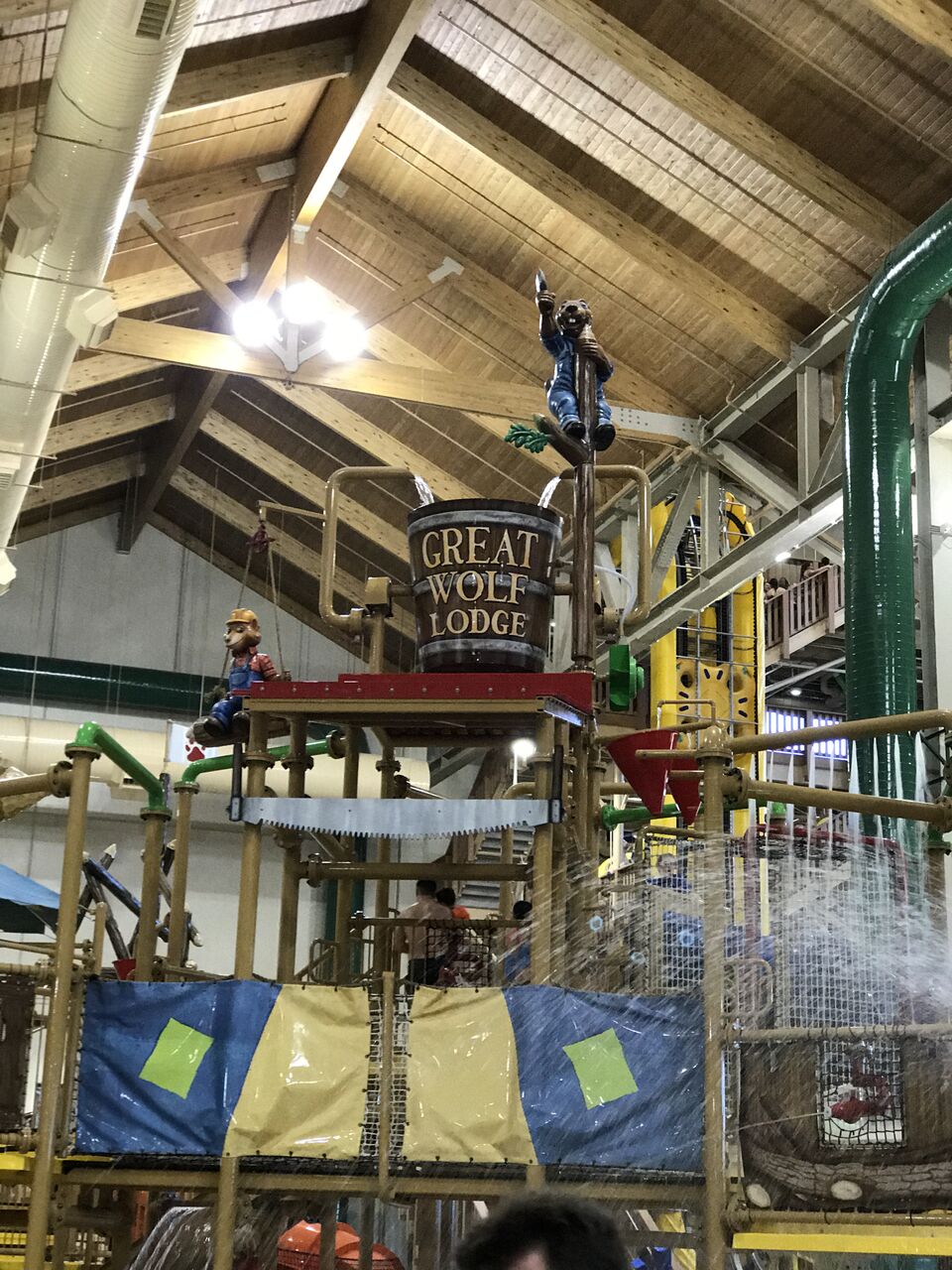 There were also a lot of bigger "thrill" type of slides. Unfortunately, we couldn't try them because I was pregnant and Sawyer wasn't tall enough, but everyone raved about them!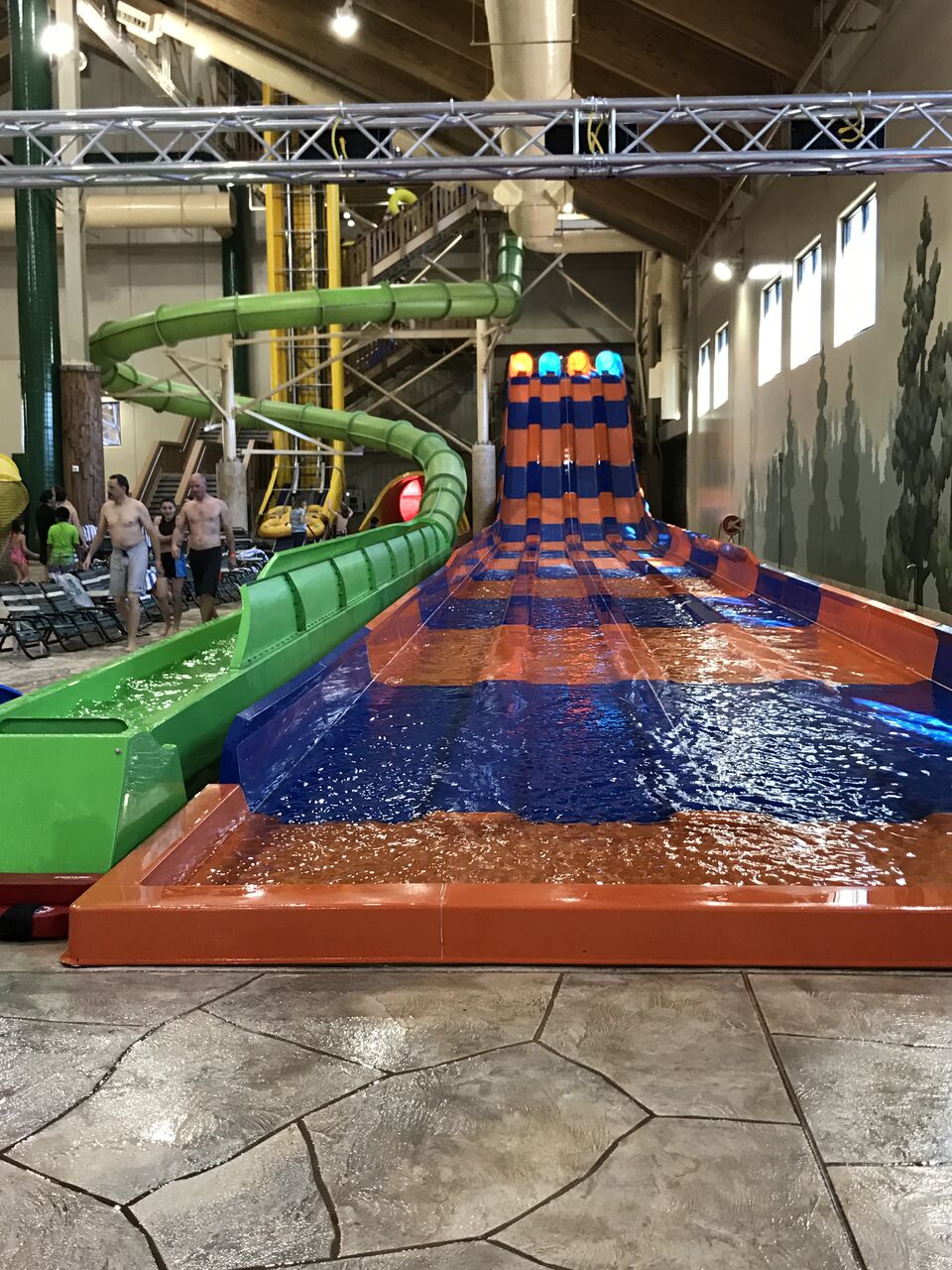 One thing that really impressed me at the newest Great Wolfe Lodge was that they had life vests available for everyone to rent free of charge. This really eased my mind and made me feel that Sawyer was safe. They also have plenty of lifeguards at every attraction.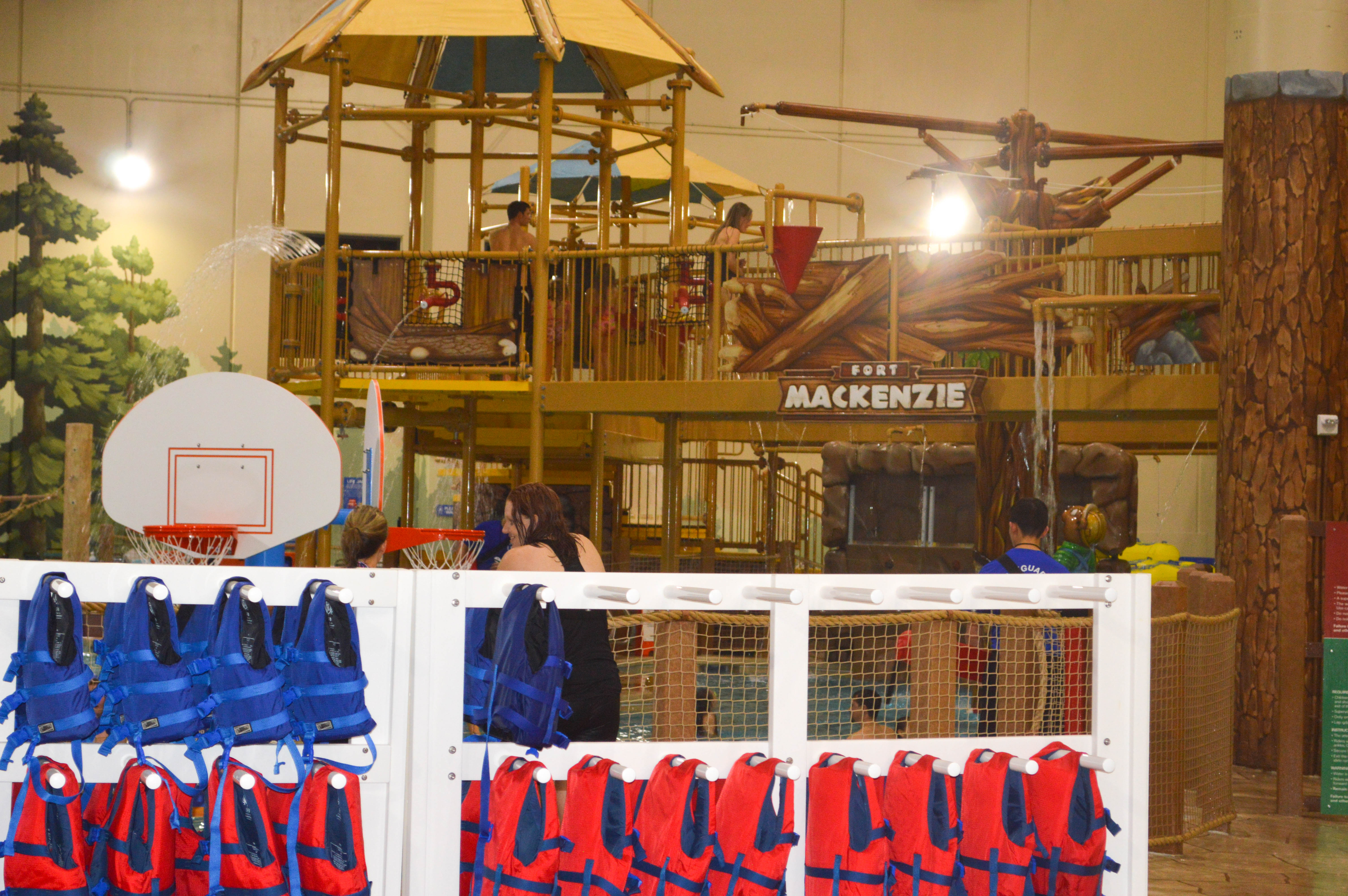 We stayed in a standard family suite that was really nice with plenty of space. The couch even pulls out so the room could easily sleep 6!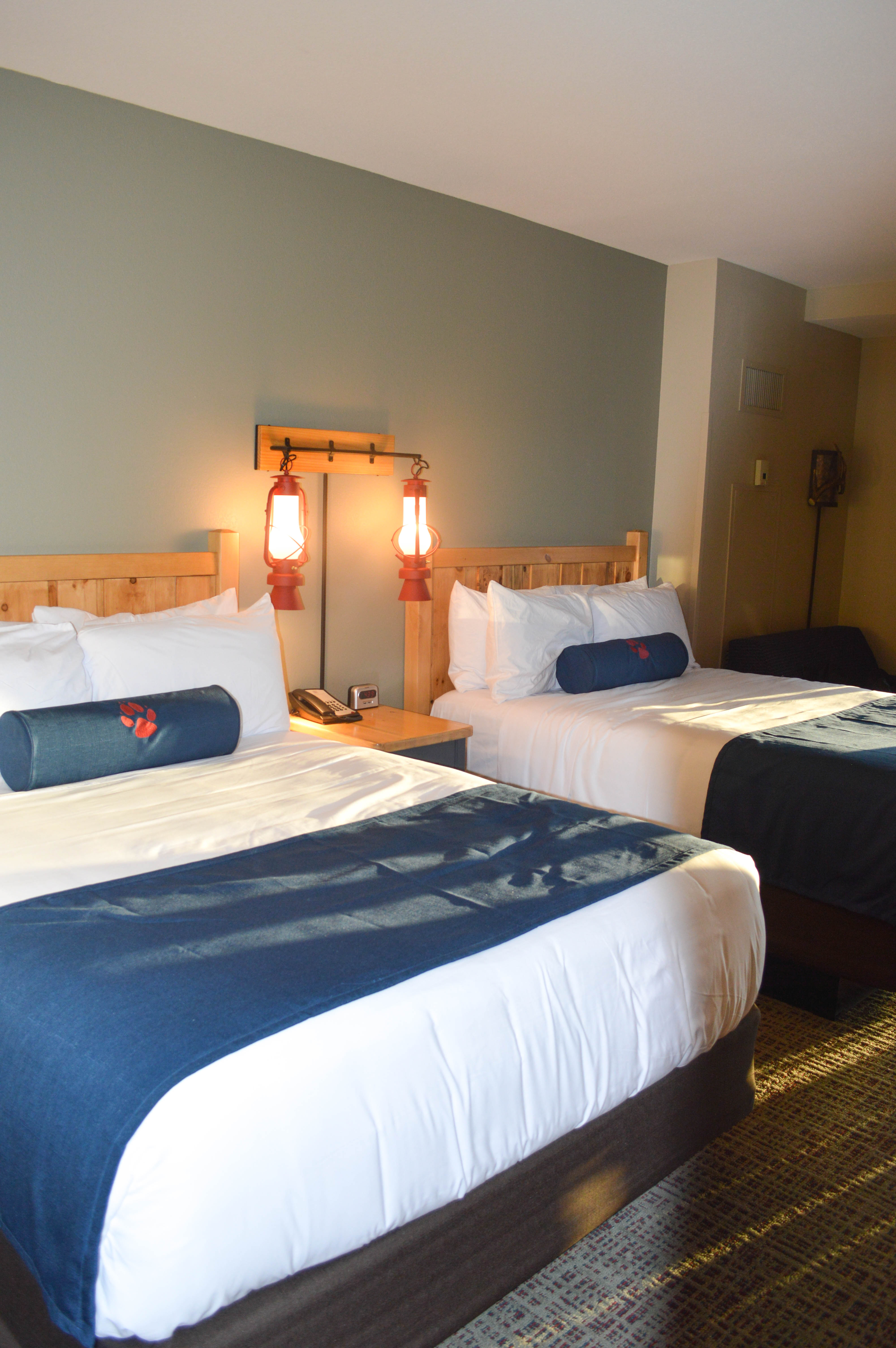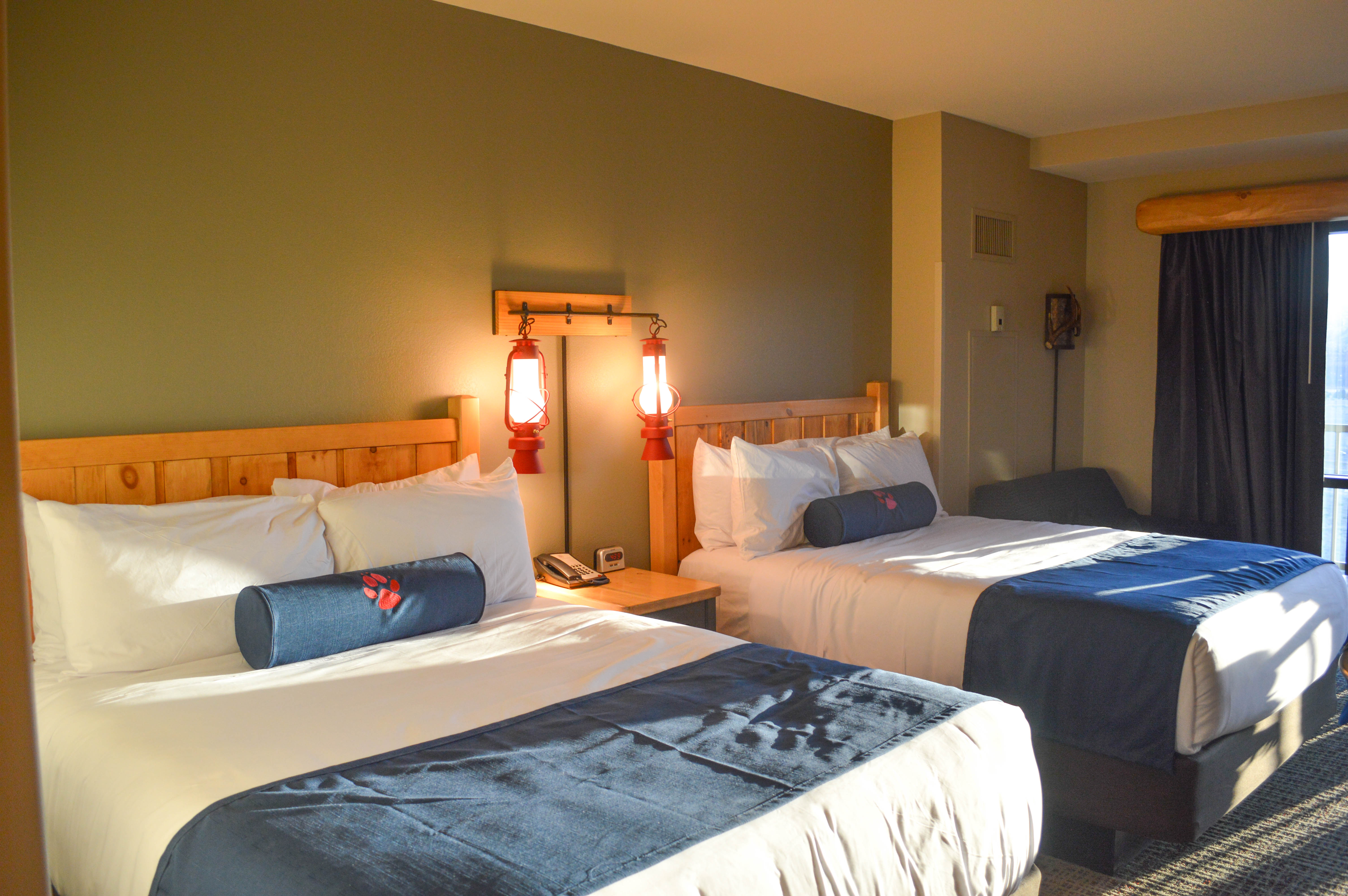 The view from our room was so gorgeous. I thought it was very odd that there was no furniture on the porch. With a pretty view like that, it would be great to sit out there!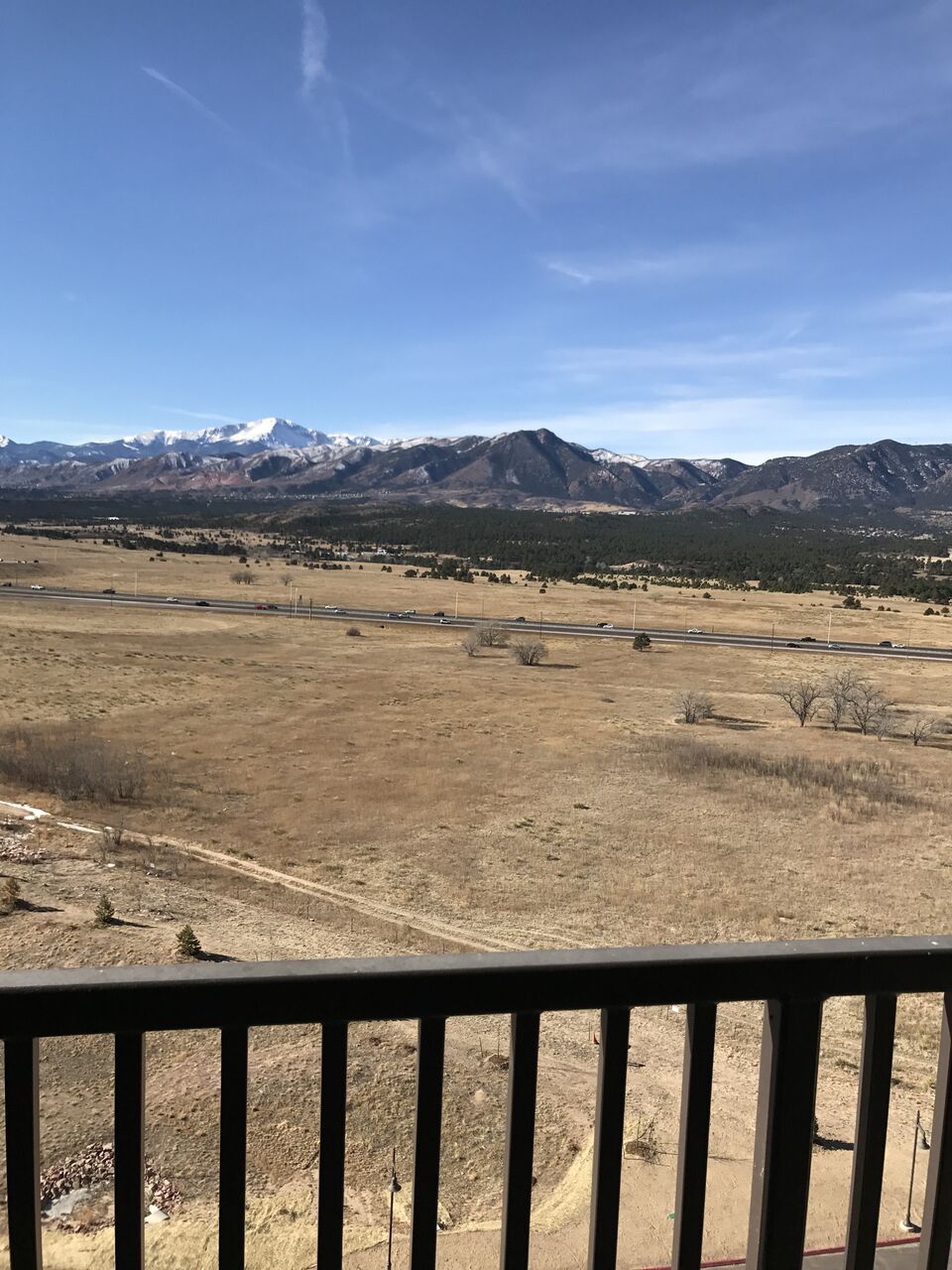 This place is so family oriented. Experiencing everything through Sawyer's eyes was so fun! One of my favorite things is every night at 8pm they have a story time. It consists of an animatronic-type performance from some of the Great Wolf Lodge characters (think Chuck E. Cheese type of robot characters- but much, much less creepy). They sing songs and tell a story, it is followed by a book reading by a member of the staff. Sawyer was entranced by it and I thought it was a really fun touch.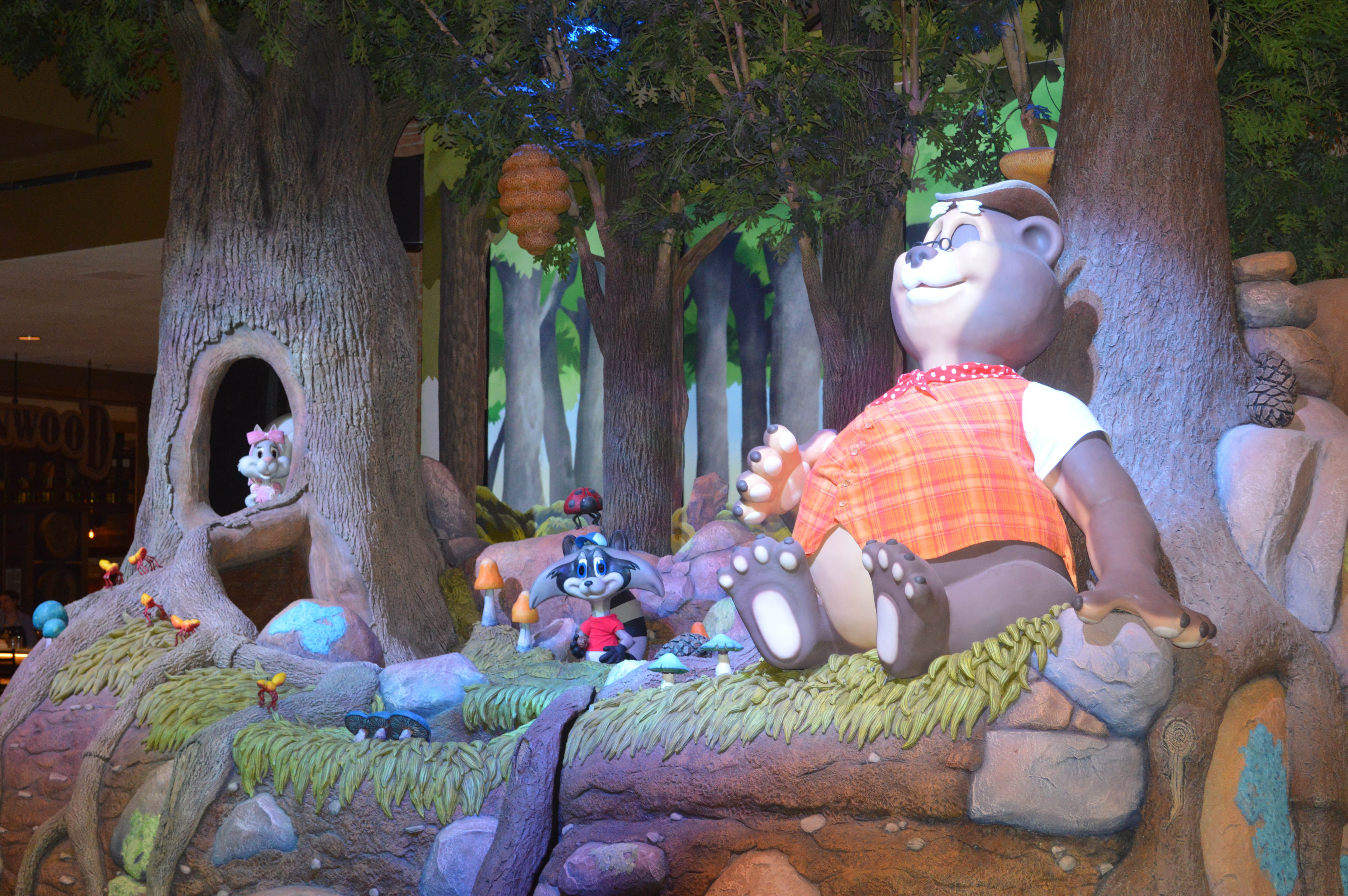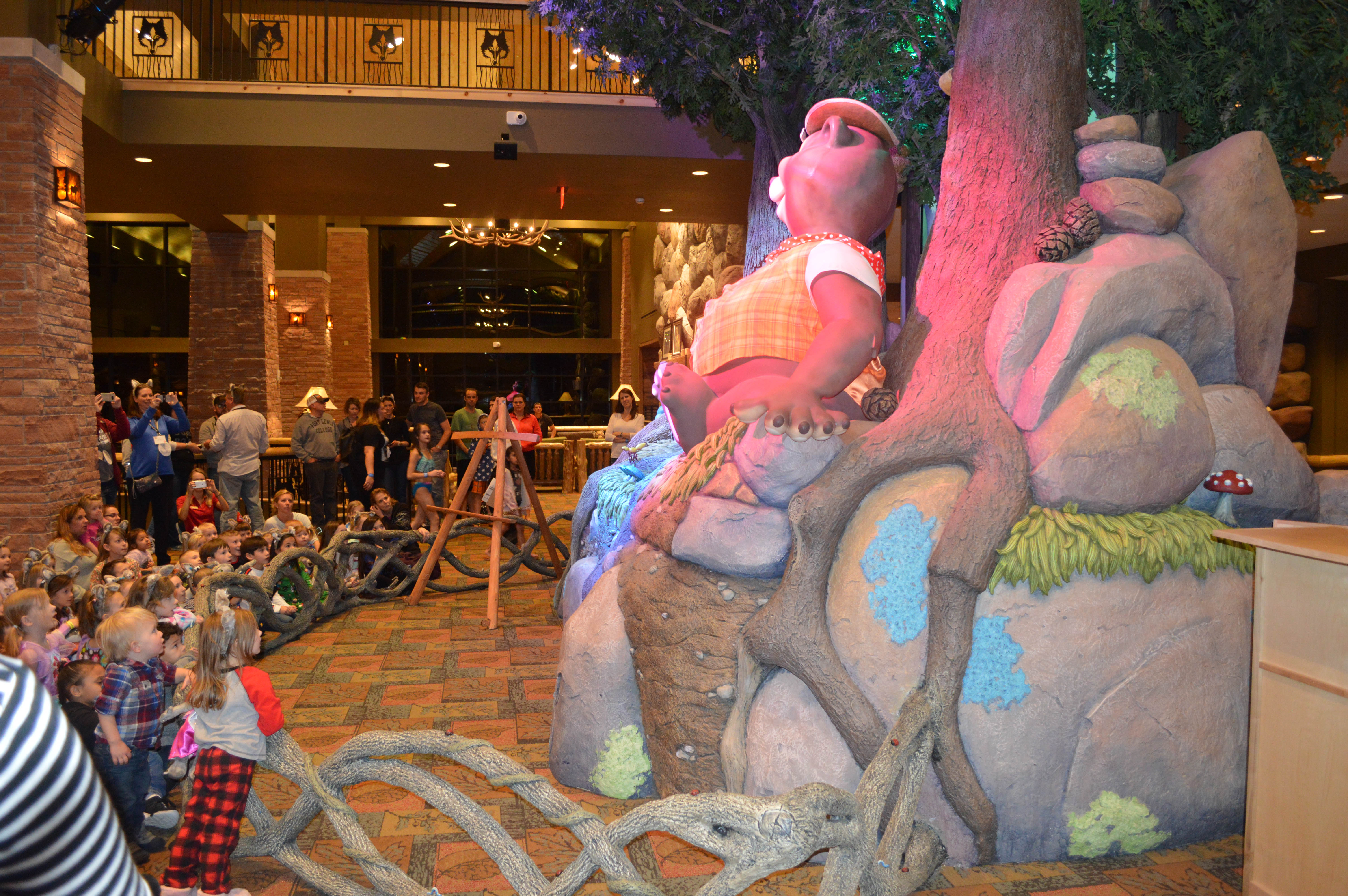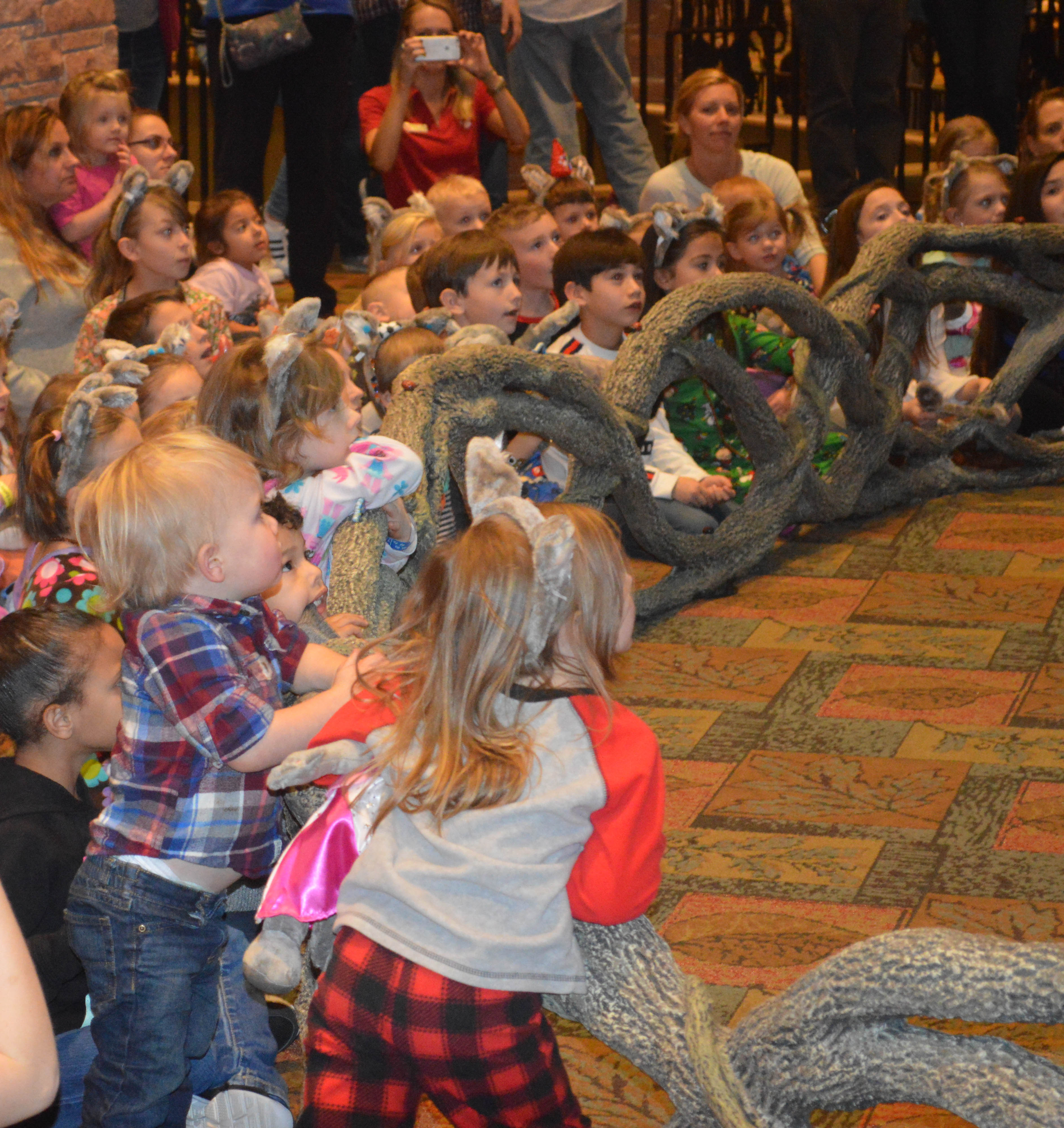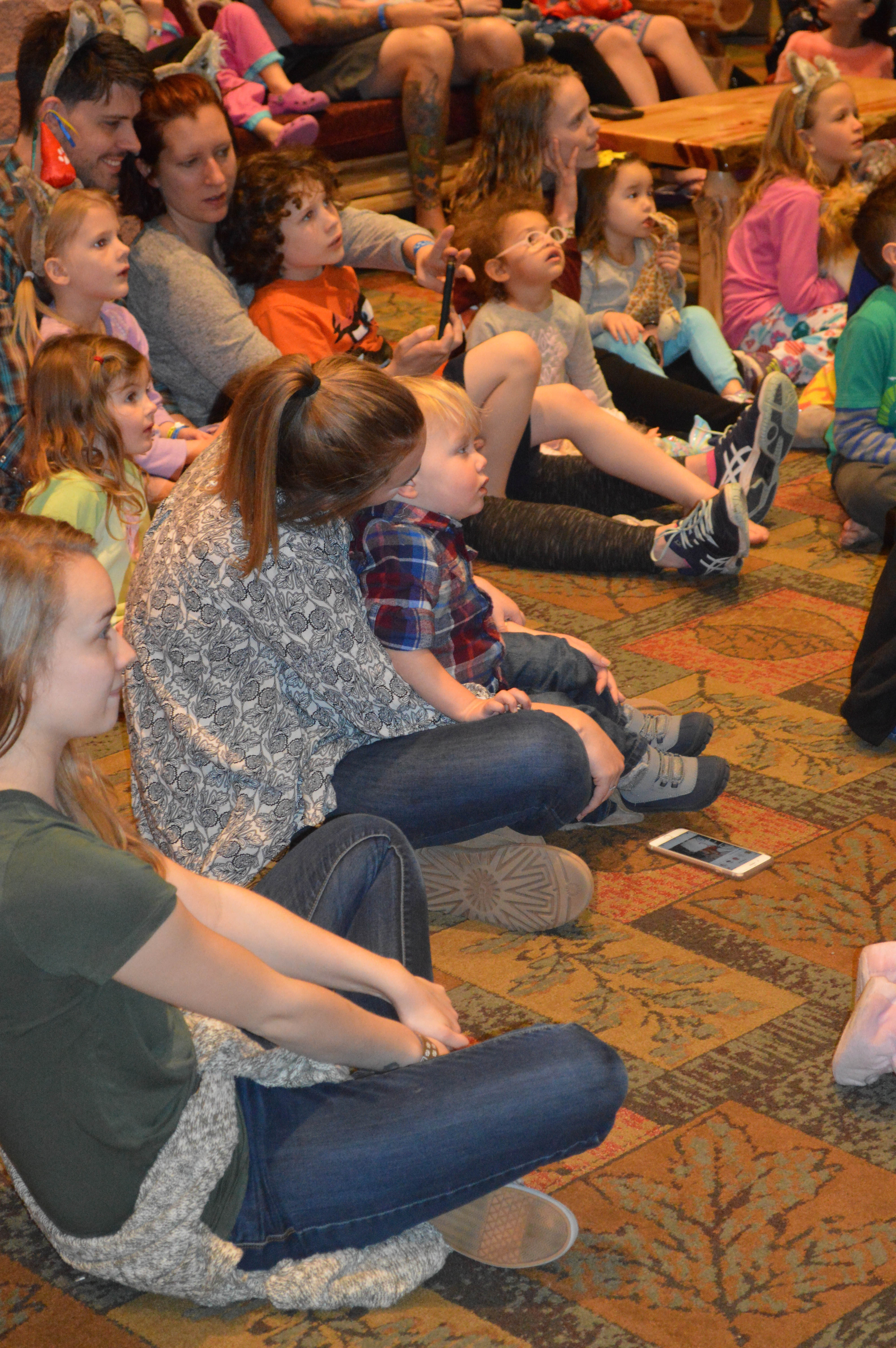 Another one of my favorite things was the wristband. The wristband you receive upon check-in acts as your room key, your entrance to the water park, and even a means of payment accepted everywhere in the resort. I was extremely impressed to find that my wristband even worked as payment at the vending machine. This made walking around the resort and going to and from the water park extremely easy as I didn't need to remember a room key or money! I have to confess to a "pregnancy brain" moment. I totally left my purse with my wallet in it in our car as we were unloading when we first arrived at the resort. Then my husband took the car to work on Saturday! If the wristband wasn't connected to our room and credit card I would've been without money all day! It was a lifesaver!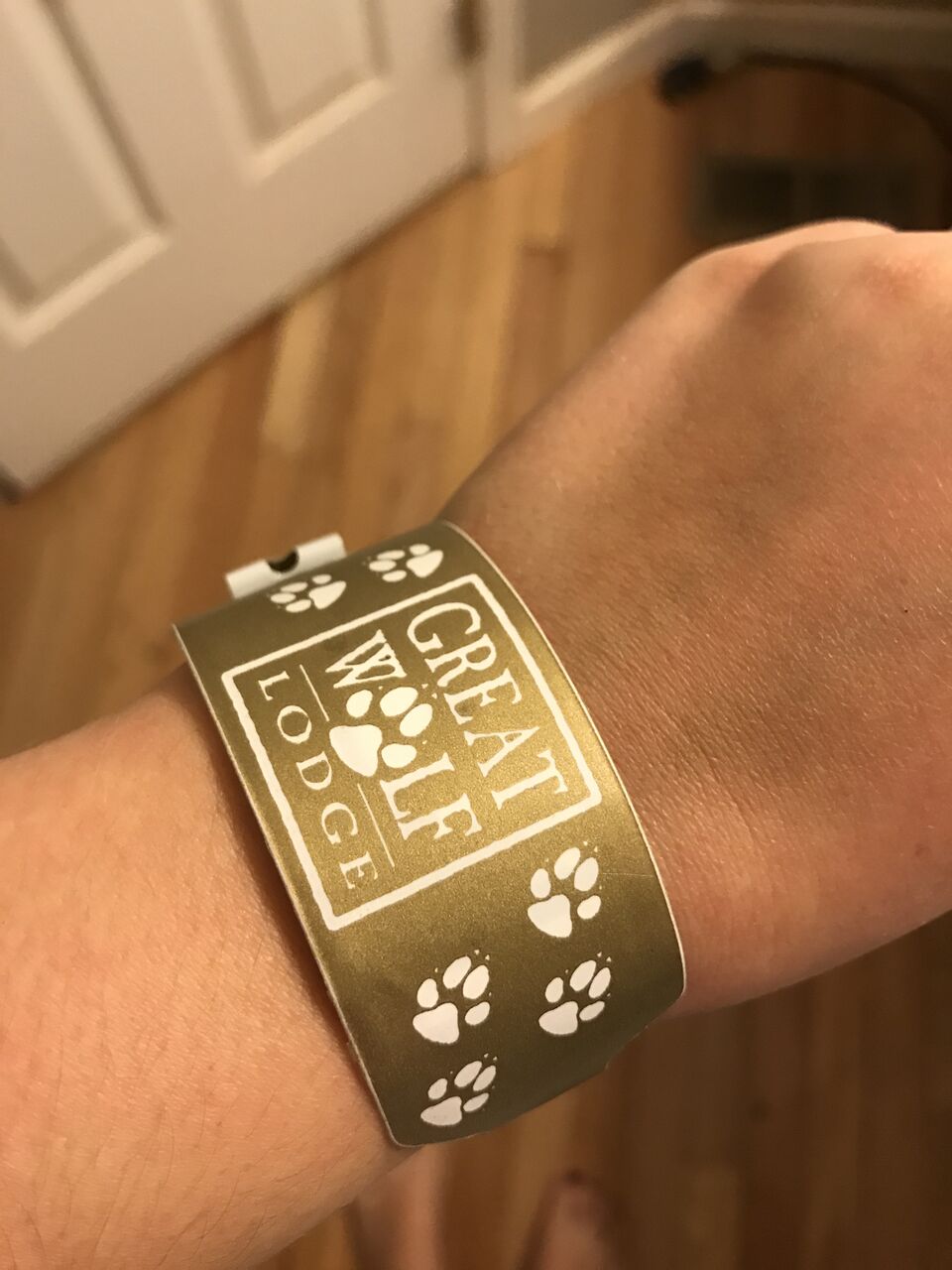 My only complaint would be the elevators. There are only 3 elevators in the whole resort and they often get backed up (especially at peak water park hours), leaving you waiting for upwards of 15 minutes just to get back to your room. The stairs are hidden behind the Loose Moose Kitchen, which means they're not really a convenient alternative (especially if you're pregnant and staying on the 9th floor). Unfortunately, this has a lot to do with the way the building was designed before Great Wolf Lodge even took it over.
My Recommendations
The only thing that is included in your stay is entrance to the water park. All dining and the Adventure Park are extra. If you are looking to stay at the newest Great Wolf Lodge on a budget- it is definitely doable. One thing I was really impressed with is that after you checkout- you still have access to the water park until it closes at 8:00pm that night. I would recommend staying for one night. A standard family suite is only $199 and you get 2 full days of water park included. The water park has more than enough to keep your family entertained for 2 full days. I would pack your own food and skip the adventure park.
If you're looking to stay at the Great Wolf Lodge for multiple days or a week, I would make sure to experience everything. Definitely invest in the Adventure Passes- they are worth it and give you so much to do! And indulge in a few of the restaurants. Make a full vacation of it- you'll never have to leave the resort!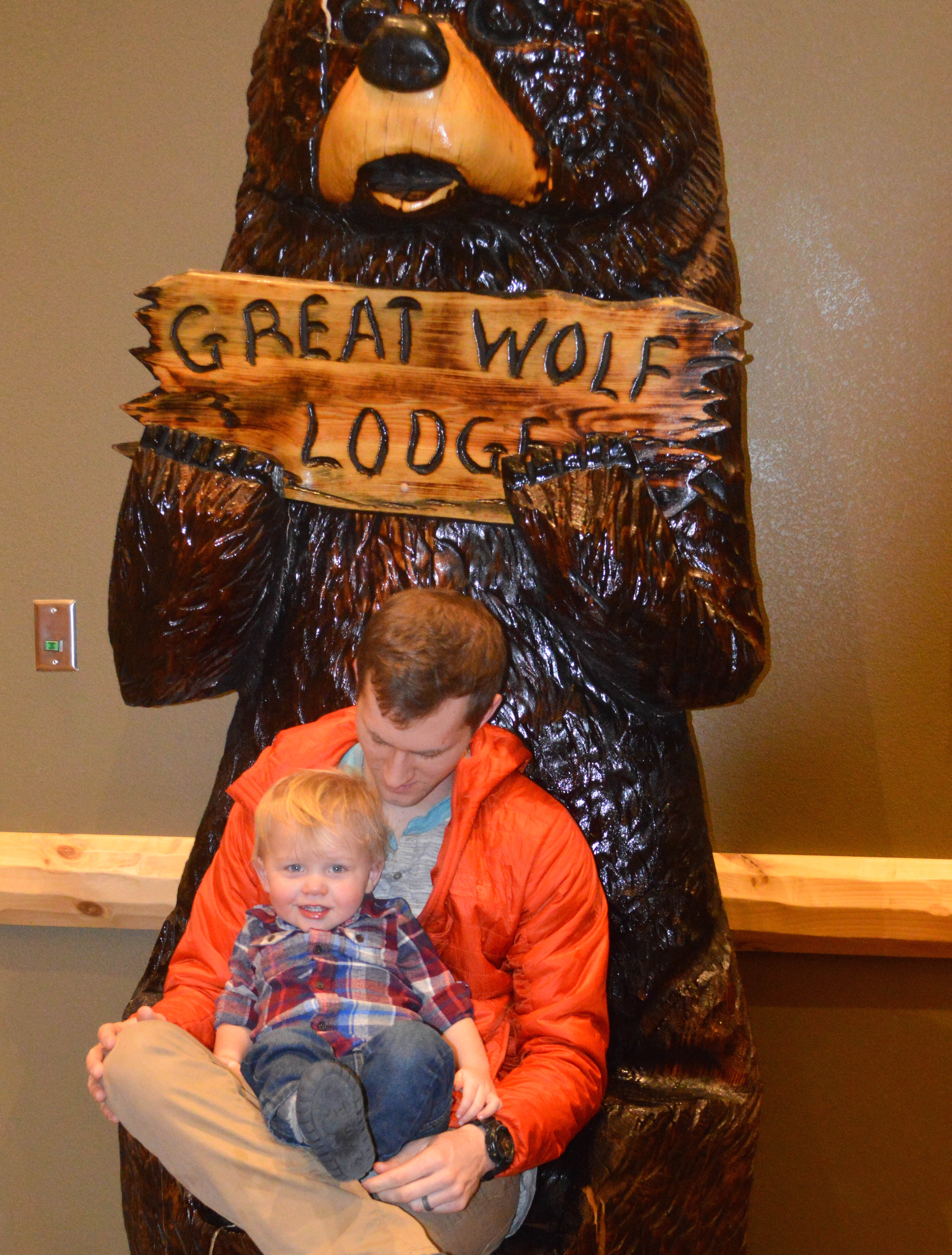 We greatly enjoyed our stay at the newest Great Wold Lodge and will absolutely be back. This place caters to children and families like you wouldn't believe and your kids will have an absolute blast that they will remember forever.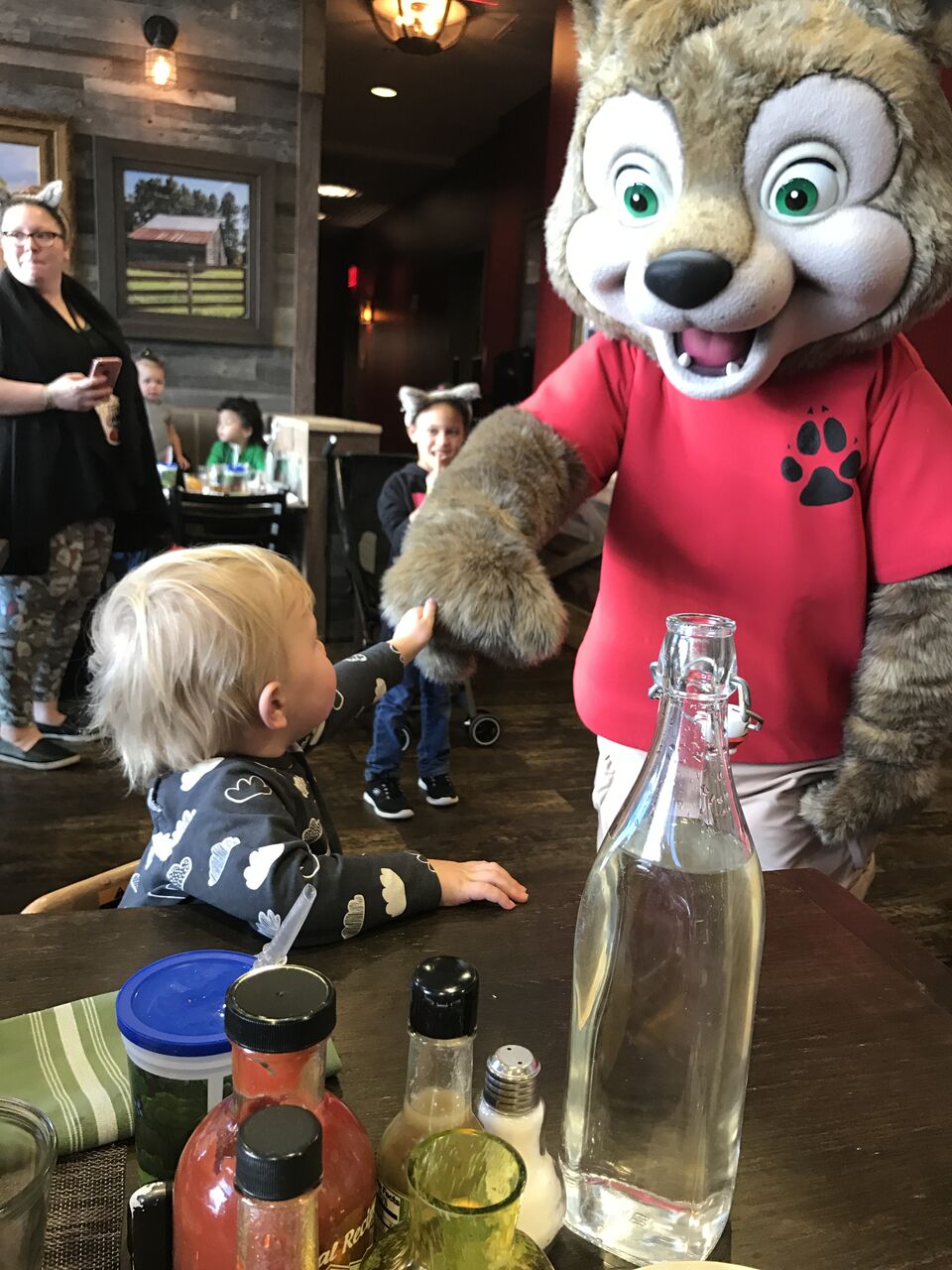 Be sure to check out the newest Great Wolf Lodge, Colorado Springs!
| Plan Your Stay | Facebook | Twitter | Instagram |
Thank you Great Wolf Lodge for hosting us! We had an amazing time and will always give you our highest recommendation.
xoxo.
Save
Save
Save
Save