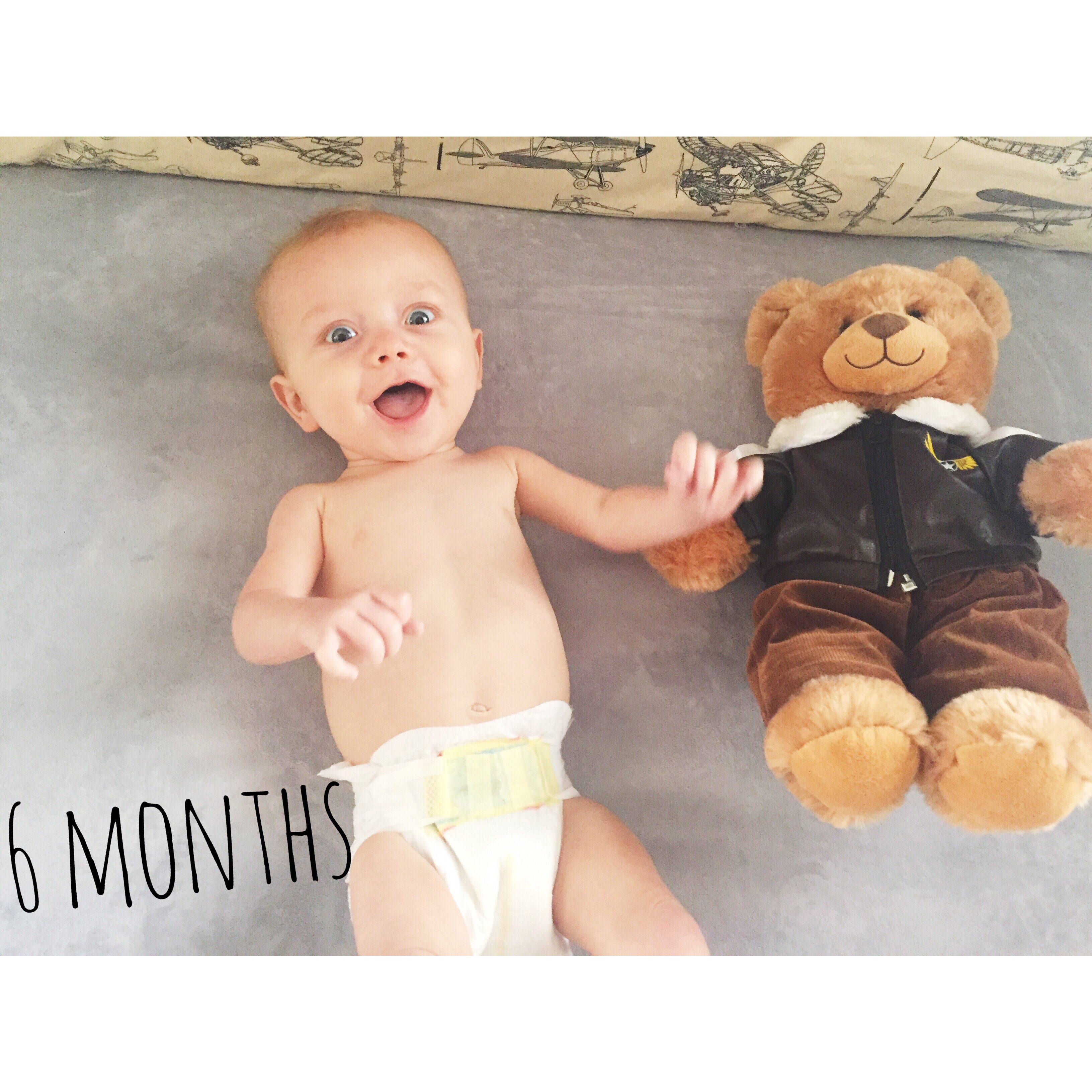 Yes, I'm a slacker mom and I skipped Month 5. He turned 5 months on Thanksgiving and after that, everything got so hectic with the holidays! But I have a lot to catch up on because he's changed so much in the last 2 months.
Sawyer weighs 12 lbs and 4.5 oz, he's 25 inches long and wears 6-9mo clothes. We've been having a lot of issues with his weight and have to go in once a month for weight checks. They expect him to gain .5 ounces a day, and last month he only gained .5 ounces in a month. He's not losing weight, so that's good, we just can't figure out why he isn't gaining much.
I've started pumping in between every feeding and giving him an extra ounce to help him gain weight. This has been really hard to keep up with as my supply decreases. I've completely blown through my freezer stash and now only have one bag left of frozen milk, and I'm trying to save it for an emergency. At his check up next week I'm going to ask his dr about giving him formula for those "in between feelings" and continuing to breastfeed for his main feedings. So maybe only 2 oz a day of formula if necessary. I'd like to get my supply back up but nothing I try is working. I'm lucky to get what I get!
We also started him on oat cereal to give him some extra calories and he loves it! He gets that twice a day. It has to be mixed with breastmilk which is another reason I'm having trouble keeping up. He's also had some sweet potato and avocado but we aren't consistently giving him other solids yet, although I'd like to start soon. Preferably solids that don't require being mixed with breastmilk so I don't have to worry about producing enough, ha.
Right now he breastfeeds 5 times a day, gets a 1 oz bottle of pumped milk 2 times a day, and gets oat cereal 2 times a day. It's a lot and I feel like I'm always feeding him! I really hope he's gained weight at his next appointment so it's all worth it. We want him to grow grow grow!
He loves to talk and play. He's starting to need to be entertained every hour that he's awake, which can be a challenge. He loves toys (we can't leave the house without his Wuba Nub) and his playmat and Sesame Street. We watch a lot of Sesame Street haha but he loves it!
He can roll over both ways and stand and sit supported. He loves to stand. He loves to play around and be tossed in the air by his dad and has even taken a big interest in the dog lately. If Bennett is nearby he simply must grab his fur. We also can't have anything in our hands unless we want Sawyer to snatch it away!
We had to stop swaddling him at night once he started rolling over and that has been a rough transition. I basically didn't sleep for 2 months, ha, but we mostly have it under control now. I think the swaddle transition mixed with the teething made sleeping through the night really hard for him. He's sleeping a lot better now, but I have a whole other post coming your way about that!
I can't believe 6 months has come and gone. Everyone told me it would go fast but I didn't know they meant light speed!