Disclaimer: I received these products in exchange for review. All opinions are my own. Visit my disclaimer page for more information. 
Hello all!
I know I've been absent this week. Thank you all so much for your positivity and support in response to our pregnancy announcement. We have been blown away! I plan on doing a full post on finding out I was pregnant and my first trimester in a few days. But for now, I wanted to update you on our Master Bedroom!
I know I mentioned a few months ago that we were updating some things in our living room and master bedroom. We didn't go for a full renovation because we didn't want to spend too much money, and we know we didn't have a ton of time to devote to it either. But we wanted to update a few things to make them more modern. Our style has changed a lot since we first moved in 3 years ago! Plus it was our first place of our own, and we didn't really have a clue- design wise. Our couch was bright red if that tells you anything.
The first thing I wanted for updating our bedroom was new bedding. Ours was always kind of messy and never fully matched. We're grown ups and I wanted a real bedding set! I did a full post on our bedding from Beddy's, be sure to read it here. Beddy's is zipper bedding and it's amazing, it makes making the bed so much easier! It just zips right up! Plus it's really warm and cozy, perfect for Colorado winters.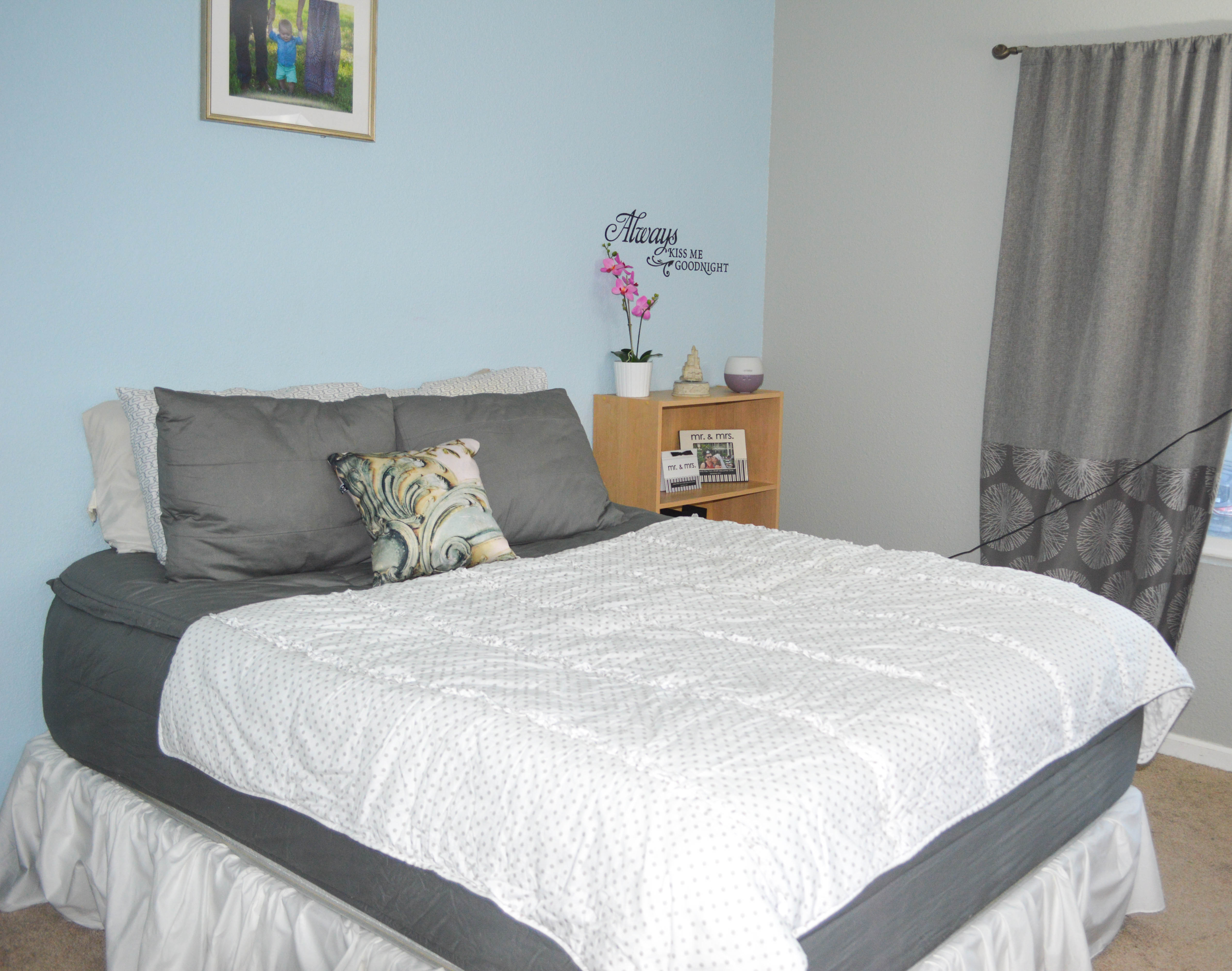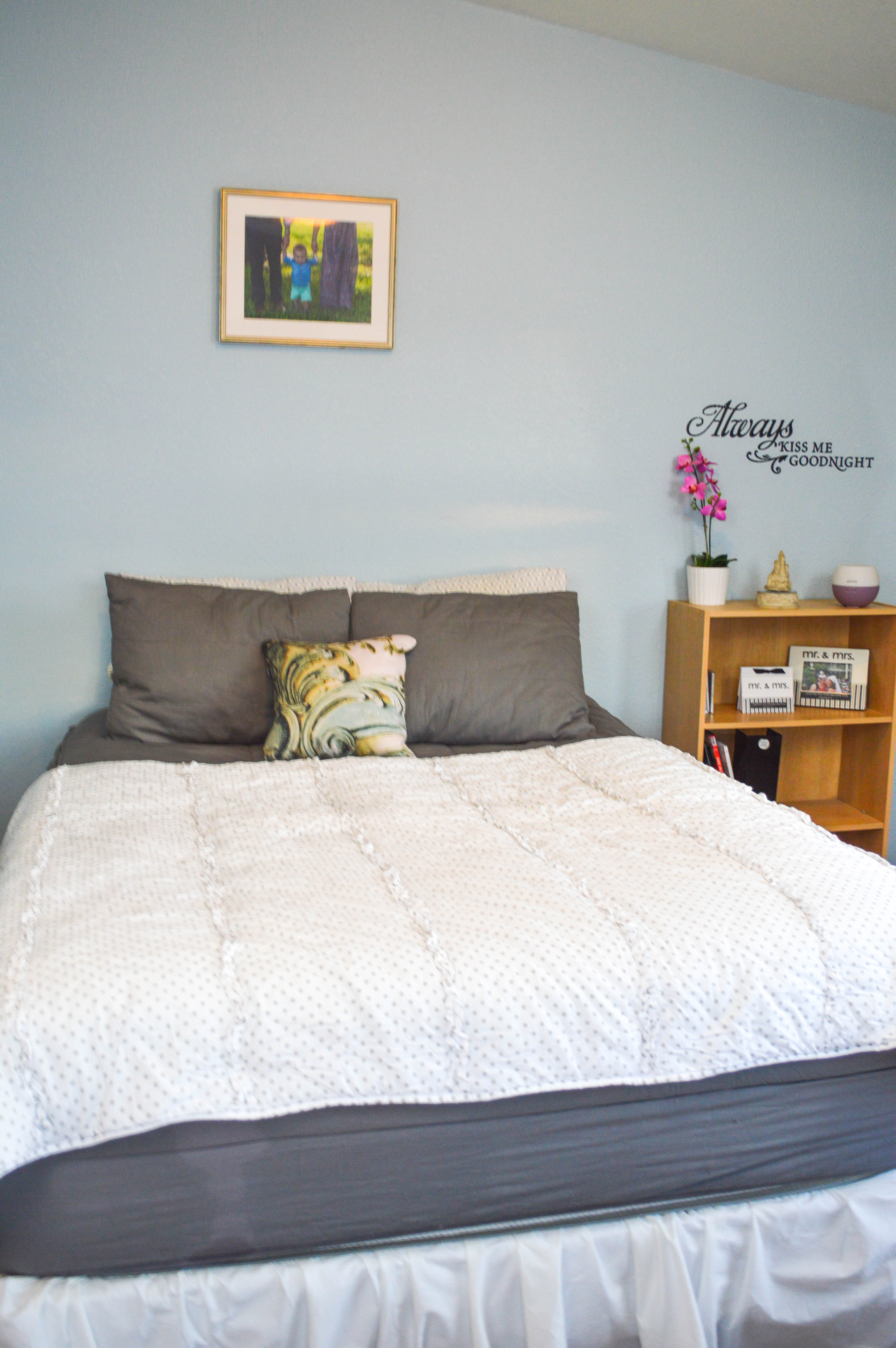 The pillowcases, bed skirt, and blanket are also from Beddy's. I LOVE the contrast of the white bedskirt and blanket to the dark of the comforter. I think it looks really great. I love that you can get everything you need for your bed with Beddy's. The Bedding Set (comforter, pillowcases, pillow shams, etc), pillow sets, blankets, bed skirts, and more! It's a one stop shop.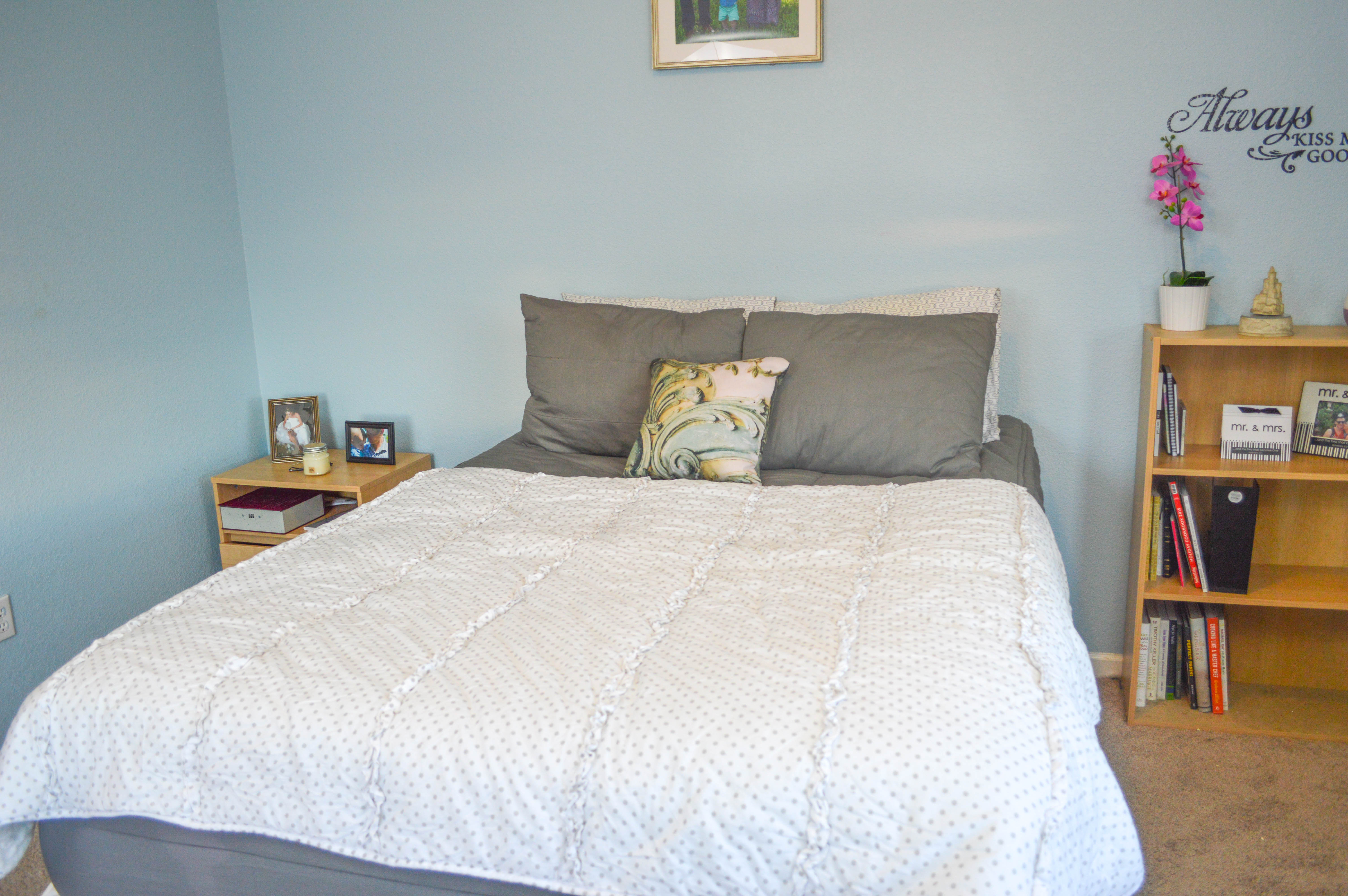 Check out Beddy's:
| Shop | Instagram | Facebook | Twitter |
The marble center pillow is by Mable Tan. I love the cute design in comparison to the solids of the rest of the pillows. I think it really ties the bed together. I'm giving one away on Instagram! Be sure to check it out and enter.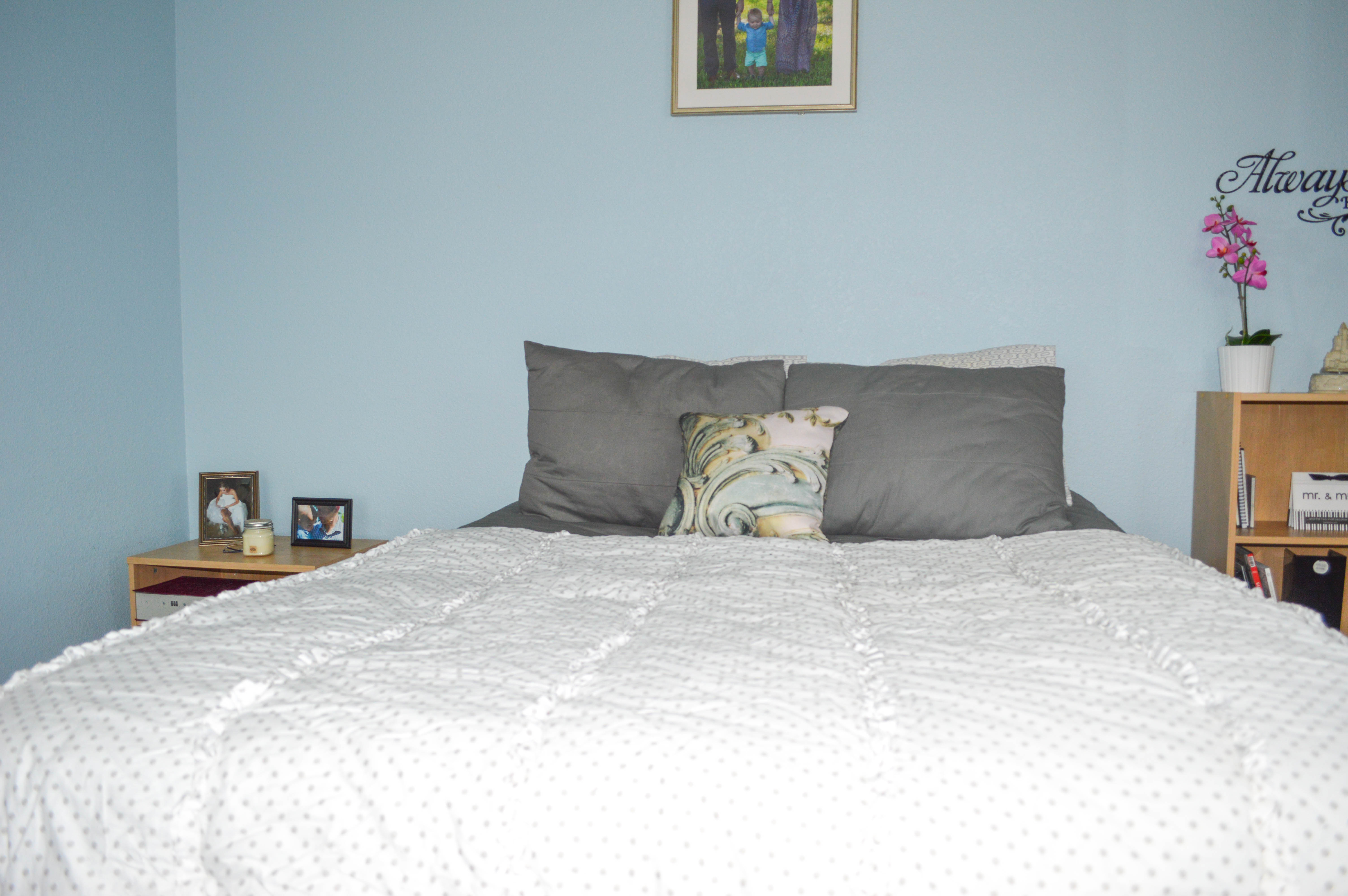 Check out Mable Tan:
| Shop | Instagram | Facebook |
Our walls have always felt bare so I wanted to hang a family picture right above our bed. The gorgeous frame is by Framed and Matted, and the picture was taken by Our Front Porch Photography, the shoot we had done for Sawyer's first birthday!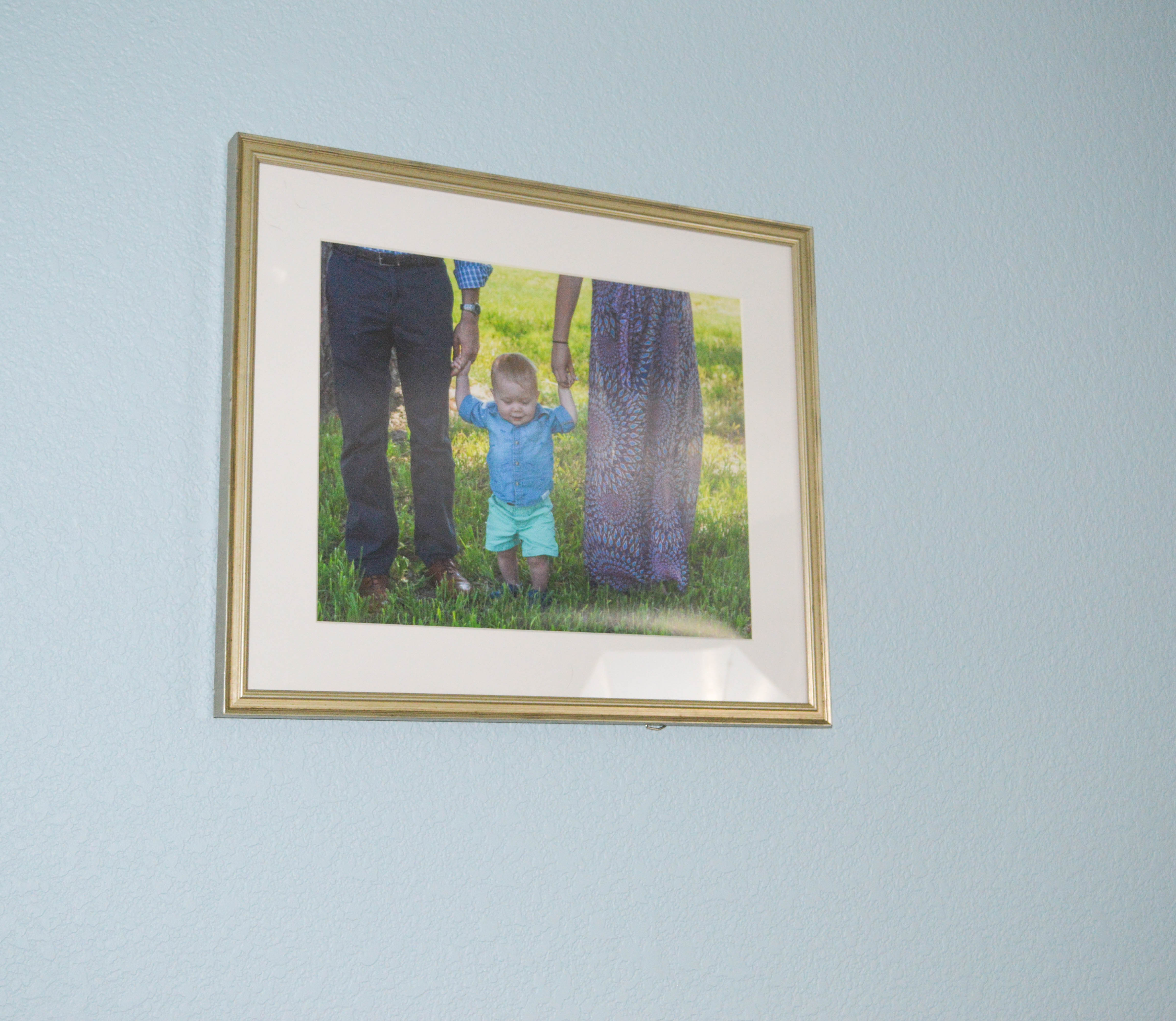 I love the way the frame looks, Framed and Matted did a great job! And it really ties the whole room together having something over the bed.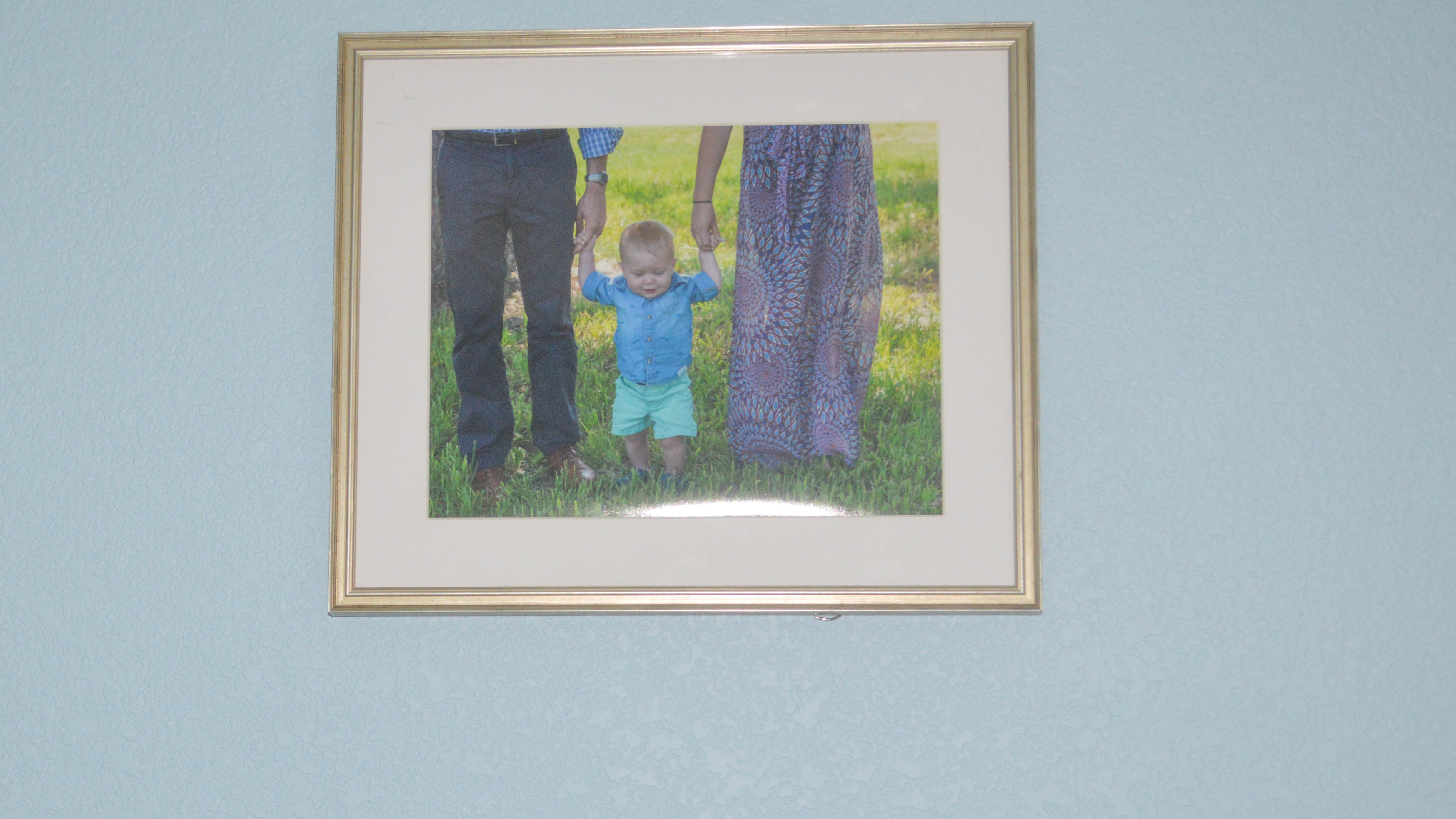 Check out Framed and Matted:
| Shop | Instagram | Facebook | Twitter |
We also wanted to make sure we did something to update our comfort level while sleeping too. Getting a whole new mattress can be expensive, so we opted for just a mattress topper. It completely changed our sleeping game! We got a memory foam mattress topper from Lucid Mattress. We LOVE it. Our bed is so comfortable and we sleep like babies. The memory foam is great on my back and hips especially now that I'm pregnant. So glad we got it! It folded up neatly in a small box and shipped right to our door. It was so easy! We had to let it rise for 48 hours, and after that we just placed it on top of our mattress and placed our bedding back on. It makes our bed appear higher, and it's a lot comfier. Their mattress toppers are available through amazon, and you can shop ours here.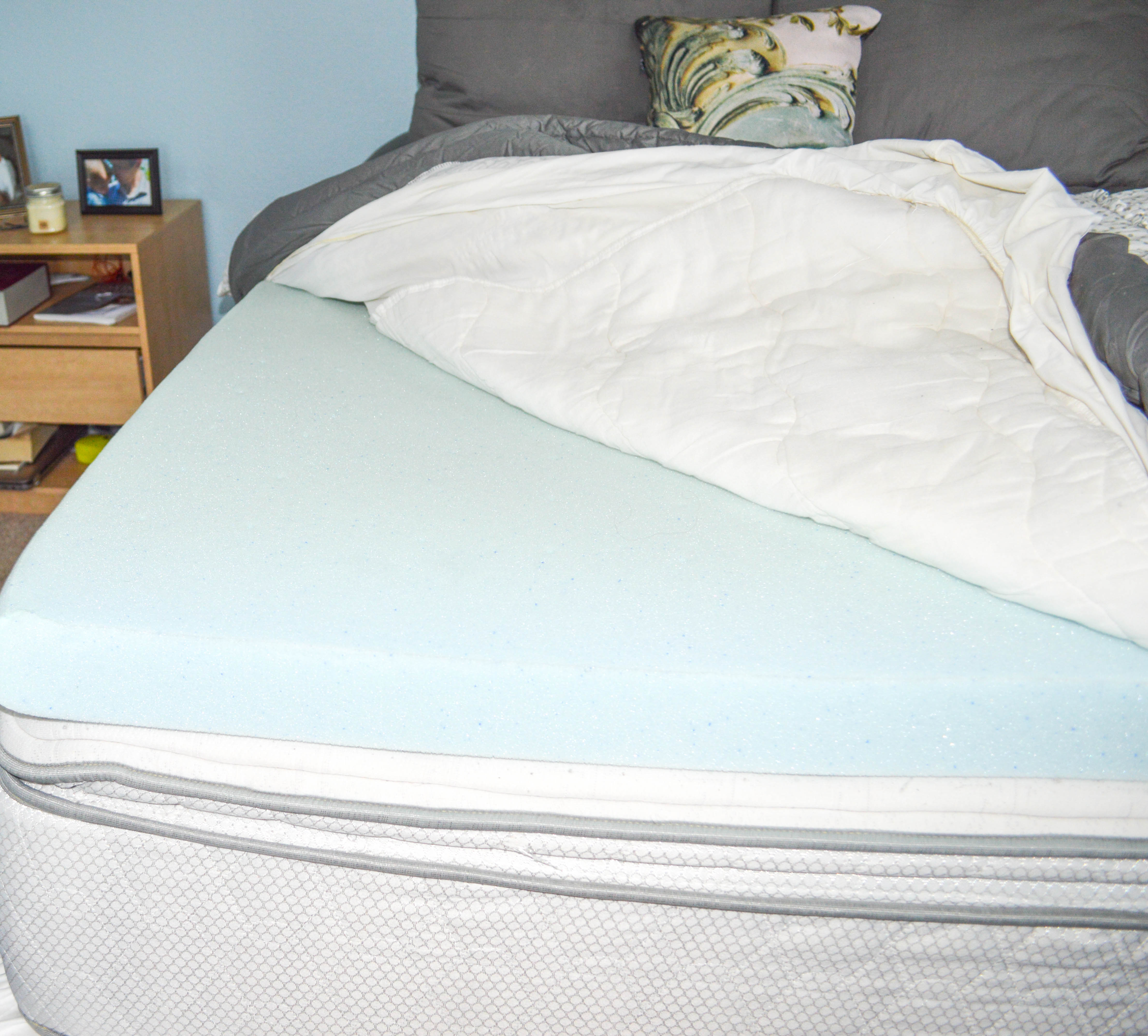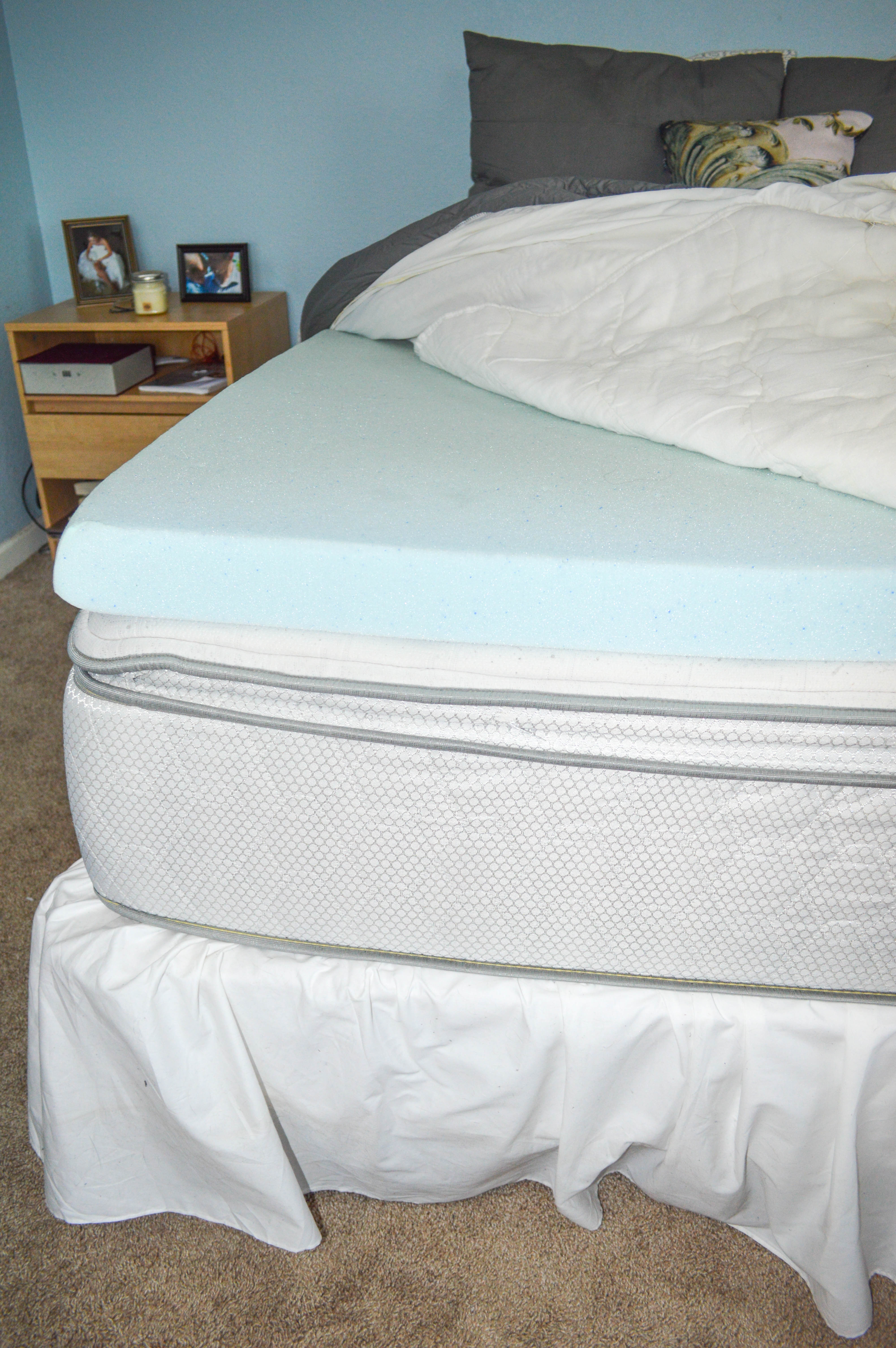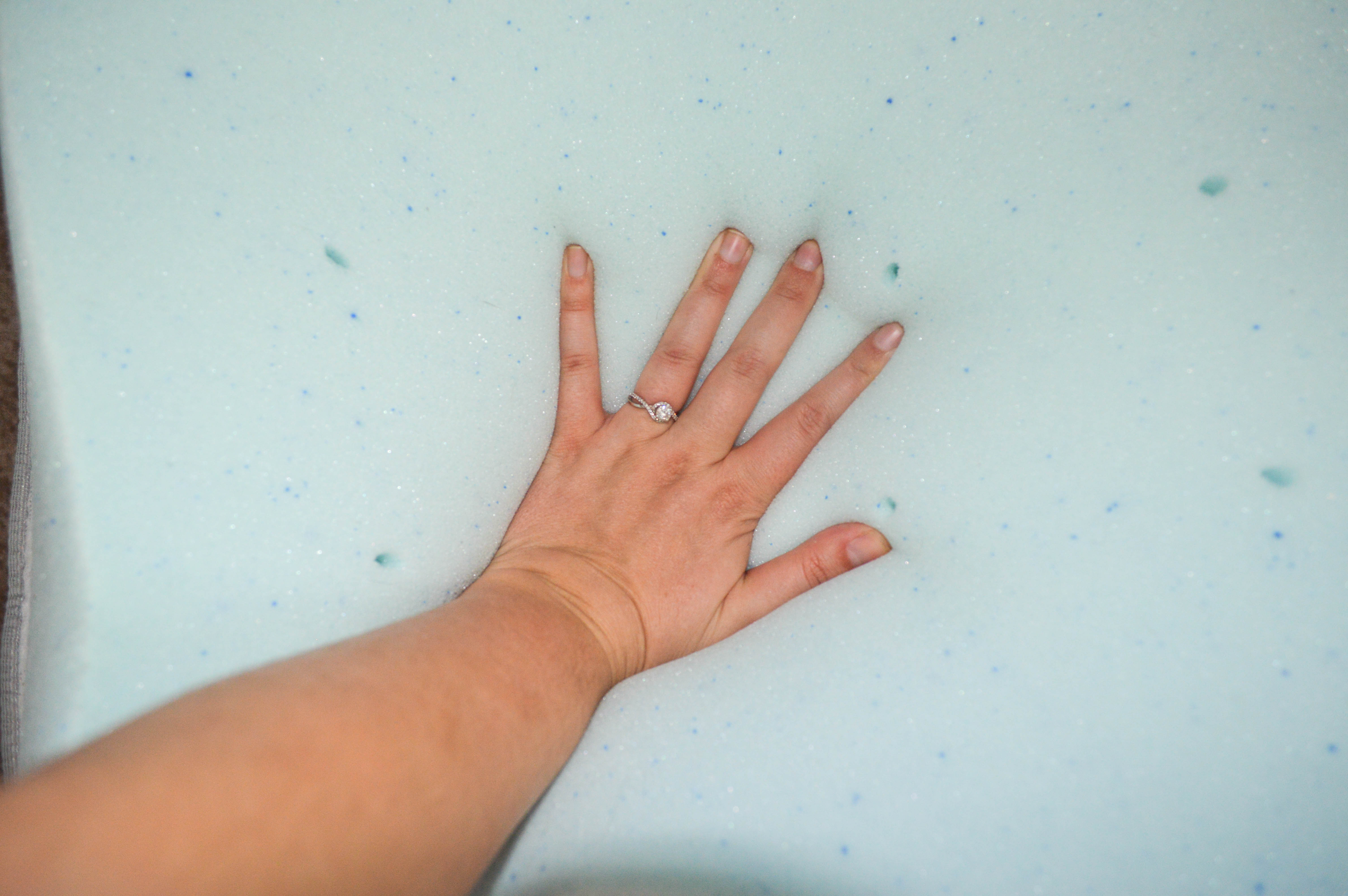 I'm going yo be giving one away on Instagram in just a few days so be sure to stay tuned!
Check out Lucid Mattress:
So there you have it! A few simple updates and our room looks so much nicer and we're sleeping so much sounder. I love the way our room looks now. It's crazy how just a few simple things can really tie a space together. What's your favorite part of your bedroom? Comment below!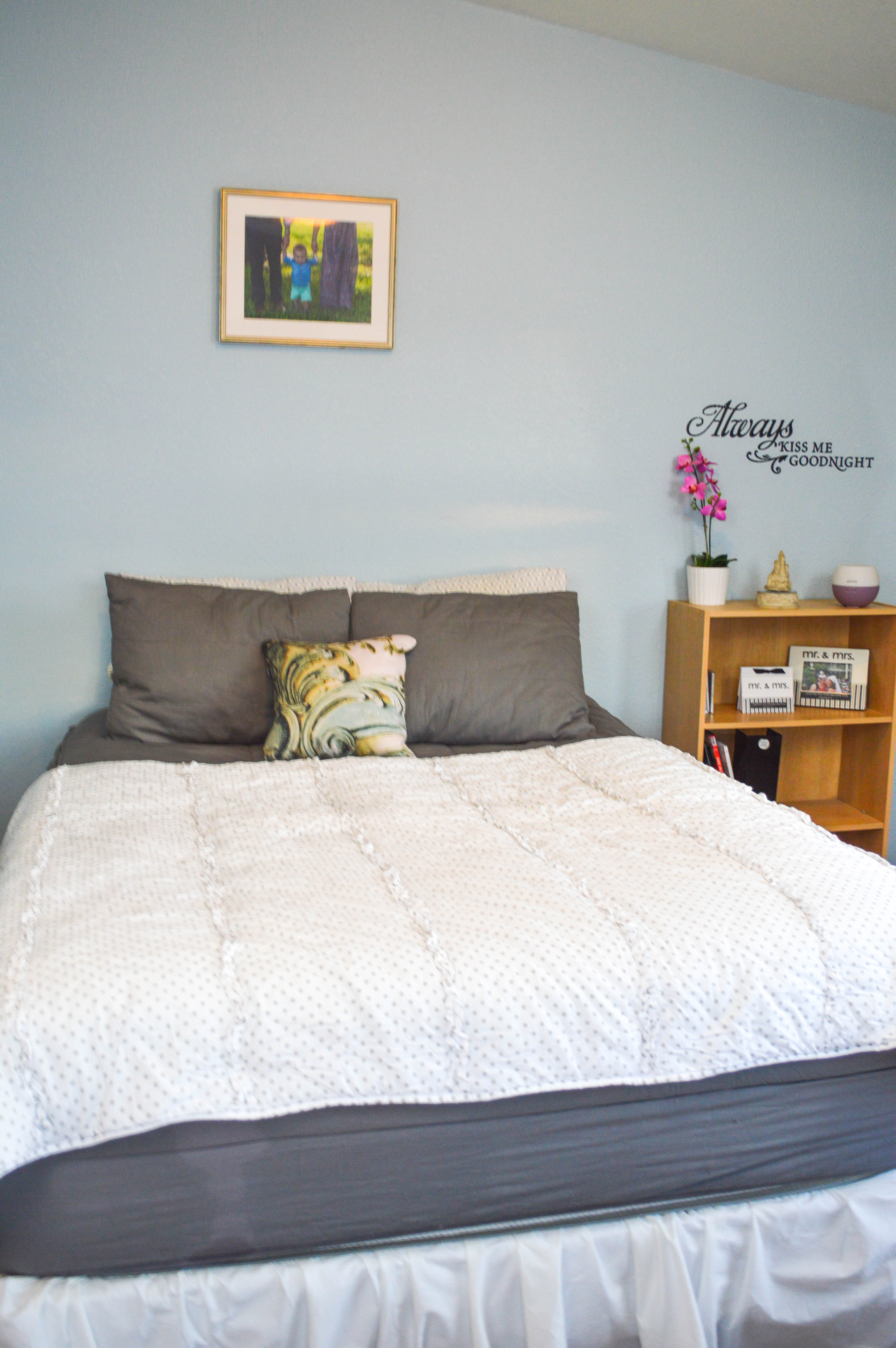 xoxo.