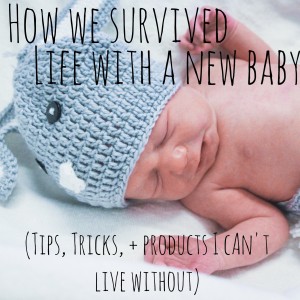 I loved the newborn stage. I know a lot of people don't because of all the sleepless nights, but I really really loved it! I loved my sweet squishy newborn. The bigger he gets the sadder I get, even though it is fun to watch him grow and develop, it's already going so fast! And while Sawyer was still waking up to eat a few times per night and I wasn't getting much sleep, he wasn't a very fussy newborn. I feel like the older he gets the more reasons he find to cry!
I think one of the reasons I enjoyed the newborn stage was all of the tips, tricks, and products I used. It never hurts to make things easier on yourself.
Life With a Newborn – Tips and Tricks
#1. Have somewhere to put them down in every room
This is so vital. You always want somewhere to put them down so you can give your arms a break and get things done! In his room, there's obviously the crib, in our room we have a pack 'n' play set up,  in the living room we have a bassinet, and we transport our mamaroo between the kitchen and the living room.
#2 Have a "baby station" station in every room (except the kitchen!)
We keep a little station filled with diapers, wipes, diaper cream, a changing pad, a blanket, a burp cloth, etc. in the living room, our room, and of course, his room. This makes things so much easier because I don't have to walk upstairs or down the hall to the nursery every time I need something! I keep all this stuff in the same location where I can put them down so it takes up less space. I don't have one in the kitchen because I don't want to be changing diapers where I cook and eat!
#3 While you're at it, have nursing stations as well 
If you need one. I'm high maintenance and need a lot of stuff before I sit down to nurse! Sawyer is unable to latch without a nipple shield so I keep those all around the house. I have a recliner in the living room that has been designated my nursing chair, a glider in the nursery, and of course, our bed in our room. I keep a nipple shield in each spot, a glass or bottle that I can fill with water, a burp cloth,  and something to do. A magazine, the tv, my laptop open to netflix, etc. And a boppy pillow. The boppy pillow is amazing! I've even thought about buying a second boppy pillow to keep downstairs, so I'm not constantly toting it back and forth. I figured it was too frivolous to have multiple (but I still might do it).
#4 Have designated "you" time
It took me a long time to figure out that if I wanted any time to myself, Sawyer needed to go to bed earlier than I did. It sounds so simple but it honestly hadn't occurred to me that he should have an earlier bedtime. I knew once he was a little older he would start going to bed early, but for his first few weeks of life, he would go to bed at 12 or 1 am like we did. Only recently did I start putting him down a good 2 hours before I go to bed. And I love that time! Granted, I don't relax or anything, but it's nice to have 2 hours of free time to clean, blog, do laundry, etc. Sometimes if Kurtis doesn't have to be at work early the next morning, we'll use that time to be together and I cherish that. (If he does have to be up early, he goes to bed when Sawyer does!) And maybe one night if I'm all caught up on housework, I'll use that time to relax (we'll see…).
Life with a Newborn – Products I love
I'm a huge "gear" fanatic. When I was doing my registry/shopping for baby it wasn't the little outfits and shoes I was excited about, it was all the stuff! I love essentials that make your  life easier, I was constantly researching monitors, strollers, swings, etc. to find the best one. And I loved doing that research! Here are the things I've discovered I couldn't have done it without!
Moby Wrap
If you follow me on Instagram, you know I've absolutely fallen in love with baby wearing. I got a Moby Wrap as a shower gift and I am so glad I did! I don't know what I would do without it. There are so many advantages to baby wearing (that's for a whole other post), but my favorite is that it's hands free! I wrap Swayer up in it, and not only can I get things done around the house but he almost always falls right asleep. It's also a great alternative to luging the stroller around.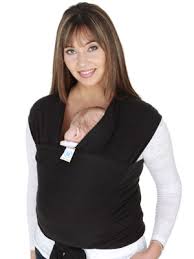 Mamaroo
We love our mamaroo. We loved it even before Sawyer was born! (We would put a stuffed bear in it and play with the different settings) I spent a lot of time researching swings and seats before deciding I really wanted this one. It mimics the movements of all the things babies love. It has 5 movement modes, Car Ride, Tree Swing, Kangaroo, Rock-A-Bye, and Ocean Wave, and 5 variable speeds for each. Sawyer loves Car Ride, given that he loves the real car, and Kanagroo. You have to see it in action to see how amazing it truly is, but it's really great! Sawyer takes almost all of his naps in it, and he'll be content in it for a good while before wanting to be picked up again. He loves to look at the mobile above it now that he's starting to notice colors. The fabric is easy to remove and machine washable. You can also plug your phone into the mP3 player and play music for your little one!
The Mamaroo is kind of expensive, but I think it's worth every penny. It's great quality, and I couldn't find a single bad review on it. The company that makes it, 4moms, has amazing products, and everyone I know who has a Mamaroo raves about it. We were lucky enough to get it as a shower gift from my Grandma.
Mama hack: They have discontinued colors for slightly less on Amazon. We registered for the classic grey one, which saved some money 🙂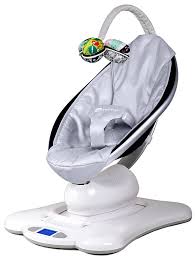 Velcro Swaddles
Sawyer loves to be swaddled and can't sleep unless he's wrapped up tight! These velcro swaddles from Babies R Us make it so easy! Since they velcro shut it's harder for him to break out of, which helps him sleep longer. We got a 3 pack off our registry and we love them!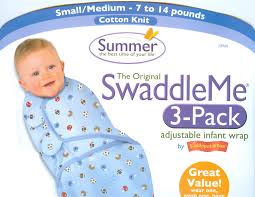 Aden and Anais Muslin Swaddles
I love these swaddles as well! Although they are a tad easier for Swayer to break out of, they are so so soft and light, great for the Summer! They are also so pretty with the cutest designs. Again, a tad expensive, but extremely good quality! Prince William and Princess Kate even used them for Prince George (I love the royal family, big time), which was reason enough for me to want some, ha. We got one, lonely, Aden and Anais swaddle as a hand me down, and I liked it so much that I went out and bought a 4 pack! I keep one in my diaper bag so I can swaddle him when he needs to nap while we're out. Swayer tends to fight the velcro swaddles unless he is very drowsy so we use these for nap time and the velcros for bed time. They can also be used as a receiving blanket, a nursing cover, a burp cloth, or a car seat cover.
Pack N Play
We have a pack n play with a detachable bassinet next to our bed that Sawyer is currently sleeping in. It has a newborn bassinet, an infant bassinet, and then will eventually convert to a toddle play yard so it will grow with him so we can use it for years to come! We'll keep it next to our bed, and he'll sleep in it until we're ready to transition him into his own room.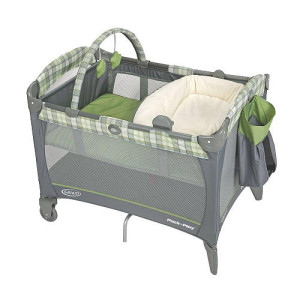 Boppy Pillow
The Boppy Pillow is amazing. It slides around your stomach and acts as a place to place baby and rest your arms during breastfeeding. I forgot I had gotten it for the first few weeks and my arms were killing me! Then, I found it in the nursery and start using it religiously. Problem solved. And they make cute covers that you can change out or throw in the wash for easy cleaning. I only wish it was portable so I could take it with me everywhere! Every nursing mom needs one.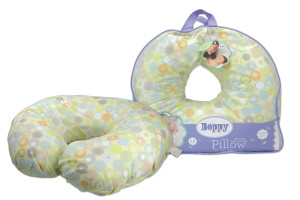 Snuza Hero
I honestly don't know how I would've slept without the Snuza Hero. They day we brought Sawyer home from the hospital, he was 4 days old, and I made the mistake of reading and article about SIDS. It scared me so bad and gave me horrible anxiety. Even when Sawyer was sleeping, I wouldn't. I was constantly sitting up in bed and shining my phone flashlight on him to make sure he was breathing. I cried before putting him down to sleep every night and kept a constant watch on him. I was a mess. My grandpa came to my rescue and bought me the Snuza Hero off my registry. It is a breathing monitor that clips to his diaper and monitors the movement of his stomach going up and down as he breathes. If 15 seconds go by without movement, it gently vibrates to get him going again. If 20 more seconds pass without movement, it sets off an alarm to wake me up. It has gone off a few times and everything has been fine. A few times I have no idea why it went off, as Sawyer seemed to be breathing fine to me, and a few times it went off because it had fallen off his diaper or come loose. But at least I know it's doing it's job and WILL go off if it doesn't detect movement. It gives me peace of mind, and I sleep much better!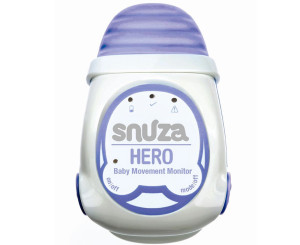 So, these are the tips, tricks, and products I couldn't have done it without during our life with a newborn! I would buy all these products, and use all those tricks again in a second for my next baby!
What are your favorite tips, tricks, and products to make life with a newborn easier? Comment below!
xoxo.