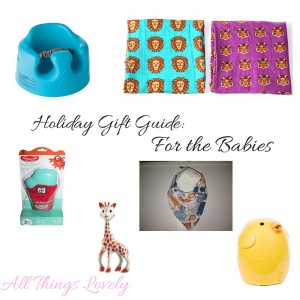 Believe it or not, I've had a hard time shopping for Sawyer this Christmas. It's our first Christmas as a family of 3 and I'm beyond excited. My first instinct is to go all out and spoil Sawyer with tons of presents. It is his first Christmas, and he's currently an only child after all! But, at the same time, he'll only be 6 months old, and the list of toys he actually cares about is short. I don't want to waste a bunch of money buying him tons of fun toys, when he really only cares about things he can put in his mouth. So, I put together this gift guide of things for baby! Some of these items I already have and I know other mamas will love! And some of them are items I've been swooning over, and will probably be purchasing for Sawyer for Christmas. Enjoy!
Sophie the Giraffe– Sophie is by far my favorite teething toy for Sawyer. I first heard about it when I was pregnant, and I didn't quite get the hype. But since Sawyer's started teething, she's been a lifesaver!
Sophie originated in Paris in 1961. She is appealing because she is colored with organic food paint, which makes her safe to chew. Because of the shape and size of the giraffe, baby can put any angle of Sophie into his mouth. She is easy to hold on to, and she squeaks too! They are the highest rated baby item on Amazon, and more Sophies are sold each year than there are babies born. Sawyer absolutely adores her.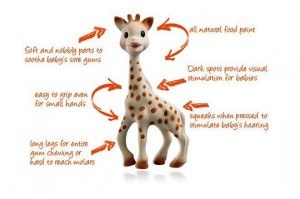 (source)
Oliver + Kit– Oliver + Kit is my favorite swaddle blanket for Sawyer. They are made of muslin and have adorable prints! You can read my full review here!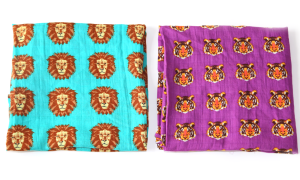 Yummy Mitt– Okay, this product is absolute genius. I have been longing for one for Sawyer ever since I first heard of them. He is constantly sticking his hand in his mouth and chewing away. The Yummy Mitt by Darlyng & Co, solves that problem. The Yummy Mitt straps on to baby's hand and acts as a teething toy, right at their fingertips! It helps prevent gagging and thumb sucking later in life. Sawyer will definitely have one waiting for him under the Christmas tree!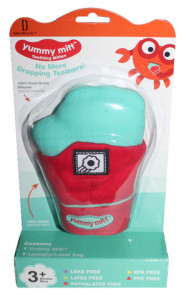 Bumbo Floor Seat– Now that Sawyer is holding his head up, I've had my eye on a Bumbo Floor Seat for him! It makes it easy for him to sit up while he plays and interacts. I feel like he spends all day on his back! These come with a 3 point harness, and option for a detachable tray for feeding.
Greenair Kids Diffuser– As most of you know, I love my essential oils! I recently connected with Greenair Wellness on Instagram and have fallen in love with the ducky diffuser for kids! I want one for Sawyer's room so badly. They are currently unavailable on Amazon, but you can buy wholesale from their website.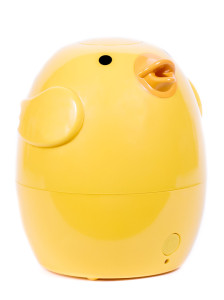 Tiny Face Big Mess– Tiny Face Big Mess makes adorable bandana bibs, binky clips, and suck pads for your little. Read my full review here.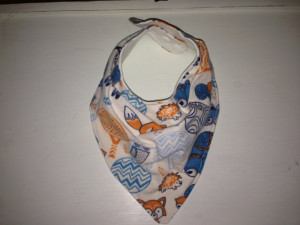 What are your favorite gifts for babies? Comment below!
xoxo.