I can't believe it's Friday again already! My weeks are busy but they sure do fly by. This week wasn't super eventful, other than that we went paleo! But more on that later. This week started out sunny, but ended kind of gloomy! I've already reached a few of my goals for the month and couldn't be happier! Here are some things I'm loving:
Disclaimer: I received this product in exchange for review. This post may contain affiliate links. All opinions are my own.
Coco and Kiwi
I was sent the most beautiful diaper bag ever by Coco and Kiwi. Their bags are so adorable. At first, I was concerned it was going to be too small, but it fits everything I need and is so stylish! The first time I dropped Sawyer off at my mom's house with it, she didn't believe it was a diaper bag!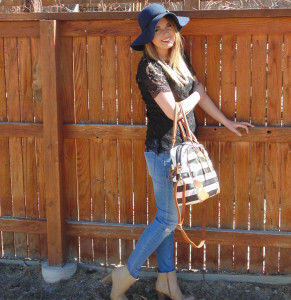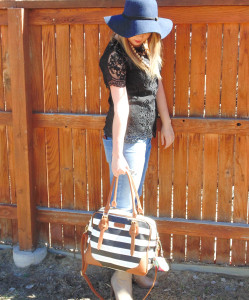 Coco and Kiwi makes cleanup so easy. Their diaper bags include a zip out wet bag that is waterproof and machine washable. Perfect for holding wet bathing suits, clothes ruined from a blowout, food, or even a dirty diaper! You can zip it away and know it will not affect the rest of your items in the bag! Whenever I'm carrying around purees or food pouches, I always keep it in the wet bag in case it leaks or spills. It works great! The diaper bag has 7 pockets which is great for my over-packer self. The liner is wipeable, it has an adjustable shoulder strap, 2 handles, detachable stroller straps, and a matching changing pad. I love it.
Coco and Kiwi make products that are stylish, modern, and perfect for every mama. They have more products to help make the cleanups of motherhood as easy as possible! They also offer training pants with 3 layer wet zone protection to help with potty training woes. As well as adorable leakproof car seat liners to aide with car cleanups!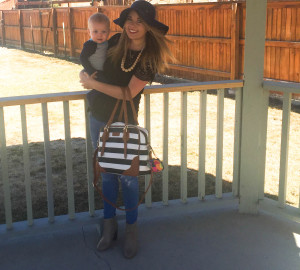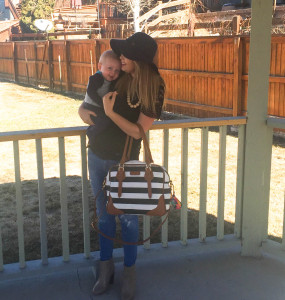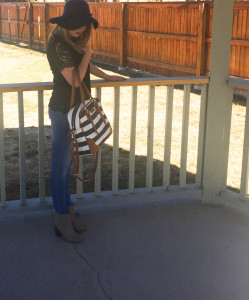 Here's everything I can fit in my Coco and Kiwi 5 piece diaper bag:
Diapers
Wipes
Container of Puffs
Extra Outfit
Bib
Toys
1 pouch containing hand sanitizer, lotions, diaper cream, etc.
1 pouch containing essential oils, teething drops, tylenol, and other medincines
My wallet and personal items
1 bottle
1 formula container
Sippy Cup
Jacket
Food jar and spoon
Blanket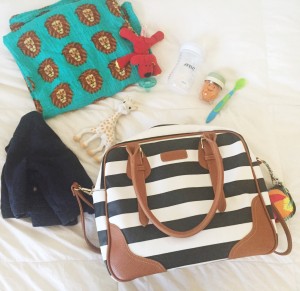 It holds everything I need without looking overly bulky and it doesn't have that "diaper bag" feel. It has more of a stylish handbag feel, which I love! It makes me feel more confident as a mother. I can get in and out of the car more easily now that my bag isn't so huge. I cannot say enough great things about my bag.
Be sure to check out Coco and Kiwi! You can shop here and be sure to give them a follow on their social media!
| Instagram | Facebook | Twitter | Periscope |
And I also have a coupon code for my awesome readers! Use the code "LOVELY10" at checkout for 10% off your Coco and Kiwi purchase! Ditch your drab diaper bag and opt for something more stylish and classic with a discount, on me! (Valid until 3/31)
We went Paleo
We went Paleo! You can read more about it here. We are living an 80/20 paleo lifestyle. No one can eat 100% clean 100% of the time. But we've been doing really well this week and I feel amazing and can already see an improvement not just in how I look but in how I feel, health wise. So, as a new addition to my Friday Favorites, I will be adding links to all the recipes (that I can) for what we ate this week. Including what's on the menu for the next two days until the week starts over again. Feel free to try any recipes and if you have any questions about going paleo, you can always contact me!
What we ate:
Breakfasts:
Bacon and Eggs
Fruit
Lunches:
Lettuce wraps filled with turkey, bacon, and avocado
Dinner leftovers
Dinners:
Cuban Pork Lettuce Wraps – crockpot
Bacon Wrapped Guacamole Stuffed Chicken (sans cheese)
Beef Brisket (w/ sweet potato)- crockpot
Ginger Garlic Baked Chicken (sub soy sauce with coconut aminos, or gluten-free soy sauce)
Snacks:
Fruit
Veggies
Sweet potato chips
Sweet Potato Bites with Bacon and Avocado
Have a great weekend! xoxo.