Disclosure: I received select products in exchange for review. All opinions are mine alone. This post may contain affiliate links.
We did it! We survived Sawyer's first plane ride! And it wasn't as bad as I thought it would be.
The tough part was navigating the airport and getting through security with all our stuff. We did okay on the way there, the line at security was long but we kept him entertained until we got to the gate. Once we boarded I made him a bottle to drink during takeoff so his ears didn't plug. It worked like a charm, he fell asleep, and slept the whole way there!
When we got there, the first thing we did was stop at In-N-Out and Sawyer had his first bite of cheese burger (it was a hit). Then, we went to our hotel and went to bed. The next day was my grandpa's 90th birthday (the reason for the trip) so we packed up the car and headed for their house! It was about an hour from our hotel so I made sure to have lots of snacks, and shows loaded up on the ipad to keep him entertained. It was Sawyer's first time meeting my grandma and grandpa on my dad's side of the family, and they were so excited to see him!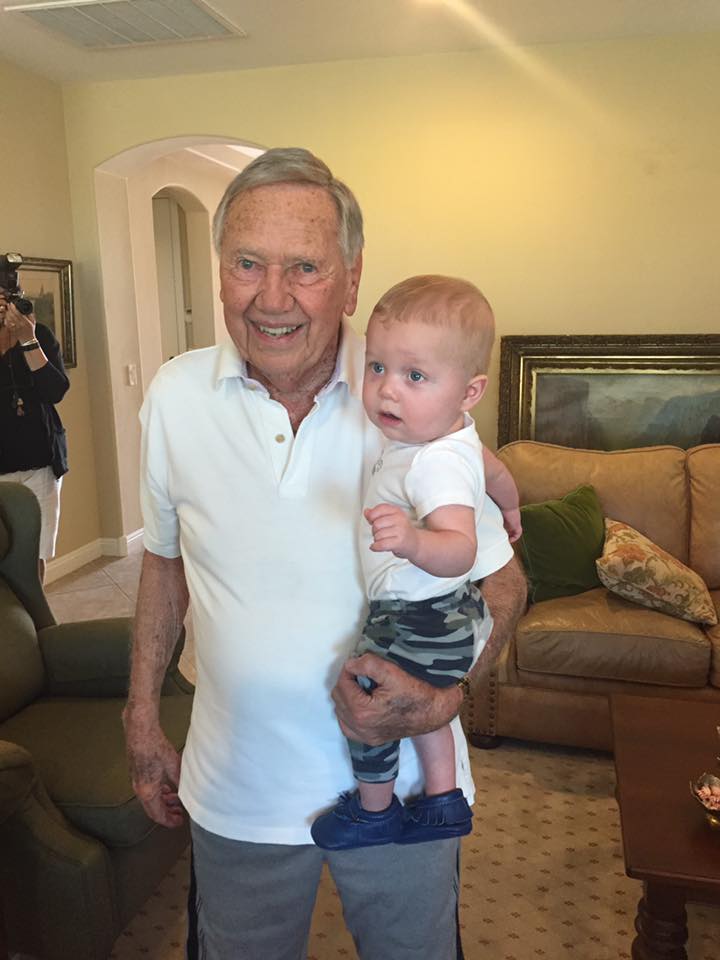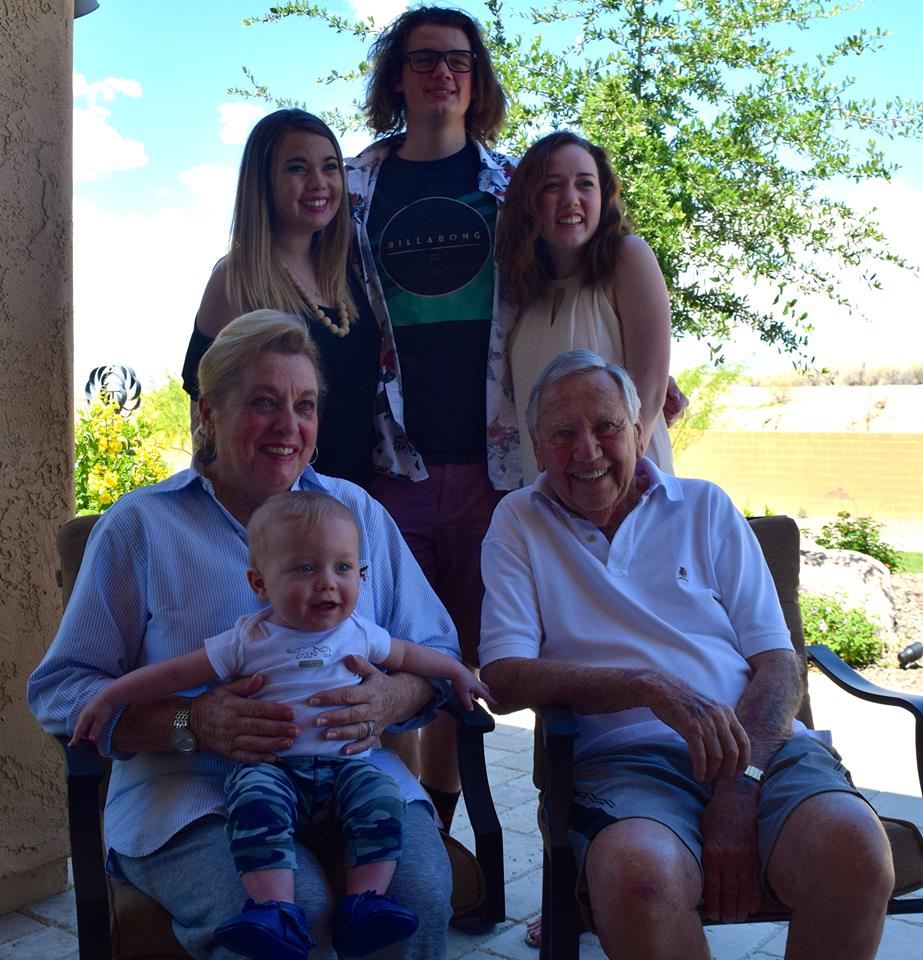 We spent the day hanging out and grilling burgers. Then, we headed to the pool! They were very strict, and wouldn't let Sawyer in the water! We were so bummed! We had just gotten him an adorable swimsuit from SwimZip that we loved. It's seriously so cute, I can't get over it. But he did lounge poolside for a little bit with my mom while I swam with my sister.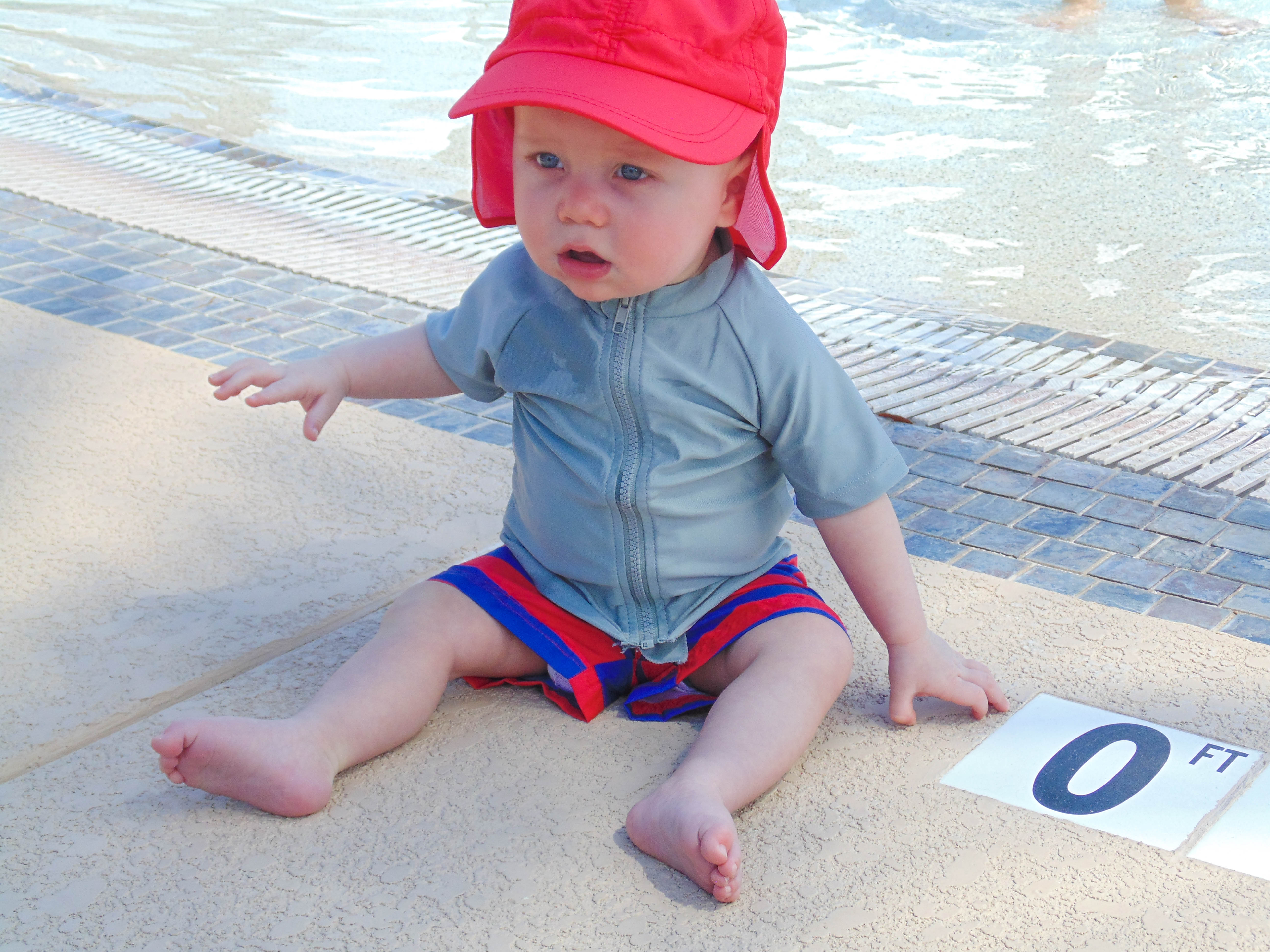 We can't wait to really use this swimsuit more this Summer! SwimZip is a wonderful company owned and operated by Betsy Johnson. She started her company after being diagnosed with skin cancer and saw an opportunity to make a difference and help others. SwimZip is not just swimwear, it's sun protection! SwimZip is UPF 50+ sun protection you can trust to keep you and your family safe.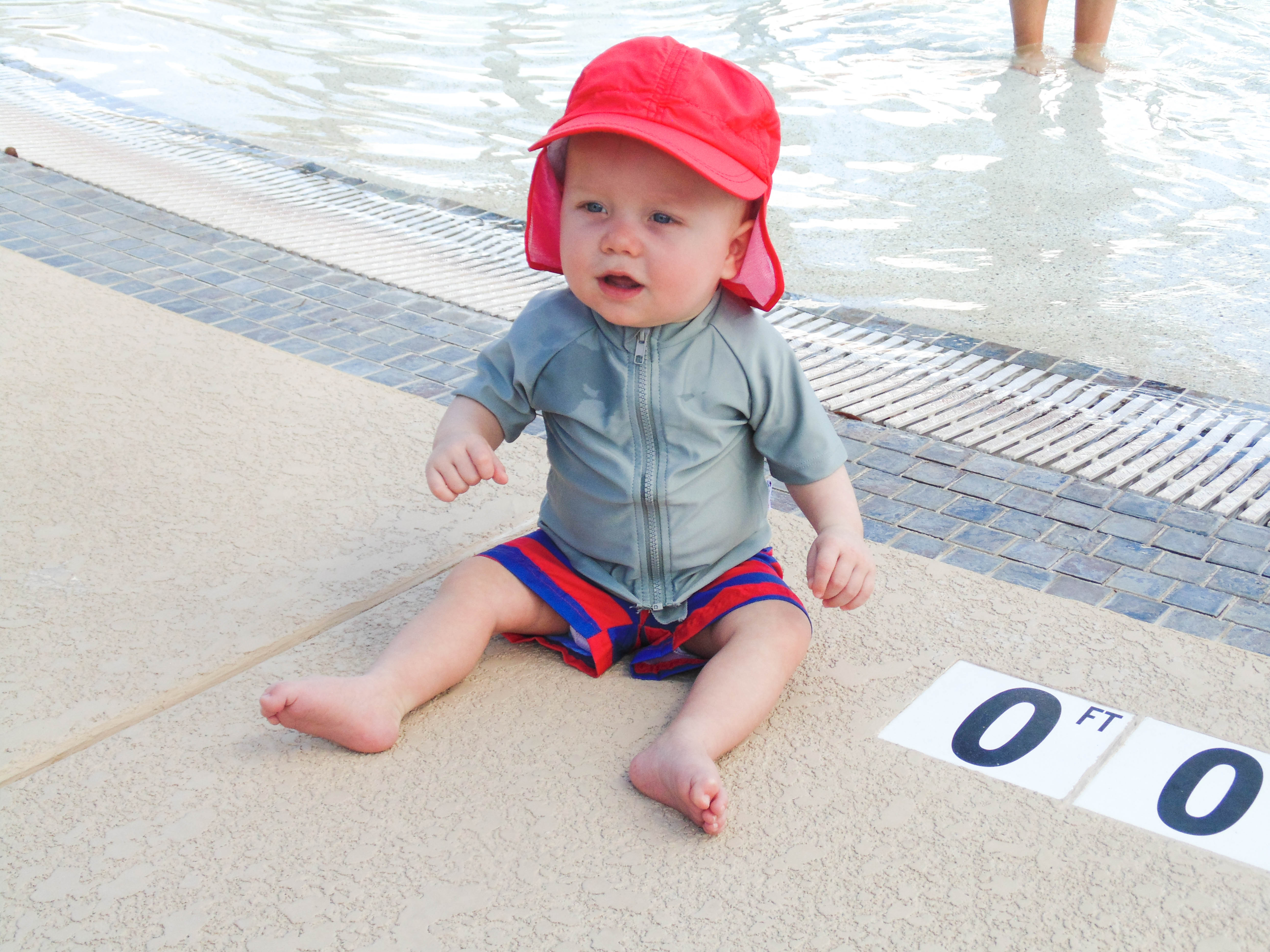 And not only will it keep you safe, it's so easy to use! The sun shirts have a zipper to make taking them on or off so easy! Even when wet! The worst part about rash guards or sun shirts is trying to take them off when wet. It's downright impossible. But SwimZip takes care of that!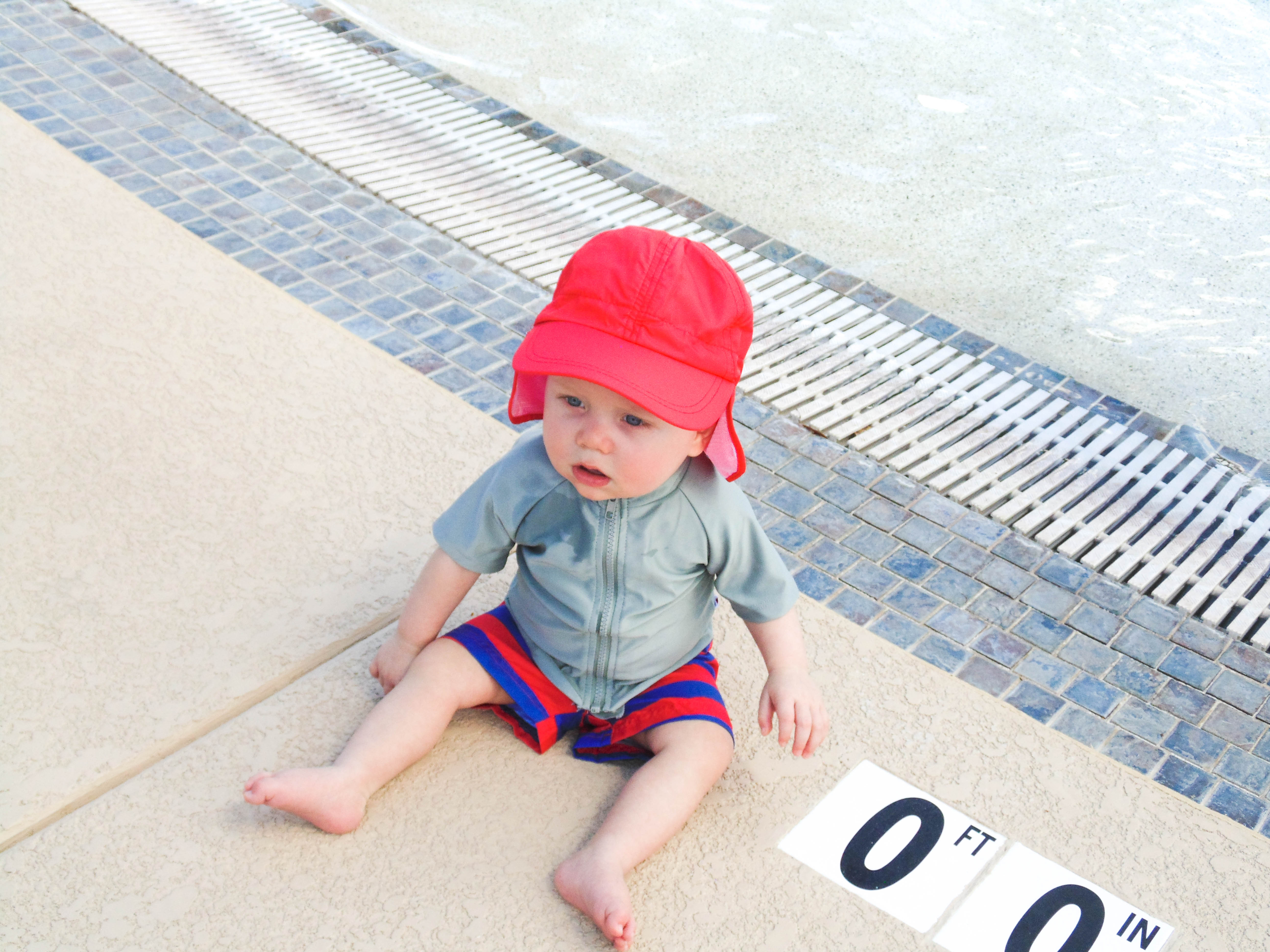 They sent Sawyer shorts, a sun shirt, and a sun hat! I still made sure to put sunscreen on the areas of skin that were showing (we recommend this sunscreen), but I was able to rest assured that he was safe from the sun in his SwimZip. SwimZip makes products for Men, Women, and Children, there's something for everyone. Stayed tuned because you're going to be hearing a lot about SwimZip from us this Summer! Especially when we take our trip to Balboa Island. Check out SwimZip: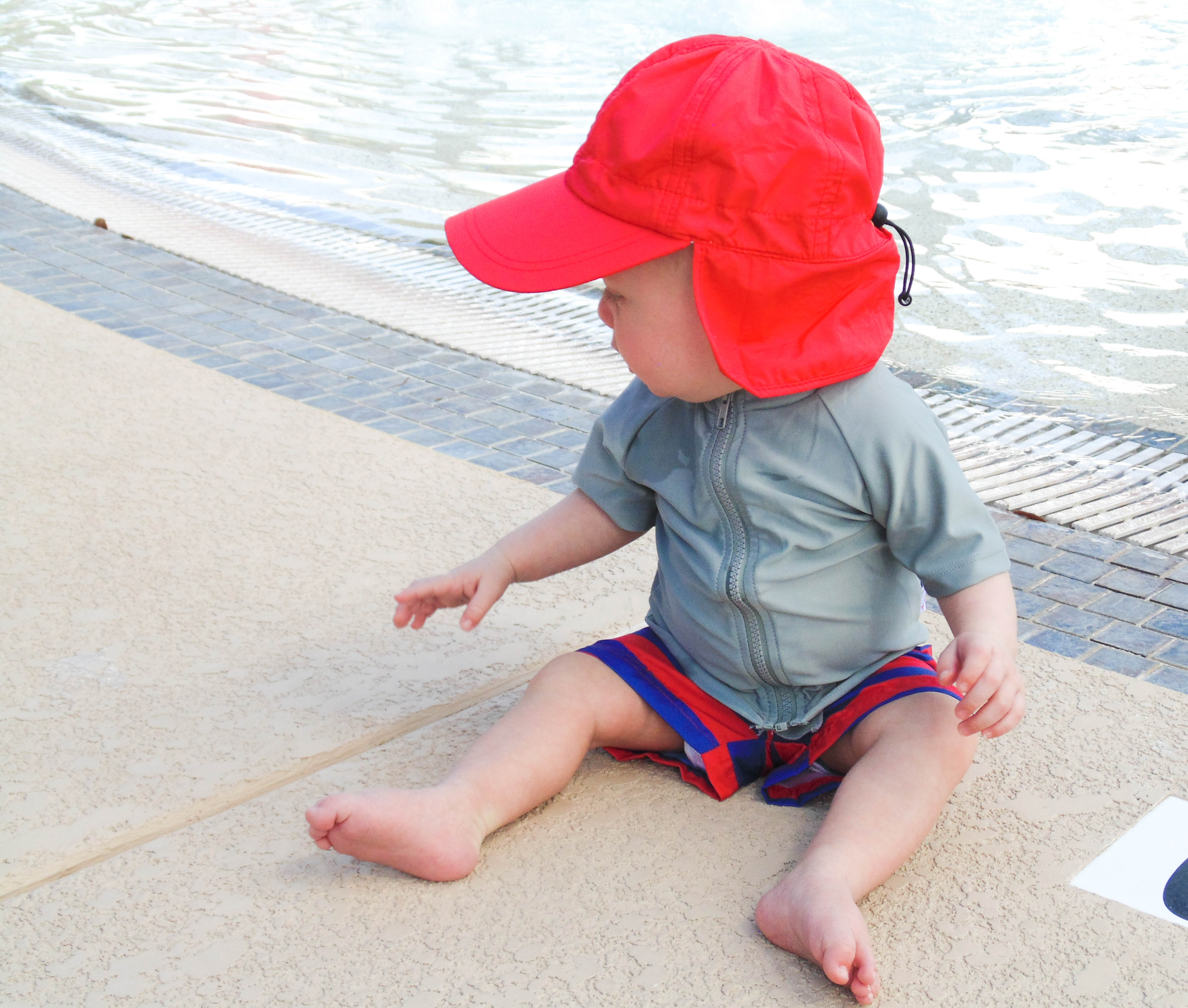 After the pool, we headed to a restaurant for birthday dinner, then back to their house for some cake. After the festivities, we went back to our hotel to get some rest.
The next morning, we headed to Grand Canyon University to go on a college tour with my sister. The campus was beautiful and she loved it! And Sawyer loved riding around campus on the golf cart. When we were finished with that, we went back to my grandparents to go out to lunch. At lunch, I noticed Sawyer had (finally) cut his first tooth! Afterwards, we said our goodbyes and headed to the airport.
We were running WAY ahead of schedule so we decided to stop in downtown Phoenix and walk around. We found this gorgeous garden and stopped to take some pictures.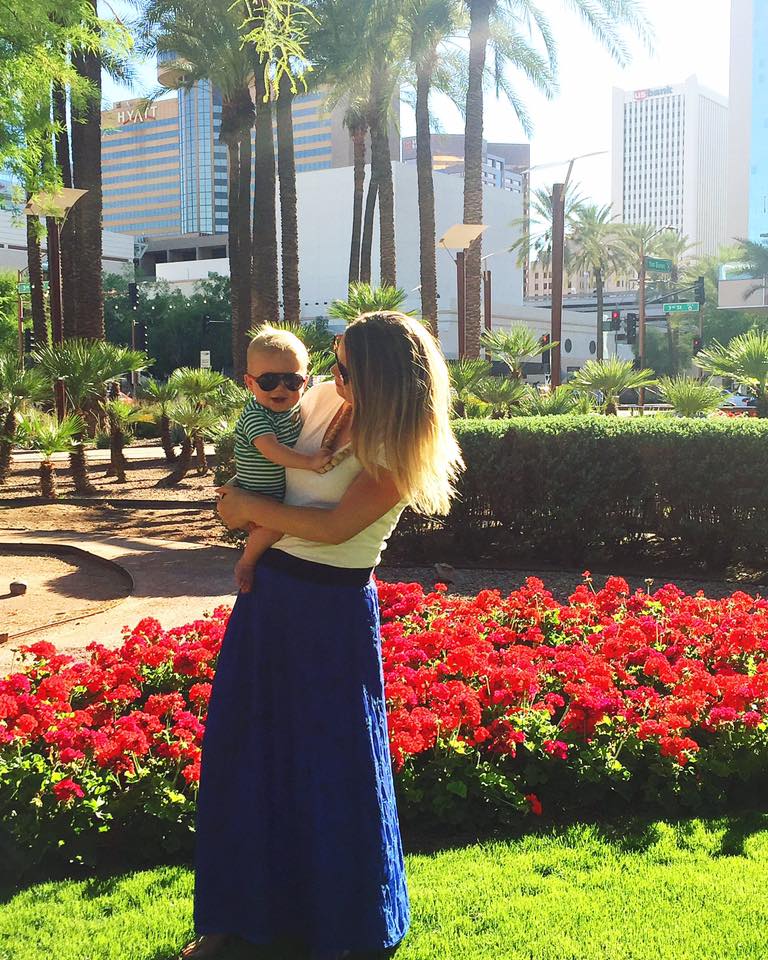 (Shop the look: Skirt, Top, Sandals, Necklace, Sunglasses,)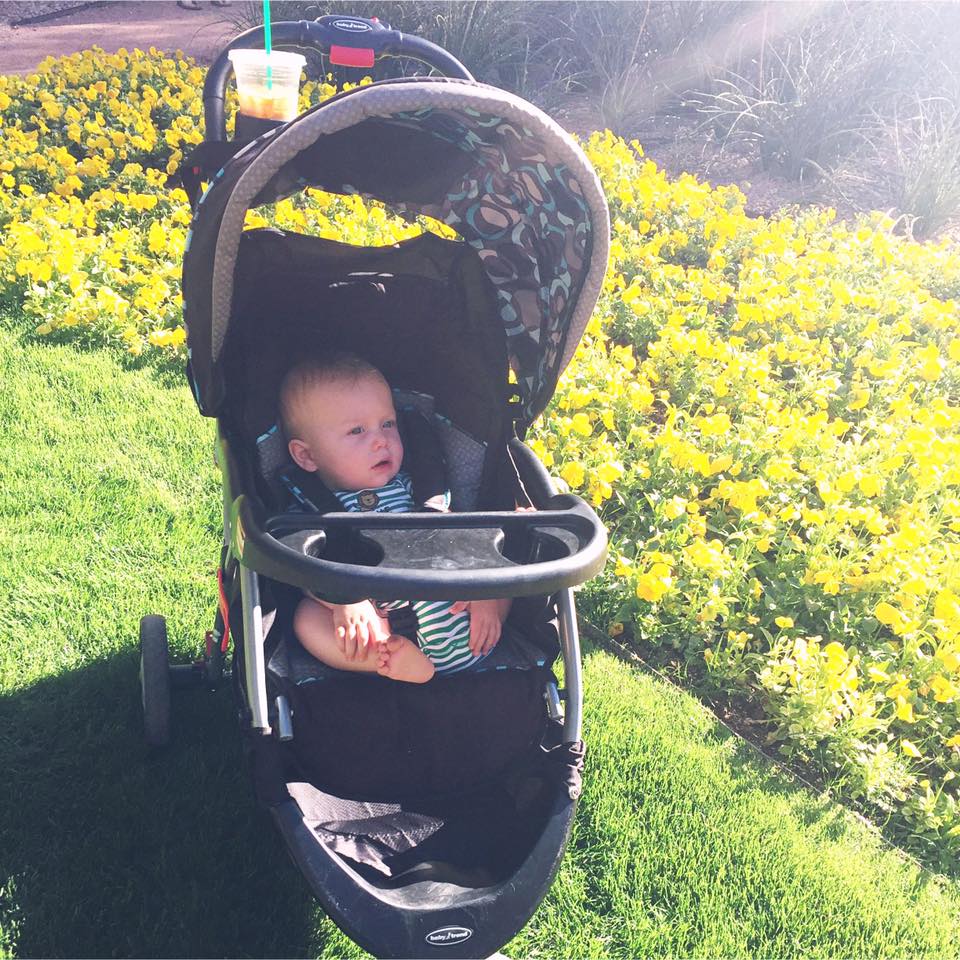 After walking around for a little bit, we finally headed to the airport. Navigating security was not as easy this time. He literally cut a tooth a mere 2 hours before we headed to airport and he was cranky. Getting through security was a nightmare, he was screaming the whole time and I couldn't hold him just yet. As soon as we got to the gate I went to get my trusty oils (I make a homemade teething blend that works wonders, stay tuned for the recipe!), and teething drops out of the diaper bag. I used them both and that helped for a while. Before we boarded I wanted to give him some tylenol. I normally try to use tylenol only when he's miserable and the oils aren't helping. I always try the natural way first before resorting to tylenol, but since we were going to be on a plane, I didn't want to risk him being super cranky and having to wait 30 minutes for the tylenol to kick in! So, I planned to give it to him 30 minutes before we boarded. I went into my diaper bag to get it, and it was all gone! It had been so long since he needed it, I didn't notice I was out! So, I went to the convenience store to buy some more, for $13. Ugh, everything in the airport is so expensive! So, that was an ordeal but we survived and he slept the whole way home! Getting home made for a long night, but we were so happy to see his Daddy and sleep in our own beds.
Having him drink bottles during takeoff and landing really helped for a stress-free flight! We also took our flights around nap time and bed time so it was easy for him to sleep in my arms the whole way. Traveling with an infant is difficult, but not impossible!
What are your favorite tips for traveling with a baby?
xoxo.