2015 was the year my whole world changed. I can't believe it's already over! Here's a recap!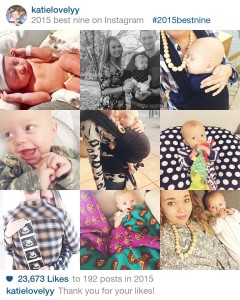 Our year in blog posts:
January 2015- Announcing my pregnancy
March 2015- It's a boy!
April 2015- Our babymoon
June 2015- Getting diagnosed with preeclampsia and hospitalized and Sawyer is born!
September 2015- I head back to work!
November 2015- My 23rd Birthday!
December 2015- Sawyer's First Christmas
My Favorite Posts of 2015:
I don't know if I Can Share You                                 A lot can happen in 5 years
How Things "Should" Be                                              365 Days.
31 Week Bumpdate (This bumpdate had my favorite pregnancy pics!)
Let's All Just Feed our Babies                                            When Love Gets Hard
Most Popular Posts of 2015:
I don't Know if I Can Share You: A Follow-up     I Don't Know if I Can Share You
Crockpot Chronicles: The Best Meatball Subs    Fall Style featuring Pink Blush
I am Stronger Than I ever knew I could be(Sawyer's Birth Story)
I don't want my pre-baby body back             
Life with a New Baby- Tips, Tricks, and Products I can't live without
2015 was the year I had a baby. It was the year I got sick and hospitalized with severe preeclampsia. It was the year my husband and I faced unexpected twists and turns and endless trials. It was the year I decided to turn blogging into a business, and actually had success! It was the year everything changed. And it was the best year of my life.
Thank you all so much for your support. If it wasn't for you visiting, liking, commenting, and sharing, no one would ever read my little corner of the internet. I owe it all to everyone who reads! Happy New Year!
xoxo.